Page 4: July 1971 : Baccalauréat C, France's standardized end-of-school test with a specialization in Sciences (Mathematics and Physics) with distinction, written at the state-run Boys' High School (not co-ed at the time!) Lycée Robespierre (but not the revolutionary!), Arras, Pas-de-Calais.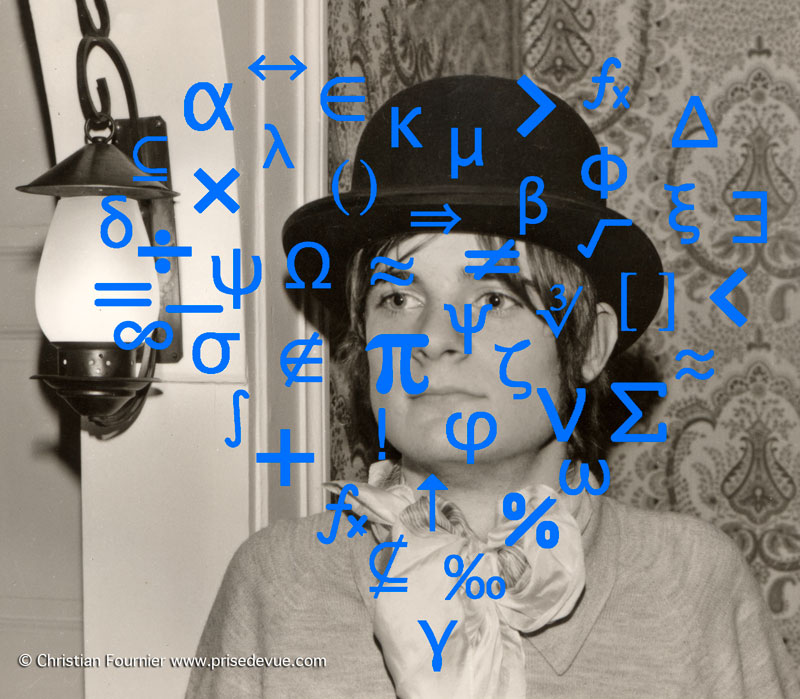 Boy, was the Nation French Education system useless at the time! I wonder: Is it any better now?
At least I was lucky enough to have the Beatles who allowed those of my generation to dream of a better world, and my camera which kindled my second passion.

The History class curriculum in 3ème (9th grade) : The 1789 French Revolution. The History class curriculum in 2ème (10th grade) : The 1789 French Revolution.
World War I, the Russian Revolution? Not a word!!!
The same English teacher for the last 3 years of High School: for 3 years we didn't utter a single word of English !!! Bravo to the National French Education back then! I wonder : is it any better now?

Thankfully we had the Beatles to make us dream of a world a little less stupid, and I had my camera to develop my second passion.

My years in the 70s: Many memories, little photos.
"Choose a job you love, and you will never have to work a day in your life." : Confucius.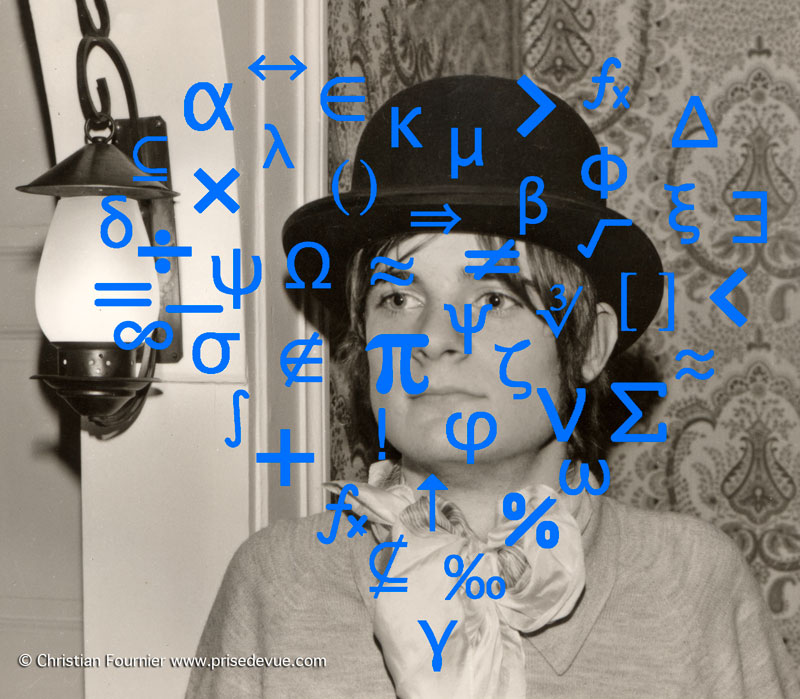 The Mathematician (this was before Clockwork Orange)

Very simple and concrete example of the use of algebra: A father and a son added ages is 36. Knowing that the father is 30 years older than the son, how old is the son?
Not easy. With algebra, simple. Let us call P the age of the father, F the age of the son.
P + F = 36 years old. P = 30 + F => 30 + F = 36 => F = 3

The photographer.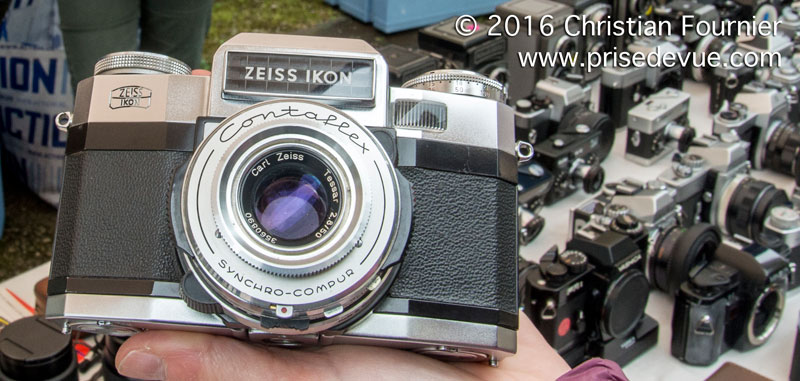 I teach Math and do wedding photography to buy myself, in 1975, a Zeiss-Ikon, Contaflex, 24x36cm.
Today one would be surprised by its great weight, the quality of assemblage and the luminosity of its viewfinder. Many Contaflex still work wonderfully today and remain formidable photography machines, but they were not very ergonomic.


This beautiful photo, baptised "Sonehenge" for reasons that are obvious to those familiar with Anglosaxon geography or prehistory, was used as a Greeting Card by the fashion label "Comme des Garçons" (Like Boys) in 1998. Thank you to the super-graphics designer Marc Atlan who now lives in California, the lucky devil.



The very trendy greetings card, all in silver.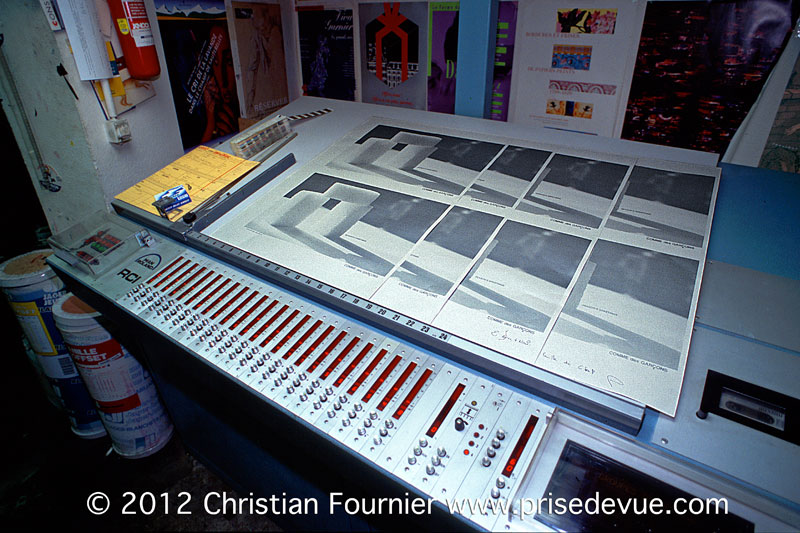 Given the very delicate nature of this silver print, the customer asked me to control the printing process.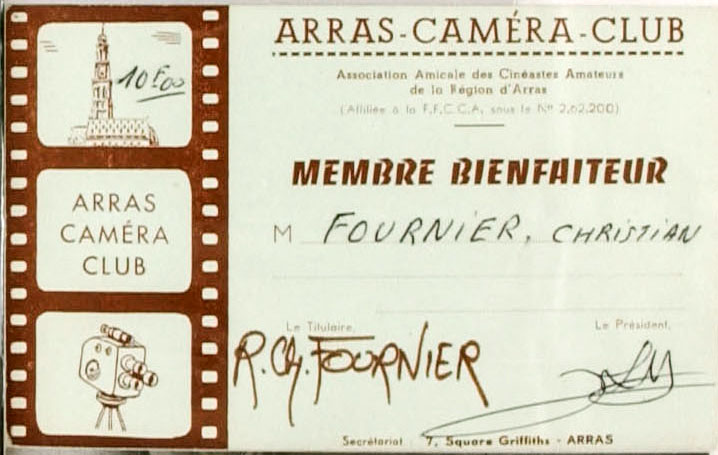 1968 : Enrico Macias sings "The Nothern people of France.
"
Je am from Arras, Pas-de-Calais, in the "North"
"Northerners have blue missing in their eyes
The northerners have in their hearts the sun they do not have outside
Northerners always open their doors to those who have suffered
Northerners do not forget that they've been through years of hell
If their houses are aligned, it is for the sake of equality
And the barges, poor or rich, bear the fruit of their efforts
Northerners bend their backs when the wind is blowing hard
The northerners get up early, because from there depends all their fate.
On the horizon of their land, coal is mountain
City streets sleep quiet
Rain falling on the cobblestones.
The accordion makes them dance
And then the beer makes them sing
And when the party turns heads
We see two of them getting married."


I waited 50 years before meeting him at Charles Aznavour's funeral in 2018

An appearance in the "Voix du Nord" newspaper. I am already attracted to the other side of the Pond. Next to me, my pal Leblond.


I often return to London which still holds a special place in my heart.


The taxis are so much more charismatic than those in Paris. Thank goodness we have UBER now!



Camden Town


August 12th 2012 : The London Olympic Games Closing Ceremony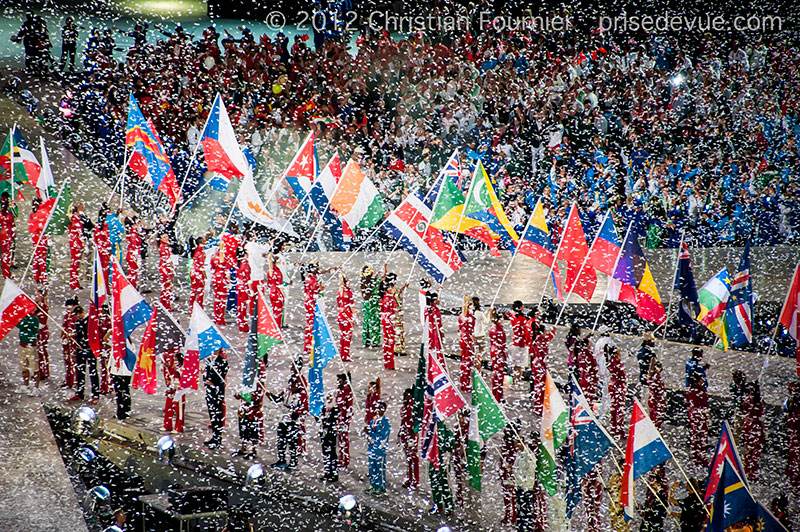 High School Diploma (Baccalauréat C) in Maths and Physics, June 1971.
"La Science est un jeu dont la règle du jeu consiste à trouver quelle est la règle du jeu." (Science is a game where the aim of the game is to find the rules of the game) : Cavanna

Le 20 juillet 1969, à 20h17 (UTC, temps universel), le module lunaire Eagle se posait sur la Lune.




I attended Niel Armstrong's first steps on the moon in the middle of the night on the small screen of the family TV. I was exactly 16 years old. The future seemed bright.
50 years later the future looks bleak.

Le 20 juillet 2019, le jour anniversaire des premiers pas de l'homme sur la Lune, la soirée MOOON propose au public rassemblé dans la Nef un programme mêlant des conversations avec Claudie Haigneré et Thomas Pesquet, les performances artistiques et acrobatiques de Chloé Moglia. Une Lune géante de 16 mètres de diamètre installée sous la coupole de la Nef sert de décor à la soirée.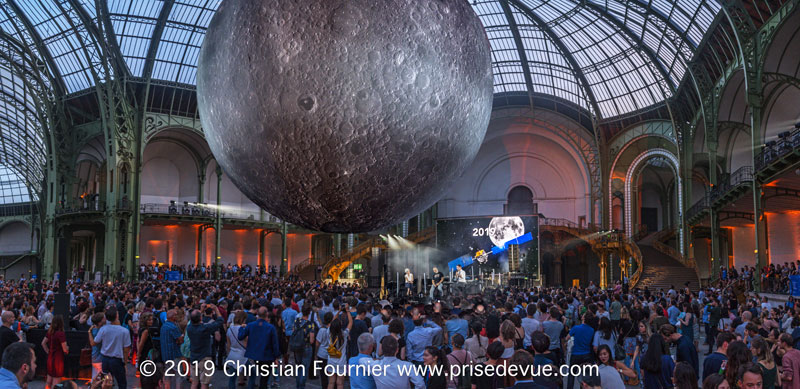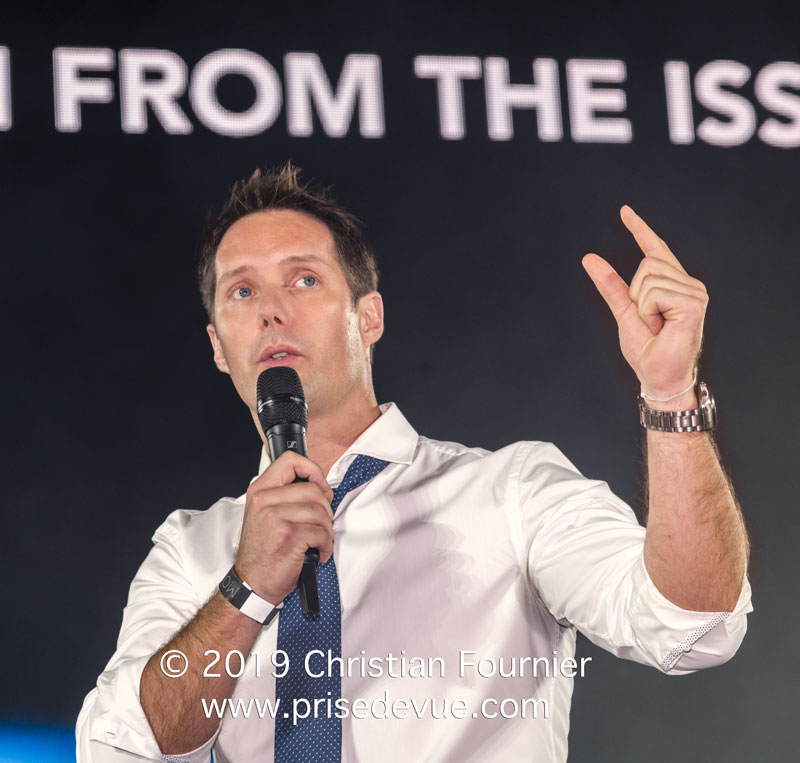 Thomas Pesquet, né le 27 février 1978 à Rouen, est un spationaute français. Après une formation d'ingénieur aéronautique, Thomas Pesquet a occupé différents postes dans l'industrie aérospatiale et au Centre National d'Etudes Spatiales (CNES) avant de devenir, en 2005, pilote de ligne. En 2009, il fait partie des six candidats retenus pour former le troisième groupe d'astronautes européens sélectionnés par l'Agence spatiale européenne (ESA). Thomas Pesquet est le dixième Français à partir dans l'espace en décollant le 17 novembre 2016 à bord de Soyouz MS-03 dont l'équipage occupe la Station spatiale internationale de novembre 2016 à juin 2017. Durant cette mission, Thomas Pesquet a mené une centaine d'expériences dont la moitié développée par l'Agence spatiale européenne ou le CNES, l'autre moitié par la NASA. Il effectue deux sorties extravéhiculaires de six heures pour des missions de maintenance de la Station spatiale internationale.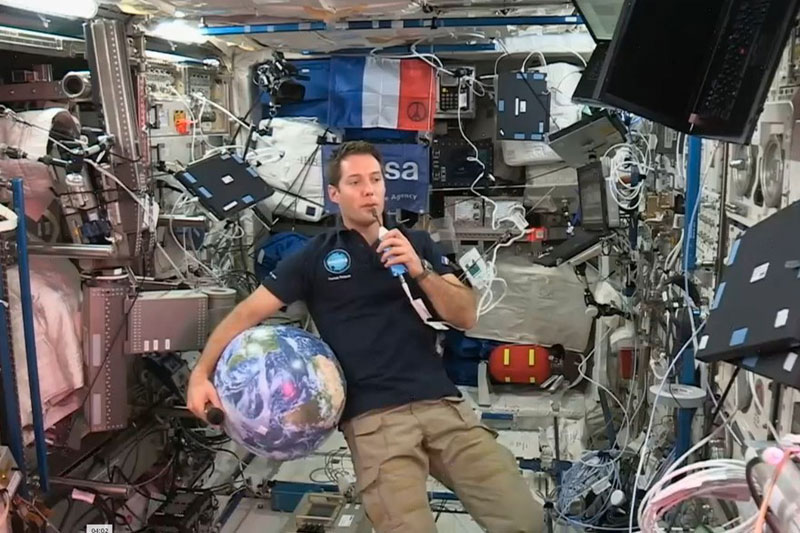 Maths: the only topic where you are given the truth and the possibility of checking it yourself.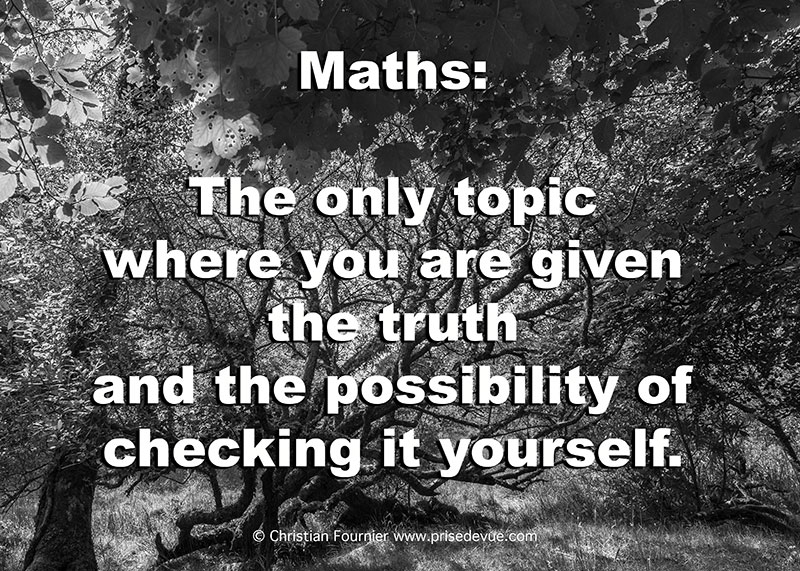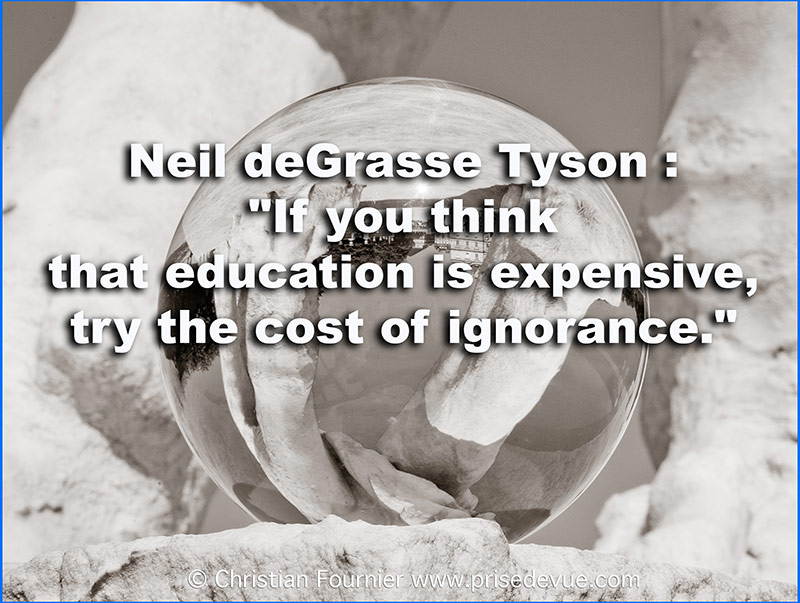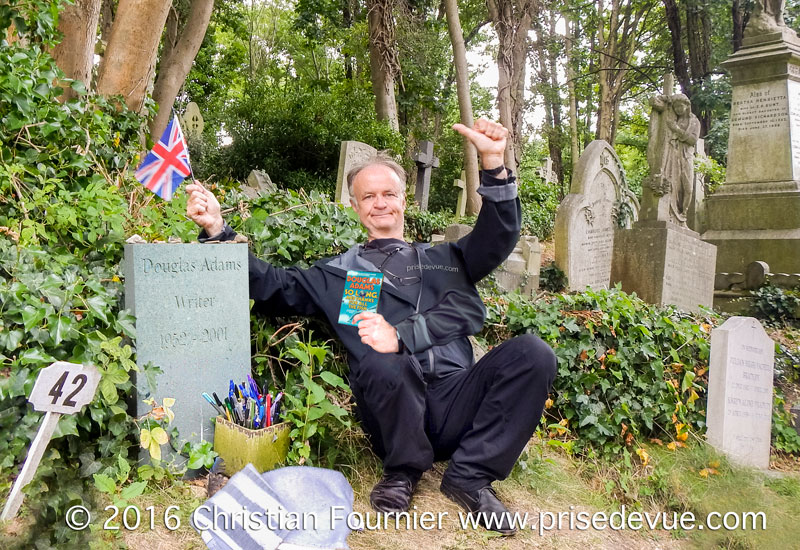 In 2016 I went to pay my respects to the tomb of Douglas Adams (author of The Hitchhiker's Guide to the Galaxy) at the cemetery in Highgate, close to London. Like Zaphod Beeblebrox, I think I look pretty good with a third arm.


My High School, Lycée Robespierre, in 2014. It hasn't changed on the outside.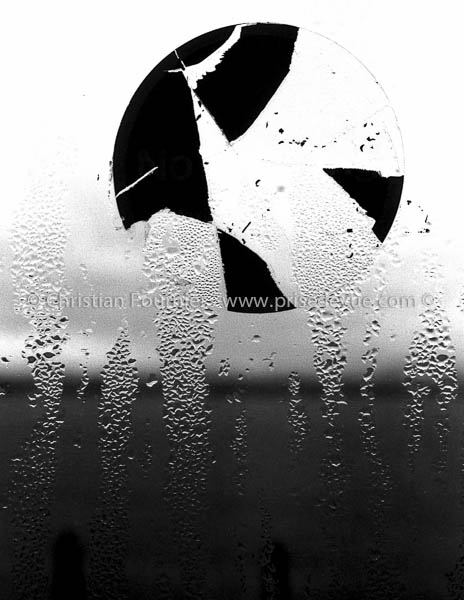 No, this isn't a lousy sunset, just a badly placed sticker in a train window, with condensation. Yes, it's art!




The developing tank for 24x36mm films: the Patterson System 4..

Réglage de la spire
La spire peut être réglée sur trois largeurs de pellicule. Appliquer fermement les deux flasques l'une contre l'autre en tournant dans le sens des aiguilles d'une montre jusqu'à ce qu'un déclic se fasse entendre, puis régler à la largeur voulue. Tourner ensuite fermement dans le sens contraire des aiguilles d'une montre jusqu'à ce que le mécanisme de blocage soit de nouveau encliqueté. Si les deux flasques sont complètement séparées, prendre soin au réassemblage de faire coïncider les deux entailles sur leur mandrin central.
Mise en place du film Cette opération est à exécuter dans l'obscurité.
Sur les films 135, coupez l'amorce (c'est-à-dire la partie moins large placée en début de la pellicule) en prenant soin de pratiquer la découpe entre deux perforations. Pour les pellicules sur bobines, déroulez la bande de papier opaque jusqu'à ce que vous sentiez le début de la pellicule. Tenir la spire dans une main, ses points d'entrée orientés vers le haut et face au corps.
Insérez l'extrémité du film dans les rainures puis continuez de l'introduire sur un demi-tour environ. Prenez la spire en main comme l'illustre l'image et faites tourner ses deux flasques d'avant en arrière et dans un sens opposé aussi loin que vous pourrez.
Le film s'enroulera automatiquement sur la spire par ce mouvement de va-et-vient rotatif. Placez les pouces sur les bords de la spire afin de guider le film pendant son enroulement. Lorsque vous atteindrez la fin de la pellicule, coupez-la à ras du chargeur pour un film 135 ou détachez-la de son rouleau pour un film sur bobine. Si vous sentez une résistance quelconque à l'enroulement, ne forcez pas sous peine d'endommager le film.
Essayez de taper légèrement un côté de la spire sur la table pour dégager le film. S'il reste coincé, déroulez le film de la spire en observant la procédure décrite plus loin, puis recommencez. Si vous n'avez jamais développé un film auparavant, nous vous conseillons de vous entraîner en plein jour, les yeux fermés, sur une pellicule dont vous n'avez pas besoin.
Certains appareils 24 x 36 ré-enroulent le film sur sa bobine réceptrice dans le sens inverse, c'est-à-dire le côté émulsionné vers l'arrière. Ce système redresse le film et risque de causer des difficultés lors de son chargement sur la spire, notamment vers la fin. Pour y parer, ré-enroulez le film exposé dans son chargeur quelques heures avant son chargement sur la spire afin de lui faire retrouver sa tendance naturelle à boucler.

2016: My humble tribute to 4 musicians who enchanted my youth.

The Beatles



"Eleanor Rigby"


Ah, look at all the lonely people Ah, look at all the lonely people Eleanor Rigby picks up the rice in the church where a wedding has been Lives in a dream Waits at the window, wearing the face that she keeps in a jar by the door Who is it for? All the lonely people Where do they all come from? All the lonely people Where do they all belong? Father McKenzie writing the words of a sermon that no one will hear No one comes near Look at him working, darning his socks in the night when there's nobody there What does he care? All the lonely people Where do they all come from? ....




"Come Together"




T

Here come old flattop, he come grooving up slowly He got joo-joo eyeball, he one holy roller He got hair down to his knee Got to be a joker he just do what he please He wear no shoeshine, he got toe-jam football He got monkey finger, he shoot coca-cola He say "I know you, you know me" One thing I can tell you is you got to be free Come together right now over me He bag production, he got walrus gumboot He got Ono sideboard, he one spinal cracker He got feet down below his knee Hold you in his armchair you can feel his disease Come together right now over me (Right! Come, oh, come, come, come.) .....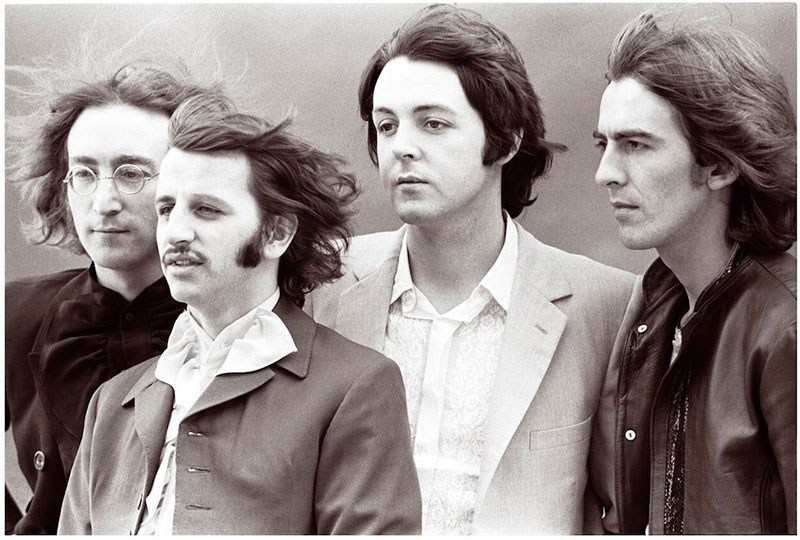 "When I was 5 years old, my mother always told me that happiness was the key to life. When I went to school, they asked me what I wanted to be when I grew up. I wrote down 'happy'. They told me I didn't understand the assignment, and I told them they didn't understand life." ― John Lennon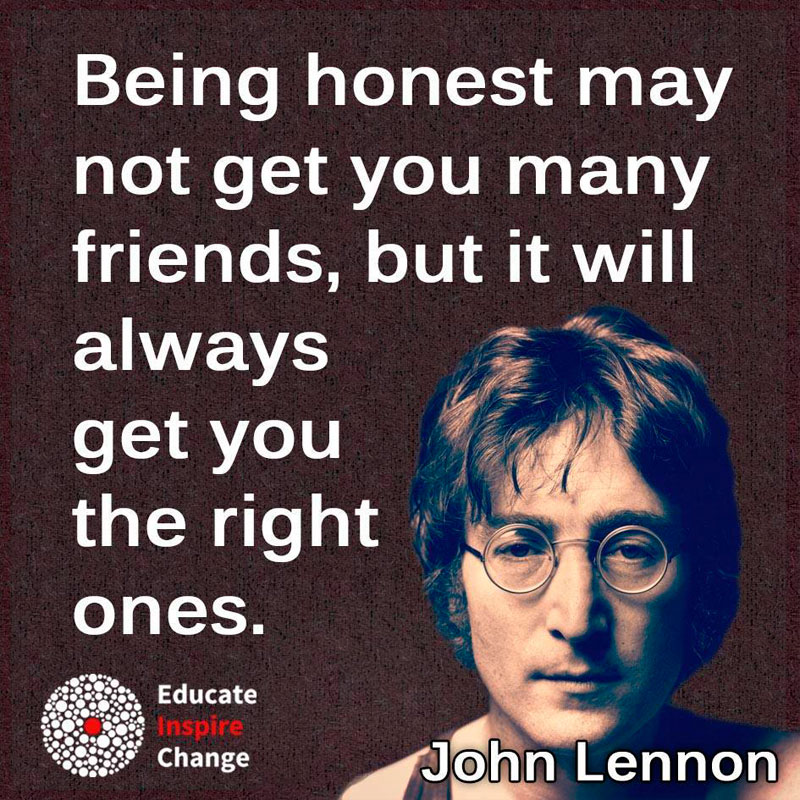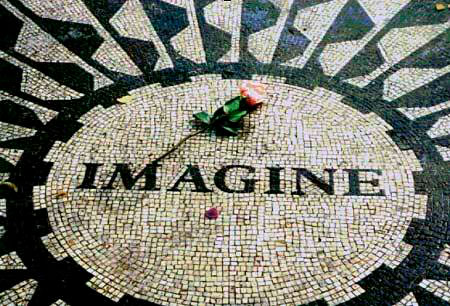 We live in a world where you must hide to make love ...
But violence takes place in broad daylight ...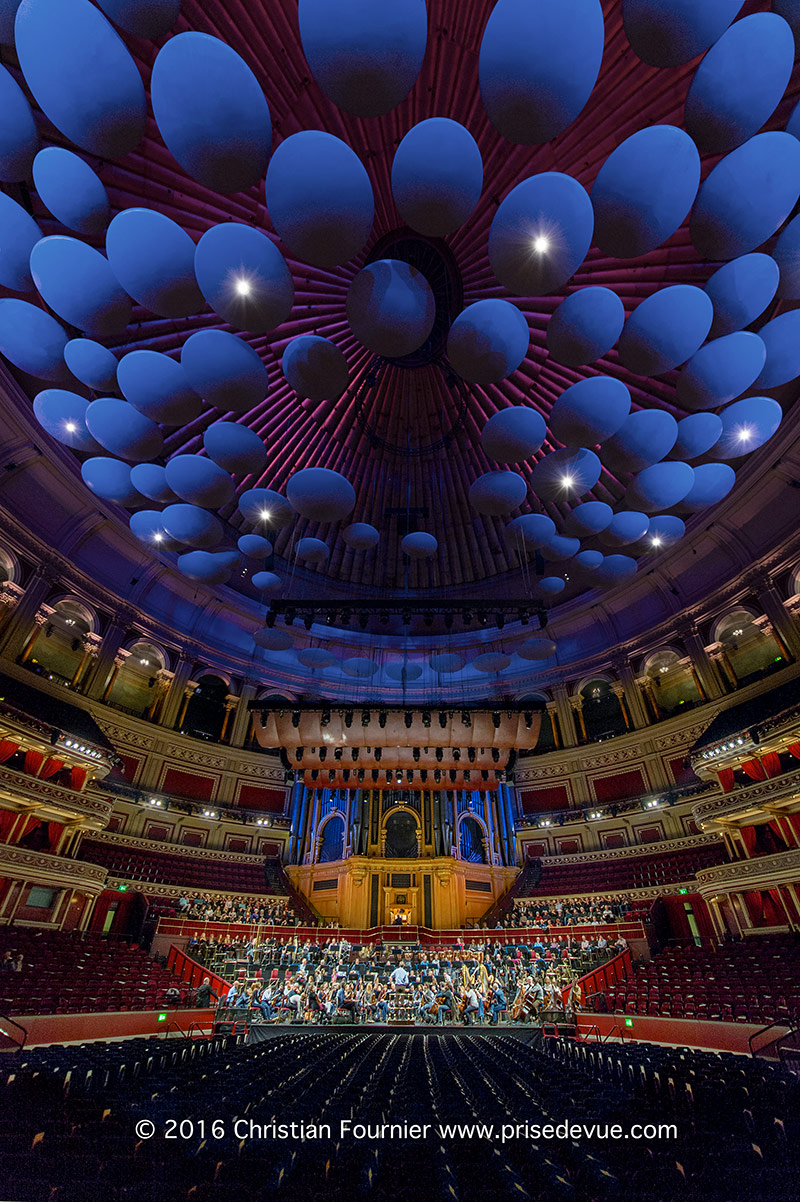 I photographed professionally the Royal Albert Hall in 2016.
Now I know how many holes it takes to fill the Albert Hall ……… ref "A Day in the Life" The Beatles.




July 7 2017: my 64th birthday.
Sgt. Pepper Experience at La Maison de la Radio. An expo-experience centred around the Beatles Album "Sgt. Pepper's Lonely Hearts Club Band » to mark the 50th anniversary of this legendary opus.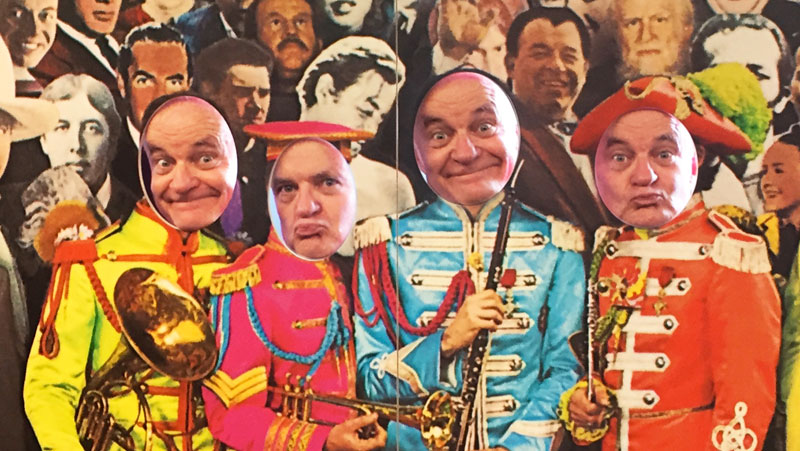 We were all on this ship in the sixties, our generation, a ship going to discover the New World. And the Beatles were in the crow's nest of that ship. John Lennon

Christian Fournier : I was on that ship!

In France at the same time, we had Mireille Mathieu.
John Lennon Imagine 1971
No countries, no passport, no religion: what if we tried it ......



Imagine there's no heaven
It's easy if you try
No hell below us
Above us only sky
Imagine all the people
Living for today...

Imagine there's no countries
It isn't hard to do
Nothing to kill or die for
And no religion too
Imagine all the people
Living life in peace...

You may say I'm a dreamer
But I'm not the only one


I hope someday you'll join us
And the world will be as one

Imagine no possessions
I wonder if you can
No need for greed or hunger
A brotherhood of man
Imagine all the people
Sharing all the world...

You may say I'm a dreamer
But I'm not the only one
I hope someday you'll join us
And the world will live as one.


2019 : The film is very funny and moving

"Do not believe any authority. Check for yourself. It's a fundamental thing in mathematics. You cannot just accept a result, you have to check for yourself. Think, think, use your head. Do not repeat memorized formulas by heart, but develop your own ideas."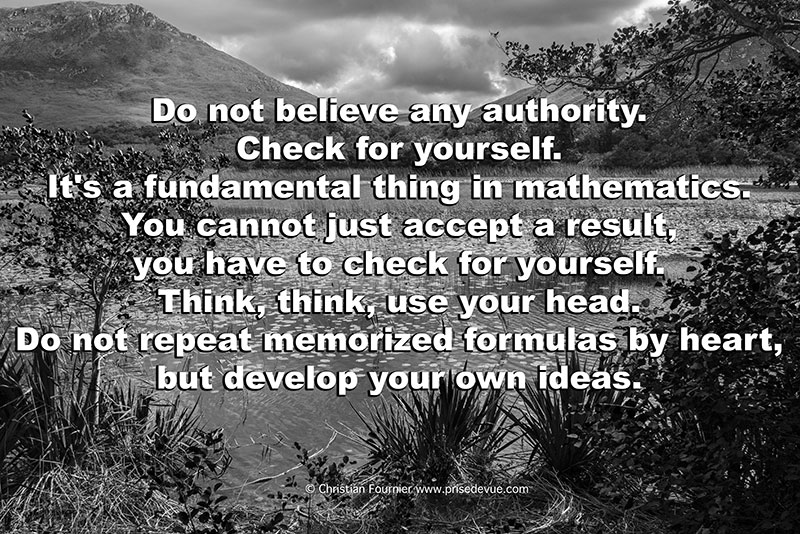 In the 70's, Cavanna and Wolinski created Hara-Kiri, a "stupid and vicious magazine". Then the magazine was temporarily banned for their headline about the death of General de Gaulle : "Tragic Ball in Colombey: 1 death". Charlie Hebdo took up the torch without losing its liberty of tone, despite threats.

I pay my respect here.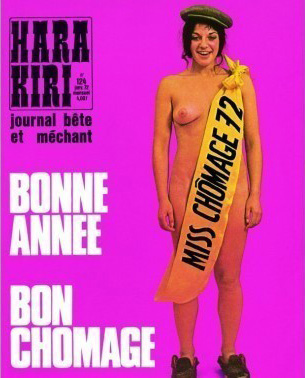 I went to Choron's tomb in the Montparnasse cemetery in September 2016.

Le 03 mars 2019 : La tombe de François Cavanna à Chaumes-en-Brie.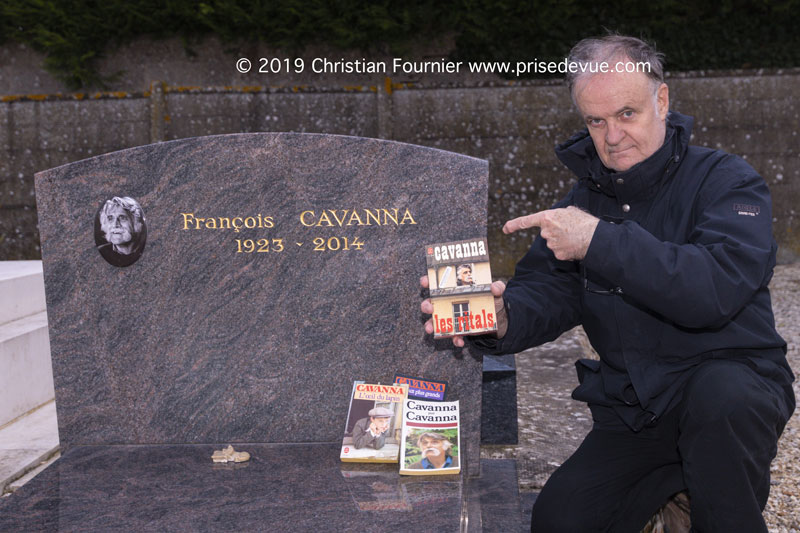 François CAVANNA (1923-2014). Author of about fifty books, he was the co-founder, along with Georget Bernier dit Pr Choron, of the satirical newspaper Hara-Kiri which revolutionized the French press and opened the way to May 68. The characteristic style of François Cavanna, satirical, anti- false asses, anti-arse-blessed, funny, lively and colorful, made him famous from his first novels which are autobiographical (The Ritals, Russkoffs, Stupid and villain ...). From 1985, his journalistic activity gave way to an abundant and varied literary production (autobiographies, essays, historical novels, chronicles, humor books). He was a great advocate of republican values ​​and the French language. He attacked with great vehemence the advertising lobbies, the injustice, the "shows" of animal sufferings and the irrational. God and religion being one of his favorite subjects. Cremated in Père Lachaise, famous French cemetary, his ashes were deposited in the cemetery of this city in which he lived for forty years. "All religions have an explanation of the "creation" of the world, all sacred books begin there. Not a single religion has suspected what is the true form of the Earth, the nature of the sky and the stars, the laws of gravitation, the relationships between the Earth, the Moon, the Sun and the planets, the constitution of the body, the role of microorganisms in diseases, etc. All holy books, as soon as they meddle with explaining ouur world, created by the god, whom they exalt, are utterly stupid". François Cavanna, Lettre ouverte aux culs-bénits / 1994

"If God is God, if He is this infinitely good being, then He cannot blame us for not believing in Him, which is why I am serene in my unbelief." François Cavanna, Open letter to the god arses / 1994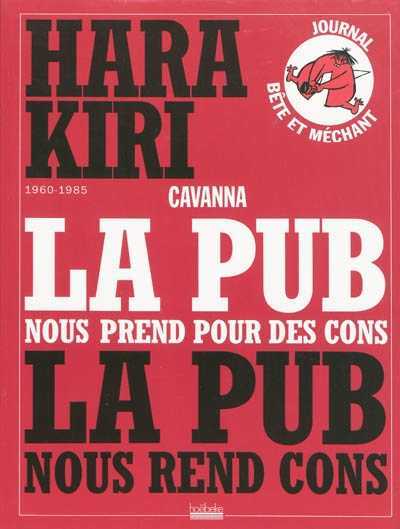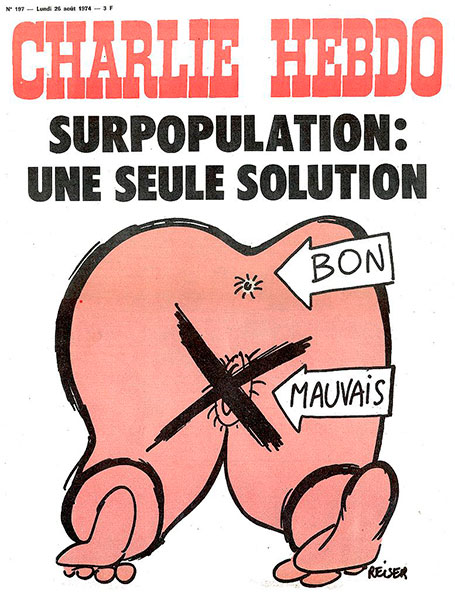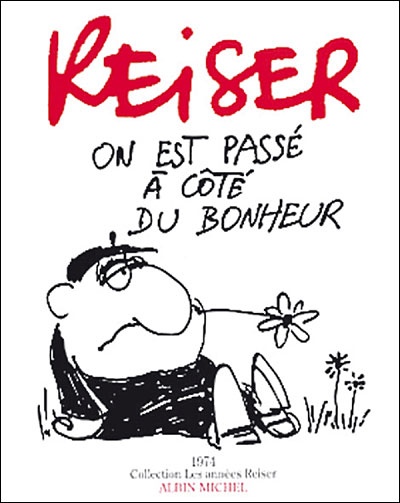 Excerpt from: "The Scriptures" by François Cavanna
1. In the beginning, God created heaven and earth.
2. No
3. It's not like that.
4. Let's start from the beginning.
1. In the beginning, there was God.
2. And nothing else.
3. There could be nothing else, so that there was something, it would have been necessary that God had created it,
4. God had not created anything yet.
4 bis. Since it was the beginning
5. To create, one must not only be God,
6. But you must know that you are God.
7. God did not know that He was God
8. Since he was alone
9. To know that one is God, one must be two:
10. One who is God, and the other who says to Him: "My God"
11. For one can not be God at all. We can only be the God of someone
12 God was alone
13. He was therefore no one's God
14. I hope you understand.
15. If not, start reading again very slowly
16. That could have lasted a long time
17. That's what happened
18. It lasted a very, very long time
19. So long, that one had to be God to support that
20. No other beast in the world could have.


January 11th, 2015: "Charlie" Republican March at the Place de la République, around 1.5 million people. 130 MB panorama, 20 vertical photos, done with a 14mm Nikkor lens, with a 25MP Nikon D750, on a 2.5m monopode.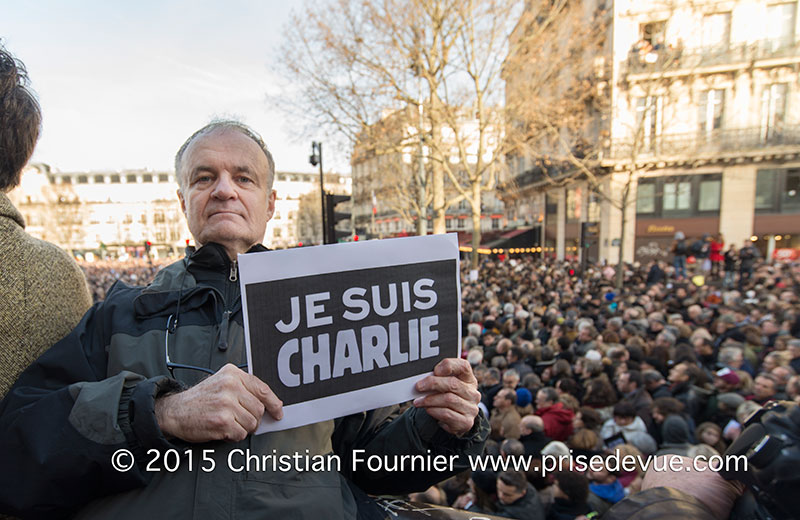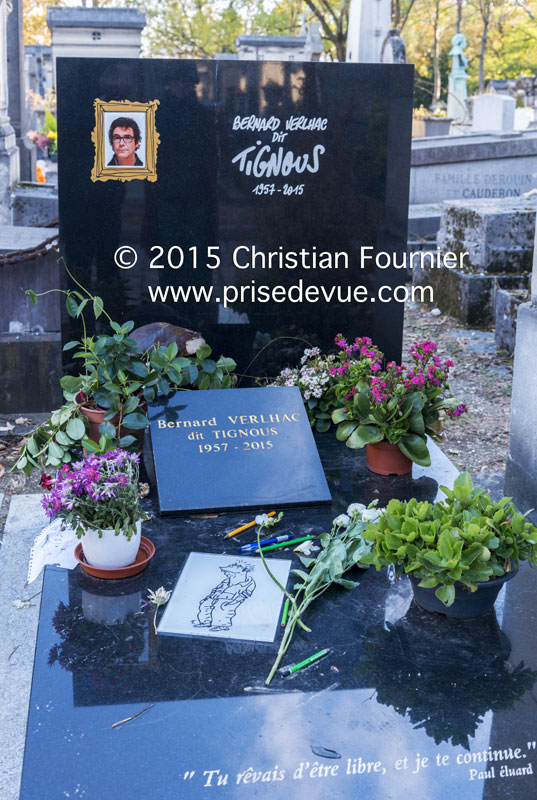 Bernard Verlhac, known as Tignous, is a French artist and cartoonist, born on August 21, 1957 in Paris and murdered during the attack on Charlie Hebdo on January 7, 2015, in Paris.
And In 2017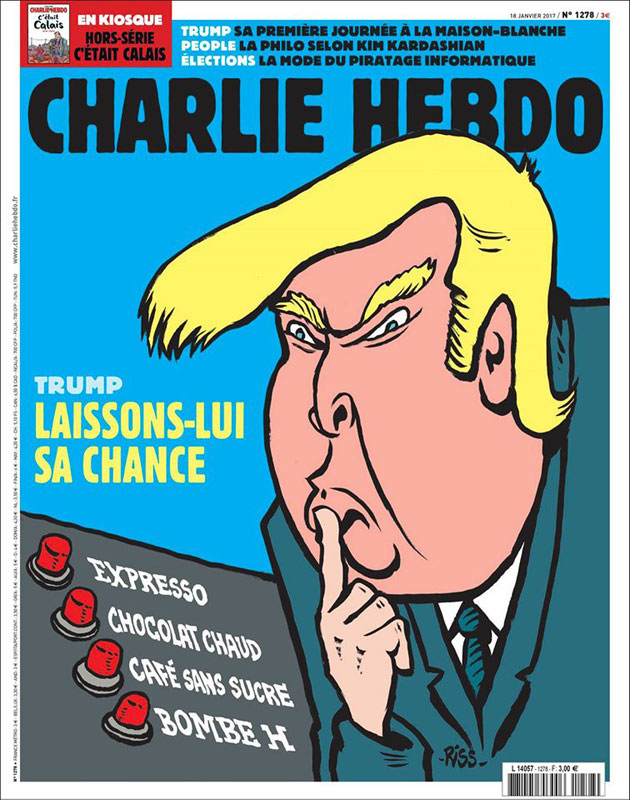 As work as a warehouseman beginning of spring 1973 in France





As work as a warehouseman in April 1976 in France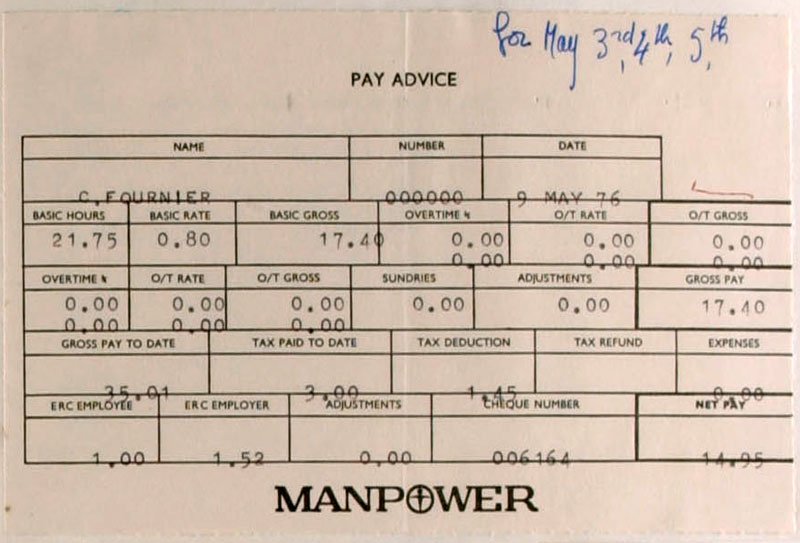 And in UK in May 1976

Excerpt from: "The Scriptures" by François Cavanna
God told himself that, if He had known, He would have started by creating the light. Which proves that He still had a lot to learn. But God, being omniscient, can learn nothing that He does not already know. Unless of course He has decided, in His omnipotence, not to know this or that thing anymore, that is, to be no longer omniscient. That is, no longer being God. For God can do anything, even stop being God. Even to suppress Himself. Which is a little embarrassing, because then God is not eternal. For if He is eternal, He cannot die, even if He has so decided, and then He is not all-powerful. God has the choice: either not eternal, or not all-powerful. And in both cases: not God. This is an insoluble problem. An insoluble problem is a problem that has no solution. If he has no solution, no one can find it, not even God. So an insoluble problem is stronger than God. But insoluble problems, like all things, have been created by God. (Yet, He did not remember creating that one ...) The creature can not be above its Creator. All this suggests.


I photograph my cousin Pascale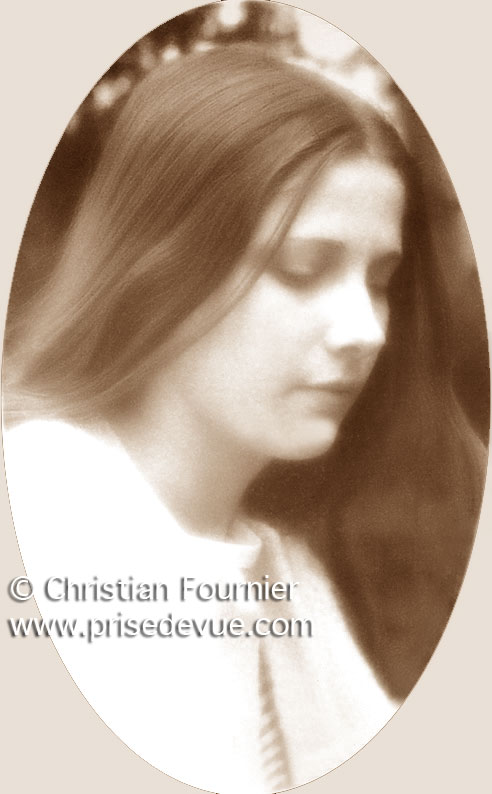 In physics, there are three laws of Coulomb, named in honor of the French physicist Charles de Coulomb:
In electrostatics, Coulomb's law expresses the electric force exerted between two immobile charged particles.
In mechanics, the Coulomb law makes it possible to express in a simplified form the friction forces that are exerted between two solids.
In soil mechanics, Coulomb's law defines the cohesion and the angle of friction of a mass of earth to calculate the stability of its slope.

A brick weighs half a brick plus 1 kg. How much does the brick weigh?
We can do some simple algebra. Let's say that x is the weight of the brick:
x = x/2 + 1 kg => 2x = x +2 kg => x= 2 kg
Math is like this, but a little more complicated.

On peut aussi, avec son bon sens, dire que si la brique pèse sa moitié plus 1 kg, la demi-brique pèse 1 kg.



French editors tell me that if I put an equation in a book, the number of sales is divided by 10. In France no one is interested in science! In any case 0/10 = still 0.


Ansel Adams : "There are no rules to composition, only good or bad photographs."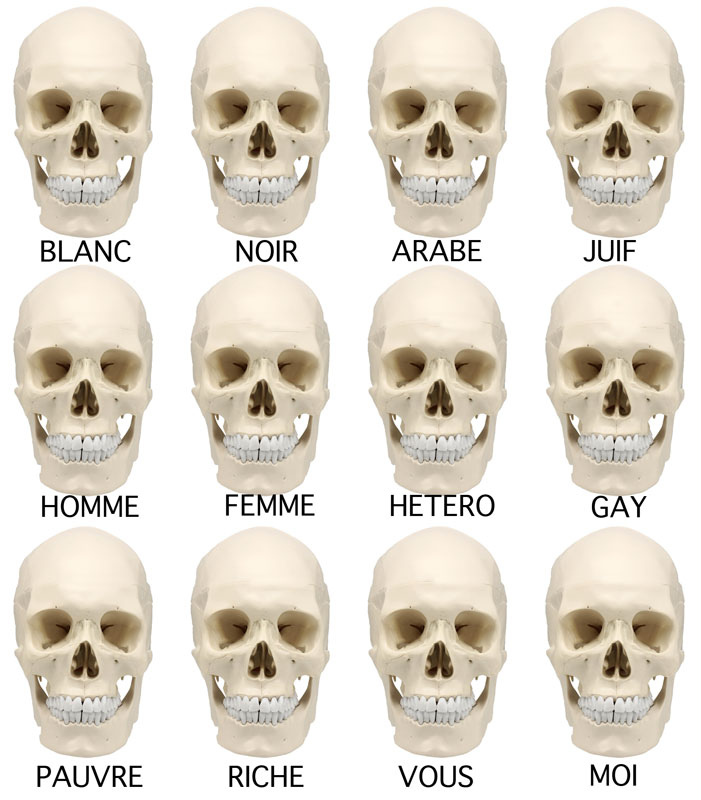 Coluche quote: "the man is equal"
"God said: there will be white men, there will be black men, there will be great men, there will be small men, there will be beautiful men and there will be ugly men, and all will be equal, but it will not be easy ... And then he added: there will be some who will be black, small and ugly and for them, it will be very hard! "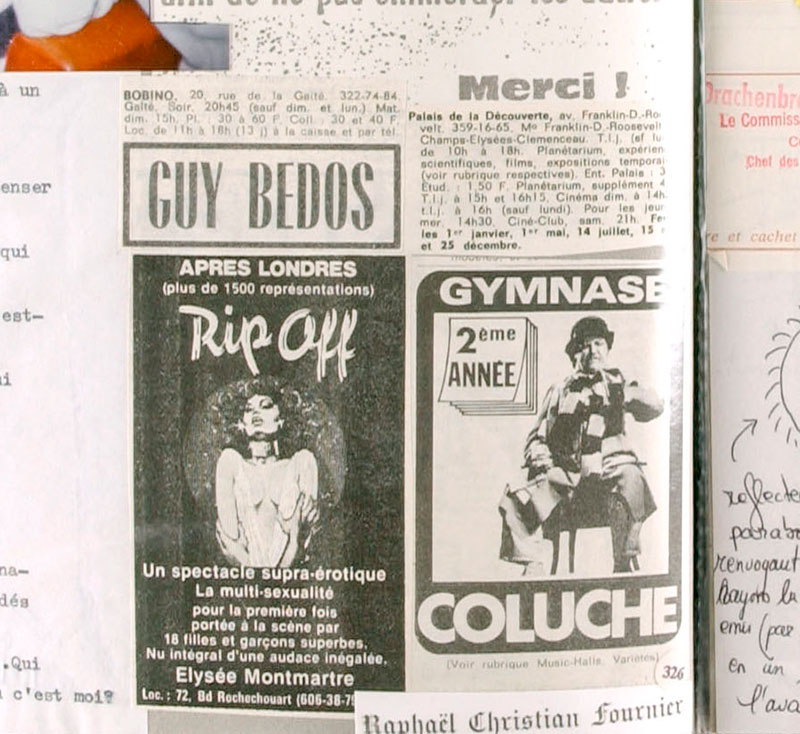 I saw Coluche on stage, in the first row! Extraordinary.
Guy Bedos was great as well.

Thanks for everything, Coluche.
The French comedian Coluche adopted from early an offensive style without, he said, falling into vulgarity. His style was sarcastic and marked notably by his freedom of expression, he became known for taking on taboo topics, and later moral and political values in contemporary society. In 1974, he rose in fame for his parody of a TV game show: Le Schmilblick (skit). In 1984, he was awarded a César for best actor in his dramatic role in Tchao Pantin. Taking turns between provoking and instigating with his social positions, he even ran for president in 1981 before dropping out of the race. Popular and beloved by the public, in 1985 he founded the organization Les Restos du Coeur, a help centre for those living in poverty, several months before he died in a motorcycle accident.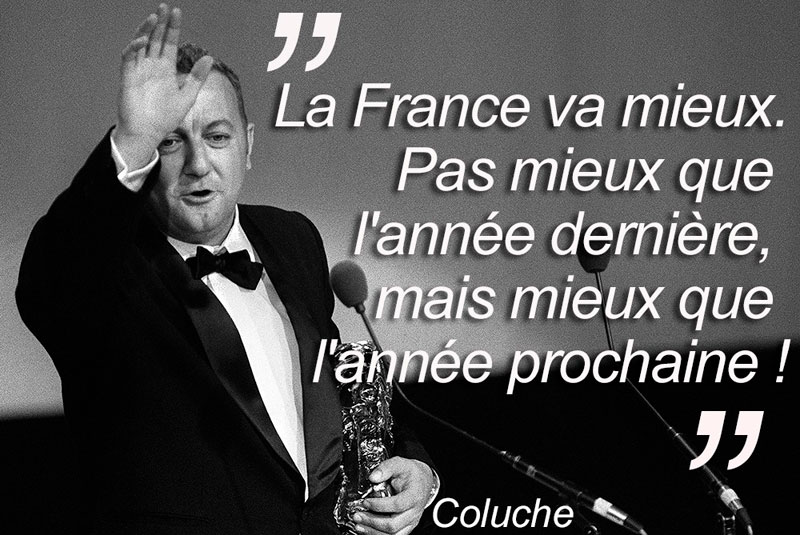 "France is getting better. Not better than last year, but better than next year !"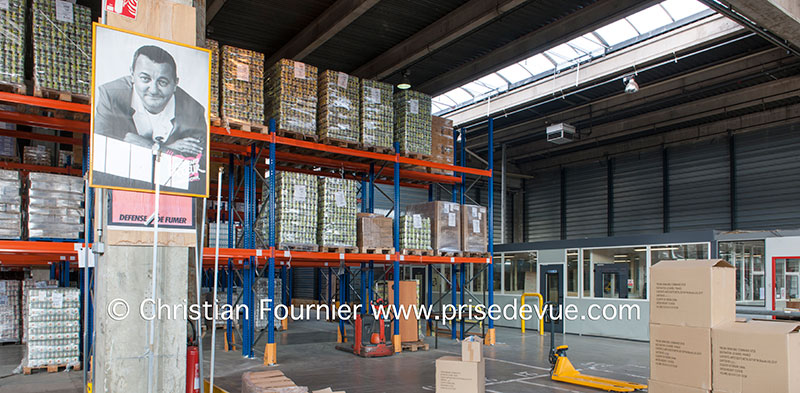 I visited and photographed the Les Restos du Cœur warehouses in 2014, the organization is thriving 29 years later. Bravo, Coluche. Having been homeless myself in 1993, I know what I'm talking about (See page 41, My Ruin).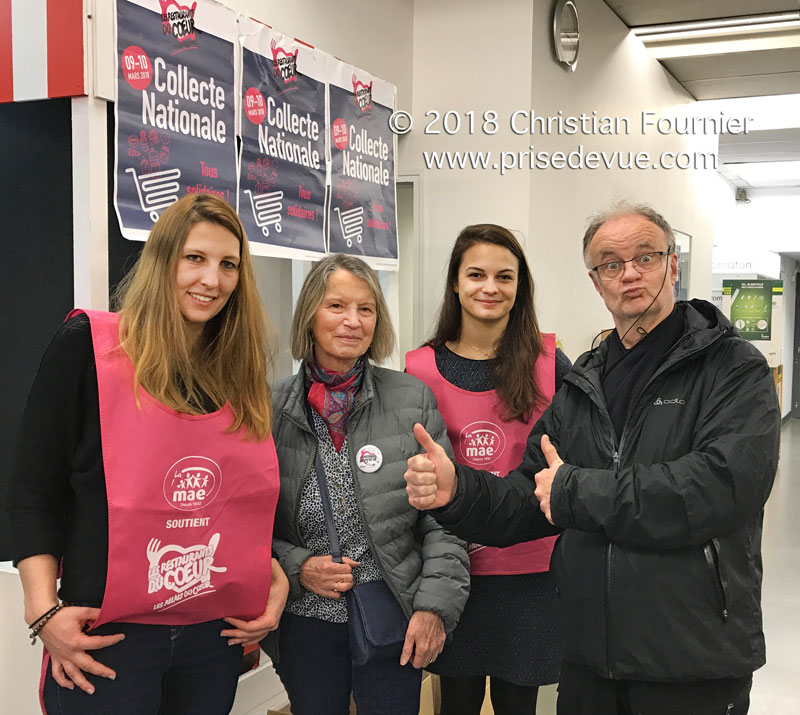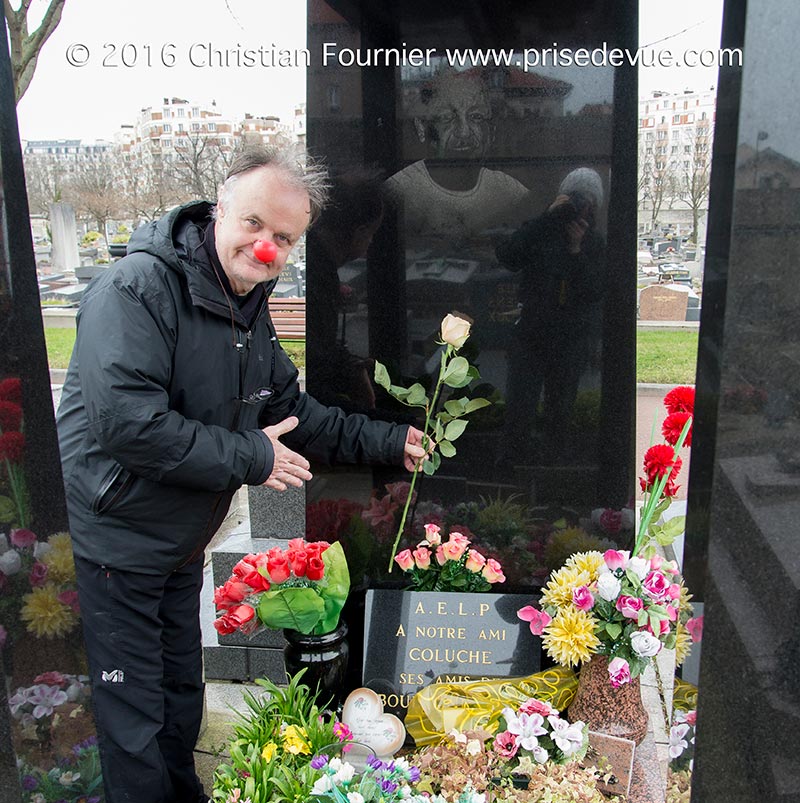 Do not complain of growing old, not everybody has this privilege.
2016: Coluche's grave near Paris. He was often seen with his red nose... He died at 42 yo.

Do not complain about getting old, everyone does not have that privilege.

October 31, 2016 : Expo Coluche at l'Hôtel de Ville in Paris.

1967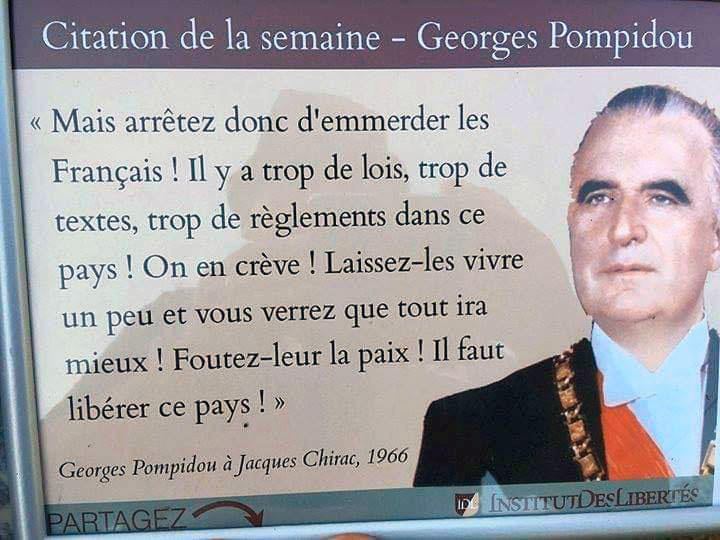 You are not a real north of France guy if you haven't see this!


Woodstock 1969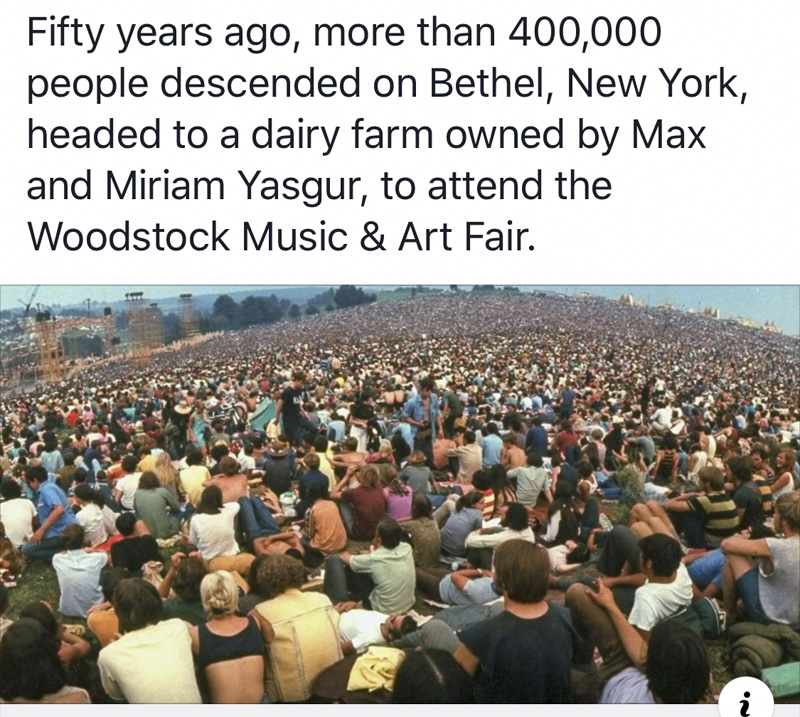 Joan Baez et Bob Dylan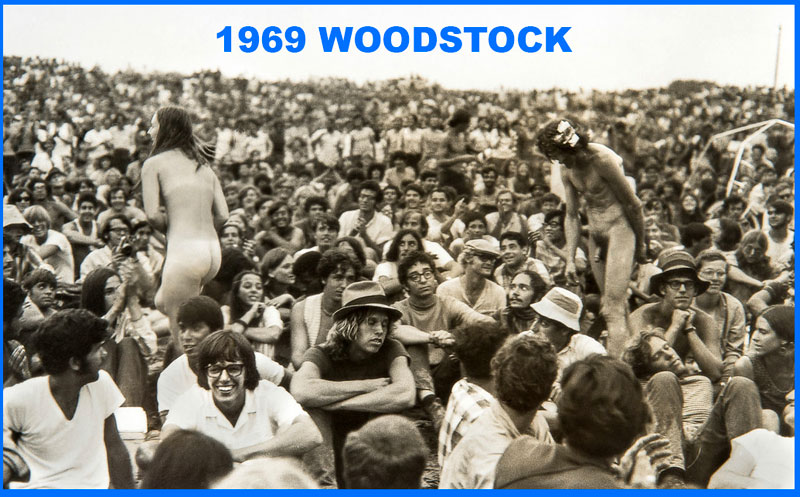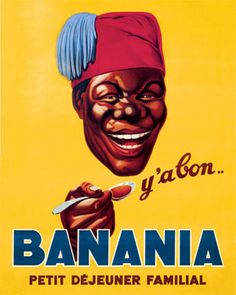 Brigitte Bardot (également connue sous les initiales de « BB »), née le 28 septembre 1934 à Paris, est une actrice de cinéma, mannequin, chanteuse et militante de la cause animale française.
Figure féminine des années 1950 et 1960, elle est une star mondiale, l'égérie et la muse de grands artistes de l'époque. Emblème de l'émancipation des femmes et de la liberté sexuelle de cette époque, elle incarne des rôles de femme-enfant et de femme fatale.
Elle tourne avec plusieurs grands réalisateurs, interprétant des personnages à l'élégante légèreté et à la sensualité photogénique. Elle devient rapidement un sex-symbol et acquiert une renommée internationale. Avec à son actif 45 films et plus de 70 chansons en près de 21 ans de carrière, Brigitte Bardot est une des artistes françaises les plus célèbres au monde.
En 1973, elle met un terme à sa carrière d'actrice pour se consacrer à la défense des droits des animaux, notamment avec la création de la fondation Brigitte-Bardot.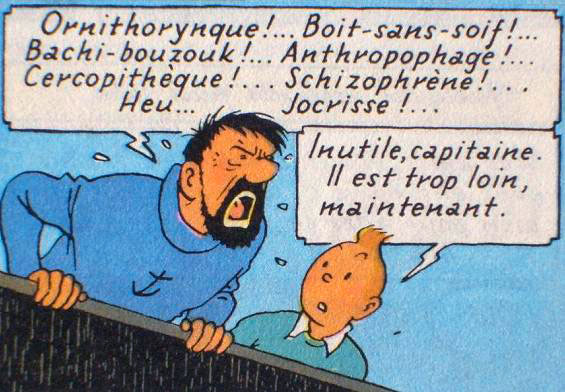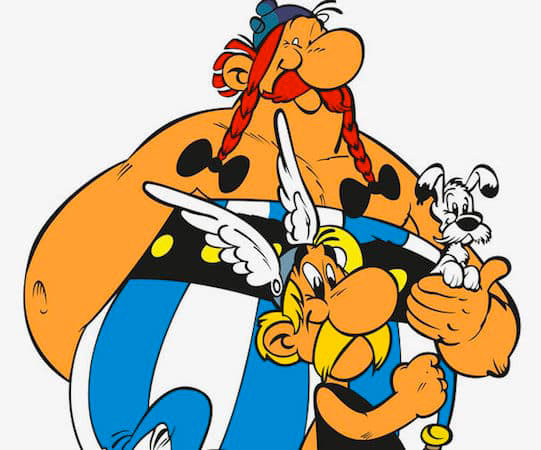 Henri Salvador
Le travail c'est la santé est une chanson composée et interprétée par Henri Salvador, sur des paroles de Maurice Pon. Elle est sortie en 1965 en vinyle 45 tours, avec les titres Dis, M. Gordon Cooper, Bouli-bouli et Hula-hula.

Henri Salvador et Christian Fournier en 1989.
Henri Salvador, né à Cayenne, en Guyane, le 18 juillet 1917 et mort à Paris le 13 février 2008, est un chanteur et humoriste français. Compositeur et guitariste, il joua à ses débuts dans des orchestres de jazz français. Sa longue carrière (débutée dans les années 1930), prend une nouvelle dimension lorsqu'il entame à partir de 1948, une carrière de chanteur. Artiste populaire, apprécié d'un large public, on lui doit de nombreuses chansons qui aujourd'hui encore demeurent dans les mémoires : Syracuse ; Maladie d'amour ; Le Loup, la Biche et le Chevalier (Une chanson douce) ; Le lion est mort ce soir ; Dans mon île ; Le travail c'est la santé ; Zorro est arrivé…





Jacques Brel.
Ne me quitte pas
Il faut oublier
Tout peut s'oublier
Qui s'enfuit déjà
Oublier le temps
Des malentendus
Et le temps perdu
À savoir comment
Oublier ces heures
Qui tuaient parfois à coups de pourquoi
Le cœur du bonheur
Ne me quitte pas
Ne me quitte pas
Ne me quitte pas
Ne me quitte pas
Moi, je t'offrirai
Des perles de pluie
Venues de pays où il ne pleut pas
Je creuserai la terre jusqu'après ma mort
Pour couvrir ton corps d'or et de lumière
Je ferai un domaine
Où l'amour sera roi, où l'amour sera loi
Où tu seras reine
Ne me quitte pas
Ne me quitte pas
Ne me quitte pas
Ne me quitte pas
Ne me quitte pas
Je t'inventerai
Des mots insensés
Que tu comprendras
Je te parlerai
De ces amants-là
Qui ont vu deux fois leurs cœurs s'embraser
Je te raconterai l'histoire de ce roi mort
De n'avoir pas pu te rencontrer
Ne me quitte pas
Ne me quitte pas
Ne me quitte pas
Ne me quitte pas ...
The 1950-1970 generation
This is not the apology of the good old days, nor a critique of the world in 2019, just what I experienced. FYI, I love my navigation system and Wikipedia.
Poppies in the fields, little traffic, we could take photos anywhere in Paris without authorisation, little fake news, the music was not created by computer, no shopping malls but small businesses where we talked to people, we are the last generation not to have used helmets when we were cycling, no child proff systems, we were creating our toys ourselves, we believed in the future, no smartphone, computer consoles, no virtual friends, we were going to see our friends without warning and they did the same, humanity was not governed solely by money, our photos were in black and white but our memories in color, no Wikipedia, no instant access to the entire world knowledge, we went to the library, no navigation system, we read cards, the bottles were made of glass and returnable, no cosmetic surgery, no politically correct, our swings were metal and we launched ourselves unprotected, no pesticides, we are the last generation who listened to their parents and who listens to their children, no microwaves, no intense security control before borading a plane, we said thank you and hello, we did not talk about overpopulation, no climate warming, no animal extinctions, humans answered the administrations phones, go to the cinema was a party, no Trump, women did not shave, no disposable tissues, little packaging, few TV channels, sexual liberation: after the pill, before AIDS, miniskirts, no fast food, the singers were famous for their talents not their looks, no radar, no video surveillance, we would have been ashamed to wear ripped jeans, we did not photograph our meals, not were not invade with English words or acronyms, the photos had value, little terrorism, we walked to school, no fax, no e-mail, no SMS, no Messenger ... the Parisians did not honk constantly, more joy of life, patience, good humor.