page 45: Since March 1997: I am now well behaved and established in Paris as a freelance photographer, very professional.


Here I introduce my activity. My tariffs are at the bottom of the page. Fan messages. Clients references.

I have a large bank of images from around the globe.
Gérard Perron wrote: "Christian Fournier, universal photographer: if you are looking for photos of girls, flowers, Island landscapes, Borneo underwater or the lawn mower made by Ferrari in 1954, he has it. If he doesn't, he will shoot it so fast that you will think he already had it."

Photo by Ron Stam. Thanks, Ron.


ABOUT CHRISTIAN FOURNIER
ABOUT CHRISTIAN FOURNIER
CHRISTIAN FOURNIER is a professional freelance photographer based in Paris, France, specializing in fashion, advertizing, industry, reportage, corporate and weddings for the last 20 years

CHRISTIAN FOURNIER is a true independant photographer who attended a Bristish photo school, is very experienced, passionnate and creative. View his biography
Despite its diversity, prisedevue.photos is not an agency, it is CHRISTIAN FOURNIER himself (no sub-contracting) who will carry out your photo shoot and the post production with the best equipment (always two cameras at all times for safety). CHRISTIAN FOURNIER has a complete knowledge of the graphic chain which allows him to deliver fully finished pictures, even very complicated ones. Amont his clients: Nike, Etam, Ober, SFR, Comme des Garçons, Alcatel, L'Oréal, Hachette, GEFCO, Schweppes, Holiday Inn, Peugeot, etc.. See a larger list.

CHRISTIAN FOURNIER is a true professional, well organized, polite, who will set everything up to carry out his undertakings, from preparation to delivery. His equipment is always the bery best. See his large list. He delivers his photos fully optimized within 3 days, on DVD, by post or via YouSendit pro with fiber optic Internet.

CHRISTIAN FOURNIER does not hide anything: all his tariffs are clearly shown on prisedevue.photos ; the sales terms are also visible. CHRISTIAN FOURNIER is properly registered as a business within the French legislations (Siret 41139772200017), he produces legal invoices (Agessa : 038756), his book keeping is checked by a goverment regulated boby: AARP (n° adhérent: 006185).

CHRISTIAN FOURNIER is insured for you: assurance multirisque commerciale et professionnelle à responsabilité civile chez Aviva numéro 74153215. Coverage in case of accident in your premises or his studio.


CHRISTIAN FOURNIER "prisedevue.photos : for all your photographic services" 14 square de Port Royal, 75013 PARIS FRANCE
Tel : 00 33 1 43 31 73 14 mobile 00 33 6 60 94 33 80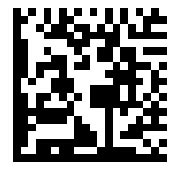 Yeah, I know, it's no use putting a flash code on my site. Still, you can pass it on to other fans…

I am open 24/7, but by appointment only!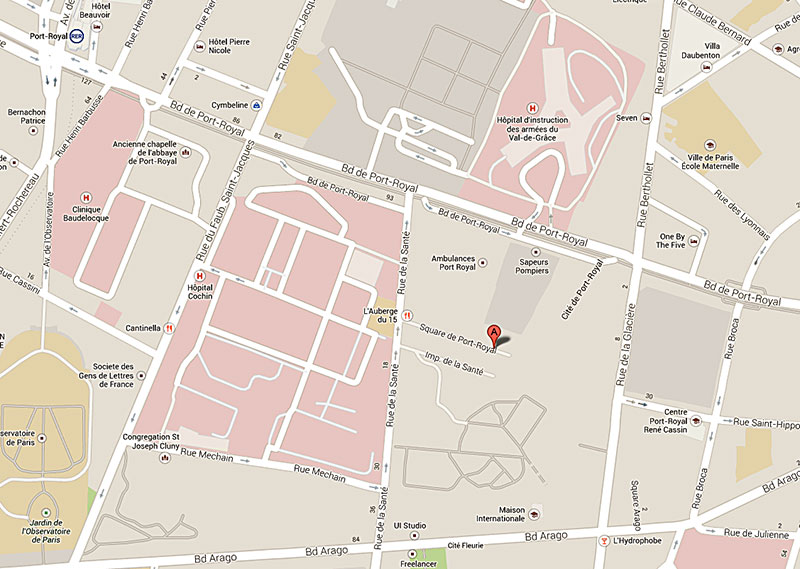 CHRISTIAN FOURNIER
Sur rendez-vous uniquement. 14 square de Port Royal 75013 PARIS FRANCE
Tél Portable : 06 60 94 33 80
BLOG : http://blog.prisedevue.photos
FLICKR : http://www.flickr.com/photos/famousphotographer
FACEBOOK : http://www.facebook.com/christianfournierphotographe

Siret : 41139772200017, Intracom : FR01411397722, Agessa : 038756 code APE : 923A activités artistiques

Longitude : 2.3433286; Latitude : 48.8367687

Accès par la rue de la Santé,
RER B Port Royal : Roissy-Gare du Nord-Châtelet-St Michel-Denfert Rochereau,
Métro Glacière ligne 6 : Etoile-Trocadero-Bir-Hakeim-Montparnasse-Place d'Italie-Bercy-Nation
ou bus 91 : Montparnasse-Gare Austerlitz-Gare Lyon-Bastille
ou bus 21 : Gare St Lazare-Opéra-Châtelet-Place Italie-Stade Charléty
ou bus 27 : Gare St Lazare-Opéra-Palais Royal-Luxembourg-Place Italie-Porte Ivry
ou bus 38 : Gare Nord-Gare Est-Strasbourg St Denis-Châtelet-Luxembourg-Denfert Rochereau-Porte Orléans
ou bus 83 : Haussmann-Invalides-Babylone-Gobelins-Place Italie-Porte Ivry

Parkings : Saint-Jacques (591 m) Boulevard Saint-Jacques 75014 Paris Patriarches (745 m) Place Bernard Halpern 75005 Paris

Stations Velib' : Station 14004 111 BD PORT ROYAL Station 5029 FACE 41 AVENUE GEORGES BERNANOS Station 13001 51 BOULEVARD PORT ROYAL Station 14113 36 RUE DE LA SANTE Station 14112 24 RUE MECHAIN Station 13002 55 BD ARAGO

Stations Autolib' : 97 boulevard de Port-Royal, 75014 66 et 25 rue Henri Barbusse, 75014 52 et 85 boulevard Arago, 75013

The plaque on my front door
.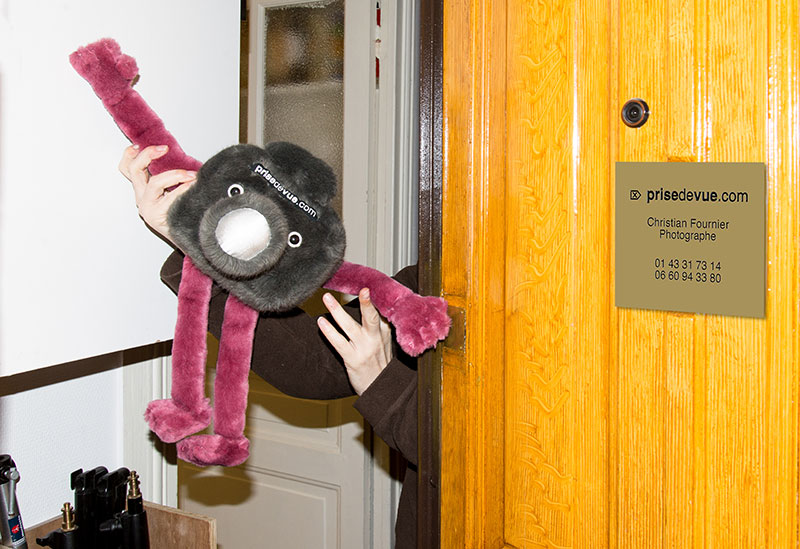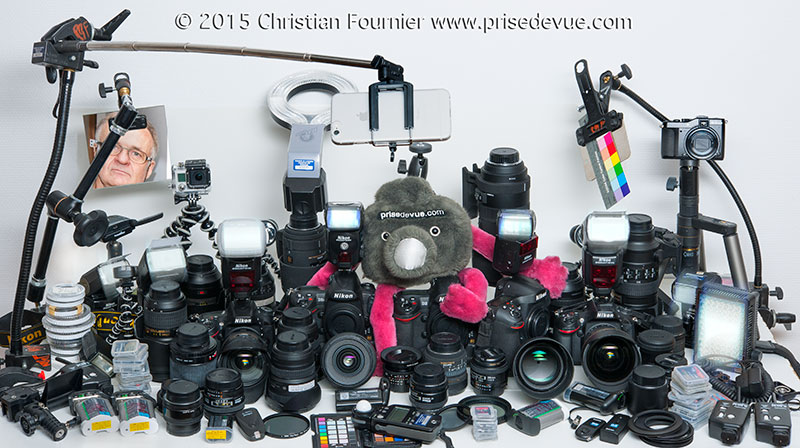 The custom made soft toy "prisedevue" makes a selfie to show my portable photo equipment. Around $ 60 000 on the table.
Why so much gear? = I shoot many types of photography (architecture, advertising, press, industry, wedding, fashion, still life, underwater, portraits, conventions) and all require different equipment.

Nikon D3X Nikon D3 Nikon D3s Nikon D4 Nikon D600 + 2 acc EN-EL15 Nikon D600 + 2 acc EN-EL15 Nikon Coolpix P7000 Nikon Coolpix AW110 étanche
Nikkor 16mm F2.8 D NIKKOR AFS 14-24mm/2.8 IF G D Nikkor 18-35/F3.5-4.5 ED number 1 Nikkor 18-35/F3.5-4.5 ED number 2 NIKKOR AFS 24-70mm/2.8 IF G D NIKKOR 24-85mm F3.5-4.5 D Nikkor AFS 24-85mm F3.5-4.5 G ED VR NIKKOR AF-S MICRO 60/F2.8 G ED Nikkor AF-S VR Micro105mm 2.8G IF-ED Nikkor 20mm F2.8D Nikkor 24mmF2.8 Nikkor 24mm F1.4 AFS G ED Nikkor 28 F2.8D Nikkor 35mm F2 D NIKKOR 50mm f/1.4D NIKKOR AFS 85mm f/1.4 G Nikkor AF-S 70-200mm f/2.8D G ED VRII NIKKOR AFS 24-120mm 4G ED VR Nano Nikkor AFS 28-300 ED VR Nikkor AF-S TC 14E II Nikkor AF-S TC 20E II Sigma 150mm f/2.8 EX APO Macro EX DG HSM Autofocus Sigma 50-500 mm F4,5-6,3 DG OS HSM Voightlander 20/3.5 asph AIS(R) Samyang 500mm miroir F8 Sigma 8mm DG F3.5 fisheye
NIKON filters Ø 52,62,72mm Soft, Skylight, Polarisant 77 et 72 slim
Nikon flash SB800 Nikon SB800 Nikon SB900 Nikon SB900 Nikon SB910 Nikon SB600 3 PocketWizard FlexTT5 for Nikon; Nikon WT-5 wireless transmitter wifi for D4
Déclencheur à distance Hama MC-30 1 système de filtre Lee pour 35mm et moyen format
Ring flash Ray Flash for SB900/901 PocketWizard FLEX TT5 for Nikon
Flashmeter Minolta IV F + 5° spot lightpanel microPro LED Magic Arms, super clamps, spigots, .... Lite Panels MicroPro GoPro Hero 3 black WiFi + harnais bras, poitrine, front, ventouse, écran LCD
26 CompactFlash cards 12x32G, 8x16G, 2 cartes XQD 32G 10 cartes SDHD Lexar 32G
iPhone 6 64Giga white.

OK, since then, I have bought other cameras and accessories, like the Nikon D850 of 45 millions pixels.
Bachelor's degree in Mathematics from the University of Amiens

Diplome City and Guild, Photo 745 du Berkshire College of Art and Design). Course 745 is in technical photography, and Course 744 is in artistic photography.
Profoto lighting, Manfroto accessories… See the complete list.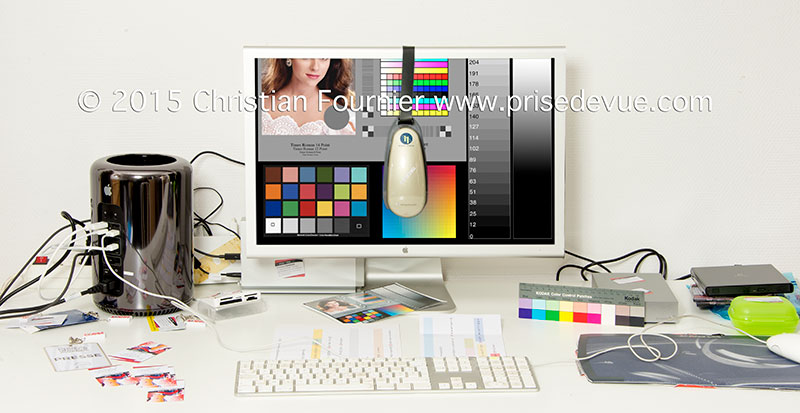 During moves where I can transport a real calibrated screen, like for L'Oréal in Cannes in September 2015, here is the preparation.
Inside a large Tenba suitcase I pack my Mac Pro, a 24'' screen, a Gretag-MacBeth Colour Checker, a Lacie 4TB Thunderbolt hard-drive, a SeaGate 4TB hard-drive, a DVD Reader/Writer, a CF and SD card reader with USB3, etc.…
I deliver my photos to my clients in RGB. They are calibrated at the moment of photographing in colour temperature thanks to a certified Kodak colour chart (CAT 152 7654) included in my first photo in a given lighting and sent to the printer.

My flashes are real top-of-the-line studio flashes (Profoto) guaranteed in colour stability. My images are processed with Lightroom and then Photoshop (Levels to avoid white without detail, blocked blacks and over-saturated colours) with the eyedropper tool. My screens are also calibrated with a Greta MacBeth Colour Checker.
So my photos are perfect in RGB, ready for a CMYK conversion CMYK = Cyan, Magenta, Yellow, Black (Key) = four colour processing. Four Colour is the most popular model in colour printing (others are ink jets, dye sublimation, roto-graphic printing, etc.). The conversion to CMYK can be very dangerous with respect to being faithful to the colours.
If your client asks you convert your photos from RGB into CMYK, you have to ask: "Yes, but which CMYK?" . There are hundreds that exist, each adapted to a different printer and a precise type of paper. You can't do a proper conversion unless you have the specifications of the printer, for example: the separation table of the system which will be used.
Whatever you do, don't change from RGB to CMYK in Photoshop without checking first what CMYK will be used.
Warning: the CMYK colour space is restricted. Our eyes see a very wide colour space, which is the reference point of course. The RGB is that of monitors and sensors, more restricted. CMYK is a process which, on paper (more or less white, in general), places a layer of cyan, then magenta, then yellow, then black on the same sheet and gives an impression of colour. It is not perfect. Colours which are "fluorescent" or "metallic", for example, are lost. You need to add other colours (from which you incur more costs from extra rolls and calibrations) to get closer to the colours of the original. Jewellery catalogues are thus very costly. For Example: the colours of the reproduction of a painting cannot be 100% faithful. I had to explain this at length to an eminent painter. He explained that he made his paintings with ostrich eggs, burnt sienna (iron oxide and manganese oxide), chocolate chips imported from Africa, butterfly wings, Chinese silk, varnishes from Leonardo da Vinci, etc.…
Many colours cannot be reproduced in CMYK, even if you spend a fortune and consult the best specialists. So you have to find a compromise, or go see the original at the museum. Even still, the painting must be well-lit with the same lighting as in the painter's workshop. If the painting is lit up by tungsten lamps, it will appear more yellow, with neon tubes, more green, etc.… My painter suffered a lot during this discussion, but he told me that he was happy to finally understand all of this and that I had just changed his life.
Thank you Christian.
For the objects which a graphics artist has created with a Pantone colour (RGB or CMYK) since its conception, I can inject this colour this colour into the photo and this allows you to get a more faithful photo depending on the process used. I can also adapt my RGB, if I'm asked, for maximal optimisation (on iPad Rétina, for example).


My custom built computer corner.
1- Macintosh MACPRO Computer 3,7 GHz Quad-Core Intel Xeon E5
2- Fan to avoid over heating
3 - Scanner Epson Expression 1680 Pro with retro light
4 - Spare Profoto flash heads
5 - Desk fan
6 - Two calibrated 30 inch anti-reflect screens
7 - Shure PG 48 Microphone + studio mini stand
8 - iPhone 6
9 - iSight Webcam
10 - External hard disc Thunderbolt LaCie 4T
11 - Fiber optic and WiFi SFR box
12 - External hard disc Thunderbolt LaCie 3T
13 - CompactFlash and SD readers
14 - Sound digitaliser FastTrack Solo
15 - Buffalo - external BluRay and DVD burner
16 - Atoll CD80 CDplayer
17 - Atoll IN 100 audio Amplifier
18 - Greta MacBeth screen calibrator
19 - Bass speaker Voledyne CHT-12R
20 - MGE 1200VA antisurge
21 - Clock (not atomic)
22 - A2T Premium 2 speaker
23 - Three 15" Telefunken 15001 digital frames
24 - A2T Premium 2 speaker
25 - prisedevue.photos soft toy
26 - Panasonic plasma 16/9 TH-37PX60E TV
27 - SFR TV receptor
28 - Sony RDR-HXD870 DVD and Blue Ray player
29 - Canon Pixma MG5450 printer
30 - computer MacBook Pro 17" 2.93GHz Intel Core 2 Duo, 4GB 1066MHz DDR3 SDRAM 2X2GB, 320GB
31 - Ipad black 64G Wifi model MC707NF
32 - Pied colonne Manfrotto 806.


Everything is interconnected. Lots of cables behind.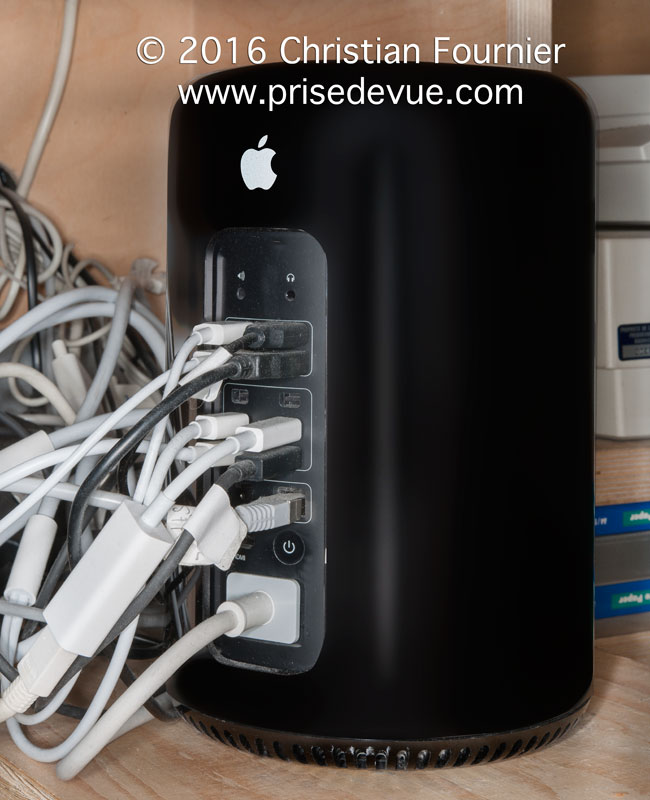 My MACPRO Computer 3,7 GHz Quad-Core Intel Xeon E5. Not so design with all the cables.
My keyboard and its shortscuts and actions and scripts, patiently developed and improved year after year.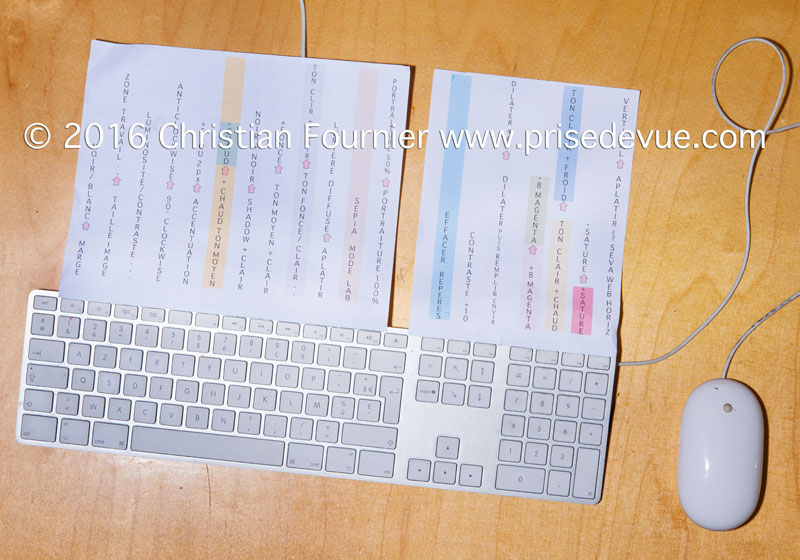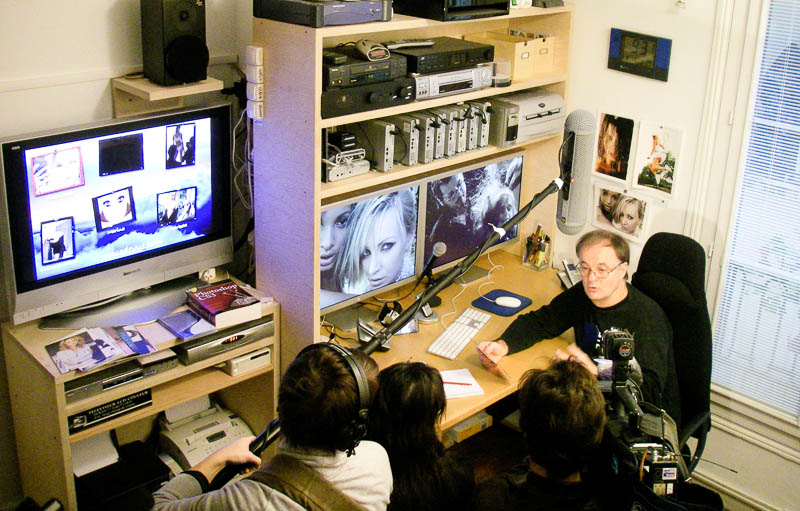 Photo taken by timelapse during an interview with TF1, a French news channel.

Made-to-measure furniture with two 30-inch anti-reflection calibrated monitors, Photoshop 2015, Lightroom 6, direct transfer of the photos from the Nikon cameras, Raid backup technology, 8 external hard-drives, fibre-optic network through the company SFR, WiFi, BlueRay reader/burner, Shure microphone, video-editing software, Emerson uninterruptible power supply, DropBox Pro, Yousendit HighTail Pro, WeTransfer Pro, connected iPad and iPhone, HD 95cm TV, Epson Scanner with back for transparents, printers, Atoll 100 watts RMS audio system and A2T speakers, etc...
I spend a lot of my time maintaining my system in an optimal state, and always with the latest versions of all my software (all paid for).



Christian Fournier, professional photographer and charismatic chameleon
Perched inside his computer cockpit, not unlike an Airbus 380 pilot surrounded by various knobs and buttons, Christian Fournier makes his final touches to the last photos from a costume party at Paris' Musée Carnavalet. Several hundred images flicker between the two 30-inch screens, the 3.7GHz MacPro at full throttle. Tomorrow morning, Christian will send the 658 photos, each one touched up personally, to the client via DropBox, taking only a couple minutes to transfer the perfectly calibrated images thanks to a fiber-optic connection.
For 20 years the photographer has cultivated his reputation as an ultra-professional, seducing and winning the loyalty of a demanding and versatile clientele despite competition with throngs of low-cost inexperienced photographers. Christian Fournier is specialized in fashion, advertising, industry, reportage, event reportage, even wedding photography. It's no wonder that l'Oréal keeps coming back to use his services after more than a decade. Among other big brands like Renault, La GMF or Tollens, the world cosmetics giant entrusts Christian with the photo reportages for their events, knowing without a speck of doubt that the fellow will be able to deliver 5000 flawless photos within 3 days to distribute to their international network.
Giving an initial impression of a wizened professor due to his past as a mathematician, the sixty-something photographer shoots with the precision and rapidity of an elite hunter coupled with the creativity of a painter or film director. He pioneered digital photography in France, shaping it into a formidable tool without falling into the trap of taking rapid-fire photos machinegun-style. In only an instant, he has analysed the scene, the scenario falls into place, his fingers caressing the dials of his Nikon or Hasselblad camera. After so many years of experienced around the globe, adjusting the settings comes naturally, instinctively, allowing him to focus his attention of the most essential: emotion. Unlike others who spend their time making sure the photo has turned out well, he doesn't need to, he knows! Christian is able to concentrate on the present moment, making sure not to miss those graced moments that will never repeat themselves.
Beyond his flawless mastery of photography, Christian Fournier remains a standalone figure in his milieu, a charming man, professional yet able to hold onto his British sense of humour garnered over his years living and studying photography in England. His daily life is characterized by self-deprecating humour and an appreciation for silly gags. Comfortable in any situation, he is equally at ease before a top model or the CEO of a Fortune 500 company. Firm but polite, Christian Fournier directs and advises his models or collaborators but remains in charge. Only later will the client discover the result, always pleasantly surprised by the unexpected angles and the near-magical control of light.
After a long career in the USA, in advertising, editorials and cruiseships, Christian Fournier has set anchor in Paris. Working out of his small vessel in the 13th arrondissement where he's managed to fit in a photography studio, he produces quality photography imbued with his passion, fidelity and imagination. A suitcase is never out of arm's reach, ready to embark on a reportage on the other side of the planet, to dive into the ocean's depths or to hop aboard a helicopter!
Richard Kirsch.



A car ready for anything, with a large trunk, 5 doors and load carrier bars on the roof.
Vehicle / van Toyota Yaris Verso with GPS and hand free telephone kit, 12-volt charger for computers and DSLRs, in a protected box with electronic starter 220v if need be.

You know you're a photographer when … your camera gear costs more than your car.

The shark was there as a prop for a "photocall".
In 2006
In 2016.


Siret number making me an officially registered French company on March 24 1997.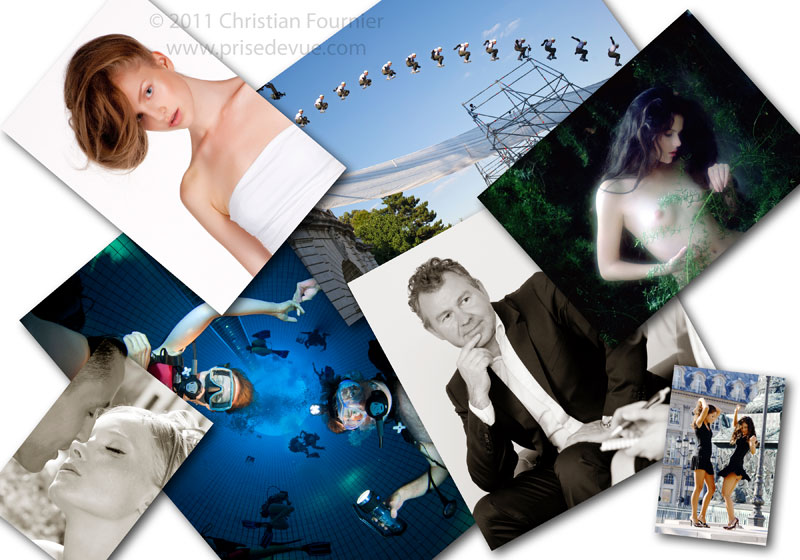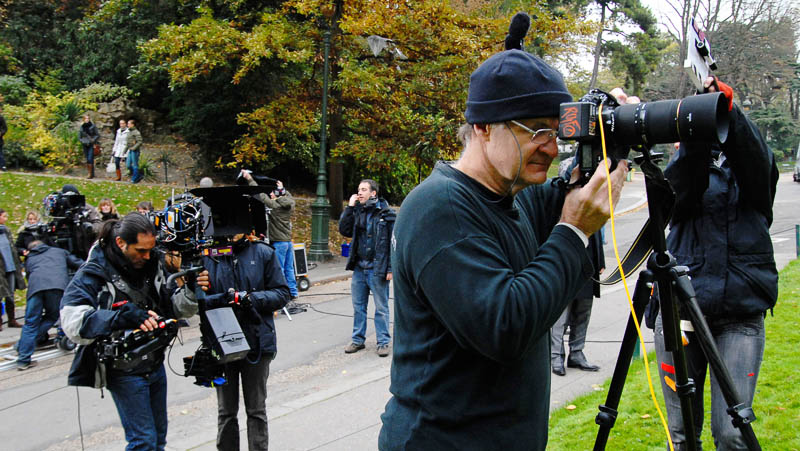 Here I participate in a film shoot for TF1 at the Buttes Chaumont park in May 2008 for an episode of the series "Femmes de loi". Photo by Louise Nylen, a Swedish assistant. Thank you, Louise!

GENERAL SALES TERMS from photographer Christian Fournier

1 - Christian Fournier's works is subject to the present general conditions. The fact of giving to Christian Fournier documents or objects to photograph implies the knowledge and the acceptance without limitation of these general conditions.

2 - The prices are quoted without tax, in Euros. All prices are susceptible to be revised on the basis of the legal fluctuations current at the date of the delivery. The freight costs are chargeable to the customer.

3 - All the works should be accompanied with an order form signed by the customer. Any work executed outside the usual opening hours: 9.00 am to 18.30 pm from Monday till Friday, entails a rise, determined at the moment of ordering.
Any changes from the client of the work as described in the original estimate can create a change in the cost of the photo.
Any major catastrophy, such as a model last minute cancellation, a city electrical power cut, a French transport strike, an impossible weather, etc.. can render the photographic work impossible and are therefore not the photographer's responsibility.
Any cancellation of a signed programmed work from the client must be notified to me in writing: 30% of the total fee must still be paid to me if cancellation occurs before 48H, 50% if 24H and 100% if the same day.

4 - Christian Fournier declines any responsibility in case of loss or of deterioration of elements supplied by the customer.

5 - Any order lower than 300 euros must be paid in full at the moment of reception of the invoice. Over this sum, the payment must be made under 30 days. There is a 13% extra charge for payments made after 30 days (French law number 92-1442 of 31.12.1992) If important technical fees are involved (for instance model fees, studio rental, etc..), their full payment must be made by the client at the moment of ordering. Christian Fournier is a member of the French government controlled accountancy association AARP and payment by check or bank wire transfer is accepted.

6 - The copyrights are "all rights reserved" under any legislations, except written, express and special license, on invoice.

7 - Any complaint should be made within a week of the reception of the work, and any photos not giving satisfaction, returned within the same period. The possible disputes must be in the jurisdictions of Christian Fournier's place of residence. Slight differences in colour and contrast may exist due to technical limitations in the printing industry.

8 - According to the French law number 80 of March 12, 1980, the delivered works remain Christian Fournier's property until their complete payment. They are subjected to the French image and intellectual property law of march 11th 1957, whatever nationality the client might be.
The nonpayment of the rights to Christian Fournier entails the denunciation of the agreement of transfer of rights of author with immediate effect, forbidding as a consequence the exploitation of photos under the offence of forgery.
The non payment of the photo rights will fall under the counterfeit French laws and any material (magazines, brochures, packaging, etc..) showing the photo will be immediately confiscated (at the client expenses).

9 - The mention: " Photo: © Raphaël Christian Fournier " is compulsory near the published photo.

10 - One copy of the publication must be supplied to the author by the client at the above mentioned address.

11 - Christian Fournier can use the photos he has taken for a client, including the making of ones, in his paper or internet book and website, for self promotion only, unless prior confidentiality agreement is signed by both parties.

12- The client/diffuser is responsible for the use of the photos, and pornographic, immoral or defamatory use is not permitted. The client is also responsible for copyrights of people, buildings, works of art, trade marks in the photos and it is his responsibility to negotiate the rights accordingly.

Christian Fournier remains at your disposal for any further information.


In Bonaire, in the Caribbean, in 2012.

My estimates and invoices are very precise.
And sometimes accompanied by equally-precise set-up diagrams.


Legend for the above diagram, for the ARENA swimsuit shoot

- 1 - Caisson Ikelite pour Nikon D700 de 12 millions de pixels, pas de vidéo, modifié pour connexion étanche directe en USB auto amplifié de 9,5 mètres vers l'ordinateur pour contrôle et acquisition des photos en direct en LiveView + Dôme Ikelite 8" pour 16 mm Nikkor + ou Nikkor 20 mm + 4 accus et 2 chargeurs. Deux Nikon D700 pour la sécurité. Sur pied court pour les tests de réglages depuis la surface, puis à main levée par le plongeur expérimenté Christian Fournier. Connecté grâce à un double cordon synchro étanche Ikelite aux deux flashs Ikelite DS 161 (n°5).
- 2 - Nikon D600 de 25 millions de pixels, connexion directe en USB auto amplifié de 15 mètres vers l'ordinateur pour contrôle et acquisition des photos et des vidéos en direct en LiveView. Sur pied et rotule pour parallélisme parfait avec la vitre et ainsi éviter les reflets. Muni d'un déclencheur PocketWizard Plus II pour déclencher les flashs terrestres Profoto ou les 4 flashs cobra EasyBox STU avec le Quad Bracket (n°10) en radio. Connecté en hot show à un flash Nikon SB800 n°3. Objectif Nikkor 18-35mm dernier cri. 3 accus de rechange.
- 3 - Flash Nikon D800 dirigé vers les cellules photo électriques étanches n°12. Piles sèches LR6 neuves. Dans la tour. Il n'est pas dirigé vers le plongeur pour éviter le back scatter.
- 4 - Tour en plexiglas optique de 25x25x120cm, lesté avec une gueuse de 75 kg, ajustable en profondeur par corde et poulie depuis la surface. Sa base est doublée de plexi noir mat en U pour éviter les reflets parasites et hisser l'appareil de haut en bas dans la tour. Des cartons noir mat perforés de trous ronds de différents diamètres pour éviter les reflets parasites sont placés devant l'objectif.
- 5 - Deux Flashs Ikelite DS 161 avec diffuseurs grand angle, câble double synchro, les accus peuvent fournir 450 flashs en pleine puissance, mais nécessitent 5 heures de recharge après épuisement. Possèdent aussi une lampe pilote/video puissante. Deux cellules Ikelite #4401 pour déclencher ces flashs grâce aux flashs Nikon SB800 de la tour n°3, des 3 SB 800 sur girafe n°10 et du relais n°7. Tenu sur pieds pour les tests de réglages depuis la surface, puis à main levée par le plongeur expérimenté Christian Fournier.
- 6 - Câbles USB auto amplifiés dont les connextions ont été étanchéifiées par inclusions résine. Permettent aux clients de visualiser les photos ou vidéos prises de la tour ou du caisson en instantané.
- 7 - Flash Nikon D800 dirigé vers la cellule photo électrique étanche n°12. Il n'est pas dirigé vers le plongeur pour éviter le back scanner. Inséré dans un bocal étanche en verre et muni d'une cellule photoélectrique déclenchée par le flash n°3 de la tour. Lesté via corde avec un plomb de plongée.
- 8 - Câble PC synchro en jack 1/8 pouce vers le flash Profoto de studio en 220 v ou les 3 flashs cobra Nikon SB800 assemblés avec le TriFlash Sync de Lastolite (fonctionnant sur pile CR 2032 3v) ou 1 boite à lumière portable Lastolite EasyBox STU avec le Quad Bracket et 4 flashs Cobra (n°10). La partie immergée du câble, avec la cellule photoélectrique, a été étanchéifiée par inclusion résine. 3 câbles identiques, avec cellules photoélectriques, pour la sécurité et assurer le déclenchement difficile de l'eau vers la surface. Câble en "y" (mâle vers deux femelles 1/8" mini-jack) pour brancher deux cellules sur le même flash.
- 9 - Appareil photo/vidéo étanche Nikon AW110 25 millions de pixels collé à la paroi de la piscine grâce à une ventouse. Pour le making of.
- 10 - Pour l'effet lumière zénithale : 3 flash cobra NIKON SB800 assemblés avec le TriFlash Sync de Lastolite (fonctionnant sur pile CR 2032 3v) sur une girafe sécurisée au sol par gaffer, sur les structures fixes possibles via cordes, avec gueuses pour la sécurité maximale. Rien sur le 220V. Ou en option, 4 flashs Nikon SB800 cobra dans une boîte à lumière portable Lastolite EasyBox STU avec le Quad Bracket. Déclenchés via les cellules photo électriques immergées ou/et via le Pocket Wizard en radio dans la tour. Sera monté sur un parapluie pour une lumière plus douce pour les photos de la jeune fille en surface. - 10a - Pour l'effet lumière zénithale : EN OPTION : Un flash Profoto sur une girafe sécurisée au sol par gaffer, sur les structures fixes possibles via cordes, avec gueuses pour la sécurité maximale, sur le 220V, uniquement si la sécurité le permet. Ce flash très puissant permet la lumière zénithale. Il est déclenché par les cellules photoélectriques immergées via les flashs n°3, n°5 et n°7 et le PocketWizard en radio dans la tour. Sera monté sur un parapluie pour une lumière plus douce pour les photos de la jeune fille en surface.
- 11 - Girafe Manfrotto sécurisée au sol par gaffer, sur les structures fixes possibles via cordes, avec gueuses pour la sécurité maximale.
- 12 - Cellule photo électrique étanche n°12. Permet le déclenchement du flash 10 ou 10 en option et 16. Est activée par les flashs n°3, n°5 et n°7
- 13 - Nikon P7000 pour making of air-surface en intervallomètre + objectif fisheye Dyron + caisson RecSea + pied + accus et chargeurs de rechange + bracket + Manfrotto clamps
- 14 - 2 lampes étanches continues Sola 1200. Pour éclairer le making of photo et vidéo. Ne dure pas plus de deux heures sans recharger. Le recharge prend deux heures.
- 15 - Appareil photo Nikon D3 + objectif 18-35 mm en mise au point fixe pour intervallomètre de making of (une photo toutes les 15 secondes, en Raw plein format, permet une vidéo en accéléré de très haute qualité et des photos individuelles haute def). Sur pied photo solide, sécurisée au sol par gaffer, sur les structures fixes possibles via cordes, avec gueuses pour la sécurité. Relié au secteur 220 volt uniquement si la sécurité le permet.
- 16 - EN OPTION. Un flash Profoto sur un pied Manfrotto sécurisé au sol par gaffer, sur les structures fixes possibles via cordes, avec gueuses pour la sécurité maximale, sur le 220V, uniquement si la sécurité le permet. Ce flash très puissant permet aussi le déclenchement du flash terrestre n°10, et peut-être, si la clarté de l'eau et les différents angles incidences et réflexions, d'être déclenché par les cellules photoélectriques via les flashs n°3, n°5 et n°7 et le PocketWizard en radio dans la tour.
- 17 - Bouteille air 6L + long détendeur, tenue par assistante Frédérique pour permettre des mouvements plus rapides au plongeur/photographe sous-marin Christian Fournier
- 18 - Un Nikon D3s + Nikkor 24-120mm pour le making of terrestre à main levée. + 24-70mm F2.8 et 70-200mm F2.8 pour shoot du mannequin femme en surface.
- 19 - Prises électriques 220 volts étanches.
- 20 - Ordinateur MacBook Pro 17" 2.93GHz Intel Core 2 Duo, 4GB 1066MHz DDR3 SDRAM 2X2GB, 320GB Serial ATA @ 7200 rpm avec écran 17" modifié anti-reflets. Clavier plein format + souris. Disque dur externe pour sauvegarde. OK sur accus pour 2 heures. La recharge prend une heure. Adobe Photoshop CS6, Bridge SC6, Lightroom 4, Nikon Camera Control Pro pour contrôle complet de l'appareil connecté en USB (vitesse, diaphragme, ISO, température de couleur, zone de mise au point, etc..), déclenchement photo et vidéo, prévisualisation en LiveView instantanée.



For GMF, a French insurance company, in 2013


The carpet was replaced by cushions in the end. For those of you who read the drawings.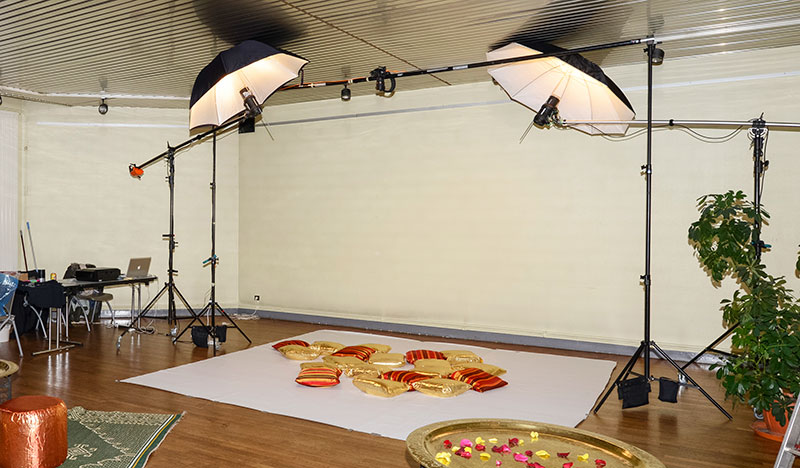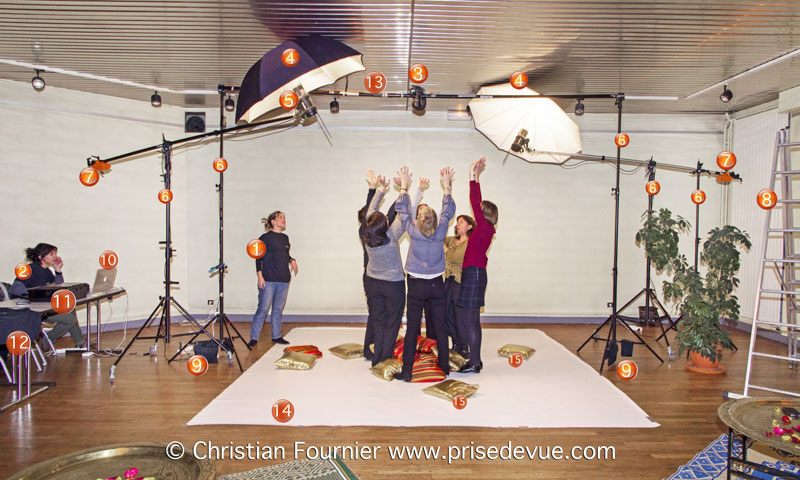 1 – Christine, assistant
2 – Camille, assistant
3 - Nikon D600 with Profoto remote trigger on a Manfrotto clamp and Nikon Camera Control Pro software in LiveView mode
4 - giant umbrellas
5 - Profoto D1 air studio flash remote triggered via software on the Mac
6 - Manfrotto light stand
7 - Manfrotto counterweight for the giraffe
8 - Stepladder to install all the high-up equipment
9 - Manfrotto counterweight for the light stands
10 - 17" Apple computer with heavy-duty USB cable to link it the Nikon camera for full control with Nikon Camera Control Pro software
11 - Printer
12 - Tabletop with fun props and disguises
13 - Horizontal bar to hold the lightweight Nikon D600
14 – 2.72 m square sheet of white paper
15 - Cushions to allow guests to lie down more comfortably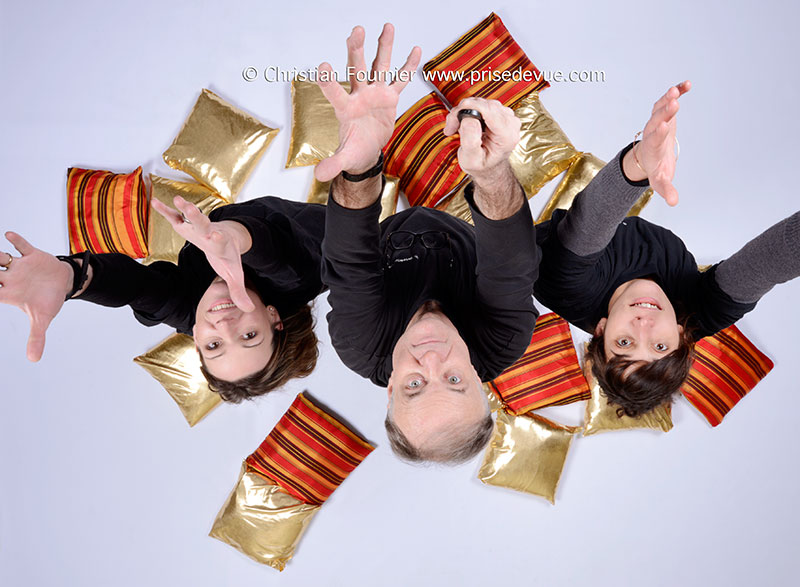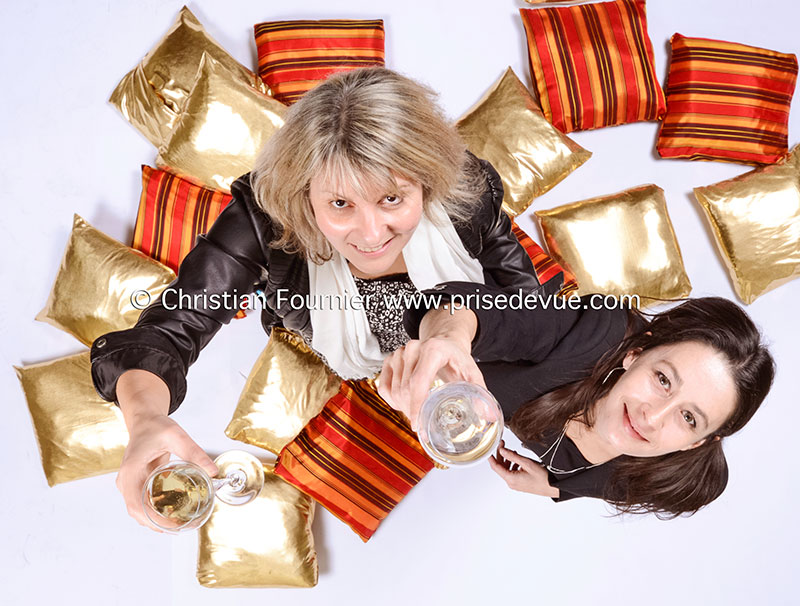 Legal invoices with recovery of VAT (Agessa : 038756; Intracom : FR01411397722), accountability verified by a certified organization : AARP (n° adhérent : 006185)
My invoices come with the AGESSA slip that you have to fill out, stamp and sign, then attach a check for 1.1% of the gross amount before taxes for the artistic services. After you have to send the whole package to AGESSA, 21 bis rue de Bruxelles 75439 Paris Cedex 09 tel 01 48 78 25 00 www.agessa.org diffuseurs@agessa.org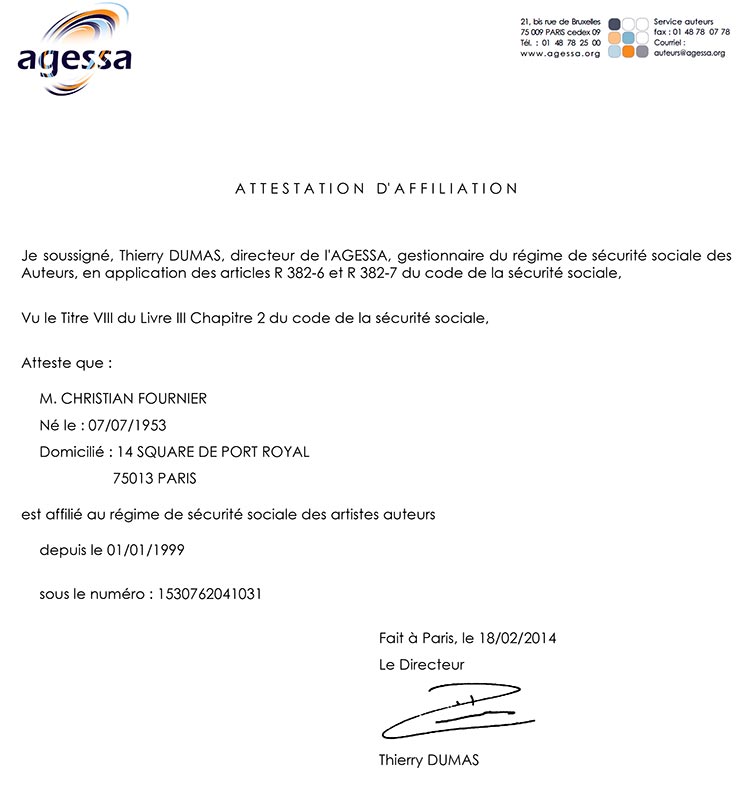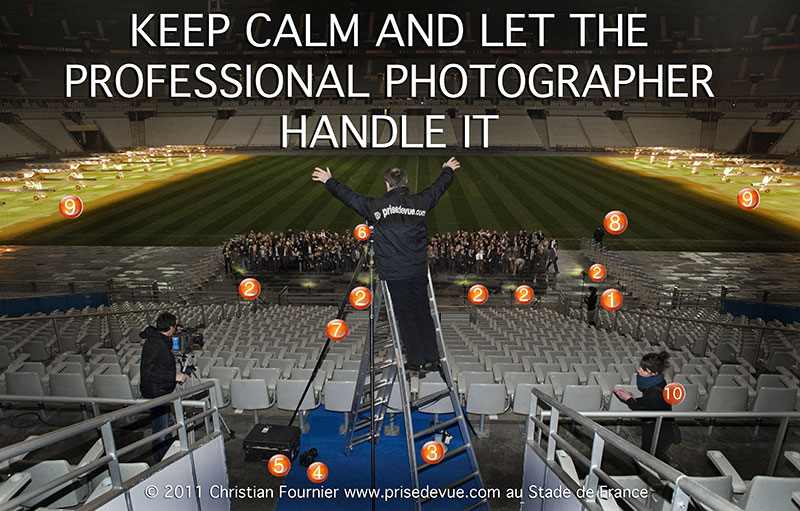 In the Stade de France (French national stadium) for Adivalor (agricultural organization) in February 2011. The flashes are hard to make out, but they are there, triggered by radiowave. Photo by Camille Verrier. Thanks Camille.

1 - Super Assistante Camille.
2 - Eclairages Profoto D1 Air déclenchés par onde radio par le Profoto Air Remote placé sur l'appareil photo Nikon D3x de 25 millions de pixels.
3 - Mégaphone pour repositionner les gens et leur expliquer quand la photo va être faite.
4 - Nikon D600 de 25 millions de pixels comme rechange et pour le making of.
5 - Caisse Pelican à roulettes contenant tous les appareils délicats.
6 - Nikon D3x (25 millions de pixels) et objectif Nikkor 70-200mm VR2.
7 - Pied Manfrotto très grand permettant de fixer un appareil photo à 2,5 m de haut
8 - Le gardien du Stade de France qui veille à ce que personne ne marche sur la pelouse, selon les clauses mises sur le contrat de location
9 - Les côtés du Stade de France très bien éclairés. Malheureusement, le centre et le groupe n'ont pas pu être éclairés, contrairement au contrat de location

Non visible sur la photo, l'assistant Laurent qui prend cette photo et les mètres de câbles qui amènent le 220 Volts aux 6 flashs Profoto D1 Air. Evidemment, de nos jours, en 2017, Profoto a créé des flashs qui fonctionnent très bien sur accus autonomes.




CHRISTIAN FOURNIER is insured for you: Multi-risk commercial and professional liability insurance with Aviva, reference number 74153215. Coverage in case of accidents in your premises or his studio.

My custom-made jacket displaces the weight of the hefty camera + flashes + lenses from my fragile vertebra to my more solid shoulders. I can also fit in two extra lenses, extra Nikon and LR6 batteries, as well as my iPhone and ID card. No unwieldy backpack. There's room enough to bring my smile along, too.
This photo was shot at ....... la Banque de France (The Bank of France), by Alex Krohn, chief editor at Incisive Media in England. Thanks Alex.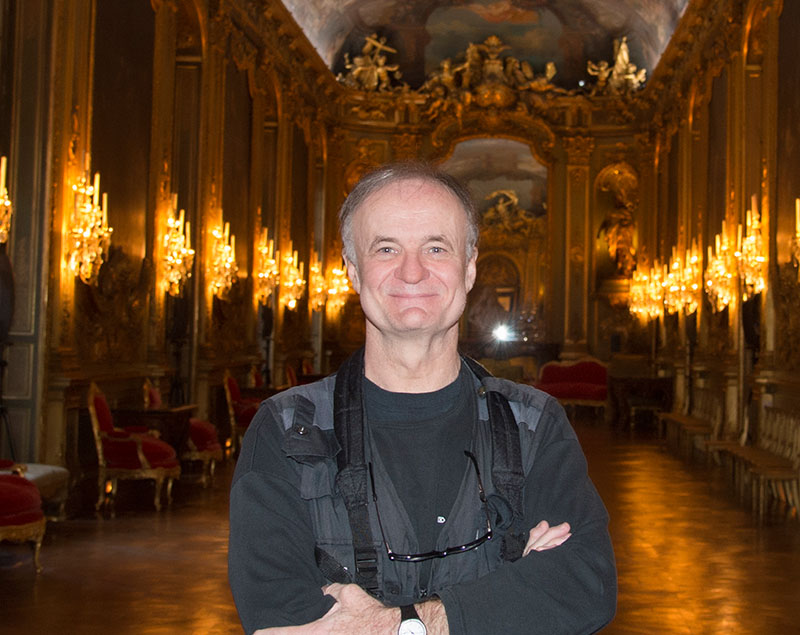 I have an enormous photo library of images from the 4 corners of the earth.

Gérard Perron wrote : "Christian Fournier, universal photographer : if you're looking for girls, for flowers, for landscapes, or even photos of the lawnmower made by Ferrari in 1954, he's the man to ask, he has it, and if he doesn't have it, he'll get it for you so fast you'll think he already had it."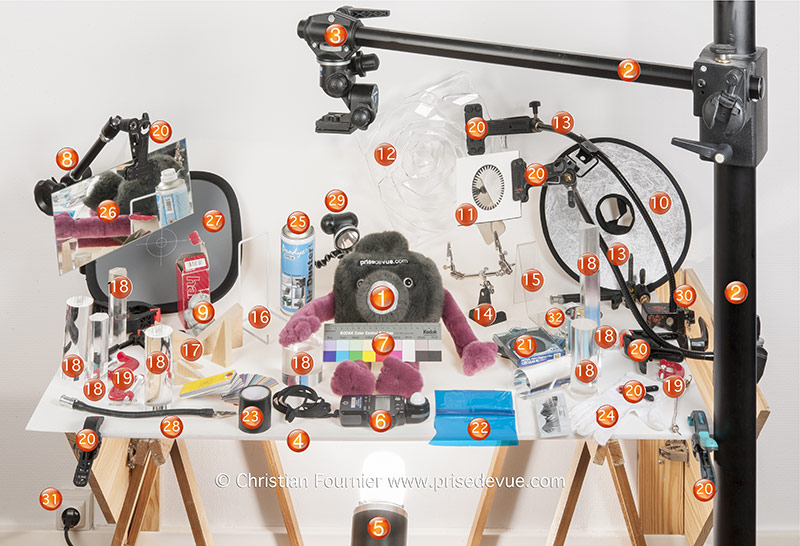 I have many accessories which are very useful for photographing still life. The main ones are:
1 prisedevue.photos Mascot
2 studio stand
3 micrometric head
4 Transparent opaline Plexiglas sheet for lighting from below, normally hidden by black cardboard in order to avoid altering the contrast in the photo.
5 Light Head
6 Flash meter
7 certified Kodak colour chart
8 Manfrotto magic arm
9 Non-greasy Plasticine
10 Reflector surrounding a lens
11 Elliptical-shaped serrated cardboard for blurry effect
12 Accessory for lighting/shadow effects
13 Flexible Arm
14 Small stand with crocodile clips
15 Plexiglas stand to present objects vertically
16 wire stand to present objects like plates
17 Various wooden stands for presenting various objects
18 Various transparent Plexiglas stands for presenting various objects
19 clamps
20 clips
21 Polarising filters for reflections
22 Blue fireproof Rosco filter
23 gaffer tape
24 cotton gloves
25 air duster to blow dust far from objects
26 mirror
27 Reflector/grey chart
28 hosepipe and crocodile clips
29 LED lamp on a mini-pod





OBLIGATIONS DU DIFFUSEUR
Toute personne physique ou morale y compris l'Etat, les collectivités publiques et territoriales qui exploitent, commercialisent, diffusent des œuvres (terme générique utilisé par l'AGESSA : diffuseur).

En général, toute personne morale qui rémunère un auteur en contrepartie de la cession des droits d'exploitation dont il est titulaire sur son œuvre (droits de reproduction et/ou représentation). Cet acte juridique doit être constaté par écrit en particulier en matière d'édition et de production audiovisuelle.

Ce que le diffuseur doit faire vis-à-vis de l'AGESSA :

1 - Remplir une déclaration d'existence lors du premier versement, pour que le dossier soit enregistré à l'AGESSA. Un numéro d'identification sera attribué par l'organisme pour permettre l'imputation des versements de cotisations sociales.

2 - S'assurer que l'activité du collaborateur est une activité de création (au sens de la définition de l'œuvre de l'esprit donnée par le code de la propriété intellectuelle) et, est comprise dans le champ d'application du régime de sécurité sociale des auteurs (pour plus de détail, vous pouvez obtenir des fiches par activités.

3 - L'assujettissement concerne les activités ci-après :
a) Ecrivains, Traducteurs, Illustrateurs : auteurs de livres, brochures et autres écrits littéraires et scientifiques (ce qui exclut les textes à caractère publicitaire ou promotionnel et de communication) ; auteurs de traductions adaptations et illustrations des œuvres précitées ; auteurs d'œuvres dramatiques et de mises en scène d'ouvrages dramatiques, lyriques et chorégraphiques ; auteurs d'œuvres de même nature enregistrées sur un support matériel autre que l'écrit ou le livre (tel que disque, cassette, CD-ROM, réseau câblé), dont les auteurs de logiciels exerçant leur activité à titre indépendant.
b) Auteurs et Compositeurs de Musique : auteurs de compositions musicales avec ou sans paroles (compositeur, parolier, librettiste) ; auteurs d'œuvres chorégraphiques et pantomimes.
c) Auteurs d'œuvres Cinématographiques, Audiovisuelles et Auteurs d'œuvres Multimédia :
auteurs d'œuvres cinématographiques, audiovisuelles, quels que soient les procédés d'enregistrement (scénariste, adaptateur, dialoguiste, réalisateur, auteur de doublage et de sous-titrage) et de diffusion, auxquels sont rattachés les auteurs réalisateurs d'œuvres " multimédia " exerçant leur activité à titre indépendant.
d) Auteurs d'œuvres photographiques :
auteurs d'œuvres photographiques ou d'œuvres réalisées à l'aide de techniques analogues à la photographie (hormis les travaux réalisés pour des particuliers et qui ne donnent pas lieu à diffusion et/ou exploitation commerciale, tels les photos « de famille »).
Le fait de relever du régime des artistes auteurs au titre d'une activité de création n'implique pas que la totalité de la rémunération soit déclarée à l'AGESSA, la part des travaux techniques d'exécution pouvant relever du salariat soit en raison d'une présomption de contrat de travail édictée par le code du travail soit en raison des conditions de fait d'exercice de l'activité qui révèlent un lien de subordination avec le donneur d'ouvrage (exemples : réalisateur de films, metteur en scène, réalisateur d'œuvres multimédia).

..........La suite

I have an enormous photo library of images from the 4 corners of the earth.
Gérard Perron wrote : "Christian Fournier, universal photographer : if you're looking for girls, for flowers, for landscapes, or even photos of the lawnmower made by Ferrari in 1954, he's the man to ask, he has it, and if he doesn't have it, he'll get it for you so fast you'll think he already had it."

An Excerpt of my "Image Bank" Prices (See the complete price list in English)

All prices listed are excluding taxes.

3 - COPYRIGHT TARIFFS, ADVERTISING
Nombre d'exemplaires
1/4 page et inférieur
1/2 page et inférieur
Pleine page et inférieur
2 pages ou couverture
moins de 20 000 ex.
200 Euros H.T.
300 Euros H.T.
400 Euros H.T.
600 Euros H.T.
de 20 000
à 100 000
300 Euros H.T.
450 Euros H.T.
600 Euros H.T.
900 Euros H.T.
de 100 000
à 200 000
450 Euros H.T.
650 Euros H.T.
900 Euros H.T.
1 600 Euros H.T.
de 200 000
à 500 000
600 Euros H.T.
900 Euros H.T.
1 200 Euros H.T.
1 800 Euros H.T.
de 500 000
à 1 000 000
900 Euros H.T.
1 300 Euros H.T.
1 800 Euros H.T.
2 800 Euros H.T.
de 1 000 000
à 2 000 000
1 200 Euros H.T.
2 000 Euros H.T.
2 900 Euros H.T.
4 000 Euros H.T.
de 2 000 000
et plus
2 200 Euros H.T.
2 600 Euros H.T.
3 500 Euros H.T.
5 600 Euros H.T.
4 - COPYRIGHT TARIFFS, POSTERS
Exemplaires

FORMAT

Moins de 100 ex.
de 100 à 500 ex.
de 500 à 1000 ex.
de 1000 à 2000 ex.
de 2000 à 5000 ex.
de 5000 à 10 000 ex.
au dessus de 10 000 ex.
Jusqu'à 40X50 cm
150 Euros H.T .
420 Euros H.T.
580 Euros H.T.


680 Euros H.T.
                    


1 200 Euros H.T.
                    


1 400 Euros H.T.
                    

1 500 Euros H.T.
de 40X50cm à 80x120 cm
300 Euros H.T.
800 Euros H.T.
1 000 Euros H.T.
1 300 Euros H.T.
2 100 Euros H.T.
2 400 Euros H.T.
2 800 Euros H.T.
Plus grand
1 000 Euros H.T.
1 500 Euros H.T.
2 300 Euros H.T.


3 000 Euros H.T.
                    

4 500 Euros H.T.


 6 000 Euros H.T.
                    


 7 600 Euros H.T.
                    
6 - COPYRIGHT TARIFFS, GENERAL ILLUSTRATIONS
Nombre d'exemplaires

1/4 page et inférieur

1/2 page et inférieur

3/4 page et inférieur

Pleine page

Couverture

moins de
40 000 ex.

100 Euros H.T .

130 Euros H.T.

160 Euros H.T.

180 Euros H.T.

320 Euros H.T.

de 40 000
à 100 000

140 Euros H.T.

180 Euros H.T.

200 Euros H.T.

250 Euros H.T.

400 Euros H.T.

de 100 000
à 200 000

170 Euros H.T.

200 Euros H.T.

250 Euros H.T.

300 Euros H.T.

500 Euros H.T.

de 200 000
à 400 000

200 Euros H.T.

250 Euros H.T.

320 Euros H.T.

380 Euros H.T.

640 Euros H.T.

de 400 000
à 800 000

250 Euros H.T.

330 Euros H.T.

400 Euros H.T.

470 Euros H.T.

800 Euros H.T.

de 800 000 à
1 500 000

320 Euros H.T.

400 Euros H.T.

480 Euros H.T.

560 Euros H.T.

960 Euros H.T.

de 1 500 000
à 2 500 000

370 Euros H.T.

460 Euros H.T.

560 Euros H.T.

650 Euros H.T.

1 100 Euros H.T.

de 2 500 000
et plus

420 Euros H.T.

540 Euros H.T.

650 Euros H.T.

750 Euros H.T.

1 300 Euros H.T.
8 - COPYRIGHT TARIFFS, MULTIMEDIA (INCLUDING INTERNET)

La définition de l'image ne doit pas dépasser 72 dpi de résolution et 800 x 800 de définition
Il appartient à l'utilisateur de communiquer le taux de fréquentation de son site :
• catégorie A : les sites les plus fréquentés : plus de 1 000 000 connexions par mois.
• Catégorie B: les sites intermédiaires : entre 500 000 connexions et 1 000 000 par mois.
• Catégorie C: les sites les moins fréquentés : moins de 500 000 connexions par mois.
Cultural and Editorial Use
| | | | | | | |
| --- | --- | --- | --- | --- | --- | --- |
| | Catégorie A | Catégorie A | Catégorie B | Catégorie B | Catégorie C | Catégorie C |
| Durée de la cession | Page d'accueil | Autre page | Page d'accueil | Autre page | Page d'accueil | Autre page |
| moins de 6 mois | 200 Euros H.T. | 100 Euros H.T. | 150 Euros H.T. | 80 Euros H.T. | 120 Euros H.T. | 60 Euros H.T. |
| Entre 6 mois et 3 ans | 280 Euros H.T. | 130 Euros H.T. | 210 Euros H.T. | 100 Euros H.T. | 170 Euros H.T. | 80 Euros H.T. |
| plus de 3 ans | 360 Euros H.T. | 180 Euros H.T. | 280 Euros H.T. | 140 Euros H.T. | 210 Euros H.T. | 100 Euros H.T. |
Commercial and Advertising Use
| | | | | | | |
| --- | --- | --- | --- | --- | --- | --- |
| | Catégorie A | Catégorie A | Catégorie B | Catégorie B | Catégorie C | Catégorie C |
| Durée de la cession | Page d'accueil | Autre page | Page d'accueil | Autre page | Page d'accueil | Autre page |
| moins de 6 mois | 900 Euros H.T. | 450 Euros H.T. | 700 Euros H.T. | 350 Euros H.T. | 500 Euros H.T. | 200 Euros H.T. |
| Entre 6 mois et 3 ans | 1400 Euros H.T. | 1000 Euros H.T. | 900 Euros H.T. | 500 Euros H.T. | 700 Euros H.T. | 300 Euros H.T. |
| plus de 3 ans | 2000 Euros H.T. | 1500 Euros H.T. | 1500 Euros H.T. | 1200 Euros H.T. | 1000 Euros H.T. | 700 Euros H.T. |


No, I'm not getting ready to rob a bank, just preparing for taking a photo at La Défense, the Parisian business district. The mask is necessary PPE because of the fumes from the air conditioning.


I never miss a chance to further my education and to perfect my techniques. This is a certificate of completion for the course "Digital Imagery with the Nikon D3 (level of perfection)".

My attitude is very professional.

I put emphasis on transparency.
My invoices are detailed and the bill corresponds to them, except for unexpected expenses along with the client's agreement.
Educated in the American Way, for me, the Client is King.
I don't make any photos for myself, no, my goal is that they please the client and that they coincide perfectly with the client's expectations.
I am resourceful and I go all out to ensure the photos that my clients are looking for.
I communicate clearly and I write up full estimates to avoid surprises or ambiguities, also keeping their feasibility in mind.
I am organized, punctual, and polite. I always prepare my equipment in advance (I make check-lists, in Frenglish!) as well as my road book. My equipment is at all times protected in Pelican or Tenba cases, even the tripods.
When you're with me, there are no "Sorry, I'm out of batteries", "Sorry, I got lost on the way", "Sorry, my flash broke".
I save all of my data, so my photos as well, in every format: double SD cards, Raid, external hard-drive in the bank, etc.…
I have doubles of all of my photography equipment, save for the car. My studio is equipped with many alarms, including MyFox, remotely controlled with my iPhone, an armoured entry door, and bars on the balcony.
I do all kinds of photography, except paparazzi (I only photograph consenting people) and wars (except fake ones).
I can light up anything, because in the last 40 years I've had the time to see everything.
Very very rarely do I miss a photo. See my column of "Missed shots".
I am reachable at any time, landline, cellphone, fax, email, SMS, mail. My iPad and my iPhone, which contain my agenda and my address book, update every evening.
Contrary to many too-young photographer, I don't have the need to constantly look at my camera's LCD screen to know if a photo is good.
20 years of film photography oblige, I am able to concentrate on what is happening around me without missing a thing. I know in my bones the right distance, the right focus, the right aperture to choose so that 3 people speakingin a close group are sharp and the background blurry enough so that they stand out.
I don't have any colorimetric problems nor colour-correction issues because I learned to do so very rapidly on cruiseships with 4000 color photos printed per week.

I have had an excellent grasp of Photoshop ever since it's version 1.0 in 1994.

I am very well referenced on Google. For the last ten years if you "professional photographer Paris", I appear on the first page with my address.

My website has required a lot of work. Designed and constructed by myself (I have read the Dreamweaver and GoLive manuals in detail). The website displays more than 200,000 photos organized by theme, including compilations, flash animations, texts from articles, videos, sound files, high-definition photos which allow you to zoom, my price list, a search engine for the entire site, a blog and practical information. Constantly updated. 55 domain names purchased.
I get about 24,000 visitors per month, which is a lot for a freelance photographer.

Amsterdam International Fashion Week which I did regularly two times a year from 2008 to 2010. Ring flash and macro lens for the small cosmetics details. Photo courtesy of Cees de Kuijer. Bedankt, Cess.


Example Checklist for L'Oréal Spain 2013 in my native Frenglish, since it is not meant for publication, just some silly thoughts and for the purpose of showing that I don't go to photo reportages unprepared.
Preparing for a photoshoot is very important, especially when you have to take a plane because you have to calculate exactly which equipment you'll need.
TO DO WEEKS BEFORE LEAVING
Buy more CF or XQD ?? Étiquettes pour clefs USB et formatage. PC lunettes prog from garage Mechain. vider le Jobo. check with Bouygues téléphone pour Spain. faire T-shirts prisedevue.photos chez Anarres. des DVD + CD vierges avec mon logo. comment écouter mon répondeur Bouygues à l'étranger. sauvegarde SG. vider boîtes mail Bouygues et Noos avant départ. e-mail some absence pour Kos Loreal. màj latest sur PowerBook. imprimer « reserved Loreal Paris photographer». des photocopies des premières pages du passeport (Formatting and labels for USB keys. Progressive glasses from garage. Empty the Jobo. Check with telephone company for Spain coverage. Order prisedevue.photos T-shirts from Anarres and blank DVDs+CDs with my logo. How do I listen to my voicemails abroad? Save SG. Empty email inboxes before leaving. Email about absence to Kos Loreal. Update PowerBook. Print "reserved Loreal Paris photographer". Photocopy first pages of passport just in case.)
TO DO JUST BEFORE LEAVING
resa taxi aéroport. formater toutes mes cartes CF. synchroniser les horloges et Adobe RVB sur D3, D3s et D4. recharger toutes les piles LR6 et autres accus. imprimer les infos du road book. mettre des livres audio dans l'iPhone pour l'avion. màj iPhone et ordi 17. màj DVD archives. French addresses on all gear. retirer mon couteau suisse de mon trousseau de clefs. remove mace from sac à dos. remove all non necessary cards and stuff from wallet. mettre 300€ cash dans mon etui de cou Samsonite. message mobile and fix et effacer les anciens messages. courroie sur grosse valise remowa alu. (Reserve airport taxi. Format all CF cards. Synchronise clocks and Adobe RB on D3, D3s and D4. Recharge all LR6 and other batteries. Print info for road book. Put audiobooks on iPhone for flight. Update iPhone and computer17. Update DVD archives. Label French address on all gear. Take off my Swiss Army Knife from my key chain. Remove mace from backpack. Remove all unnecessary cards and stuff from wallet. Put €300 cash in my Samsonite neck pouch. Check mobile messages and save or delete old messages. Attach strap to remowa aluminum suitcase.)
LAND CAMERA GEAR
Charte de gris pliante. petit réflecteur alu. 1 remote controls pour Nikon avec velcro. ring flash pour SB900. 4 Chargeurs AA et plein de piles AA. chargeurs EN-EL4 pour D3s et D3 + D4. Nikkor 60mm F2.8 macro Nikor 24-70mm Nikkor 28-3000 + 20mm +24-120mm Nikkor 70-200 F2.8 sans écrou de pied Nikkor converter 2 pour Nikkor 70-200mm monopod + tête + quick release. filtre polarisant 77mm + 62. mini tripod for remote. un SB 910 avec tête diffusante Nikon. deux SB 900. pocket wizard. D3s +D4 +D3. Manfrotto magic arm with camera tray. cartes CF 32 + 16G+XQD. kit Nettoyeur capteur à sec. aérosol nettoyeur capteur. 2 anti-theft lines. petit sac étanche orange. sac à dos : petit North Face. petit protecteur anti-pluie. harnais supplémentaire Safari shot avec boucles (Foldable gray chart. Small aluminum reflector. 1 remote control for Nikon with velcro. Ring flash for SB900. 4 AA battery chargers and plenty of AA batteries. EN-EL4 chargers for D3s and D3 + D4. Nikkor 60mm F2.8 macro Nikor 24-70mm Nikkor 28-3000 + 20mm +24-120mm Nikkor 70-200 F2.8 without screw lock, Nikkor converter 2 for Nikkor 70-200mm monopod + head + quick release. 77mm + 62 Polarising filter. Mini tripod for remote. A SB910 with Nikon Diffuser Dome. Two SB 900. Pocket Wizard. D3s +D4 +D3. Manfrotto magic arm with camera tray. CF 32 + 16G+XQD cards. Digital Camera Sensor Dry Cleaning Kit. Aerosol can for cleaning sensor. Small orange waterproof case. Small Northface backpack. Small raincover. Extra Safari shot harness with buckles.)

CLOTHES
Ceinture lombaire. jaquette photo noire avec poches et courroie. north face blouson. sandalettes et chaussons. underwear, socks T-shirts pdv. 1 sweat PDV pantalons noir rechange. bermuda amovible. casquette anti soleil. Shorts (Lumbar belt. Black photo jacket with pockets and strap. Northface jacket. Socks and slippers. Underwear, socks, prisedevue.photos T-shirts. 1 pdv sweatshirt and extra black pants. Convertible Bermuda shorts. Sun protection hat. Shorts.)
COMPUTER EQUIPMENT
Ordi 17" + chargeur, lecteurs CF et SDHD expressCard, tapis, souris, 1 disque dur LaCie 500 G rugged Mac avec sauvegarde. 1 disque dur LaCie HSB noir. clavier extended. 3 multiprises 2 fines et une grosse pour adapt secteur Mac + rallonge. lunettes ordi. lecteur CF et XQD supplémentaire. 10 clefs USB formatées PC avec étiquettes. RJ 45 câble. CD + slim boxes. jobo + charger (17" comp, CF and SDHD card expressCard readers, mouse mat, mouse, 1 Lacie 500 GB harddrive rugged Mac with backup. 1 black LaCie HSB harddrive. Extended keyboard. 3 power bars: 2 small and one large for Mac with extension cord. Computer glasses. Extra CF and XQD card readers. 10 USB keys formatted for PC with labels. RJ 45 cable. CD + slim boxes. Jobo + charger.)
MEDECINE + TOILETRY BAG
Somnifères rivotril. biaphine. Suntan lotion. Paracetamol. diantalvic anti douleurs dos = Xprime. aerius. nettoyeurs à lunettes. cure-dent. antimoustique. Simvastatine. Pulmicort. lingettes antibactériennes. urgo. shoe polish. fervex. cissors. Couteau suisse en soute. tiorfan anti-diarée. smecta désinfectant gastrique. antibiotique Oroken 500mg + amoxicilline. hair, teeth, soap, shave. comb. Guronsan. anti-perspirant. pastilles fraîcheur (Rivotril sleeping pills. Biaphine. Suntan lotion. Paracetamol. Backpain meds = Xprime. Aerius. Glasses cleaners. Toothpicks. Mosquito repellant. Simvastatine. Pulmicort. Disinfecting wipes. Urgo. Shoe Polish. Fervex. Scissors. Swiss Army Knife in checked baggage. Anti-diahrrea meds Tiorfan. Smecta gastric disinfectant. Oroken antiobiotics 500mg + amoxicillin. Hair, teeth, soap, shave. Comb. Guronsan. Deodorant. Breath-freshening lozenges)
PAPERWORK
Air tickets and travel documents. 2 Cartes Bleu. passeport. flight info. Model releases. permis international de conduire. cartes de visite. carnet de vaccinations, groupe sanguin. Carte vital + mutuelle. Press card
(Air tickets and travel documents. 2 bank cards. Passport. Flight info. Model releases. International Driver's License. Visas. Vaccination information and blood type. Health card + health insurance info. Press card. )

MISCELLANEOUS
iPhone à jour. Casque anti bruit pour train et Hôtel. iPod avec livres audio. anti-vol sac de cou Samsonite. petit porte monnaie pour argent local. 2 blocs multiprises pour informatique et chargeurs photo. chargeurs AA et Nikon. lunettes soleil. clip on solaire pour lunettes progressives. lunettes prog de rechange. câble sécurité moyenne taille +2 cadenas Pelican. Pelican 1500 à roulettes pour D3s et D4 +24-70mm. grosse valise remowa alu. Parapluie. petit puncho vert sans manches Vieux Campeur. tout petit puncho jetable. Casquette anti soleil. oreiller de cou pour dormir dans avion. Cache yeux. petit accus Kensinton chargeur pour iPhone. chaussons. Book pour lire le soir + lunettes adéquates. pens. cash. lunettes. chargeur AC iPhone. (update iPhone. Sound-canceling headphones for train and hotel. iPod with audiobooks. Samsonite theftproof neck pouch. Small coinpurse for local money. 2 power bars for computer and photo equipment. AA and Nikon chargers. Sunglasses. Clip-on sunglasses lenses for progressive glasses. Backup progressive glasses. Medium security cable + 2 Pelican locks. Pelican 1500 wheeled case for D3s and D4 + 24-70mm. Large remowa aluminum suitcase. Umbrella. Small View Campeur sleeveless green poncho. Smaller disposable poncho. Sun protection hat. Neckpillow for plane. Eyecover. Small Kensington AC charger for iPhone.)


This was taken at the event "Nature Capital", where the Champs Élysées were filled with vegetation in May 2010.
My camera is on a monopod with remote control which I held in my hand.
I remembered my anxiety about the sharpness of these photos because there was some wind and the monopod was rocking a little. 1/200th of 1/250th of a second? That is the question.
A lady behind me commented to her husband : " Look, chéri, a professional, he's using a tripod, his photos will be clearer! "

Photo taken by Florence Coufourier from the MaxPPP Press Agency. Thanks, Florence.

Here for Paris Capitale "greenery on les Champs Élysées"


"Photographing in public spaces in Paris and Île-de-France". A precious book for photography in Parisian public spaces, unfortunately no longer updated.

MENTIONS LEGALES ET LE DROIT D'AUTEUR

Mentions Légales
Christian Fournier décline toute responsabilité quant au contenu des présentes pages et à l'utilisation qui pourrait en être faite par quiconque. Toute personne désireuse d'utiliser une photo présentée ici est priée de contacter Christian Fournier afin de s'informer des conditions applicables.

Christian Fournier : Je suis photographe professionnel, je vis exclusivement de mes droits d'auteur. Toutes les photographies de ce site sont protégées par les lois internationales. Elles sont ma propriété exclusive, moi seul en détient les droits de reproduction. Je cède une partie de ces droits après accord et rémunération. Les images que vous voyez dans ce site ne sont en aucun cas libres de droit, ce ne sont pas des "clip art". Vous n'êtes pas autorisé à les utiliser ou les copier, sauf pour un strict usage privé. Toutes les images présentées sur ce site sont protégées sous toutes législations et pour tous pays. Pour obtenir des droits d'utilisation, il suffit de me contacter. Merci de votre compréhension et honnêteté.
Par ailleurs, je ne peux en aucun cas être tenu responsable de la représentation de personnes identifiables sur les photographies, ni des utilisations ultérieures abusives ou non desdites photographies.
CHAPITRE I - Nature du droit d'auteur
Article L. 111-1
L'auteur d'une œuvre de l'esprit jouit sur cette œuvre, du seul fait de sa création, d'un droit de propriété incorporelle exclusif et opposable à tous.
Ce droit comporte des attributs d'ordre intellectuel et moral ainsi que des attributs d'ordre patrimonial, qui sont déterminés par les livres I et III du présent code.
L'existence ou la conclusion d'un contrat de louage d'ouvrage ou de service par l'auteur d'une œuvre de l'esprit n'emporte aucune dérogation à la jouissance du droit reconnu par l'alinéa 1er.
SHORT LIST OF MY FANS AND CLIENTS MESSAGES
Very impressive, interesting, fascinating; it creates astonishment, we learn a lot of things.
Beyond the work produced, thousands of photos taken, there are plenty of stories, experiences (including funny situations), anecdotes; it never seems to end.
There are sometimes dramatic situations, twists and turns. The end sadly testifies to the difficulties of the profession of photographer today.
So much to read, and yet it seems to me that nothing can be taken away.
This Christian Fournier, what a man anyway!
How can I help with all of this? I am won over. Yes the photos are beautiful, yes they were useful ... and even today, it is not finished!

Christian Parramon 25 décembre 2019


** October 2014, about L'Oréal photos in Dubai: BERTRAM CAN'T BELIEVE HOW GOOD YOUR PICTURES ARE!!!!! I can tell you, the best we ever got so far. Christian, this is amazing, Bertram needed to watch them 4 times in a row! Really fantastic work - stunning! It's really amazing what you did! THANK YOU SO MUCH If Bertram can help you with anything, please don't hesitate to say it! A big hug from Bertram - another thank you from him and …. just so happy that your pictures are so overwhelming! Kind regards from Vienna, Jasmin And of course greeting from the heart, Bertram

Dear Christian, thanks for your greeting cards, I find the one with your portraits very creative. Good job, it's super well done… unless you have twin brothers living abroad, the resemblances are striking… I know it probably took you some time to make but it really deserves a 10/10… Thank you. Happy New Year to you.
Pascal Guiraud

Thats soo funny !! Best wishes to you too !! So its Fashionweek time again.. and you had to think about your old friend Ron ;-) Still miss you here in Amsterdam Ron Stam

So, in response to your cards, superb because of that water spray and the humorous use of the stairwell which could very well start speaking like in Harry Potter, I wish you an excellent new year full of health and democracy. Your friend, Philippe DESQUESNES, January 2015.

I love your portrait gallery. I can really see your ability to laugh at your own expense and your creative genius. Let's not go too long without getting in touch because time passes so fast. I'll call you regularly to see what's new with you even if it's to talk without saying much, let's talk about photography, graphic art or even the Higgs boson if you'd like or the Planck wall and all those things that we are passionate about even if they go over our heads. Until very soon my friend. Sylve and Eric Naras, January 2015.

** Ezra Todd Shelton a commenté votre lien. Ezra a écrit : « Christian, your work is EXCELLENT!!!'....Keep it up!!!!'.... »

** ** Georges Gaillard wrote, "Magnificent! Nothing to dislike! Superb feminine models! And plenty of other ideas…. Bravo!"

** Pat Denton : a écrit : « Christian Fournier is the best photgographer I've worked with, ever! »

** « You were always a fantastic photographer and it was a great pleasure to have known and worked with you » Andrew Rogers

** Christian Fournier Your work is absolutely amazing! I am envious that you have so much energy and enthusiasm for your photography and it appears to excellerate with age. Well done and all the very best. Tom Long

** Dear Christian, I just wanted to write you to thank you for your good mood, creativity and performance yesterday. I think the extras really enjoyed the shoot. Also pass on my thanks to Camille for her assistance. Claire DESCHAMPS, ARCHIV SYSTEM

** Dear Christian, I've just had the chance to peruse your websites – what a ride! I am very flattered to have caught the interest of a photographer such as you. Cordially, Max Zargal Cie SANTINI


** Dear Mr. Fournier, First I'd like to thank you the quality of your presentation at our school! Your passionate performance will certainly help our interns to evolve in their way of thinking about and considering different sectors of photography. We really appreciated you being so forthcoming and generously sharing your experience. You really caught everyone's attention. It is inspiring to listen to someone so passionate about his work! I hope we will have the pleasure of hearing you again in the future. I'm attaching a document to complete so that we can pay you for the conference. Until soon, Anne SIDER Chargée de la Communication et de la Formation Continue Ecole de Photo CE3P 01.46.58.45.20

** I've had the time to look over and even contemplate the images you "captured" at the Bigmat convention. I'll say it again, your work is phenomenal, the way you're able to recreate the ambiance, the gestures, people and machines, everything and everyone has its place in your precise, beautiful, and irreproachable reportage. Thank you for your extraordinary presentation of our rather ordinary event. Cordially, Étienne LEMAIRE.

** 18-10-2011 from Lætitia Guenaou : Thank you Christian for all these beautiful photos and for having immortalized our works. Hugs and Kisses, Laetitia.

** Le 14-10-2011 de Chris Thompson : bloody brilliant Hi Christian, I've decided that in the next life I'm going to be a ships photographer! Just spent about 2 hours on your website going through the cruise photos, bloody brilliant. All the very best Chris Thompson

** Le 26-09-2011 de Nishwa Ashraf : The photographs you supplied are fantastic! We're really pleased with the outcome, and if you supply an address, i'll be sure to post you a copy of the magazine once published. I do hope we get an opportunity to retain your services again in the near future.

** Le 21-09-2011 de Vivi : Thank you sooo much!!! Dear Christian, Thank you so much for the amazing proposal pictures!! I had no idea, even though I saw you with the big camera and the woman with the blue jacket!! : You captured one of the most beautiful moments of my life with these pictures! Can't thank you enough! Kind regards, Vivi.

** Le 21-09-2011 de Jérôme : Paparazzi Proposal at Pont des arts - Sept 18th 2011 Hi Christian, Thank you so much for your help at my proposal, pictures are PERFECT! The emotion is Great! My fiancée had no idea but loves the photo's. Thank you so much for all the help during preparation in the weeks before and I was really glad to meet you for the first time after our secret shot. We are so grateful you have captured this precious moment for us. Regards from The Netherlands, Jérôme

** Le 06-09-2011 de Pat Gatti : cheers Undoubtedly the most creative (among other things) Photo/Artist I ever knew.......always moving & on to bigger and better.....cheers!

** 29-08-2011 from François : Great greetings to you Mr Fournier, I just wanted to send you a little comment on your magnificent book, simply to let you know how much I admire your photos, absolutely magnificent… Thank you for this small excursion into a dream. I hope you are well, François.

** 29-08-2011 from Sophie Fleury : Thank you, thank you for our photo session. I had a good time and the photos are amazing! I am really excited to receive the DVD, and the bride is also very happy. Thank you yet again, Sophie & Co.

** Le 24-08-2011 de Spencer and Libby : Fantastic shots! Hi Chris. It is Libby and Spencer, from Cozumel. We were looking through our photos from Cozumel, and saw you in the background on several. Was lovely to meet both you and your wife. Happy Photography and travelling.

** 09-05-2011 from Richard : What beautiful images! Bravo for this work which has given me ideas for everyday photos. Do you give classes? Are you a certified teacher? Have a good day. www.theriri.smugmug.com

** 02-05-2011 from Champs, Hôtel Opera Cadet : Thank you for the DVD with all the beautiful photos that you took for us. You've really given us so many amazing options, choosing is going to be hard! I've already prepared a cheque to pay for your services. I want to thank you once again for your kindness and that of your team. We all admired your professionalism and your enthusiasm at our reportage.

On 21-02-2011, Pascal GUIRAUD wrote : What a story!
Hello Christian, I've just finished reading your long but riveting tale on Mr. Erik S….. . Incredible, I know you had already told me some of it, but my heart sank as I read your text. If you weren't a photographer you could have become an author, because your – unfortunately true – tale is impossible to put down. You've come a long way, it seems. Now it is in the past and you've bounced back. See you soon. Your friend, Pascal.

** 11-11-2010 from Fabienne : mother of the bride. Thank you for your excellent work at Sophie and Stéphane's wedding. Thanks to you we are able to relive these emotional and joyful moments and even those we did not get to see ourselves. Bravo!


** Le 24-01-2011 de Mark Robert Reeve : You where a great inspiration to me ... You where a great inspiration to me when we worked together for a short time on the Sovereign of the Seas early 1990's Great to see some of your more recent work. i enjoyed the last 30 minutes looking through your slideshow into Best wishes Mark Mark Robert Reeve

** Le 20-01-2011 de Kay Masterson Coulthurst : Simply love your work! An inspiration! Hello Christian!! How lovely to see you here and look back on some photos from the Ocean Princess days! I feel very nostalgic! Simply love your work! An inspiration!

** Le 22-12-2010 de Andy Novis : my hero Christian, you are exposing the boring lives of people who think they are successful, the combination of technical brilliance, art, & pure fun is fantastic, you were my hero then & even more now, i think you stoked my interest in photography many years ago, happy to be in your shadow.

** Le 02-12-2010 de Simon Emm : Manifique Monsieur Chris Manifique Monsieur Chris, Maybe one day I can visit you and sit in on a studio shoot? I love you work, and I'm taking small steps towards more studio work. I'm not that good yet.. salute mon ami

** Le 22-11-2010 de Tim Venn : thank you Chris - I love looking at your pictures Chris. You have an amazing collection of photos throughout the years that are very interesting and entertaining. You are the real photo maestro/ creative genius I had some great adventures on the Ocean princess with in the Amazon and Caribbean

** Le 11-11-2010 de Fabienne : maman de la mariée Merci pour votre magnifique travail pour le mariage de Sophie et Stéphane. Nous revivons grâce à vous les moments d'émotion et de joie de cette journée et aussi tout ce que nous n'avions pas pu voir !!! Bravo


** Gérard Perron a écrit : 'Christian Fournier, photographe universel : si vous cherchez des filles, des fleurs, des paysages ou encore la photo de la tondeuse à gazon fabriquée par Ferrari en 1954, allez-y, il l'a et s'il ne l'a pas, il vous la fera tellement vite que vous aurez l'impression qu'il l'avait déjà.'


More ..........


At the Carrefour supermarket for the Agency MediaPerformances. Photo taken by Camille Verrier. Thanks, Camille.


MES URL / NOMS DE DOMAINES
J'ai acheté ses noms de domaines dès 1994.
A cette époque, il y avait du choix.



Celebrities I photograhed until now
.
By alphabetical order of first names.

Antoine de Caunes, Abbe Pierre, Adriana Karembeu, Adrianna Gradziel, Agnès Boulard, Agnès Varda, Alain Rey, Albert Uderzo, Alessandra Sublet, Alex Jaffrey, Alex Lutz, Alexandra Bronckaers, Alexandra Bronker, Alexandra Lamy, Alexandra Stewart, Alexandre Barthet, Alexandre Devoise, Alexandre Jardin, Alexis Gruss, Alexis Gruss, Alison Wheeler, Amanda Lear, Amanda Scott, Amandine Bourgeois, Amélie Mauresmo, Aminata Savadogo, Anais Delva, Andre Bercoff, Anna Wintour, Anne Marivin, Anne Robin de Champignole, Annie Cordy, Anouk Aimée, Antoine Schneck., Araceli Gonzalez, Ariane Massenet, Arnaud Montebourg, Ary Abittan, Audrey Azoulay, Audrey Lamy, Augustin Trapenard, Aure Atika, Aurélie Dupont, Aurélie Konate, Axelle Laffont, Baptiste Talbot, Barbara Schulz, Behati Prinsloo, Bernadette Chirac, Bernard Kouchner, Bernard Montiel, Bernard Montiel, Bernard Werber, Bertrand Delanoë, Bettina Rheims, Bruno Lochet, Bruno Solo, Camille Cottin, Camille Hurel, Camille Rowe, Capucine Anav, Carl Zéro, Caro Daur, Carole Bouquet, Carole Richert, Caroline Roux, Carven, Catherine Deneuve, Cédric Klapisch, Cendrine Dominguez, Cesar, César, Chantal Ladesou, Charlie Oleg, Charlize Theron, Chiara Ferragni, Christelle Reboul, Christian Amatore, Christian Blachas, Christian Chabrol, Christian Morin, Christian Noyer, Christina Pitanguy, Christine Ockrent, Christopher Lloyd, Claude Allègre, Claude Lelouch, Claude Montana, Claude Perron, Claudia Cardinale, Clovis Cornillac, Conchita Wurst, Cyrielle Claire, Cyrille Eldin, Damien Thévenot, Dan Carter, Dana Delany, Daniel Auteuil, Daniel Constantini, Daniel Herrero, Daniela Lumbroso, Danièle Gilbert, Daria Strokous, Darren Day, David Douillet, Dean Collins, Deborah François, Dee Hilfiger, Denis Josselin, Diane Tell, Dick Rivers, Didier Breton, Didier Deschamps, Didier Flamand, Disco Bitch, Dominique Chapatte, Dominique Farrugia, Dominique Perben, Dominique Strauss Kahn, Dounia Coesens, DSK, Eddy Barcklay, Eddy Barclay, Edouard Montoute, Églantine Éméyé, Éleva Gordon, Éleva Perminova, Elie Semoun, Élisabeth 2, Elizabeth II, Élodie Bouchez, Elodie Gossuin Miss France 2001, Emanuel Ungaro, Emmanuel Macron, Emmanuelle Seigner, Enrico Macias, Eric Emmanuel Schmitt, Eric Ghebali, Eric Schaix, Fabienne Carat, Felix Moati, Fleur Pellerin, Florence Arthaud, Florence Parly, Fort Boyard, Francis Ford Coppola, Francis Mer, Franck Gastambide, Franck Provost, François de Clauset, François Hollande, François Morel, François Xavier Demaison, Françoise Laborde, Frank Leboeuf, Fred Testot, Frédéric Beigbeder, Frédéric Bouraly, Frédéric Diefenthal, Frédéric Lefebvre, Frédéric Lefèvre, Frédéric Mitterrand, Frédéric Suhit, Frédérique Bel, Frigide Barjot, Gad Elmaleh, Général Morillon, Geneviève De Fontenay, Gérald Dahan, Gérard Depardieu, Gérard Holtz, Gérard Jugnot, Gil Alma, Gil Alma, Gilles Dauphine, Gilles Grapinet, Gilles Lellouche, Giovanna Meneghel, Giuliano Peparini, Gorges Pernoud, Grace Jones, Gregory Cuilleron, Guilaume Durand, Gustave Parking, Guy Bedos, Guy Lux, Guy Marchand, Harlan Coben, Hedia Charni, Helena Bordon, Helena Noguerra, Helena Perminova, Heloise Letissier, Henri Salvador, Henry Giscard D Estaing, Herbie Hancock, Hermine, Hiara Ferragni, Hubert Reeves, Hugh Jackman, Igor et Grichka Bogdanoff, Inès de Dinechin, Inès de la Fressange, Inès Sastre, Inna Segal, Inna Zobova, Irina Bokova, Iris Mittenaere, Isaac Stern, Isabelle Alonso, Isabelle Aubret, Jack Lang, Jacques Chirac, Jacques Legros, Jacques Martin, Jacques Perrin, James Galway, Jane Birkin, Jean Baptiste Mondino, Jean Charles de Castelbajac, Jean Claude Dreyfus, Jean Claude Gaysseau, Jean Claude Trichet, Jean Dell, Jean Gabriel Pierre, Jean Jacques Annaud, Jean Louis Caffier, Jean Louis Caffier, Jean Luc Reichmann, Jean Marc Sylvestre, Jean Michel Jarre, Jean Paul Agon, Jean Paul Huchon, Jean Pierre Meyers, Jean Pierre Papin, Jean Reno, Jean Tiberi, Jean-Baptiste Mondino, Jean-François Copé, Jean-François Derec, Jean-Loup Dabadie, Jean-Paul Gaultier, Jean-Pierre Castaldi, Jean-Pierre Elkabbach, Jérôme Bonaldi, Jérôme Darran, Jessie J, Jimmy Carter, Johannes Hueb, Johannes Huebl, John Malkovich, Jonathan Lambert, José Garcia, Joseph Altuzarra, Joyy, Juan Bagration Mukhransky y Ulloa, Julie de Bona, Julie Hantson, Julien Clerc, Karima Charni, Karl Lagerfeld, Keith Jarett, Kenzo Takada, Koichiro Matsuura, Kristina Bazan, Kristine Dzidziguri, La Boule, la reine Élisabeth, Laeticia Fourcade, Laetitia Casta, Lala Rudge, Lance Amstrong, Laura Haddock, Laurence Arne, Laurence Parisot, Laurent Gerra, Laurent Rouquier, Laurent Ruquier, Laury Thilleman, Laury Thilleman Miss France 2011, le pere Fouras, Leelee Sobieski, Lenny Kravitz, Leonard Cohen, Les frères Taloche, Liliane Bettencourt, Lilou Fogli, Linda Hardy, Linda Hardy, Linda Hardy Miss France 1992, Line Renaud, Lionel Jospin, Loana, Loana Petrucciani, Loic Perron, Lolita Lempicka, Lolita Lempika, Lorànt-Deutsch, Lorie Pester, Lou Lesage, Louis Le Prince Ringuer, Louis Stettner, Luc Jacquet, Lucie Lucas, Lucien Clergue, Ludovic Torbey, M Matthieu Chedid, Mac Lesggy, Mademoiselle Agnès, Magloire Delcros Varaud, Mansoor Ljaz, Manu Payet, Manuel Walls, Marc Autheman, Marc Autheman, Marc Emmanuel Dufour, Marc Galliet, Marc Jolivet, Marc-Olivier Fogiel, Marcel Desailly, Mareva Galanter, Maria de Médérios, Maria Sharapova, Mariah Carey, Marie Ange Casta, Marie Christine Powel, Marie Claire Pauwels, Marie Josee Croze, Marie-Ange Nardi, Marie-Christine Marek, Marion Cotillard, Marisa Berenson, Mathilde Lebrequier, Mathilde Seigner, Maurice Andre, Maurice Herzog, Maurice Levy, Mélanie Bernier, Mélanie DouteyAlain Doutey, Michel Cymes, Michel Edouard Leclerc, Michel Hidalgo, Michel Hidalgo, Michel Jazzi, Michel Leb, Michel Leeb, Michèle Alliot, Michèle Alliot-Marie, Michèle Laroque, Miroslava Duma, Miss Univers 2017, Mme Geneviève De Fontenay, Mouna Ayoud, Mouna Ayoud, Nagui, Natalia Vodianova, Ni Ni, Nicky Byrne, Nicolas Beytout, Nicolas Cantelou, Nicolas Duvauchelle, Nicolas Hulot, Nicolas Saada, Nicolas Sachy, Noémie Elbaz, Odile Vuillemin, Olafur Eliasson, Oliver Merle, Olivia Adriaco, Olivia Adriaco, Olivia Palermo, Olivia Palermo, Olivia Palermo, Olivier de Kersauson, Olivier Saladin, Ophelie Meunier, Ora-ito, Paolo Roversi, Pascal Bataille, Pascal Morabito, Pascal Obispo, Pascale Louange, Paul Loup Sulitzer, Paul Newman, Pauline Lefevre, Pauline Lefèvre, Peter Beard, Peter Lindbergh, Philippe Etchebest, Philippe Lellouche, Philippe Martinez, Philippe Noiret, Philippe Vandel, Philppe Labro, Pierre Bergé, Pierre Cardin, Pierre Etaix, Pierre Gattaz, Pierre Lescure, Pierre Mesmer, Pierre Moscovici, Pierre Richard, Pierre Vernier, Pierre William Glenn, Pierre-Gilles de Gennes, Popeck, Popeck, Pr Axel Kahn, Pr Christian De Duve, Prince Salman Bin Abdulaziz Al-Saoud, Rachid Arhab, Rama Yade, Raphael Ferret, Raphael Mezrahi, Raymond Depardon, Régine, Remy Poinot, Renan Luce, Renaud Leymans, Reza Deghati, Richard Berry, Robert Clark, Robert Hossein, Robert Hu, Robert Hu, Romain Migdalski, Rony Willis, Roselyne Bachelot, Rosie Huntington Whitele, Rufus, Sabine Crossen, Sandrine Domingez, Sebastiao Salgado, Sébastien Folin, Sébastien Hurtaud, Serena Williams, Serge Papin, Sevrine Ferrer, Sheila, Shirley Bousquet, Sigourney Weaver, Sonia Roland, Sonia Rolland Miss France 2000, Sophie Brafmann, Sophie de Furst, Sophie Mounicot, Sophie Mounicot, Steevy Boulay, Stéphane Berne, Stéphane Hessel, Stone, Susana, Suzanne Shaw, Sylvain Marconnet, Sylvie Tellier, Sylvie Tellier Miss France 2002, Taïg Khris, Tatiana Gerassimato, Tex, Thierry Breton, Thierry Lhermitte, Thomas Thevenoud, Tiberi, Tiki Olgado, Tikki Olgado, Tomer Sisley, Tommy Hilfiger, Tommy Hilfiger, Tonie Marshall, Ulyana Sergeenko, Ursula Andress, Usain Bold, Uwe Ommer, Valérie Giscard d'Estaing, Valérie Pecresse, VIANNEY, Vincent Clerc, Vincent Mac Doom, Vincent Mac Doom, Virginie Efira, Virginie Ledoyen, Viviane Blassel, Vladimir Ashenazy, Walter Spanghero, Wang Dongming, Wendy Bouchard, Wendy Bouchard, Willy Ronis, Wise Fools, Xavier Thuret, Yann Artus Bertrand, Yannick Noah, Yoann Freget, Youssou N'dour, Yvan Le Bolloc'h, Yves Corbassière, Yves Lecoq, Yves Raignier, Zinedine Soualem.


The list, not exhaustive, of the event places where I worked since I am in Paris.
To see what I photographed, type the name of the place in the "search" command"
Ambassade d'Irlande de Paris. Aquaboulevard. Aquarium de Paris. Assemblée Nationale. Au Petit Journal. Bagatelle. Beaubourg. Beffroi de Montrouge. Bobino. Carré Magique à Boulogne. Carrousel. Carrousel du Louvre. Casino d'Enghien. Cercle Républicain. Champs Élysées. Château de Condé. Château de Ferrières. Château de la Jonchère. Château de Vaux Le Vicomte. Château de Versailles. Château de Villette. Château Des Clos à Bonnelles. Château La Tour Vaucros. Cité des Sciences. Club de l'Etoile. CNIT. Country Club d'Etiolles Pavillon Royal à Boulogne. Croisière Canal St Martin. Culture Bière. Discothèque Aristote. DisneyLand Paris. Domaine des Fontaines près de Chantilly. Église des Invalides. Élysée Palace. Elysée-Biarritz. Espace Cardin. Espace Claquecin. Espace Havas à Neuilly. Espace Montorgueil. Espaces Fratellini. Festival de Cannes. FNAC d'Amiens. Fort Boyard. Galerie Spartes. Galeries Lafayettes. Georges V. Golf de Marivaux. Grand Hôtel Intercontinental. Grand Palais. Grand Rex. Hôtel Astor. Hôtel de Ville de Paris. Hôtel Du Collectionneur. Hôtel George V. Hôtel Marriott Rive Gauche. Hôtel Pullman Paris Bercy. Jardin d'acclimatation. l'aquarium du Trocadero CineAqua. l'ARC. l'Ecole Centrale. L'Atelier Renauld. L'Automobile Club. L'école de design ENSAAMA de Paris. L'église Allemande. L'église Américaine. L'église grecque. L'Hôtel Apicius. L'Hôtel Hyatt Paris Vendôme. L'Hôtel Westin. L'Institut du Monde Arabe. La Bourse. La Cantine du Faubourg. La Chesnay du Roy à Vincennes. La Crypte. La Faisanderie du Parc de St Cloud. La Grande Comédie. La Grange Bourgault aux Andelys. La Halle Freyssinet. La péniche Maxim's. La Sorbonne. LA VILLA en janvier 2005. Le bateau Mississipi. Le Jean Bruel. Le Louvre. Le Louvre des Antiquaires. Le Paquebot. Le Parc des Princes. Les Docks. Les Pyramides. Longchamp. Maison Amérique Latine. Maison Prunier. Man Ray. Manoir de la Chapelle. Matignon. Maxim's. Méridien Etoile. Méridien Maillot. Monte Carlo. Mosquée. Moulin de Dampierre. Musée Bourdelle. Musée Chasse et Nature. Musée d'Histoire Naturelle. Musée d'Orsay. Musée des Arts et Métiers. Musée des Arts Forains,. Musée Jacquemart-André. Musée National des Arts Asiatiques Guimet. Observatoire de Paris. Opéra Garnier. Palais Brogniart. Palais des Congrès. Pavillon d'Armenonville en janvier 2006. Pavillon Dauphine. Pavillon des Ibis au Vesinet. Pavillon Gabriel. Pavillon Haussmann. Péniche Le Grand Bleu. Polo de Chantilly . Résidence de l'ambassadeur des Pays Bas. Restaurant Le Bel Canto. Restaurant Le Doublon. Restaurant le Train Bleu. Restaurant Sens. Ritz. Salle Gaveau. Salle Wagram. Salons de l'Aveyron. Salons Porte de Versailles. Siège du MEDEF. Sony Musique. Stade Charletty. Stade de France. Terrass Kardinal. Théâtre du Châtelet. Théâtre du Merveilleux. Tour Eiffel. Trianon Palace. Unesco. Vachon. Yacht Christina O. Yacht Le Paris, loft du cinéma Le Panthéon, hôtel Hyatt, Vendôme, Les Frigos, Domaine Saint-Jean de Beauregard, Salons, de Villepinte, La Maison des Centraliens, etc.



My weddings since 1984
Mariage in French means wedding.
Le mariage de Neela-Anna et Alexandre à la mairie du 75009 le 23avr2017 et au Château de SANTENY le 28mai2017
Le mariage de Malin et Pierre Antoine aux Andelys le 1er Août 2015
Le mariage de Maud et Laurent 13 septembre 2014 à Châlons, Cormontreuil et Pierry près d'Epernay
Le mariage de Giulia et Tobias à Levallois-Perret et sur La Seine les 25 et 26 juillet 2014
Le mariage de Nicolas et Matthieu à Chatignonville le 10 mai 2014
Le mariage de Maya et Blaise le 10 août 2013 à Eaubonne
Le mariage de Pauline et Cédric le 15 septembre 2012 à Rueil-Malmaison et au Pavillon des Ibis au Vesinet
Le mariage de Cil et Roland à Neuilly le 24 septembre 2011
Le mariage de Marie-Noelle et Frédéric à Knokke, Hasselt et Cognee en Belgique en mars, avril et juin 2011
Le mariage d'Angélique et Julien à Gif-sur-Yvette et au Golf de Marivaux le 4 juin 2011
Le mariage de Sophie et Stéphane à Morières-lès-Avignon et au Château La Tour Vaucros le 23 Octobre 2010
Le mariage de Chloé et Gérald à Monte Carlo et sur le yacht Christina O le 28 août 2010 Le mariage de Marie Cécile et Olivier le 20 Août 2010 à Buc et La Grange Bourgault aux Andelys
Le mariage de Maud et Bertrand le 3 juillet 2010 à Gif Sur Yvette et au Château Des Clos à Bonnelles
Le mariage d'Estelle et Aurélien le 26 juin 2010 à Villeparisis et Bois Joli
Le mariage de Maria et Marcus dans Paris et à l'église Allemande le 4 juin 2010
Le mariage d'Emmanuelle et Florian au 75014 Bagatelle et péniche Le Grand Bleu le 29 mai 10
Le mariage de Clémence et Vincent à Vaux-le-Pénil, Etrechy et Vintue le 8 mai 2010
Le mariage de Fatma et Said le 7 nov 2009 à Ivry
Le mariage de Marianne et Helmut en Bavière le 30 oct 2009
Le mariage de Brynhild et Trond à Paris le 23 oct 2009
Bar Mitzvah de Nathan chez Pierre et Michèle à Villecresnes le 31 août 2008
Lune de miel de Geneviève et James à Paris le 12 Août 2008
Le mariage de Bibi et Stéphane, mairie XVI, Andy Wahloo, église des Invalides, Maison Amérique Latine 19 juillet 2008
Le mariage de Jida et Maximilian à Gassin et St Tropez le 28 juin 2008
Le mariage d'Alexandra et Benoît à Montigny-le-Gannelon près de Châteaudun le 9 sept 2007
Le mariage de Marie-Josée et Sébastien à Choisy le Roy et Gressy le 1 sept 2007
Le mariage de Ludivine et David en Franche-Comté le 11 Août 2007
Le mariage d'Aurélie et Jake au Château Malhesherbes le 5 mai 2007
Le mariage de Carole et Eric le 10 mars 2007 à GrandMaisons
Le mariage de Céline et Laurent à Honfleur le 30 sept 2006
Le mariage de Jasmijn et Greg à Cadarache dans le Lubéron le 9 sept 2006
Le mariage de Juillette et Mickael dans le Périgord le 26 Août 2006
Essayage de la robe de mariée Chanel Haute Couture par la Princesse Aisha du Qatar en mai 2006
Le mariage de Stéphanie et John, à Vincennes et Villiers en avril 2006
Le mariage de Lynn et Richard à Glaslough, Irlande on 8 dec 2005
Le mariage de Kate et Preston au Château de Villette le 24 sept 2005
Le mariage de Florence et Nicola en Sicile le 5 sept 2005
Le mariage de Helen et David à Petworth, Angleterre le 25 juin 2005
Le mariage de Camille et Nick au Moulin de Dampierre le 11 sept 2004
Le mariage de Hélène et Rupert à Cannes en sept 2004
Le mariage de Charlotte et Jérôme au Manoir de la Chapelle le 28 Août 2004
Le mariage de Claire et Romain à Nandy le 21 Août 2004
Le mariage de Clotilde et Patrick le 19 Août 2004
Le mariage de Marcia et Tom en Angleterre en Août 2004
Le mariage d'Anne et Xavier à Sainte-Anne de l'Etang la Ville le 5 juillet 2004
Le mariage de Stéphanie et Nicolas au Château de Condé le 25 avril 2004
Le mariage de Monira et Mamadou en avril 2004
Le mariage de Louiza et Frank à l'église Américaine puis au George V en avril 2004
Le mariage de Muly et Pascal au Parc Floral de Paris 23 Août 2003
Le mariage de Amina et Ismael à la Mosquée de Paris en Août 2003
Le mariage de Valérie et Edwards à Londres et Paris les 6 et 12 juillet 2003
Le mariage de Sophie et Abdel à Paris le 22 juin 2003
Le mariage de Catherine et Christophe aux Andelys le 11 mai 2002
Le mariage de Pauline et Charles à Honfleur en 2001
Le mariage de Dagmar et Mark à Aix-en-Provence le 3 juin 2001
Le mariage de Brenda et Steve au Château Villette en Août 2001
Catalogue robes de mariée Marlène Couture en décembre 1999
Le mariage de Sabine et Yannick en Normandie en septembre 1999
My historical reenactments until 2019
Angelina, salon de thé à Paris, Auschwitz, Autun, Azincourt, Beloeil, Boulevard du Général Leclerc à Paris, Brasserie Mollard à Paris, Bruges, Bucy le Long, Budapest, Cabourg, Café Pushkin à Paris, Canada, Château de Breteuil, Château de Chantilly, Château de Cheverny, Château de Maisons-Lafitte, Château de Meung sur Loire, Château de Rambouillet, Château de Versailles, Château du Taillis, Compiègne-Margny, Cormeille en Parisis, Cour d'honneur des invalides à Paris, Crécy-en-Brie, D-Day en Normandie, Ecosse, Folleville, Fontainebleau, Guédelon, Hardelot, Hastings (Angleterre), Hôtel Païva aux Champs Elysées, Houlgate, Istanbul, Jardin du Luxembourg, jardins à Villarceaux, Jardins de Bagatelle à Paris, La Coupole (Paris), La Ferté-Alais, Longueville, Mareil-lès-Meaux, Meudon, Meung sur Loire, Moulin Jaune à Crécy-en-Brie, Musée Aéronautique et Spatial Safran, Musée de Cluny à Paris, Nemours, Opéra Garnier, Orléans, festival de Loire, Paris, Poissy, Pologne, Pont St Maxence, Provins, Recogne (Belgique), Restaurant Le Train Bleu à Paris, Samara, Sceaux, Serris, Sully-sur-Loire, USA, Vaux le Vicomte, Venise, Versailles, Villarceaux, Waterloo (Belgique), etc...


My Travels until now
1953-1980 : Pas-de-Calais, Angleterre (Londres, Reading, Lake District, Peak District, Cambridge, Oxford, Ecosse, Pays de Galles), Italie (Rome, Capri, Venise), Grèce (Corfou), Norvège (Oslo).
1980-1989 USA et Caraïbes : Bahamas (Nassau, Freeport, Eleutera, San Salvador), Cayman, Haïti, St. Domingue, Puerto Rico, Antigua, Iles Vierges US et Britanniques, Guadeloupe, St Martin, Martinique, St Lucie, St Eustache, Barbade, Trinidad, Curaco, Bonaire, Floride (Florida Keys, Clearwater, Tampa), Ohio (lac Erié), Honduras (Roatan, San Blas), Californie (Los Angeles, Catalina, Monterey, San Francisco);
1983 Colorado; 1984-1989 Alaska (Juneau, Mendenhall glacier, Skagway, Ketchikan, Glacier Bay, Bettles); 1984 Haiti (Port-au-Prince, Cap Haïtien, la Citadelle La Ferrière, le palais de Sans-Souçi, Labadie); 1985 San Blas, Canal de Panama, 1987 Amazonie (Belem, Manaus); 1989 Hawai (Maui et son Parc national de Haleakalā, Molokai, Oahu, Kauai); 1991 Bali (Kota de Denpasar, lac et volcan Batur, Ubud, Tulamben); 1991 chine (Shanghai, Canton, Tsingtao); 1991 Jakarta; 1991 Nias; 1991 Sipadan; Indonésie (Bali, Pulau Sepa), Philippines, Malaisie (Sipadan, Kota Kinabalu, Bornéo, Java, Sumatra); Nouvelle-Calédonie (Nouméa, Yaté, Iles de Pins); 1993 Vanuatu; 1996 Red Sea; 1998 Cannes; 2001 Moscou; 2001 Madagascar; 2002 El Gouna Egypte; 2002 Polynèsie (Morea, Bora-Bora, Rangiroa, Tikehau); 2002-Etretat; 2003 Sipadan, Bornéo; 2003 St Eustache, Caraïbes; 2004 Thaïlande, Puket; 2004 Bari Italie; 2005 et 2007 Inde, Jaipur, Trichy, Guruvayoor, Udaipur, Chennai, Pushkar, Periyar, Kumarakom, Bikaner, New Dehli, Le temple de Kari Mata, Mahabalipuram, Kanchipuram, Rajasthan, Mandawa, Mettupalayam, Tanjore, Pondichery, Jaisalmer, Madurai, temple Meenakshi Amman, Mahabalipuram, Kanchipuram, etc…; 2005 Angleterre Brighton; 2005 Auvergne; 2006 Tanzanie, Serengeti, N'gorogoro, Kilimanjaro; 2006 Croatie; 2006 Guedelon, Périgord, Lubéron; 2007 Grèce; 2008 Le Mont St Michel; 2008 Hollande Keukenhof; 2008 Belgique; 2008 St Tropez; 2008 en Sardaigne; 2008 Bruges: 2008 South Africa; 2008 Amsterdam; 2009 Belgique Namur; 2009 Iceland; 2009 Bavière et Belgique; 2009 Amsterdam, 2010 Waterloo; 2010 Canada, Montréal, Québec, Tadoussac, la Seigneurie du Triton; 2010 Guedelon et Boutissaint; 2008 Amsterdam, 2010 Canaris; 2011 La Transbaie 2et Marcanterre; 2011 Vosges; 2011 Mexique Cozumel, Play del Carmen; 2011 Grèce, 2012 Tignes; 2012 Alsace; 2012 Bonaire; 2012 Cabourg; 2012 London Olympics; 2012 Pas-de-Calais, Arras, Leeward; 2012 Espagne Saragossa; 2013 UK, Reading Oxford; 2013 Las Vegas, Brice Canyon, Cedars; 2013 Malte; 2014 Cotentin; 2014 Istanbul; 2014 Normandie, Ecosse; 2014 Dubaï, 2015 Costa Rica, Vosges, Bretagne, Marseille, Budapest (Hongrie); 2016 Cracovie (Pologne), Normandie, Barcelone, Londres, Hastings, Lisbonne, 2017 Madère,
2018 Suisse, Irlande, Belgique, Pays Bas, etc.
Places I scuba dived.

France, Italie, Grèce, Malte, Mer Rouge (Hurghada, Safari au bord du désert et El Gouna), Bermudes, Bahamas (Nassau, Freeport, Eleutera, San Salvador), Cayman, Haïti, St. Domingue, Puerto Rico, Antigua, Iles Vierges US et Britanniques, Guadeloupe, St Martin, Martinique, St Lucie, St Eustache, Barbade, Trinidad, Curaco, Mexique (Puerto Vallarta, Cabo, Mazatlan, Acapulco, Cozumel, Playa del Carmen, Cancun, Mer de Cortez), Floride (Florida Keys, Clearwater, Tampa), Ohio (lac Erié), Honduras (Roatan, San Blas), Californie (Los Angeles, Catalina, Monterey, San Francisco), Colombie (Malpelo), Hawai, Canada (Vancouver Island), Alaska (Juneau, Ketchikan), Indonésie (Bali, Pulau Sepa), Philippines, Malaisie (Sipadan, Kota Kinabalu, Bornéo, Java, Sumatra), Thaïlande (Puket), Chine (Canton), Micronésie (Guam), Venezuela, Colombie, Amazonie, Vanuatu, Nouvelle-Calédonie, Polynésie, Madagascar, Requins baleines (Mexico), Sous glace (Tignes, France), Bonaire, fosses de plongée Charenton et Villeneuve-la-Garenne (île de France).


Jean Loup Sieff : "Pour moi il n'y a pas de catégories photographiques mais des images. Chacune est associée à des lumières, des émotions, des moments, il n'y a pas de catégories closes."