Page 18 :
Je fais des stages photo technique avec Dean Collins, grand maître de la nouvelle photo aux USA (San Francisco 1992)
et mode avec
Jean Paglioso
(Santa Fe, 1992). Toujours à l'affût des nouveautés, je ne rate aucune occasion d'améliorer mes prestations.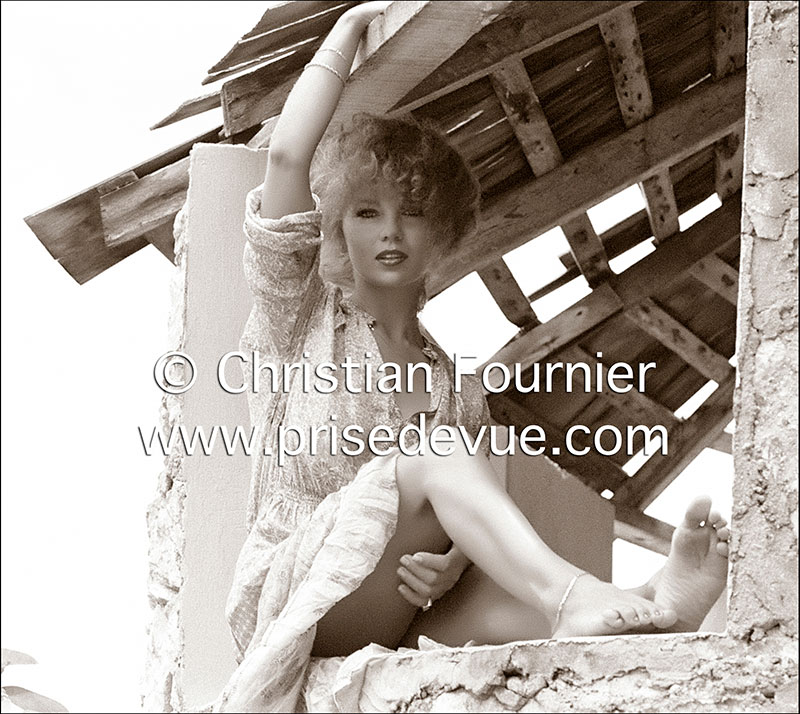 With a combination of wit and the ability to reduce complicated concepts to workable solutions, Dean Collins was the Dean of photographic instruction. God of Lighting, Lighting Rock Star, the late great Dean Collins has been called many things, and all of them point to the fact that he knew light better than, perhaps, anybody else you've ever studied under.

Collins, born in 1953 in Oceanside and a 1970 graduate of Vista High School, was renowned for his lighting and camera techniques as well as educational videos and seminars.

Upon hearing of the death, Roger Daines, president of the Professional Photographers of California, posted a Web site message recognizing Collins as his mentor and writing that Collins "was to photography like Edison was to electricityóó a creator and innovator."

In his early 20s, Collins began giving lectures in lighting and technique after starting his professional career at Dunlap-Tierney Studies in Los Angeles County. He subsequently spent several years in Europe learning in advanced commercial photo studios.

Much of his work focused on controlling light and understanding its behaviour in capturing images. In the early 1980s, he and a partner founded Finelight Publishing and refined the publishing of photo lighting materials.

In 1990, he began experimenting in electronic imaging, leading to a close association with Adobe Systems. Collins' company,Software Cinema, now produces a variety of training resources for Adobe's Photoshop software program.

"He passed those on to photographers worldwide who laud him for helping them open their eyes," Whitehouse said.

Collins always displayed a keen wit and engaging style when conducting a seminar, Whitehouse and Harrison said.

"He was dynamic and charismatic and very funny," she said. "Some people keep their inner music inside. He let his music out his entire life."

Collins' work included production of catalogues, corporate photography and portraits of the rich and famous, including late President Ronald Reagan, the Washington Redskins football team and other professional athletes.

"From the day they gave him his first camera, he just became absolutely obsessed," Kip Collins said. "He was an incredibly busy guy who lectured all over the world and was very free with his knowledge and about his photography."

Collins was recently awarded a Lifetime Achievement Award from the Professional Photographers of America and held an honorary degree from Brooks Institute of Photography.

Séances photo : Helen, Michèle West, Karen, Petra Lindblad (top modèle photographiée aussi par Peter Linbberg), Barbara.

Jean Pagliuso began her career in photography in 1969, quickly rising within the field of fashion photography. Her 30-year career as a fashion photographer broadened to include collaborations with the film director Robert Altman, as well as Paramount Pictures, Universal Studios, Warner Brothers, 20th Century Fox, and Disney. In the mid-nineties she departed from her earlier commercial and fashion work and began to experiment with different alternative printing processes, including photogravure.



Je photographie Petra Lindblad, célèbre mannequin, à Hollywood, en 1993.
Petra a été aussi photographiée, entre autres, par le célèbre photographe allemand Peter Lindbergh pour le magazine Vogue France.
Je rencontrerai Peter Lindberg plus tard, dans sa maison rue de Savoie à Paris, en 1997, pour lui donner des cours d'introduction au numérique, et encore plus tard, en septembre 2016 lors de sa séance de

dédicaces chez Taschen

.