SS France was a Compagnie Générale Transatlantique (CGT, or French Line) ocean liner, constructed by the Chantiers de l'Atlantique shipyard at Saint-Nazaire, France, and put into service in February 1962. At the time of her construction in 1960, the 316 m (1,037 ft) vessel was the longest passenger ship ever built, a record that remained unchallenged until the construction of the 345 m (1,132 ft) RMS Queen Mary 2 in 2004.
France was later purchased by Norwegian Cruise Line (NCL) in 1979, renamed SS Norway and underwent significant modifications that better suited her for cruising duties. She was renamed SS Blue Lady and sold to be scrapped in 2006, and scrapping was completed in late 2008.
Service history as France.
France's maiden voyage to New York took place on 3 February 1962, with many of France's film stars and aristocracy aboard.
On 14 December 1962, France carried the Mona Lisa from Le Havre to New York, where the painting was to embark on an American tour.

Poster advertising France's 1965 Christmas and New Year's cruise to the West African coast.
She sailed the North Atlantic run between Le Havre and New York for thirteen years. By the beginning of the 1970s jet travel was by far more popular than ship travel, and the cost of fuel was ever increasing. France, which had always relied on subsidies from the French government, was forced to take advantage of these subsidies more and more.
Using the ship's versatile design to its full potential, the CGT began to send France on winter cruises, which was off-season for the Atlantic trade. One design flaw was revealed when the ship reached warmer waters: her two swimming pools, one each for first and tourist class, were both indoors; the first class pool deep within the ship's hull, and the tourist class pool on an upper deck, but covered with an immovable glass dome. The latter, perhaps, was the more aggravating in hot weather. She also had limited outdoor deck space, with much of what was available protected behind thick glass wind-screens, useful on the North Atlantic, but frustrating when blocking cooling breezes in the tropics.

Nonetheless, France's cruises were popular, and her first world cruise took place in 1972. Too large to traverse the Panama and Suez Canals, she was forced to sail around Cape Horn and the Cape of Good Hope. That same year, with the destruction of the Seawise University (former RMS Queen Elizabeth) by fire in Hong Kong, France became the largest in-service passenger ship in the world.
Still, as the opening years of the decade progressed, the cruise market expanded, seeing the construction of smaller, purpose-built cruise ships which could also fit through the Panama Canal. Worse, in 1973 the Oil Crisis hit, and the price of oil went from US$3 to $12 per barrel. When the French government, at the end of the Trente Glorieuses, realized that keeping France running would necessitate an additional ten million dollars a year, it opted instead to subsidize the then in-development Concorde. Without this government money, the French Line could not operate, and with a press release issued in 1974 it was announced that France would be withdrawn from service on 25 October that year.

At that, the crew decided to take matters into their own hands: an eastbound crossing on 6 September, her 202nd crossing, was delayed several hours while the crew met to decide whether to strike then and there, in New York, or six days later outside Le Havre. Le Havre won, and the ship was commandeered by a group of French trade unionists who anchored France in the entrance to the port, thereby blocking all incoming and outgoing traffic. The 1200 passengers aboard had to be ferried to shore on tenders, while approximately 800 of the crew remained aboard.
The strikers demanded that the ship be allowed to continue to serve, along with a 35% wage increase for themselves. Their mission failed, and the night of the takeover proved to be the ship's last day of service for the CGT. It took over a month for the stand-off to end, and by 7 December 1974, the ship was moored at a distant quay in Le Havre, known colloquially as quai de l'oubli - the pier of the forgotten.
By that time France had completed 377 crossings and 93 cruises (including two world cruises), carried a total of 588,024 passengers on trans-Atlantic crossings, and 113,862 passengers on cruises, and had sailed a total of 1,860,000 nautical miles.
First decommissioning
Norway leaving Lloyd shipyards in Bremerhaven after conversion.
The mothballing of France was met with dismay by much of the French population, resulting in a song by Michel Sardou, titled "Le France".
The ship sat in the same spot for approximately four years, with the interiors, including all furniture, still completely intact. There were no plans to scrap the ship, or to sell it. In 1977 Saudi Arabian millionaire Akram Ojjeh expressed an interest in purchasing the vessel for use as a floating museum for antique French furniture and artworks, as well as a casino and hotel off the coast of the south-east United States. Though he purchased the ship for $24 million, this proposal was never realised, and others were rumoured to have floated, including bids from the Soviet Union to use her as a hotel ship in the Black Sea, and a proposal from China to turn her into a floating industrial trade fair.
In the end, the ship was sold in 1979 to Knut Kloster, the owner of Norwegian Caribbean Line for $18 million for conversion into the world's largest cruise ship. Just before France was renamed Norway one last marriage was performed aboard the ship at the quay in Le Havre. The wedding was performed by Reverend Agnar Holme, the Norwegian Seaman's chaplain. Greg Tighe, Director of Research and Corporate Development for NCL, was married to Lorraine Anne Evering in France's chapel. Witnesses included the ship's Captain, and several members of NCL's management team. This marked the last marriage to be performed aboard France, which had hosted hundreds of weddings over her transatlantic career.
By August of that year Norway was moved to the Lloyd shipyards in Bremerhaven, Germany, where she would undergo renovations to the cost of $80 million.
Service history as Norway

Norway at Velsen, the Netherlands

Norway was registered in Oslo, given the call sign LITA (literally meaning "small"), and was re-christened on 14 April 1980. She was the first (and only) purpose-built transatlantic ocean liner that was remodeled to be employed exclusively in luxury cruise service. Her hull form, bow design, and accommodation layout had been designed specifically for the rigors of crossing the North Atlantic, year-round. In her remodeling for cruise service, she was given a more generous accommodation, as well as larger and more numerous public spaces for the cruise-type recreations. Mechanically, the four screw propulsion plant was reduced to two screws. And in a bid for economy, she was given a complete set of bow/stern thrusters to give her the flexibility she needed to bring her into harbour; and, to dock, without resort to the expensive pilot and tugboat operations that were standard procedure in the heyday of the transatlantic express liners. When her re-fit was completed; and on her maiden call to Oslo, Senior Steward Wesley Samuels of Jamaica, in the presence of King Olav V, hoisted the United Nations flag as a sign of the ship's international crew.
She began her maiden voyage to Miami that same year, amidst speculation about her future in the cruise industry. France had been built as an ocean liner: for speed; long, narrow, with a deep draft, as well as an array of cabin shapes and sizes designed in a compact manner more for purpose travel than languid cruising. But Norway proved popular, and made the notion of the ship being a destination in itself credible. Her size, passenger capacity, and amenities revolutionized the cruise industry and started a building frenzy as competitors began to order larger ships.
As cruise competition attempted to take some of Norway's brisk business, Norway herself was upgraded several times in order to maintain her position as the "grande dame" of the Caribbean. In September and October 1990, there was the addition of two decks atop her superstructure, adding 135 new suites and luxury cabins. While many ship aficionados believe the new decks spoiled her original clean, classic lines, the new private veranda cabins on the added decks were instrumental in keeping Norway financially afloat during the later years of her operation, as these became a common feature throughout the cruise industry. She received additional refits in 1993 and 1996 in order to comply with the new SOLAS (Safety of Life at Sea) regulations.
Competition eventually overtook Norway, and she even started taking a back seat to other, newly built ships in NCL's lineup itself. No longer the "Ship amongst Ships", NCL severely cut back on her maintenance and upkeep. She experienced several mechanical breakdowns, fires, incidents of illegal waste dumping, and safety violations for which she was detained at port pending repairs. Despite the cutbacks, the ship remained extremely popular among cruise enthusiasts, some of whom questioned the owner's actions in light of the continuing successful operation of Queen Elizabeth 2, which had become a well-maintained rival still operating 5-star luxury cruises and transatlantic crossings for Cunard. In spite of this, the cutbacks continued and problems mounted even as the ship continued to sail with full occupancy. A turbocharger fire erupted on Norway as she entered Barcelona in 1999, which pulled her out of service for three weeks. During one of the following cruises to Norway she broke down in Bergen with leaks to one of the propeller seals delaying sailing until repaired.

Norway in Flåm Norway 1999
Slated for retirement, Norway sailed out of Manhattan's west side piers for the last time on 5 September 2001, on yet another transatlantic crossing to Greenock, Scotland, and then on to her home port of Le Havre, France. Her passengers would learn of the terrorist attacks on New York and Washington six days later, while in mid-ocean. As the cruise industry reeled from the aftermath of the terrorist attacks, her owners decided to place her back into service - operating bargain-basement cruises from Miami, after a brief cosmetic refit that failed to address her mounting mechanical and infrastructure problems.
On 25 May 2003, after docking in Miami at 5:00 a.m., Norway was seriously damaged by a boiler explosion at 6:37 a.m. that killed eight crew members, and injured seventeen, as superheated steam flooded the boiler room, and blasted into crew quarters above through ruptured decking. None of the passengers were injured. The National Transportation Safety Board determined that "the probable cause of the boiler rupture on the Norway was the deficient boiler operation, maintenance, and inspection practices".
On 27 June 2003, NCL/Star decided to relocate Norway, and she departed Miami under tow, although at first NCL/Star refused to announce her destination. She headed towards Europe and eventually arrived in Bremerhaven on 23 September 2003. NCL announced that constructing a new boiler was not possible but boiler parts were available to make the needed repairs. In Bremerhaven she was used as accommodation for NCL crew training to take their places on board the line's new Pride of America.
Former itineraries as Norway.
NCL originally planned for Norway to sail empty from Germany to Miami, but a pre-inaugural cruise was added, with only a select number of passengers allowed to sail. Starting from Oslo, Norway, stopping at Southampton, England, and ending in New York City. A 6-day cruise to Bermuda was planned but cancelled at the last minute in favor of fixing some problems. She set sail on her first inaugural cruise from Miami, Florida, on 1 June 1980, a 7-day cruise with only two stops, one in Little San Salvador then followed by a stop in St. Thomas, USVI. The other days of the cruise were sea days as Norway was the destination itself. This remained her main itinerary from 1980 to 1982 until NCL announced Nassau, Bahamas was added. By 1985 St. Maarten, Netherlands Antilles was added. In 1987 her new itinerary was introduced: a 7-day cruise from Miami stopping at St. Maarten, St. John, USVI; St. Thomas and Great Stirrup Cay. Her Western Caribbean cruises later introduced were 7-days stopping at Cozumel, Mexico; Grand Cayman, Cayman Islands; Roatan and NCL's private island Great Stirup Cay. Between regular cruising in the Caribbean and dry dock periods, she sailed many cruises to Western Mediterranean, Western Europe coast, Northern Europe, the British Isles and the Norwegian fjords.
Her official farewell cruise was a 17-day transatlantic cruise from Miami stopping at New York; Halifax, Nova Scotia; St John's, Newfoundland and Labrador; Greenock, Scotland; Le Havre, France and ending in Southampton. But a decision was made to keep Norway sailing bargain-based Caribbean cruises out of Miami. This continued until her demise in May 2003.
Second decommissioning.

Norway moored in Bremerhaven, Germany, February 2004
"The Norway will never sail again," it was announced on 23 March 2004, by NCL Chief Executive Colin Veitch. The ship's ownership was transferred to NCL's parent company, Star Cruises.
Due to large amounts of asbestos aboard the ship (mostly in machine and bulkhead areas), Norway was not allowed to leave Germany for any scrap yards due to the Basel Convention. After assuring the German authorities that Norway would go to Asia for repairs and further operation in Australia, she was allowed to leave port under tow. It was reported that the art from her two dining rooms, children's playroom, stairtower, and library were removed and placed in storage, to possibly be utilized on board a revitalized SS United States, or another ship in the NCL fleet. Later photos of Norway at the scrapyards of Alang, India, would prove this statement to be untrue. Norway left Bremerhaven under tow on 23 May 2005, and reached Port Klang, Malaysia on 10 August 2005.
In fact, the ship was sold to an American naval demolition dealer for scrap value in December 2005. After eventually reselling the ship to a scrap yard, the ship was to be towed to India for demolition. In light of protests from Greenpeace, potentially lengthy legal battles due to environmental concerns over the ship's breakup, and amidst charges of fraudulent declarations made by the company to obtain permission to leave Bremerhaven, her owners cancelled the sale contract, refunded the purchase price, and left the ship where she was.
Blue Lady.
Norway was sold in April 2006 to Bridgend Shipping Limited of Monrovia, Liberia, and renamed Blue Lady in preparation for scrapping. One month later she was again sold, to Haryana Ship Demolition Pvt. Ltd., and was subsequently left anchored in waters off the Malaysian coast after the government of Bangladesh refused Blue Lady entry into their waters due to the onboard asbestos. Three weeks later, the ship began its journey towards Indian waters, though it was announced that she had left Malaysian waters for the United Arab Emirates for repairs and to take on new crew and supplies.
Upon learning of the ship's destination, Gopal Krishna, an environmentalist and an anti-asbestos activist, filed an application before the Supreme Court of India to ensure that the ship, reportedly containing asbestos, complied with the Court's 14 October 2003 order which sought prior decontamination of ships in the country of export before they could be allowed entry into Indian waters. On 17 May 2006, Kalraj Mishra expressed his concern to the Indian Parliament over possible hazards Blue Lady presented, and requested that the government put a halt to the ship's entry. As the Indian Supreme Court had lifted any ban on the ship's entry, Blue Lady was anchored 100 km off the Indian coast in mid-July, coming from Fujairah, UAE.
This also cleared the way for her scrapping at Alang, in Gujarat, pending an inspection of the on-board asbestos by experts from the Gujarat Pollution Control Board (GPCB). After GPCB chairman, K.Z. Bhanujan, said the Board had constituted an experts' committee for inspection, Blue Lady was docked in Pipavav, Kutch District. On 2 August 2006, after a five-day inspection, the experts declared the ship safe for beaching and dismantling in Alang. This prompted a fury of controversy over the legality of such an act, including a press release from the NGO Platform on Shipbreaking that critiqued the technical report, alleging that the Technical Committee was under undue pressure to allow the ship to be beached, and had failed to follow the Basel Convention and the Supreme Court of India's order that ships must be decontaminated of hazardous substances such as PCBs and asbestos, and, in any case, must be fully inventoried and formally notified prior to arrival in the importing country. No such notification was made by either Malaysia (last country of departure) nor Germany (country where the ship became waste).
The NGO Platform on Shipbreaking also announced that it was prepared to launch a global campaign against Star Cruises and their subsidiary Norwegian Cruise Lines for corporate negligence in this case.

Blue Lady at Alang, India, awaiting scrapping.
Photos from Alang revealed that Blue Lady was still partially afloat off the coast; her bow on dry beach at low tide, and the ship fully afloat at high tide. The photos also showed that neither NCL nor Star Cruises had removed any of the ship's onboard furniture or artworks (including the murals in the Windward Dining Room and Children's Playroom, and the Steinway piano in Le Bistro), as had previously been reported.
Fans of France became concerned about the future of the art pieces, both due to the ship lying at anchor in a very humid environment without power for air conditioning, and due to lack of concern for preservation on the part of the scrappers. Still, it was stated that as of early September 2006, the ship's owner had signed contracts with various buyers, including auctioneers and a French museum, to sell the artworks. Other fittings were to be sold by the ton.
Gopal Krishna again moved an application seeking compliance with the Basel Convention, and three days later the Indian Supreme Court decided that the scrapping was to be postponed, stipulating that the Technical Committee, which earlier approved the scrapping, were to write a new report to be submitted before the Court's final decision. That decision was reached on 11 September 2007 (the 33rd anniversary of France's last day on the Atlantic), when the court ruled that Blue Lady was safe to scrap, a decision that was received negatively by environmentalists.
By 4 December of the same year, it was confirmed that the tip of Blue Lady's bow had been cut; a ceremonial move done to most ships that end up in Alang just prior to the full-scale breaking of a ship. It was confirmed on 20 January that Blue Lady had commenced scrapping. Scrapping began on the forward part of the sun deck. The suites added during the 1990 refit were gone by March, briefly returning the ship to her pre-1990 profile.
By 12 July 2008 the bow and the stern of the ship had been removed, with little of the ship's famous profile still recognizable. By September 2008, most of what remained above the waterline had been cut away, and the ship's demolition was essentially completed by late 2008.

The bow exhibited in Paris, after having been sold by auction
In 2009 the tip of the bow of Blue Lady was returned to the country of her birth as one of a catalogue of auction pieces removed from the ship before scrapping commenced. The auction was held on 8 and 9 February. It is now on public display at Paris Yacht Marina, Port de Grenelle, Paris 15e.
In January 2010 one of the two sets of neon letters which sat atop the superstructure of France before her conversion was restored and put on display. The letters, which spell "France", were displayed at the Musée national de la Marine in Paris. After this they were returned to Le Havre and presented to the Musée Malraux, and now face the front of the harbor.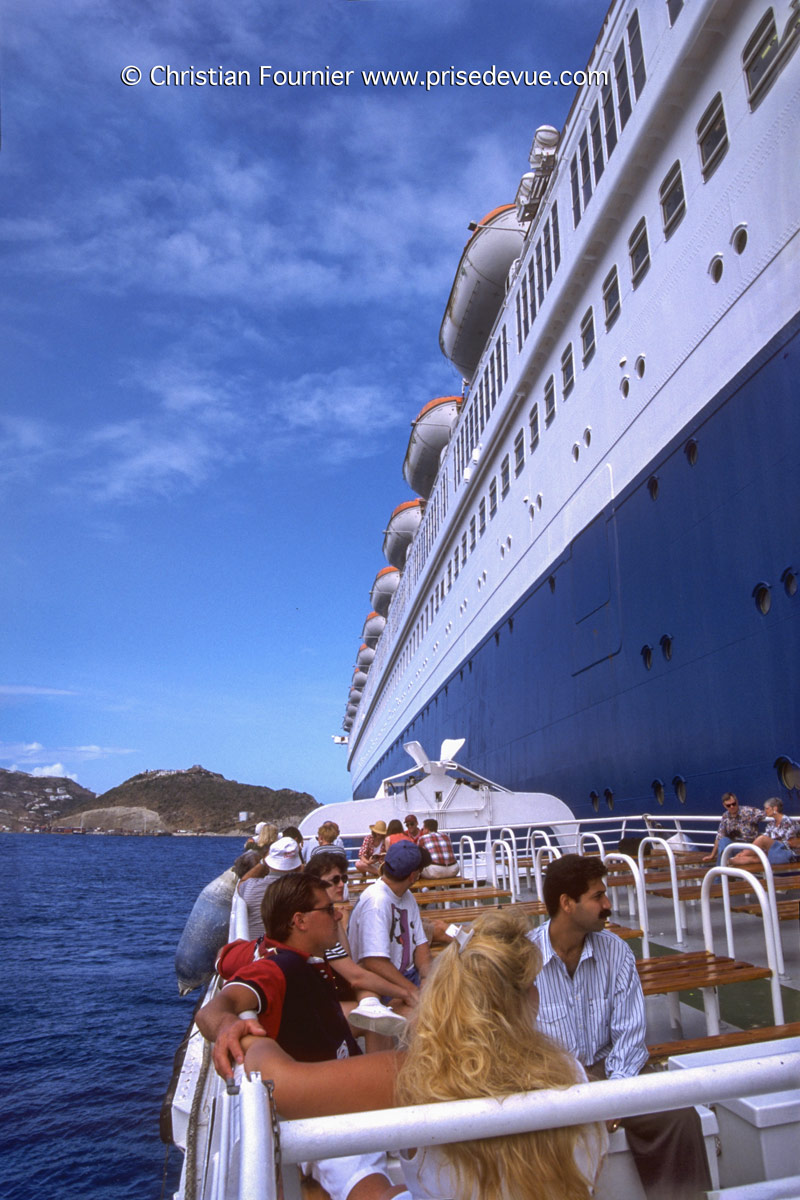 https://youtu.be/7GmunD6PajY
Join Peter Knego as he joins the Steamship Historical Society of America's Long Island Chapter for a week of cruising the Caribbean aboard the magnificent S.S. NORWAY, the former French Line's FRANCE of 1961. The longest passenger ship ever built at 1,035 feet (until the advent of the QUEEN MARY 2), she was the epitome of sleekness with her finely sculpted hull and pair of elegantly winged funnels. Even with two decks of extra accommodations added in 1990, she still had one of the best profiles that ever put to sea. Her interior were a mashup of stylish original French fittings and a cornucopia of decorative elements added by Angelo Donghia and other designers for Norwegian Caribbean (later Cruise) Lines. This nostalgic video captures the affectionately nicknamed "Blue Lady" departing Miami on a fine but sweltering afternoon and at anchor in St. Maarten, St. Thomas and NCL's Bahamian Out Island. It also ventures from the top of her forward funnel all the way down to her engine room and covers most of her deck areas and interior spaces, although is not a full-on Decked! video. Perhaps if there is enough interest in this one, a Decked! can be done at a future date. In the meantime, sit back and enjoy the grand lady of the seas and a few of her passing "friends" like RCCL's SOVEREIGN OF THE SEAS, Carnival's IMAGINATION and even Windjammer Barefoot's POLYNESIA. And, please do subscribe if you like these videos as YouTube doesn't seem to think I have enough of a following here -- YET -- to get monetized for the effort of creating these tributes to ships old and new. Of course, "likes" are appreciated, too and I always welcome your feedback. Thanks again!