page 33:
Fire on board the S/S Ocean Pearl from French Paquet cruiseline in 1992
with thoughts on freedom of press in France.


S/S France in 1989 (with Eddy Barclay, César, Jacques Martin, Isabelle Aubret, Henri Salvador, Uderzo, Walter Spangero, the CoCo Girls, Pierre Vassiliu, Uderzo, etc...)


The ClubMed II and it's stupid traditions.
I am the official photographer of the inaugural cruise from The Havre (in France, where she was built) to New Caledonia. Djibouti, Australie, Japan, etc.. on the way for advertising). Three long boring months.
*********************************************
Fire onboard the Ocean Princess in 1992 and the so-called "freedom of press" in France.




The chief engineer had warned Paquet 4 months beforehand, for all the good it did!



The luxury cruiseliner Ocean Pearl has enchanted Asia, a 13-day cruise from Singapore to Bangkok passing through the mysterious Bali.

There is a festive air this evening for tonight is the welcome cocktail party.

The engine room is aflame, the crew tries to put it out by bringing in water through the chimney.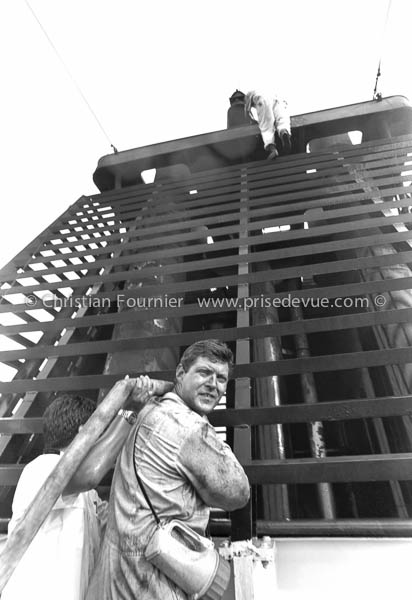 The second in command, Jeremy Kingston, at the foot of the chimney.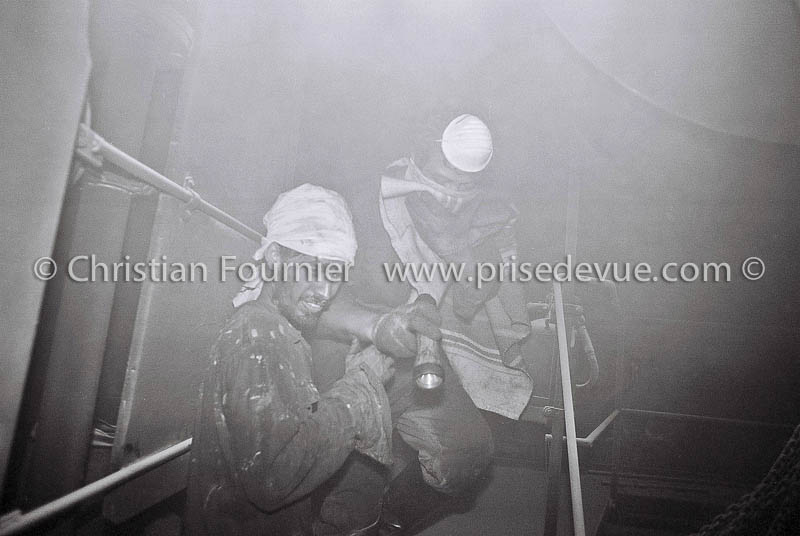 The thick black smoke invaded the entire ship, happily following the ventilation shafts. Apart from the emergency lamps, there is no light.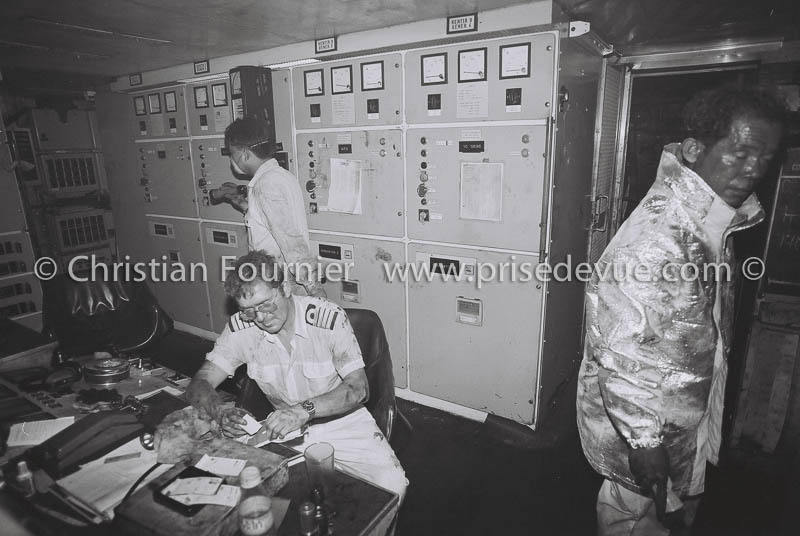 Head mechanic David Harrison sweating in the machine control room.


The alarm is sounded. The thick black smoke has already filled up the stairs and hallways on the lower decks. The passengers, most of them donning their lifejackets, have been evacuated onto the external decks.

One passenger fainted during the wait. Everyone fears that the next announcement will be the signal, "Abandon ship".
The lifeboats are lowered to deck level, poised for evacuation. Everyone is waiting anxiously. The smoke thickens. Everyone is aware that fire is the greatest danger to a ship at sea, especially if the fire reaches below the waterline, if it propagates through the ventilation shafts, or if it reaches the bunker fuel.
L'alarme est sonnée. Une fumée noire et épaisse a déjà envahi les escaliers et les couloirs des ponts inférieurs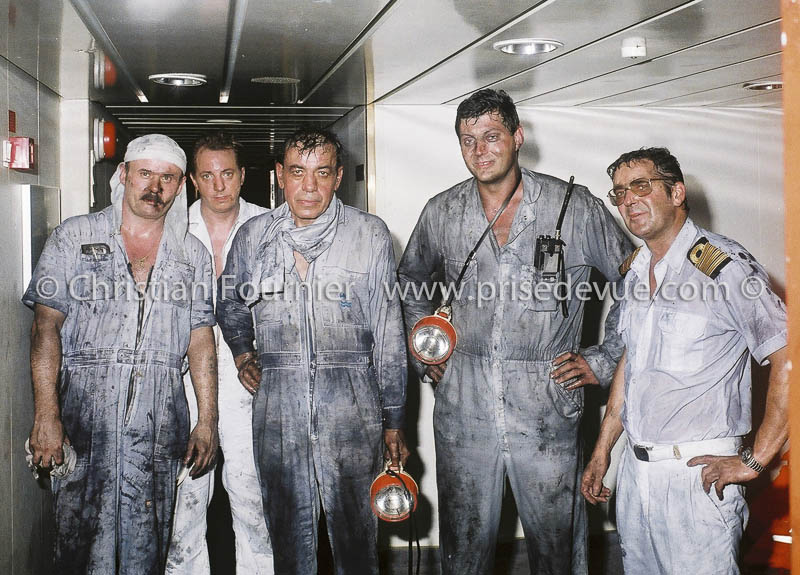 The crew goes back to smiling, even if their uniforms are no longer quite immaculate. Soon they will need to go back to work and take decisions after the events, prepare dinner, clean, and above all re-establish electricity, water, and air conditioning.

The second in command, Jeremy Kingston, and the chief engineer David Harrison head to the bar. Announcements come out one after the other: the fire has been put out but no one is allowed back in. The smoke will take time to dissipate because the ship's ventilation system has been compromised.

Your humble photographer and narrator Christian Fournier

Nicole making sure her favourite stuffed animal will make it through the fire.

The photographer Christian Fournier and one of the crew's courageous Filipinos, Rony, in front of a charred door.
Chief engineer David Harrison contemplates the damage in the machine room. Some weeks before, the beginning of fires had already been put out. For the 370 passengers on board, it was the start of their dream vacation: a 13-day cruise from Singapore to Bangkok via Bali. Pieces of the machine, made of steel, had melted, such was the intensity of the heat. If the bunker fuel had been reached, that would have been the end of the ship.
Around 7pm, the passengers were allowed to go back inside. The smoke had cleared, but the smell of burning remained. Electricity was back on but still no water or ventilation. A cold buffet was served at the Orchidée restaurant and the orchestra played in the Marco Polo room. A hot night lay ahead for the passengers: the AC wouldn't be fixed until the following evening. Most of the passengers would sleep under the stars on deck with their lifejackets behind them.

One cook found a cooler place to pass the night: in the vegetable fridge.

The distress signals had been received. Thank goodness we've moved on from the time of the Titanic! The following morning, another cruiseship, the Sea Princess, came around to welcome our passengers on board.
Tugboats came to pull the Ocean Pearl all the way to Singapore, for the ship could no longer propel itself, its engines having melted. The final danger, drifting away on the whims of the ocean current, had finally passed. At the bottom, you can make out the booster generators installed 15 days before to help compensate for the engine's former deficiencies.

FIRE ONBOARD THE CRUISESHIP OCEAN PEARL

Text and Photos : Christian Fournier
This reportage (text and photos) was bought immediately by the Press Agency Sipa Press in Paris, after faxing them text and photos from Jakarta. Original photos were sent by DHL two hours later. The deal was all done. Sipa returned them 5 days later as unsaleable. This is an indecent procedure in the press world, since the news was then too "cold " to resale. They offered no explanation, no compensation. Two years later, I learned from someone on the French political scene that my reportage showed up on the French prime minister's desk, Jacques Chirac, and was vetoed "NO" because Paquet, the cruise line, was "persuasive enough......." So much for the French freedom of press.......
Everyone going on a cruise has to go through a boat drill. These are international maritime regulations and this exercise is compulsory for all passengers. Even if you manage to skip it, you can be sure that the safety officer on board will have a meeting with you to explain you the emergency procedures. But what about it? The crew is trained with at least one crew drill per week, the ship herself go through a complete inspection every three months by the U.S. coast guards or their equivalent in foreign countries. Why should each passenger at the beginning of the cruise, put on his bright orange life jacket and assemble on the deck areas? What is to be feared? Accidents at sea are rare, but can happen.
The following is a true story:
12th February 1992, 3:30 P.M.: the luxury passenger liner Ocean Pearl from Ocean Cruise Line / Croisières Paquet is sailing the Java Sea. The weather is beautiful and the sea is calm. For the 370 passengers on board, this is the first day of a dream vacation: a 13 day cruise from Singapore to Bangkok. The first activity of the morning was the passenger drill and the excitement is building up for the welcome gala party this evening.
Suddenly, the voice of the British Staff Captain Jeremy Kingston breaks a leisurely started afternoon; The sound of his out of breath and highly stressed voice will be imprinted in many minds:
"This announcement is for the crew only. Crew alert, crew alert. A-team to engine room, A-team to engine room."
The alarm bells start ringing all over the ship. A black smoke has already invaded the lower stairs and corridors. Some passengers are hurrying out to the outside decks. There is no panic but they look distressed. The well trained crew and staff run to their assigned muster station in less than five minutes. Shortly afterwards, the passengers are asked to go to the decks with their life jackets. Inside the ship, the smoke is getting thicker. All power is off except for the small emergency lights. Inside this dark and smoky labyrinth, the slow passengers are shown their way out to the open air. Once the passengers are safe on the decks and counted, the remainder of the crew is ordered to go to their lifeboat stations. There is no panic, just some worried faces staring at the black smoke pouring out of amidships.
Life jackets from the deck containers are distributed to those who could not get to their cabin. All lifeboats are lowered and prepared to abandon ship. Everyone waits anxiously. A lady still wears her hair curlers, having just run out of the beauty salon. A beautician still holds a comb in her hand.
Below decks, engineers and firemen are fighting in the darkness, against the fire, the heat and the smoke. They all know that fire is the greatest hazard facing any ship at sea: especially, if it starts below the water line or propagate through the air conditioning vents or reach the fuel reserves.
The pursers have carried all the passports and documents in bags to the deck, the casino manager carries all the casino funds in her shorts and looks pregnant. Two ships (small cargos) are converging towards the Ocean Pearl: the distress signals have worked. The Titanic times are long gone!
The smoke escaping from upper deck is impressive. The lifeboats are ready for embarkation. Everyone fears to hear the "abandon ship" signal. Nobody knows exactly what is happening inside. The Cruise Director Joe Raad, walking on upper decks, megaphone in hand, explains that the P.A. is out of order and that the "abandon ship" preparations are just a precautionary measure. Later, the Captain himself Pierre Delery go around the decks, megaphone in hand, and announces that the fire is under control; Meanwhile, everyone must stay calmly outside.
Engineers and fire fighters, covered with black soot, soon appear on decks with hoses and start pouring water in and around the funnel in order to cool down the engines below. The two rescue ships sail away after their reassuring silent watch: the situation is under control.
The telephones and P.A. system are turned back on. More announcements are made: the fire is out but everyone must stay out on the decks. The smoke needs time to dissipate from the bowels of the ship since the ventilation is out of order. Everyone now relaxes on decks: the worse is passed. Drinks and towels are being distributed around, many crew go back to their regular duties: there is food to prepare, decisions to make, a lot of cleaning to do and most of all, power, A/C and water to restore.
There are no casualties (just one gentleman fainted: anxiety and/or heat ?). Nothing on board in the passenger and crew areas has been damaged: the fire has been confined to the engine room where it started. By 7:00 P.M., people are allowed back inside. The smoke is gone but the smell of burning remains. Only electricity has been restored: there is still no water and no air circulation but the engineers are working hard on it.
A cold buffet is served in the Orchid dining room and the orchestra plays in the Marco Polo lounge. A hot night awaits everyone on board: the A/C is not operational. Most of the passengers will spend the night outside on the decks. Their fate is being decided over the phone: the ship can not move any more on her own. Finally, the verdict arrives in the middle of the night: all passengers and their luggage, as well as five crew escorts will be evacuated at 5:00 A.M. on board the Sea Princess, another cruiseship luckily sailing a similar route.
The passengers are being woken up at 4:00 A.M. and asked to pack. A very early bird breakfast is served. It is still early in the morning but already hot everywhere in the ship. Unfortunately, the meeting with the Sea Princess is postponed to 10:00 A.M. because of delicate navigation at night for the rescuers. A long wait starts. The shock is over, questions now arise: what is left of the vacation? Pearl Cruises is paying for the flight home, refunding the entire cost of the cruise/tour vacation and offering any future Pearl cruise at half price.
Evacuation starts at 10:30 A.M., using the Sea Princess tenders from one ship to the other. It will take two hours to transfer everybody. The Ocean Pearl will be towed by a tugboat back to Singapore where she will be repaired.
There has been no panic at any time. The passengers who had done the drill the same morning, knew how to get to their lifeboat station, saving precious time. The highly trained crew were there to help the passengers and make sure that the evacuation to the deck was going smoothly. Throughout this incident, all ship's personnel performed extremely well. But most of all, everybody is grateful to the crew, engineers and to those who helped to fight the fire, to have been able to avoid a catastrophe: the intense heat in the engine room could have melted the walls of the fuel reserves.




SS France in 1989 (with Eddy Barclay, César, Jacques Martin, Isabelle Aubret, Henri Salvador, Uderzo, Walter Spangero, les CoCo Girls, Pierre Vassiliu, etc...)
From time to time the S/S Norway was rechristened under its original name of S/S France for French cruiseship companies trying to revive some of the old glory ...

Le SS Norway was rechristened SS France for this cruise.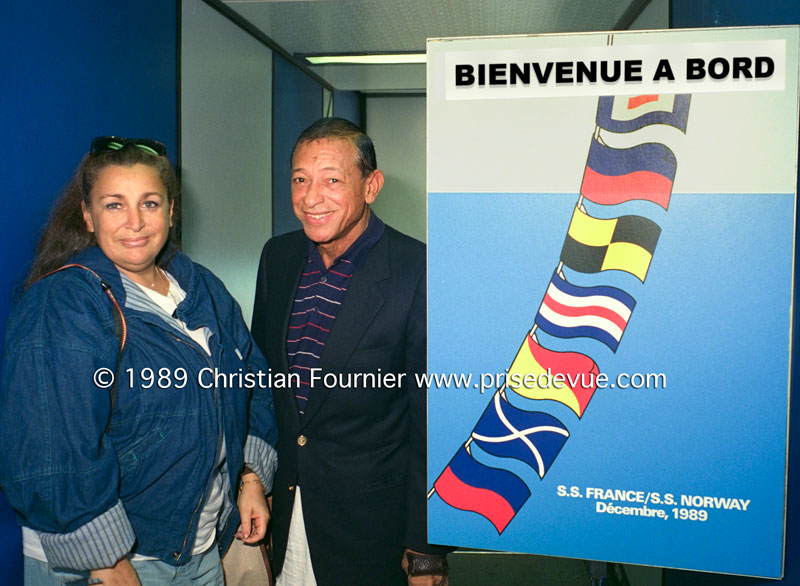 Henri Salvador and his wife.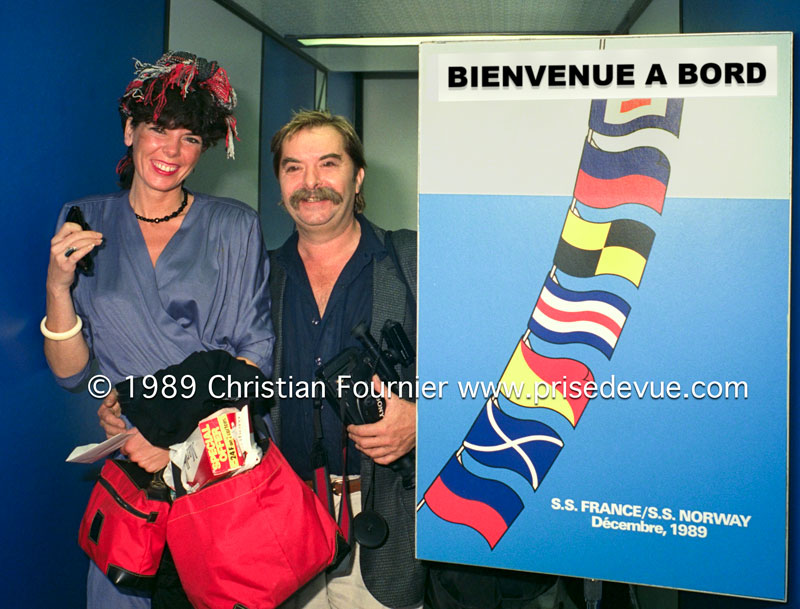 Pierre Vassiliu et sa femme.

Uderzo

Albert Uderzo, born Alberto Aleandro Uderzo on April 25, 1927 in Fismes, is a French cartoonist and comic script writer of Italian origin. Along with René Goscinny, he is one of the creators of the beloved series Astérix.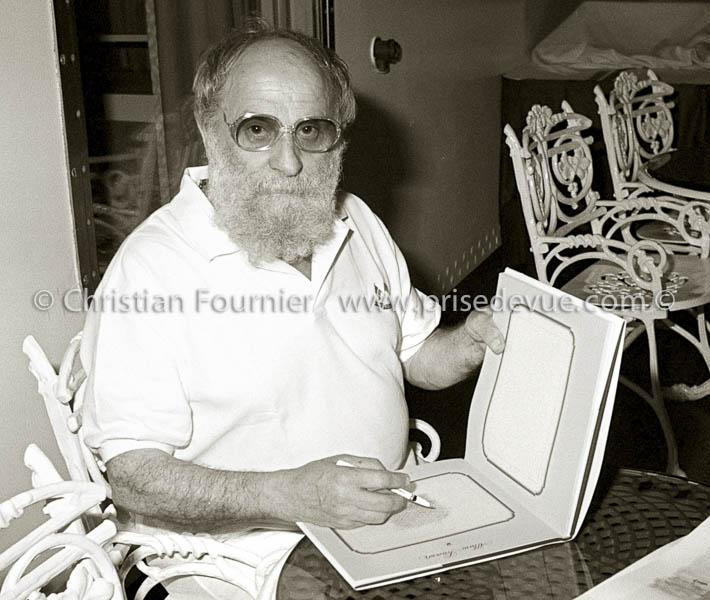 César
César Baldaccini (January 1, 1921, Marseille – December 6, 1998, Paris), known simply as César, is a French sculptor from Marseille. He was part of the Nouveau Réalisme movement which began in 1960. He is also notably the creator of the César du cinéma trophy, which is awarded to the best in French cinema.

Jacques Martin et Isabelle Aubret
Jacques Martin (June 22, 1933, Lyon – September 14, 2007, Biarritz) was a French actor, TV and radio host and television producer. His father played seven instruments and he would pass on this love for music and cooking: his son would become a well-known chef on French TV. After a first debut in theatre in 1949, he produced and presented many entertainment shows between 1970 and 1990 including Le Petit Rapporteur, L'École des fans and Dimanche Martin.

Isabelle Aubret (née Thérèse Coquerelle, July 27 1938 in Lille) is a French singer. In 1952 she won the French Gymnatics Championship and in 1962 she won Eurovision for France with her song Un premier amour.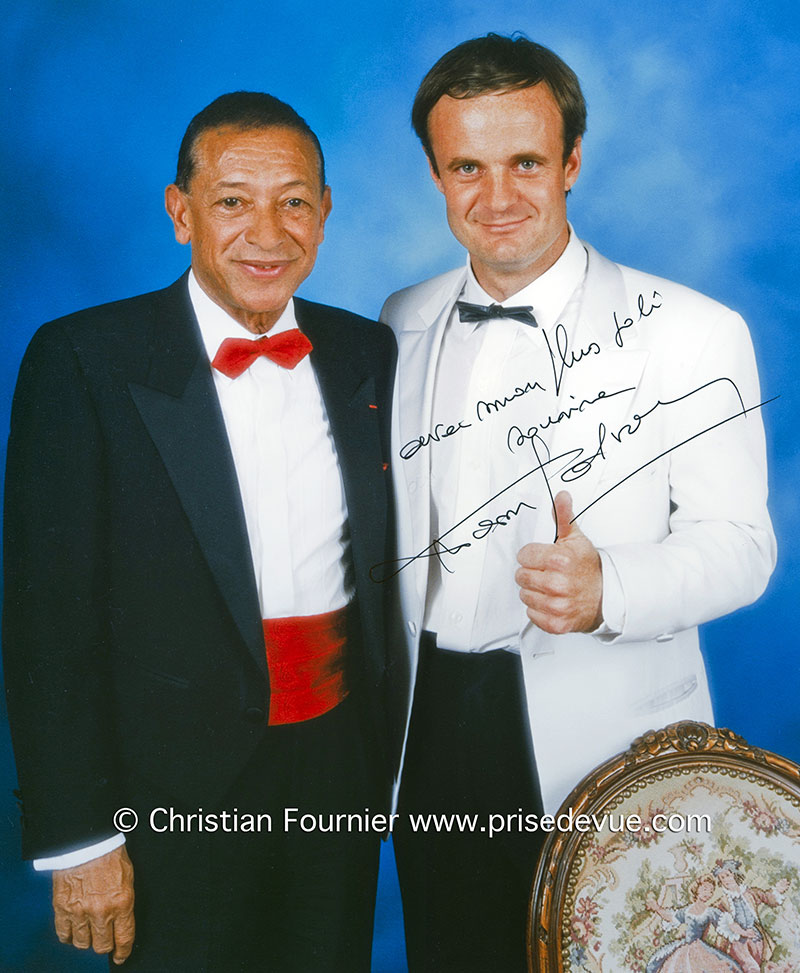 Henri Salvador
Henri Salvador (July 18, 1917, Cayenne, French Guiana - February 13, 2008, Paris) was a French Caribbean singer and comedian. A composer and guitarist, he started out playing in French jazz bands. His long career started off in the 1930s and took a new turn when he decided to become a singer in 1948. Appreciated by many audiences, many of his songs remain popular today: Syracuse; Love sickness ; Le Loup, la Biche, et le Chevalier (Also called "une chanson douce"); The lion sleeps tonight ; Dans mon Île ; Le travail c'est la Santé ; Along came Jones... He and Sacha Distel are the only two French variety singers to make it into the Jazz Dictionary. His grave in the Parisian Père-Lachaise cemetery is close to that of Édith Piaf.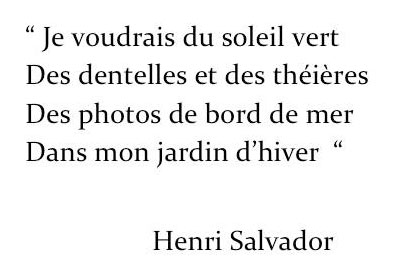 Walter Spanghero
Walter Spanghero (born December 21, 1943 in Payra-sur-l'Hers in the Lauragais) is a former French rugby union footballer. 1.86m tall and 100kg, with gigantic hands, he played equally well in second row as in third row centre and as a flanker.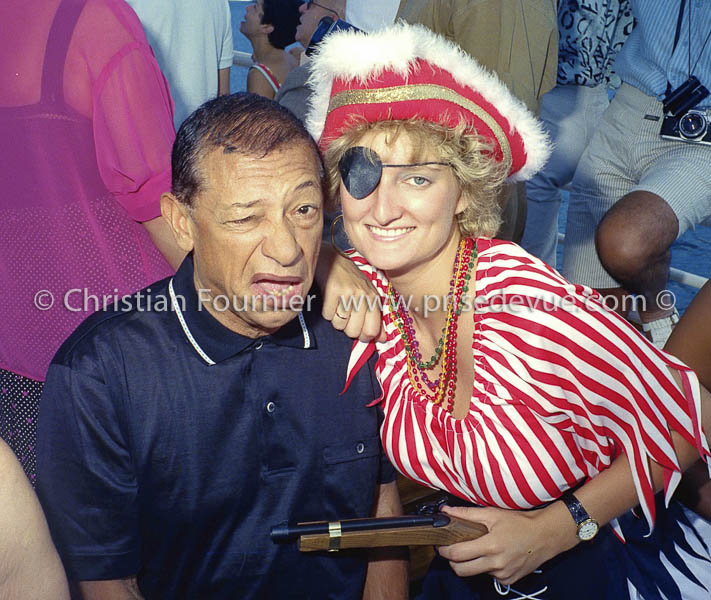 Henri Salvador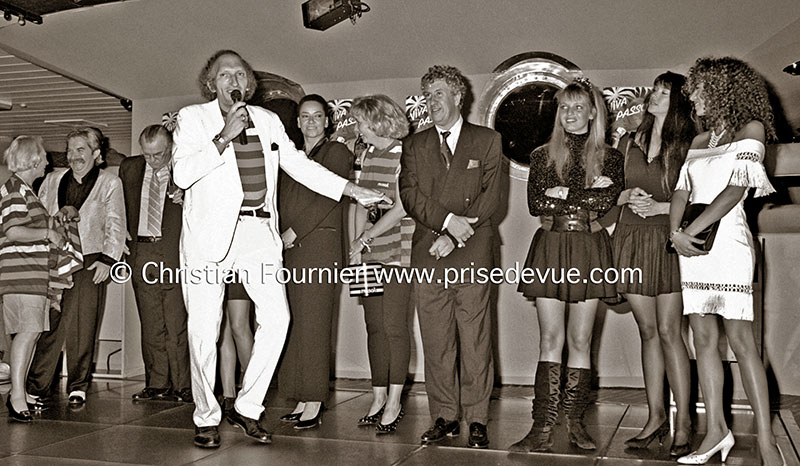 Les Coco Girls
"Les Coco Girls" are a group of dancers and singers founded by the French TV host and comedian Stéphane Collaro. They would participate in the shows Coco-Boy (1982-1984), Cocoricocoboy (1984-1986) then Collaricocoshow (1987). There are always 4 girls, usually scantily clothed and sexy. Often the coco-girls are former cabaret dancers or former Miss like Fenella Masse Mathews, Paula or Alexandra Lorska from Crazy Horse Saloon. In this way they fulfill the criteria sought after by Stéphane Collaro to create the charm of this emblematic 80s show: women of astounding beauty and dancing skill. The band recorded many songs, each time releasing an album, including famous songs like: Coco Girl, Ce mec est too much, Cocoricocoboy, Fais-moi du Chachacha, On préfère les rigolos, Coco Dingo, Touche pas à mon homme, Macho mambo, Flics de chocs.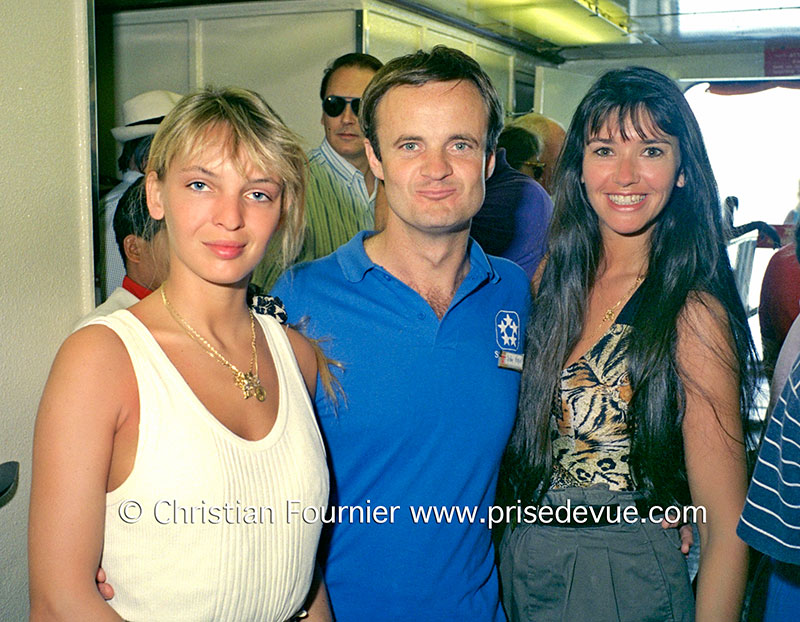 Les Coco girls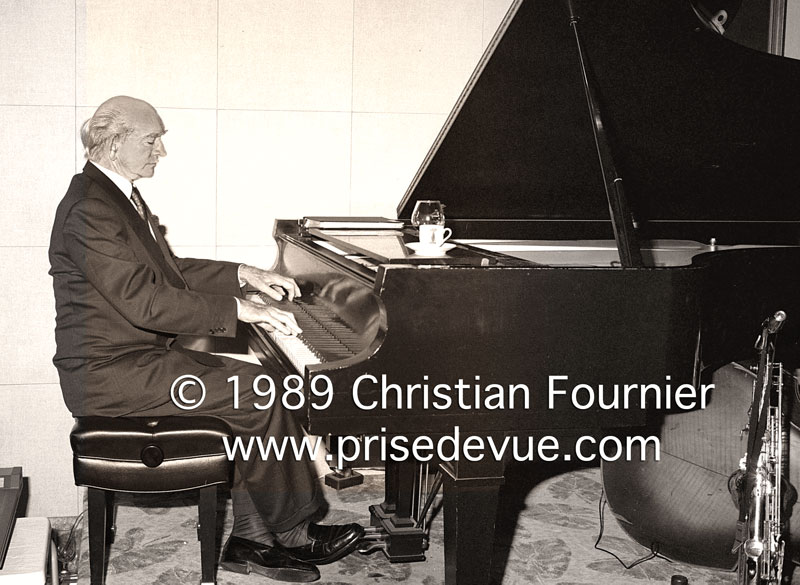 Eddy Barcklay
Eddie Barclay (born Édouard Ruault, January 26, 1921 in Paris, died May 13, 2005 in Boulogne-Billancourt) was one of the most important music editors and producers of French music between the 50s and the 80s. His nickname was "l'empereur du microsillon" (Emperor of the Microgrooves).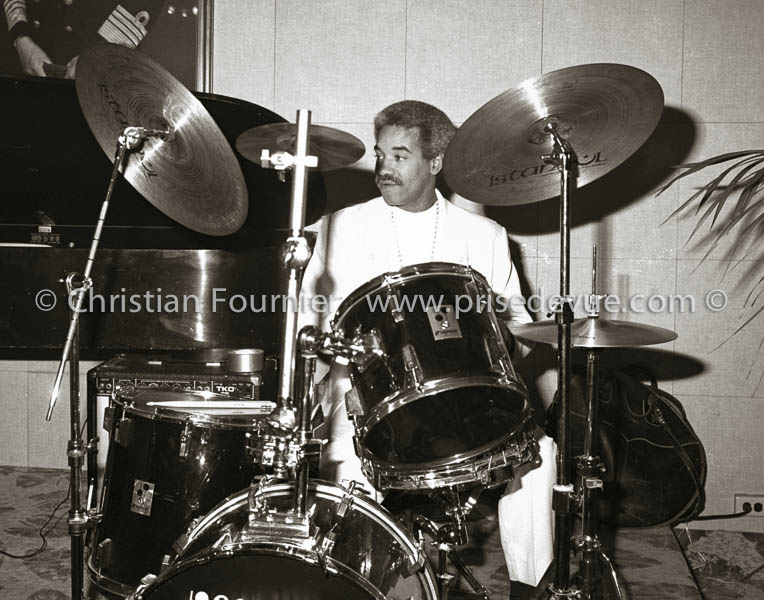 Keith Jarett
Walter Spanghero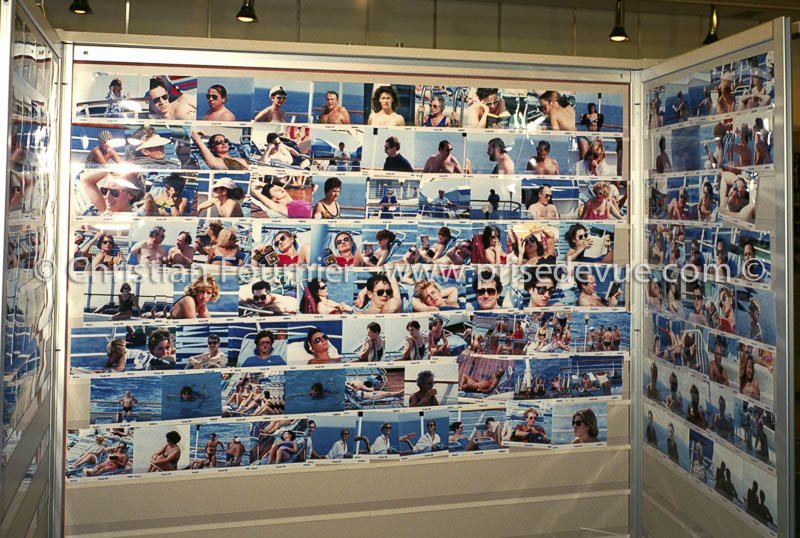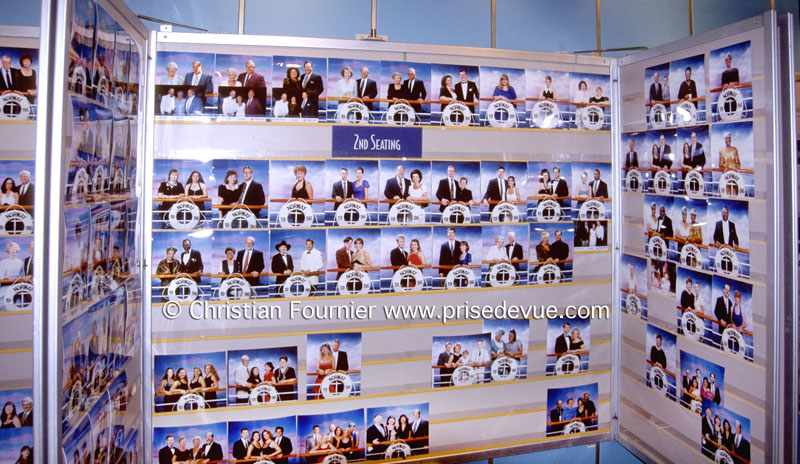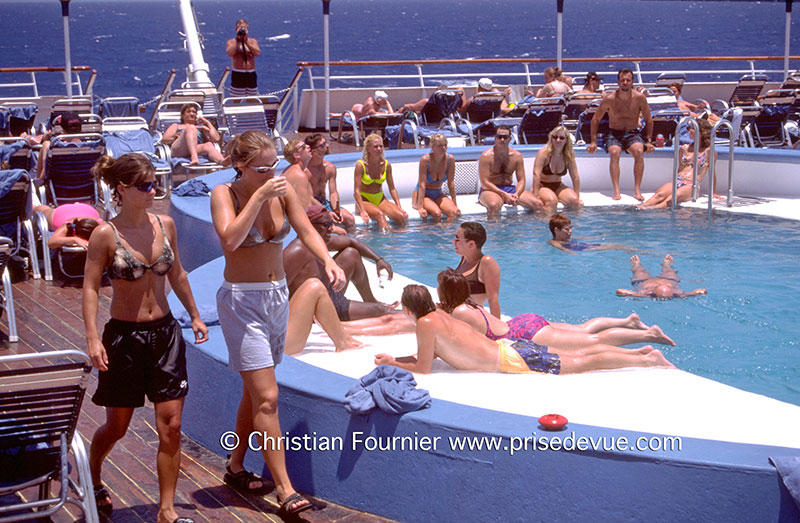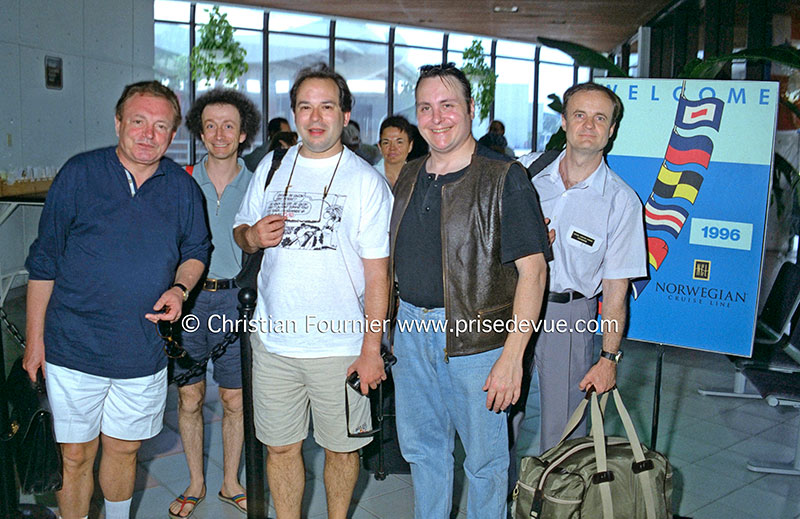 Jacques Martin's team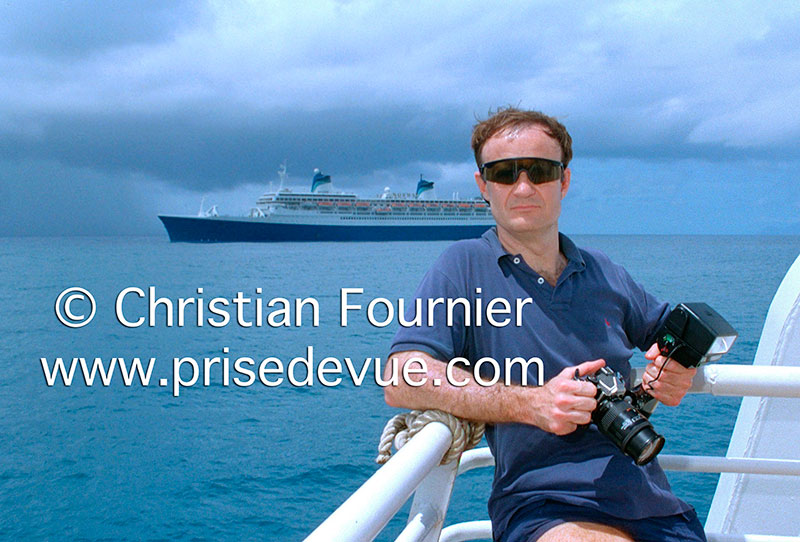 The paper trimmer. Here on S/S Norway, former S/S France.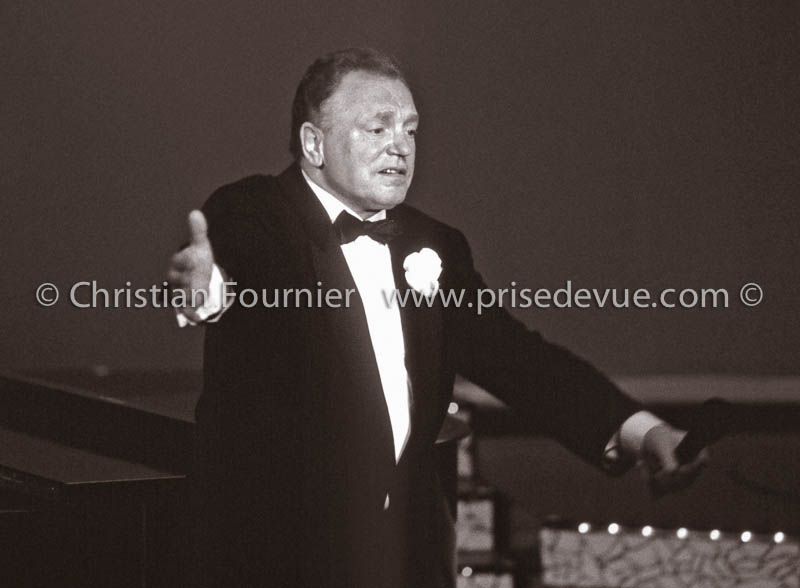 Jacques Martin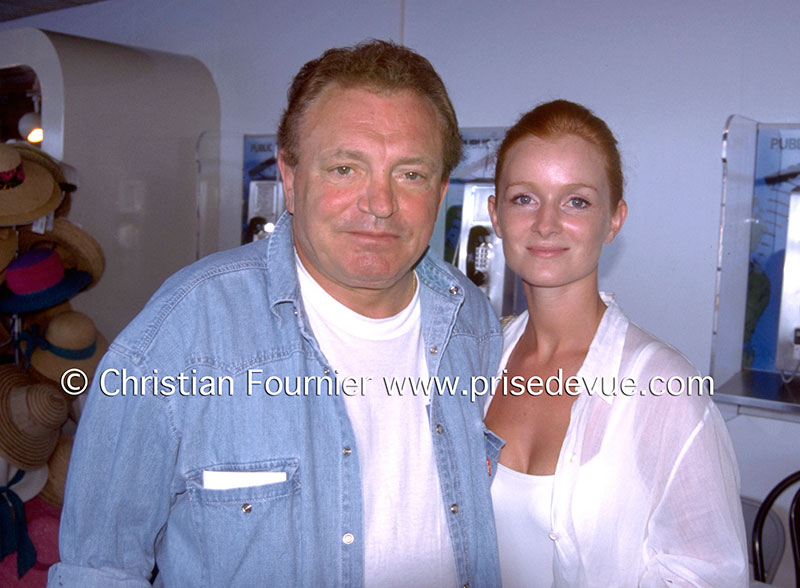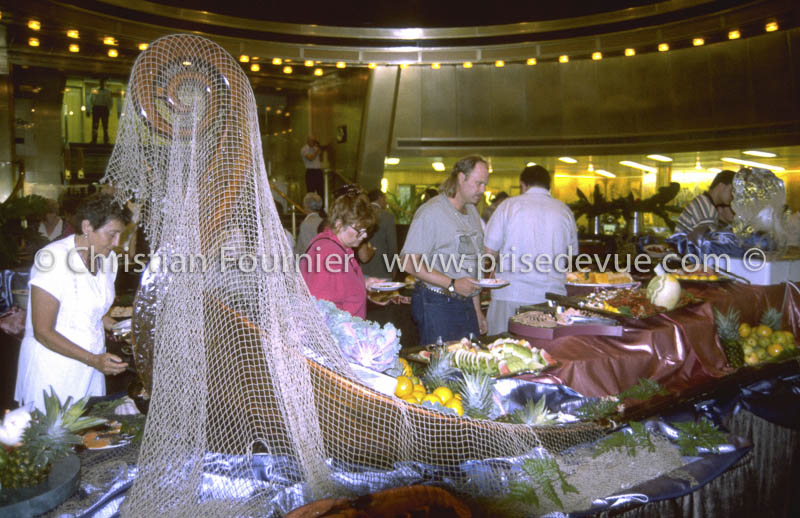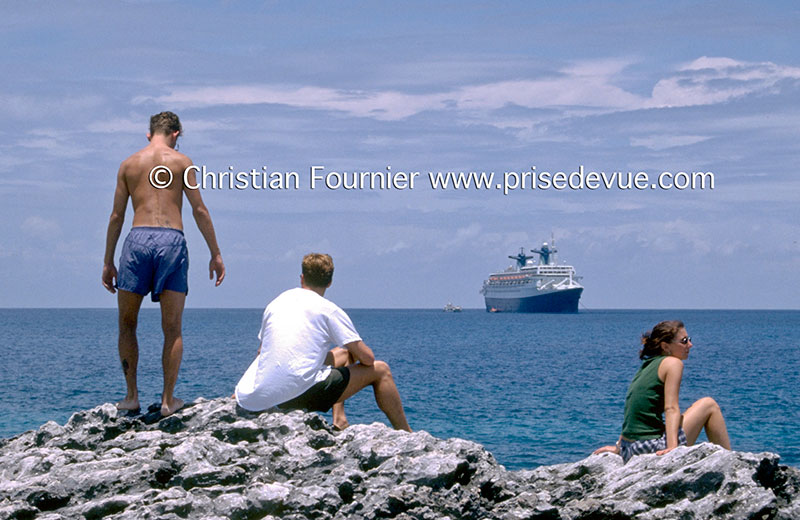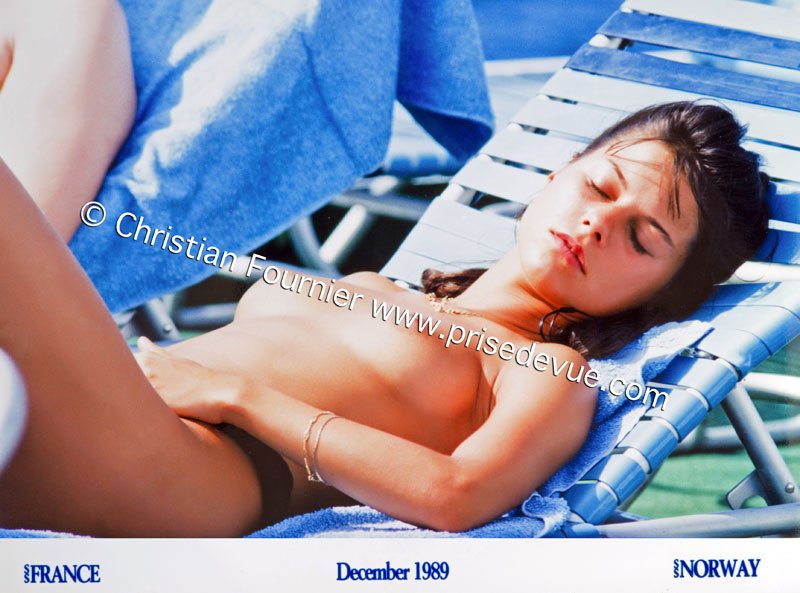 Don Lewis, cruise director, introducing the Photography Team.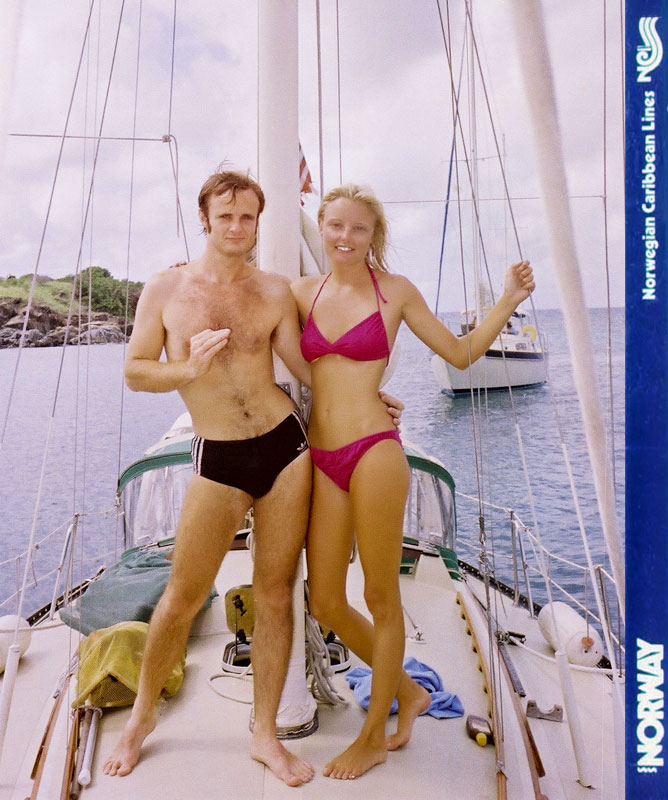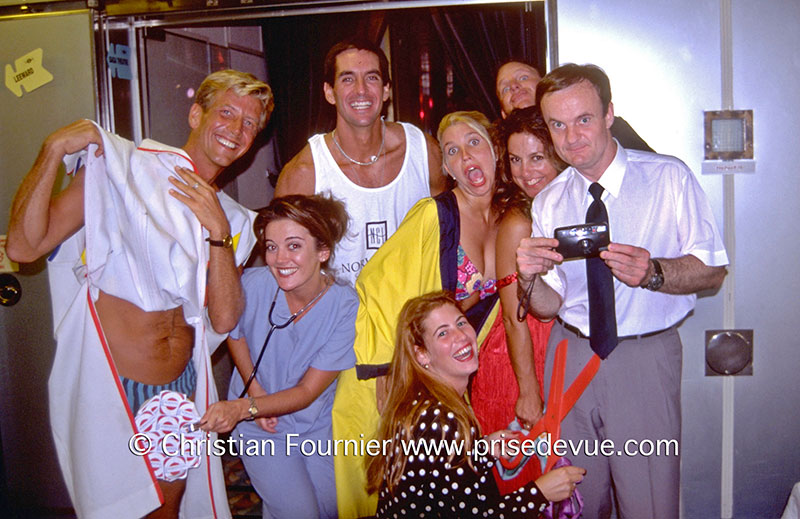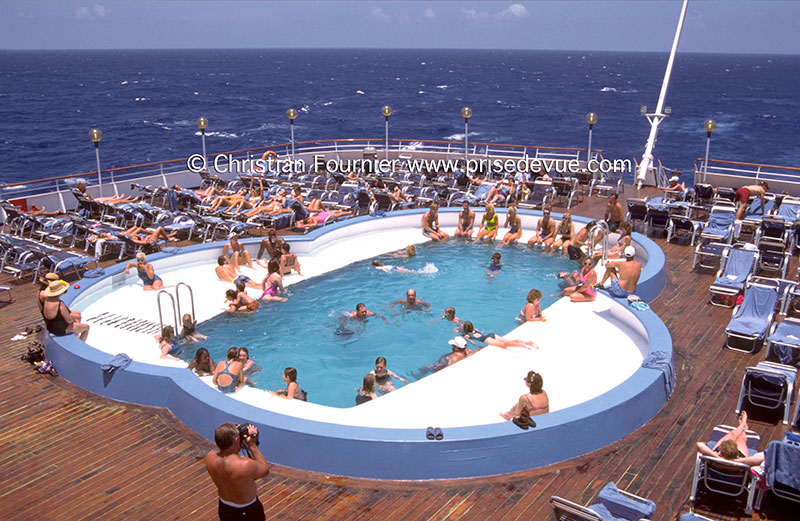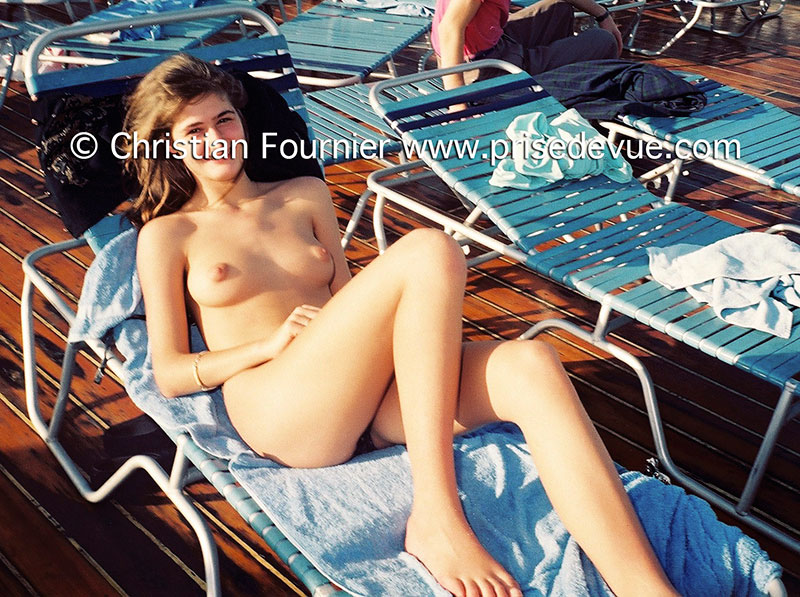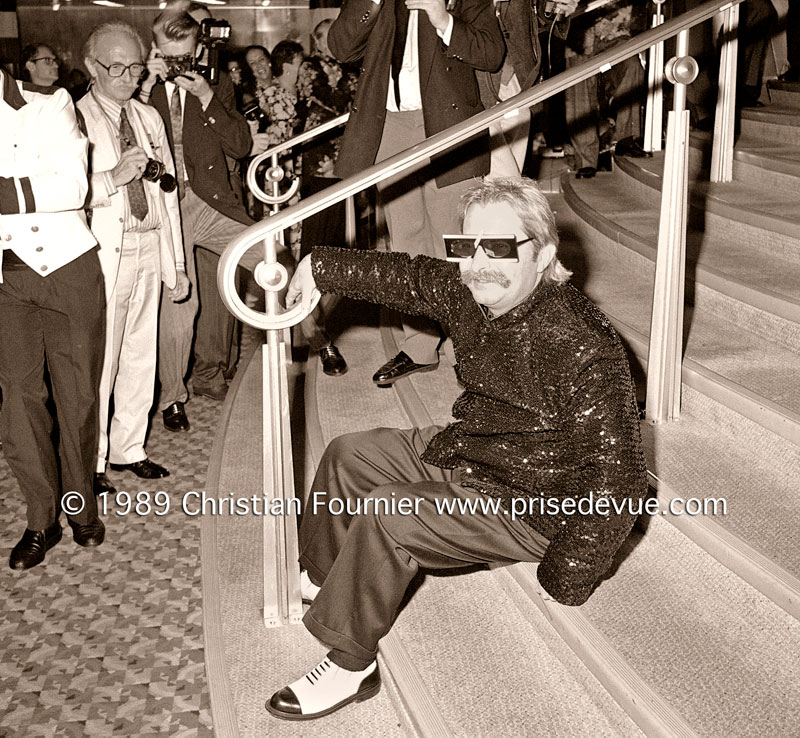 Pierre Vassiliu
Pierre Vassiliu (23 October 1937 in Villecresnes, France – 17 August 2014 in Sète, France) was a French singer, songwriter and actor. At the start of the 50s, his passion for horse-riding led him to become an apprentice jockey. He did his apprenticeship at Chantilly with Jean Laumain, racehorse trainer, for whom he won six races. At the Tremblay hippodrome, by pure chance, he met two apprentice horseriders, none other than Roger Pierre and Jean-Marc Thibault. Once they learned that Vassiliu spent his time out of the paddocks composing and writing songs, Pierre and Thibault dragged him out of the stables to have him sing his texts, as well as those of George Brassens, l'Écluse and l'Échelle de Jacob, two very popular cabarets at the time. From there, his first album that he wrote with his brother Michel, Armand, came out in 1962 and it was extremely successful, selling over 150,000 copies. This opened the doors of the Olympia in Paris to him, where he opened for the Beatles in 1964. He went on to a two-month stand with Françoise Hardy, Jacques Dutronc, and Johnny Hallyday. He released a string of hits, including "Charlotte", "Ivanhoe", and "La femme du sergent", censored because of the Algerian War. His 1973 song "Qui c'est celui-là?" was done partido alto by Chico Buarque; it sold more than 300,000 copies and secured for him a place in the memories of the teenagers of the time. The same year, he signed off on the soundtrack of the four-part television film la Duchesse d'Avila by Jan Potocki. His songs expressed diverse ideas: amused indifference in relation to the world (Qui c'est, celui-là ?, La vie ça va, Armand), but also critique about this same world (La femme du sergent, Dangereux), the fear of remaining a spectator (Film), romance (Amour, amitié), the appreciation of certain universal human qualities (Toucouleur), some healthy eroticism (Le pied, Nuits françaises, En Vadrouille à Montpellier), and a large number of spoonerisms (Alice, Ma cousine, Mon cousin). Pierre Vassiliu also appeared in some movies including La Saignée (1971), What a Flash ! (1972), Périgord noir (1989). In 2002, with Thallia, he sang a cover of Thallia L'Été ou est-il ?, by Boby Lapointe, for the album Boby Tutti-Frutti - L'hommage délicieux à Boby Lapointe, from Lilicub. In 2003, he produced a CD with Senegalese storytellers : the band Kalone, from Casamance, a region in the south of Senegal where he had lived. Pierre had many children. One of his sons is Dimitri Vassiliu, a well-known lighting engineer who has worked with a great many French artists including Mylène Farmer, De Palmas, Calogero, Zazie…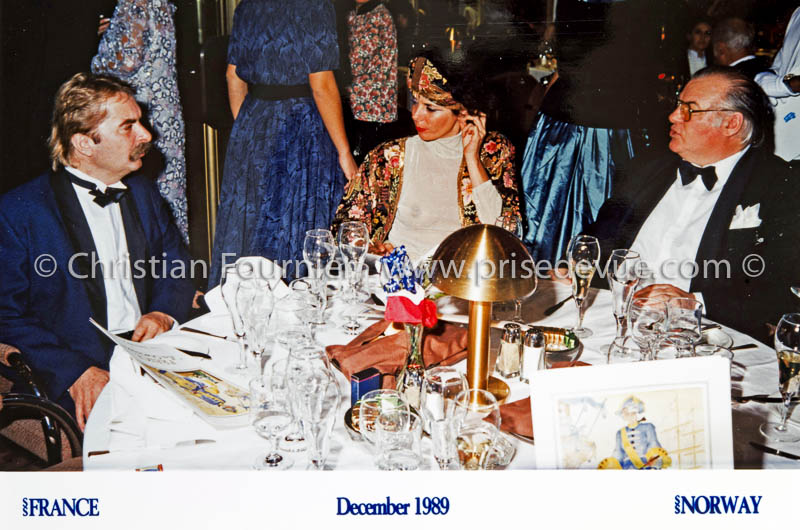 Jacques Martin

Isabelle Aubret
Sous le paquebot France, îles Vierges Américaines.

Les arbres d'hélice ne tournaient pas rond. Je suis employé pour photographier les ébréchures afin d'évaluer les dégâts. Le majestueux paquebot S/S Norway, ex paquebot FRANCE est au mouillage au large de Saint-Thomas. A part la masse impressionnante du navire en face de nous, il n'y a rien d'autre que du bleu profond. Je passe ma main gantée sur le pourtour des hélices et, quand je repère un accroc, je le photographie proprement, en macro, incluant une petite règle graduée dans le champ et j'en dessine la position sur mon ardoise. Il y a une vingtaine d'ébréchures sur les huit pales.
Le courant nous pousse fortement et nous devons tout faire une main accrochée à l'hélice. Il n'y a aucun poisson et que du bleu infini tout autour du bateau.
C'est très impressionnant. Du bleu et une énorme machine de métal. Je me sens petit et fragile. Privilégié aussi, de pouvoir plonger sous le plus beau paquebot au monde. Ce reportage a été publié dans tous les magazines plongée francophones. Nostalgie du SS France ?
De la plongée peu ordinaire ? Mes photos magnifiques ?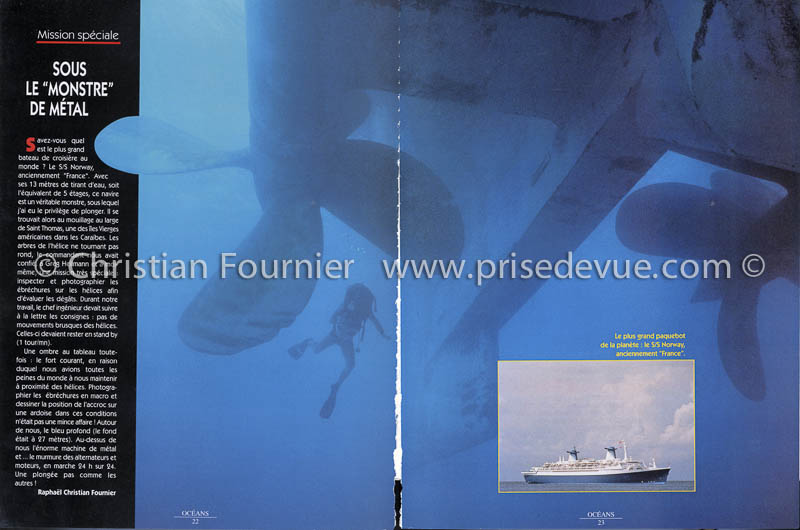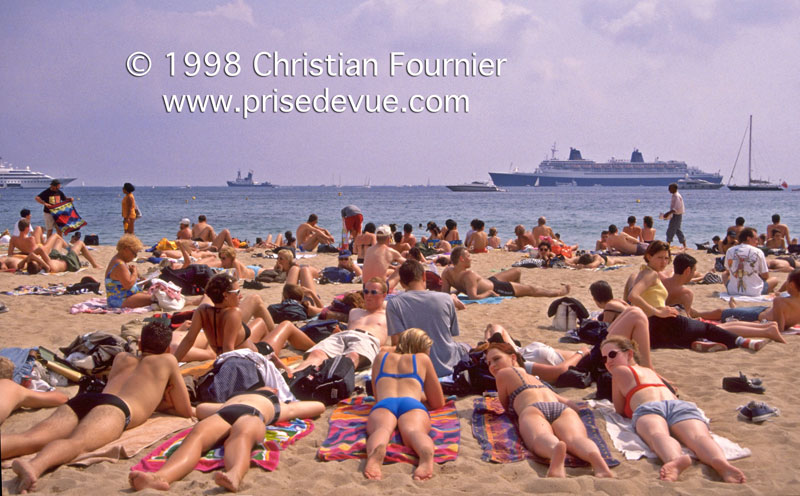 J'ai revu le S/S Norway lors du festival de Cannes en 1998.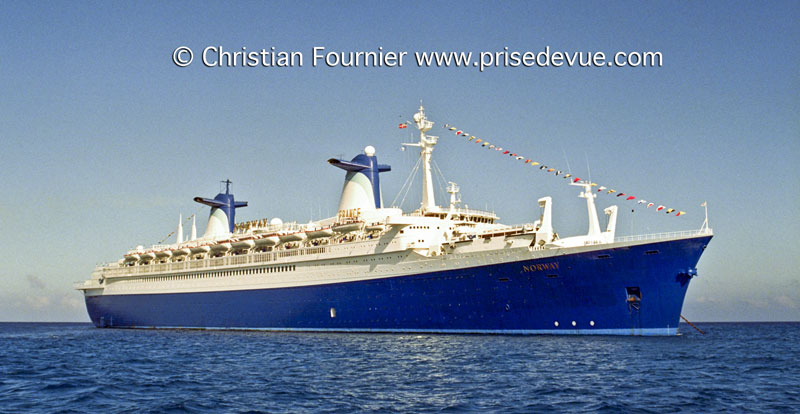 Une bien triste photo: S/S BLUE LADY, ex S/ S FRANCE, S/ S NORWAY à Alang, en Inde, 21 janvier 2008, pour son démentèlement final. Bye bue S/S France.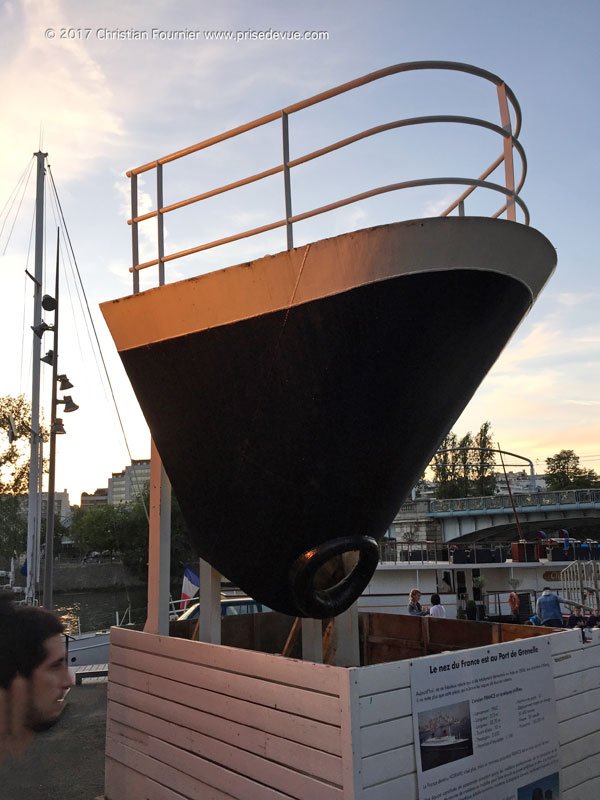 The bow of the France at the Port de Grenelle. The stem of the former cruiseliner France now adorns the quai de Grenelle in Paris (in 2017).
Once upon a time, in May 1960, it was the world's largest ship. Yet the economic crisis got the better of the ship nicknamed "The Prince of the Seas". The ship's deficit reached 100 million French francs per year and Valery Giscard d'Estaing declared its end. The France was laid up in 1974.
The upper part of the ship's painted steel stem with its guardrail and front hawsehole. Restored in its original paint, black hull, white collar. Ship's cradle in lacquered steal. Weight : around 4.1 tonnes.
Dommage que la France n'ait pas su le faire fonctionner comme paquebot (trop de grèves à répétition) alors que les Norvégiens l'ont fait pendant 20 ans. Dommage qu'on ne l'ait pas gardé comme musée ou hôtel non navigant








The ClubMed II in 1989

and it's stupid traditions. I am the official photographer of the inaugural cruise from The Havre (in France, where she was built) to New Caledonia. Djibouti, Australie, Japan, etc.. on the way for advertising). Three long boring months.

Le Club Med 2, l'un des plus beaux palaces du monde, est une goélette à cinq-mâts et à voiles d'étai dont la construction commence en 1989 aux chantiers navals du Havre (Société nouvelle des Ateliers et Chantiers du Havre). Il est lancé en 1992 et passe les six premières années de navigation dans le Pacifique, pour finalement alterner par la suite principalement entre la Méditerranée et les Caraïbes.
Ce voilier est le sister-ship de l'ex-Club Med 1 (1988), devenu depuis le Wind Surf en 1998. Le Club Med 2 est le plus grand voilier cinq-mâts naviguant.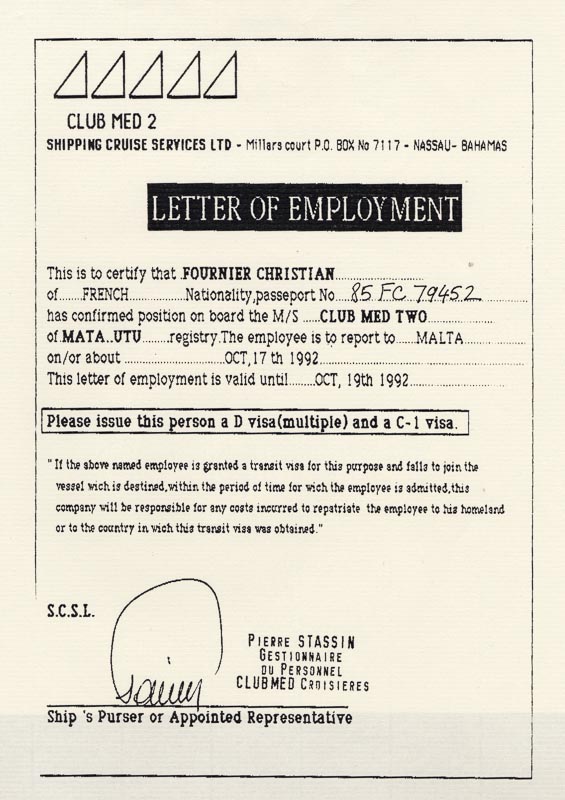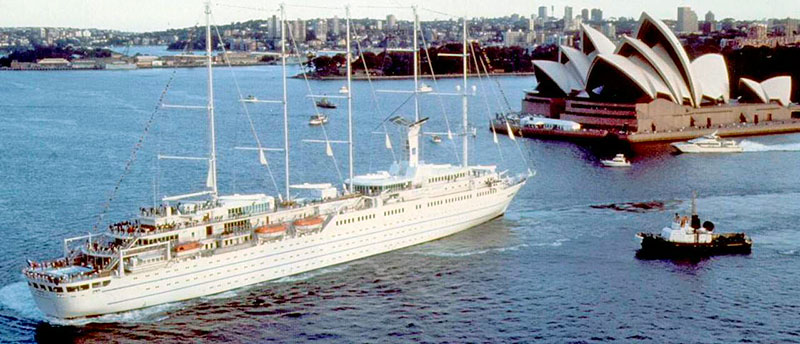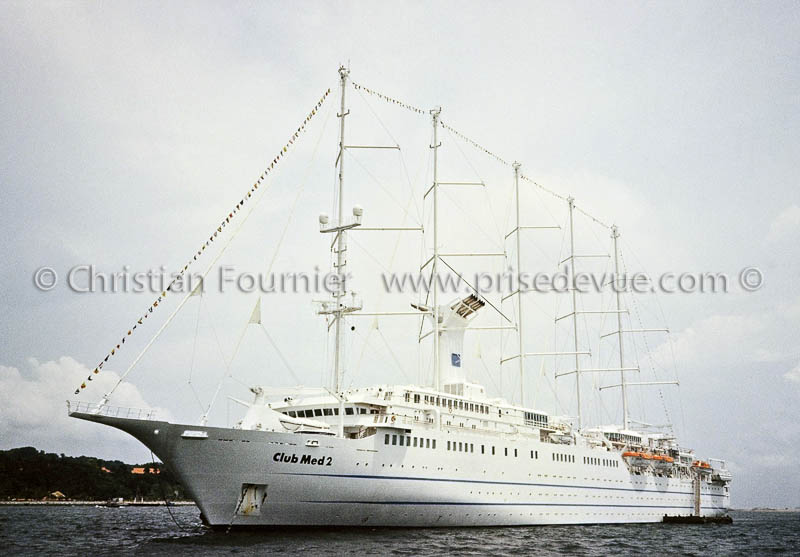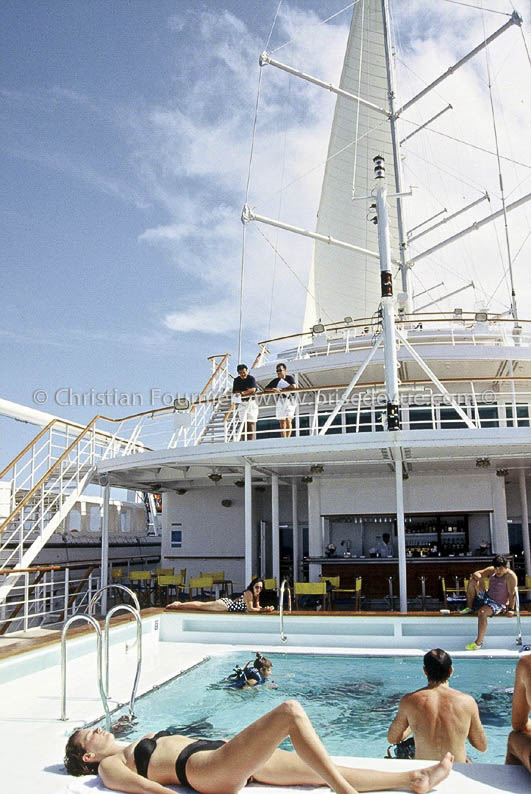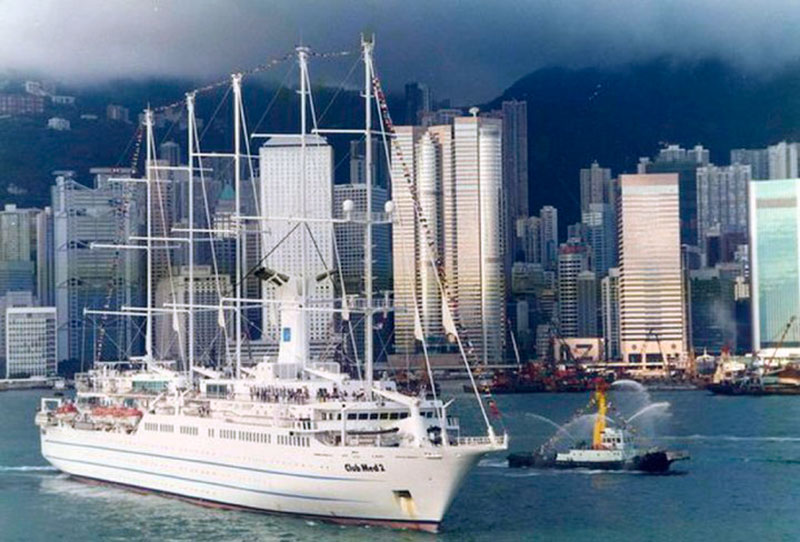 Le canal de suez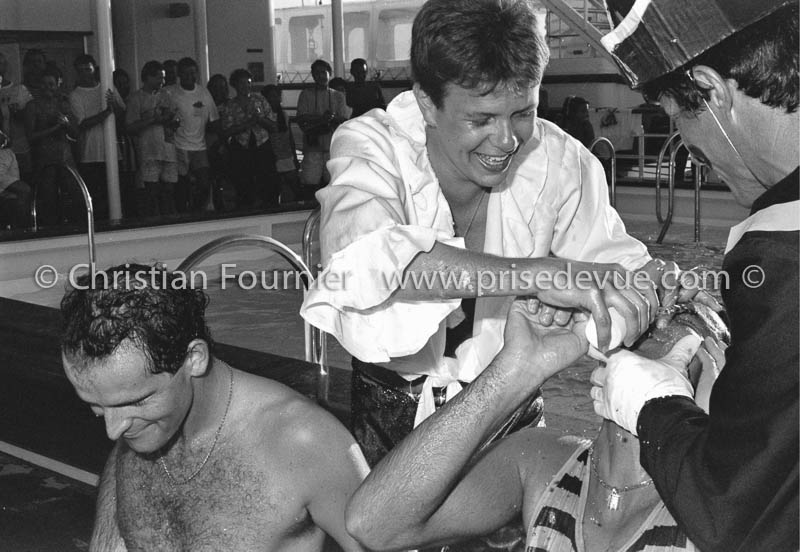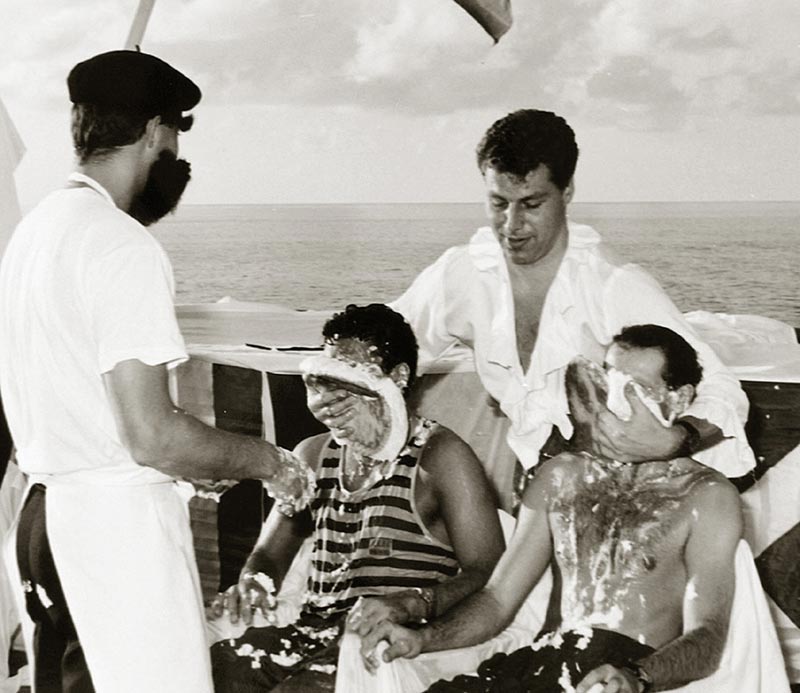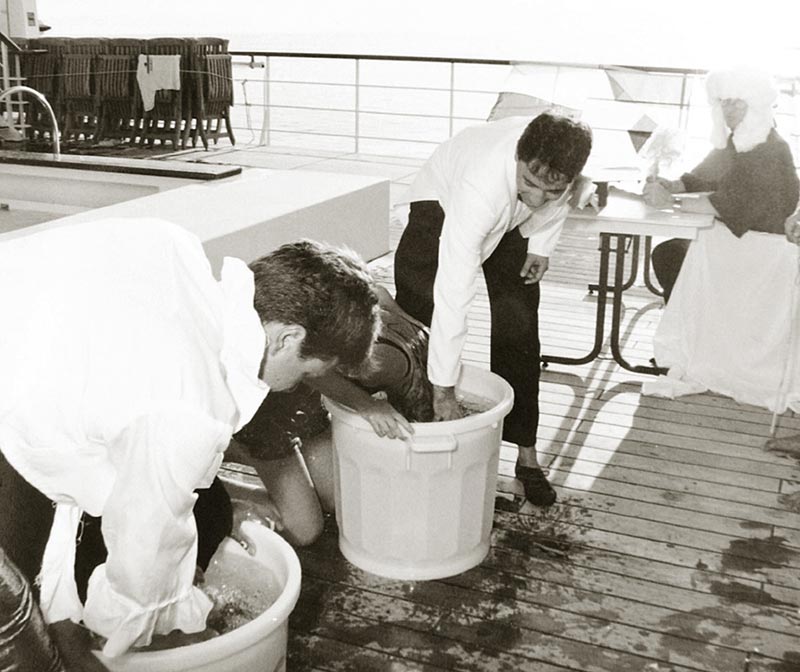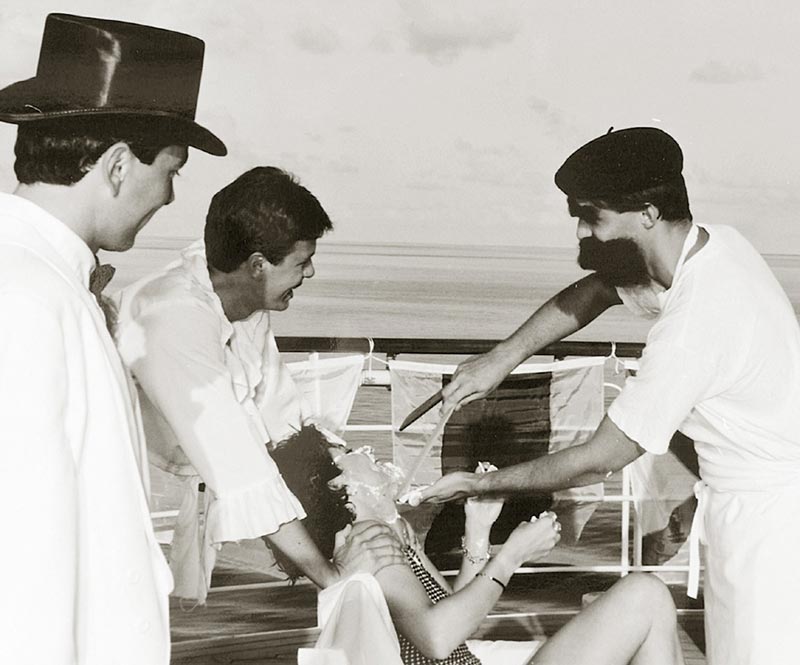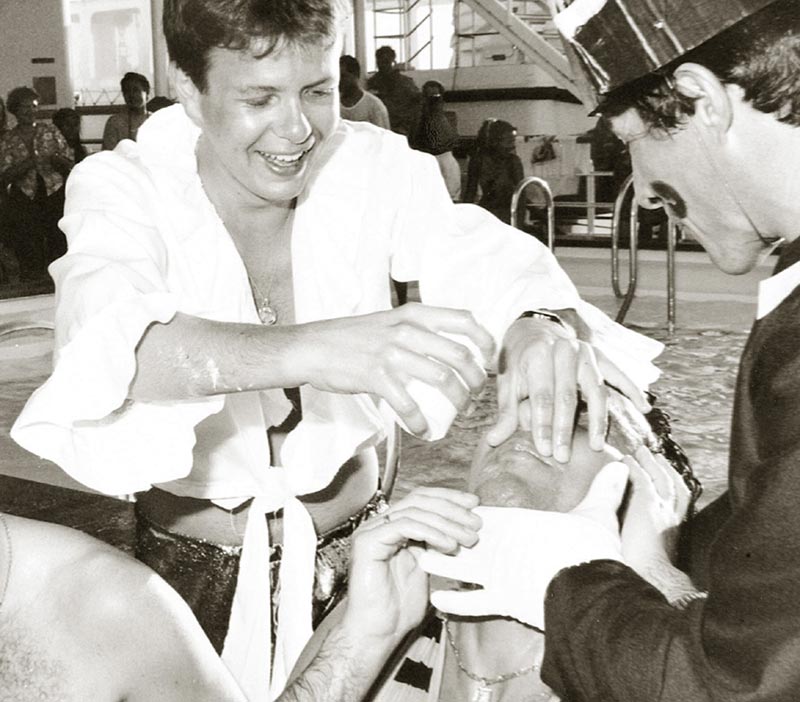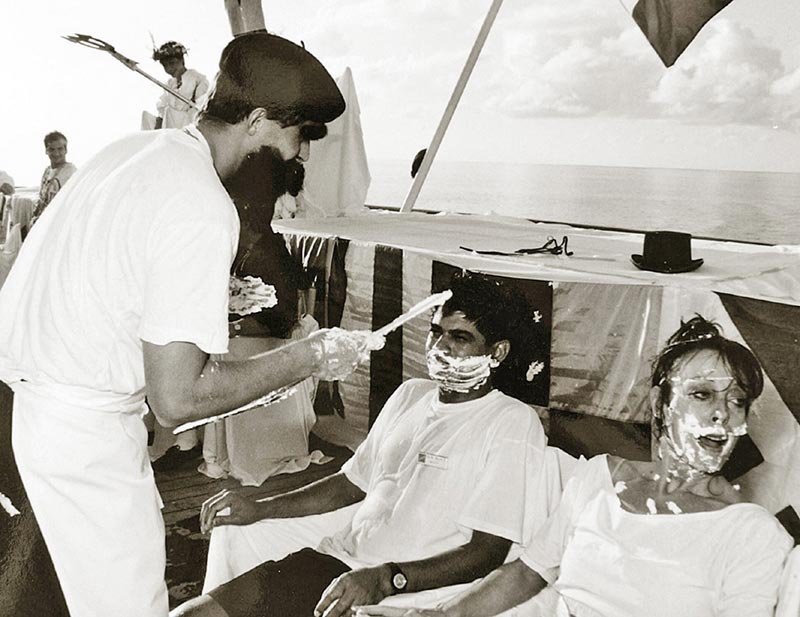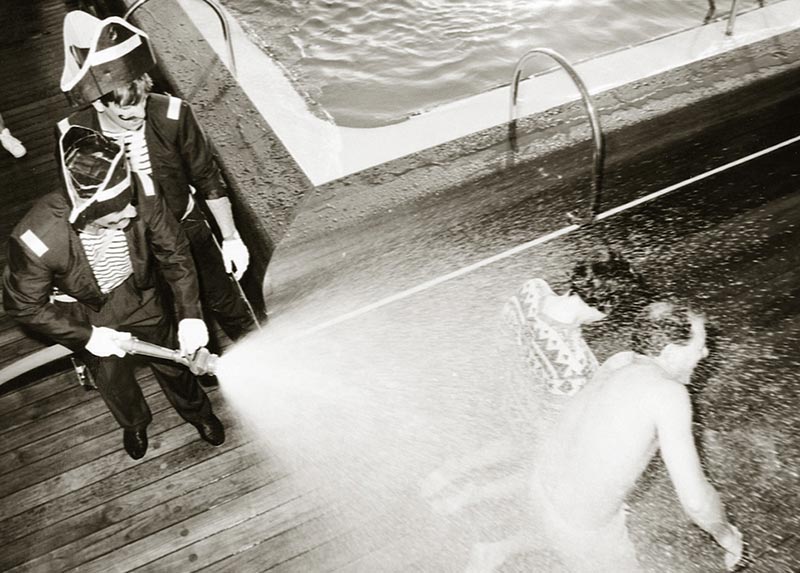 Ce "bizutage" Club Med II lors du passage de l'équateur m'a choqué. J'avais déjà vécu ça à bord d'autres paquebots US, en sympa et amusant, mais ici on se serait cru dans un passage à tabac très malsain. Les Français se défoulent de manière très agressive sur les autres. Cela m'a rappelé la tonsure que j'ai subie au service militaire. Complètement différent sur les bateaux américains où le seul but était de rire.