Page 8: Brighton in 1976, "Friday Bridge Agricultural Camp" in Wisbeach, Cambridgeshire. Volunteering to help the victims of an earthquake in Monteperta di Fruli, close to Udine in Italy, etc… I write poems.

Here, in Brighton in 1976, my first self-portrait as a photographer. No, this is not a war photo.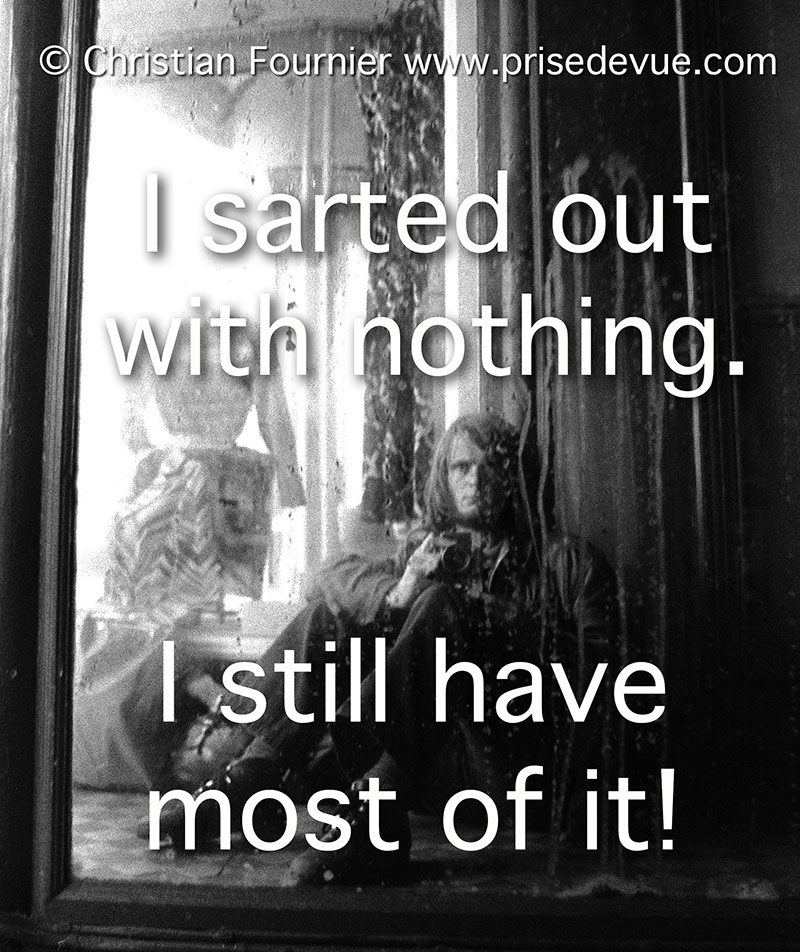 Plenty of odd jobs : agricultural worker for "Friday Bridge Agricultural Camp" in Wisbeach, Cambridgeshire where I make the acquaintance of, among others, Christian Parramon, Ina and Angelo Falcone; hops picking on Stuart Tipping's farm, Staplehurst, Kent; scientific book seller at "Foyles", Tottenham Court Road London WC1, salesman of electronic componants at Proops Bros. Ltd, 52 Tottenham court road, London WC2, I visit Scotland, Lake district, Wales, etc..
I am a hippy. It was even nice out in England, that day. Especially with Linda.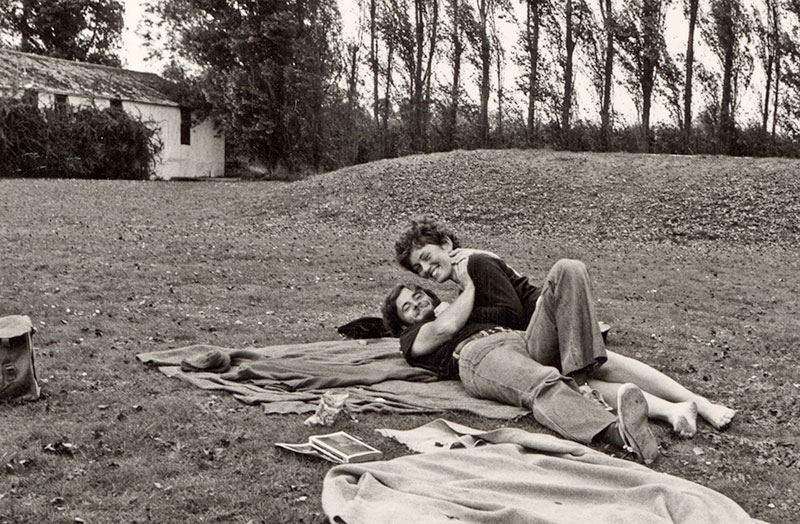 Thank you Linda.


May 1976: I am a volunteer helping earthquake victims in Monteaperta di Fruli, near Udine in Italy.



Then came the Nikon F2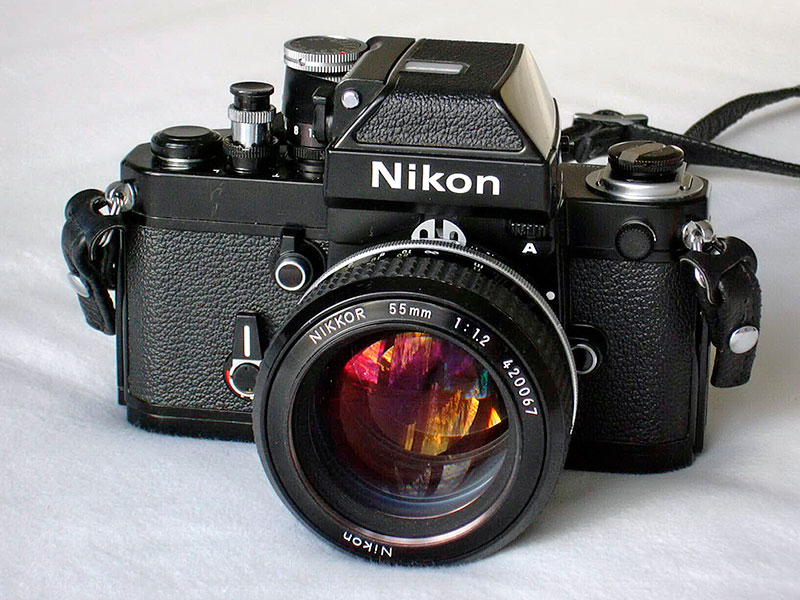 The Nikon F2 viewfinder


Here, the pretty Adriana in Monteaperta, in Italy, near Udine.





Adriana



Ma petite Adriana m'a écrit d'Italie
Et je suis bien heureux.
Vite je prends le dictionnaire et la grammaire.
C'est court et il y a des jolis dessins partout.
Adriana est souriante et pleine de vie,
Entraînante
Je l'aime simplement, sincèrement.
Elle me dit qu'elle aussi.
Et je suis bien heureux.
Et je suis bien chanceux.
Pourvu que ça dure.

Poème (au cas où cela ne serait pas évident) de Christian Fournier

PS : pour info, cela n'a pas duré




Adriana
My little Adriana wrote tp me from Italy
And I am very happy.
Quick I take the dictionary and grammar book.
It is short and full of pretty pictures.
Adriana is smiling and full of life,
Enthralling.
I love her simply, sincerely.
And she tells me that she does, too.
And I am very happy.
And I am very lucky.
As long as this lasts.

Poem (in case this wasn't obvious) by Christian Fournier

PS : it did not last.





I received a lot of criticism from the Photography Club of Arras, Pas-de-Calais, for this magnificent photo of my cat. They said that everything was blurry, except for the muzzle and whiskers. I thought that was the best part! Ha, I am so misunderstood! Or maybe an artist ahead of his time?
Because I am a stubborn man, these comments contributed without a doubt to my obstinacy in becoming a photographer.
In 2015, I learned that this technique is now called bokeh (pronounced "boh-kay"). This term is not used to describe a failed image, but to designate the artistic quality of the part of the photo that is not in focus. This fusyness allows the subject to be detached from its environment, thus emphasizing it.



The predecessor of the famous cat!
Hereford, England

BORIS VIAN :


QUAND J'AURAI DU VENT DANS MON CRANE
Quand j'aurai du vent dans mon crâne
Quand j'aurai du vert sur mes osses
P'tête qu'on croira que je ricane
Mais ce sera une impression fosse
Car il me manquera
Mon élément plastique plastique tique tique
Qu'auront bouffé les rats
Ma paire de bidules
Mes mollets mes rotules
Mes cuisses et mon cule
Sur quoi je m'asseyois
Mes cheveux mes fistules
Mes jolis yeux cérules
Mes couvre-mandibules
Dont je vous pouléchois
Mon nez considérable
Mon coeur mon fois mon râble
Tous ces riens admirables
Qui m'ont fais apprécier
Des ducs et des duchesses
Des papes et des papesses des abbés des ânesses
Et des gens du métier
Et puis je n'aurai plus
Ce phosphore un peu mou cerveau qui me servit
A me prévoir sans vie Les osses tout verts, le crâne venteux
Ah comme j'ai mal de devenir vieux.



En physique et en mathématiques, un développement limité d'une fonction f au In physics and in mathematics, the series expansion of a function f
En physique et en mathématiques, un développement limité d'une fonction f au voisinage d'un point, est une approximation polynomiale de cette fonction en ce point, c'est-à-dire l'écriture de cette fonction sous la forme de la somme : d'une fonction polynôme dont le degré est appelé l'ordre du développement ; et d'un reste qui peut être négligé lorsque la variable est suffisamment proche du point considéré.
En physique, il est fréquent de confondre la fonction avec son développement limité, à condition que l'erreur (c'est-à-dire le reste) ainsi faite soit inférieure à l'erreur autorisée. Si l'on se contente d'un développement d'ordre un, on parle d'approximation linéaire ou d'approximation affine.
En mathématiques, les développements limités permettent de trouver plus simplement des limites de fonctions, de calculer des dérivées, de prouver qu'une fonction est intégrable ou non, ou encore d'étudier des positions de courbes par rapport à des tangentes.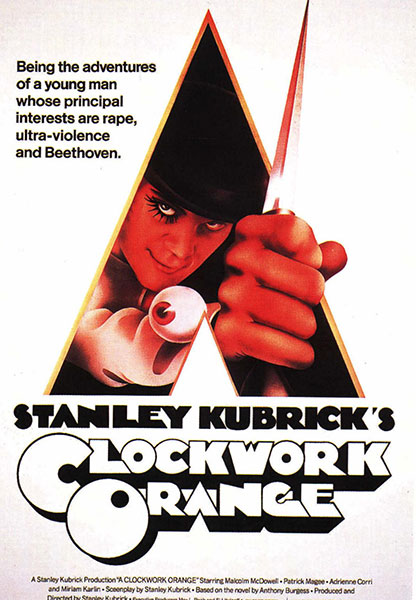 Some LPs of my youth.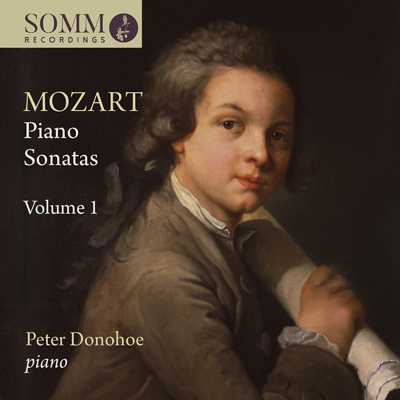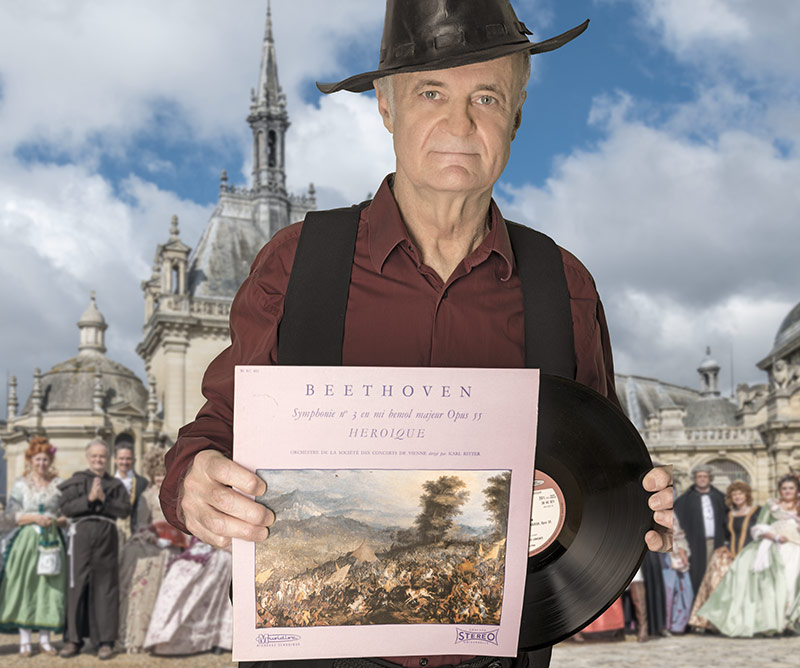 Notice my little Rollei, compact, single lens, overall quite bad, but very small.


Le premier Rollei 35 apparu en 1966 fut le début d'une longue lignée qui allait durer plus de 25 ans.
Sa compacité, associée à d'excellents objectifs et une réputation de solidité en firent un best-seller.
Celui-ci fut acheté en 1974, en Italie, et ne semble avoir subi depuis qu'un petit entretien en 1984. Aujourd'hui, il marche toujours, comme au premier jour ... si on dispose d'une solution de la pile PX 625.
Ce modèle existe avec plusieurs modèles d'objectifs, en finition noire ou chromée, fabriquée en Allemagne ou à Singapore.
Ici, l'objectif est un Tessar 3,5 / 40 mm. L'obturateur permet les vitesses de 1/2 à 1/500 seconde, plus pose B. L'avance du film est assurée par un levier situé à gauche, au-dessus,la manivelle de rembobinage au dessous qui est bien rempli, puisqu'on y trouve également la griffe pour accessoire, dotée d'un contact pour flash électronique et le compteur de vues.
Au sommet de l'appareil, on trouve la fenêtre d'indication de la cellule. L'appareil est un semi-automatique ; il faut amener à coïncidence deux aiguilles en jouant sur les paramètres de vitesse et ouverture.
Rollei, à partir de 1970, commença à délocaliser ses usines de fabrication à Singapour afin d'abaisser ses coûts de fabrication. C'est ce qui fait qu'on trouve certains modèles "made in Singapour" dans la série du mythique Rollei 35.
Information : Pour pouvoir déclencher, il faut que l'objectif soit sorti et verrouillé sur cette position. Pour cela, il faut appuyer sur le petit bouton situé près du déclencheur, tout en tirant en avant l'objectif. Lorsque celui-ci est en butée, il faut le tourner jusqu'à entendre un petit clic. Pour le rentrer, il faut armer avant de ranger l'appareil. Ensuite, il suffit d'appuyer sur le petit bouton, puis repousser l'objectif.

I'll let you guess what theory this is :
Science is the discipline of doubt, of calling into question. Science demands that each human being be able to do and redo all past experiments and reasoning.


Music imprints itself in the brain deeper than any other human experience


Another LP of my youth.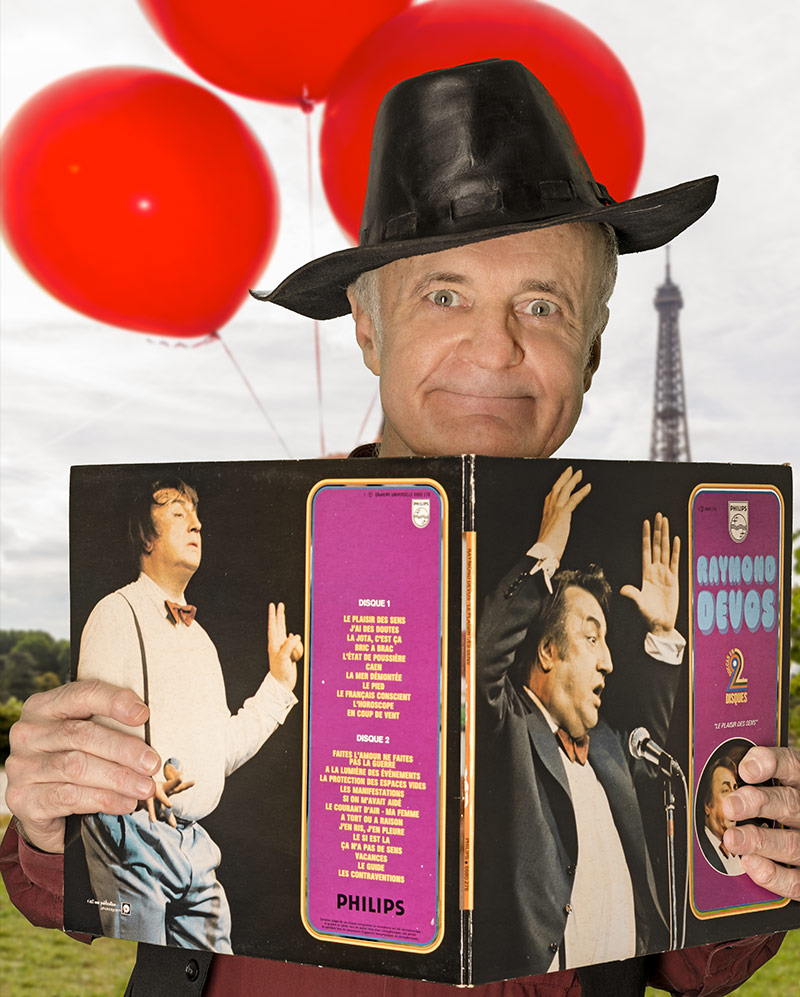 "I believe in immortality and yet I fear of dying before knowing it."
"It's always wrong to try to be right in front of people who have all the good reasons to believe that they are not wrong!"





Here are about 620 examples of my photographic event coverage since 1984, that is to say, 30 years. This is without counting those which my clients have requested that I do not show and photos that have been lost.

I know it's enormous.
No, I am not a photographic robot: my mother had me tested


This list begins with the compilations: Fashion & Models, Lingerie, Beauty, Makeup & Hair, Portraits, Events, Objects, Archi & Deco, Industry, Press, Celebrities, etc.


The sensors and web capabilities from 1995 to 2005 were horrible compared to now (2021). 40 KB max by images. My uploads at this time were therefore bad. I replace them little by little. It's long. Thank you for your indulgence.


Conclusion 1: I must not be bad, so that all these people trust me.
I have loyal customers, a sign that they are satisfied with my services. Examples: Tollens, MEDEF, Dior, GMF, Unesco, L'oréal, Anaé, Agefiph, Essilor, Genzyme, Embassy Ireland, The Advertisers Club, Garmin, VW, etc. ...

Conclusion 2: Thanks to all these varied clients (industry, wedding, corporate and personal portraits, press, events, objects, medical, culinary, diving, sports, pageants, etc. ..), I see extraordinary slices of life, confidential or public, trades and fabulous countries. I do feel very privileged. Real life, live. Thank you customers.

In rough estimation, I take 5,000 photos a week. 5,000 x 52 = 260,000 a year. For 35 years = 9,100,000 photos. Well, I would like to reach 10 million anyway!

Conclusion 3:

Photography is my language




There is also a search command, not always up to date, but pretty comprehensive on all my reportages.




Due to manipulations between prisedevue.photos, prisedevue.photos and famousphotographer.com, some links may be broken. Sorry. I'm working on it !


*************************

MY BLOGS

Not many photographers have the courage to show their photos on a daily basis. I do it to show that in a wide range of photography, I always take good photos for my clients. Technical perfection and an obvious sensitivity. If you imagine the logistic necessary for these missions (estimates, preparations, equipment, transports in traffic jams, safety, etc.), you can see that I am a photographer who achieves results in all circumstances.





*************************

CONTACT

WWW.FAMOUSPHOTOGRAPHER.COM The archives



*************************





Intellectual Copyright Property 2020 Christian Fournier.




All rights are reserved. All texts, photos, graphs, sound files and videos in this website are protected. Their reproduction, modification and uses on other web sites than those by Christian Fournier are strictly forbidden.



Most of the photos on my web site are for sale, except, of course, the ones for which I do not have the models or decor releases.

I am at your disposal for any query you may have.