Page 39:
I fall in love with Dr Nicole Bordes.

Doctorate (Ph.D.) INSA Toulouse; Diplôme d'Etudes Approfondies (M.Sc.) INSA Toulouse; Diplôme d'Ingénieur, Institut National des Sciences Appliquées (INSA) Toulouse; CNRS Centre National de la Recherche Scientifique, France, 1983-1987; Los Alamos National Laboratory, USA, 1987-1989; University of New Mexico, USA, 1992-1994; Sydney VisLab, 1994-1996, Nov 1997 till present.
Tall, beautiful, great black long hair, shy, immensely intelligent. We live some extraordinary adventures.

Creation of two photo series: "The Fun Couple" and "Nicole Tu Me Manques".

Ever since Nicole, I've stopped flirting with passengers.

Also see the reportages : Fire onboard the Ocean Pearl, Blue Sharks in California, Cold Plunge, Nias, The studio in the Woods à Vancouver.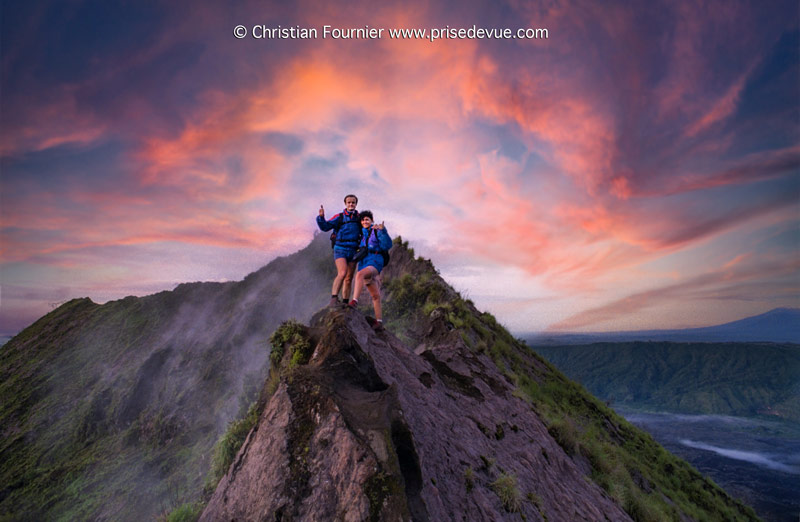 Chernobyl: Nicole was then working at the CNRS, National Center for Scientific Research, France, 1983-1987. She told me that she was carrying out measurements on radioactivity in 1986. She saw an inexplicable peak in the rise in ambient radioactivity in Paris. She was outraged by the silence of the French government on this serious public health matter. She then decided to leave France and I had the chance to meet her in the USA, where the Los Alamos National Laboratory, USA, welcomed her to continue her research.


The image of LOVE


The series: "The fun Couple". Shot In Toulouse, at Nicole's parents. Before smartphones.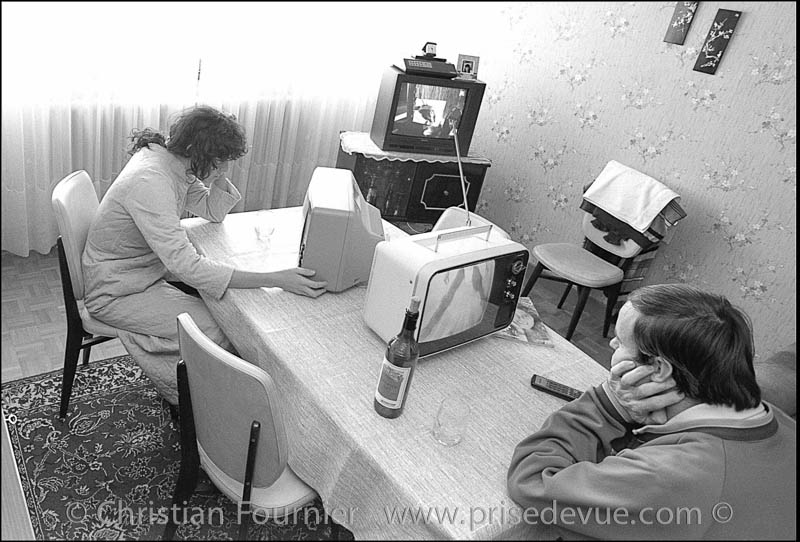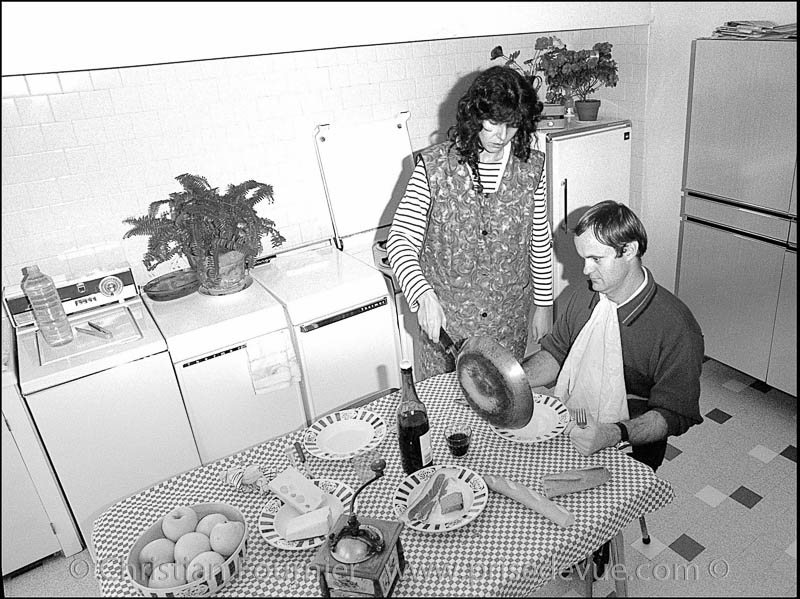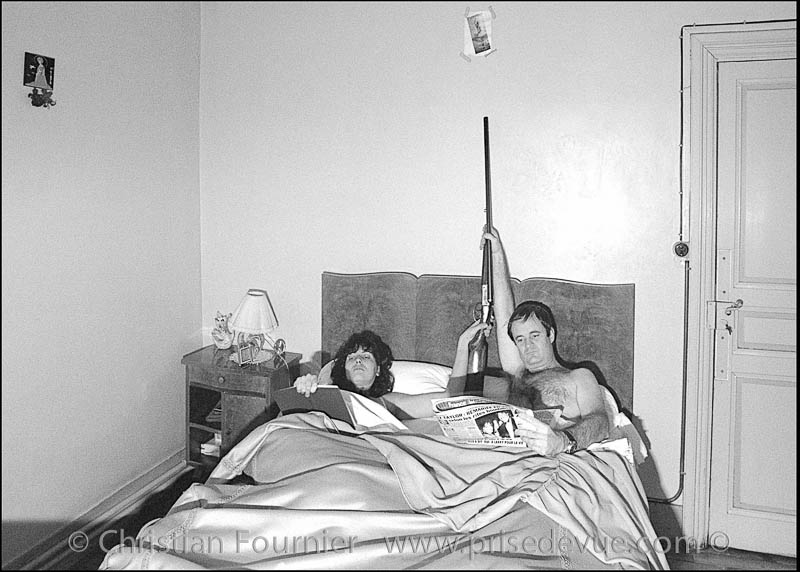 A #4 PHOTOGRAPHER


From: CHRISTIAN FOURNIER, Chief photographer
To: Mr. R.C.. Dawson, Cruiseship Pictures.
I am very happy and proud that RCCL is keeping us on board the Stardancer/Viking Serenade. We had to face strong competition.
To keep it and possibly expand in RCCL, I suggest we employ a #4 photographer on Stardancer. We could thus offer better service, more service and will not depend on pursers and cleaners for some of our tasks! (for instance, this week the pursers could not do the gallery on formal night because they were busy with RCCL, so we had a problem.)
So far, the only problem to get a #4 was berth space.
Well, I have a happy solution: my fiancee, Nicole, wants to take a sabbatical semester off from her scientific researches and be a photographer. She has been on board for 4 separate weeks as my guest and has helped a great deal at the gallery and in the darkroom. She fully understands our operation and is already trained for it. She is 29, French, bilingual, post doctorate in physics, keen photographer.
Most of our male passengers would smile more easily to Nicole than Robert, so we would have an extra asset.
Paul Smith and Allan Lake have said in the past that we needed 4 photogs, like all other 1200 pax ships. The Fair Princess has 700 pax, no videos, 4 photogs (including 2 girls)
We are already paying per week $85 for gallery help, $20 for camera reloading, $60 for key chain help and $60 for video help in Alaska, so a #4 photographer would not cost much.
We could open the gallery longer, have 3 portrait sessions, better coverage of events, faster services and smile more; in short : MORE REVENUE, BETTER COMMENT CARDS, TO PLEASE RCCL. So we have all to gain, nothing to lose, by employing this charming lady.
You are welcome to contact her direct, while she is in France for her Xmas vacation, so she could get her C1/D visas in Paris US consulate.



In my cabin, on board Stardancer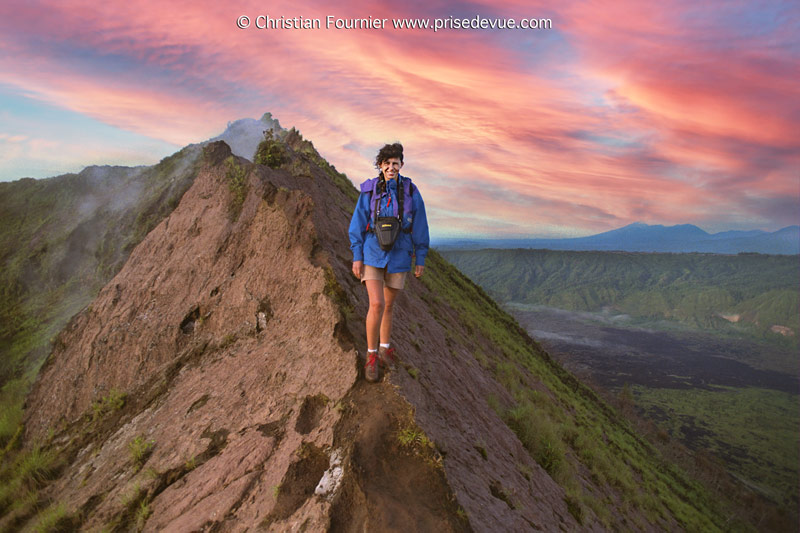 Au sommet du Mont Batour à Bali.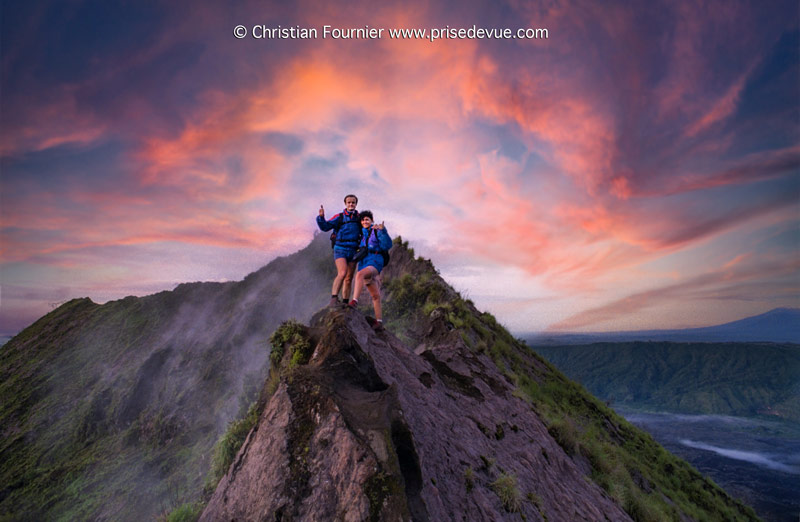 Mazatlan, Mexico


Nias, Indonesia


Yes, yes, it is her, in black version.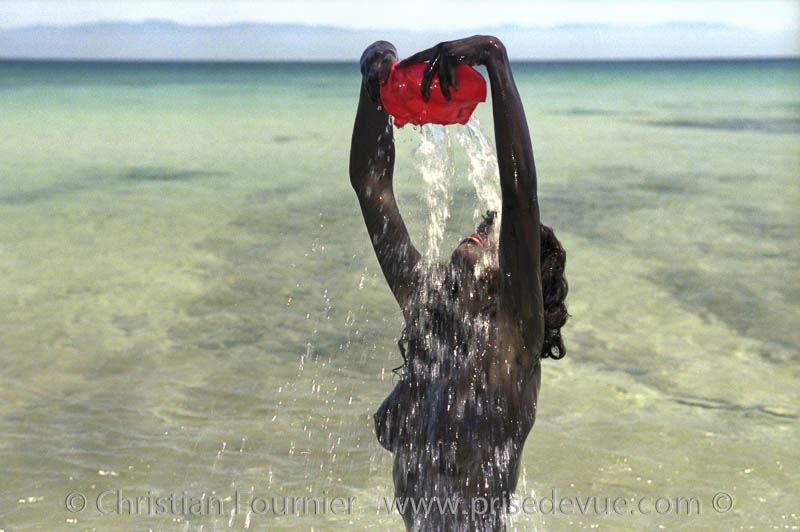 Why is it that the days without you are so long, and the days with you so short... why can't it be the other way around?
I love you (even if I didn't say so last Saturday!)
Nicole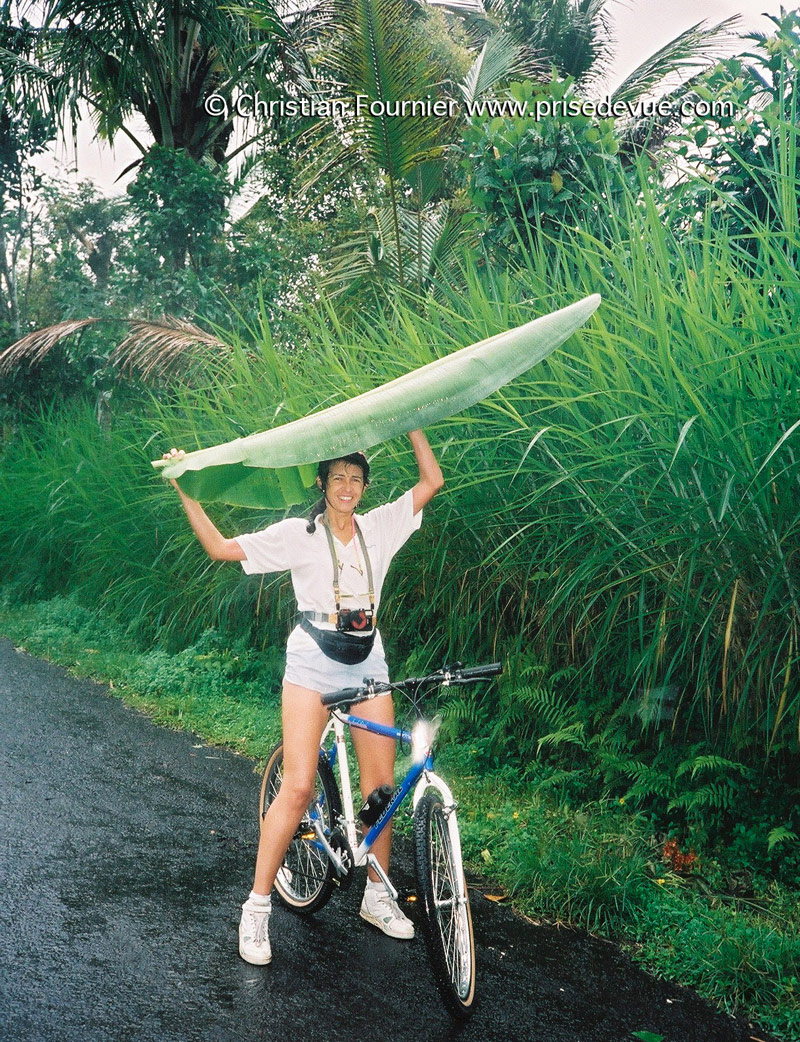 Bali



I want to spend my life loving you. Nicole.


Cabos St. Lucas, kilometres of deserted beaches.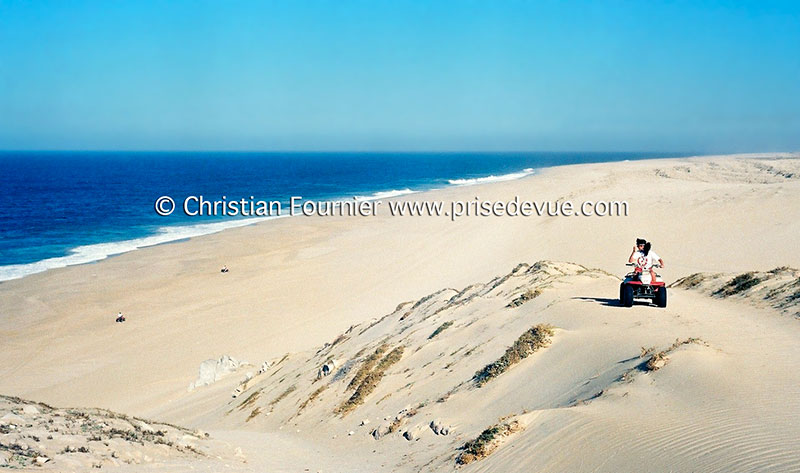 Le Tigre

It is more beautiful in French! I don't think I've ever been so happy with someone.
With all my heart. See you soon...
Kisses, Nicole.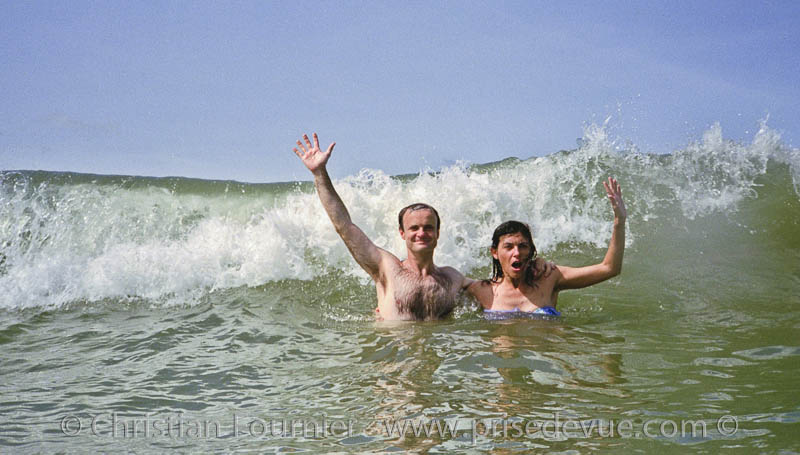 Yes, we got hit by the wave.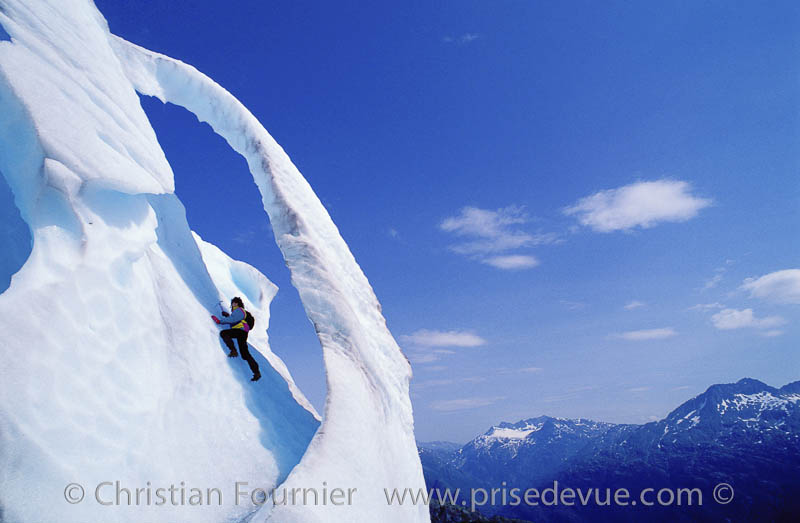 Skagway, Alaska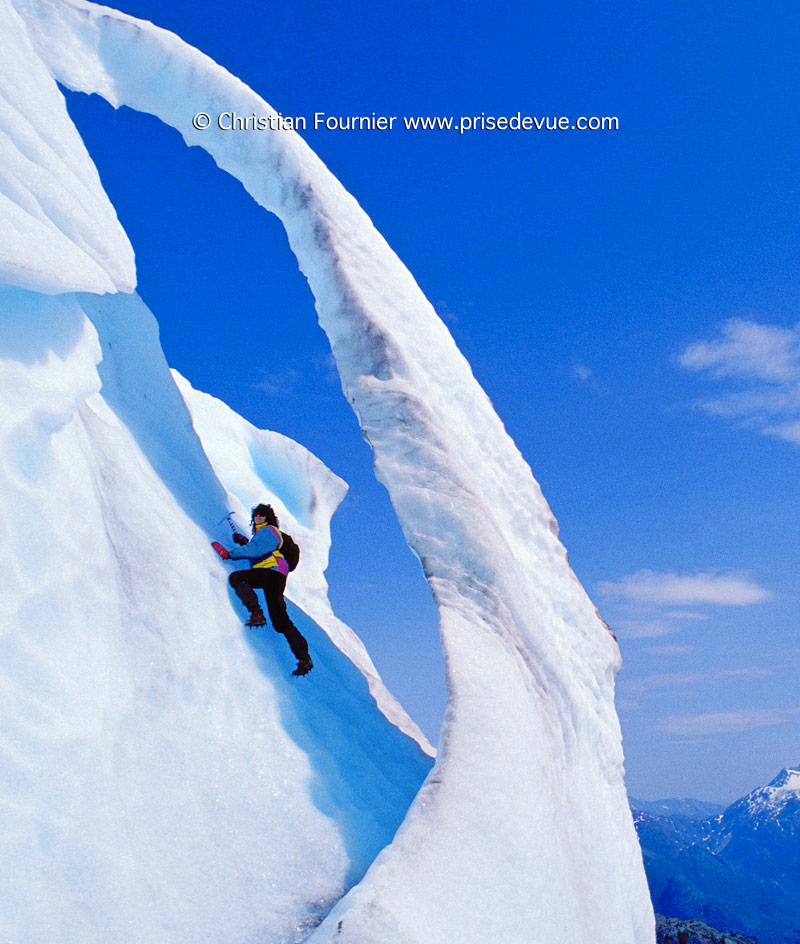 Del Mar Fair, California. Nicole pose près de la photo que j'ai faite d'elle en Alaska.
Le Del Mar Fairgrounds est un lieu de rencontre de 370 hectares situé à Del Mar, en Californie. C'est ici que se tient la foire annuelle du comté de San Diego, qui s'appelait la foire Del Mar de 1984 à 2001.


White Sands, New Mexico, USA




My dear Chris,
I miss you often. The weeks go by so slowly... and I fear that those between now and the next time we are together will feel just as long!
Life without you has no taste, no meaning. The only thing in my mind is next Saturday. I look at your photos, your slides to remember and to dream.
I just want you to know: I love you.
Nicole


Bali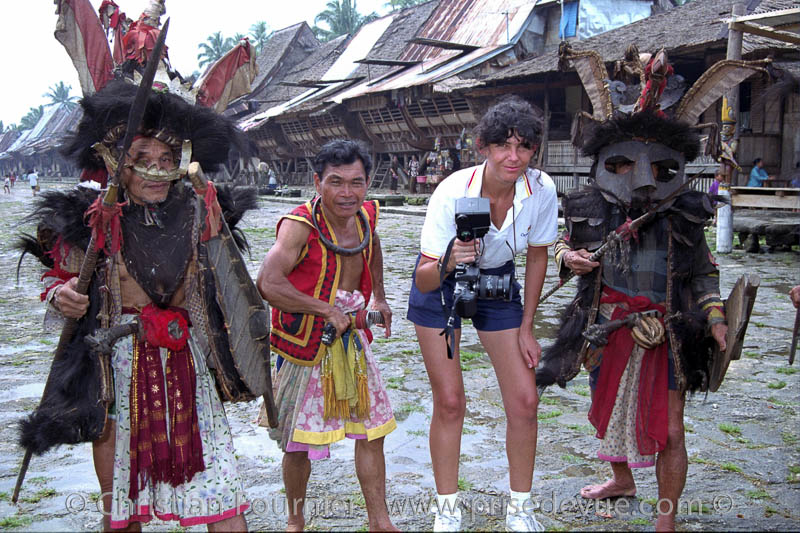 Nias

My dear Chris,
It is Sunday evening and nothing interesting is happening in Los Alamos. I've started to prepare my presentation but 10 minutes is a bit short for everything that I'd like to say, but I'll make it fit! Apart from that, I waited impatiently for Saturday and after the call, I am left sad... I needed the whole evening to recover. I miss you, I can't say it enough. At least in 15 days I'll at last be able to bother you in person! Why must time fly by when you're here, yet draw on when you're away?
Nicole



Sipadan Island



The Pyrenees

Why is it that the days without you are so long, and the days with you so short... why can't it be the other way around?
I love you (even if I didn't say so last Saturday!)
Nicole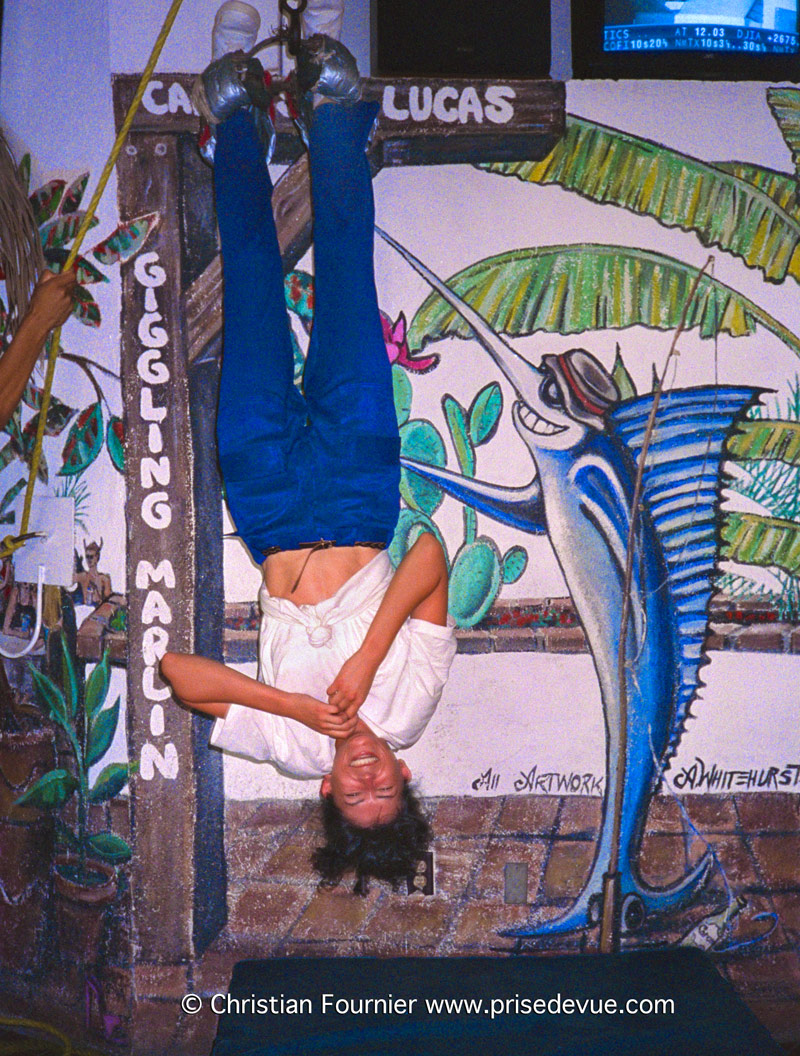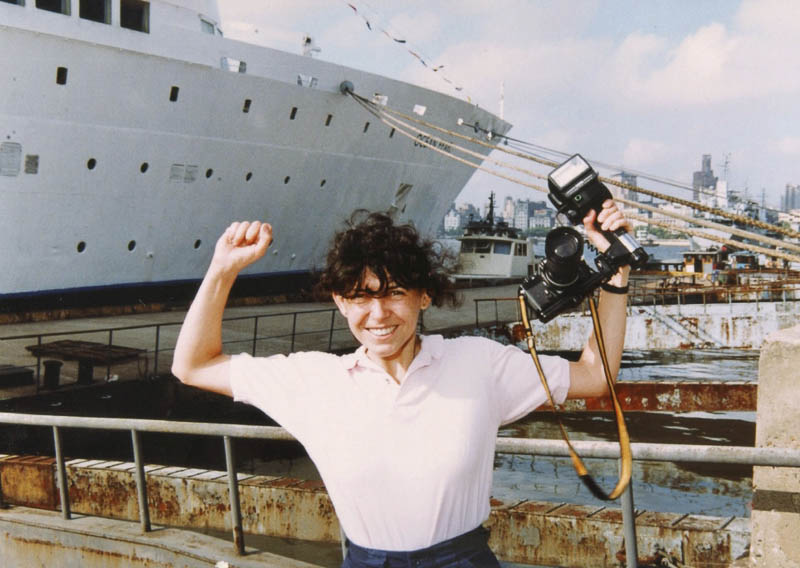 Hawaii




A little kiss here, a little kiss there
Big kisses
Medium kisses
small kisses
tiny kisses
HUGE KISSES
(*The above size will only be possible on September 15)

Tracy Arms, Alaska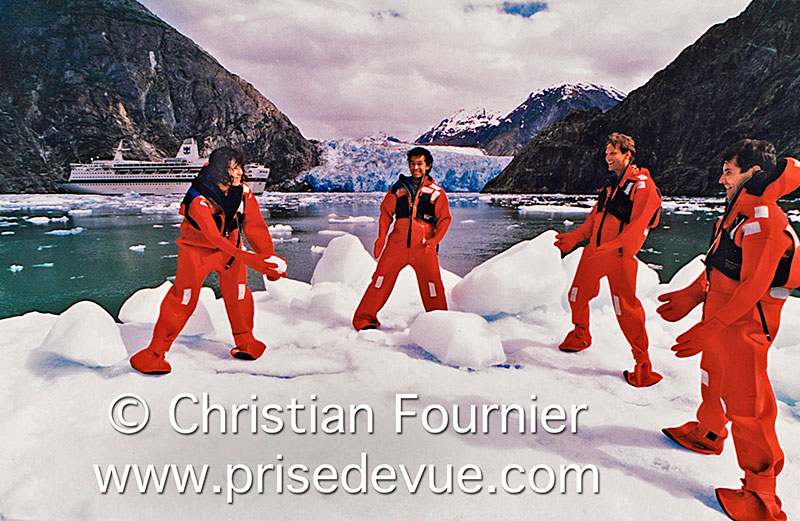 Stone Island, Mexico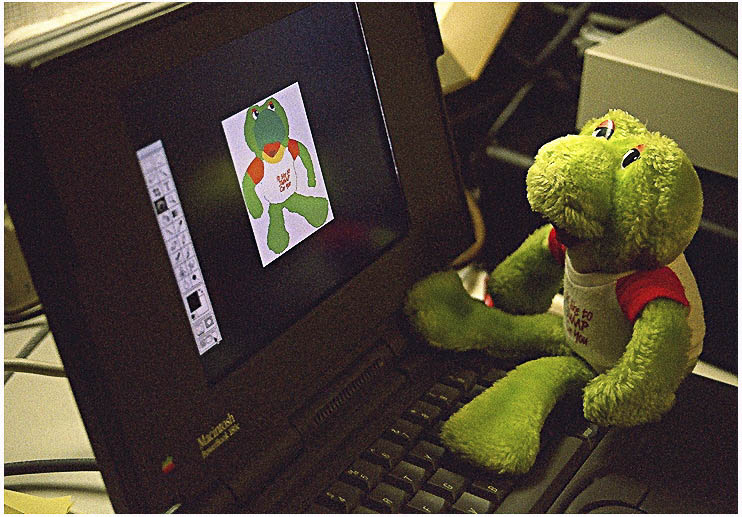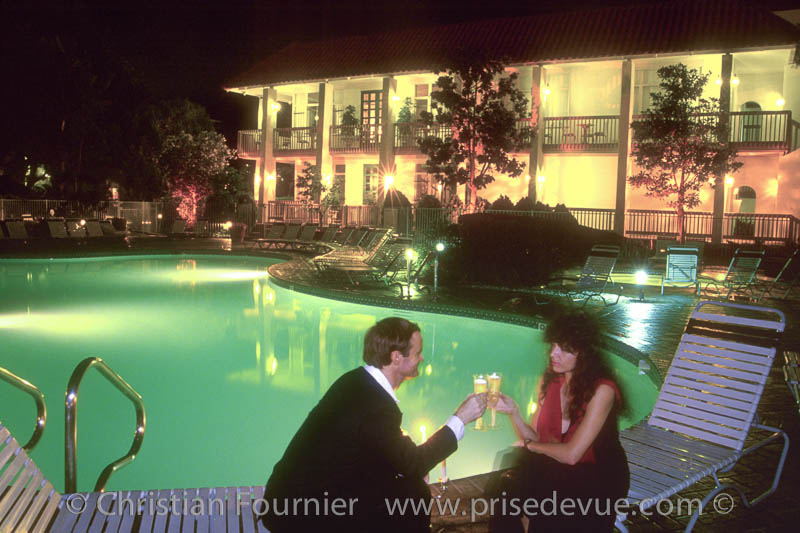 I am based in Torrance, California. I rent an apartment (above) at Willow Trees, 2537 D Pacific Coast Highway, suite 444, Torrance CA 90505, tel 1 - 310 375 8229 with Nicole in an apartment complex (pool, reception room, the works…)
Right by the beach, close to downtown LA and Hollywood, not far from Long Beach nor the LAX airport, perfect for the errant photographer.

The other residents of our LA apartment complex were very social, hosting welcome parties, brunches. Why, there's a whole room in the building dedicated to these gatherings. I've never seen anything like it in France.
In my apartment complex in Paris people are anti-social. I've lived there for 30 years and I don't know anyone and no one knows me.


Near Toulouse, France

Victoria, Vancouver Island
Sipadan, Borneo
A client requested a photo of a prostitute in Los Angeles. Nicole volunteered to pose.

On the way to Malpelo, Colombia

I am very excited to be with my teddybear again.
Until tomorrow


Hawaii



The Parrot Jungle, Miami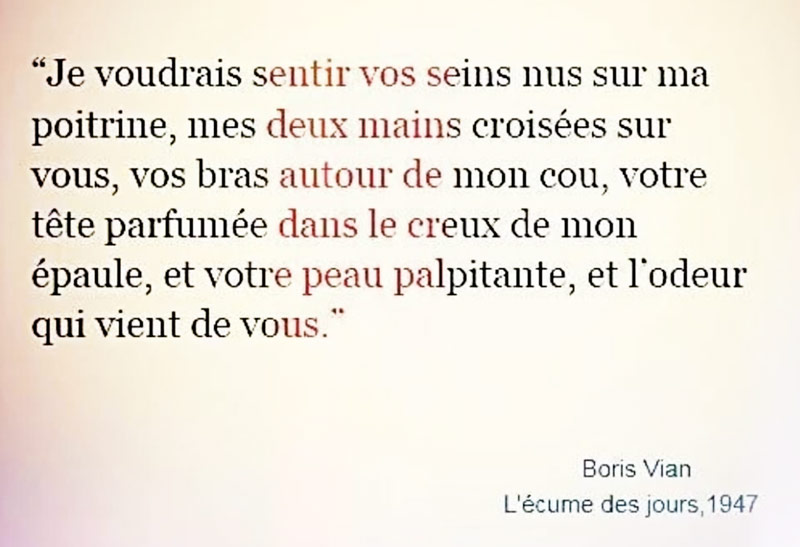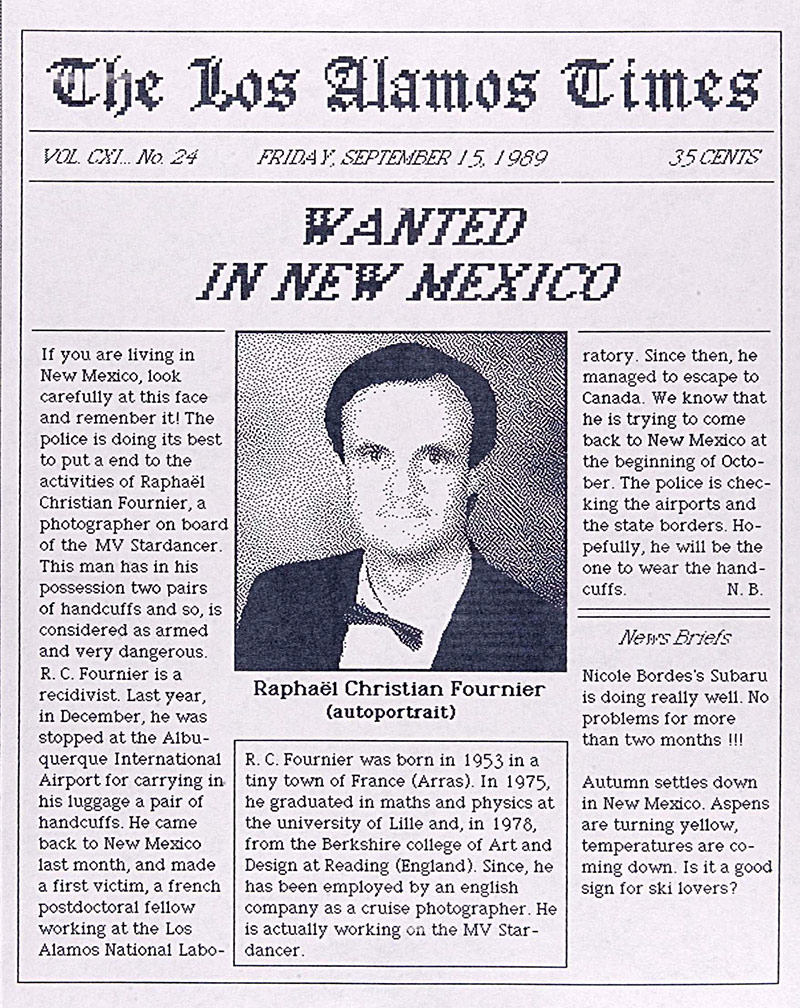 A digital photo in 1989!
Shanghai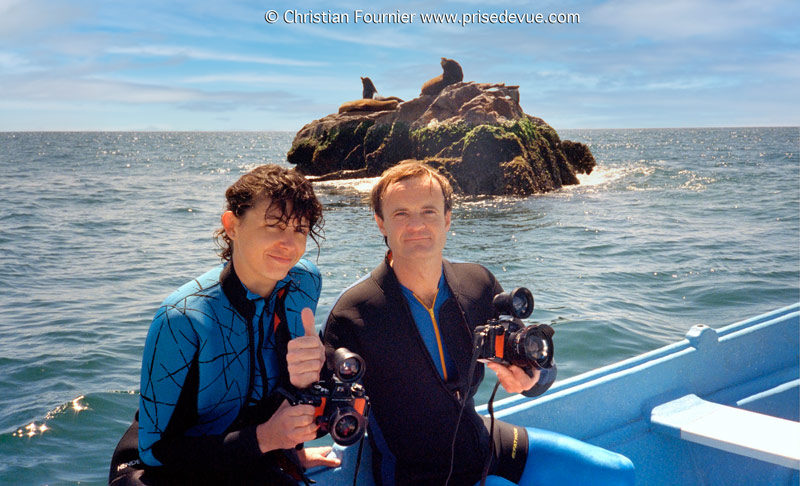 Borneo, Malaisie
Glacier Bay, Alaska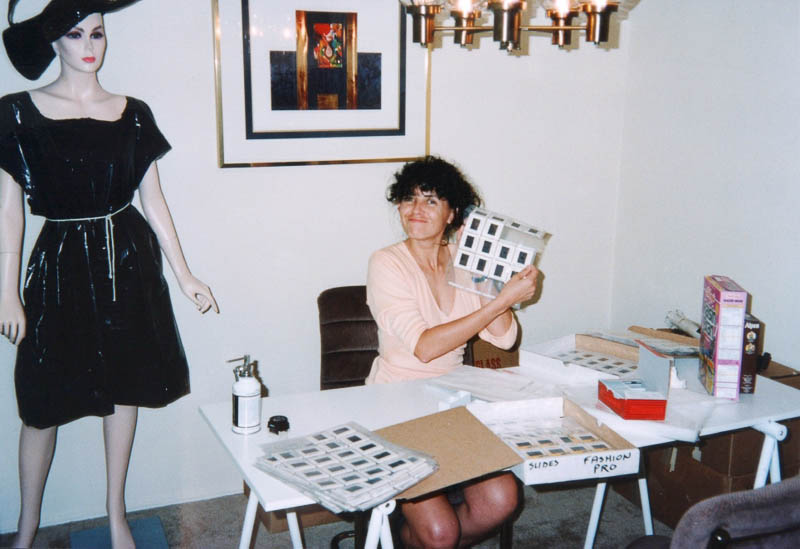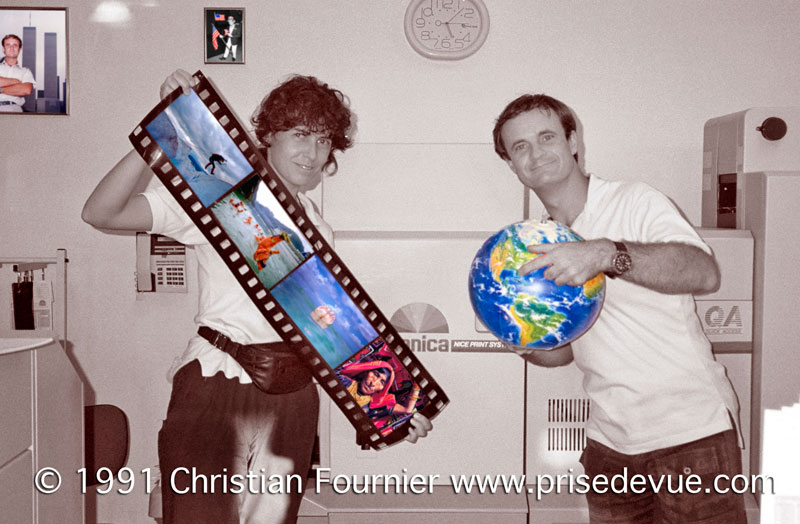 This photo symbolises our travels 1980. Here with Dr Nicole Bordes. In the background: the Konica processor.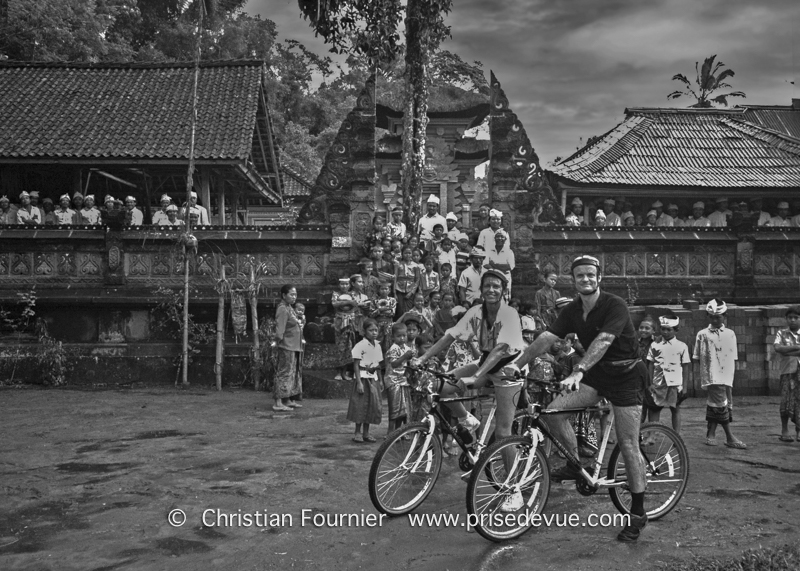 Bali
Hawaii
The three photographers hidden in the "sales desk". Paul Carr on top.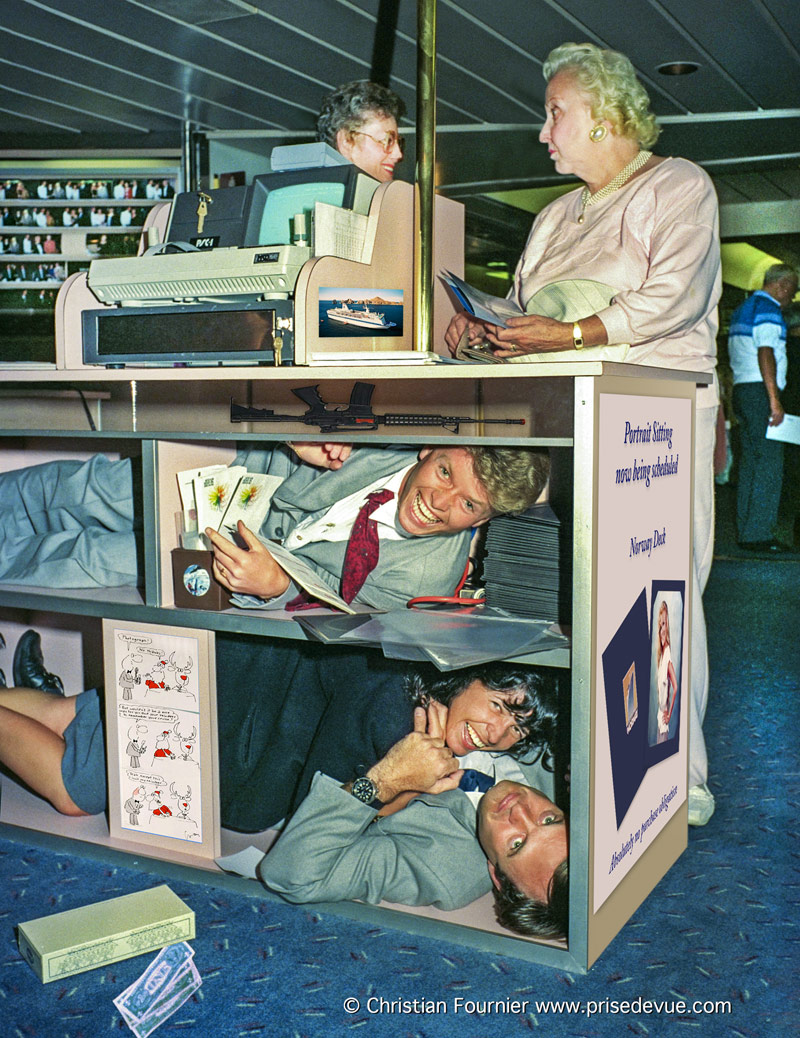 The Studio in the Woods, Maple Ridge, Canada
The Studio in the Woods, Maple Ridge, Canada. Campaign for the Canadian Immigration file.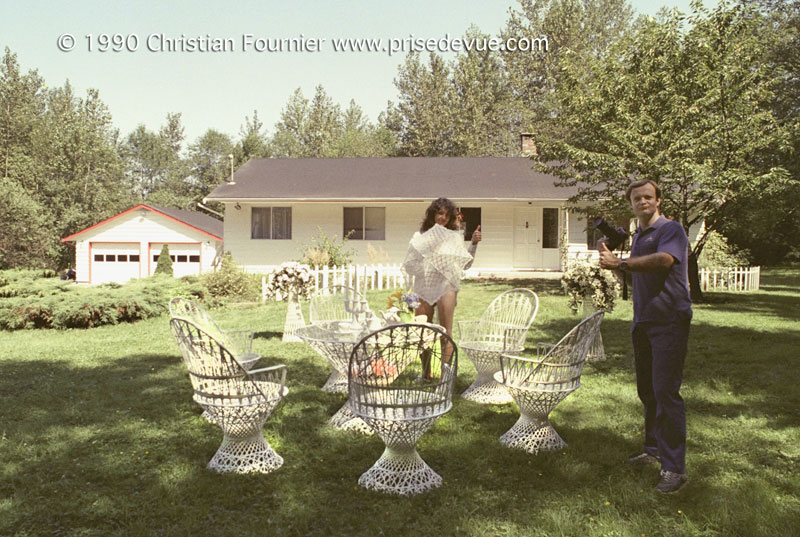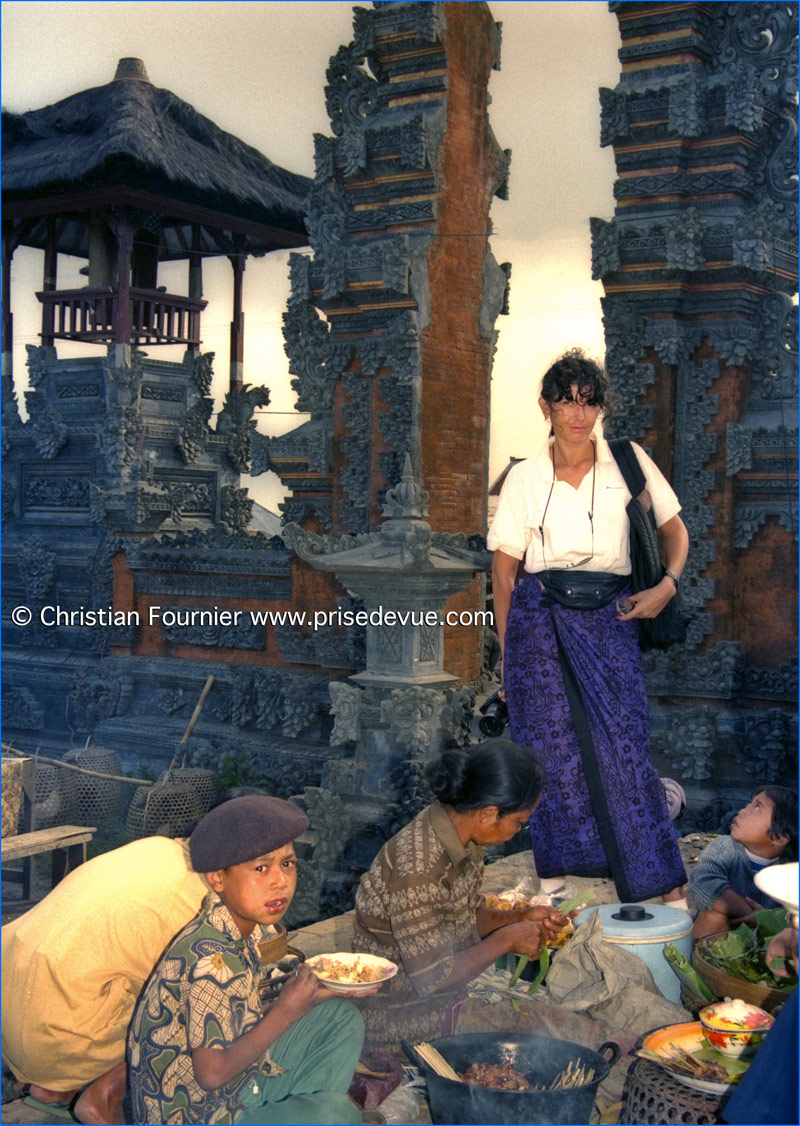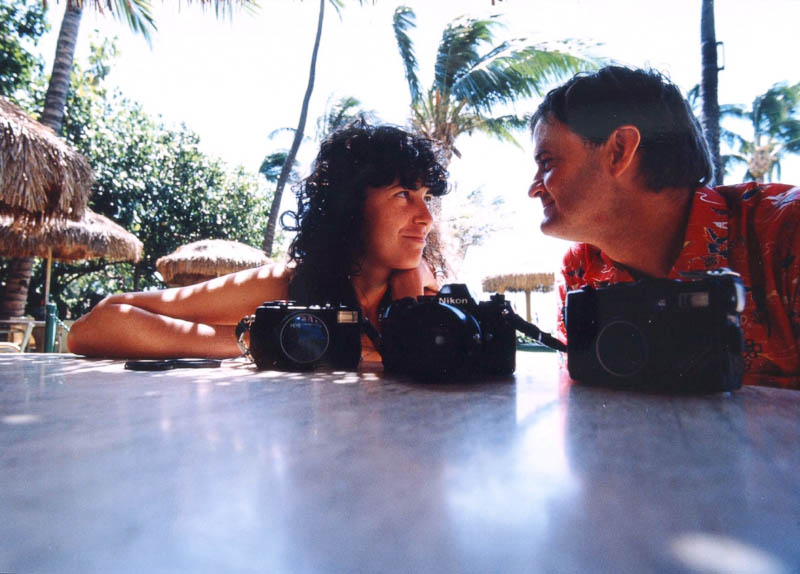 Cabo St Lucas, Mexico

Avelon, Catalina Island, California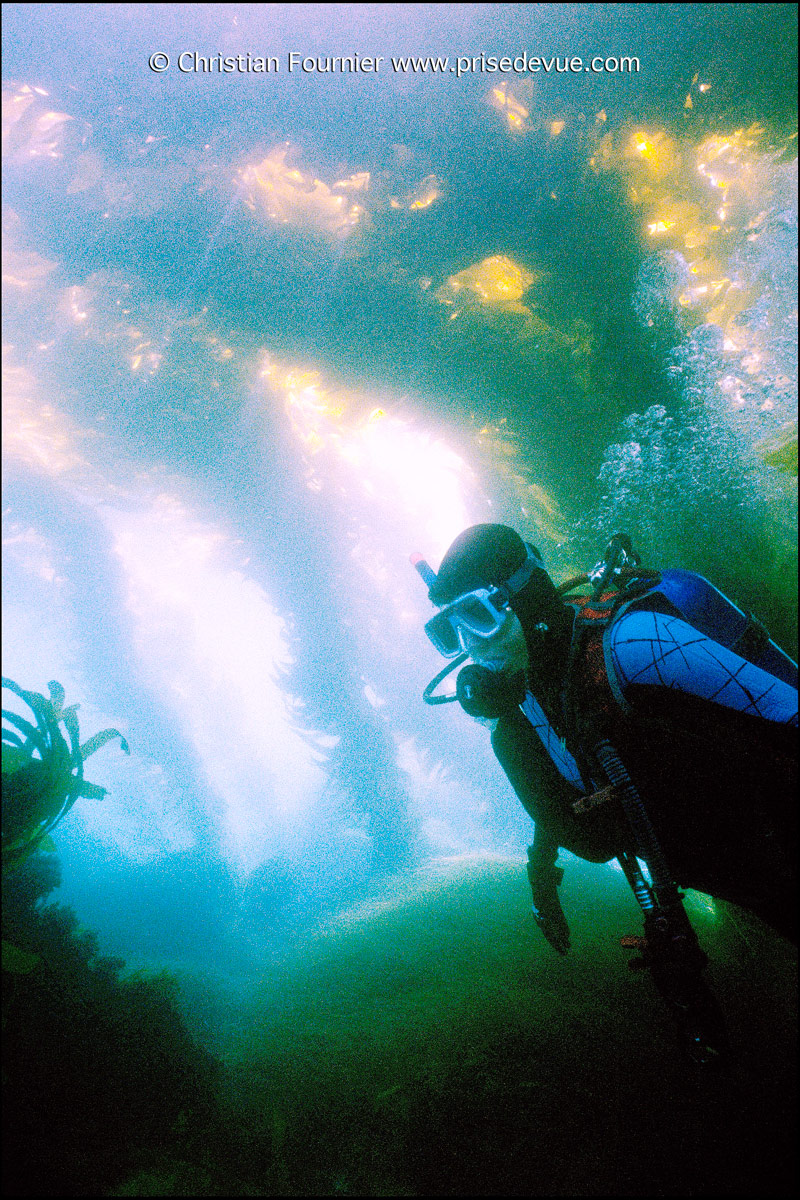 Kelp forest, California, facing Avelon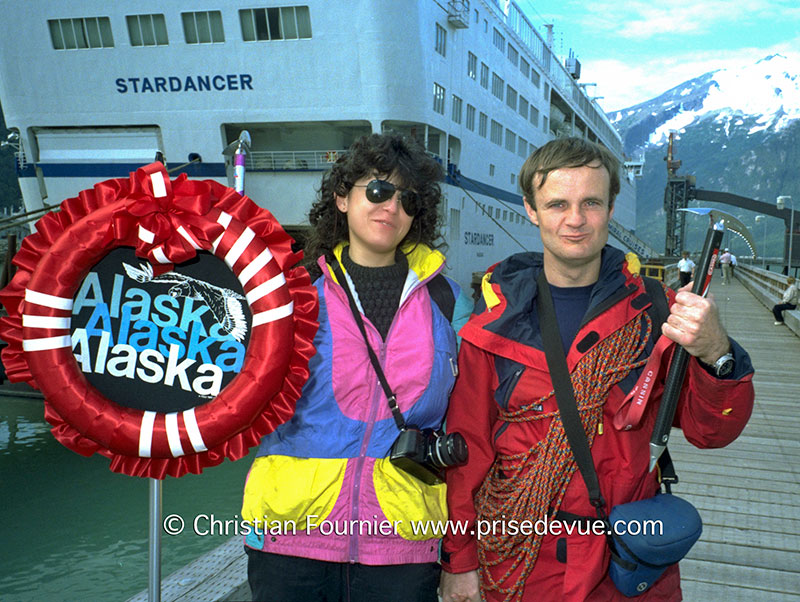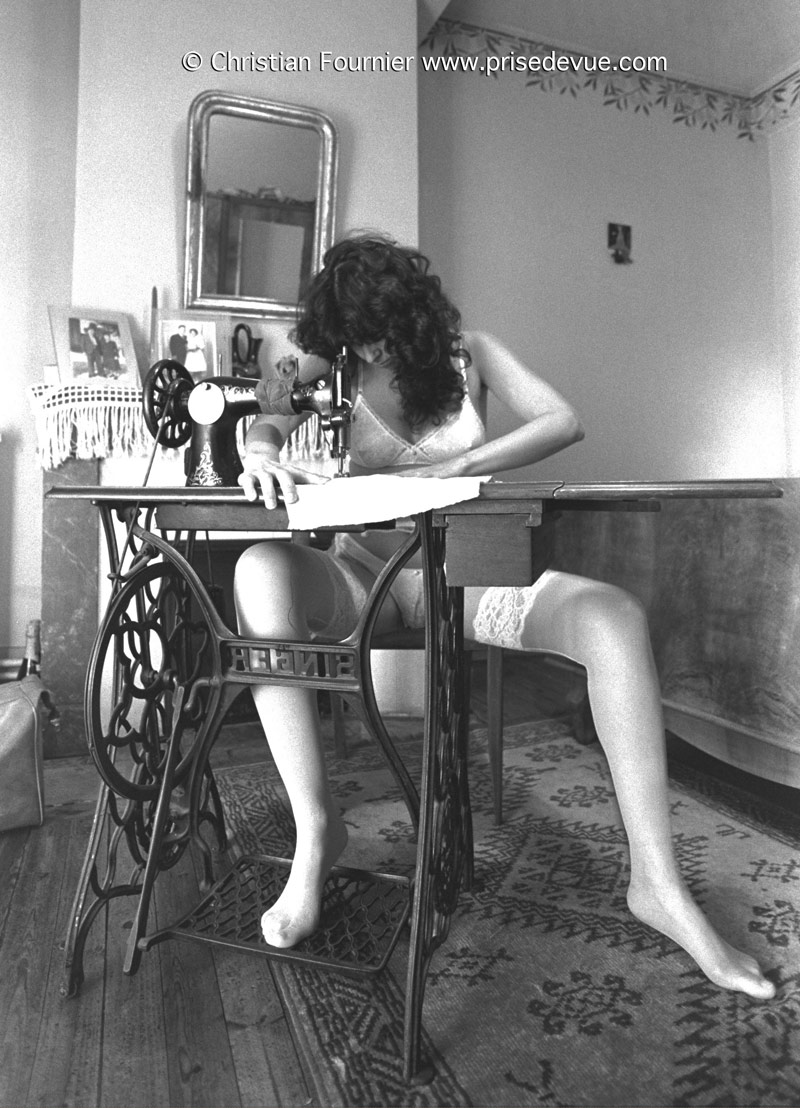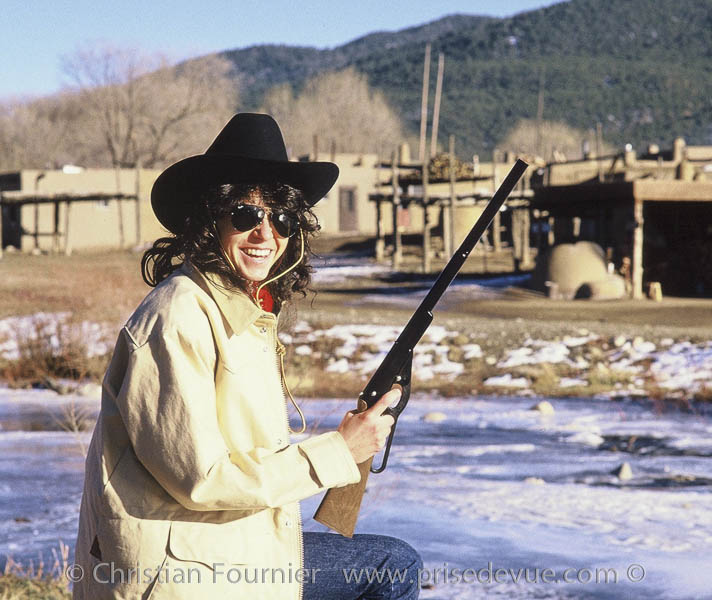 Near Santa Fe, New Mexico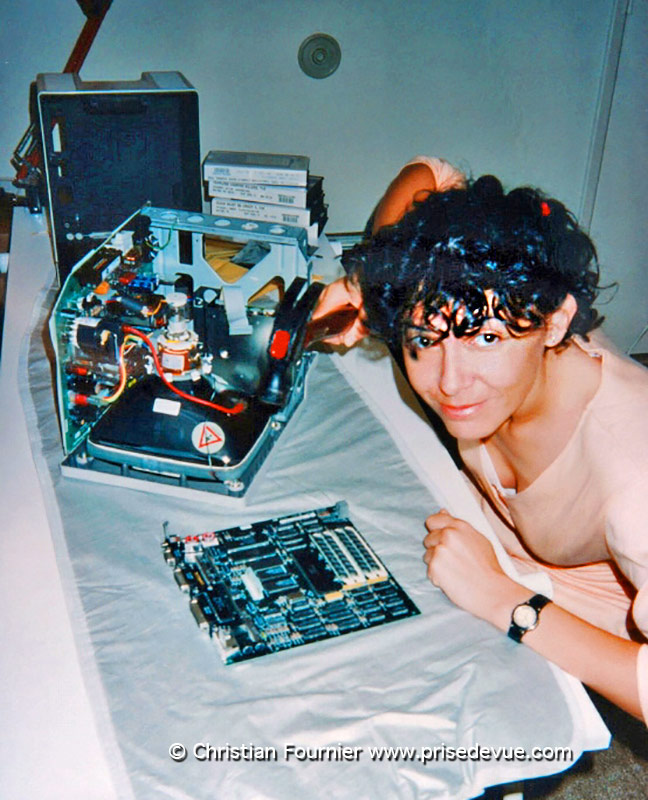 Nicole repaired our Mac Plus




Nicole's favorite book:
Surely you're joking Mr. Feynman
"Surely You're Joking, Mr. Feynman!": Adventures of a Curious Character is an edited collection of reminiscences
by the Nobel Prize-winning physicist Richard Feynman. The book, released in 1985, covers a variety of instances in Feynman's life.
The anecdotes in the book are based on recorded audio conversations
that Feynman had with his close friend and drumming partner Ralph Leighton.
Richard Feynman (May 11, 1918 – February 15, 1988) was an American theoretical physicist,
known for his work in the path integral formulation of quantum mechanics, the theory of quantum electrodynamics,
the physics of the superfluidity of supercooled liquid helium, as well as his work in particle physics for which he proposed the parton model.
For contributions to the development of quantum electrodynamics, Feynman received the Nobel Prize in Physics
in 1965 jointly with Julian Schwinger and Shin'ichirō Tomonaga.
Feynman developed a widely used pictorial representation scheme
for the mathematical expressions describing the behavior of subatomic particles,
which later became known as Feynman diagrams. During his lifetime, Feynman became one of the best-known scientists in the world.
In a 1999 poll of 130 leading physicists worldwide by the British journal Physics World,
he was ranked as one of the ten greatest physicists of all time.
He assisted in the development of the atomic bomb during World War II and became known to a wide public in the 1980s
as a member of the Rogers Commission, the panel that investigated the Space Shuttle Challenger disaster.
Along with his work in theoretical physics, Feynman has been credited with pioneering the field of quantum computing
and introducing the concept of nanotechnology.
He held the Richard C. Tolman professorship in theoretical physics at the California Institute of Technology.
Feynman was a keen popularizer of physics through both books and lectures,
including a 1959 talk on top-down nanotechnology called
There's Plenty of Room at the Bottom and the three-volume publication of his undergraduate lectures,
The Feynman Lectures on Physics. Feynman also became known through his semi-autobiographical books
Surely You're Joking, Mr. Feynman! and What Do You Care What Other People Think?,
and books written about him such as Tuva or Bust!
by Ralph Leighton and the biography Genius: The Life and Science of Richard Feynman by James Gleick.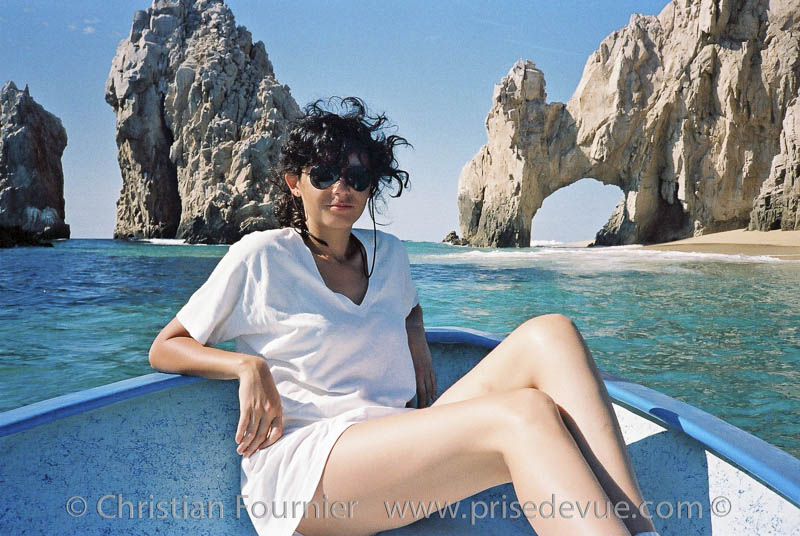 Cabo St Lucas, Mexico


T

he Studio in the Woods, Maple Ridge, Canada







Los Alamos, April 9, 1989
Hey, you!
I am writing this in half-darkness if you're wondering why my writing is a bit off. I've decided to indulge in one of my favourite pastimes: writing to you. I don't exactly know when you'll receive this letter, maybe before I arrive, maybe after I've left? In any case, not while I'm with you. So if you're reading this and I am next to you, stop right now and put this letter back in its envelope. That's an order!
Nothing new to tell you that you don't already know from our conversation on the phone yesterday. Only 5 and a half days to go before I can throw my arms around you, kiss you, and cover your neck in blood-red marks! Ha, feeling scared, eh? It's only fair, you left me feeling down when you told me "bad news about next Saturday".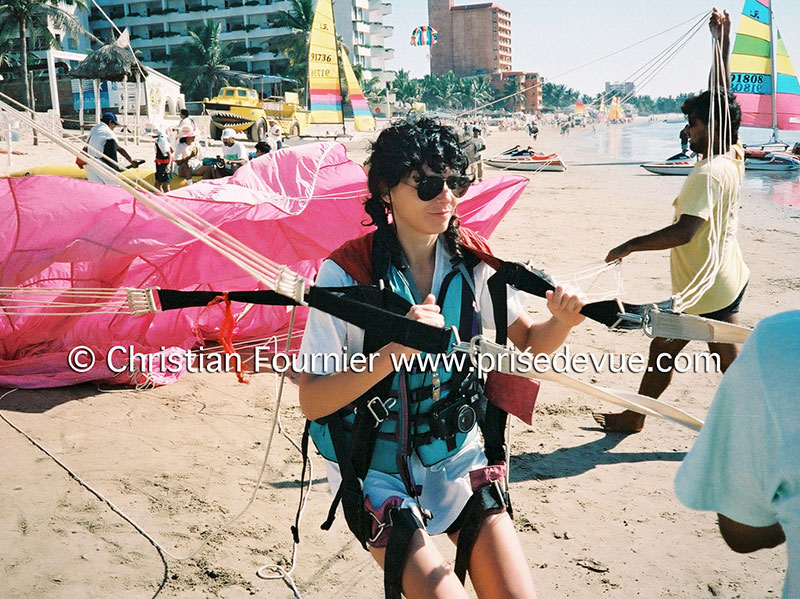 The Pyrenees, France


Aux Philippines, avec Marianne Chevara (à gauche), qui habite maintenant en Allemagne .
L'autre fille Katy est une adorable danceuse, dont les jambes expertes ont servies de doublure à Jennifer Beals dans le film Flash Dance de 1983.
Hawai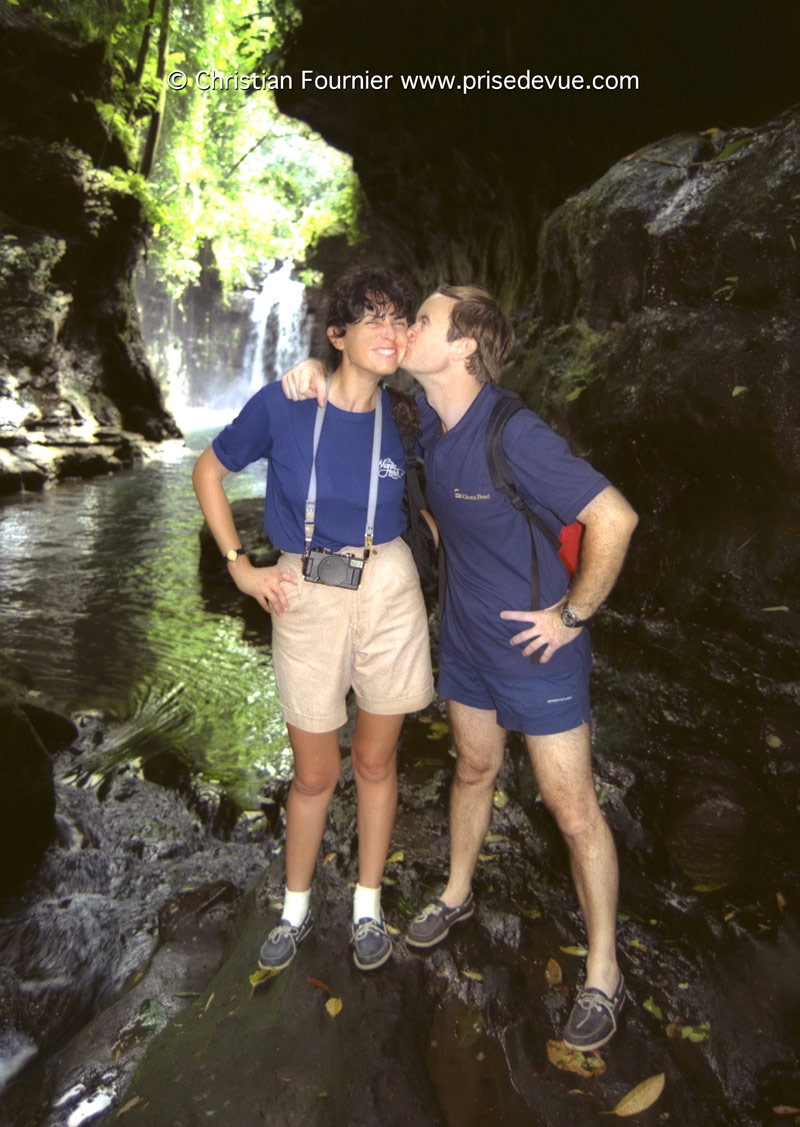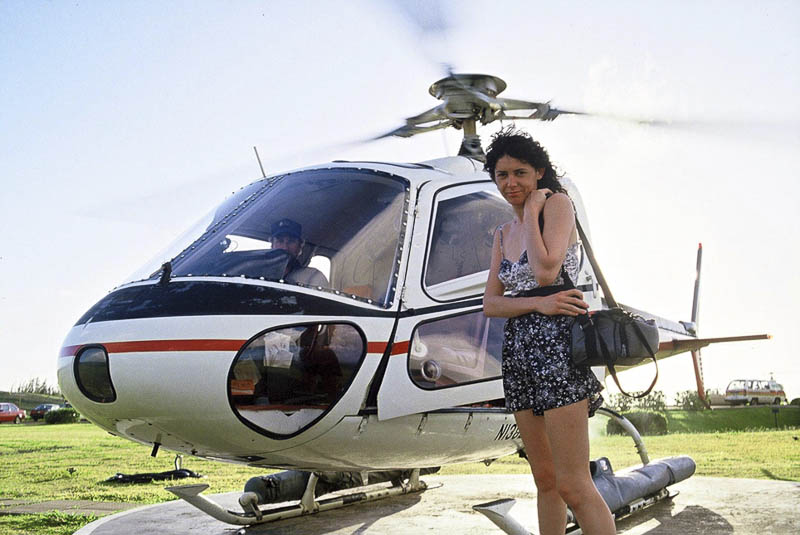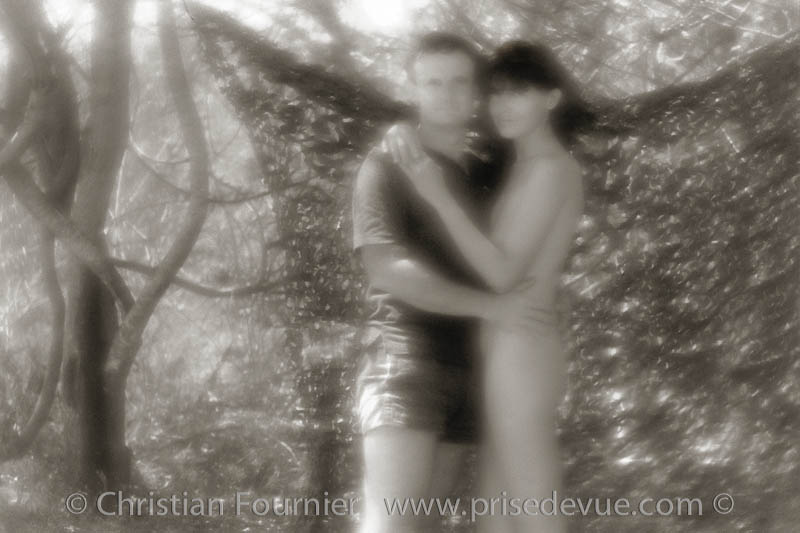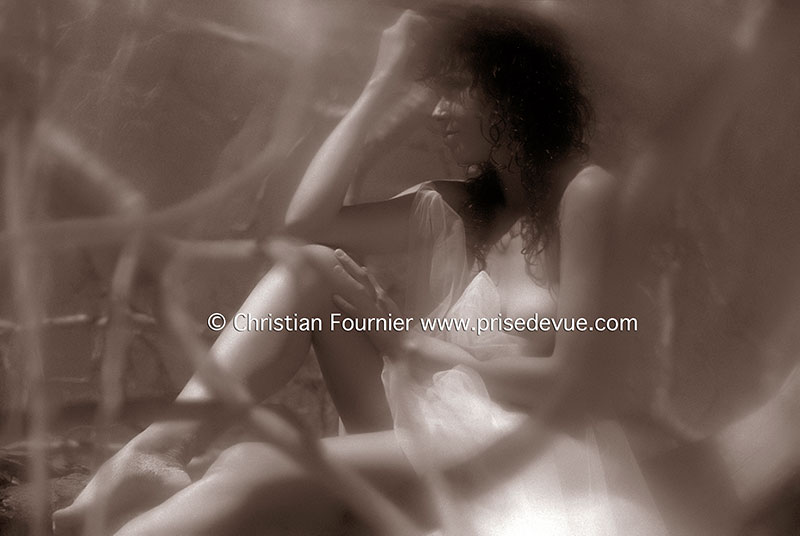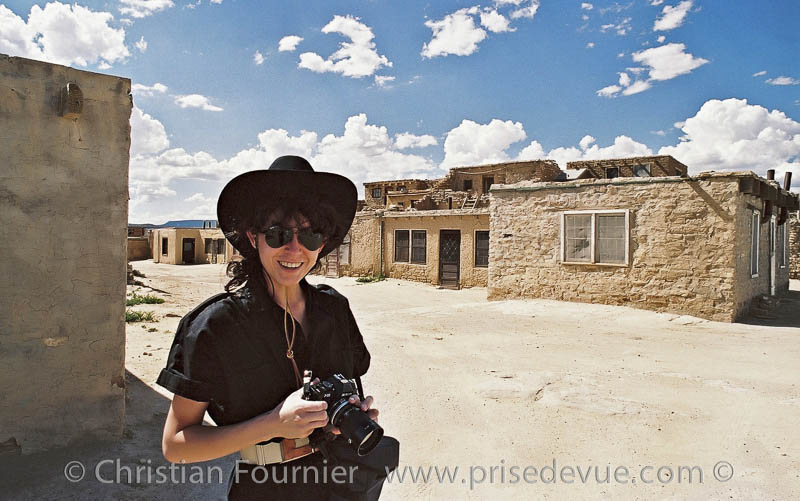 Santa Fe, Nouveau Mexique, USA
Bali
Hawaii
Chine

Pagsanjan Falls,

Philippines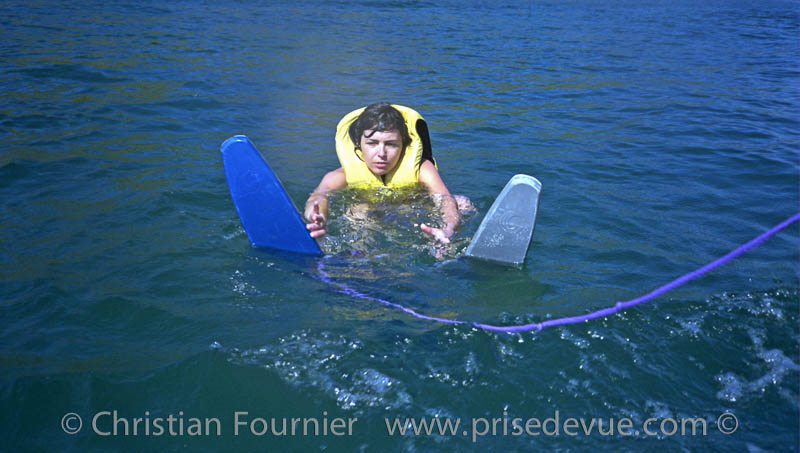 San Fransisco



Cabo San Luca, Mexico



Count the hands !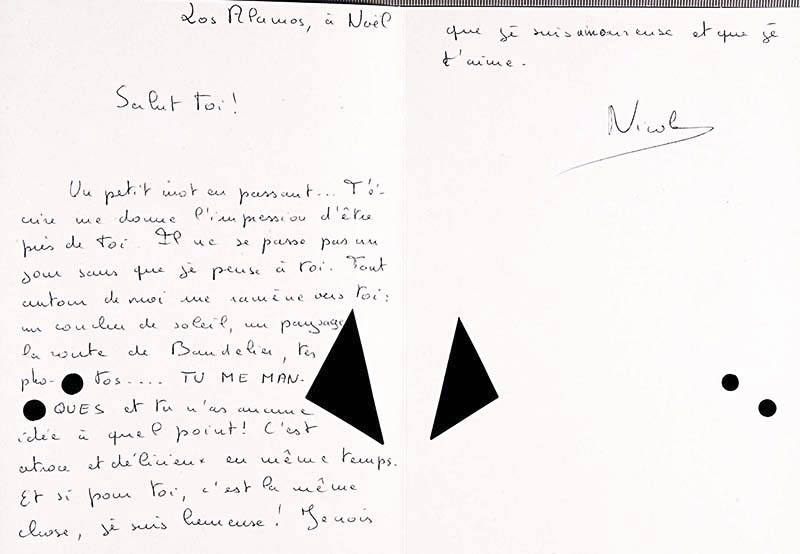 Just a little message... Your letter makes me feel as though I'm by your side. Not a day goes by that I don't think about you. Everything around me makes me reminds me of you: the colour of the sun, a landscape on the way to Baudelier, your photos.... I MISS YOU so much you can't imagine it! It is horrible and delicious at the same time. If you feel the same, that would make me happy! I am in love and I love you. Nicole.





Jakarta, Indonesia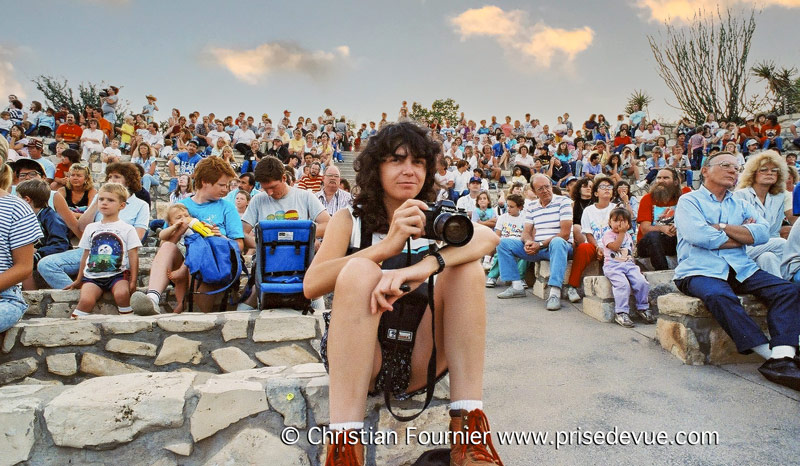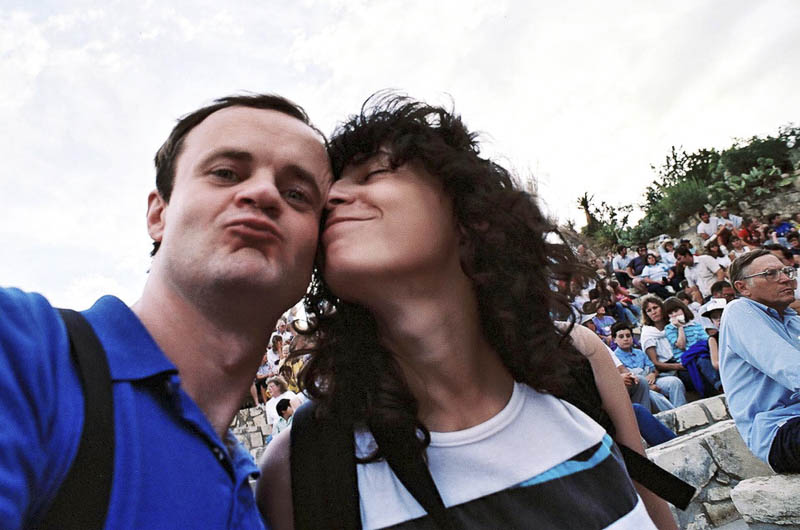 Carlsbad Cavern, New Mexico. Nous attendons la sortie nocturne de plusieurs millions de chauve-souris
The Studio in the Woods, Canada
Shanghai, China. Nicole is on the right.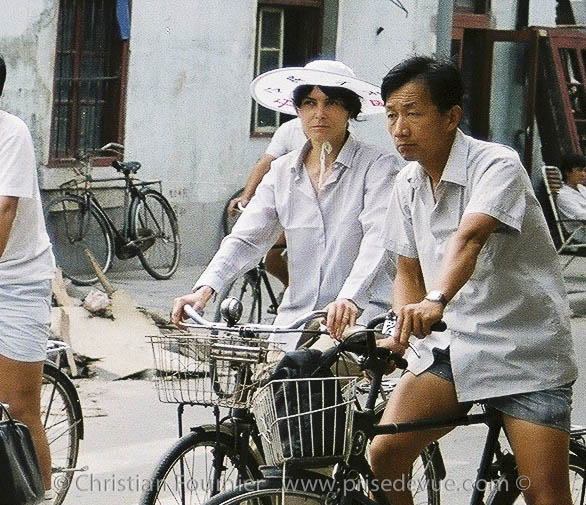 Lost Almost May 15
My dear Chris,
Just thought I'd write to let you know that I haven't stopped missing you since 4:15pm last Saturday and that I won't stop until next Saturday... only to start up again at around 4pm! Isn't it great, being able to predict the future like that?
I don't feel like writing a whole lot right now, I just wanted to tell you that you haven't left my thoughts.
Love, Nicole


Hawaii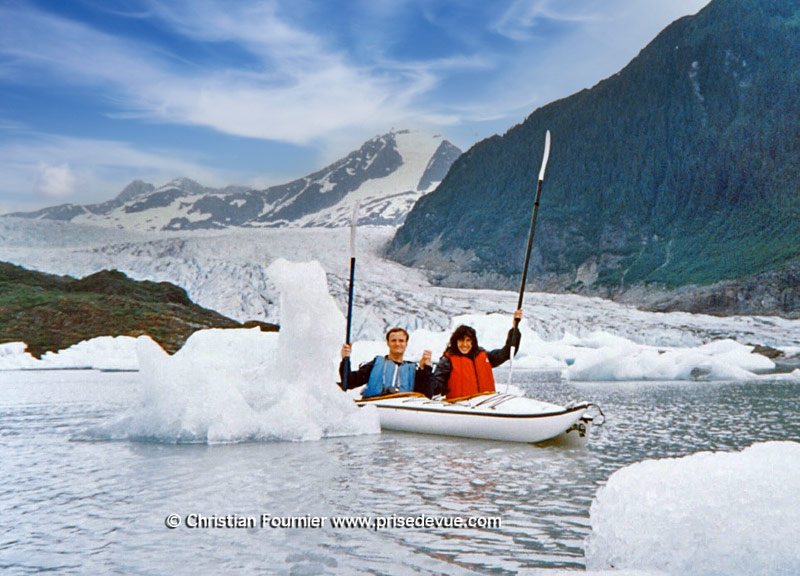 Mendenhall Glacier, Alaska

Borobudur, Mahayana Buddhist Temple

Mount Batur in Bali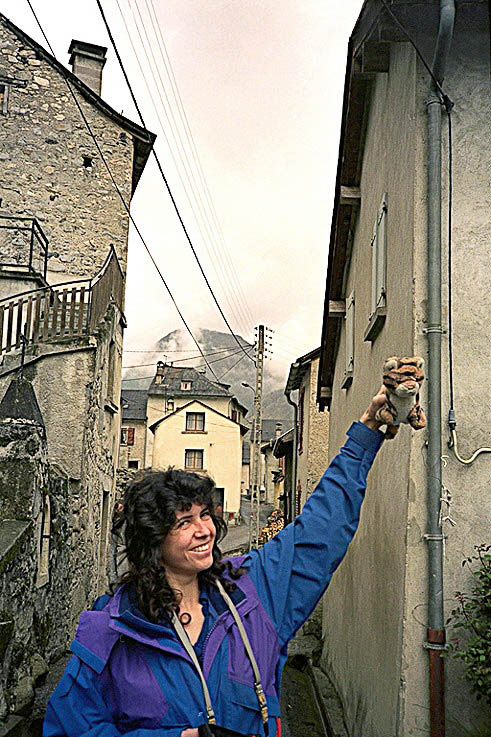 Near Toulouse, France


Sipadan, Borneo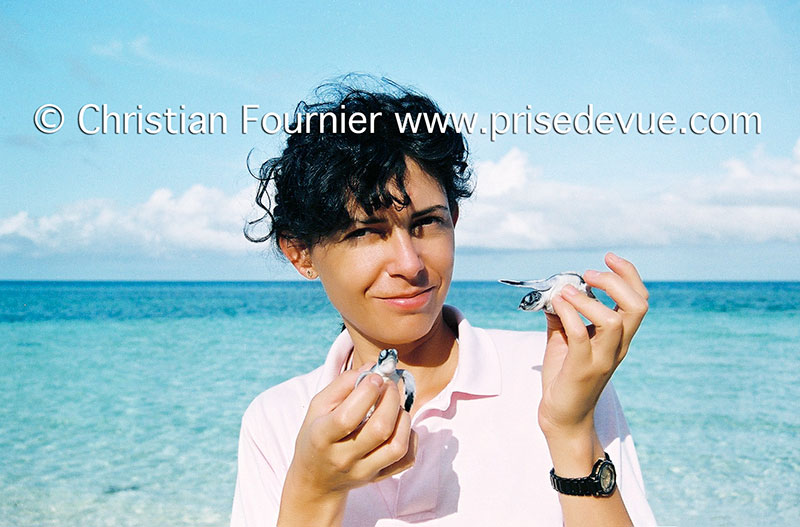 We had to sort the slides using sheets and proper boxes and a friendly girl.


In my appartment in Torrance, California, USA. It is South of Los Angeles, not far from the beach.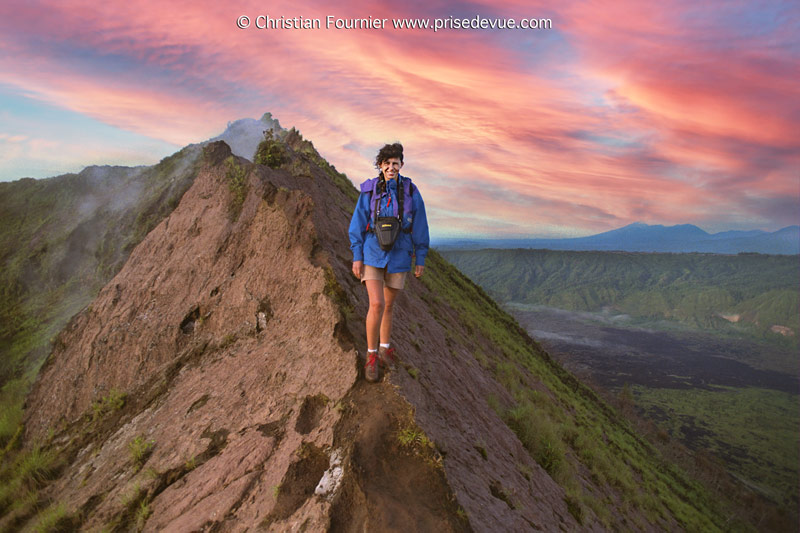 Le Mont Batur à Bali
Count the hands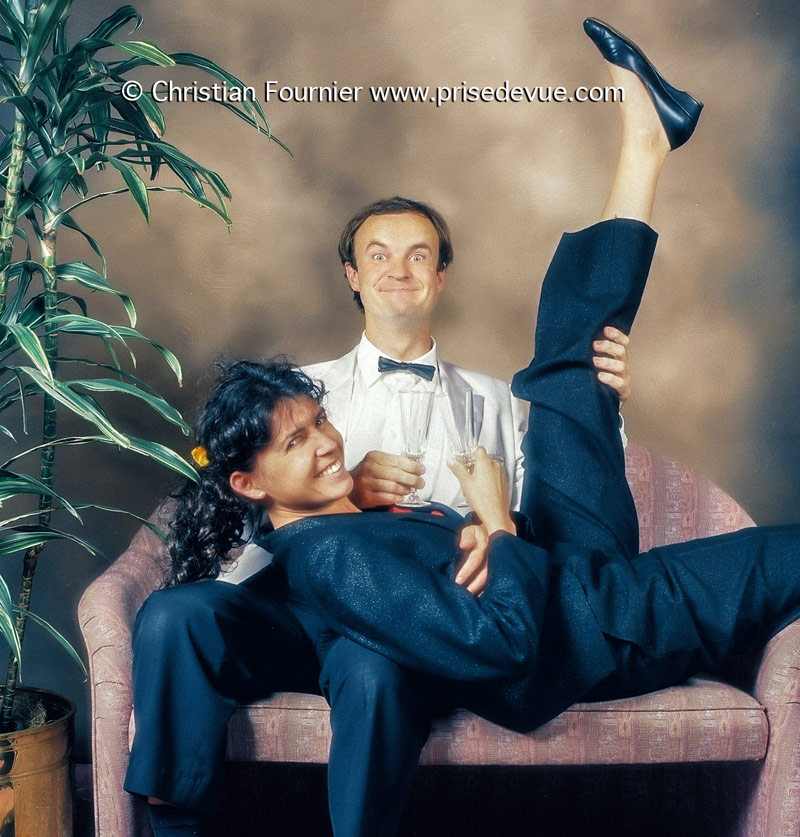 The complete "Nicole, I miss you" series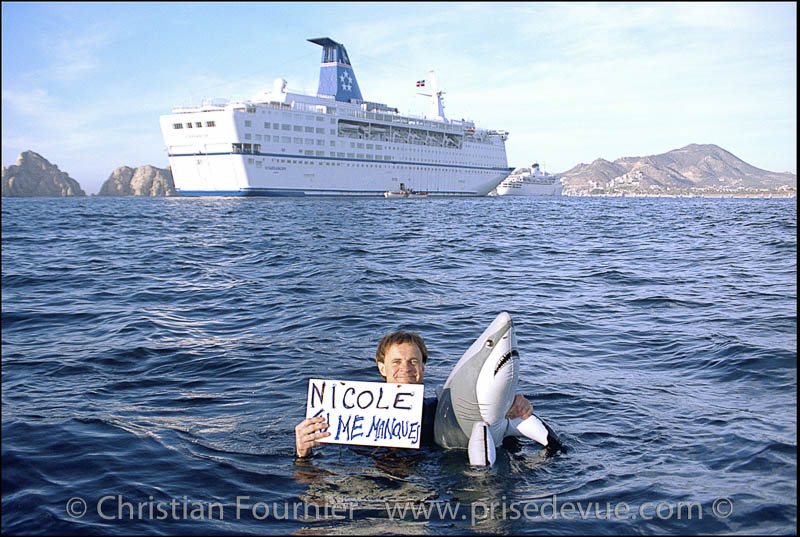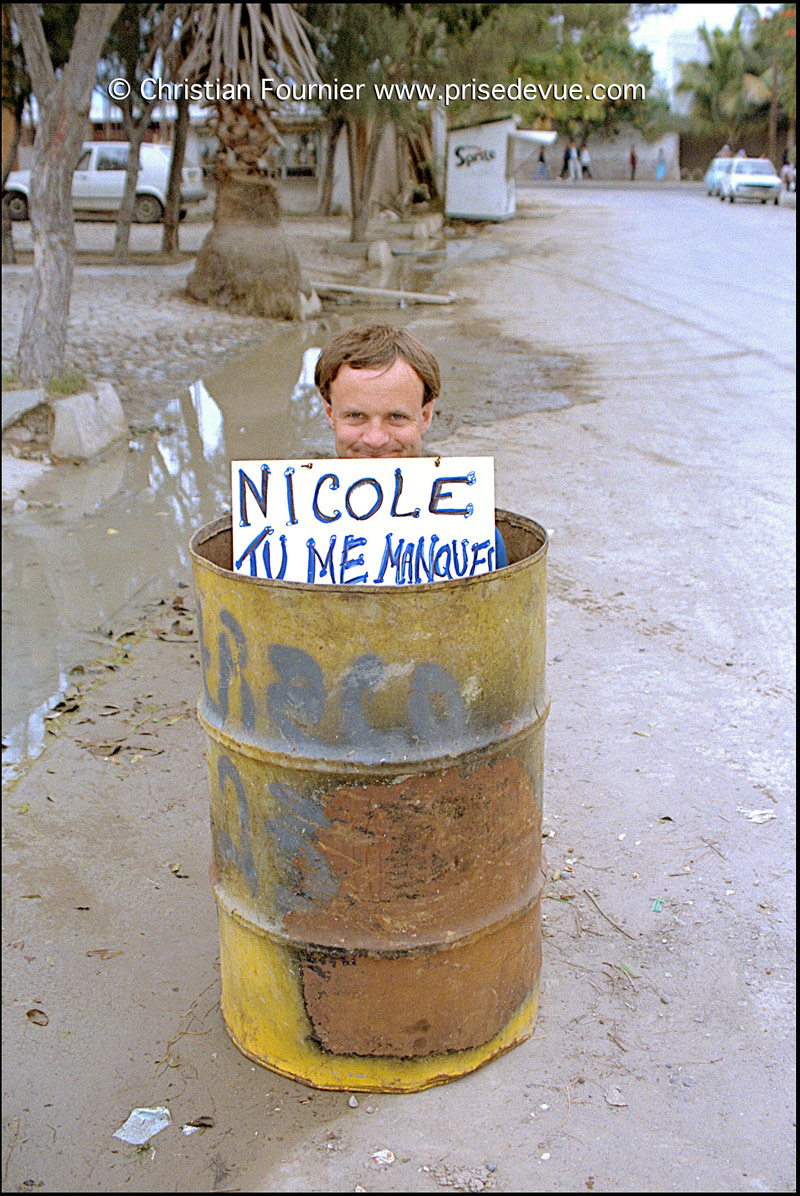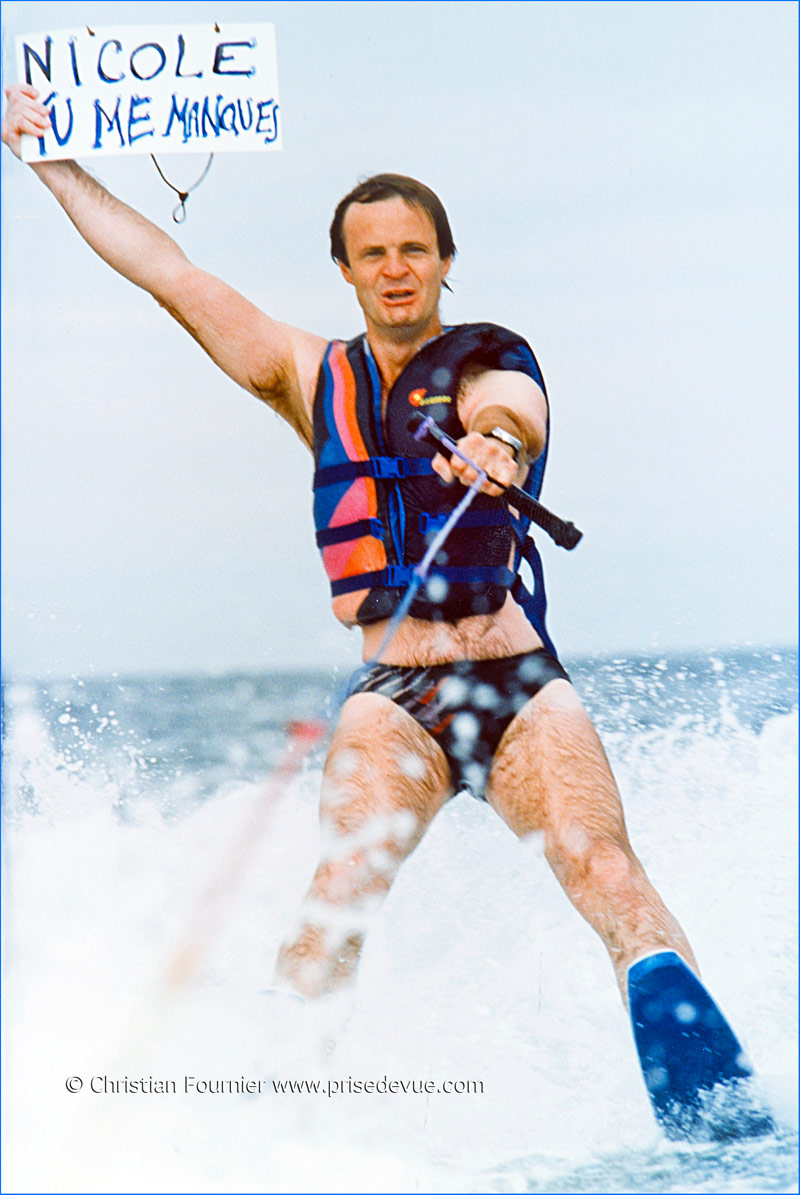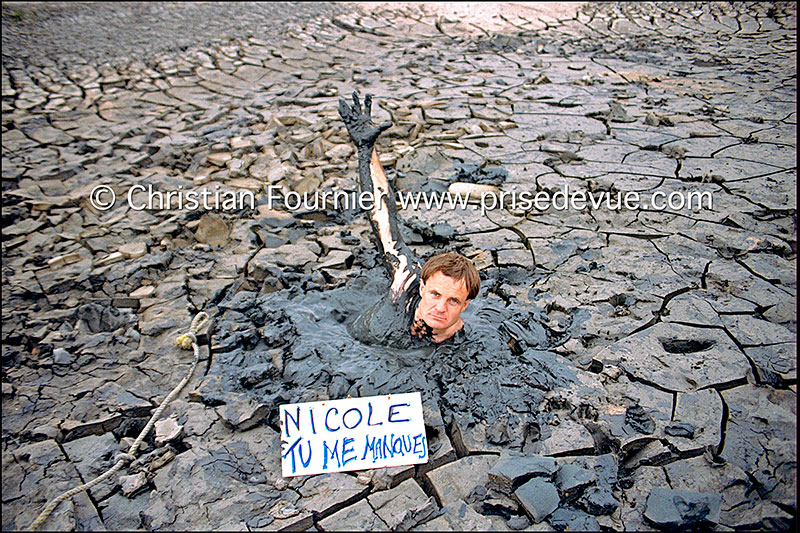 More amazing archeological finds:
- Famous photographer Christian Fournier was suicidal when separated from above mentioned Dr Nicole Bordes, then senior science researcher in Los Alamos, New Mexico, USA, so the previous above mentioned photo could show a murder or an accident or a suicide or natural death.
- The rope in the picture suggests that this might have been a set up. So the previous above mentioned photo could habe been a set up too.
- This photo might have been taken by Graham Mitch in the quick sands of Zihuatanejo, Mexico, the country just below USA.



Amazing archeological finds:
- In the old days, 35mm Kodak and Fuji photographic films grew on trees.
- Famous photographer Christian Fournier did die in action around 1988 in the middle of Del Apache Desert, New Mexico, USA.
Photo by Dr Nicole Bordes, then senior science researcher in Los Alamos, New Mexico, USA.



En 1991, j'ai parcouru avec ma fiancée Dr Nicole Bordes 10 000 km de Los Angeles vers la France pour présenter Nicole à ma famille.

Je n'avais pas revu mes cousins et cousines depuis environ 14 ans car j'ai déménagé aux USA. J'ai loué une voiture et Nicole et moi sommes allés à la maison de Marraine Simone (la soeur de ma mère) et Jean Lasson, en pleine campagne. Cela sentait très fort l'épandage. Je n'avais jamais fait l'expérience de l'épandage et cela m'a marqué. Odeur impossible à oublier.

Marraine Simone, toujours adorable, nous a bien accueillis, posant des questions sur nos vies et répondant aux nôtres. Sa gène rapport à ses 3 enfants était visible. Jean Lasson, son mari, était alité. Mes trois cousins et cousines, Jean-Luc, Christine et Pascale ****** n'ont pas bougé de leurs chaises, ils ont gardé les yeux fixés sur la TV. Je n'ai aucune idée d'où pouvait bien venir leur haine. Je ne me suis jamais mal conduit envers eux.
Je ne comprends pas. Nicole m'a souvent rappelé cette énigme, et était effrayée de ces gens bizarres dans ma famille. Cela a sans doute contribué à son refus de m'épouser.
31 ans plus tard, lors de l'enterrement de ma sœur Martine, mes 3 cousins/cousines m'ont répondu à l'unisson qu'ils ne s'en souvenaient pas. J'ai peut-être halluciné, mais Nicole a une mémoire d'acier. Alors ????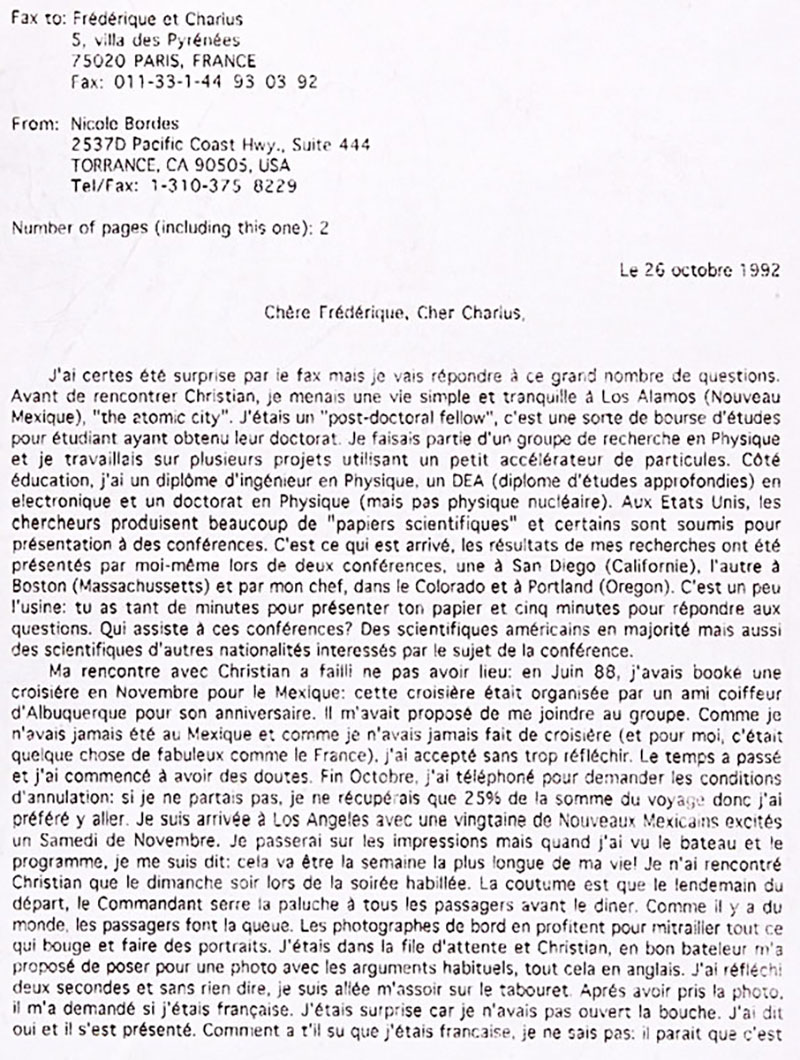 Fax to Frédérique et Charlus, 5 villa des Pyrénées 75020 Paris France Tax 011 33 1 44 93 03 92
From Nicole Bordes, 2537D pacific Coast Hwy, suite 444, Torrance CA 90505 USA Tel/fax : 1 310-375 8229
October 26, 1992.
My encounter with Christian almost didn't happen. In June 1988 I booked a November cruise to Mexico. The cruise was organized by a hairdresser friend from Albuquerque for his birthday, and he asked me to come along. As I had never been to Mexico nor on a cruise, for me it was as enchanting as the S/S France. I accepted almost without thinking, but as time passed I started to have some doubts.
At the end of October I telephoned to ask the Cancellation Policy. If I didn't go, I would only get back 25% of the price I'd paid. So I did end up going, and I arrived in Los Angeles with another twenty excited newly-declared Mexicans on Saturday November 2nd.
I'll spare you my first impressions, but when I saw the boat and the programme I thought, "This is going to be the longest week of my life". I didn't meet Christian until Sunday night at the formal evening. The custom goes that the day after setting off the Captain shakes hands with every passenger before dinner. As there are quite a few passengers, they line up, and the onboard photographers jump on the chance to shoot anything that moves with their cameras, machinegun style, and take some portraits.
I was waiting in line and Christian appears, a showman in his element, trying to get me to agree to a photo with the usual arguments, all in English. After a moment of thought, saying nothing, I went over and plopped myself down on the stool. He took the photo, then asked if I was French. I was surprised: I hadn't even opened my mouth! I said yes and he introduced himself. How did he know I was French? I don't really know, he explains, it has to do with how I pose for the camera, timid and awkward. That was that, we spent the week together and promised each other to meet up again. Christian came to visit me for a week in Los Alamos in December. We went to Hawaii in February. I came on a couple cruises as a guest. Probably the craziest thing I've done for another person: one or two times a month, I got up at 4 a.m., drove two hours to Albuquerque, took a plane to Los Angeles, rented a car upon landing and rushed to San Pedro where the boat was docked. Christian got off at around 10 a.m., we spent the day together until 4 p.m., when he was supposed to go back onboard, I caught my return flight at 5 p.m. and I got home around 11 p.m. I kept this up until January 1980. The contract in Los Alamos was up. I wanted to do something else, to be with Christian, and I decided to take a year off. The photography company Christian worked for agreed to hire me, and I learned the ropes quickly enough.
It wasn't always easy but I was with Christian! After a year onboard, I looked for a job as a scientist but with the Golf War and the lackluster economic situation, I came up short and so I rejoined Christian aboard the Ocean Pearl, while continuing to send my resumé everywhere. Today I'm still looking for a research position but I have no regrets about that decision I took in 1990.
Christian has a taste for adventure, he is interested in everything. You only have to glance at his souvenir albums to appreciate the diversity of his life: skydiving, glacier climbing, scuba diving, sailing, rafting, and above all his passion for photography. Wherever he goes, there's a camera close at hand. In photography, everything interests him: glamour, fashion, landscapes, people, underwater photography, sports.
He refuses to confine himself to a single style and brings his own creativity to every subject.
The job as a cruise ship photographer allowed us to travel to fascinating exotic places, to try new and exciting things: one day exploring a coral-covered shipwreck, another playing badminton in disguise with two artist friends in the streets of Shanghai, or walking among the people living in Djakarta's slums.
Life at Christian's side is a varied and different life. Among the future projects bouncing around in his head, without any promise they'll be brought to fruition, and in complete disorder: a photography studio, publish his photos, a sailing excursion, scuba-diving in the Bahamas, diving and hiking in Australia, dives in Micronesia, and of course, lots and lots of photos.



Dr. Nicole Bordes has a PhD in Physics from INSA - Toulouse. She has over 20 years experience as a researcher and lecturer with a focus in science and technology in Europe, USA and Australia. She was a postdoc at Los Alamos national Lab; a Senior Lecturer at the University of Sydney; and managed the Visualization lab at the San Diego Supercomputer Center at UCSD. Recent projects include the development of collaborative workspaces for researchers using high resolution displays and high performance networks.


She works with this: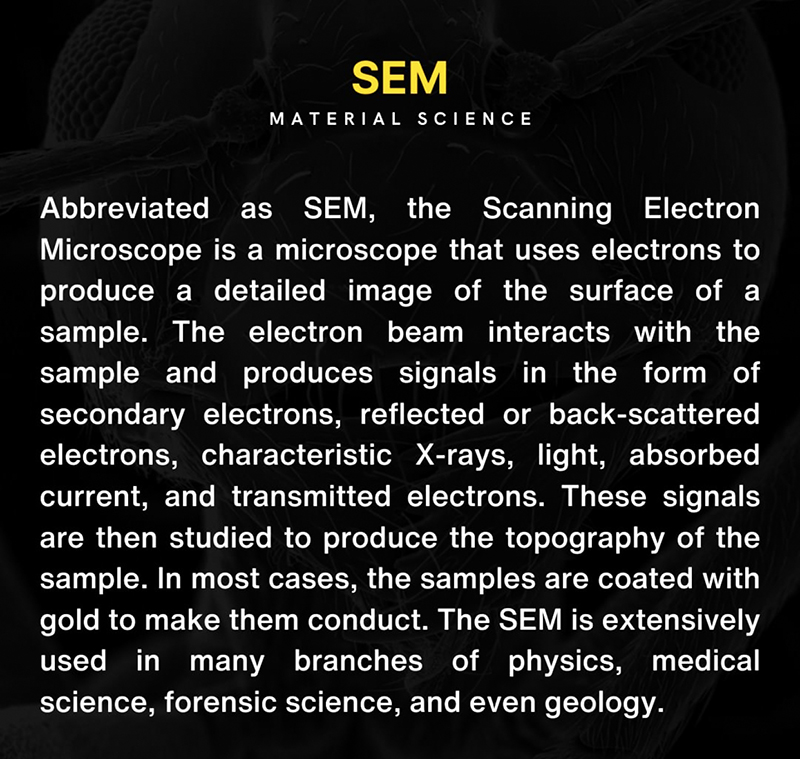 Perfect quote : « Hell, she was something though. Beautiful, charming, devastatingly intelligent, at least I'd got her to myself for a bit. » (from « The Hitchhiker's Guide to the Galaxy: The Complete Trilogy of Five (English Edition) » by Douglas Adams)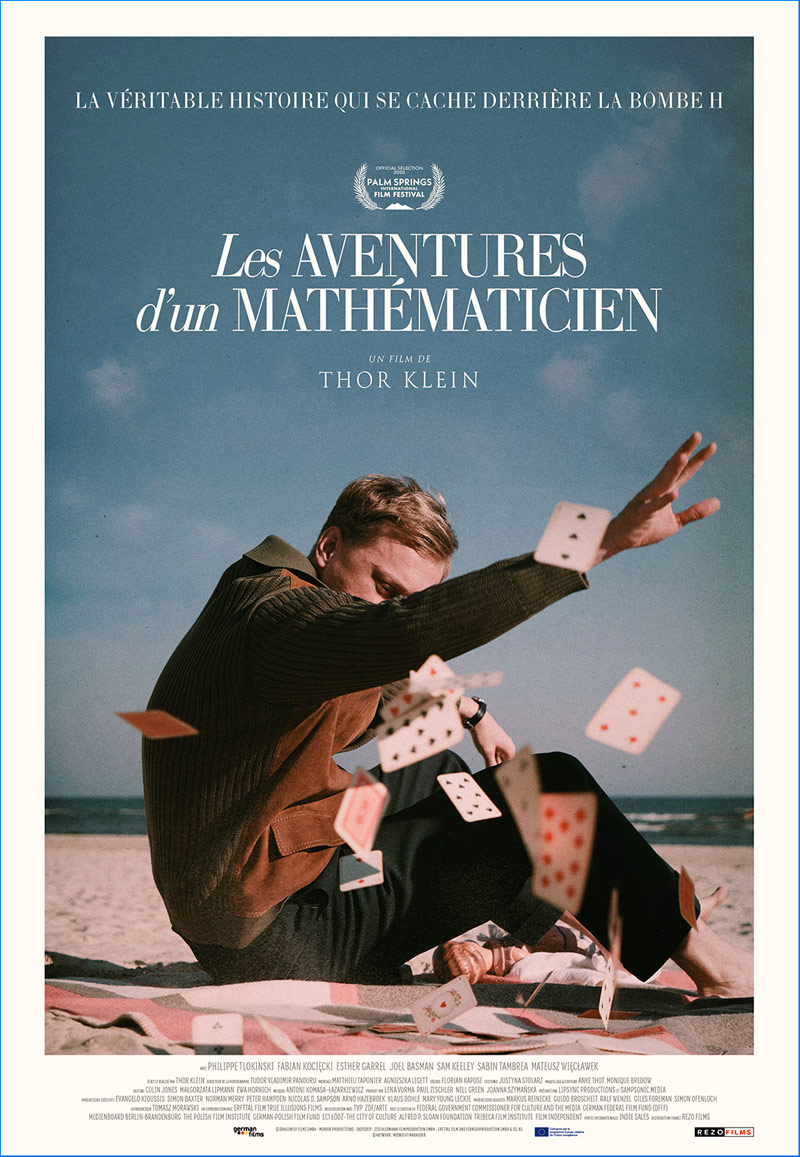 Les aventures d'un mathématicien : 1942, Nouveau Mexique. Stan Ulam, mathématicien polonais, rejoint à Los Alamos un groupe secret de chercheurs venus du monde entier pour collaborer à la création de la bombe à hydrogène. Loin de sa famille restée en Europe et tiraillé entre questionnement éthique, avancée scientifique et urgence politique, il prend part à un épisode crucial de l'Histoire.



Rumor in 2021: Kristina Pimenova is the grand daughter from Nicole and I.
Nicole Bordes was my girlfriend until 1989 when she abruptly left for Australia and is still there. She would have had a daughter in 1989, who, at 16 Y.O., gave birth in 2006 to a daughter. This girl Kristina Pimenova is 16 years old in 2021 and lives in Los Angeles, she is a junior model and has 2.6 thousand followers on Instagram "kristinapimenova".
1989 +16 +16 = 2021 !!!!!!!!!!!!!!!!!!!
But apparently Kristina Pimenova was born to Russian parents.
So this rumor is probably false.


Kristina asked me spontaneously as friend on Instagram on 15th Feb 2021, eventhough she already has 2.6 thousand followers. Why bother to ask for one more? Does she know me?

One day I will ask her and will let know.



,





En fait cela devait être Franceska