Page 19: 1980: I also work, as an independent photographer, for Cruise-line Companies all over the world.



Dawson Forwarding (UK), Sea Image (Florida and Grand Cayman), Cruiseship Picture Co Ltd (UK), Paquet, Club Med, Dereck Washington Inc.
I would like to thank John Davies, Richard Dawson and Roy Woodford, the managers of Cruiseship Picture Co Ltd (UK) and Trisha Cottam, the personal manageress, for their trust and for their help.

After my PHD in Maths in France, my 2 year photo school in UK, and my year in a disciplinary military service in the Vosges, I started quite a bit older than most of the other photographers.

IFrom 1980 to 1992, I worked as a freelance photographer, from time to time, on various cruise ships, all over the world. It was another era. We had a lot of fun. We also worked a lot. As they say over there: Work hard, play hard. We took hundreds of pictures every day with our Leica MP4s. No mirror, rangefinder camera. So you could see the flash lands on the faces and know if the eyes were open. You could also focus in near total darkness. Also indestructible, like us, photographers.
All the photographers were British, their accents and humour were a huge asset. I want to thank them all here.
Photo processing on board in a darkroom in the part reserved for crew members. Sale of photos as quickly as possible in a space on board, the "Photo Gallery" in a space for passengers. No obligation to purchase! To earn a good living, you have to be a good photographer, have good contact with passengers, understand which photos they like.
We had no domestic concerns. No need to go grocery shopping or have your washing machine repaired. On board, nothing to pay. So we all felt rich!
There was photography, money, travel, women… and most importantly: a "peer group". As in the great American TV series "Friends" or "The Big Bang Theory", the large family of crew members was my "peer group", a peer group in French. I want to thank them all here. Am I Joey, Chandler, Leonard, Sheldon? For me better than my troubled family. You can always find someone to play, drink, talk or live extraordinary adventures.

During my interview to become a freelance photographer on cruise ships, the CEO, John Davies, respectable and intelligent, polite, declared: "I will give you passengers, a dark room, and a space to advertise and sell your photos. Do as you will, as long as it doesn't disturb the maritime companies with which you are cooperating". As long as the photos were selling, all is OK. I was amazed by this definition of business, which suited my entrepreneurial spirit exactly.
I had never heard such a discourse in France.



There was photography women money travelling ...

View also the page 31 for more cruising
I invent the "Formal Portraits" view page 35.
***********

Entretien, avec le photographe professionnel Christian Fournier, le 25 novembre 2020, pendant une 1 h 20 minutes, à travers une vidéoconférence sur Skype. Les quatre membres de l'Intercom Agency étaient présents et toute l'équipe a enregistré cet entretien à l'aide d'un téléphone portable. Aussi, tous les membres de l'agence sont intervenus et ont interviewé le professionnel.
CF : Christian Fournier (interviewé) AF : Aida Ferdjani, PB : Perrine Bannuls, CG : Carolina Gonçalves, CC : Catalina Cuartas
Tous les aspects de la photographie m'ont toujours intéressé, de l'astronomie jusqu'à la photo sous-marine, du portrait, du corporate, de la presse. Je n'ai jamais eu de but précis dans la photo, je fais de tout. Ce qui est gênant des fois commercialement, parce qu'on ne peut pas mettre une étiquette sur le front. C'est des fois un peu difficile. Par exemple, quand je travaille sur L'Oréal, il ne faut surtout pas mentionner que je fais des photos de mariage, c'est mal vu.
Au début, j'ai fait beaucoup de photographies sur des bateaux de croisière où j'ai rencontré beaucoup de gens et fait face à des situations extrèmes. On photographie les passagers en train de s'amuser, on développe les photos et on les accroche dans une galerie et les gens achètent si ça leur plait. Donc, là, on apprend le commercialisme. On finit par bien comprendre ce que les gens aiment et leur faire des photos qui leur plaisent.
Un bateau a pris feu, un autre heurte un récif. Je me transforme en photographe de presse. J'ai fait de la belle photographie de presse dans des cas difficiles à ce moment-là.

These pages on cruises (P19, P31, and P35) show my vitality in many domains, as well as my sense of humour and my efficiency. They also prove once and for all that it is possible to work and to have fun at the same time.


A different era

Just like in the great American TV series "Friends", the big family of crew members is my "peer group". In my case, much better than my own rotten family. I can also find someone to play with. Am I Joey, Ross, or Chandler?

Among the extraordinary people I encountered, in alphabetical order:
Alan Sherlock *** Alana Maudsley *** Alen Jolley *** Alicia Goldoni-pucci *** Aline Bariola Pianegonda *** Amanda Dixon-Nuttall *** Andrea Dobson *** Andrea Dorfmeister *** Andrea Harvey *** Andrew Bruce *** Andrew Mc Dermott *** Andy Novis *** Angel Swanson Vanrooyen *** Ann Blocker *** Anne Lize Weissière *** Anthony Reed *** Barrie Moss *** Bernard Reid *** captain Kjell Smitterberg *** Carlos Lopez *** Carol Manalaotao *** Carole Holt *** Carole Walsh *** César *** Charlie Dawson *** Cheryl Pardal *** Chris Chavez *** Chris Kakol *** Chris Modell *** Chris Thompson *** Christine Blanc *** Cindee Hendrickson Forby *** Cindy Peardon *** Craig Almond *** Craig Hellmann *** Darren Downs *** Dave King *** David Flynn *** David Nicholson *** Dede Tabor *** Denise Jeft *** Derek Washington *** Doug Plews *** Dr Nicole Bordes *** Duncan Shakley *** Ellen Ridgely *** Emilia Garcia Ward *** Eric Fauque de Jonquieres *** Eric Rottier *** Ezra Todd Shelton *** Franck Tigwell *** Georges Gaillard *** Gerald Collins *** Gina Rowcliffe *** Graham Mitchinson *** Gwendoline Henry *** Helen Boykin *** Henri Salvador *** Ian Green *** Ian Johnson *** Ian Michael Green *** Isaac Stern *** Isabelle Aubray *** Jackie Lanke *** Jacques Martin *** James Galway *** Jamie Harrison *** Jean-Pierre Delamotte *** Jeremy Kingston *** Jimmy Carter *** John Davies *** John Puczkowski *** John Seymour *** Jokè Soto-Kleuskens *** Josée Jalbert *** Joyce Sweinberg *** Judy Mesaros *** Karen Kurtz *** Kathy Mariani *** Keith Jarrett *** Kevin Mills *** Kim Calderoni *** Laura Lang *** Lewis Cook *** Linda Brown *** Lisa Haug *** Liza Rasmussen *** Lynn Wiechter *** Marc Bromhead *** Margaret Cleveland *** Marianne Chevara Herold *** Marie-claude Chauveau-gaillard *** Mark Anthony Chang *** Martin Gudz *** Maurice André *** Michael Crowe *** Michèle West *** Michelle Farrelly *** Mike Beezley *** Mike Gould *** Mike Moloney *** Monique Quevillon *** Nancy Fernandez *** Nancy Pollack *** Nathalie Monvoisin *** Neil Harrison *** Nick Spray *** Nigel Atherton *** Nigel Blake *** Pamela K Milenst *** Pat Denton *** Pat Gatti *** Paul Carr *** Paul Hargrave *** Paul Smith *** Peter Simpson *** Petra Lindblad *** Richard Dawson *** Richard Kirkby *** Rob Waterfield *** Robin Fellows *** Roy Bookelaar *** Roy Woodford *** Sandra Joulie *** Scott Anderson *** Shannon Templeton *** Sharon Stanley *** Sharron Atherton *** Simon Emm *** Steve Harris *** Stuart Ward *** Susy Schott (playmate) *** Sylvie Mercier ex Lecointe *** Terri Hammer *** Terri Russell *** Tom Long *** Trisha Cottam *** Vinny Verelli *** Vladimir Ashenazy *** Wanda Alison ....


As in the great American TV series "Friends", the large family of crew members is my "peer group". For me better than my rotten family. I always find someone to play. Am I Joey, Ross or Chandler?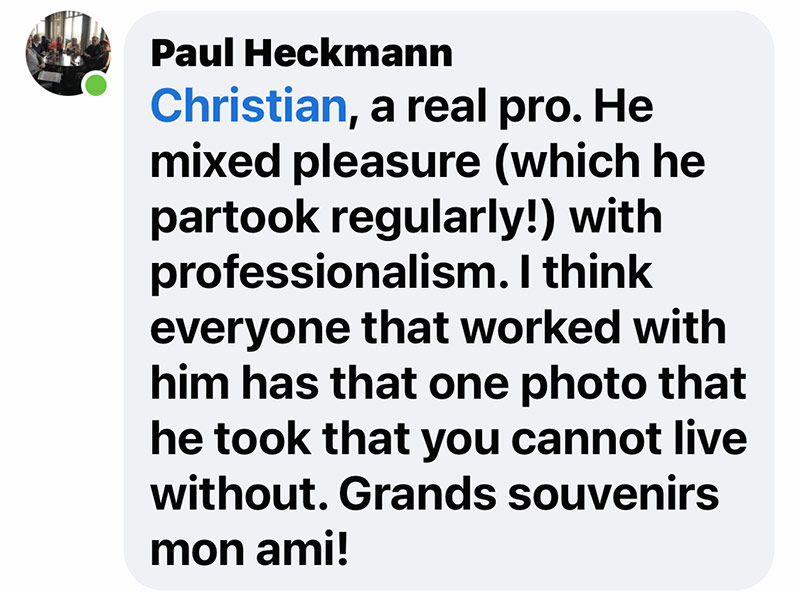 Paul Heckmann
Auparavant Hotel Manager à Bermuda Star Line Cruises
Auparavant chief purser à Admiral cruise lines
Christian, a real pro. He mixed pleasure (which he partook regularly!) with professionalism. I think everyone that worked with him has that one photo that he took that you cannot live without. Grands souvenirs mon ami!
Paul Heckmann
Auparavant Hotel Manager à Bermuda Star Line Cruises
Auparavant Chef commissaire de bord à Admiral Cruise Lines
Christian, un vrai pro. Il mêle plaisir (auquel il participe régulièrement!) et professionnalisme. Je pense que tous ceux qui ont travaillé avec lui ont cette photo qu'il a prise sans laquelle vous ne pouvez pas vivre. Grands souvenirs mon ami!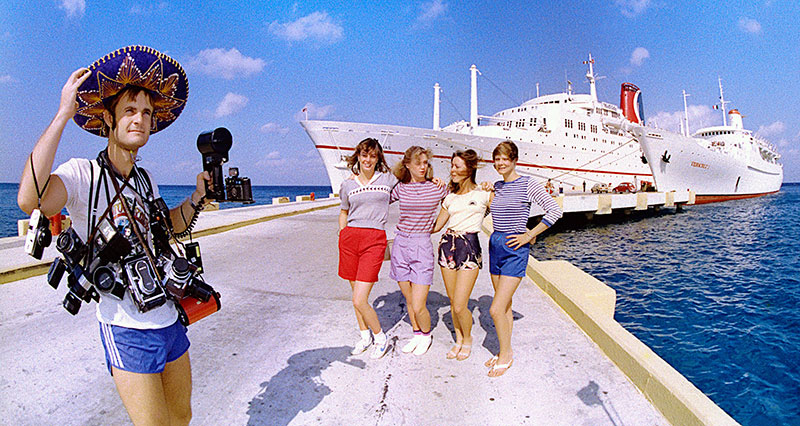 1980. Sea, girls and cameras, ...paradise !
Of course, I was without an iPhone, I would have one in 30 years!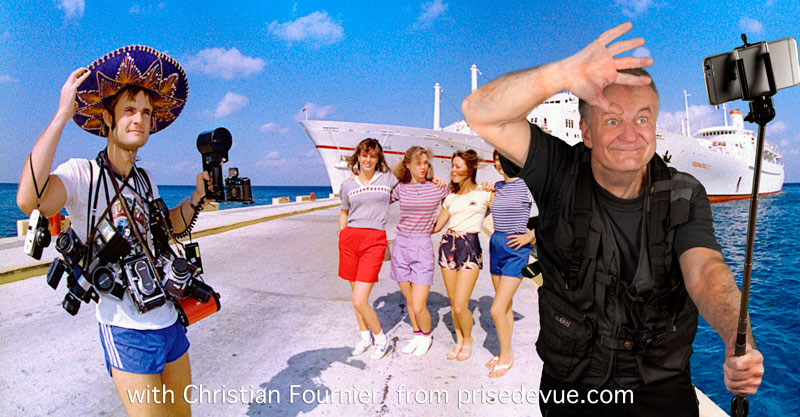 Of course it is me in the background. I am meeting myself in the past, hence the title.

No obligation to buy the photos. Pas d'obligation d'achat !


From right to left : Barrie Moss, Chris Fournier, Douglas Plews.


The Leica M4P with the English Company Cruiseship Pictures Co.UK
Fantastic for the cruiseship work. Sometimes we had 10 Leicas on board.

The gift shop staff: Sylvie, Andrea, Catherine, Marie Claude, etc ....The ratio is one guy for 6 women.


Now you can see why we liked the Leica.




No mirror, rangefinder camera. So we could see the flash on subjects' faces and know if their eyes were open. The viewfinder's field was larger than the photo, which permitted us to anticipate external elements that entered into our view at the last moment, for example waiters in our photos in the dining room.
Here is exactly what you see in the viewfinder of the Leica MP4. The white lines are the frame of the final photo with the Summicron 35mm lens, the inside lines are the frame of the final photo when taken with a 50mm. If a shark approached the frame we would see it before it entered the photo.
You can also see a part of the lens to remind you which one you were using. You can see here that it wasn't me taking the photo, since I am in it, the faces are cropped and the horizon isn't straight. Copyrights were added for reasons that did not exist at the time, copyrights and nudity (1980). Many thanks to Jenny and Mary
You could also focus in near absolute darkness.

Just as tireless as us, the photographers.
It's only shortcoming: the synchronised flash at 1/60th of a second, too slow for photos taken outside of moving subjects, in which case the Nikon F3 was used.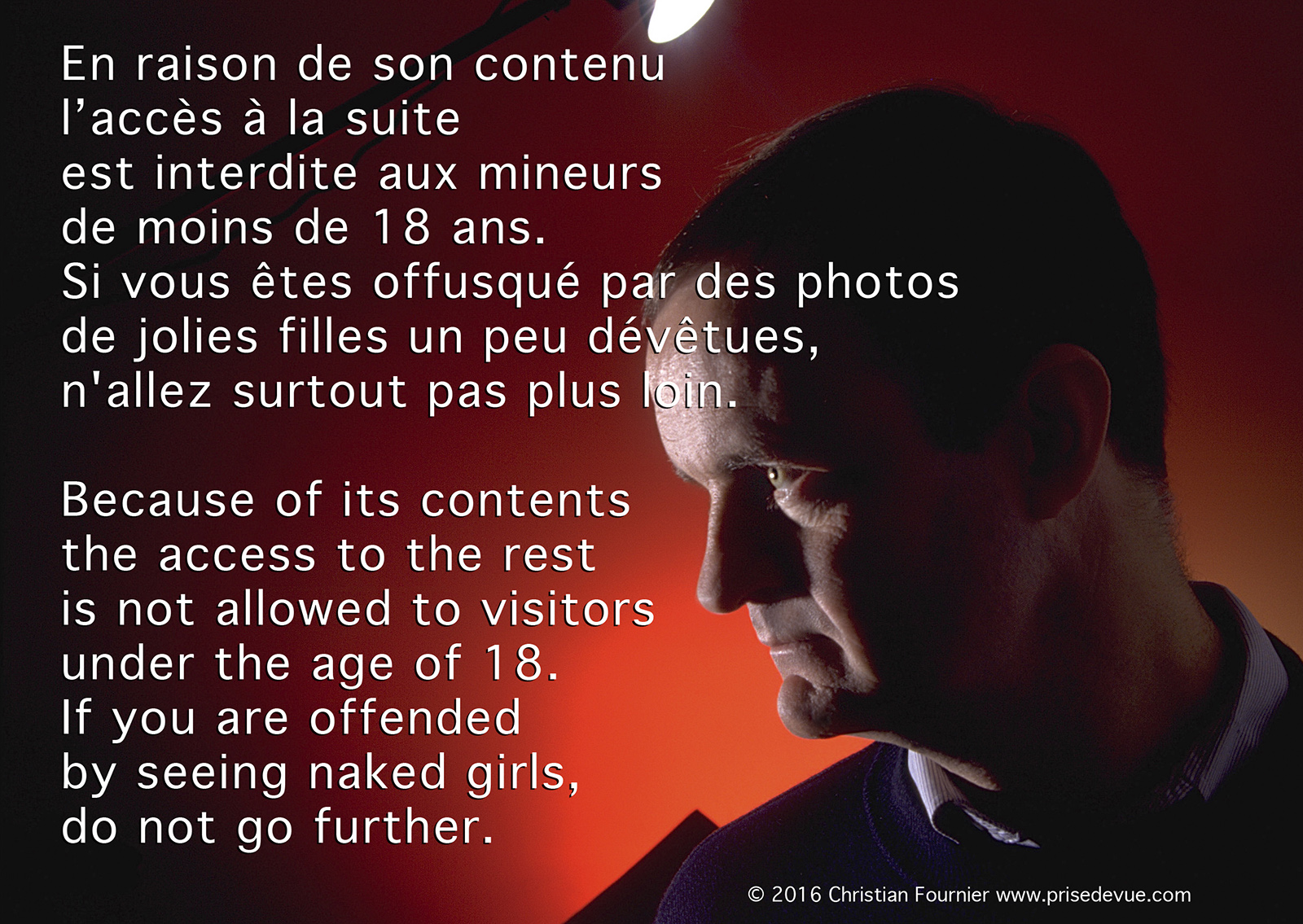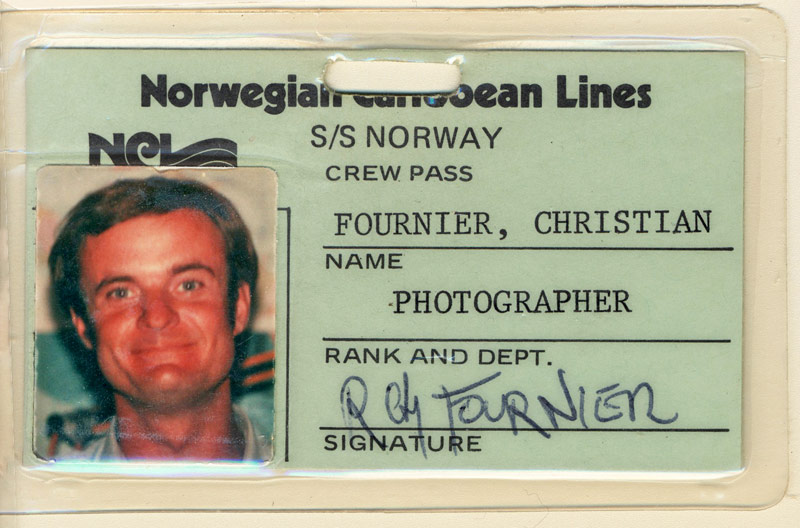 S/S Norway, ex S/S France, circa

1985



2015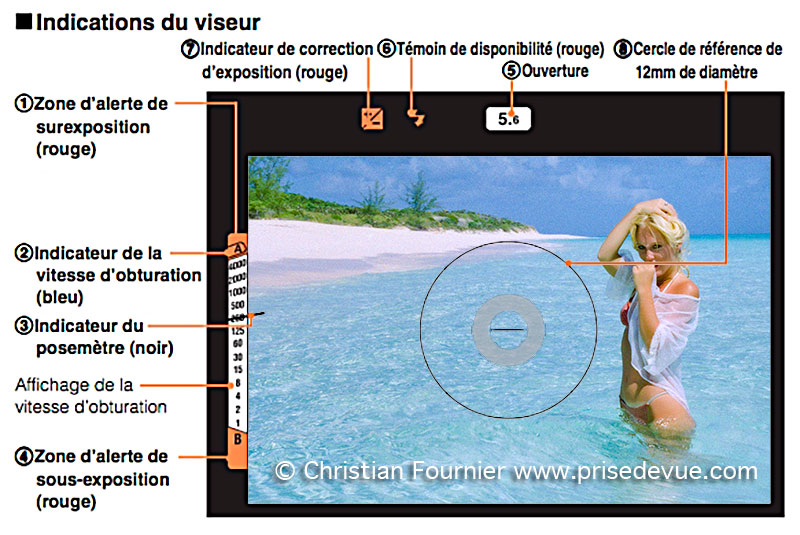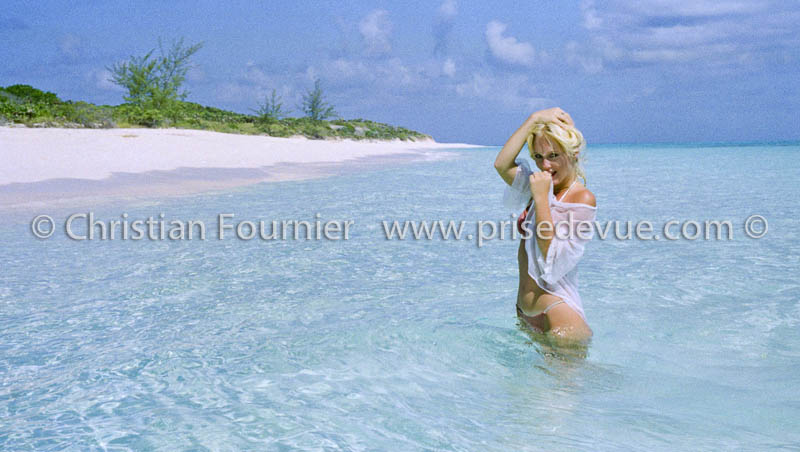 Ici Karen on a deserted beach on a deserted island, Little San Salvador in the Bahamas with Nikon F3. Paradise.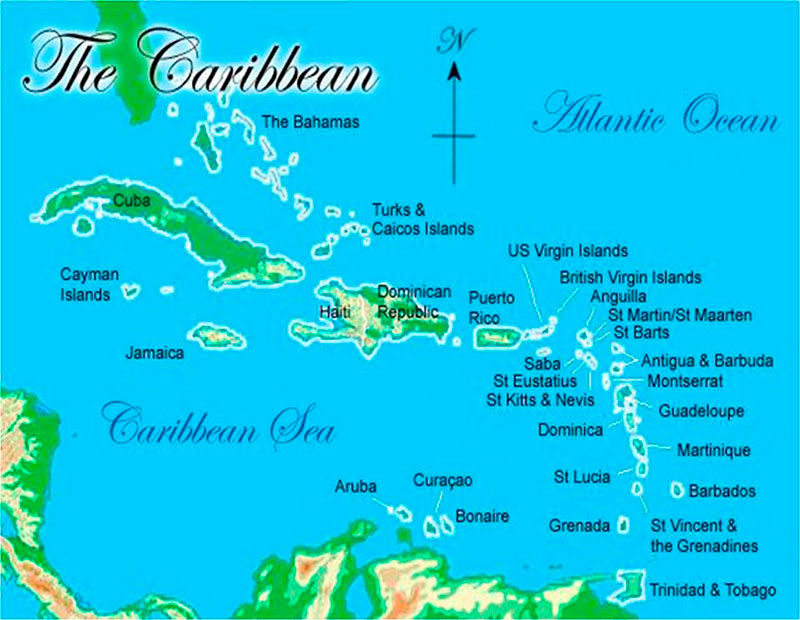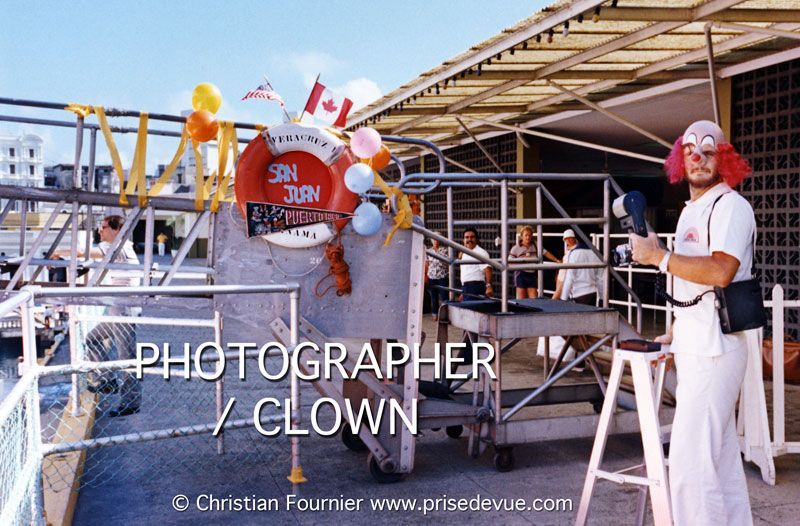 I play clown, the trade secret for this kind of photos.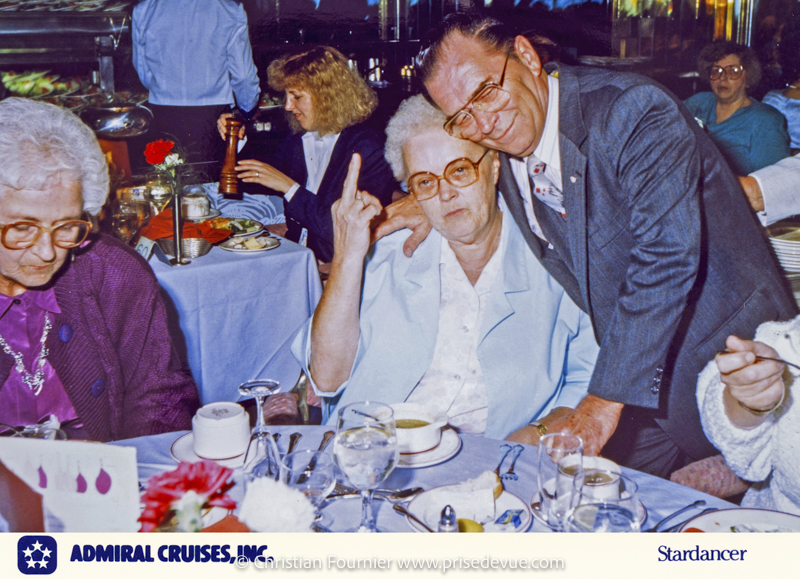 It didn't always work, at the beginning.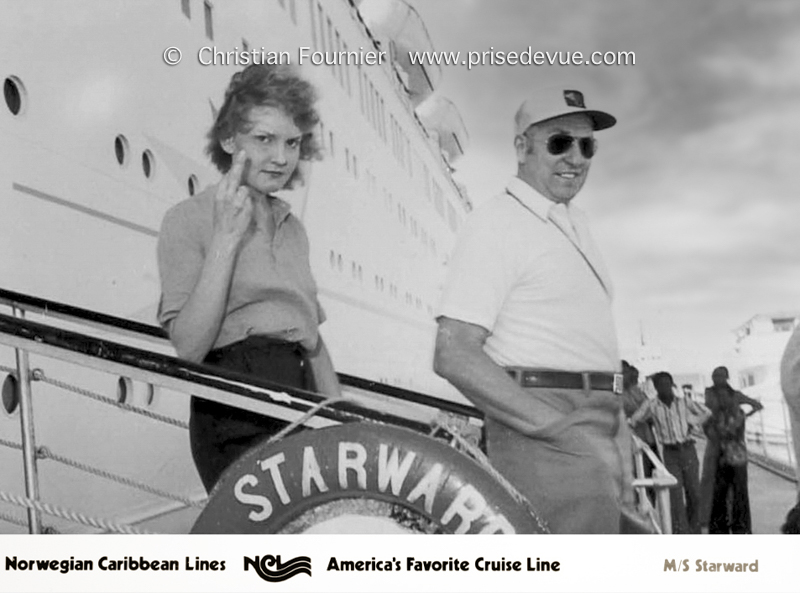 Then it got better. Betty Judge




But ended up sometimes deadly! Andrea Dorfmeister.

Andrea Dorfmeister
I made the scuba licence and everybody else in the crew did too as far as I remember. Paula Horan the masseuse went diving with us... remember her?
Vienna is always great... love it because i was 16 years away. Now I live in Vienna, Cannes, and West Palm Beach in Florida. I was a flight attendant for 30 Years (working for Lufthansa) and since 2 Years retired. If you look at my photos you will see my whole life. Now I will look at your photos...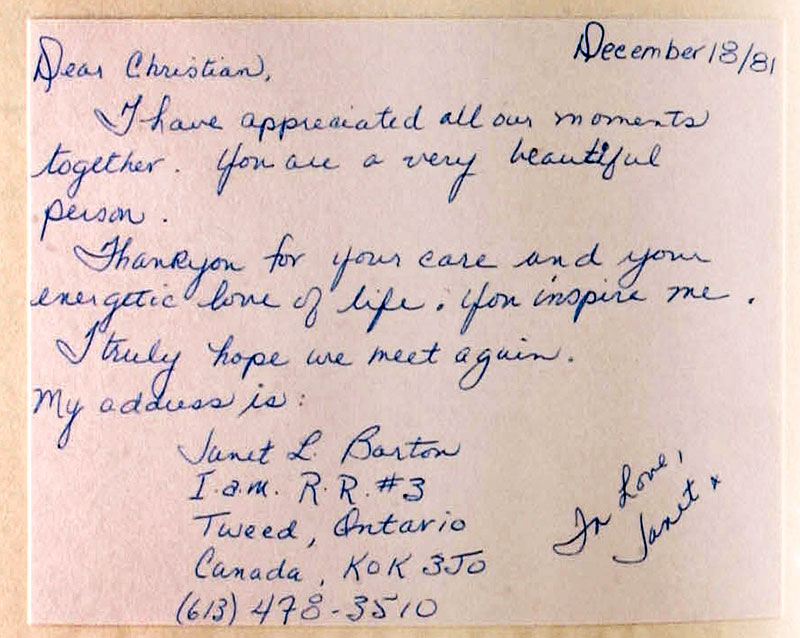 Janet wrote to me the 18th of December 1981: "Dear Christian, I cherish the moments we shared. You are an amazing person. Thank you for your attention and your love of life. You inspire me. I hope we will see each other again. Here is my address: …"




The M/S Stardancer darkroom. A masterpiece of efficiency run by Christian Fournier


Developing colour negative with the C14 process
With the Durst printer, the Wenko processor and some cameras. Photoshoots, developments and impressions in the order of thousands per week.
This photo is dark, which is to be expected, as it's in a dark room.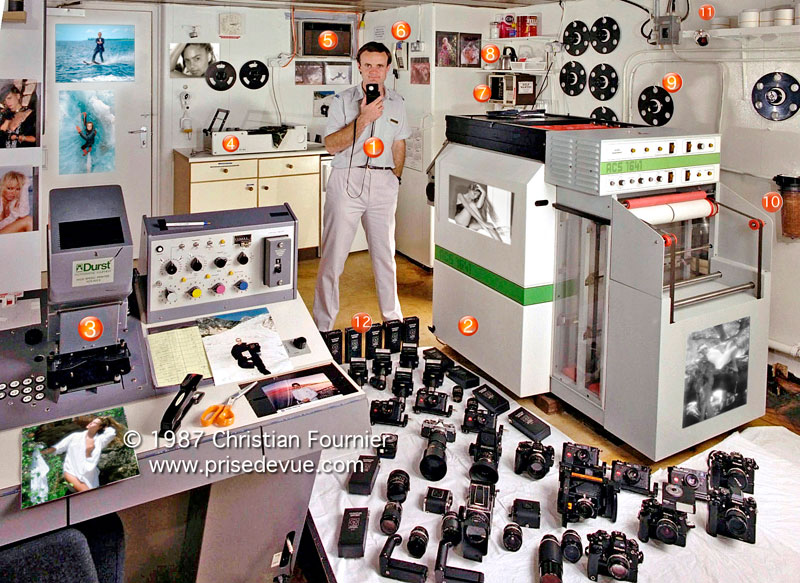 1 - Chief photographer Christian Fournier holding Minolta Flashmeter
2 - Paper processor Durst ACS 1641. The exposed paper is on rolls and loaded in the dark at the far end and carried through the different baths via the 2 belts. It comes out all dry at the end (the one we see)
3 - Durst enlarger /printer. The unexposed rolls of paper are loaded in the dark at the back of the machine and every 35 mm negative is individually exposed. The transport of the paper for the next exposure is motor driven. Plus scissors, stapler, pen and note pad.
4 - The paper trimmer. The long length of exposed prints is then cut to size to produce the 5x7" or 8x10" prints
5 - Air conditioning unit
6 - Internal ship telephone
7 - Coffee machine for the French photographer (me)
8 - Kettle for tea for the British photographers (all the others)
9 - Spools to take up the processed rolls of paper
10 - Water filters to protect the films and paper
11 - Paper cores to go the spools and roll up the exposed paper
12 - Quantum batteries for our Sunpack Flashguns. Indispensable for indoor and also outdoor to attenuate the strong shadows of the (usually tropical sun)
Unmarked : Leica cameras, Hasselblad cameras, Fuji 6x9 camera, Nikon F3 cameras, Sunpack Flashguns, various backs, lenses, motor drives ...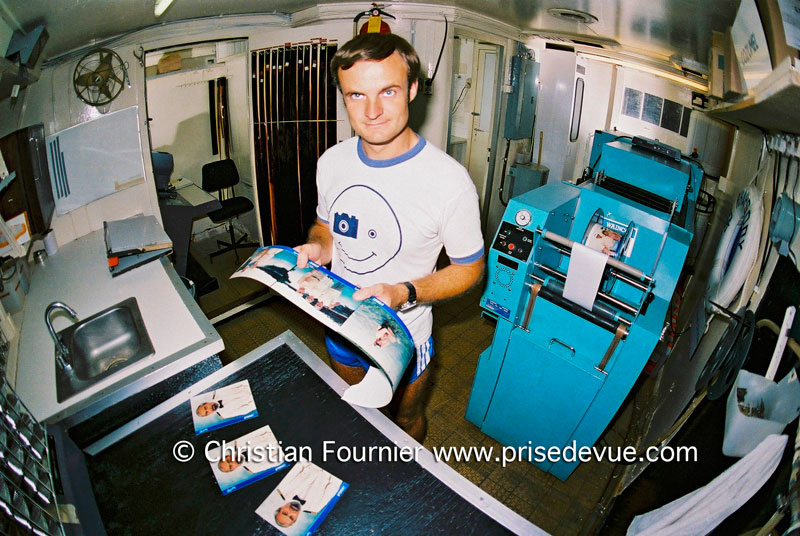 Here we have a better view of the paper rolls. The is the S/S Rhapsody darkroom.
The photo is dark because it is a darkroom.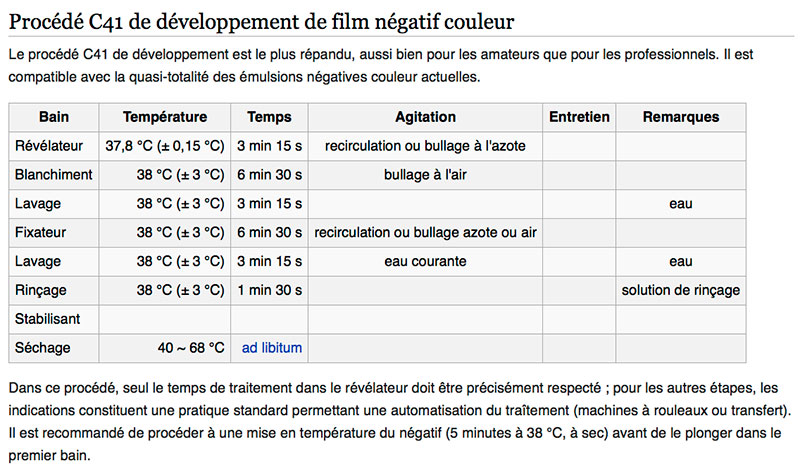 Developing colour photos at sea was not easy. Contaminations, crossed curves are bad memories.


The Dining Hall photos were the most challenging. Often I had less than a minute per table. I had to interrupt the passengers' meal, make them move around (two people for the round tables, have them lean forward or backward for those at longer tables, avoid getting in the way of the waiters, centrepieces on the table blocking passengers' heads, etc…), wait for them to stop chewing, have them all smile at the same time, memorize incomplete tables to come back to later, scuttle over to catch every "Happy Birthday" (the waiters surrounded the table and sang, the passenger in question definitely wants their photo), pause during the Baked Alaska when the hall became dark and the waiters came out with the flambéed dishes, take a moment to do the Captain's table at the right time, pause during the speeches, manage to fit in two tables since they are the same group. Graciously put up with their comments: "Eric's got his own camera!", "Oh no! not while we are eating!", "Can we give him some money so he goes away!" ,"No, she's not my wife!" ,"Do not make me look fat!" ," hurry up we do not want to be late for the midnight buffet!" ,"We were on a cruise 5 years ago and already have all the pictures!"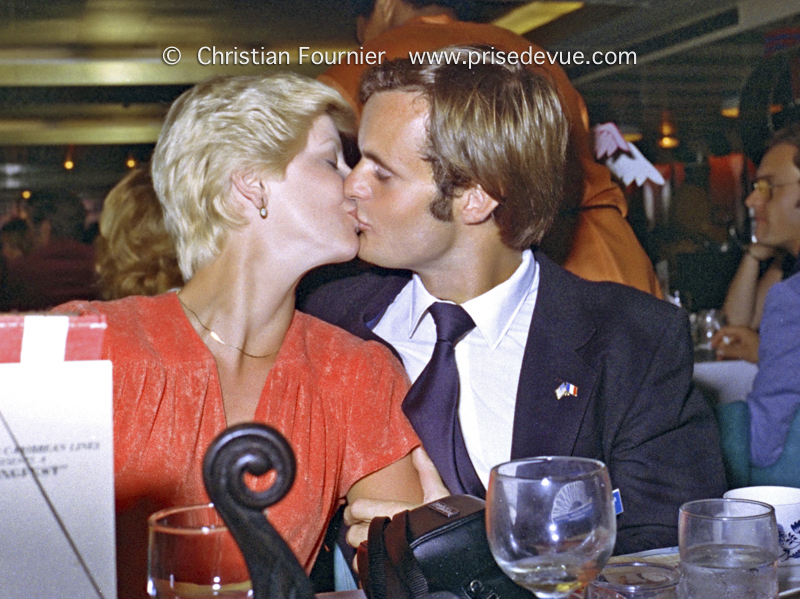 Patricia Dunnsworth.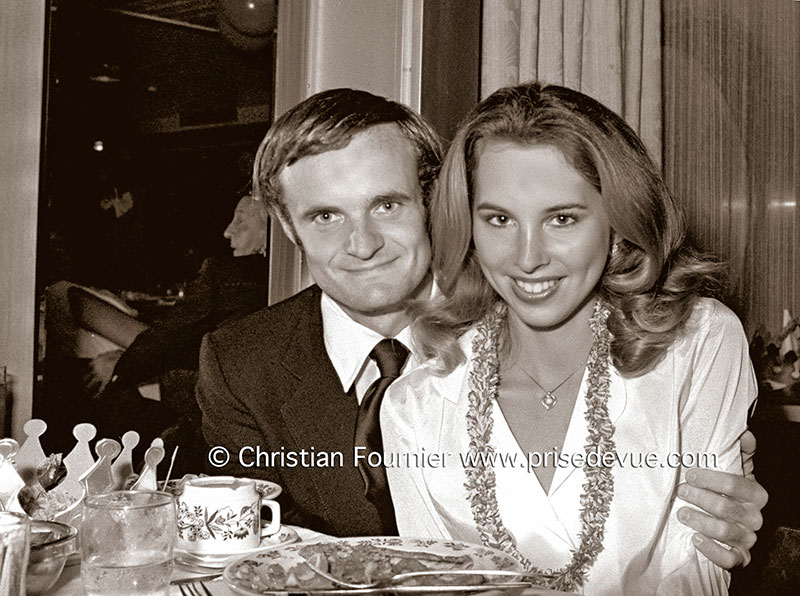 Laurie-Anne Von Wald


With Avec Diane Janire. Note the remote control.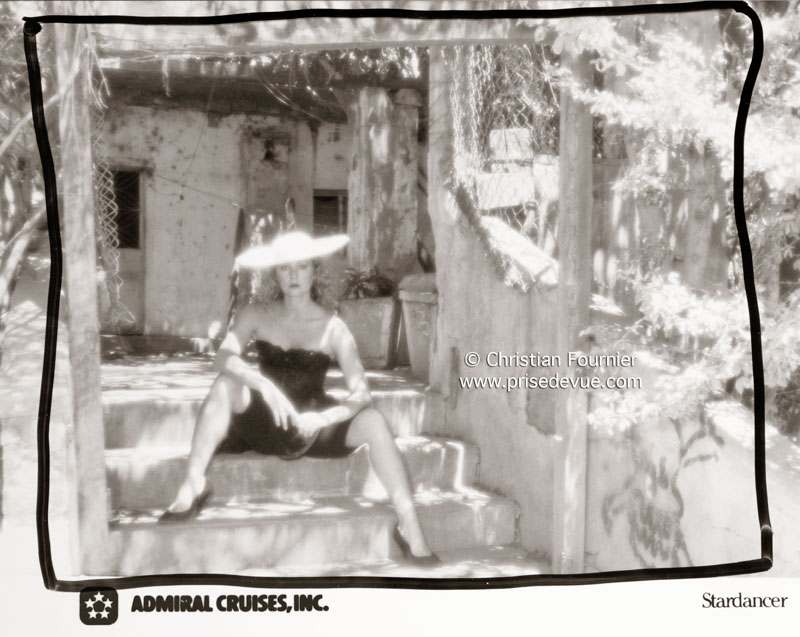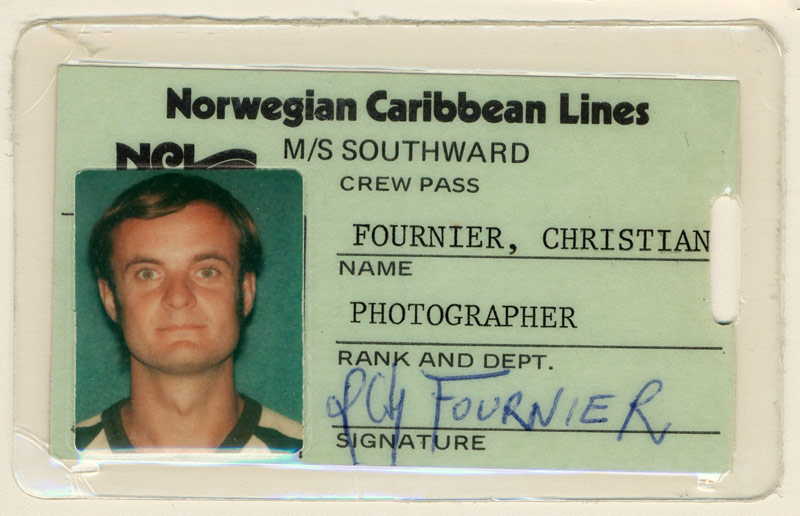 Some of my boarding passes.


I fullfill my passion for travelling (no particular order).
Mendenhall Glacier, Ile Des Pins, Nouméa, Nouvelle-Calèdonie, New Caledonia, Jund, Mazatlan, Torrance, California, La Rochelle, Albuquerque, Vanuatu, Australia, New Caledonia, Nouvelle Caledonie, Dunn's River Falneau, Skagway, St Thomas, Miami, Los Angeles, Ketchikan, Glacier Bay, Tracy Arms, Whittier, Mazatlan, Puerto Vallarta, Stone Islals, Sipadan Island, Malaysia, China, South East Asia, Hong Kong, Nanjing, ShanghaÔ, Padang, Manille, Djakarta, Pukhet, Bali, Singapour, Padang Bay En Indonèsie, Tanjung Priok, Le Port De Djakarta, Kuala Lumpur, Ile De Nias, Borobudur, Scandinavia, USSR, Vancouver, Canada, Hawaii, Los Alamos, New Mexico, Death Valley, Manaus, Bresil, Orinoco River, Amazon River, Honduras, Sea of Cortez, Colorado, Fort Lauderdale, Newport News, Virginia, Monte Carlo, Toronto, Quebec, Canada, Missouri, Philadelphia, Eleuthera, Tampa, Key West, Cozumel, Playa Del Carmen, Knoxville, Tennesse, Death Valley, Las Vegas, Gainville, Florida, Cozumel, Grand Cayman, Jamaica, San Juan, Puerto Rico, Haiti, Cap Haitien, Nassau, Alaska, Glacier Bay, San Francisco.



A storm at sea. As Captain Kjell Smitterberg once said:
"A sight for the gods"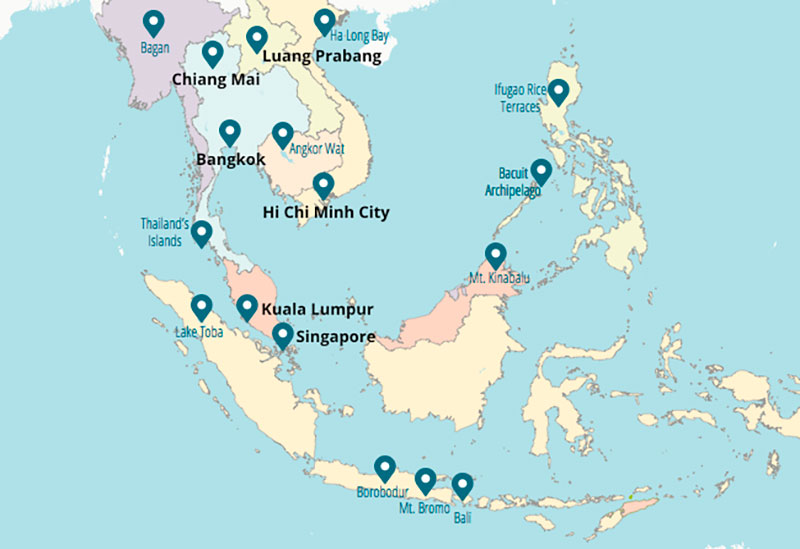 Ocean Pearl

itinerary

.

Ocean Pearl itinerary 1992 : Port Kelang, Malaysia -- Jakarta, Indonesia -- Bali, Indonesia -- Semarang, Indonesia -- Pulau Sepa, Indonesia, -- Singapore -- Phuket, Thailand -- Nias, Indonesia -- Padang, Indonesia -- Bankok, Thailand --

May 6-Sept. 29 1992 --18 days (China Cruise/Tour) from Hong Kong to Beijing, to cruise the Yangtse, calling at Nanjing, Shanghai, cruise Yellow Sea, Qingdao, Dalian and Tianjin; with 3 days in Hong Kong and 3 in Beijing. $3,550-$7,500 plus $695 air fare from West Coast.
May 16-Oct. 9 1992 --18 days (China Cruise/Tour) from Beijing to Hong Kong, calling at Tianjin, Dalian, Qingdao, cruise the Yangtse, Shanghai, Nanjing, cruise the South China Sea. $3,550-$7,500 plus $695 air fare from West Coast. Includes 3 nights in Beijing and 3 in Hong Kong.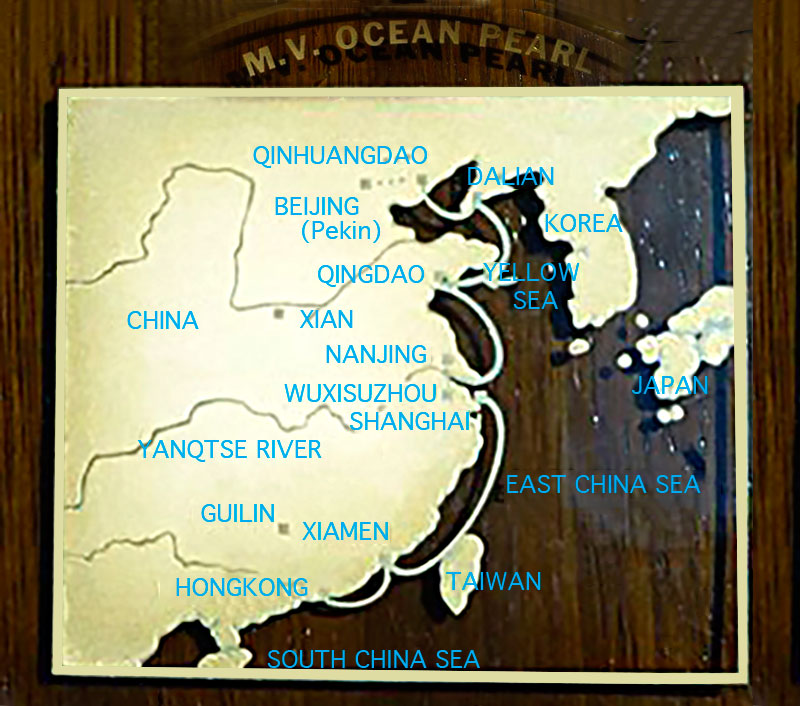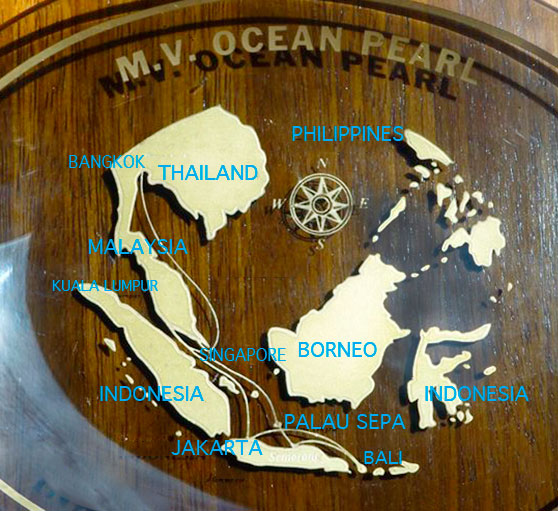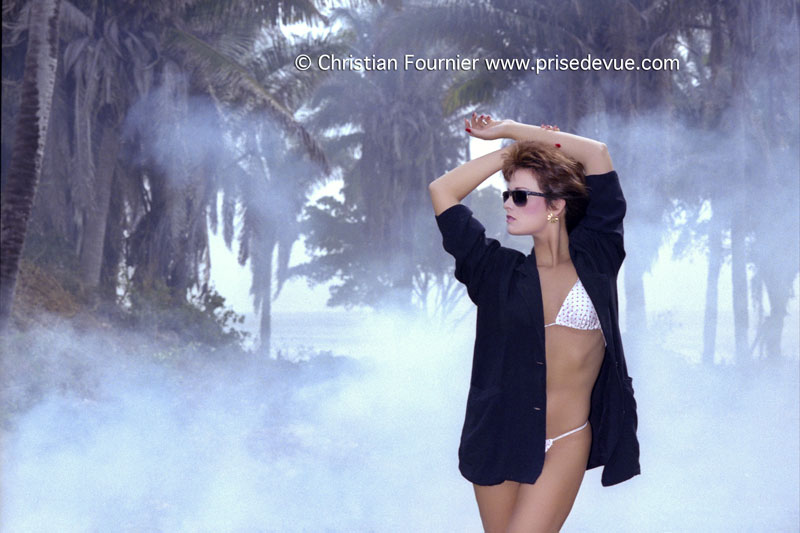 No, I did not set the jungle on fire, it had already started when we got there.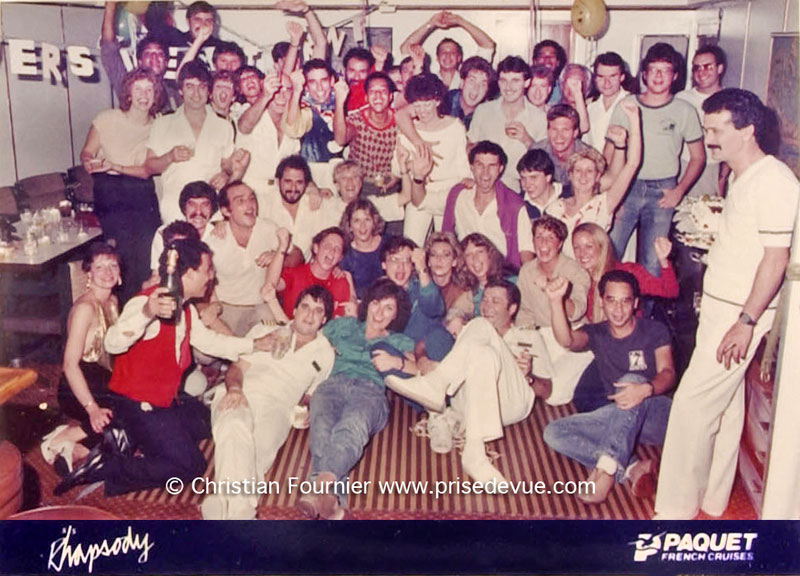 You can sea Captain Delery, chief purser Manny Cadavid, Catherine Fouin, Mark Antony Chang, Sylvie Lecointe, Andrea Dorfmeister, Judie Mesaros, etc ...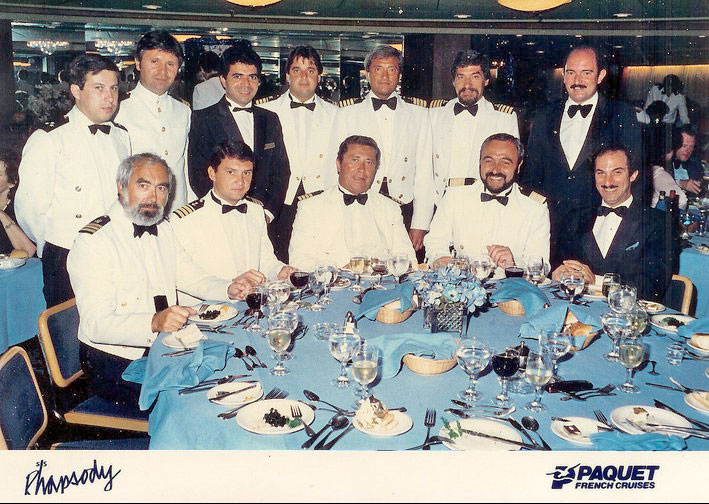 All the senior officers on the final voyage of the Rhapsody before she was sold. Bitter sweet memories. – avec Georges Gaillard, Yannis, Bruno Videau, Manny Cadavid, Capt Delry, Babi Kozadinos et Alain Chabot, John Swartz = Vinny Verelli.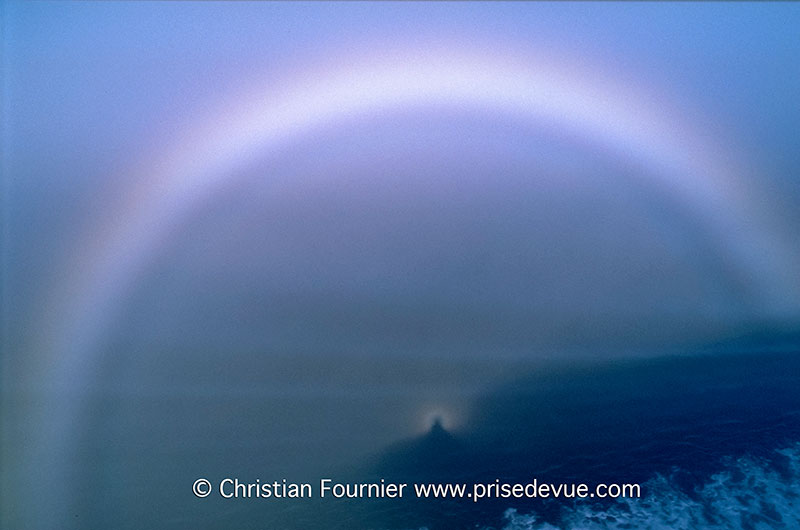 A glory (also known as the Broken Specter) is an optical phenomenon that resembles an iconic saint's halo about the shadow of the observer's head. The effect is believed to happen due to classical wave tunnelling, when light nearby the droplet tunnels through air inside the droplet and, in the case of glory, is emitted backwards due to resonance effects


Judy Vaught wrote on one of our sales receipts: "The vacation might be over but the memories of it are just beginning. Thank you for making it impossible to forget and so exciting to remember."
John Cable, Chris Fournier, Nick Llellelyn



My heart goes with the passengers.



John Puczkowski: "Hi Christian. Thanks for the connect. You were a legend on Cruiseships! We all looked up to you as photographers!"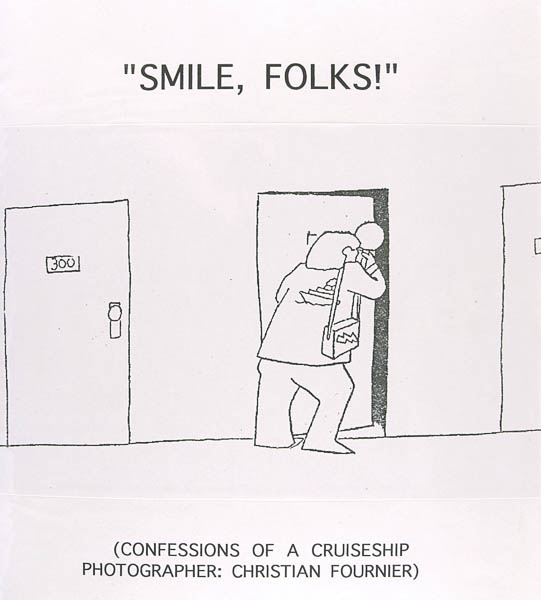 JI created a great collection of all my notes which I titled "Smile Folks" crammed full of examples of my photos and my professional work aboard cruise ships. You can find extracts of it on this page as well as on pages 31 and 35.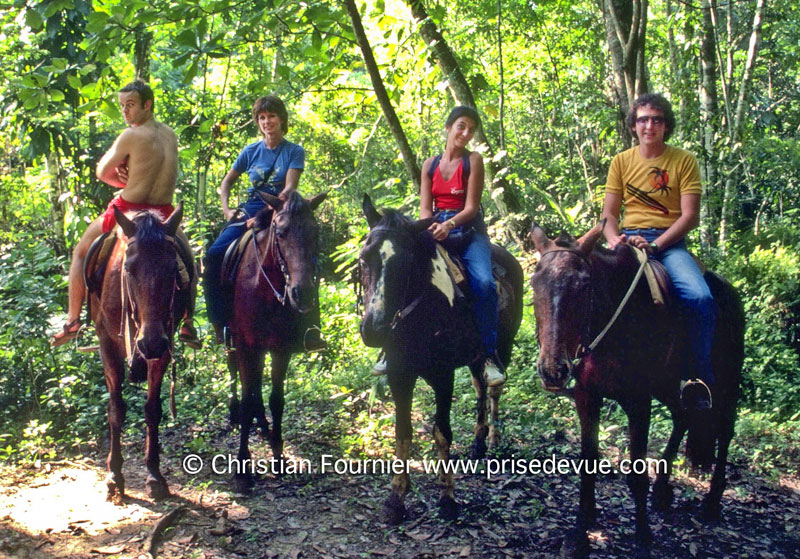 I am learning horse riding. Alan Jones (R.I.P.) on the right handside.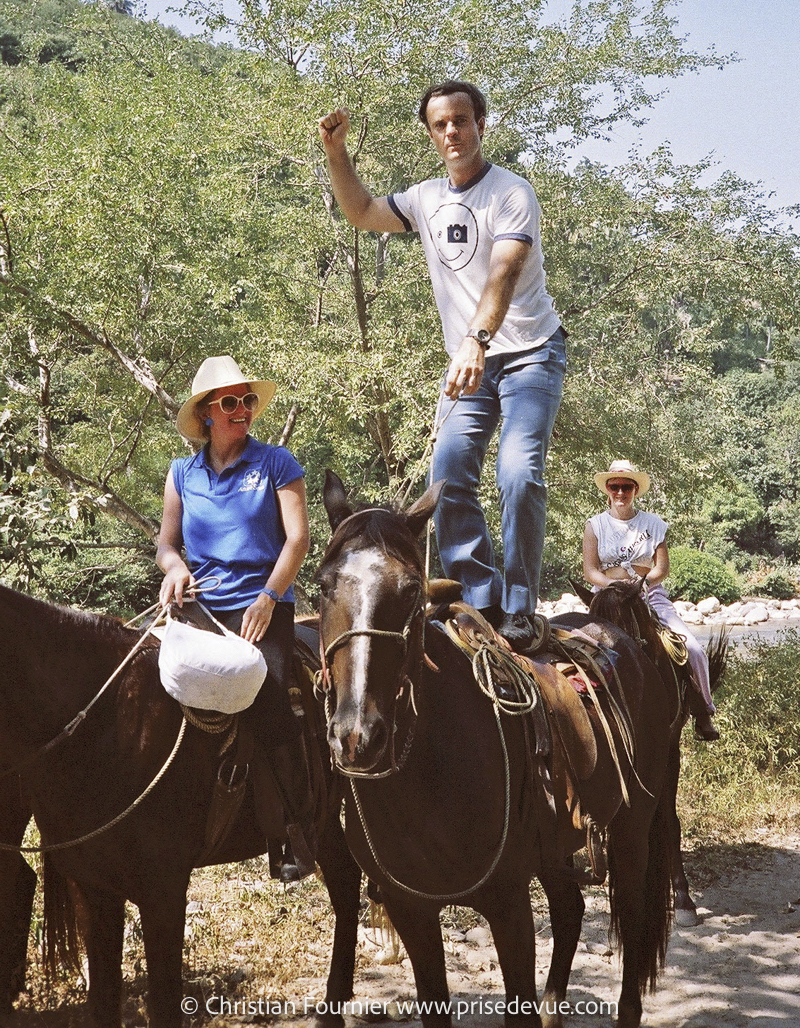 Linda wrote: "Christian, you are a warm, caring and sensitive soulful human .. I love you just the way you are ... Nothing more be said ... Except: when you're in the States LOOK me up and stay a while....


Christian Fournier, Alan Green and Barrie Moss.
S/S Rhapsody darkroom. We toss 35mm negative film cans in the air. (We cannot see them very well). Nowadays, a symbol of the past.


Barrie Moss 2009:
"Hi, We live in Tampa, I am a finance manager in a Ford dealership, still with Judi working on 22 years we have a 9 years old son & a 4 year old girl, play a little in photography no where near as much as you i have check out you website from time to time. Was last in England in 2000 tough to take more than a week off at any one time, if you are ever back this way it would be great to see or talk to you again
Stay in touch, Barrie."




My criticisms are not to annoy anybody personally. I just think that someone has to point out the problems, so we can all solve them and get a smoother running! All the best. Christian FOURNIER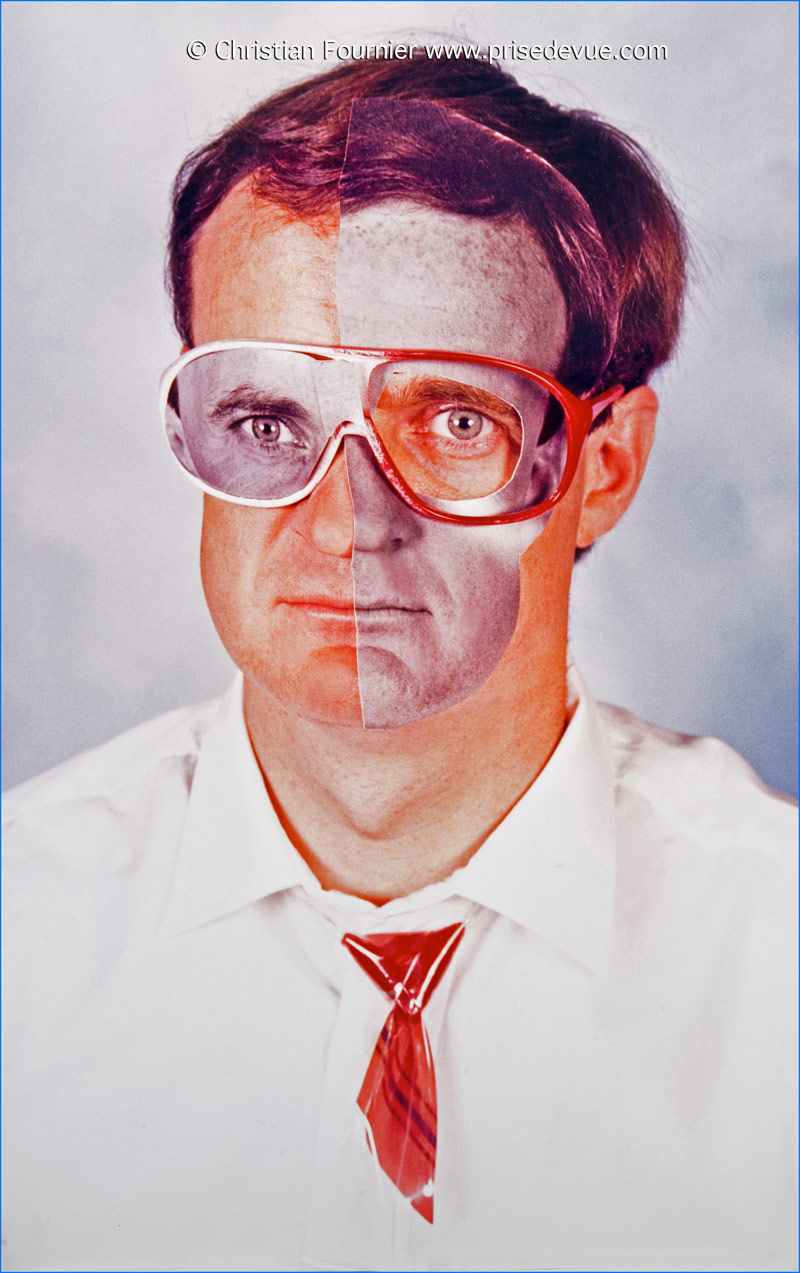 I pasted a cut out photo of myself, printed to the exact proper size. Before Photoshop.




Matilde.


Dear M. Dawson.
I've just returned from the 12/12/1987 cruise aboard the MS Stardancer to Mexico. I spoke briefly to you on the Lido Deck concerning your photographers on board the Stardancer. You have two exceptionally mannered and professional persons on board. My wife and I enjoyed having our pictures taken in a relaxed atmosphere. Both photographers, Andrew Bruce and Raphael Fournier (Chris) were the photographers. They are to be congratulated for their efforts. Thy helped make our cruise a pleasant one. You should be proud of them and the other passengers agree that they are Excellent employees. Please put this in their service record. Sincerely ....




Near Monte Carlo.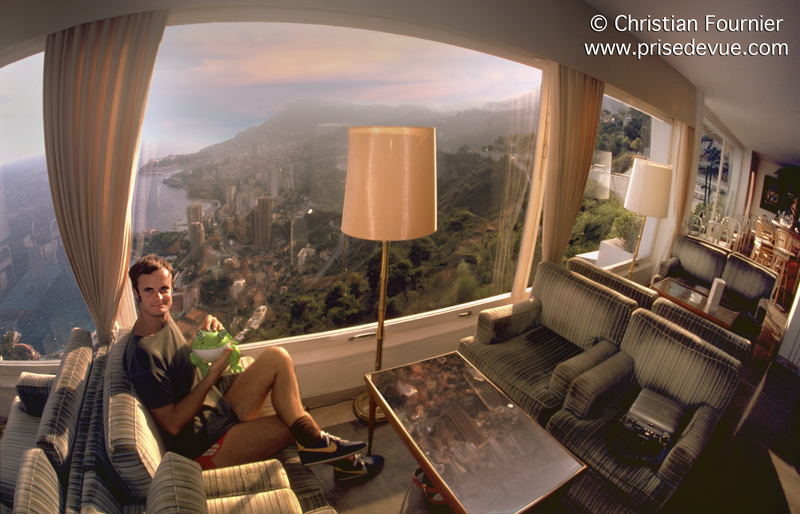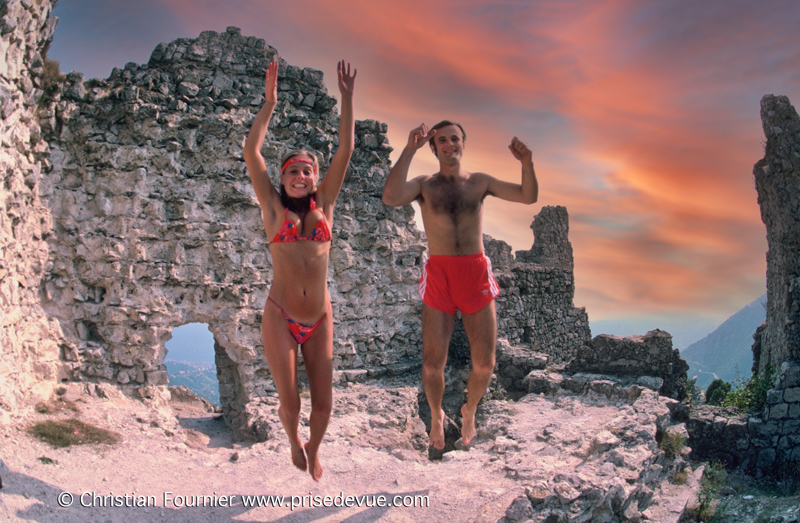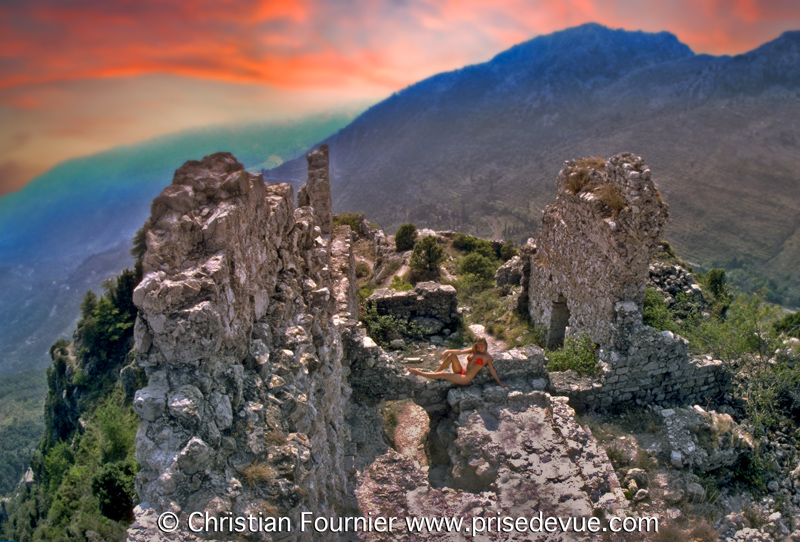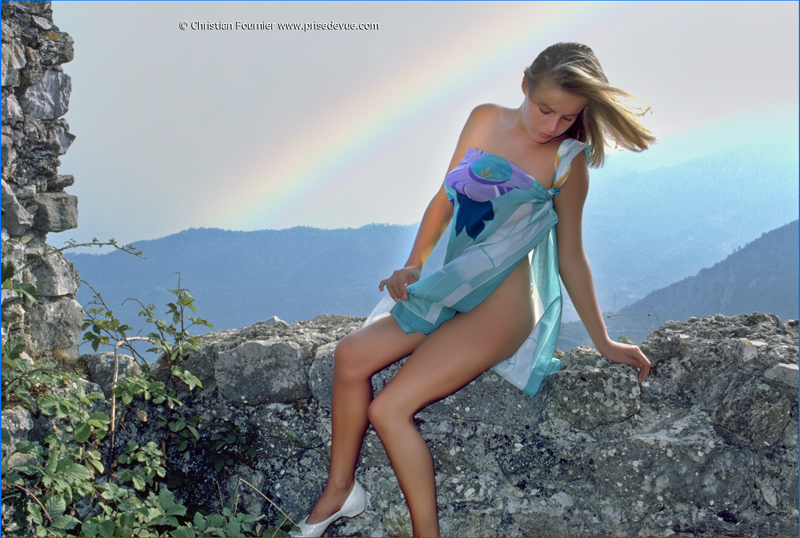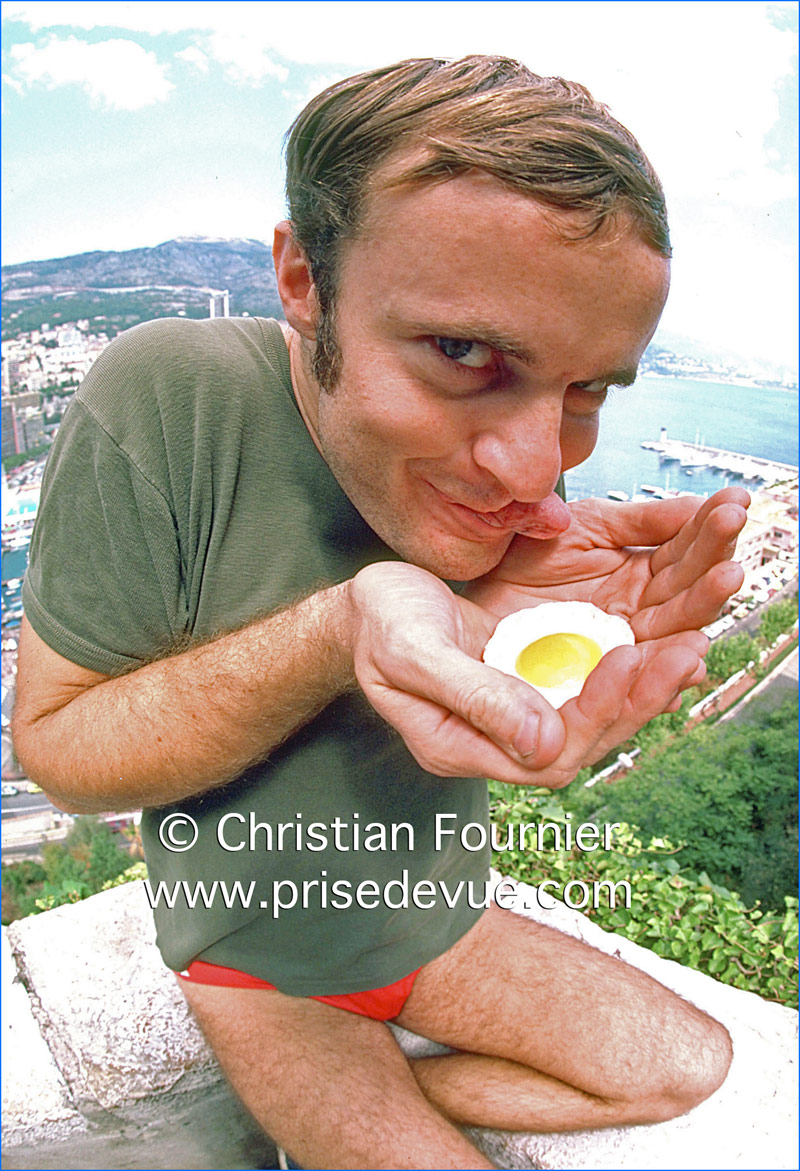 The foetus and the egg in Monte Carlo, photo Peter Warner. I like them sunny side up. Now you know I have a big head.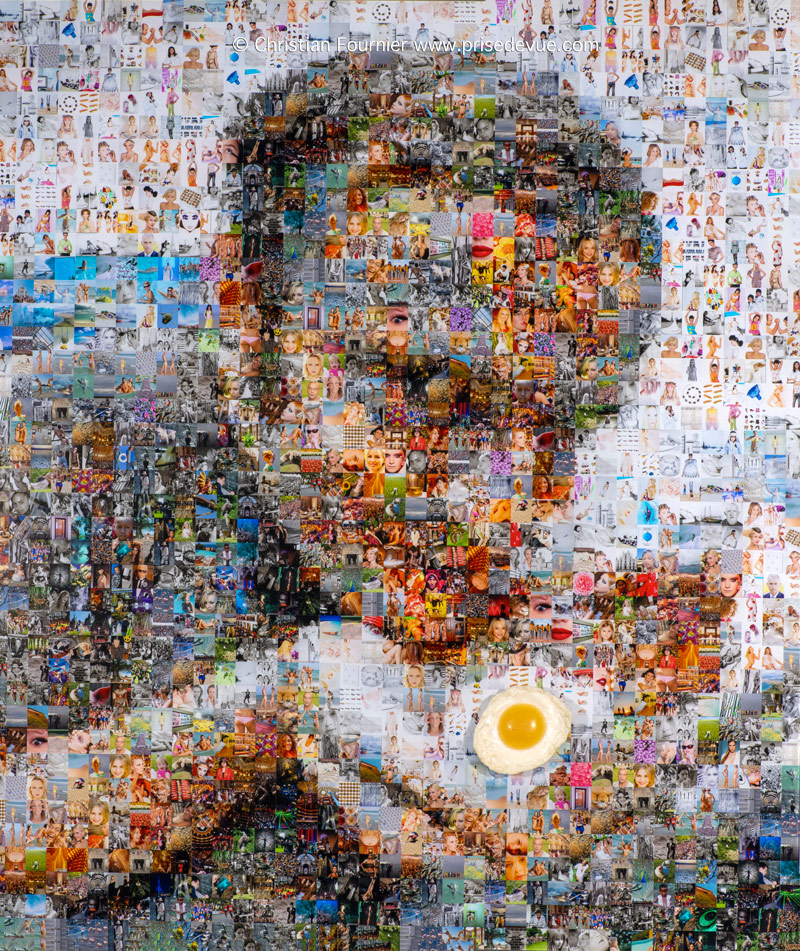 Plus tard, j'en ai fait une immense mosaïque pour que l'œuf soit en grandeur nature.




I was working in the summer of 1992, still for Cruiseship Pictures Co, in Monte Carlo. They had a photo concession at the Loeuws Casino. I was working with Peter Warner.
We would photograph people during the evenings (my first photo was of Catherine Deneuve) with a very large camera, the Rapid Omega, format 120, 9x6cm negatives, then we would display the photos at the exit (diverse sizes, including individual portraits of each person, which is the purpose of the large cardboard mask that I am holding in my hand) on beautiful velvet display stands.


Steve Harris 2008 Email : steveleeharris@yahoo.com
Message : Hi Christian, this is Steve Harris the ships photographer who was based in Monaco at the hotels. I saw you last with Pat Denton for his wedding shoot. I will be in Paris sometime this week are you going to be there. If so may try and call by to say hello
if time works out.
All the best regards, Steve Harris.





I also work from time to time for The Cruiship Pictures Co, at Universal Studios, near my home, in Los Angeles.




Re : Attention: Hotel Manager. Photographer for Innothera. Dawson Forwarding have arranged an excellent French photographer who will arrive in Nice 4/3/1991. Due to stay onboard thru till 16/5.
He will replace Robert and take same cabin. Regards S.T.



SS Veracruz, Tampa Florida, May22,1982, to whom it may concern: Mr Christian FOURNIER of French Nationality, was employed aboard the SS Veracruz as the Chief Photographer from March 24, 1980 to May 22,1982. Mr Fournier had always proven to be very popular with the passengers he dealt with and the crew and Staff. Mr Fournier is capable of running a very efficient operation and was courteous at all times. I would highly recommend Mr Fournier for employment and I am sure you will find him an asset to your establishment.
Sincerely, George Reilly, chief purser, SS Veracruz




1982, Missouri, USA. I created this photo thanks to the wind which gently swayed the flowers. I used different combinations of shutter speeds to get the blur effect in the foreground, and apertures to get the background blur. No Photoshop.


Even better than a Turner painting, as in page 6. All right, nearly as good as.


You have to remember that these cards where mainly intended to tease our British friends back home in the Christmas rain and snow.


Even happy photos have a wrong side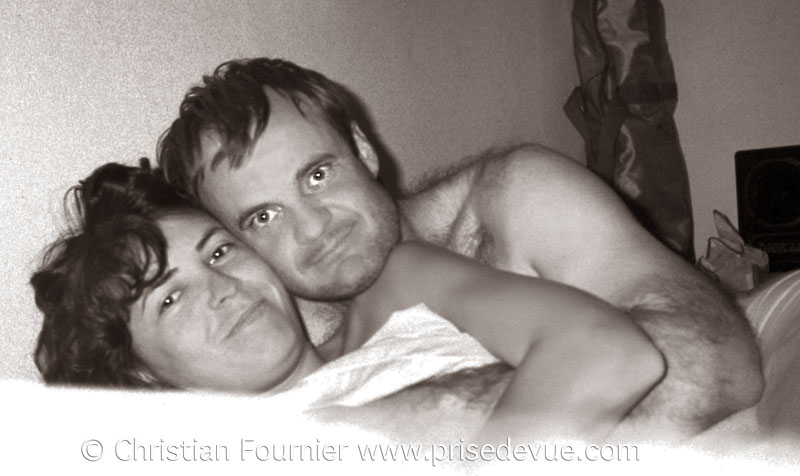 The image of LOVE



Mark Antony Chang is the one with the yellow jacket.


Simon Emm: Back in 1982 I loved your photography. I still do and hope to visit you one day. "Creamaginity" is a word I have made for you. I don't think I have ever met a photographer (no disrespect guys) as Creative and Imaginative as you Christian Fournier. And with the French charm, always going to succeed.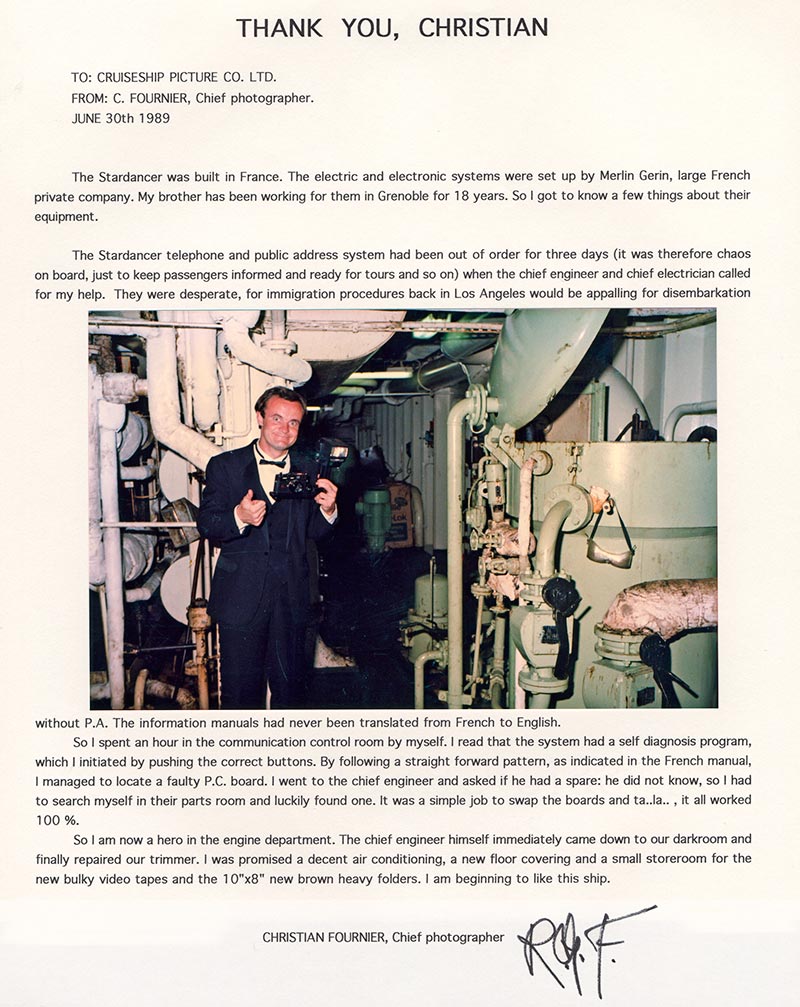 Fuji wide angle 6"x9" on 120 roll film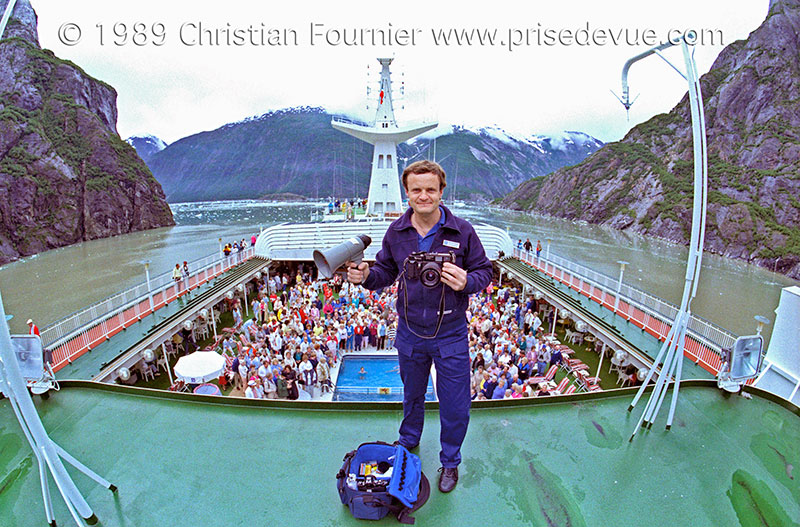 A megaphone for groups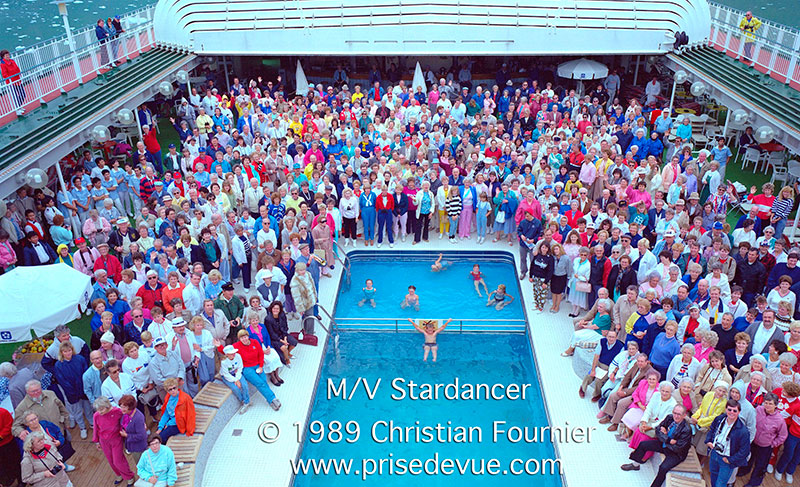 1100 PASSENGER GROUP SHOT JULY 29 1989



From: R. C. Fournier TO: Cruiseship Picture Co. Ltd.

This week the ship was chartered for a Christian cruise. So I studied the possibility of making a giant group shot.
With my Fuji wide angle 6"x9" camera, I climbed the ship funnel and made test shots, using the assistant's face, Nick Llewellin, to find out if 1100 pax could fit around the pool and if all faces would be recognizable .
I concluded that it worked very well, specially if the 6"x9" neg was printed in two halves : two 10"x8" prints, which we can do with our Durst 801, therefore creating a 10''x16'' picture.
I arranged it with Mr. Templeton, the one in charge of the charter and cleared i
t with the captain, cruise director and safety officer. I got the event to appear printed in the daily program for the next day at sea. That day I made P.A. Announcements, had the roof opened and had the captain turned the ship so the sun would be behind me.
I got every one in the right place, using my own megaphone, from the funnel !.
I shot 3 rolls of 120 film: one panatomic X for maximum sharpness, one on our Agfa C41 and one on Kodachrome 25.
When I was almost done shooting, the video guy from the charter (Auvid Prod. Int.) decided to join me up there.
Assistant Jamie Harrisson and myself helped him and his gear, which was hard work since the guy doesn't have my climbing expertise.
We did not know his commercial possibilities, then.
He videoed 'my' scene; pax started singing in an impressive 1100 voice choir and it was all a happy event.
Next day in Ketchican, I bought the right kind of paper and glue and we all worked overnight to put together this perfect 10 x 16" 1100 pax group photo.
Every single face was clearly seen and recognizable !. We made 500 copies. Everyone was impressed. I got compliments from all big wigs.
Unfortunately, we got unfair competition from the video company who offered a superb 60 minute tape containing all the events of the cruise, including my impressive group shot. He sold 700 tapes, I sold 300 photos.
This shows the impact of video: a new and better market.

CHRISTIAN FOURNIER, Chief photographer, M/V Stardancer




A clip from my video: "Confessions of a Cruiseship photographer" in 1989.
VA Video Production presented to you by Mark Rumbarger, Nick Lellewellin, John Cable and Christian Fournier. Technical work : nobody. This is a far cry from a Hollywood production, but rather a small homemade pet project… for my mother.




Alaska cruise, Tracy Arms.

Message : Hello! I was thinking about you and wanted to write and see how you are doing. You and I were friends a very long time ago when you worked on the M/V Stardancer. My father would book the entire ship for Christian cruises for Templeton Tours. You took me ice climbing once and photographed me in a bikini on a glacier. I would love to hear from you! I hope you are doing well.


Shannon Templeton: "WOW! I am somewhere in that crowd standing with my mom. I remember thinking what an ambitious project that was and it turned out better than I could have ever imagined. My dad kept a huge copy of that print on his wall for decades."



Shannon Templeton in Skagway glacier.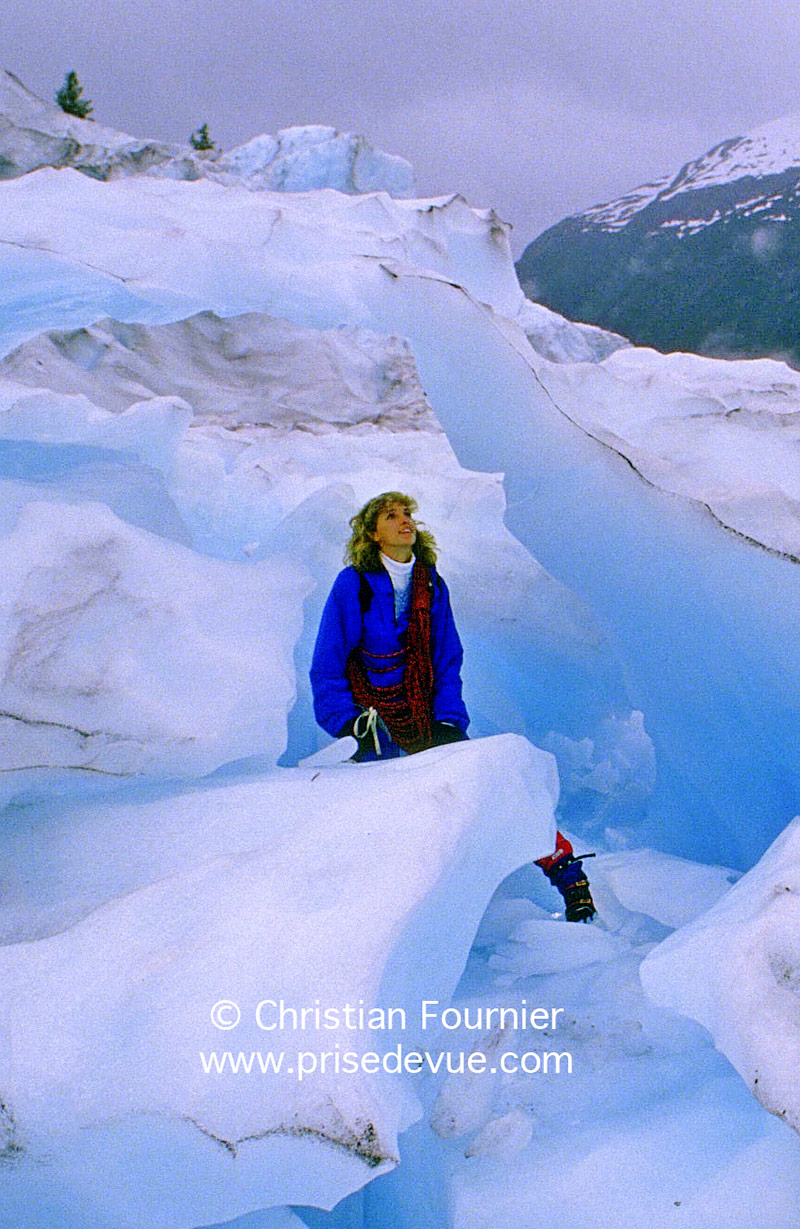 14 juillet 2019 : Éclipse partielle de la Lune, vue de Paris, dans ma cour, à Port Royal.
- 21h30 : la Lune se lève
- 22h00 : la Lune entre dans l'ombre de la Terre et commence à être grignotée
- 23h30 : la Lune est grignotée au maximum. 65 % de son disque est dans l'ombre de la Terre
- 01H00 le matin : la Lune sort de l'ombre de la Terre. L'éclipse est finie.
Tout s'est déroulé comme prévu, comme toujours grâce aux astronomes. Pourtant la plupart des gens préfèrent l'astrologie à l'astronomie. Pourtant il est clair que l'astrologie et les horoscopes sont du baratin. Il y a une rubrique "horoscope" journalière dans tous les journaux du monde, mais jamais une rubrique journalière sur l'astronomie.
-"Ce n'est pas un signe de bonne santé mentale que d'être bien adapté à une société malade" : Jiddu Krishnamurti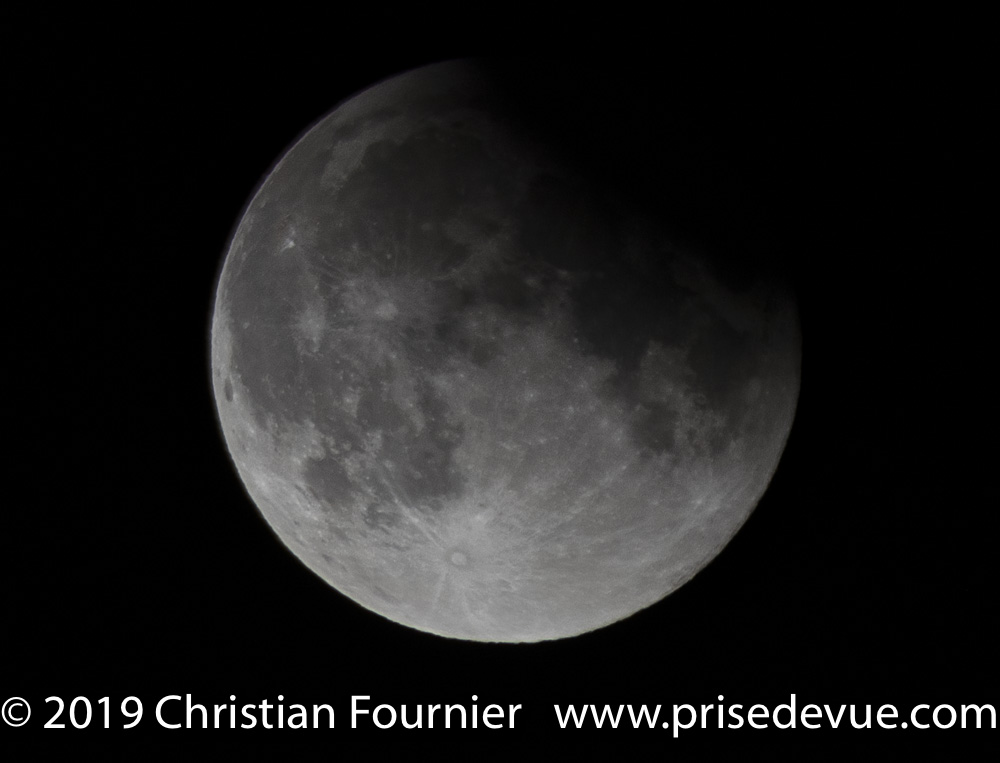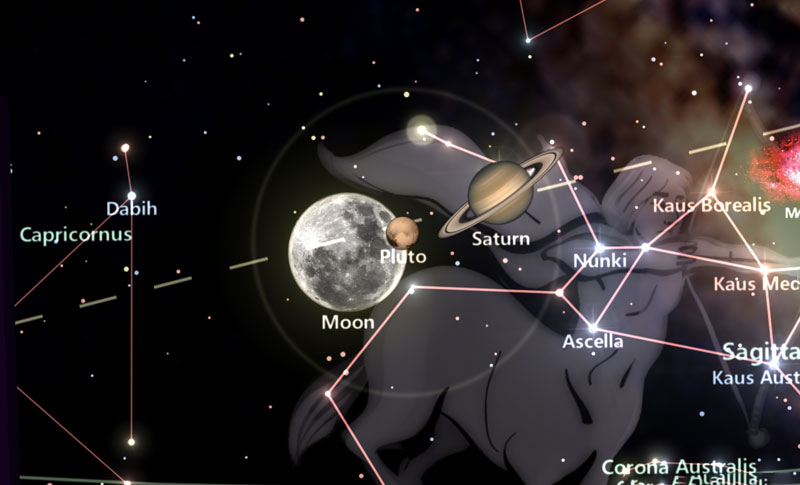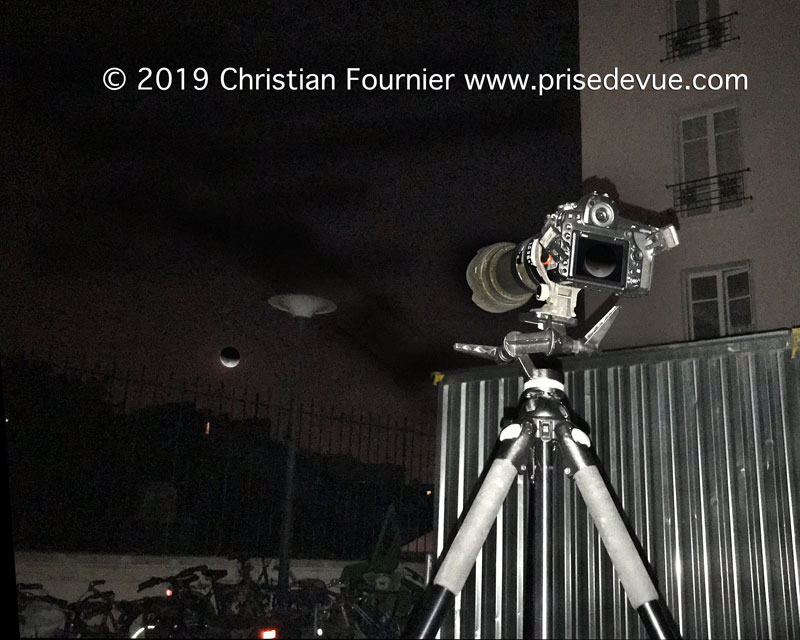 La soucoupe volante est un lampadaire éteint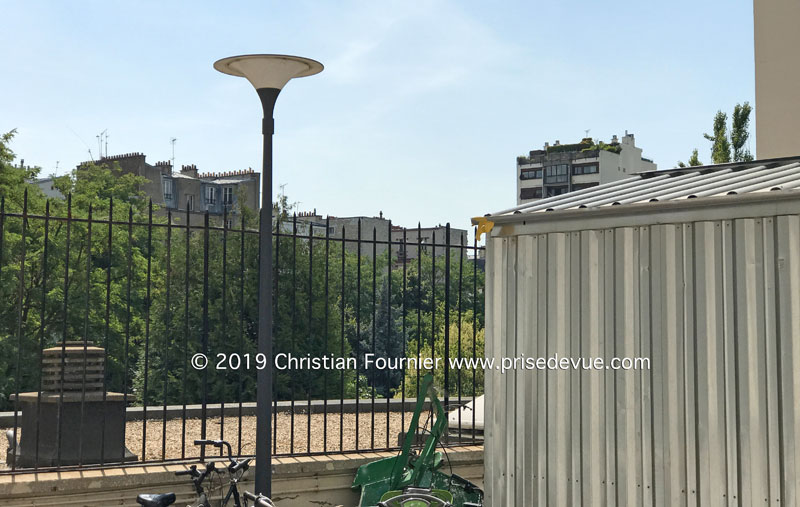 From Shannon Templeton, friend since 1987.
Hello Christian!
Those are gorgeous pictures of the Moon, I love how you included the night version of the "UFO" and then the day version showing it is a lamp. That is wonderful!
I have stopped using Facebook, it was taking up too much of my time. I also think it is a little bit awful and actively screwed up the elections for the US helping put Trump in office. But it does have its good side, such as getting to see your pictures, and I really miss that. So I may start using it again, who knows?  I am so happy you emailed me when you didn't see me on Facebook. Thank you for doing that!
I am involved with a very exciting project now which is taking up my time - NASA's TESS planet hunter space telescope. The observatory I work with got accepted into their "follow up" program which means I'm part of the group of astronomers who get to see the data first. The TESS cameras have huge pixels that can have more than one star in each pixel, so when an exoplanet crosses in front of its star (from our point of view), there is a small dip in the light. The TESS cameras will detect the small dimming which triggers an alert that there may be an exoplanet somewhere in the sky area covered by the huge pixel. We get a list of those coordinates in the sky and then it's our job to follow up using our ground based telescope to see which star is dimming in brightness. I hope I have explained it well, it is so exciting to be involved with this work!  What could be more fun than finding planets outside our solar system?
This gives a good overview of what TESS does:  https://www.nasa.gov/content/about-tess
The Transiting Exoplanet Survey Satellite (TESS) is the next step in the search for planets outside of our solar system, including those that could support life. The mission will find exoplanets that periodically block part of the light from their host stars, events called transits. TESS will survey 200,000 of the brightest stars near the sun to search for transiting exoplanets. TESS launched on April 18, 2018, aboard a SpaceX Falcon 9 rocket.
TESS scientists expect the mission will catalog thousands of planet candidates and vastly increase the current number of known exoplanets. Of these, approximately 300 are expected to be Earth-sized and super-Earth-sized exoplanets, which are worlds no larger than twice the size of Earth. TESS will find the most promising exoplanets orbiting our nearest and brightest stars, giving future researchers a rich set of new targets for more comprehensive follow-up studies.
And here is more about the Follow Up program if you want to see examples of the data. I know you would love the math. https://heasarc.gsfc.nasa.gov/docs/tess/followup.html
I hope you are doing well, it is always wonderful to hear from you.
Shannon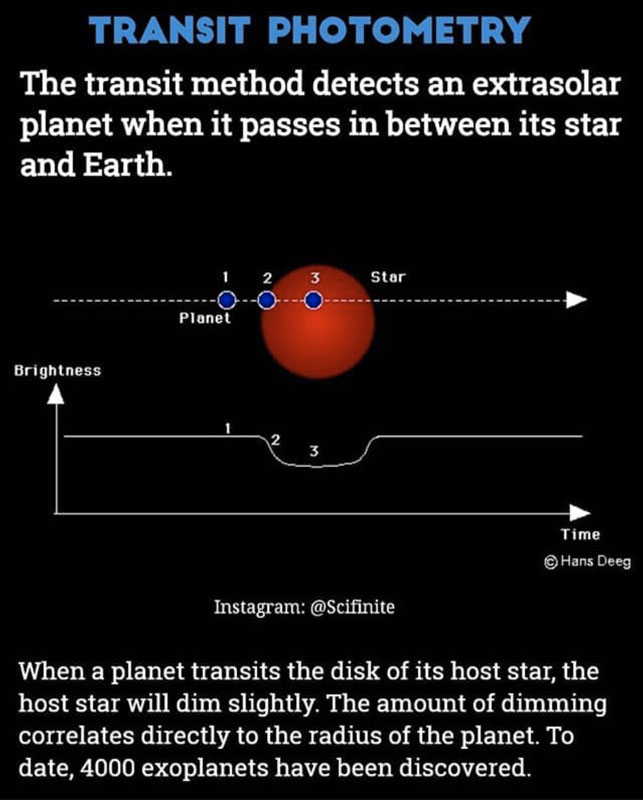 TESS = Transiting Exoplanet Survey Satellite
Le Transiting Exoplanet Survey Satellite (en français « Satellite de recensement des exoplanètes en transit »), plus connu par son acronyme TESS, est un petit télescope spatial consacré à la recherche d'exoplanètes lancé le 18 avril 2018. TESS a pour principal objectif de recenser de manière systématique les exoplanètes proches et de détecter plusieurs dizaines de planètes telluriques gravitant dans la zone habitable d'étoiles à la fois brillantes et proches.
Pour y parvenir, le télescope spatial, qui utilise la méthode de détection des transits, observera pratiquement tout le ciel en consacrant 27 jours à chaque secteur de la voute céleste. TESS observera des étoiles en moyenne 30 à 100 fois plus brillantes que celles étudiées par le télescope spatial Kepler, facilitant ainsi la détection de planètes de petite taille malgré le recours à des détecteurs beaucoup moins performants que ceux de Kepler. Les observations de TESS porteront en particulier sur des étoiles de type spectral G — catégorie à laquelle se rattache le Soleil — et K. Du fait de la durée des observations, les planètes détectées devraient avoir en moyenne une période orbitale d'une dizaine de jours. Les planètes détectées par TESS doivent être ensuite étudiées plus en détail par des instruments plus puissants comme le télescope spatial infrarouge James-Webb.
TESS est un engin spatial de petite taille (350 kilogrammes) qui emporte quatre caméras grand angle. Il circule sur une orbite terrestre haute de 13,7 jours, en résonance de moyen mouvement 2:1 avec la Lune, avec un apogée situé au-delà de l'orbite lunaire, choisie parce qu'elle permet de remplir les objectifs de la mission tout en restant dans l'enveloppe de coût du projet. Celui-ci a été sélectionné par la NASA en avril 2013 dans le cadre du programme Explorer de la NASA, dédié aux missions scientifiques à cout réduit (200 millions de dollars), et développé par le Massachusetts Institute of Technology. La mission primaire doit durer deux ans.

En février 2019, le satellite TESS, le tout nouveau chasseur d'exoplanètes de la Nasa, découvrait l'exoplanète GJ 357b. Cet astre orbite autour d'une étoile naine de type M d'environ 30% la taille et la masse du Soleil et 40% plus froide. Il est situé à 31 années-lumière de la Terre, dans la constellation de l'Hydre. En cherchant à confirmer l'existence de cette planète avec des observations au sol, les astrophysiciens ont déniché deux autres exoplanètes dans le même système.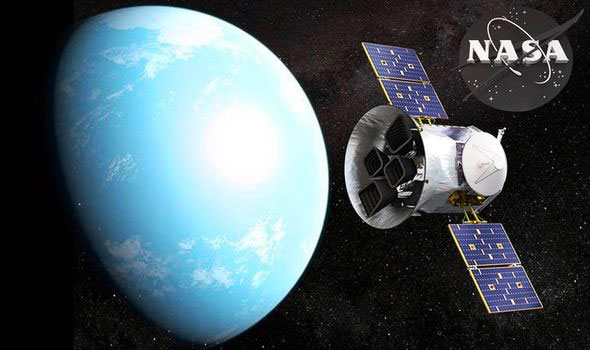 Le satellite TESS et une d'artiste de la planète GJ 357b.

The Transiting Exoplanet Survey Satellite (TESS) is a two-year survey that will discover exoplanets in orbit around bright stars.

NASA's exoplanet-hunting telescope, TESS has spotted an exoplanet 31 light years away called GJ 357 d. Now this discovery is rather remarkable because this star is supposed to have liquid water on it's surface. The study shows that GJ 357 d is in the habitable zone, where temperatures are just right.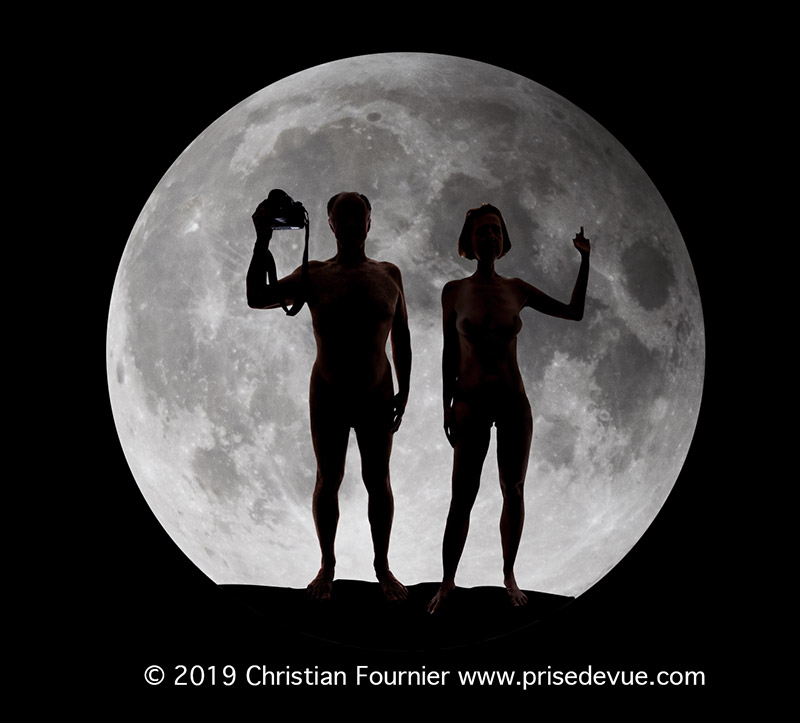 Le 27 septembre 2015 : La lune de sang
Prises de vue et montage intervallomètre : Christian Fournier. Lieu : les locaux de L'AFA (Association Française d'Astronomie) au Parc Montsouris à Paris.
Photos and timelapse by Christian Fournier in Parc Montsouris near Paris.

D

During the night of the 27th to the 28th of September 2015 there was an exceptional lunar eclipse. The moon, particularly close to the Earth would take on a red hue and would disappear for minutes. Total and partial lunar eclipses can seem less spectacular because they are less frequent than total solar eclipses. Nevertheless that which occurred the night of the 28th of September was definitely worth a few minutes of gazing into the sky. Actually, it was a "Supermoon". The moon, whose elliptical orbit brought it very close to the Earth (363,104 km to be precise), appeared to be larger in the sky. It was the alignment with the Sun which gave it this particular scarlet hue. So it was named "Blood Moon". It is the conjunction of these two astronomical phenomena which makes the event so exceptional. This kind of eclipse happens very rarely and the next one to be visible from France will take place in 2033.



I used two Nikon boddies D600. One with a Nikkor 80-200mm F2.8 for the time-lapse and the other with a Sigma 500mm for the close-ups. Both on tripods of course, equipped with Manfrotto micrometric heads. Antivibration, mirror up, noise reduction, remote triggering to avoid shake, drastic exposure bracketing, raw format, lens correction with Lightroom, moon always in the centre of the frame for better lens definition. The sky was very clear and had been for the past two days without a single cloud (rather rare for Paris), the air was crisp, the visibility very sharp (very rare in Paris). During the day, we had a special and unique carless day which reduces pollution (I am not sure it contributed to this exceptional visibility though). We were in a wooded small recreational small park in Paris, with not to much light pollution (for Paris). Not many stars were visible tough.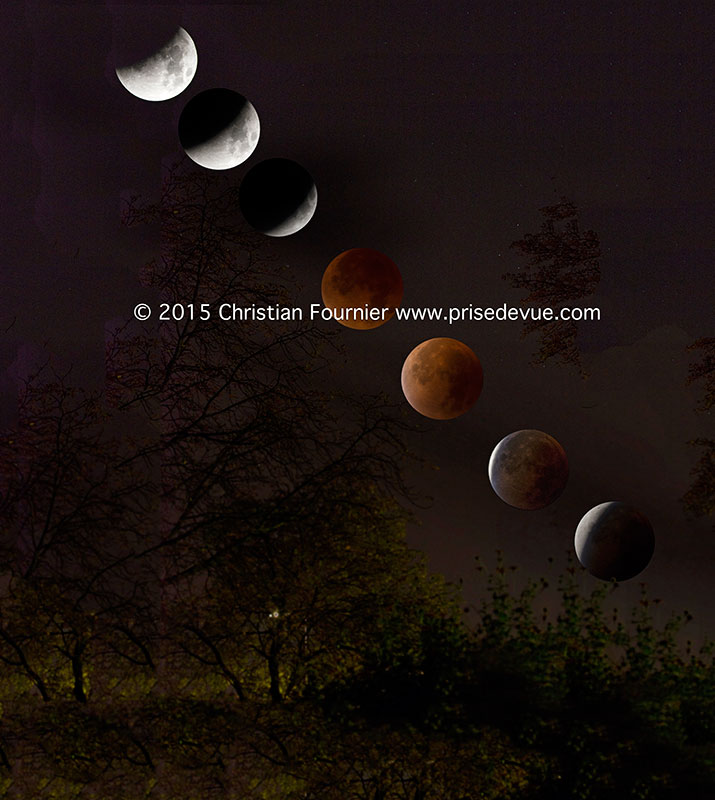 My photo is now on display at NASA, thanks to my longtime friend (1987) Shannon Templeton, who works on the TESS program, Transiting Exoplanet Survey Satellite, which searches for exoplanets. In February 2019, the satellite TESS, the new exoplanet hunter of NASA, discovered the exoplanet GJ 357b.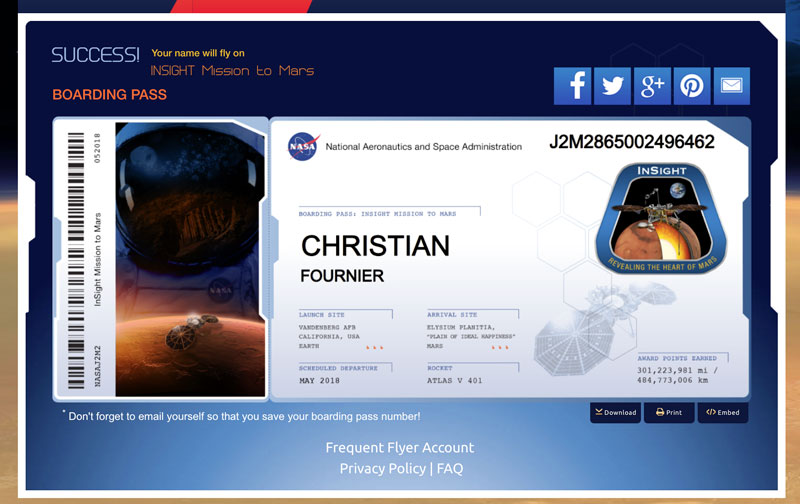 My name is engraved on an electronic chip filed on Mars by Insight!
Thanks to Shannon Templeton for that.

InSight (acronyme de l'anglais Interior Exploration using Seismic Investigations, Geodesy and Heat Transport ; en français : Exploration interne par les sondages sismiques, la géodésie et les flux thermiques) est une mission d'exploration de la planète Mars développée par l'agence spatiale américaine, la NASA qui a décollé le 5 mai 2018 et a atterri à la surface de la planète le 26 novembre 2018.
C'est la première mission entièrement consacrée à l'étude de la structure interne de cette planète. Pour y parvenir, elle emporte deux instruments scientifiques : le sismomètre SEIS et HP3, instrument de mesure des flux de chaleur en provenance du cœur de la planète. L'objectif scientifique principal de la mission est de disposer d'une meilleure connaissance de la structure interne de la planète, dont les caractéristiques sont mal connues, dans le but de reconstituer l'histoire de Mars. Les données collectées permettront également d'améliorer les modèles de formation et d'évolution des planètes rocheuses du système solaire — Mercure, Vénus, la Terre, Mars — ainsi que de la Lune.
Lorsque la mission InSight est sélectionnée en 2012, dans le cadre du programme Discovery de la NASA, elle constitue l'aboutissement de plusieurs projets proposés sans succès au cours des deux décennies qui ont précédé. Le programme Discovery regroupe des projets spatiaux américains caractérisés par un coût modéré et un cycle de développement court. Pour rentrer dans cette contrainte budgétaire, la mission repose sur l'envoi d'une station au sol unique contrairement aux projets qui l'avaient précédé. La sonde spatiale réutilise l'architecture de la mission Phoenix, qui s'était posée en 2007 dans la région polaire de Mars. C'est un engin de relativement petite taille (moins de 700 kilogrammes, au lancement). La charge utile est fournie par des partenaires européens. L'instrument principal, le sismomètre SEIS est conçu par l'Institut de physique du globe de Paris et fourni sous maitrise d'œuvre de l'agence spatiale française (CNES), tandis que HP3 est développé par l'Allemagne.
Un problème de mise au point sur l'instrument SEIS repousse le lancement de la mission, prévu initialement en 2016, à la fenêtre de lancement suivante vers Mars en 2018. Insight se pose à la surface de Mars le 26 novembre 2018 dans une région de plaine baptisée Elysium Planitia, située près de l'équateur de cette planète. La phase d'étude scientifique doit durer deux années terrestres.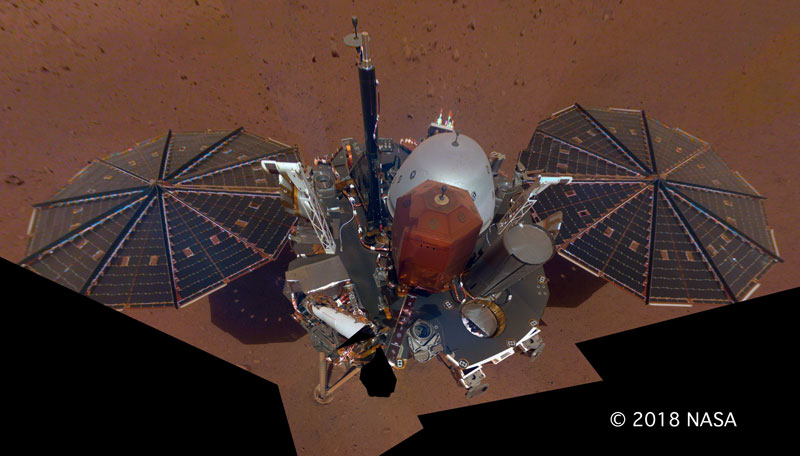 This is NASA InSight's first full selfie on Mars. It displays the lander's solar panels and deck. On top of the deck are its science instruments, weather sensor booms and UHF antenna. The selfie was taken on Dec. 6, 2018 (Sol 10).
The selfie is made up of 11 images which were taken by its Instrument Deployment Camera, located on the elbow of its robotic arm. Those images are then stitched together into a mosaic.
JPL manages InSight for NASA's Science Mission Directorate. InSight is part of NASA's Discovery Program, managed by the agency's Marshall Space Flight Center in Huntsville, Alabama. Lockheed Martin Space in Denver built the InSight spacecraft, including its cruise stage and lander, and supports spacecraft operations for the mission.
A number of European partners, including France's Centre National d'Études Spatiales (CNES) and the German Aerospace Center (DLR), are supporting the InSight mission. CNES and the Institut de Physique du Globe de Paris (IPGP) provided the Seismic Experiment for Interior Structure (SEIS) instrument, with significant contributions from the Max Planck Institute for Solar System Research (MPS) in Germany, the Swiss Institute of Technology (ETH) in Switzerland, Imperial College and Oxford University in the United Kingdom, and JPL. DLR provided the Heat Flow and Physical Properties Package (HP3) instrument, with significant contributions from the Space Research Center (CBK) of the Polish Academy of Sciences and Astronika in Poland. Spain's Centro de Astrobiología (CAB) supplied the wind sensors.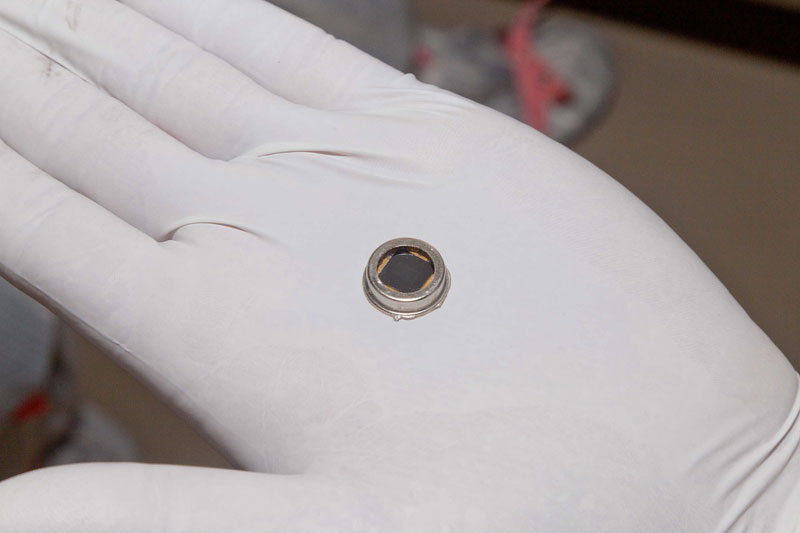 Une des puces d'InSight contenant les noms des personnes ayant participé à la campagne, dont Frédérique Gorsky et moi-même.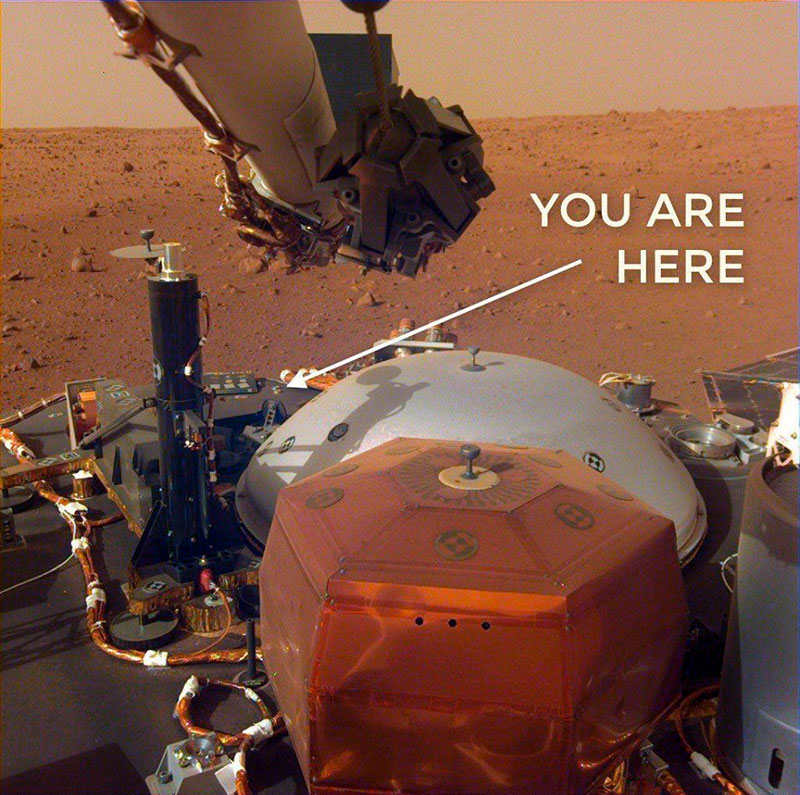 Voici où nos noms sont écrits, dans la petite capsule. Ils devraient y resté des millions d'années !



The smile is mine

Another clip from my video: "Confessions of a Cruiseship photographer" in 1989.
VA Video Production presented to you by Mark Rumbarger, Nick Lellewellin, John Cable and Christian Fournier. Technical work : nobody. This is a far cry from a Hollywood production, but rather a small homemade pet project… for my mother.



Ezra Todd Shelton: 'EXCITING PIECE OF CINEMAGRAPHIC ARTISTRY!!!.. (HOW DOES HE DO IT????)."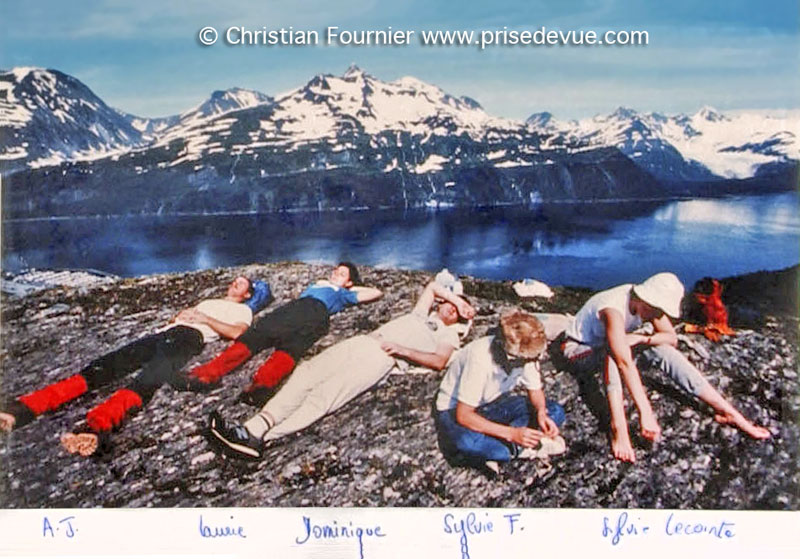 Whittier, Alaska, a 15 mile hike.




The Norman flash in all its power.

The Norman P400B is one of the most popular 400 w/s flash power supplies on today's photography market.
Its all-aluminum housing is rugged and compact. It can be worn either over-the-shoulder with the included shoulder strap,
or around the waist. Delivering a guide number of 163 @ full power, the 400B can also be dialled down to 50 w/s.
NORMAN FLASHGUNS


TO: CRUISESHIP PICTURE CO. LTD. FROM: CHRISTIAN FOURNIER, Chief photographer. DATE: June 30th, 1989

I am experimenting with using my own Norman flashgun, mounted on a stand using an umbrella, for embarkation and gangway shots.

Advantages :
-More power per flash. -More flashes per battery.
-A much softer light due to the umbrella.
-A very consistent exposure since the distance flash to subject is fix, only the distance camera to subject varies.
-Looks very imposing and professional, so pax pay more attention, pay $6 more easily for they know that they cannot do it with their disc cameras.

Disadvantages :
-Expensive.
-More stuff to carry, store, set up, recharge and maintain.
-Only works where there is enough room so passengers won't stampede the whole thing.

CHRISTIAN FOURNIER,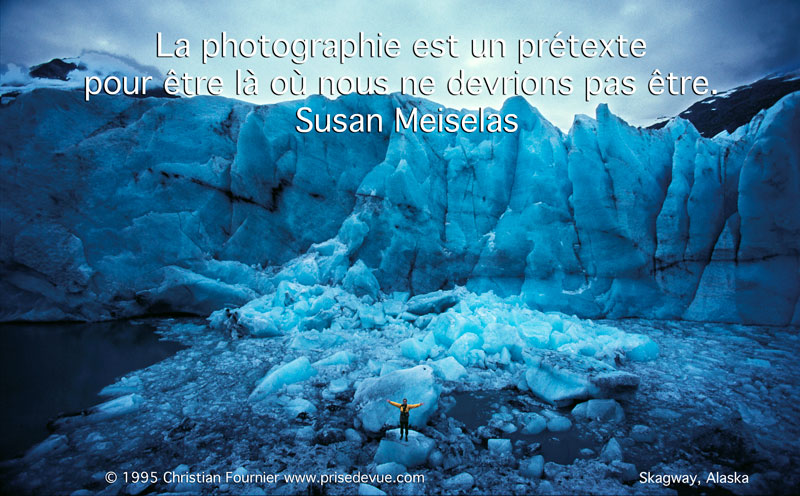 Andrew Rogers: « You were always a fantastic photographer and it was a great pleasure to have known and worked with you » Andrew Rogers"



A note from Captain Kjell Smitterberg : To Christian Fournier, the most pleasant photographer in the cruise business !!!!
Please find enclosed "a bottle" as a best of or a small token of appreciation for a splendid diving. Thanks .... happy vacation. Kjell Smitterberg, your old man.




Halloween, of course. No we do not dress like this every day!
Me, Julia Pinney, photographer Brown, and friend.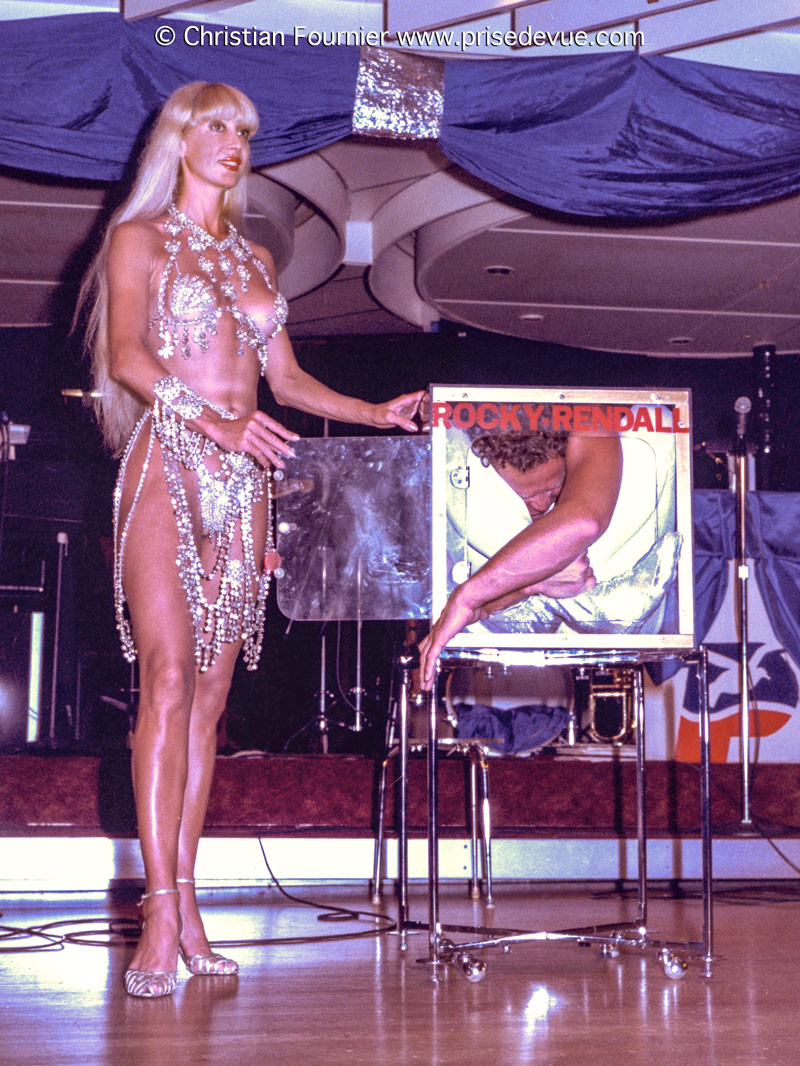 Some shows were very impressive, for example that given by Rocky Rendall, a contortionist, who fit himself entirely inside this transparent 40 cm cube.


ROCKY RENDALL, LE CONTORSIONNISTE GENEVOIS DEVENU STAR INTERNATIONALE

Pendant 40 ans, ce Genevois a fait le tour du monde avec un incroyable numéro de contorsion.
Né le 4 novembre 1936 à Genève.
De père et mère Genevois, (père décédé en 1942)


1956 pendant environ deux ans : Catcheur professionnel en poids moyen. (Poids très acrobatique à l'époque)
1958/59 Numéro de main à main : « The two Gladiators » le numéro ne fit pas long feu dû à une pneumonie de mon partenaire qui était « l' ober man »
Et ce fut à ce point nommé que, je décidais de me faire une attraction en SOLO. Contrairement à certains autres artistes, je n'avais personne auquel je pouvais calquer ma carrière, il me fallut, donc tout échafauder, élaborer, calculer et créer par moi-même mon numéro ainsi que mon matériel, dans une discipline, peu connue et pas très commerciale, je parvins néanmoins à mettre au point une attraction extrêmement originale, presque sans concurrence ; mais aussi hélas, excessivement contraignante d'entraînement physique, obligation alimentaire etc. etc.
Dans un type d'attraction complètement différent, essentiellement visuel ma carrière fut donc orientée d'une façon hyper internationale ; aboutissant dans des endroits pas toujours aussi huppés que ceux de mes deux confrères, mais par contre me donnant un palmarès à l'aspect très étoffé, étendu, inhabituel, voire cocasse et étrange, dirions-nous, un voyageur au long court, l'aventurier du spectacle.
N'ayant donc pas le même style et la même discipline, je fût dans l'obligation de me déplacer constamment et de voyager beaucoup plus loin, et aussi plus souvent, en quelque sorte le globe sous le bras ! Une carrière de quelque 42 ans……, ce qui est éloquent et très rare pour un contorsionniste acrobate.
…
Il me plairait aussi de signaler en passant, que dans mes pérégrinations, j'ai présenté mon numéro devant certaines personnes assez connues quelque part !….. Comme : le Général de Gaules et ses ministres, la Reine du Danemark, le Roi de Hollande, Tchankei Tcheik fils, Ib Seoud d'Arabie. Ytsack Rabin, Moshe Dayan et j'en oublie certainement !
Au cabaret club de Liverpool, dans les années 1959/ 1960 par exemple, j'étais au même programme que les Beatles, ils chantaient alors à deux et ne s'appelaient pas encore les Beatles, des vedettes comme Gilbert Becaud, Will Willy Harris, Max Bygraves, Tom Jones FrankHighfield, Aka Bealk, Antonio Amaya, Aznavour, Mireille Mathieu etc. etc., furent des « collègues de plateau.

Les principales télévisions mondiales m'ont donné la bienvenue sur leur plateau.
Ne dit-on pas que les voyages forment la jeunesse ! mes constants déplacements dans la plupart des pays de la planète, m'ont permis non seulement de voir…du pays..,mais aussi de rencontrer d'innombrables gens et ainsi pouvoir apprendre à parler dix langues.
…j'aimerais conclure aussi par une précision importante : avec grand plaisir, je suis content de constater que je suis toujours le recordman mondial de super contorsion à savoir : l, 73 cm pour 80 kilos dans un cube de 40 sur 40 cm sur 40 cm, avec pour entrée, une porte de seulement 34 centimètres de côté.




I shot an advertising brochure for "The Escapist", also an act on-board the SS Rhapsody.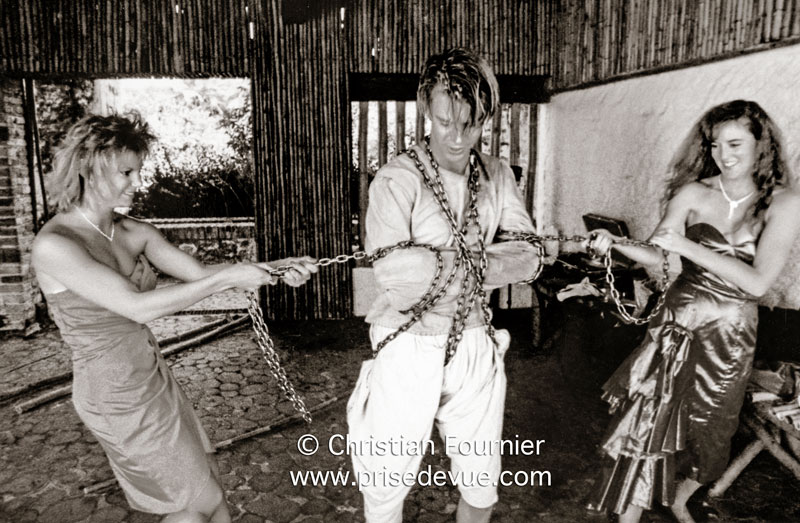 Everyone asks if the bear is male or female. So once and for all, here it is .... definitely male.


An encounter with a bear, circa 1986.
I was climbing the Skagway glacier in Alaska with Doug Plews. Not a soul within 50 km in any direction. Nought but ice in any direction. Sublime.
One of the studs on Doug's shoe broke. I decided to continue on along until the next cliff, which looked fabulous, before meeting back up with Doug on the way down.
I made it to the summit, rather out of breath, and took out my Nikon with its new extremely wide-angled 14mm lens. I look through the viewfinder and see a bear running straight at me.
I still remember the thought which raced through my mind at that moment: if I can see that bear so well in my 14mm, he must be practically on top of me.
I threw my camera aside and frantically rummaged through my backpack for my emergency flares, which can also be used to scare off bears. I was just about to fire one when suddenly from out of nowhere a helicopter zooms around the cliff and flies over me, frightening the bear.
That helicopter was showing the glacier to a couple of American tourists. Luckily for me, the pilot had seen my distress and had decided to come to my rescue. He then landed the helicopter a little further on, on a flat section. I went up to meet him and to thank him, and was able to get the contact information for the helicopter company as well as that of the elderly gentleman who had taken a video of the harrowing scene.
I then returned to help Doug back down the glacier. Later I made a huge colour blow-up of the photo of the bear looking at me. I offered the print to the helicopter company, who hung it up in the client reception room. I also eventually received the VHS from the old gentleman who admitted that he had been so enthralled by the sight of the two bears that he actually hadn't seen me when he was filming.
Well, for my part, I had only seen one bear from my cliff.
The image quality is somewhat poor and the audio is pretty much entirely that of the helicopter's engine, but you can still see the two bears, quite a bit more agile than yours truly, and the enthralling beauty and immensity of the glacier. My thanks to both the pilot and the gentleman with the camera.



The video in question :




Ben Decker: "One of the great pleasures of my cruise ship days was coming on-board and getting a peak at your book of new 8X10 prints. I also can't count the number of times I've recanted the tale of you in Skagway and the bears, the helicopter and the second helicopter that taped the whole thing. I'm assuming you still have the tape :-) BTW, A few years after the fact, I was back in Skagway and dropped in at the helicopter company's office and got such a kick out of seeing the picture of the bear with the helicopter in the background still up on the wall. The guys working there at the time had no idea of the history, so I had the pleasure of recanting the tale for them.
Keep in touch. BTW, I would love it if you could post the video of the bears to your facebook page (hint, hint!)
Ben Decker"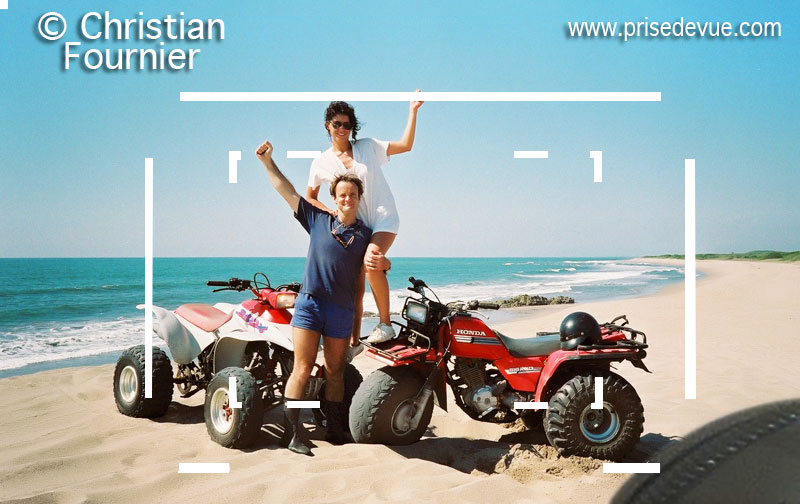 Here in Cabo San Lucas, Mexico, with Dr Nicole Bordes.


I am a house support in the Bahamas.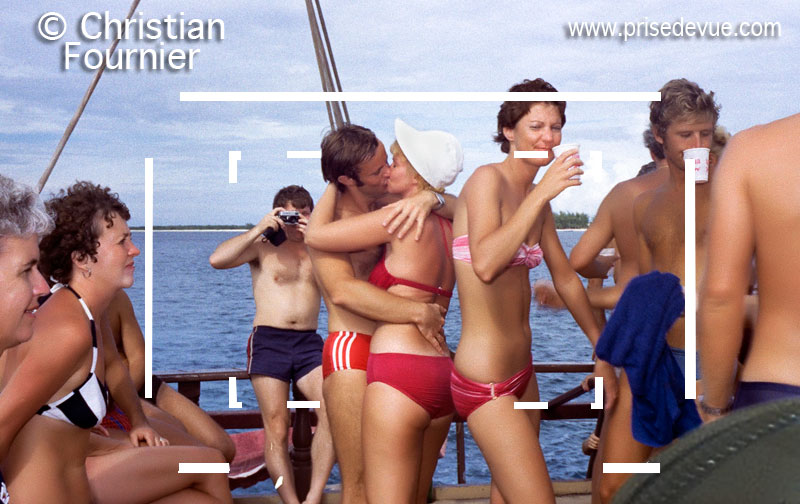 Here in Grand Cayman, on a "pirate boose cruise"
I am the guy being kissed by Jackie Lanke.




With Alana Maudsley.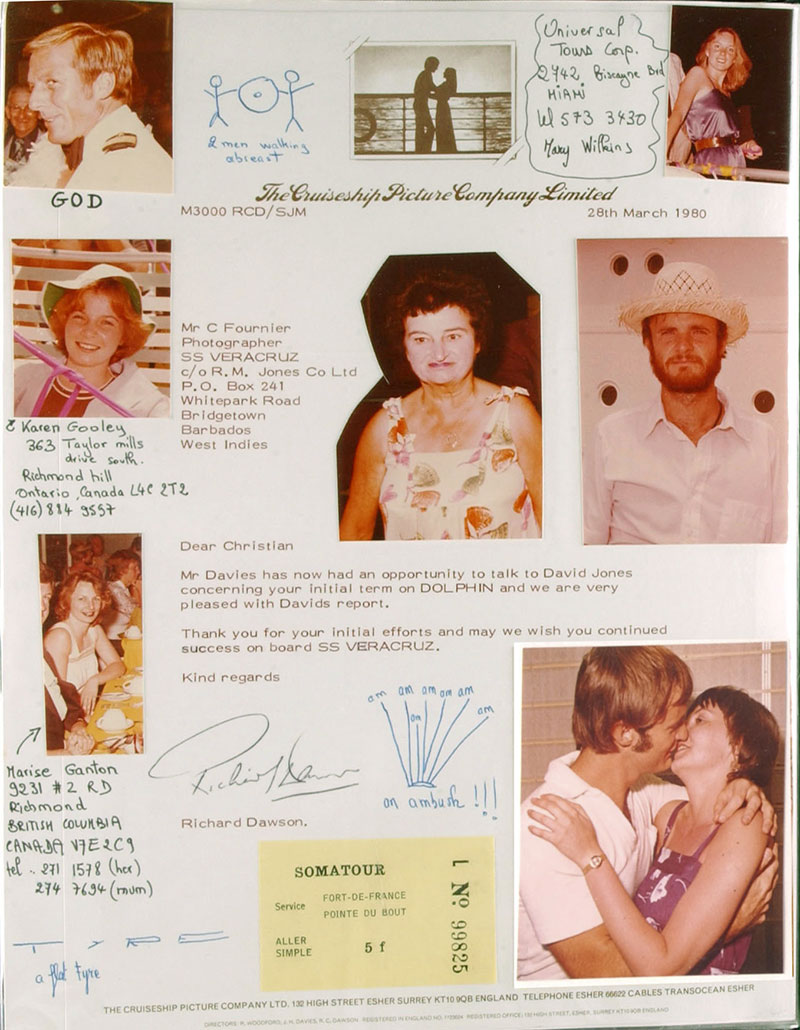 The Cruiseship Picture Company Limited 28th March 1980

to : Mr C Fournier, photographer
SS Veracruz C/o M. Jones Co ltd, P.O. Box 241, Whitepark Road,
Bridgetown, Barbados, West Indies.

Dear Christian,
Mr Davies has now had an opportunity to talk to David Jones concerning your initial term on Dolphin and we are very pleased with David's report.
Thank you for efforts and we wish you continued success on board SS Veracruz.
Kind regards
Richard Dawson.




I have invented the "Formal Portraits" See page 35






In Puerto, Plata, in the Dominican Republic. Return from an expedition on horseback across the beaches and the countryside. I feel bad for those who have only ever gone horseback riding in a school. Here with Allan Jones, Janet Wakefield, …

Visit page 27 to see a page entirely dedicated to horses.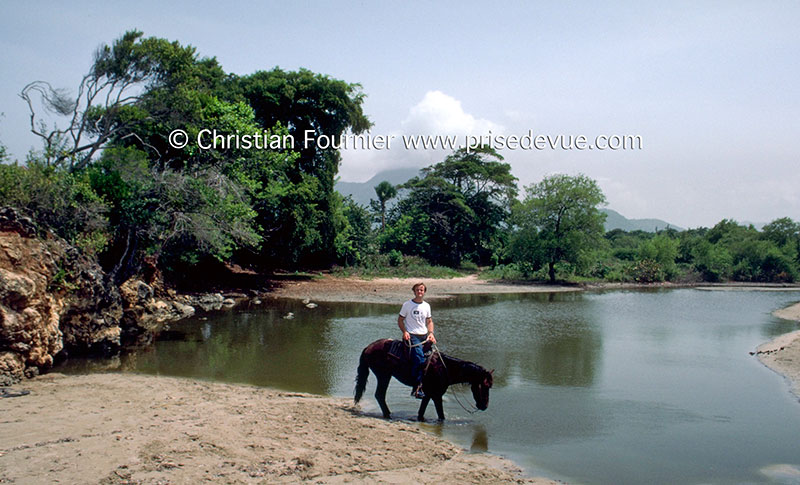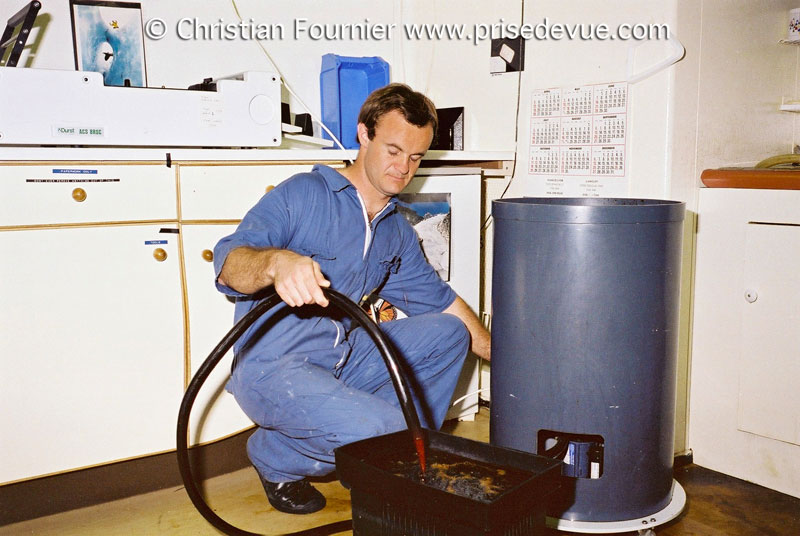 We had to mix thousands of gallons of chemicals.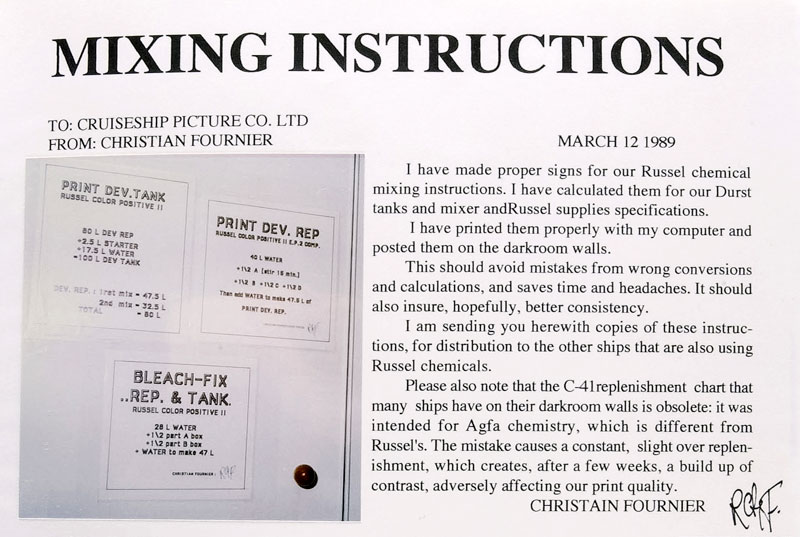 We had to do all the repairs ourselves, at sea.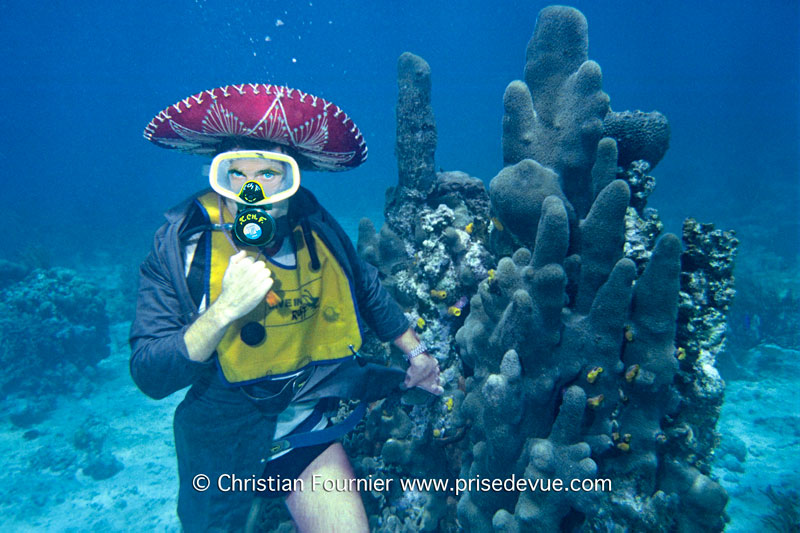 Recognize the darkroom coat? Mexico 1983.




The paper trimmer. Here on S/S Norway, former S/S France.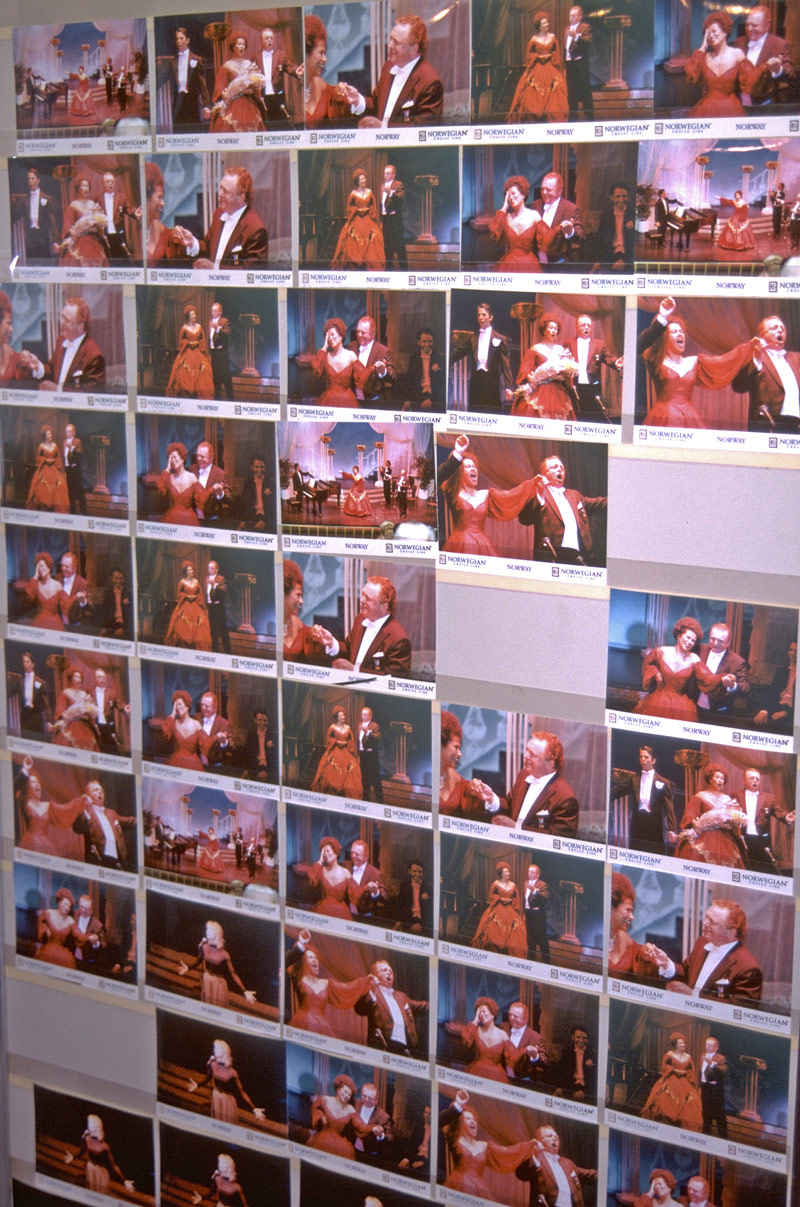 Cruise with Jacques Martin and Isabelle Aubray.

My office "space" in my cabin, before the computer revolution.


When a shipment arrived from UK with photo printing paper rolls, chemicals and films.


RCCL Dilemma


TO: CRUISESHIP PICTURE CO. LTD. FROM: CHRISTIAN FOURNIER, Chief photographer.
DATE: Sept 23rd, 1989
Sept 16th, second day of the coastal cruise, at 8:00 AM, I had just finished organizing my gangway shots (flowers, ring, cameras, beautiful shots thanks to the port authorities of Victoria B. C.) and was ready to shoot a very nice gangway, when I was ordered by the chief purser to do some shooting immediately for RCCL.
My two assistants had just gone ashore : I gave them the morning off since they printed the embarkation pictures while I was doing paperwork the night before (I had to search in 6 months old papers to show that the #3 uniform payments had been paid properly, as stated clearly on my papers, and to find a mistake in bleach stock that my vacation replacement had made).
I tried to discuss but the chief purser, the captain and the housekeeper are in panic: the RCCL representative must have these rolls of film within the hour so he can send them to the head office right away in Victoria.
This gentleman (?), Les Royle, boarded the ship the day before and could have easily told me his wills then, so I could have changed my plans and not lost $500 worth of gangway photos!
So I followed Les Royle three times around the whole ship in an erratic fashion, photographing what he pointed out (including the photo gallery with panels closed and open with photos on), numbering the frames for references.
I gave him the three rolls at 9:00 AM and made him sign a receipt. The following day, he gave me the three rolls back for process !!! He had not bothered sending them that day, so there was no rush after all !!!
I printed everything; excellent work, as always from me (Paul Smith has negs for evidence). I made him sign another receipt with a $400 price on, which is cheap for 200 photos, one hour shooting, three hours processing and printing and one gangway lost!
He said: "just give it to the chief purser to put in our account." I did.
The chief purser said: "there is no RCCL account" !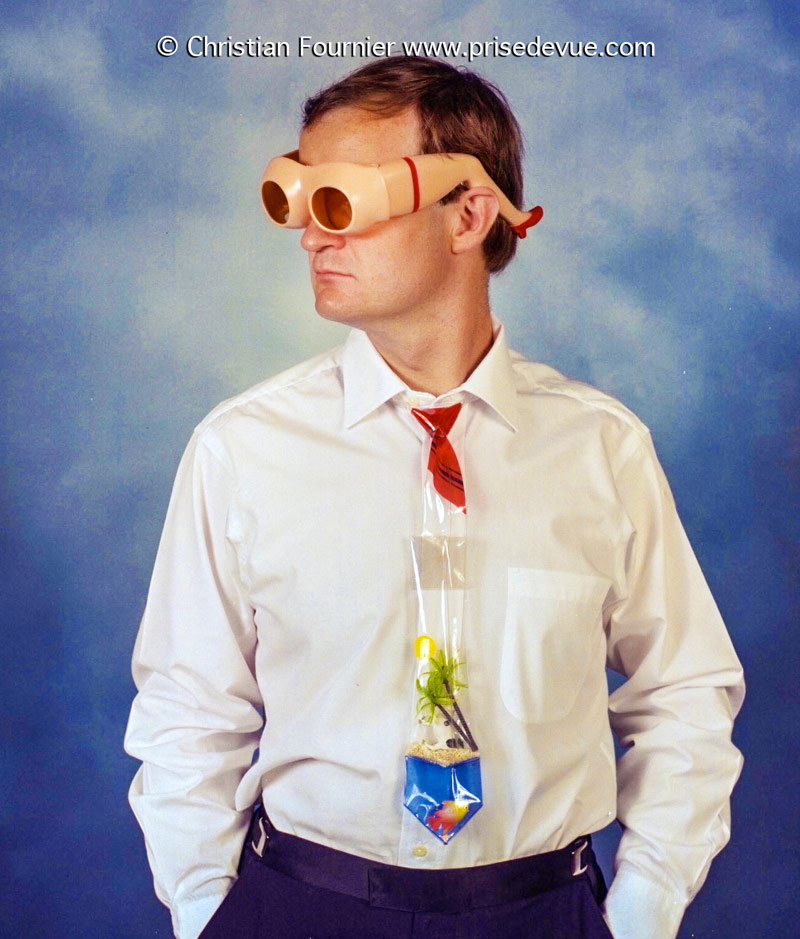 Alan Breen 2013: "Hi Chris .You look well and I hope you are. We were on the Southward circa 1979 -1981 and I remember your so helpful advice about analogue SLRs. Still got the very same lovely OM10 I bought for 200 bucks in Grand Cayman and was about to mothball it, when I learned from a young American girl that you can just scan and save the negs. So thanks to you and her, it has a new lease of life. Best wishes."


Waterproof.



$ 3234.00 in one day. MEXICAN CHARTER


From: Christian Fournier To: Mr. R.C.. Dawson, Cruiseship pictures.

This week I negotiated a deal with the Mexican charter leader to offer a classy 10x8" embarkation photo of every couple, in Mexican silver frames. We shot 170 120 negs from 9am to 5pm in Puerto Vallarta, outside the ship, using my own Norman flashgun, the Hasselblad and the Stardancer life ring that I made last month.
The portraits were excellent and every one was pleased, for I planned it all ahead so that the pictures would fit elegantly in the frames.
The beauty of it all is that I charged the portrait price for each 10x8" print: $15.00 each. The Mexican organizer found it steep, but since he had the frames already purchased and had advertised his giving away a superb framed photo to each couple, he couldn't argue much!
I rang the cash as #21: $15 x 170 = $2550.00. No folders were used (see paperwork#98)
And what is even better: I photographed the ceremony, one photo for each couple receiving their framed picture and I sold 114 5x7" prints at $6.00 each, with folder ! I rang the cash as #2: $6.00 x 114 = $684 (see paperwork # 98).
So I made $3234.00 that day.

CHRISTIAN FOURNIER, CHIEF PHOTOGRAPHER M/V STARDANCER




Cruiseship Picture Co Forwarding Limited, 101 high street, Esher, Surrey KT10 9QE, England. Tel (0372) 465700 Fax (0372) 462350 7 June 1993

To whom it may concern
Dear Sirs Re. Christian Fournier
The above named was engaged as an independent contractor to the Cruiseship Picture Company Inc, for whom we act as Personnel Agents, from March 1980 to March 1992.
Christian always performed his duties in a
most professional and enthusiastic manner, and was reliable and trustworthy in carrying out a first class job of work. We would have no hesitation in offering him a further contract with us, and recommend him for similar positions in his field. Yours faithfully, Trisha Cottam, Personnel Manager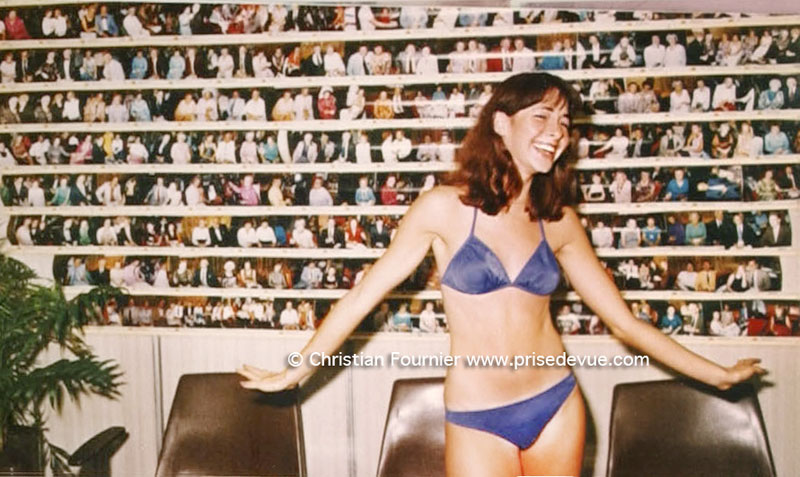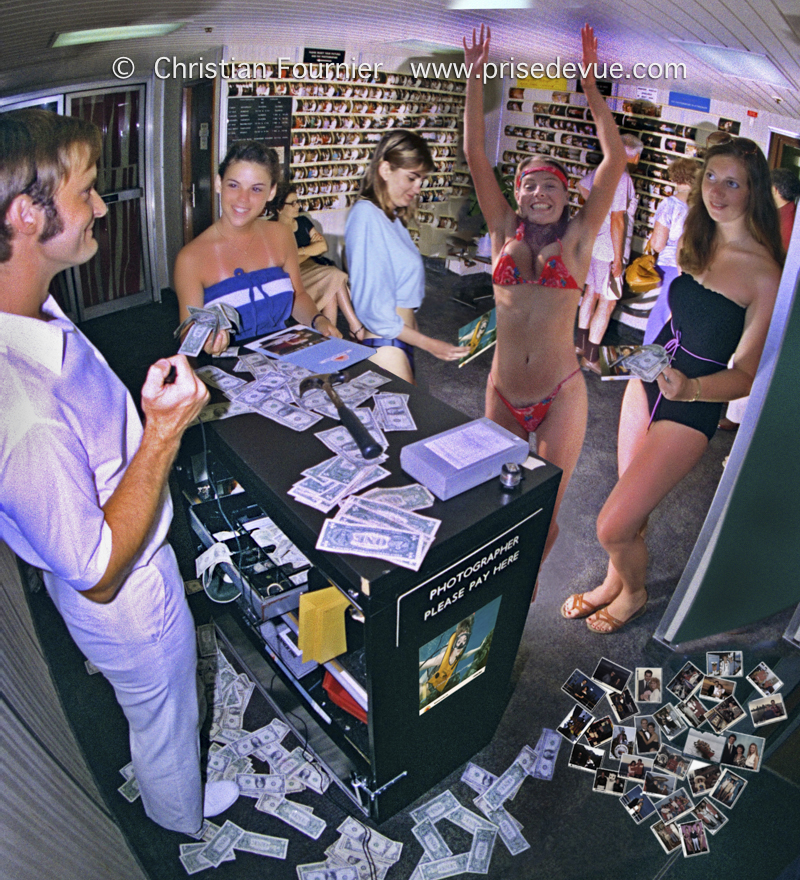 This was only to test my remote camera triggering and flash slave!
Sea, Sex and Sun and Money !.


Chris Thompson : 14-10-2011 : bloody brilliant
Hi Christian, I've decided that in the next life I'm going to be a ships photographer! Just spent about 2 hours on your website going through the cruise photos, bloody brilliant. All the very best Chris Thompson
Yep, the Fournier photo talent on show again....brilliant!!!
" Good stuff mate, brings back memories!"

Spot the mistake.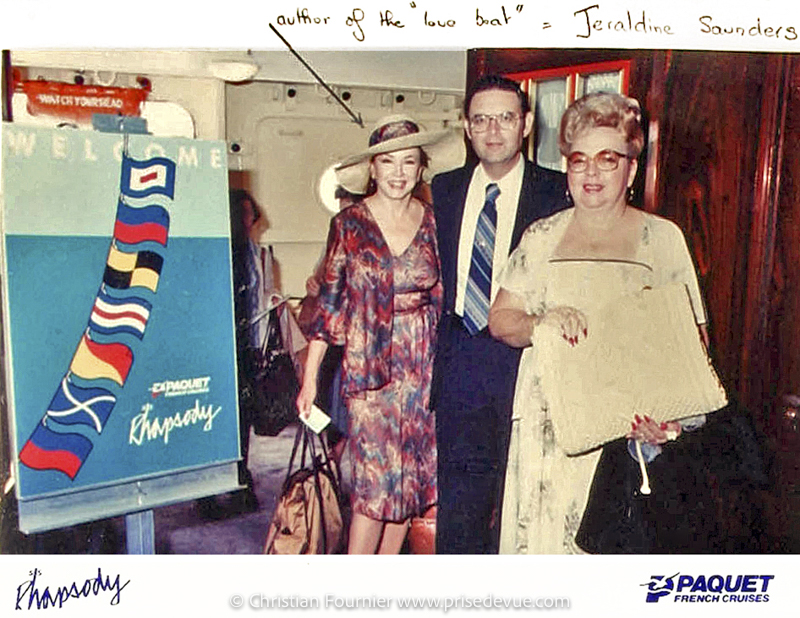 I meet Jeraldine Saunders, author of the TV serie "The Love Boat"




With Alana Maudsley.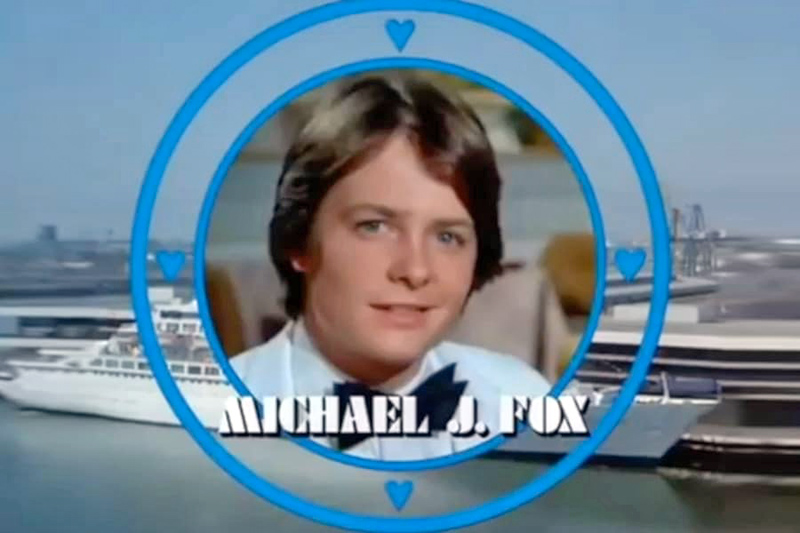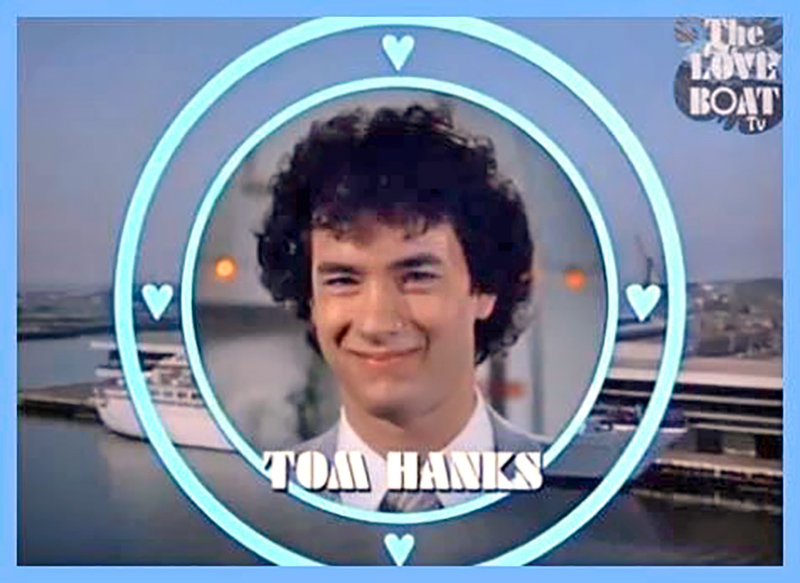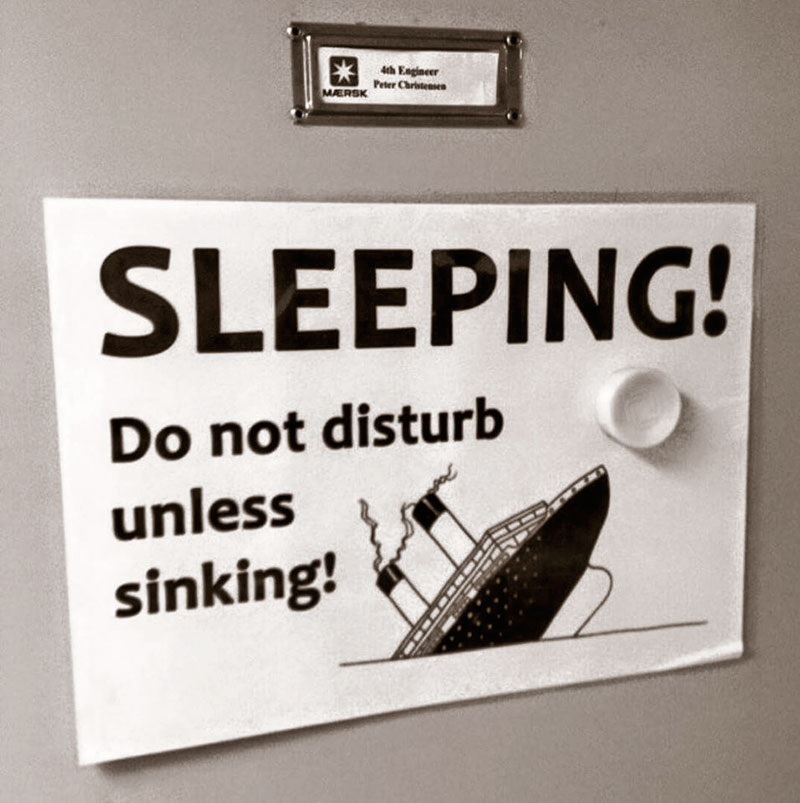 Aneshia vers 1982 à bord du S/S Rhapsody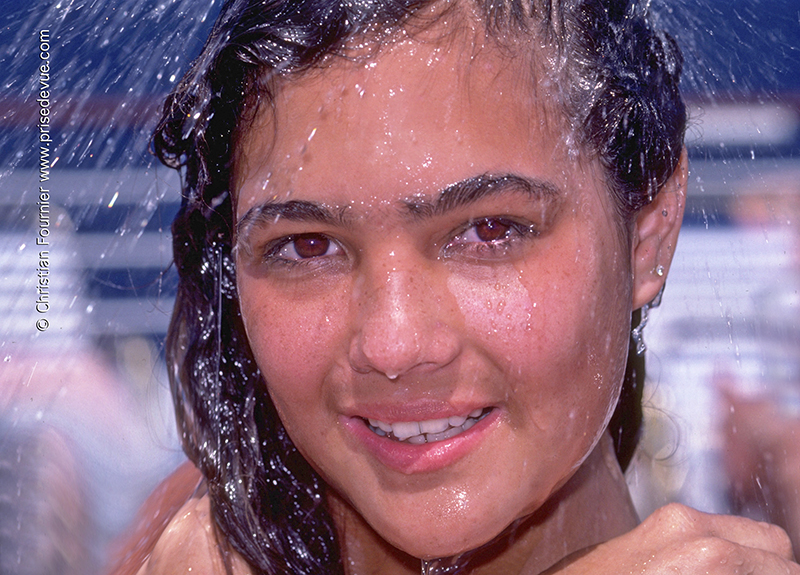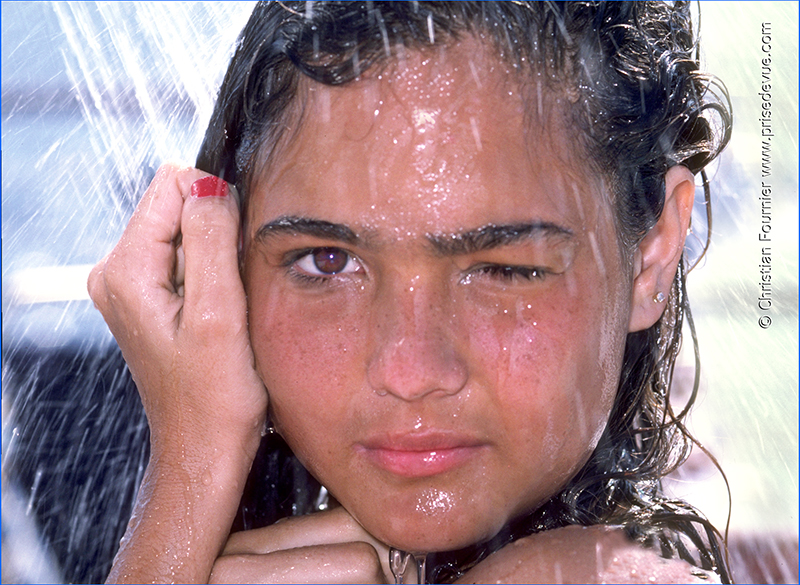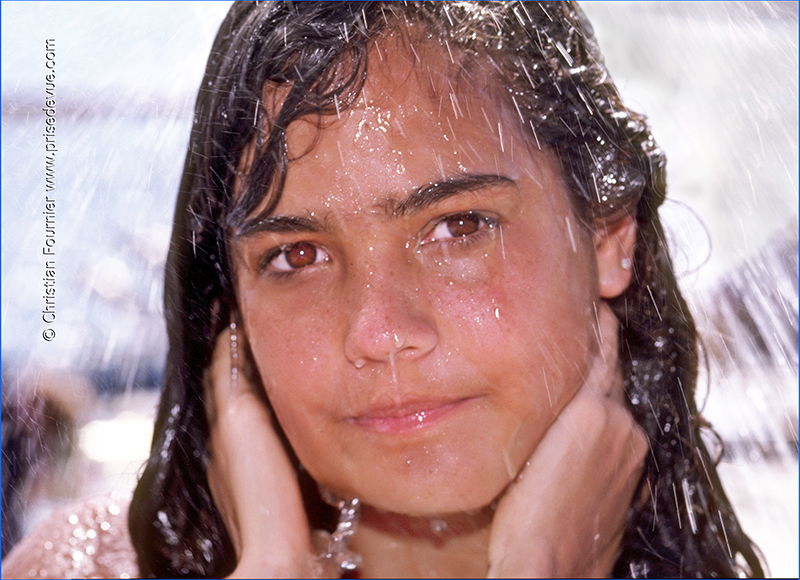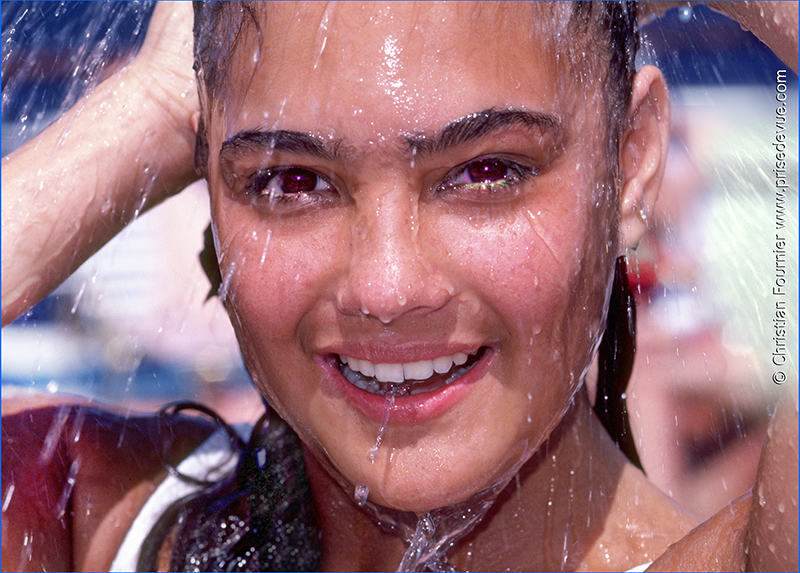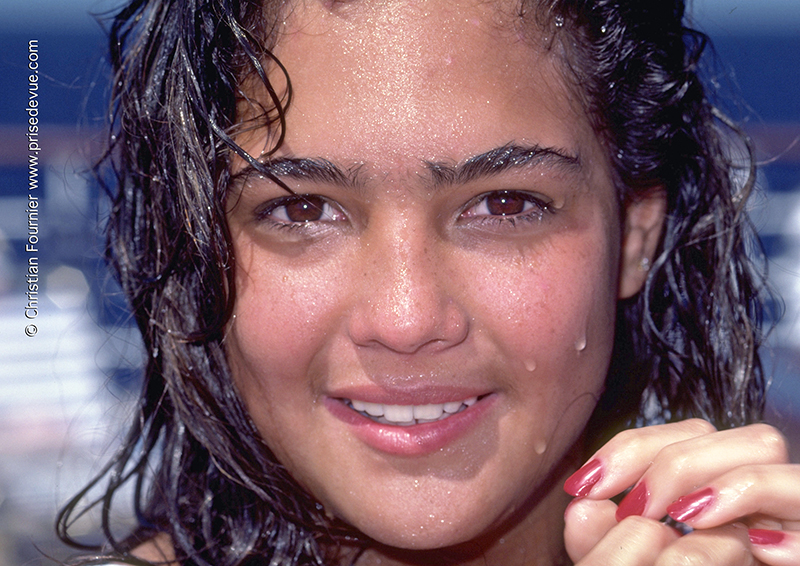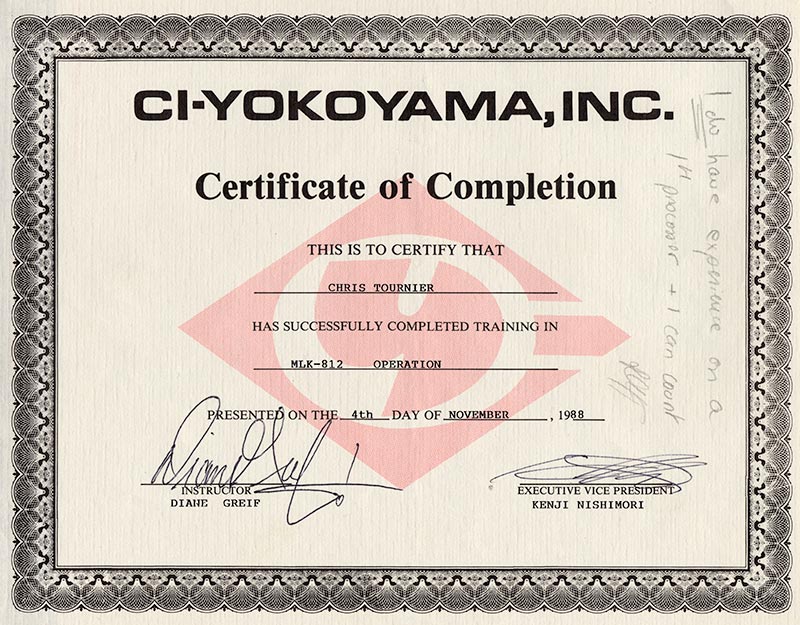 Lors de la mise sur le marché des révolutionnaires processeurs photos en une heure, j'ai été le premier de la compagnie à suivre un cours à Los Angeles. La brochure disait : "un film = 1 heure" Oui, mais avec les deux pistes en continue, cela donnait 30 films = 15 heures, inutilisable car nous avions chaque soir au moins 30 films à tirer pour le lendemain matin. Notre ancien système consistait à charger jusqu'à 36 films sur 36 bobines, dans le noir, les insérer dans un panier adéquat et tremper le tout dans les différents bains. Heureusement, les machines en une heure se sont énormément améliorées au fil du temps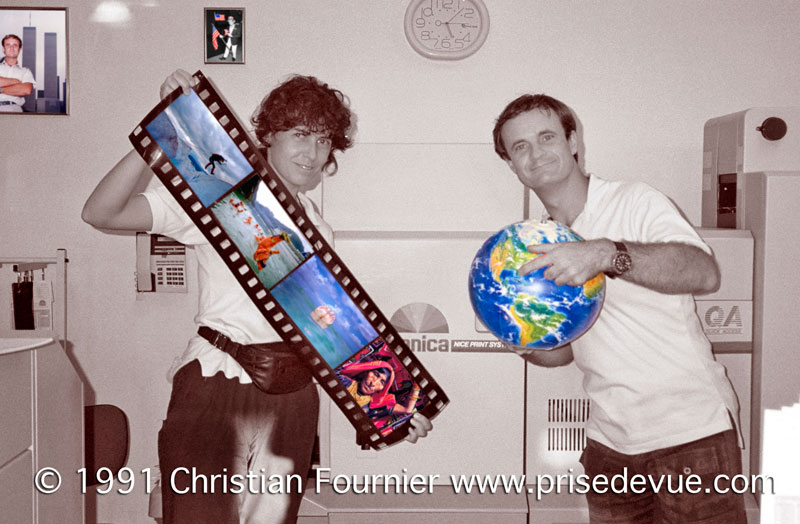 Here with theKonica printer in the background. Nicole in foreground. No, the negatives were not that big.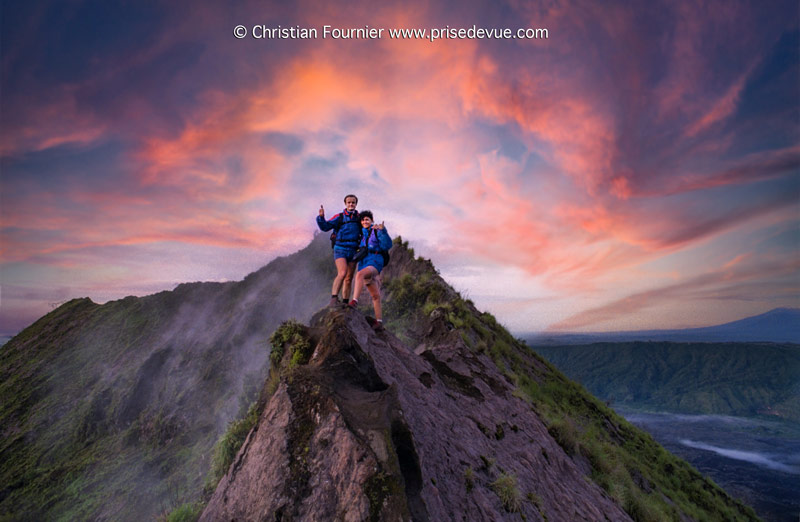 With Nicole on top of Batur crater in Bali.




Non, il n'y a pas que des vieux sur les bateaux de croisières. Ici Chantal Lamer.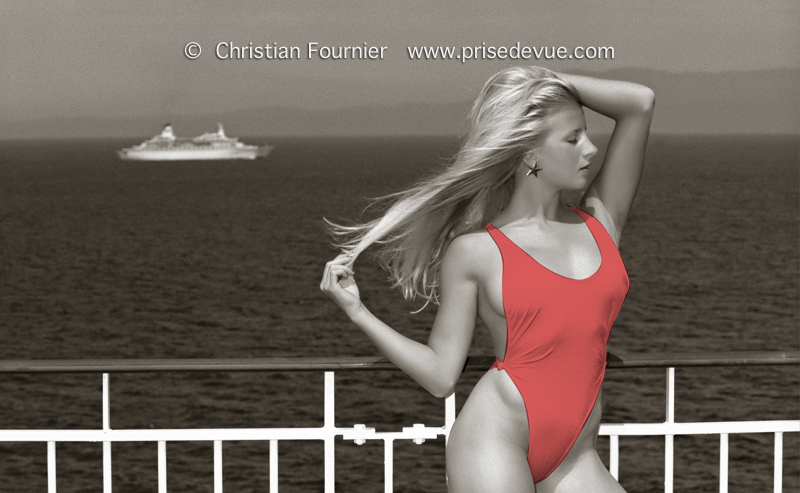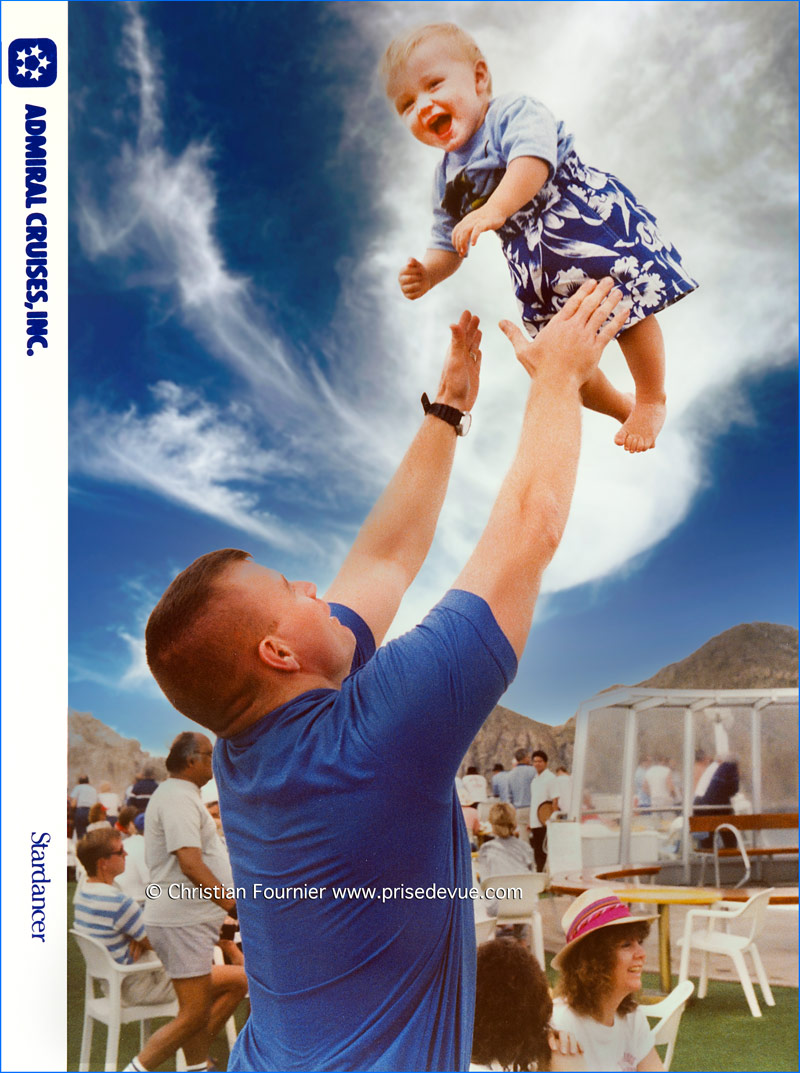 and a very young passenger.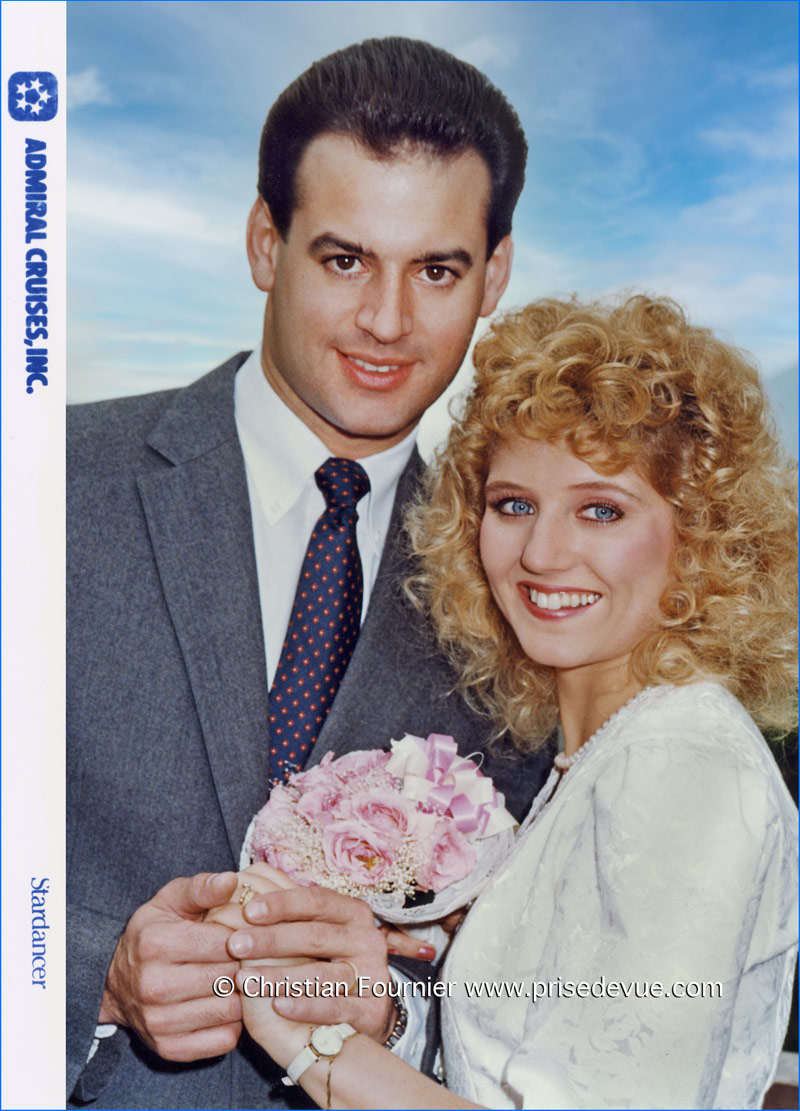 and a young newlywed couple.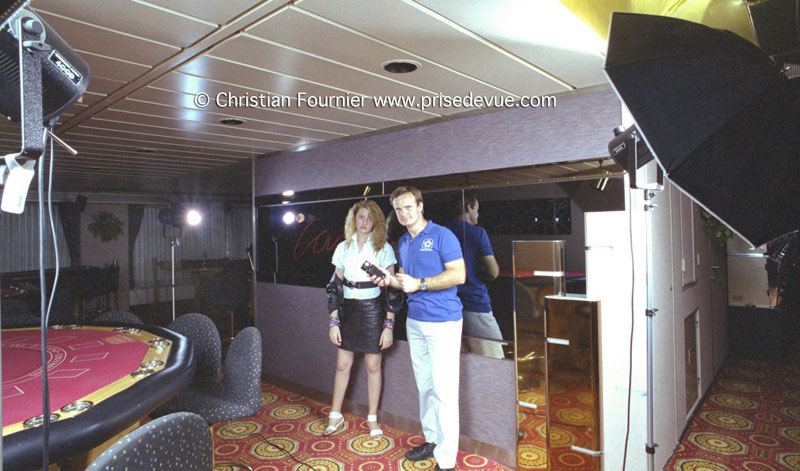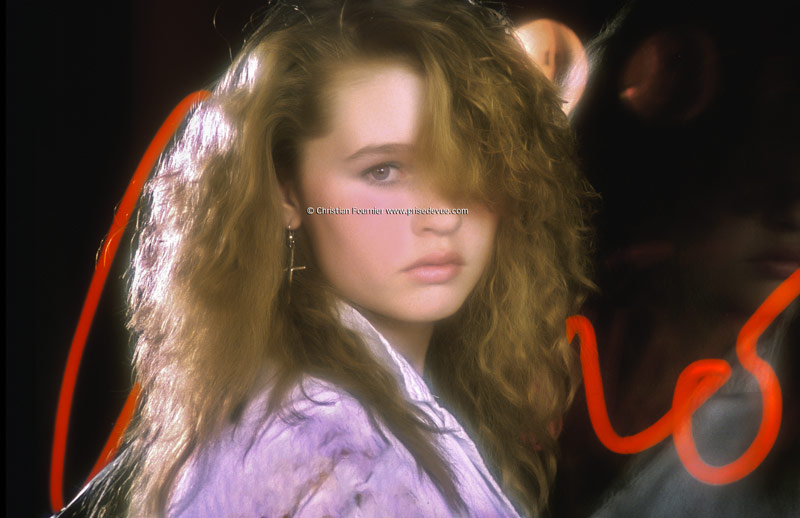 1985 :

Music cruise onboard S/S Rhapsody (with Isaac Stern, James Galway, Keith Jarett, Maurice André, Vladimir Ashenazy, etc...)



I wasn't allowed to take photos—which I find completely understandable – during the concerts. So here is a glimpse of the backstage.

You can find a more complete report on page 32

Mark Antony Chang: I loved the annual Music Festival at Sea.


The number of passengers were limited to under 450 with cabins going from around $4,000 to upwards of $25,000 for 11 days during the 80's & '90s. There were 4 gala dinners, each themed by color - blue, gold orange and white (gowns, ties and cummerbunds being appropriate to the theme). The food budgets were upped 20% to enhance the already excellent cuisine. No additional money was needed during these entire all-inclusive cruises. From the moment of sailing, the ship was awash in champagne. They were the most posh cruises in an annual theme program which also included a Theatre Festival (only in french), a Berlitz total immersion French-language course and many other cultural events featuring artists such as Kathleen Battle, Issac Stern, Andre Previn, James Galway, Jean-Pierre Rampal, Zubin Mehta, Basmet,Vladamer Ashkanazy, The Chamber Orchestra of the Berlin Philharmonic, The Royal Ballet of England featuring the current Étoile and Prima Ballerina Assoluta, and other world-class musicians when I got the opportunity to chat with many of the artists and performers during the cruise and at various Ports-of-Call where they performed ashore like in front of the pyramids of Tulum.

Isaac Stern
Né le 21 juillet 1920 à Kremenets (RSS d'Ukraine) et mort le 22 septembre 2001 à New York, est un violoniste américain, l'un des plus illustres représentants de la première génération de musiciens entièrement formés aux États-Unis.

James Galway
Sir James Galway OBE, est un flûtiste né à Belfast en Irlande du Nord le 8 décembre 1939. Il a été première flûte à l'Orchestre philharmonique de Berlin entre 1969 et 1975 sous la direction de Herbert von Karajan. Il se consacre aujourd'hui à une carrière de soliste et vit en Suisse avec sa femme Jeannie Galway, elle-même flûtiste.





Given my capacities as a diver (see page 24), the CruiseShip Photography Company asked me to take portraits of passengers snorkeling. Those photographed would buy their underwater portraits, but it wasn't very profitable as the "snorkelers" only represented a tiny part of the passengers.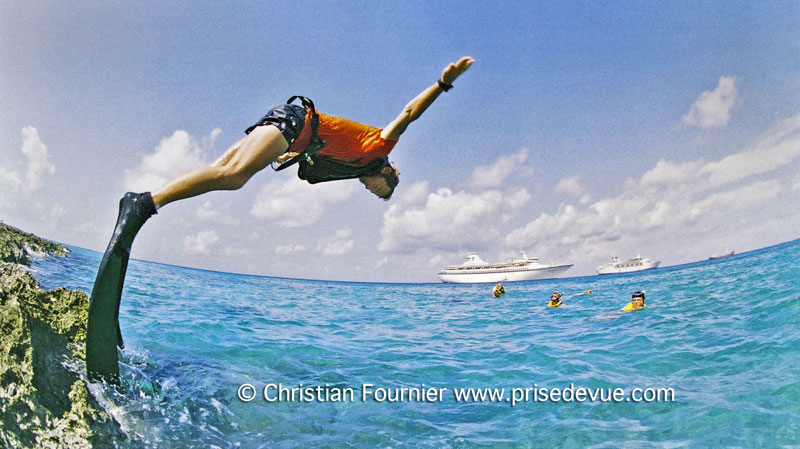 Here I take a nice photo to illustrate the "Diving" programme for the divers from the company NCL.



Wreck of "la Dieppoise", near Nouméa, New Caledonia. Try to imagine a descent through an opaque and infinite blue, then, little by little, an enormous dark form appears in the distance and slowly takes the shape of a boat. Your heart flutters in awe. I owe this dive to Raoul Monthuel, thank you.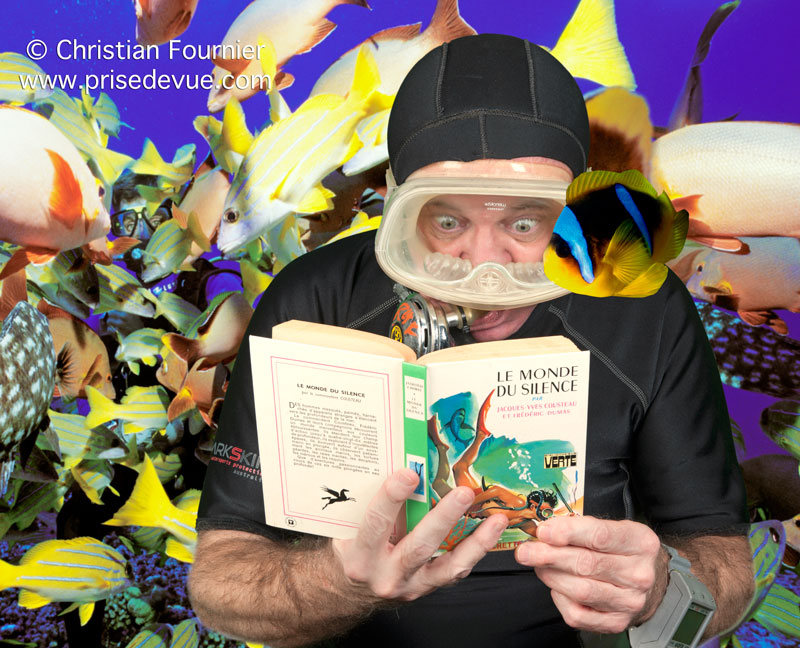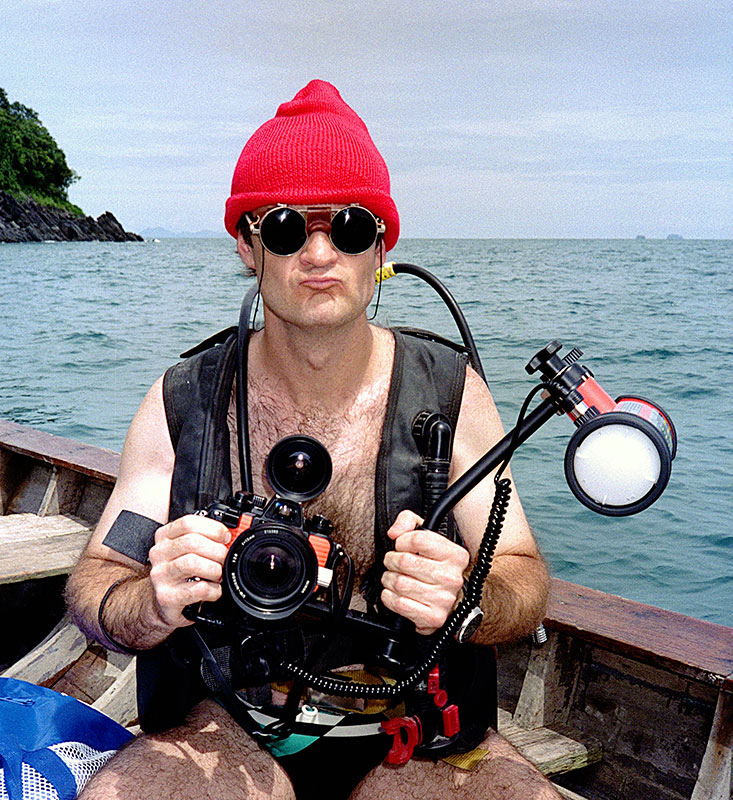 My "homage" to Jacques Cousteau.

Janet Waterfield and Allan Jones in Cozumel, Mexico for Skin Diver magazine.

Homage to Allan Jones, affectionately known as AJ. Died ten years ago from Hepatitis. RIP AJ. I met AJ on the cruiseship S/S Rhapsody around 1983. Great guy. Pianist. Always happy and ready for adventures. I did many great dives with Allan in Cozumel, Mexico, in the Bahamas, Grand Cayman, the US and British Virgin Islands and also in Alaska with dry suits.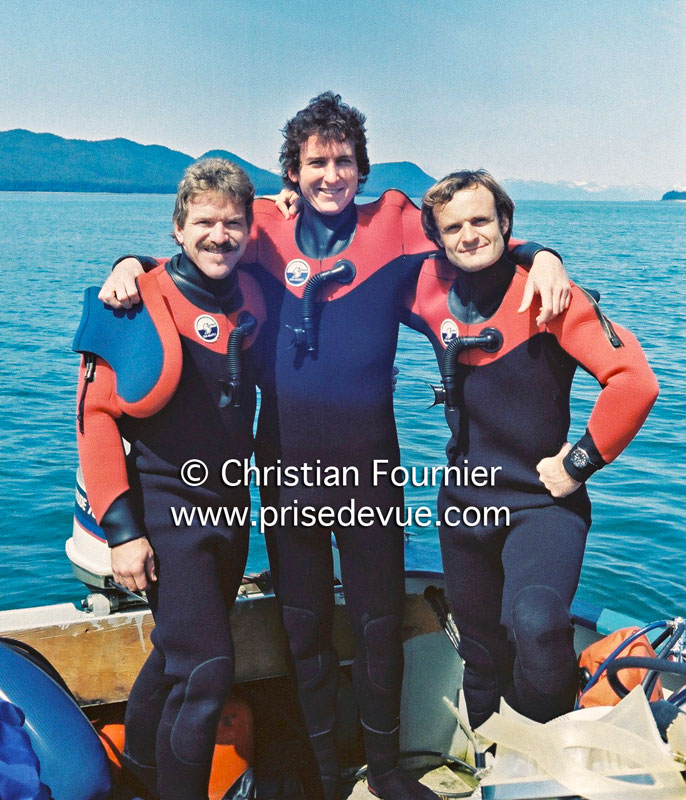 Alan Jones, Rob Waterfield, and me in Alaska.

A tribute to Allan Jones, known to his friends as AJ. About ten years ago he passed away from hepatitis. Rest in peace, Allan. I met Allan on the liner S/S Rhapsody in 1983 or thereabouts. A fine friend, always upbeat and ready for adventure. We dived together many a time, in Cozumel, Mexico, in the Bahamas, off Grand Cayman, in the United States and British Virgin Islands, and even in drysuits in Alaska.


Your humble photographer and narrator Christian Fournier.

I prefer to have a passport full of stamps and a computer full of photos than a house full of tourist knick-knacks.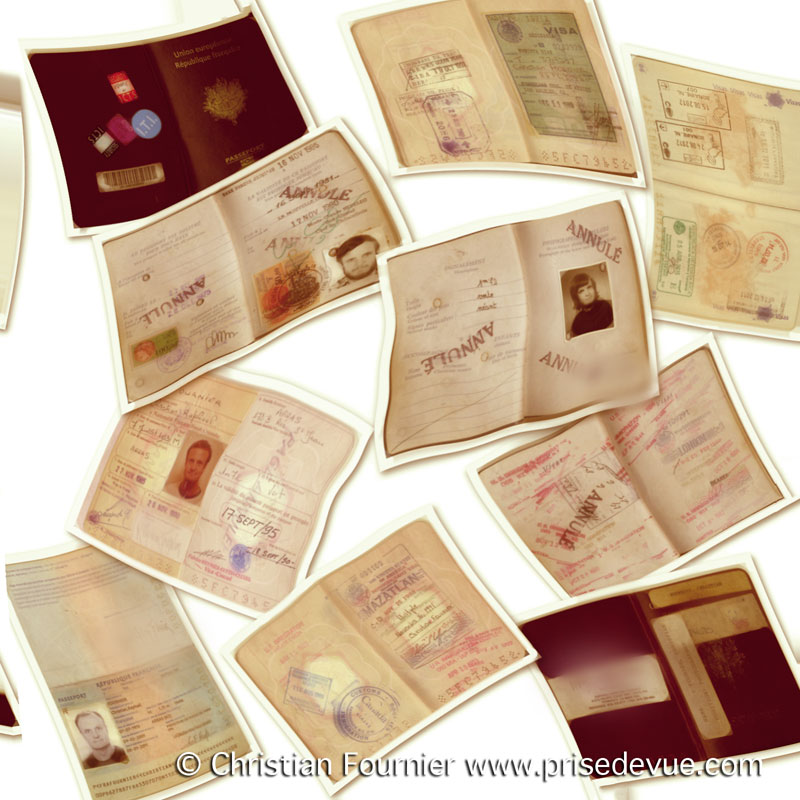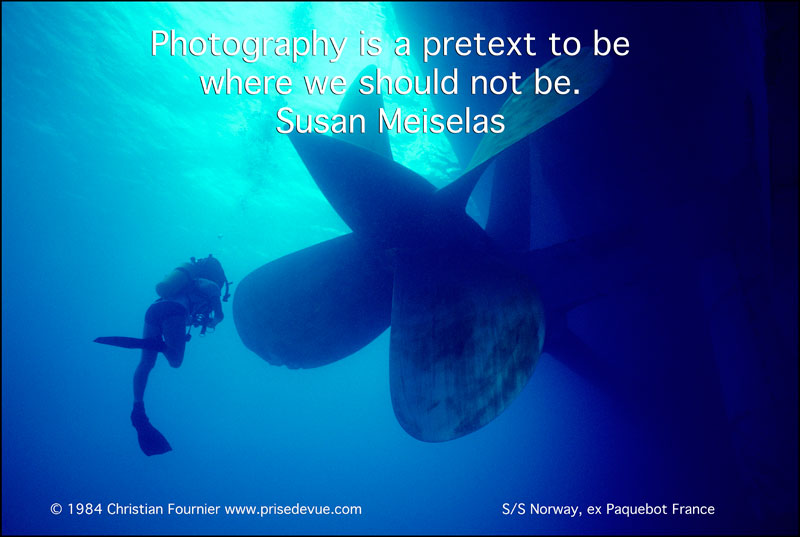 All of a sudden, without warning, Norwegian Caribbean Cruisel Lne (NCL) tells us, at the beginning of a cruise, that we will be considered as "below deck" crew. This was unfair, some warning should have been given. It was obviously contradictory with our lease and clearly a breech of contract.
I make this letter and since I mentioned the word "strike", was immediately fired from NCL, but not from Cruiseship Picture Co. Allo Trish ! And she instantly found me another ship. I was banned from NCL for a year. But thanks to me, all hell broke loose and the photographers privileges were immediately restored.
Thank you Chris!
I got many thanks from the other photographers. I remember a great ovation for me at the pub, the Green Shutters, in Nassau, Bahamas, drinking hole where photographers and crew from various ships used to meet.


OPEN LETTER TO ALL CONCERNED: FROM CHRIS THE PHOTOGRAPHER.
As you probably know, as from 15 August 1981, at the beginning of this cruise, without any previous warning, all privileges are being withdrawn from the ship's photographers. If I had known this at the beginning of the cruise, I would not have embarked.
Until now we have made is the efforts to be well-behaved, smartly dressed at all times and maintain a high standard in our work.
As we are now being reclassified as "below deck" crew with no passenger privileges, we feel that we must protest in some small ways:
- Crew, officers and staff will pay the passenger standard rate of $4 each.
- Complementary photographs to officers, cruise staff and NCL shoreside employees holding Comp Cards Will be charged with the standard $4.00 for pictures.
- Favours such as printing films for officers girlfriends, etc .. we be stopped so that more people would be aware of our lack of privileges.
Traditionally, photographers need to socialise and mix with passengers in order to break the natural resistant that he's encountered every time a picture is taken.
The photographer is a well-known "face" amongst passengers and subsequently the photographic encounter is more easily made, a better picture of results, and of course, good sales follow accordingly.
If the photographers (usually college trained professional persons) are forced to end their working day by retiring below decks and their shared cabins or try to establish some sort of social life with below deck (with entirely different jobs and origins) whilst crew staff, divers, fitness instructors, etc … enjoy their usual privileges above decks, then naturally a sense of bitterness will develop.
Persons working shoreside forced with such instant turnabout attitudes and compulsory withdrawals of privileges may be inclined to strike, either completely, or at key specific times.
I earnestly hope that NCL will reconsider our position and continue reclassifying photographers as crew staff, so we can continue working as a team combining our efforts rather than splitting our energies in opposite directions.

Yours faithfully,
Christian Fournier, photographer in charge



Yes, I am a saint.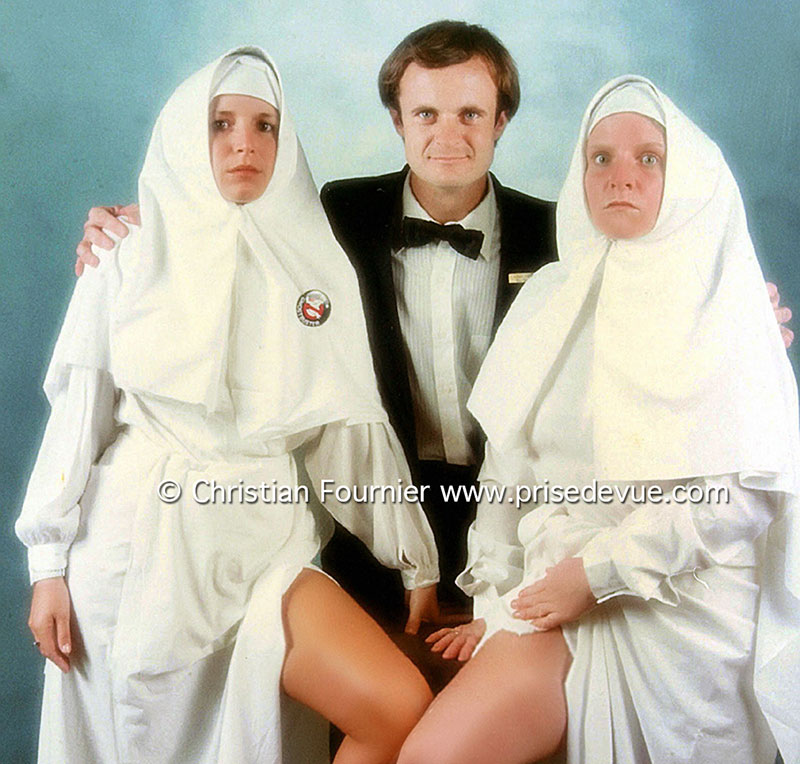 The O.B. = the Officer's Bar
The OB where drinks were cheap and the staff gathered to forget or share their troubles = the peer group, in my opinion, better than the family cell, as illustrated by the TV series "Friends" and "The Big Bang theory".



Allan Green, Barrie Moss monkeying, Chris Fournier. Photo by Janet, thanks Janet.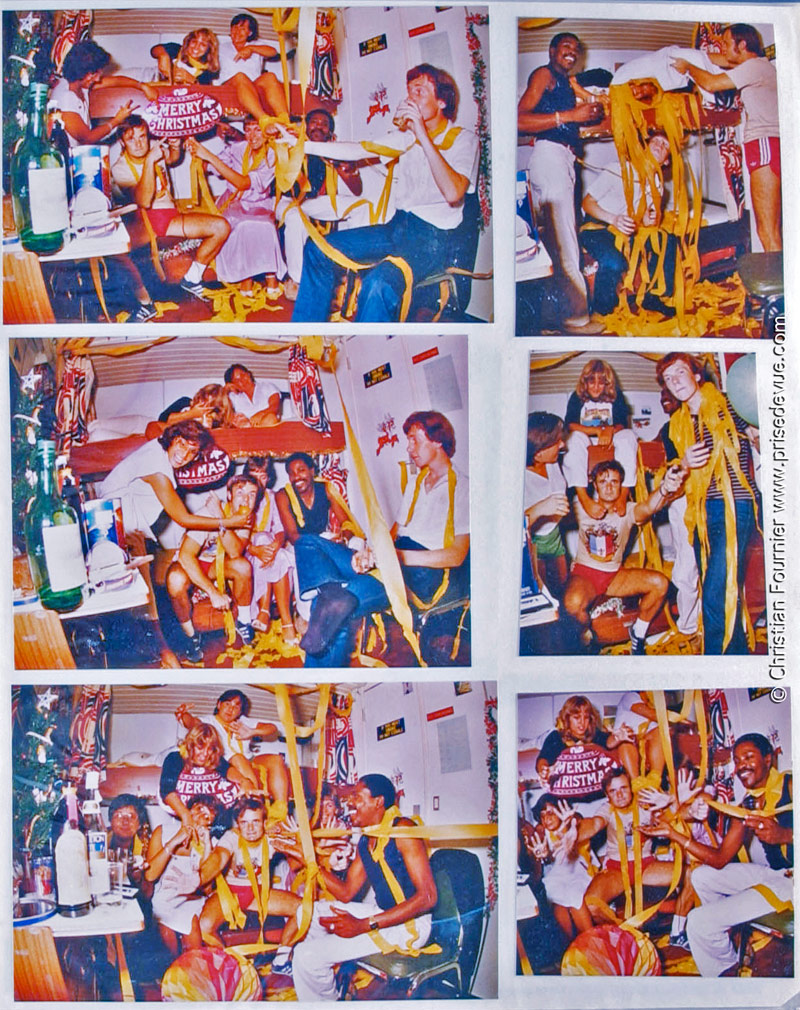 Xmas party in my cabin.


Jumping: Debbie.


Other party in my cabin. Carlos Lopez, Cliff Nelson, ...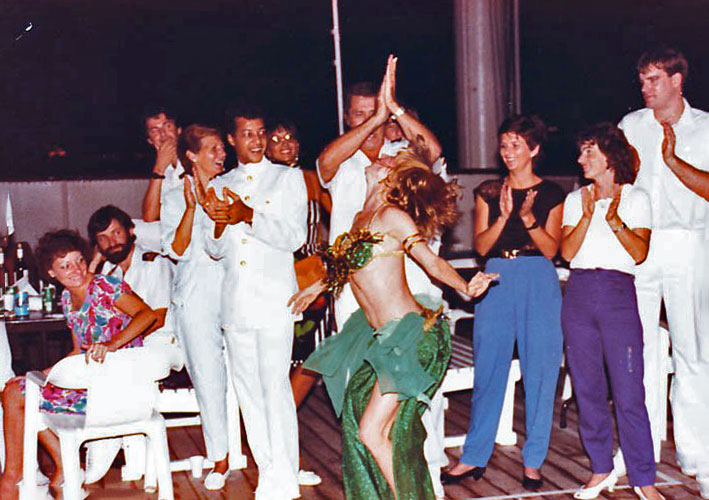 Ginny King, la future femme de Jon Shwartz, alias Vinny Verelli fait un show en privé, juste pour l'équipage, sur le pont équipage du S/S Rhapsody. On reconnait le commandant Delery, Mark Anthony Chang, Judy Mesaros, etc...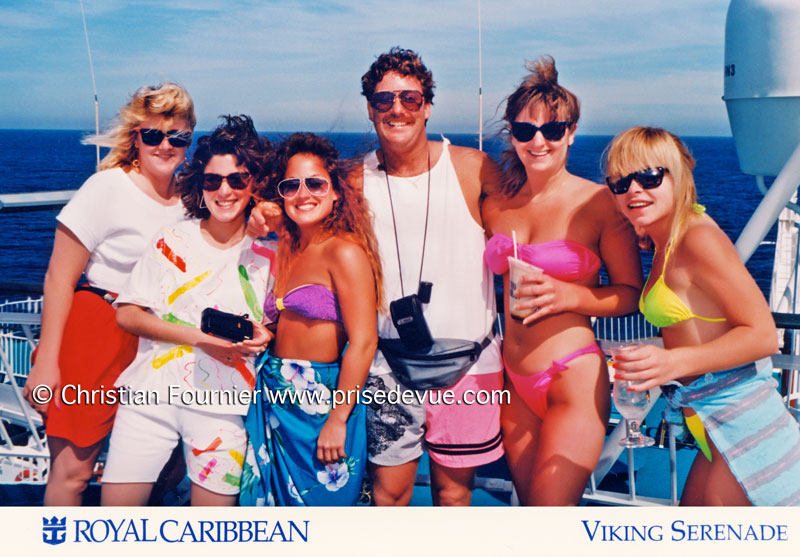 The must-see "Mascarade Night".



Fabuleuse Karen dans les Caraïbes : sur les plages désertes appartenant à NCL aux Bahamas Great Stirrup Cay et Little San Salvador, Jamaïque Ochos Rios Dunns River Falls et Couples Sans Souci Hotel, Grand Cayman, les îles Vierges américaines, etc...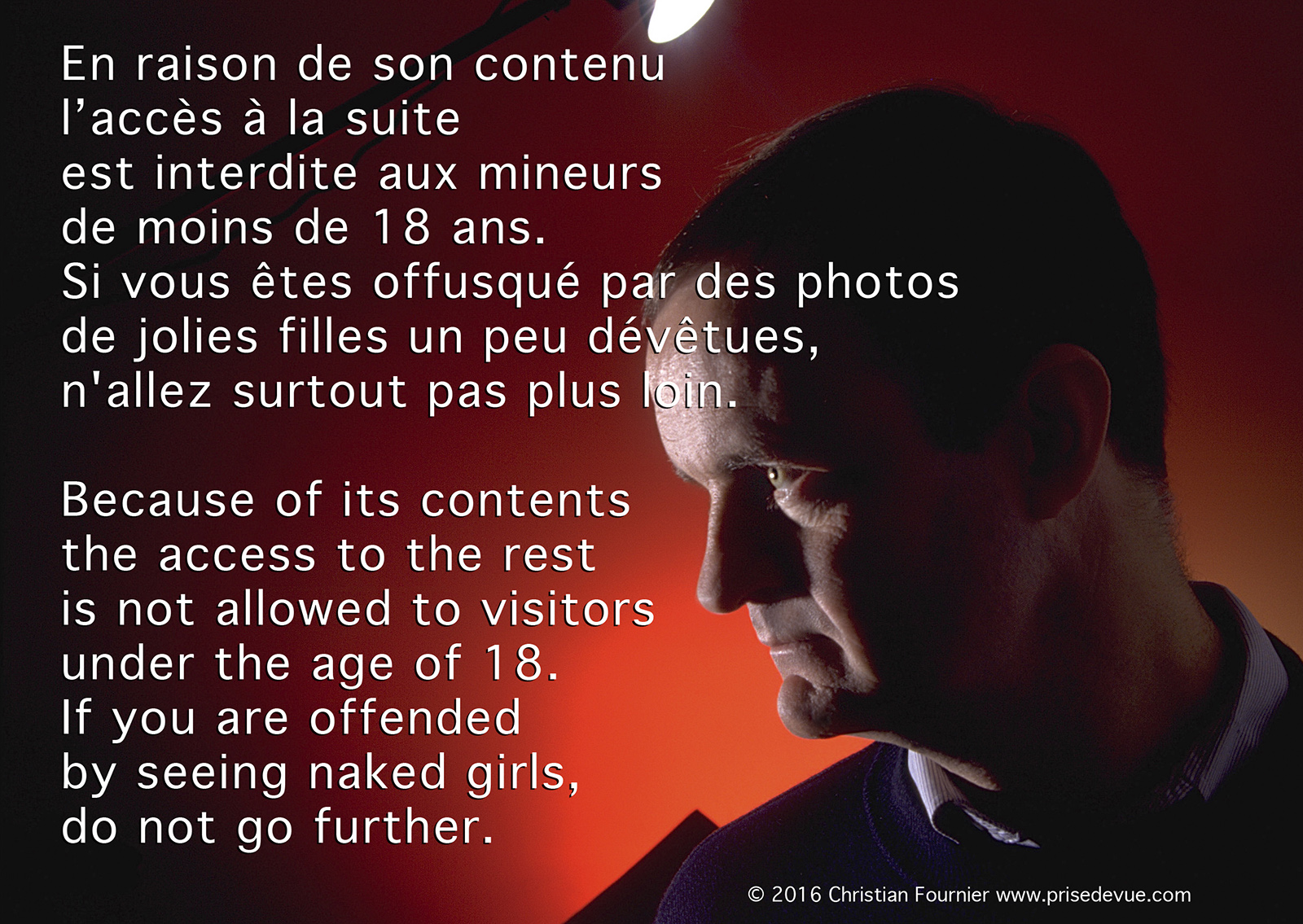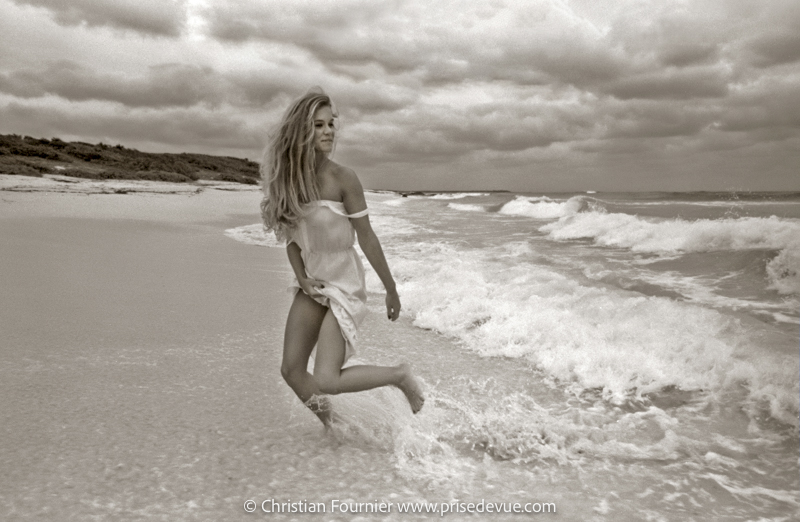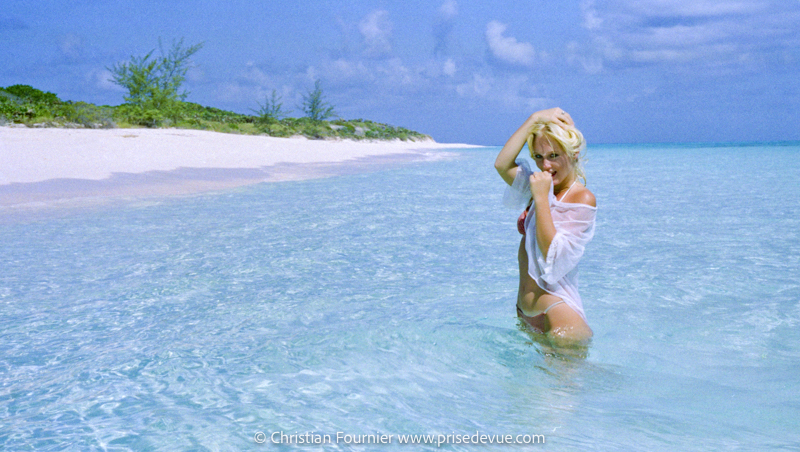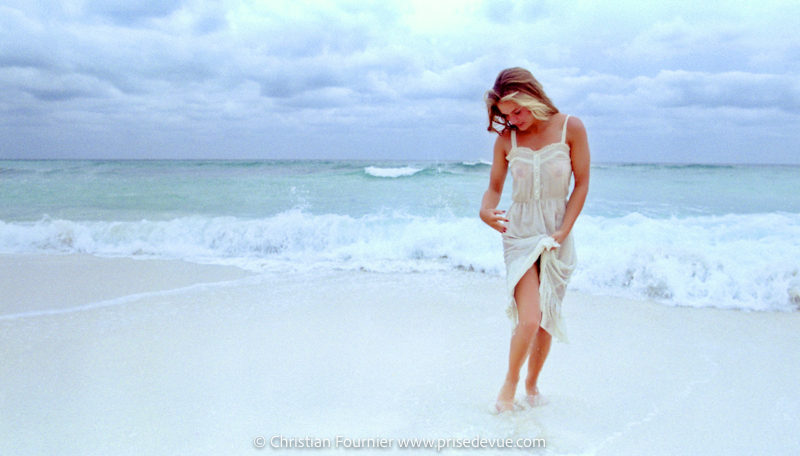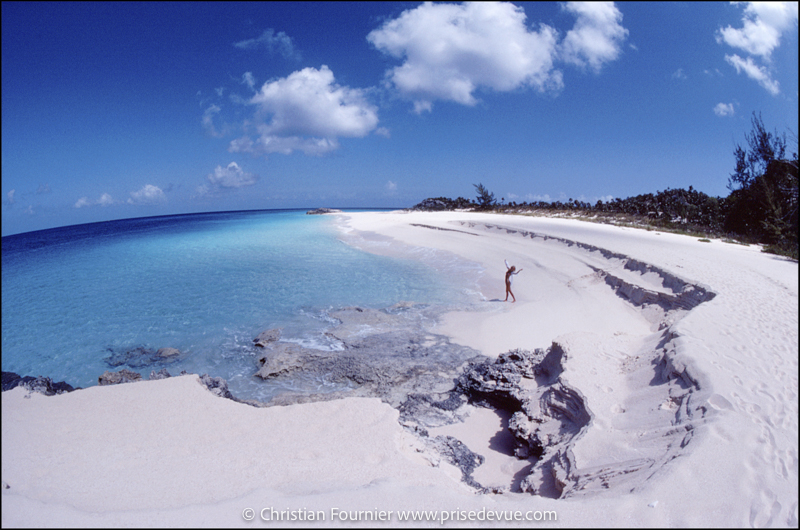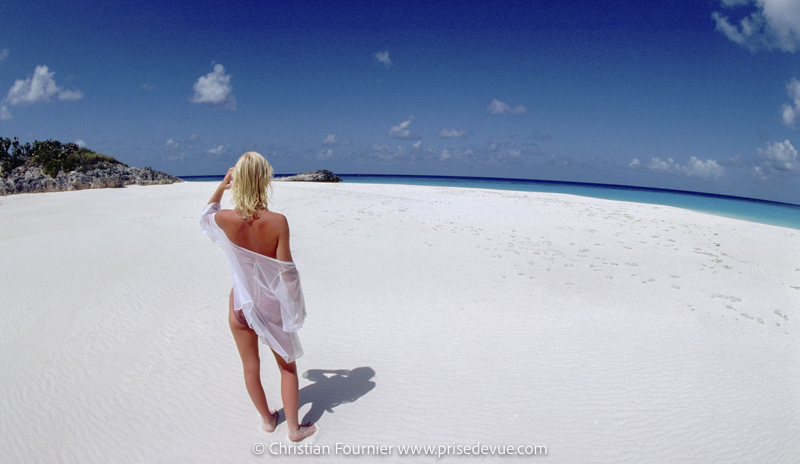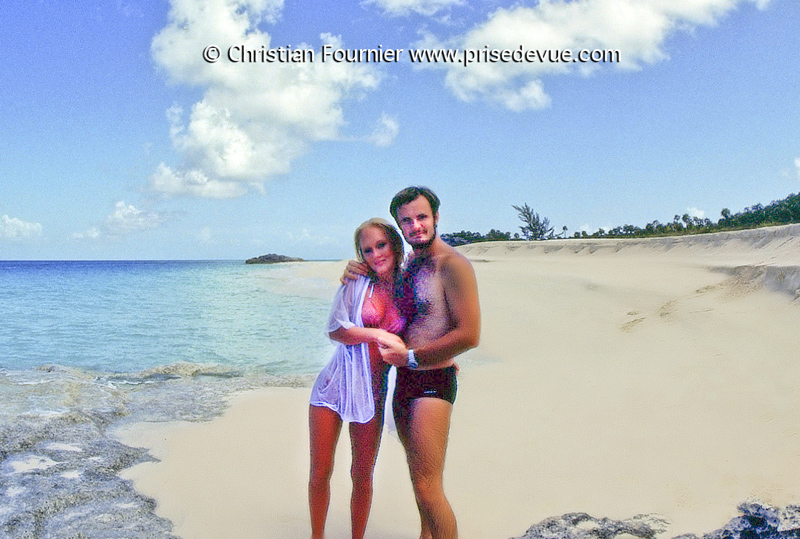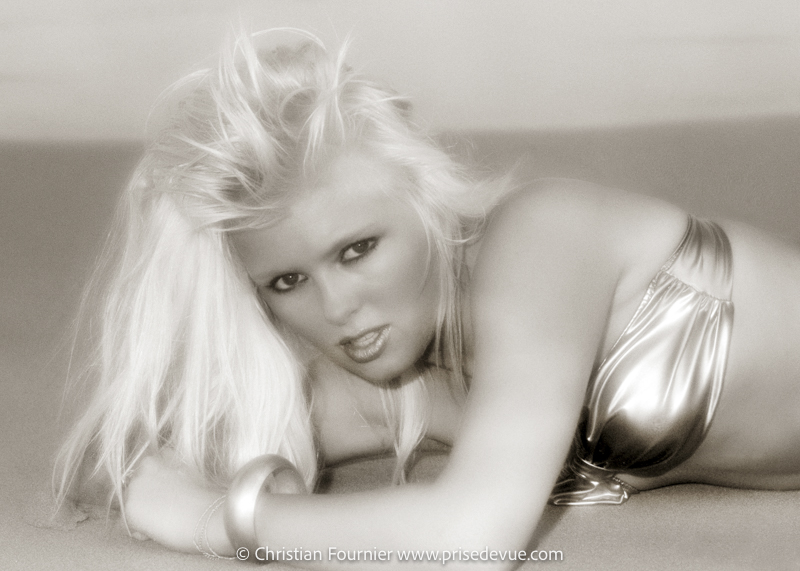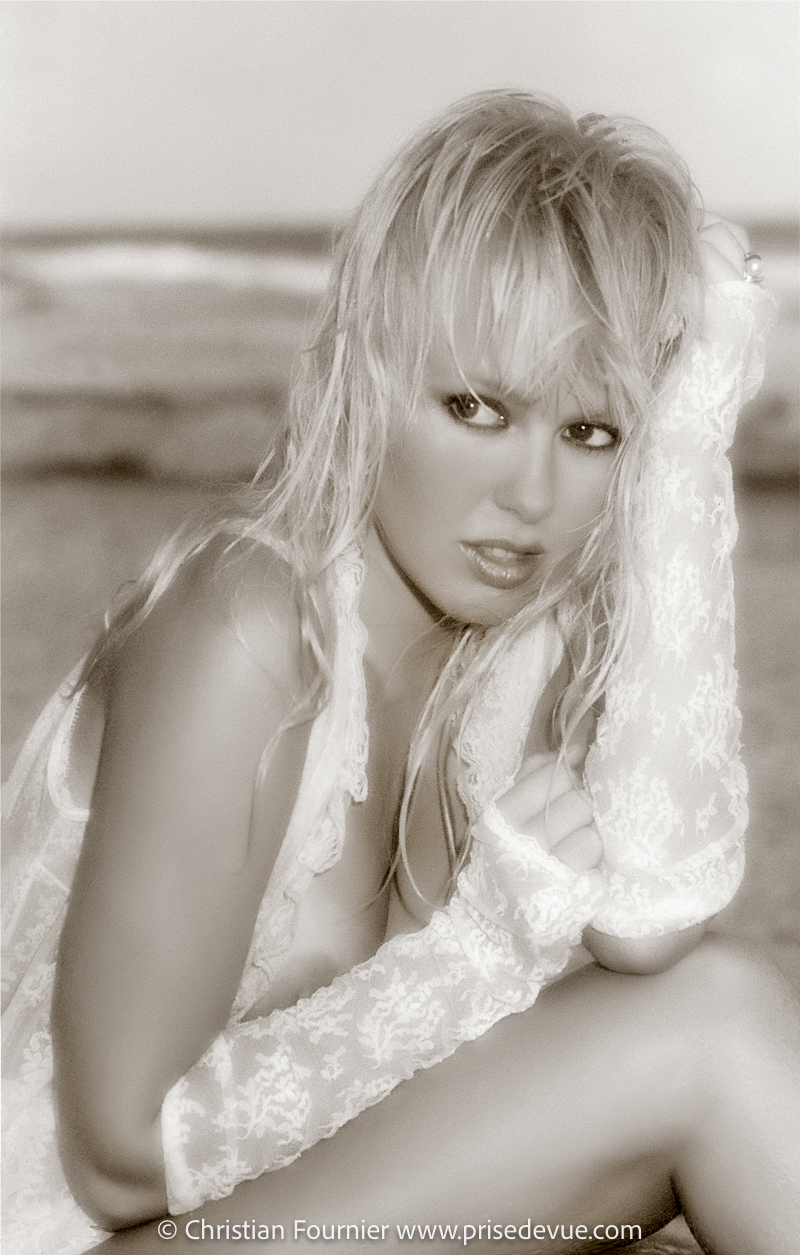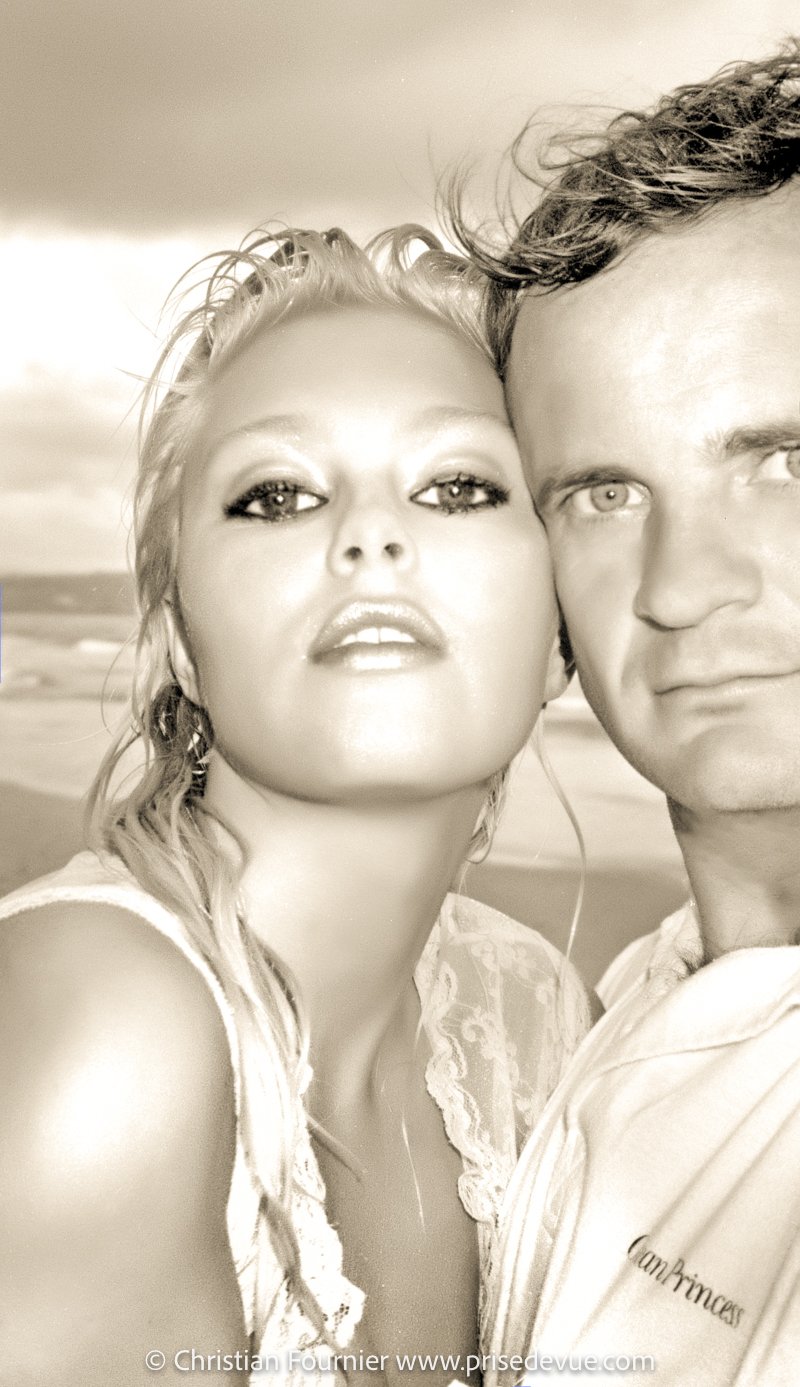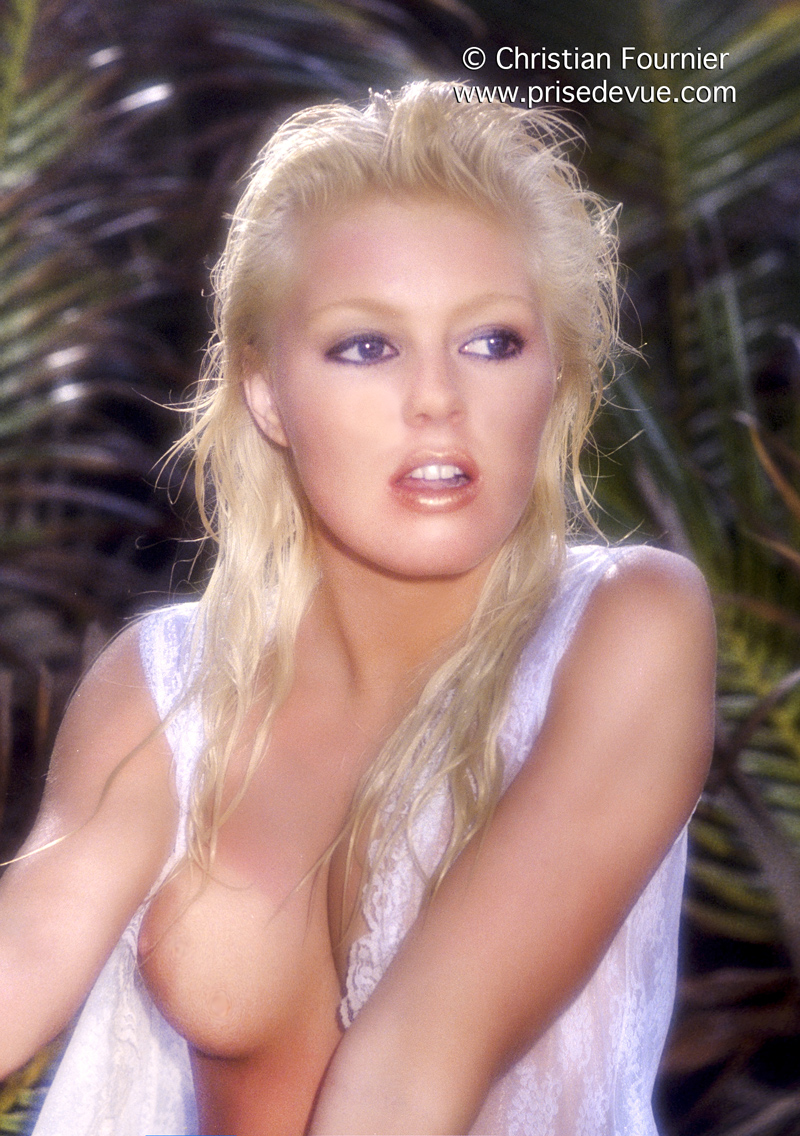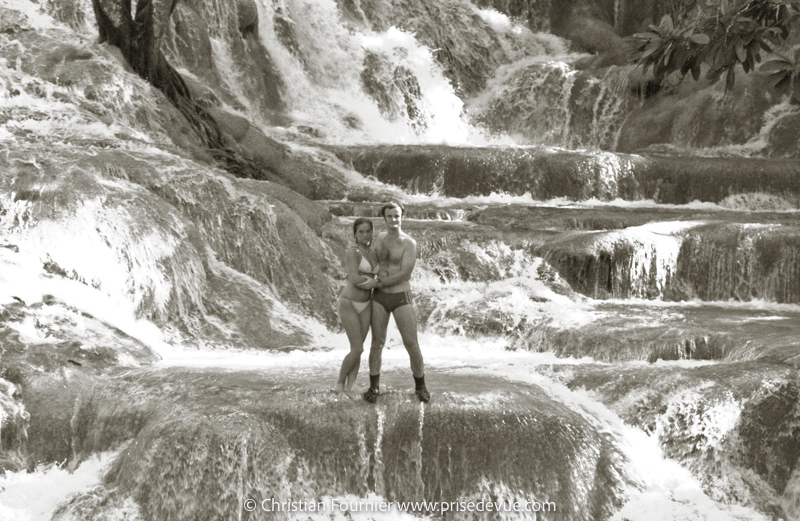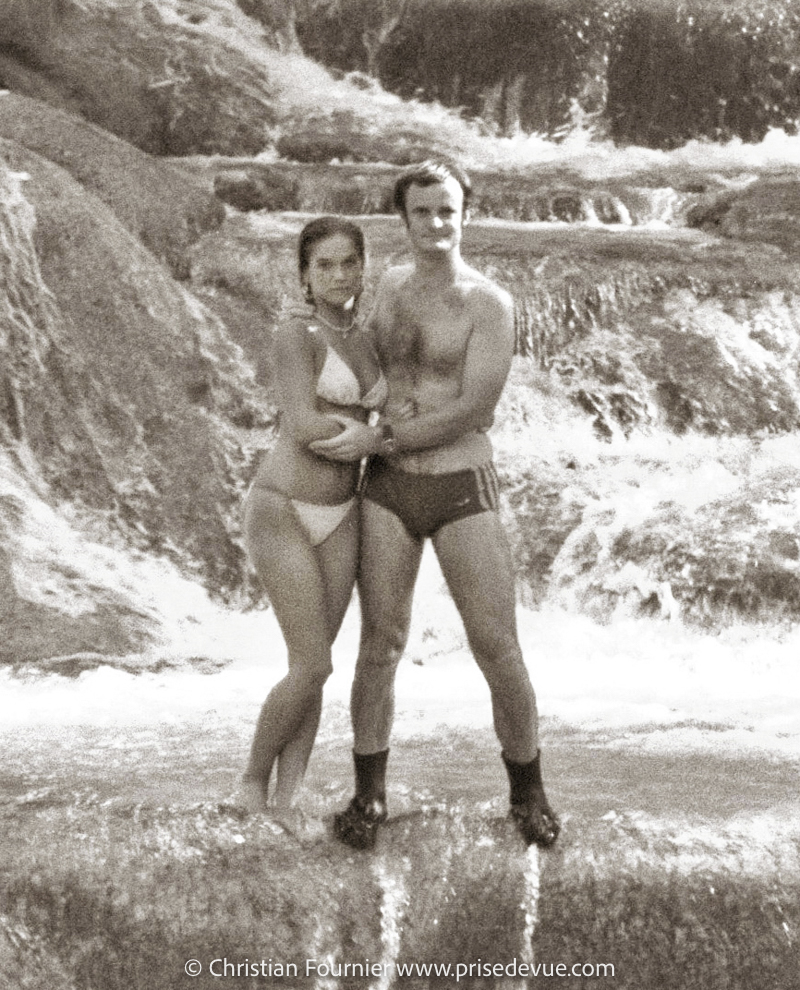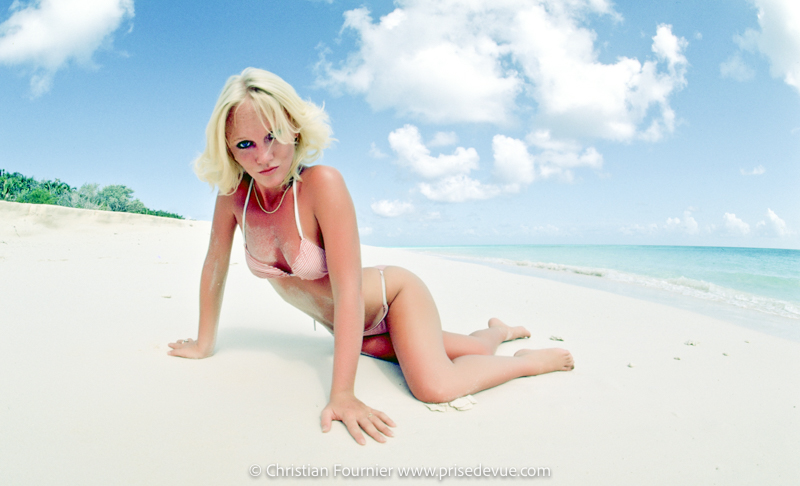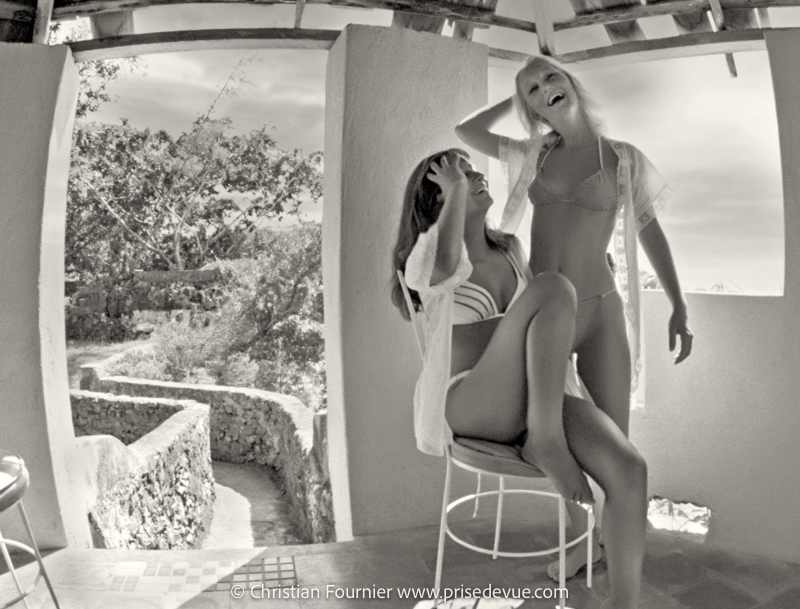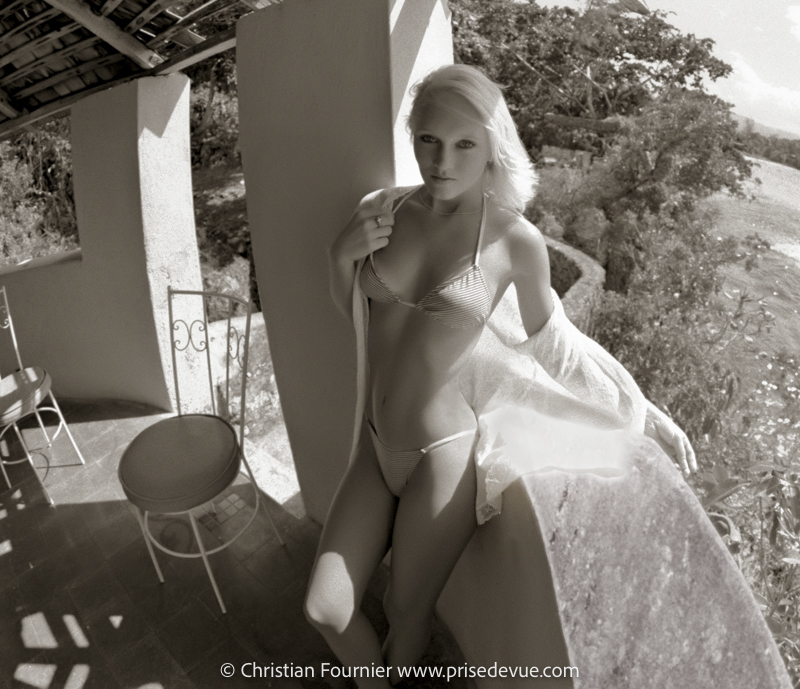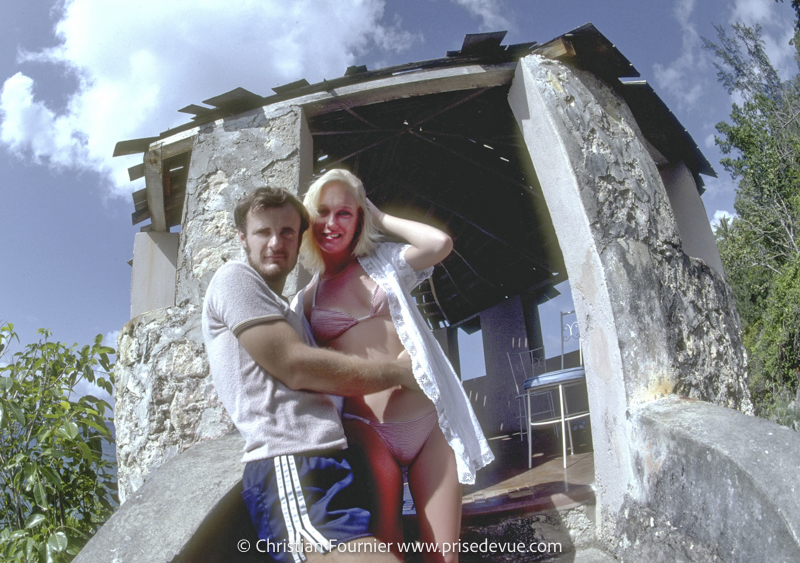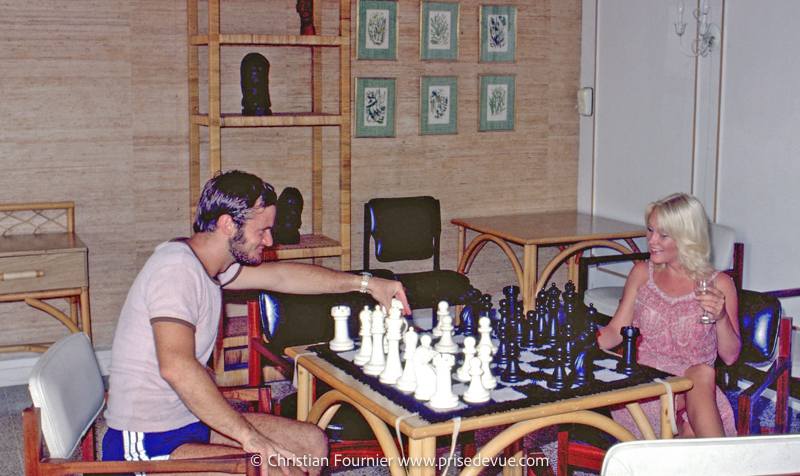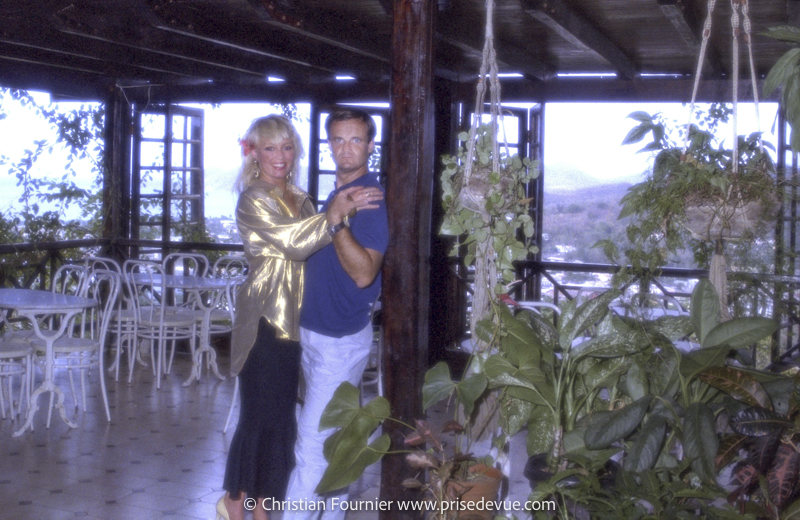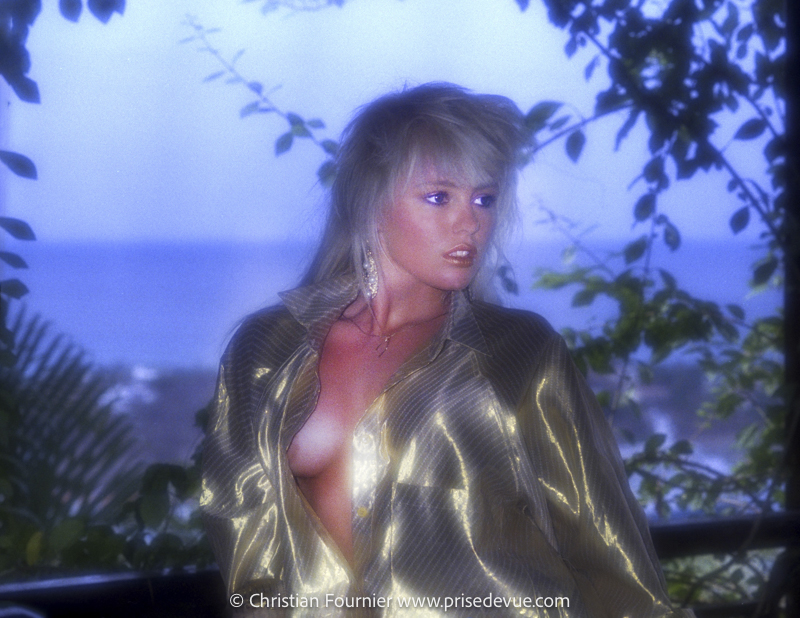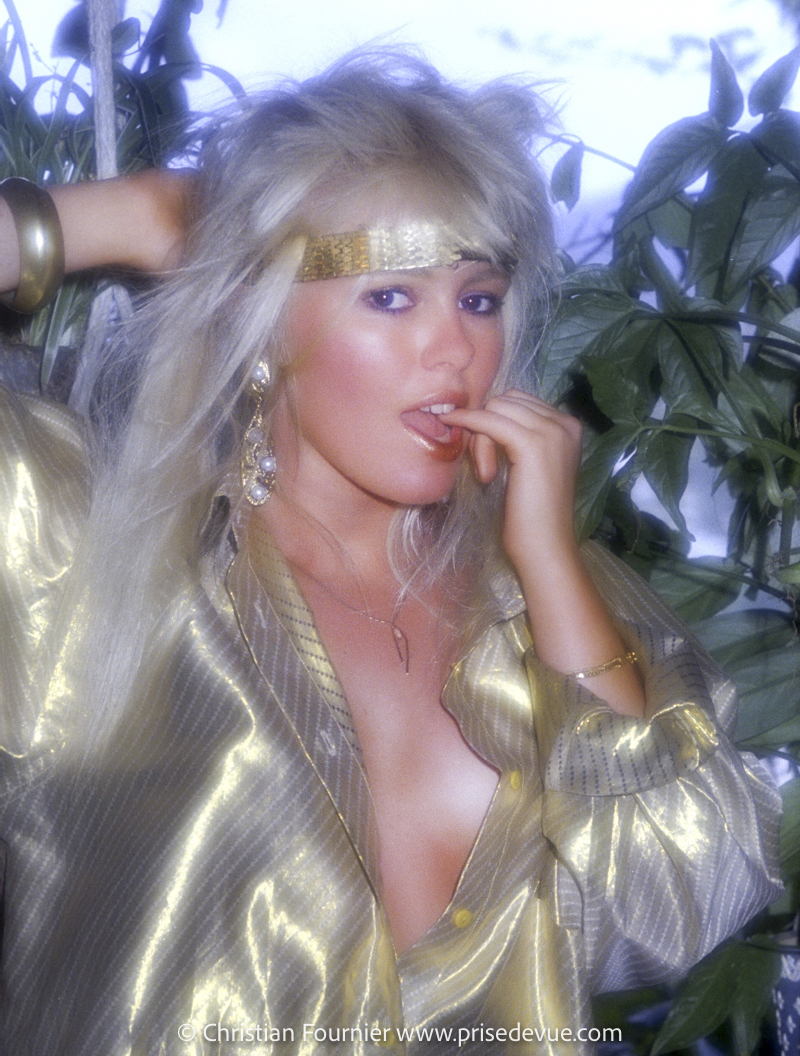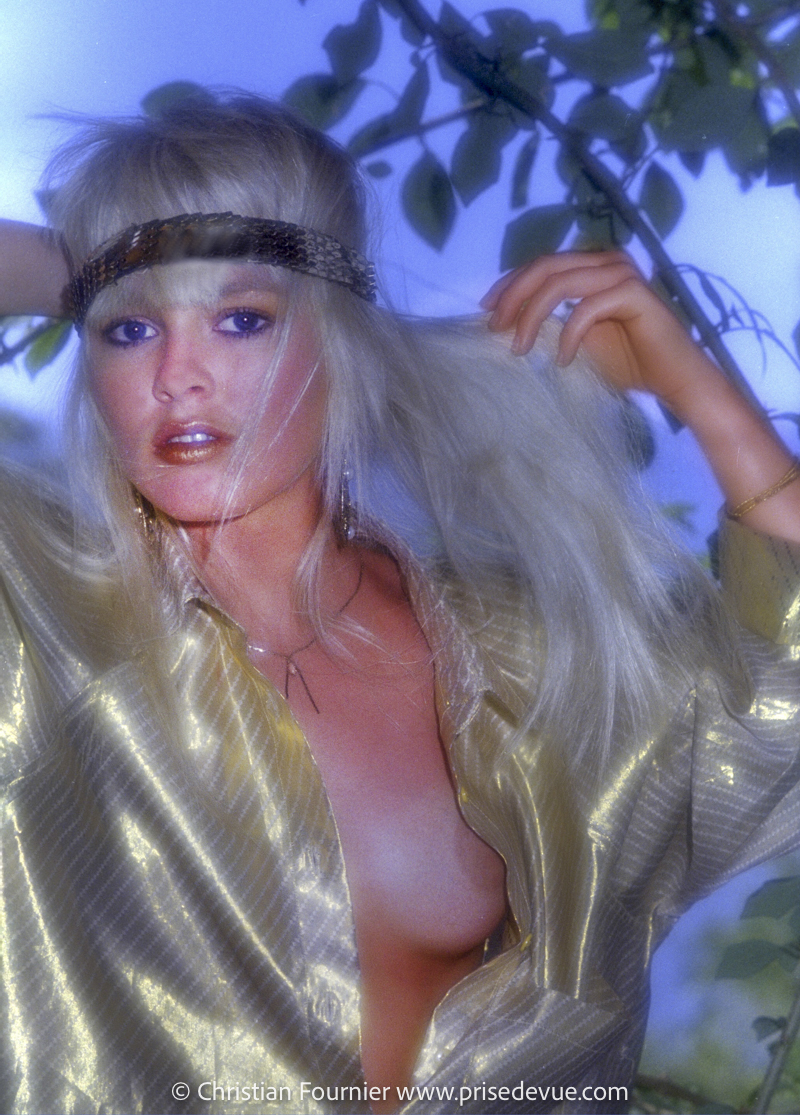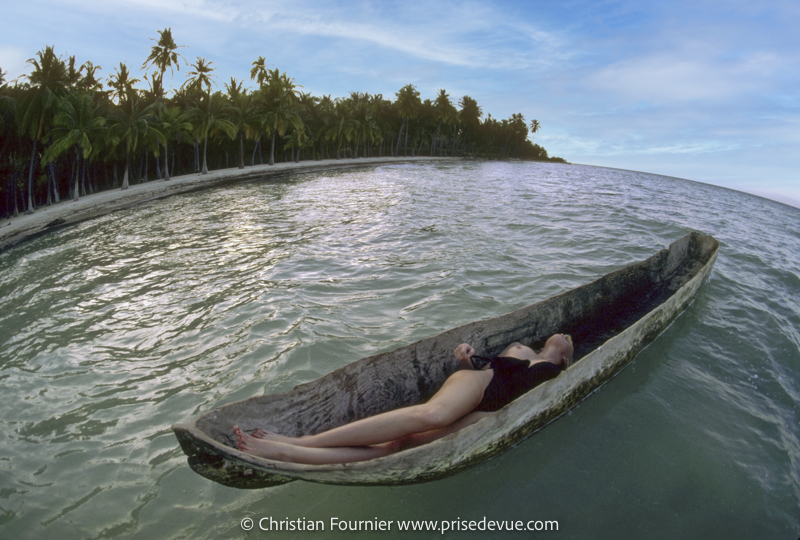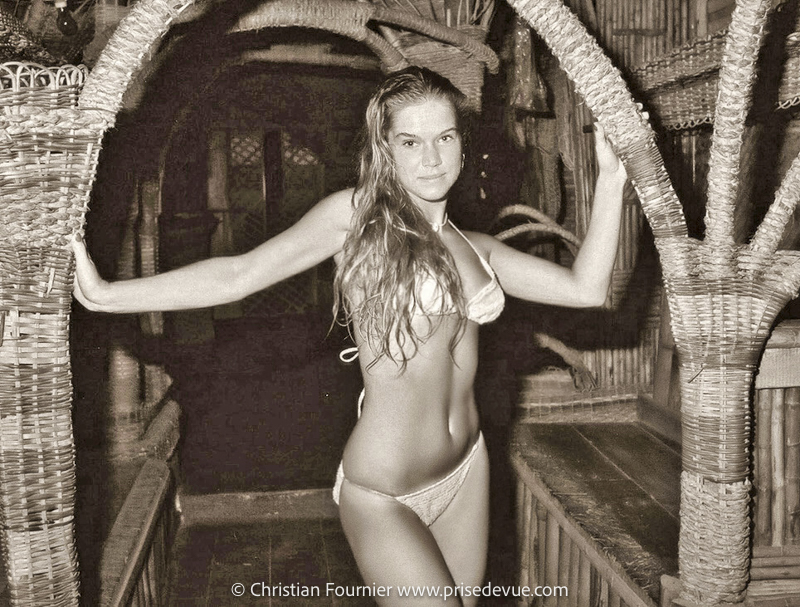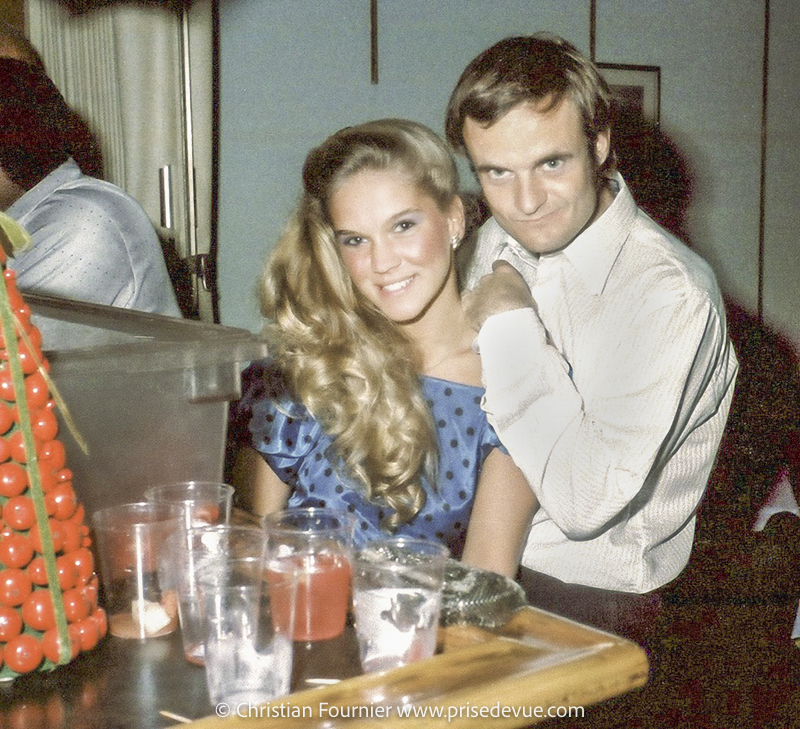 NO CROPPING
TO: CRUISESHIP PICTURE CO LTD.
FROM: C. FOURNIER, Chief photographer

Date: January 13 1990
Further to a debate with Paul Smith last Saturday, I want to confirm my statements: a 35mm neg enlarged onto 5x7" paper minus 1/2 inch logo fits perfectly: there is no cropping, no loss of picture area, as you can see from the enclosed neg (#1), the enlargement (#2) of this full neg for easier viewing and our standard 5x7" print (#3).
Mathematical proof: ratio is: 4.5 inch* = 0.65 = 24 mm (to 1%)
7 inch 36 mm
* The 4.5 inch comes from: 5 inch - 1/2 inch logo
There is no problem with Durst 801 printers: it is all preset for this, with the appropriate lens, of course.
The Durst 502 have to be set up properly. I remember setting up 502 printers on S/S Skyward, Starward and Southward 6 years ago as I was introducing portraits, so we had to change printers. I remember sending to Durst and to Mr. Dawson my drawings for a very simple new design of the paper mask and logo, so that the logo fits perfectly under the enlarged 35mm neg, onto a 5x7" paper, with no loss of image area. I remember receiving a letter of acknowledgement and thanks from Durst and Frank Tigwell told me that we would have all new 502s to these specs from now onwards. I am positive : when I, later, left Miami for New York to set up the Bermuda Star to portraits, the Southward, Skyward and Starward were making full frame prints on 5x7" with logo: no cropping.
I am deeply sadden to hear from Paul Smith, that on many ships, the photographers have to shoot further away, because the picture gets cropped afterwards during printing. What happened?
I know that some #1 set up their 502 deliberately to crop the negs, because most untrained photogs shoot to far away (shyness/not used to 35mm lens) This is poor practice. What about the other photogs?Does every one then adjust to bad shooting? Or does every one shoots badly? It is also inaccurate: how much cropping? This is vital on tight dining room shots: will the passengers on the sides be cut off from the photo? It is also a problem, when a trained photographer to this system, gets to a ship equipped with an 801. All is pictures are too far away and look amateurish compared to ours.
If a were a supervisor for you, I would straighten this out.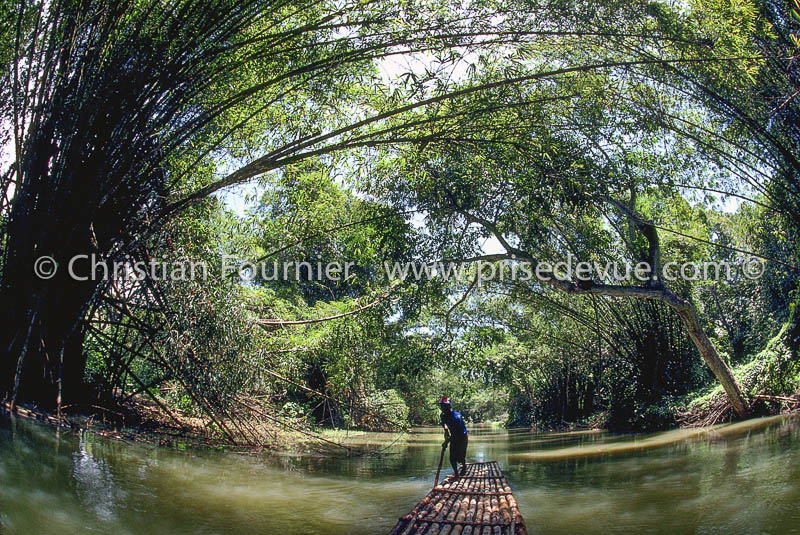 Rafting on the Martha Brae, Jamaica.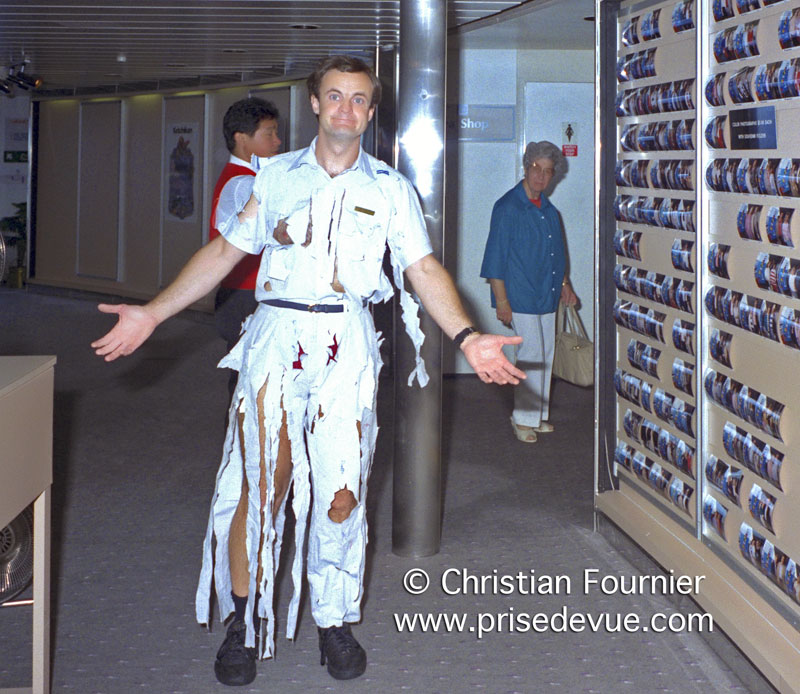 Why can't we get new uniforms? PS: We did get new uniforms!




What a difference the new uniforms make! Behind us you can see our display panel in the photo gallery, complete with photos of the photographers, so that the girls could pick us out.
Here, Ann Blocker.



The Amazon up to Manaus!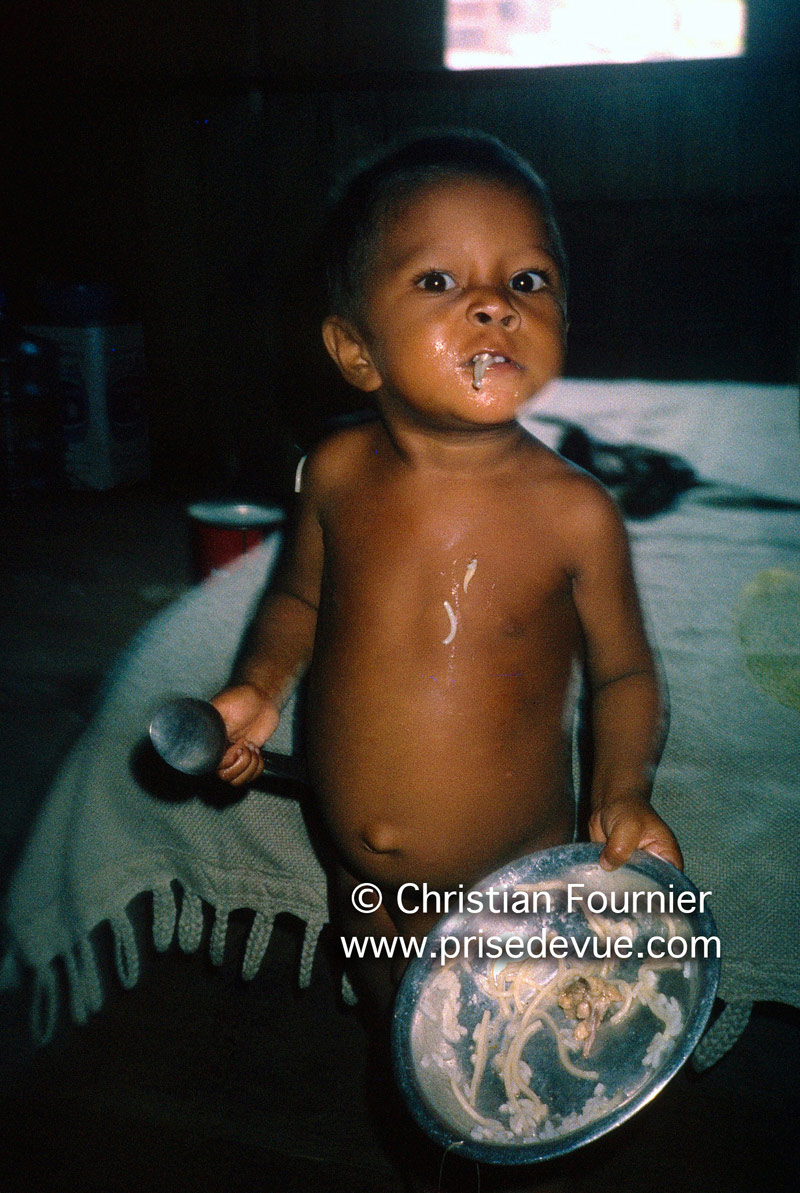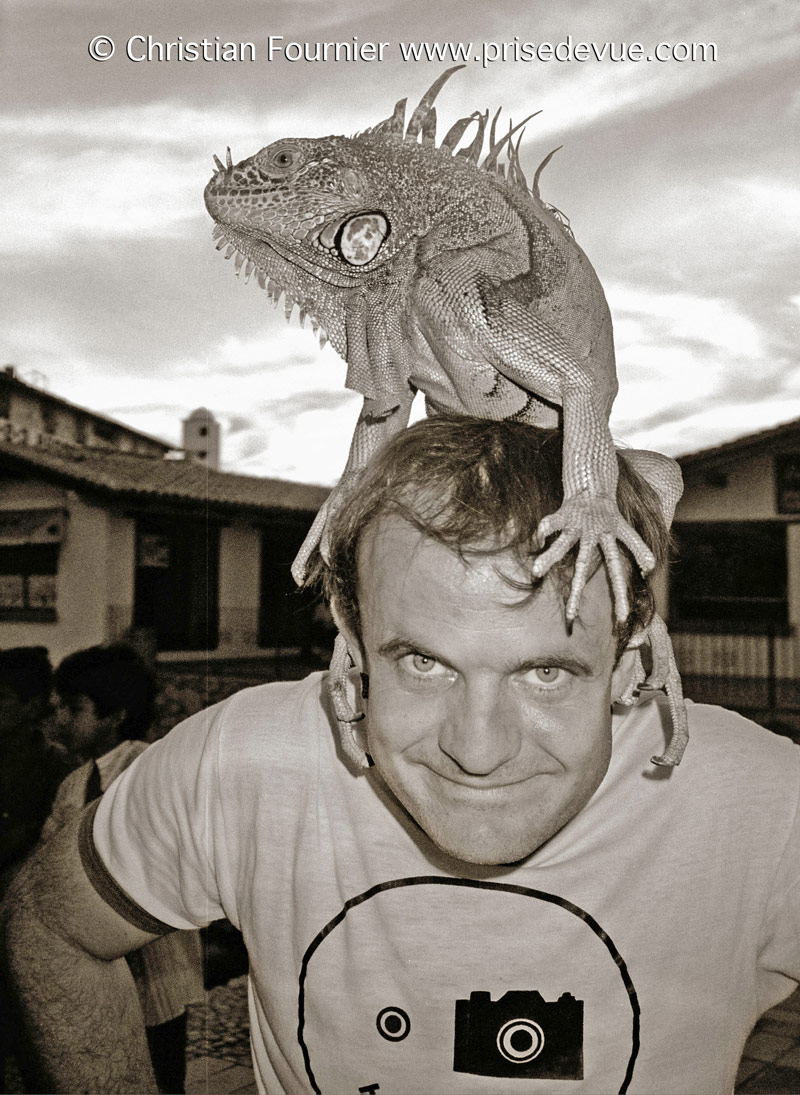 Yes, there are iguanas in Amazonia.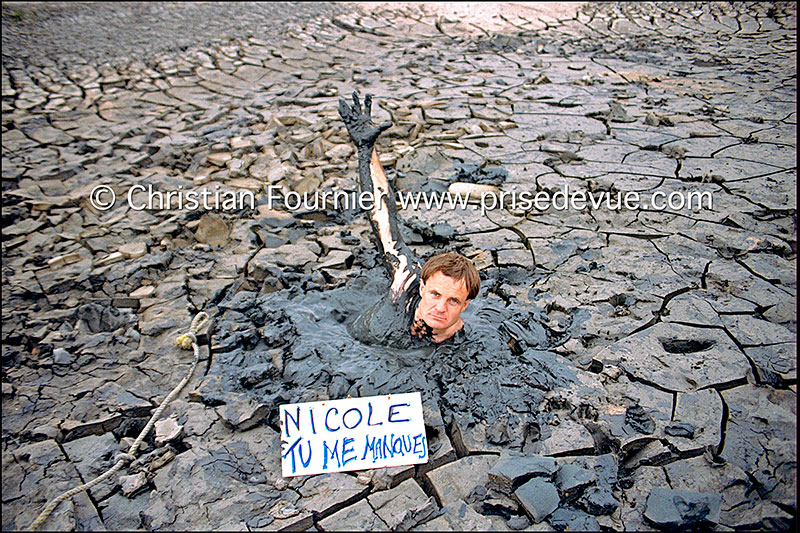 More incredible archeological discoveries:
- The famous photographer Christian Fournier became suicidal upon separation with Doctor Nicole Bordes, at the time Head Science Researcher in Los Alamos, New Mexico, USA, so the above photo could be interpreted as a murder, accident, or suicide.
- The rope suggests a mise-en-scène, a set-up. So the first photo could also be a set-up.
- Graham Mitch was able to take this photo in the quicksands in Zihuatanejo, Mexico, you know, that country just below the States.

Nicole did leave, in the end.

Graham Mitch: "Hi Chris,
I lost your e-mail address a long time ago and I found it again using a people finder on the internet, I'm glad your doing well, I am working for myself as a wedding photographer, the season has just finished and now I am less busy, Have to look at other ways of making some money during the winter. One day I will come over to Paris and visit you.
We are expecting our second child due on the 6th December so we are getting everything ready. My first daughter is called Hannah and I think we are going to call the second baby Freya or Nichola? we haven't decided yet.
I met up with an old photog friend in August, Paula Pftizer, I worked with her on the Fair princess in 1989 and she is still cruising, She is now ships editor on the Crystal Synphony, The ship came to Liverpool on it's port of call.
I checked out your web pages but I can't read french. Still your photographs are still very imaginative, Did you ever make another CD ROM and get made onto P.C. as well as MAC, If so send me one, I noticed on the cover of your old one their was a few photo's that I took.
Take Care, And Eat BRITISH BEEF!!!!
Graham."
Jokè Soto-Kleuskens: "Always the best photos"


Died in combat, surrounded by his digital tools.



"Transcanal" cruises = a wonder.


Breakfast in Los Angeles, music by Pink Floyd.





L'Australienne Tracey Ann Laing à Yaté, Forêt noyée, parc de la Rivière bleue, en Nouvelle-Calédonie.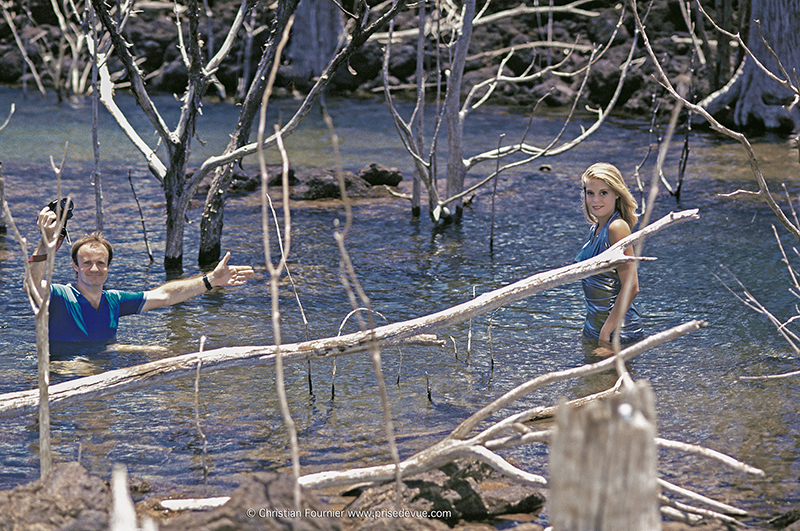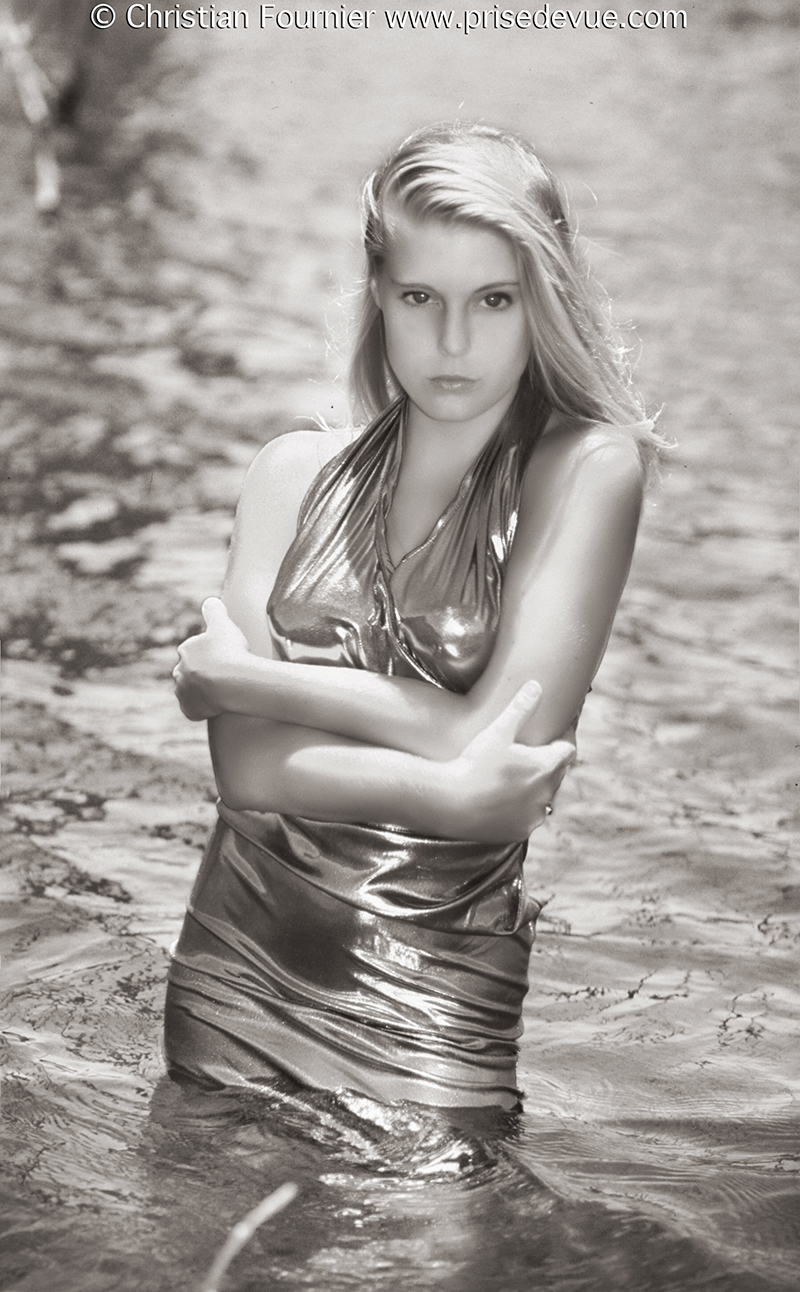 The multitasking photographer. Note the Leica M4P. There were always at least 6 of them on each boat.




This was reserved for times when a lot of power was needed, for example group photos.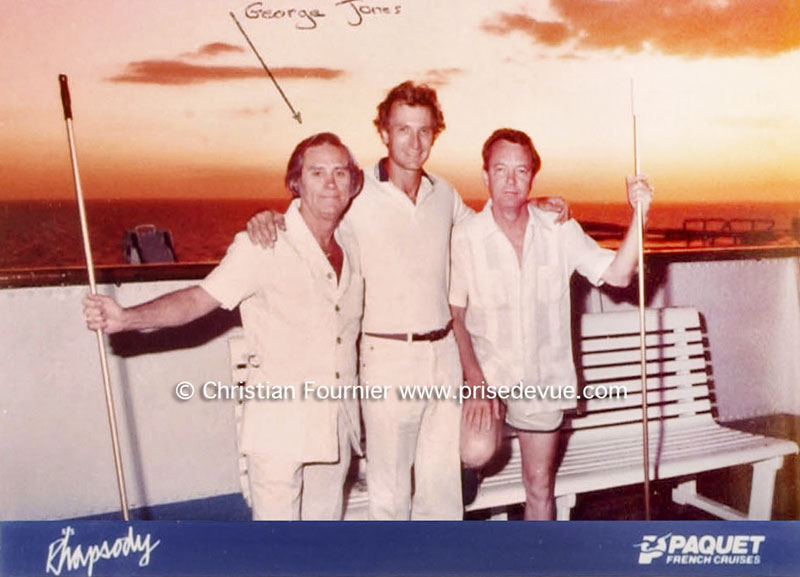 George Jones, né le 12 septembre 1931 et mort le 26 avril 2013, appelé aussi The Possum ou No Show Jones, est un chanteur américain de musique country.




Charlie Dawson is an Entertainer based in the state of Massachusetts. He is from the Singer/Songwriter mold who plays multiple musical instruments including acoustic/electric 6 & 12 string guitars, mandolin, 5 string banjo, ukulele, saxophone and a few others.
It's no wonder that Charlie Dawson is such an outstanding entertainer much of his musical ability was inherited from his dad, a popular country singer during the 1930's and 40's. Charlie's musical education began in grammar school back in his home town of Salem, Massachusetts. While in high school, he developed a proficiency with a variety of instruments and began playing guitar and singing professionally in local pop groups.
Charlie continued his education at Berklee College of Music, majoring in guitar. He has travelled extensively throughout the United States, Canada and Mexico, performing in top night clubs, concert performances and television shows. Among many others,Charlie has spent 11 years a featured performer for such cruise lines as Sundance Cruise Line, Admiral Cruise Line, and Royal Caribbean Cruise Lines. Charlie has also been a feature performer at the Alaska State Fair (Haines, AK), WCBV's "Good Day Show", Danvers Family Festival (Danvers, MA), Pickering Wharf Concert Series, (Salem, MA) and Concerts at the Esplanade in Boston, MA


Charlie Dawson, best entertainer I have ever known. He sang in Stanleys Pub, next to my photogallery on the M/S Stardancer.
Here with Robin Fellows, great singer. Shot in Cabo San Lucas, Mexico.

Charlie said : "Christian Fournier never took a bad picture."


Featured female vocalist, Robin Fellows has performed in everything from small groups to full scale production shows in Los Angeles, Las Vegas and Atlantic City. She currently divides her time between The Hal Kats and headlining her own show on cruise ships worldwide. Her vocal style and musical interpretation along with her unique ability to connect with her audience brings an element of showmanship not seen in other bands.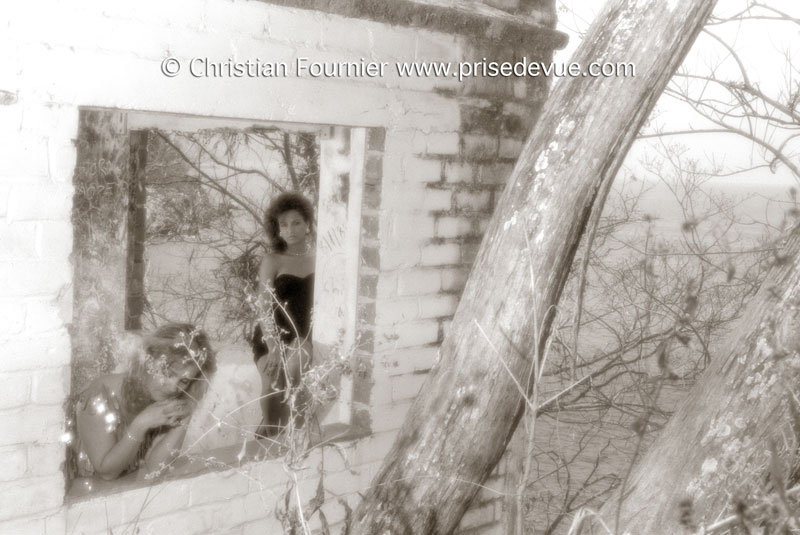 Robin Fellows and her friend Timmy in Puerto Vallarta, Mexico.

I don't think Robin ever noticed the graffitti on the wall.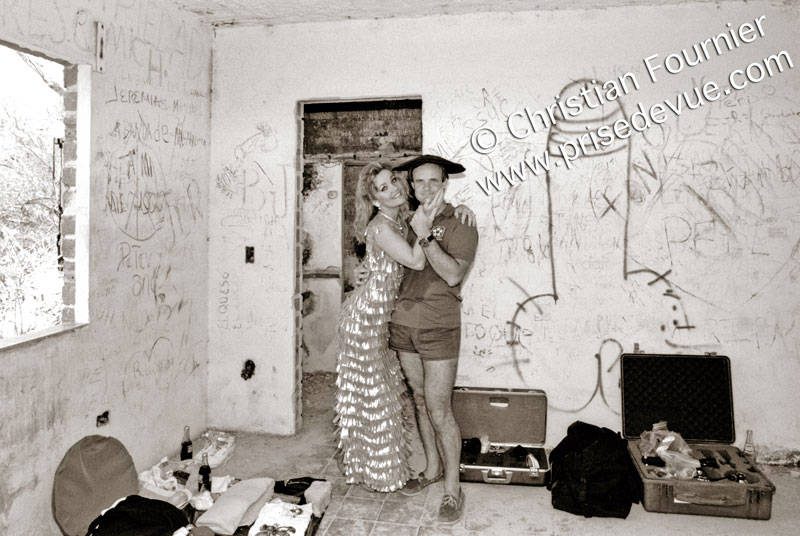 Neither did Tammy!


With Laura Lang.






AT the Golden Gate Bridge in San Francisco with model Sharon Stanley. Assistants: Nick Lellelyn and John Cable.




Below, from left to right: John Cable, Sharon Stanley, yours truly, and Nick Lellelyn.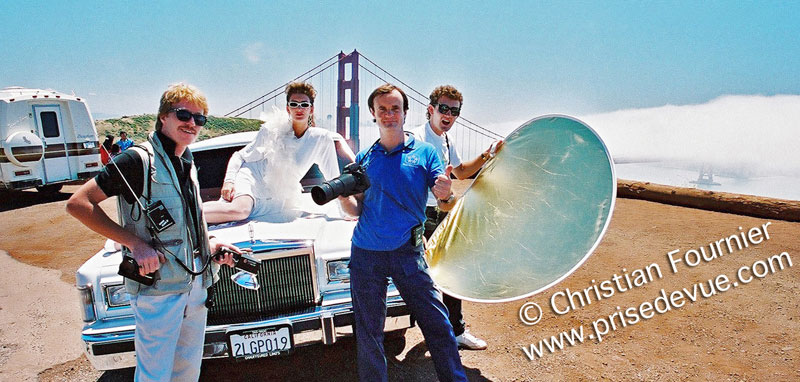 International singer Sharon Stanley Goldberg in the Stardancer engine room.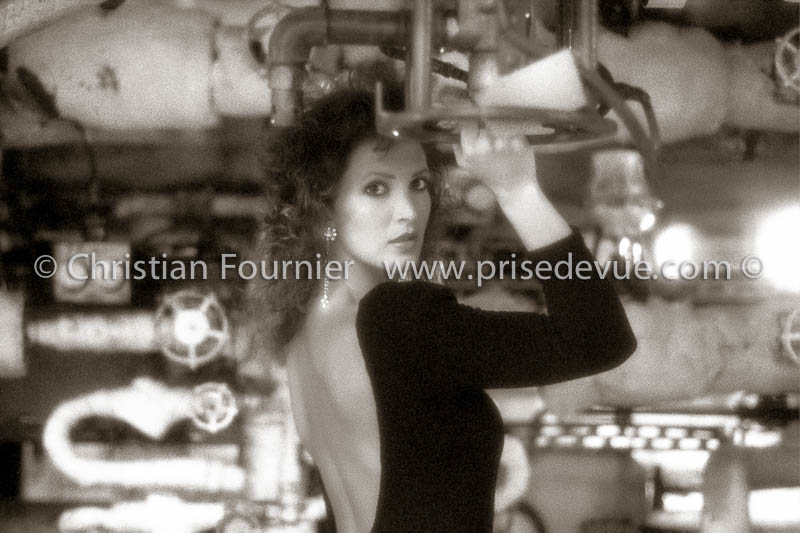 International singer Sharon Stanley Goldberg on a tree inPuerto Vallarta, Mexico.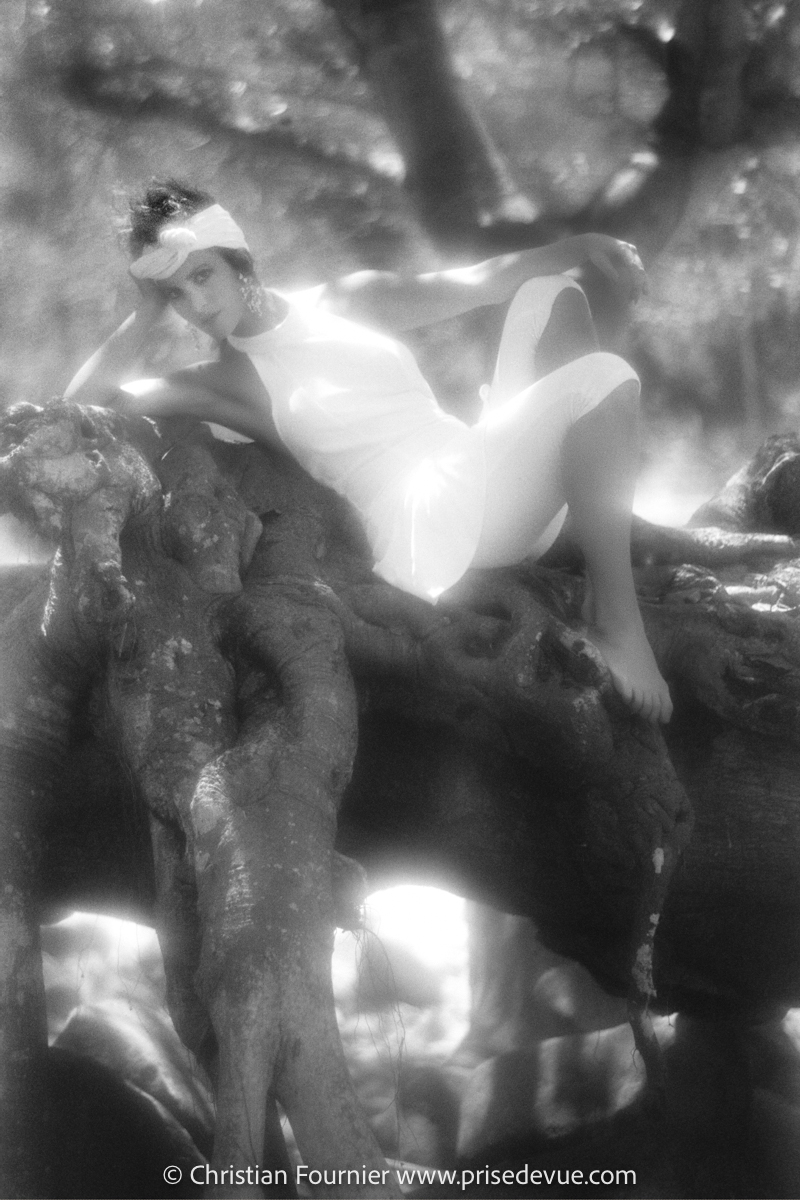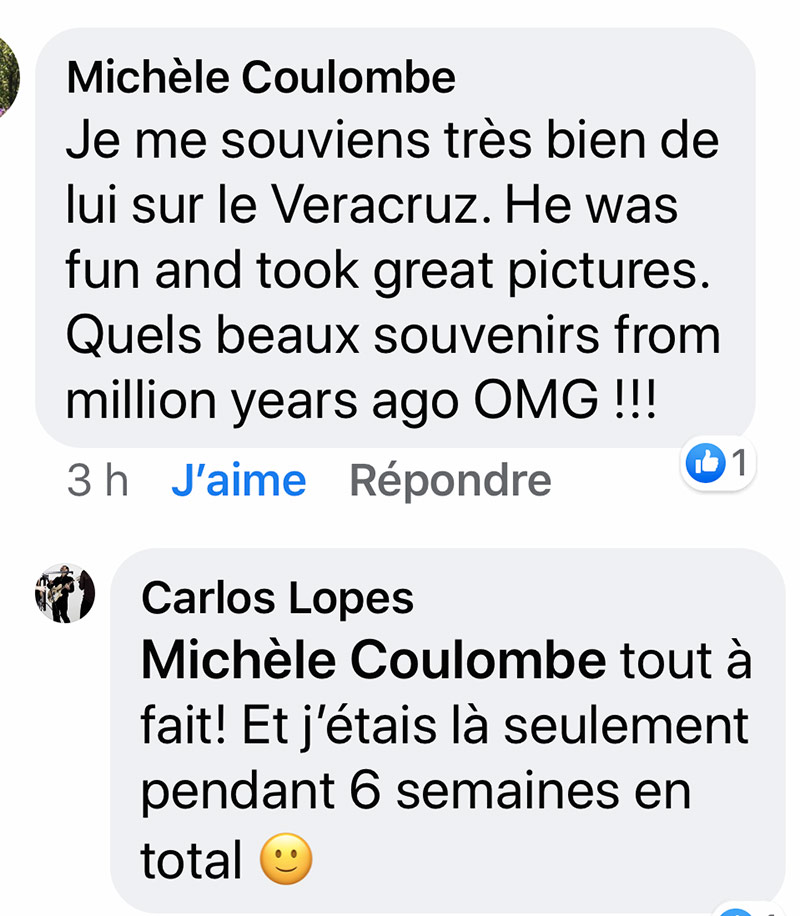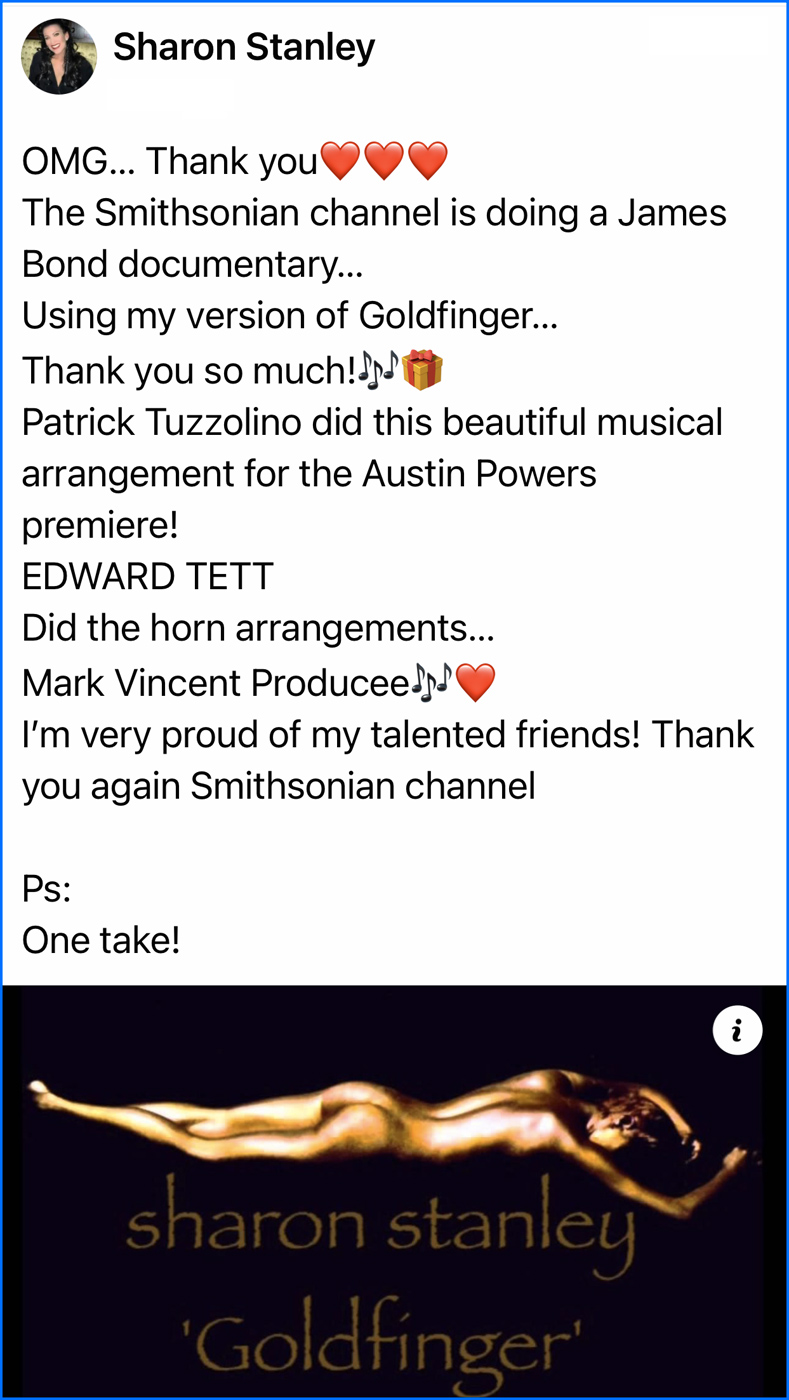 In 2022


The great Andy Novis. The most creative man I have ever known. Yes, that blood is fake, and so is the spider.


With Terri Russel on piano.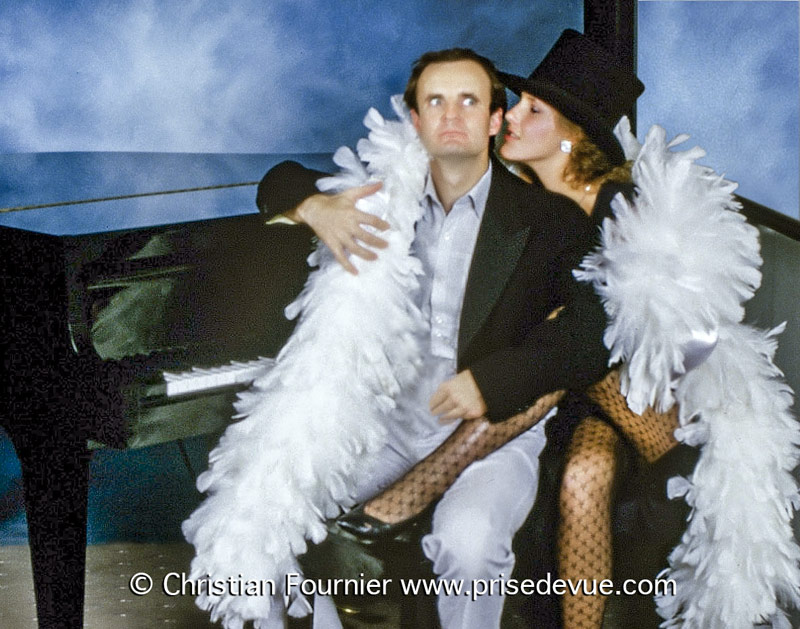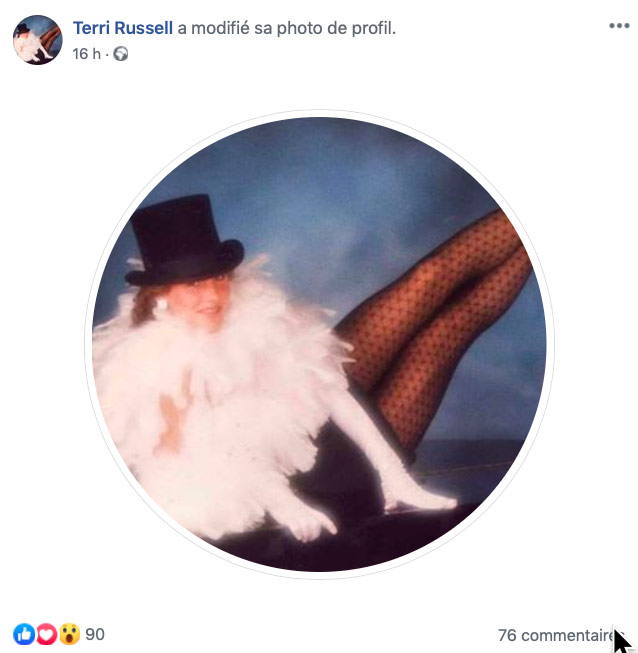 Terri is still using my photo in 2020!



Terri in June 2021i





Port animé de la côte ouest, en Colombie-Britannique, Vancouver fait partie des villes les plus densément peuplées et cosmopolites du Canada. Prisée pour les tournages de films, elle est entourée de montagnes, et accueille une scène artistique, théâtrale et musicale très vivante. La galerie d'Art de Vancouver est réputée pour ses œuvres d'artistes locaux, tandis que le musée d'Anthropologie expose des collections notables d'artefacts et d'œuvres d'art attribués aux Premières Nations.
La Colombie-Britannique, province la plus à l'ouest du Canada, est délimitée par le Pacifique et les chaînes montagneuses. Des sites naturels comme le parc des Glaciers offrent des sentiers pour la randonnée et le cyclisme, et des terrains de camping. Le domaine de Whistler Blackcomb est la station de ski qui a accueilli les Jeux olympiques d'hiver de 2010. L'autoroute qui relie Whistler à Vancouver offre un paysage incroyable. Vancouver est célèbre pour son industrie du cinéma et se situe à la frontière sud des États-Unis.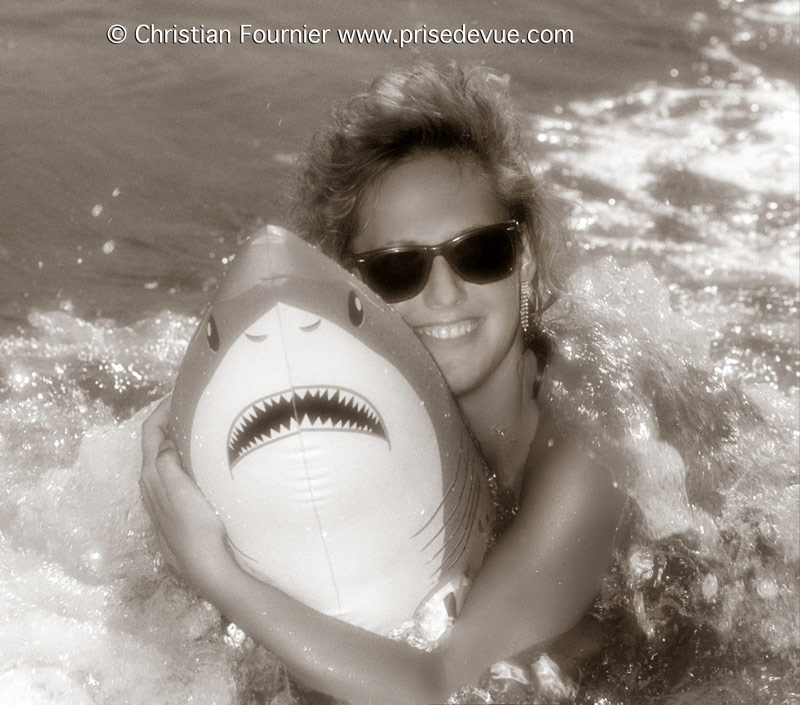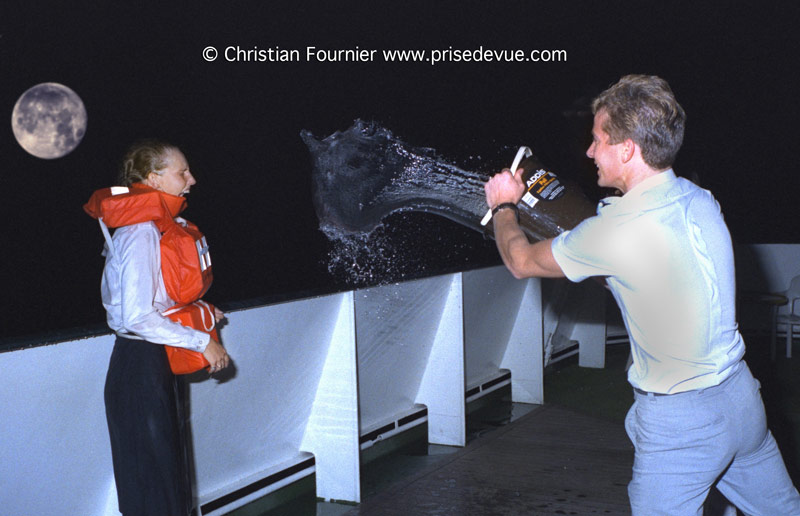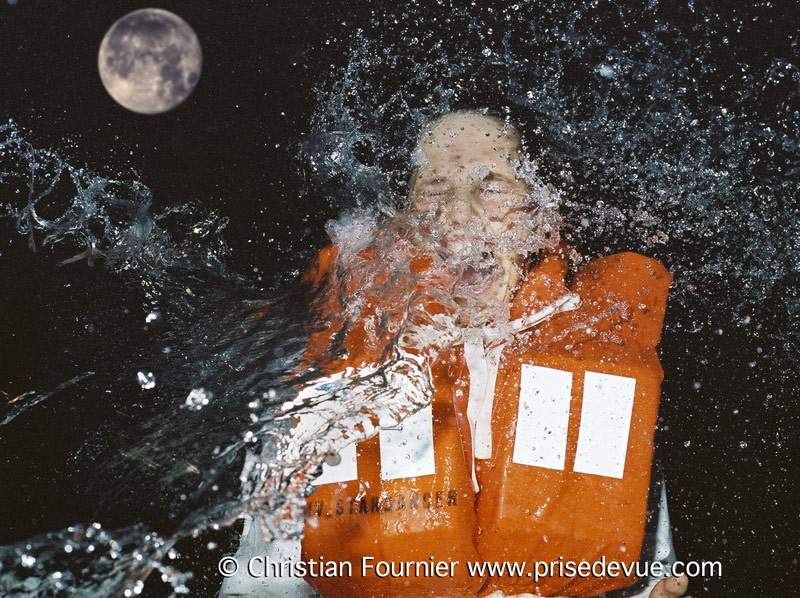 Andy and I put together this false murder photo in the seedy streets of San Juan, Puerto Rico, circa 1983. It was a struggle for me to take a photo so technically bad. Many thanks to Rachel Anscomb for her participation as our false victim.

Andy Novis: my hero Christian, you are exposing the boring lives of people who think they are successful, the combination of technical brilliance, art, & pure fun is fantastic, you were my hero then & even more now, I think you stoked my interest in photography many years ago, happy to be in your shadow.

At this point, I hate you Christian fournier, you make my travels look bleak.

Fantastic, you are a legend, Frenchie.




Use of the external Metz flash. Here with Terri Russel in Puerto Vallarta, Mexico, in 1988.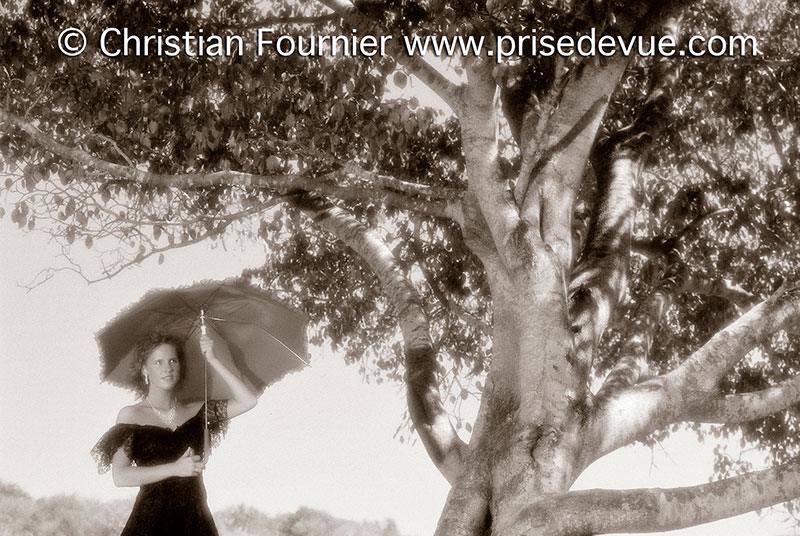 A beautiful girl and a beautiful tree.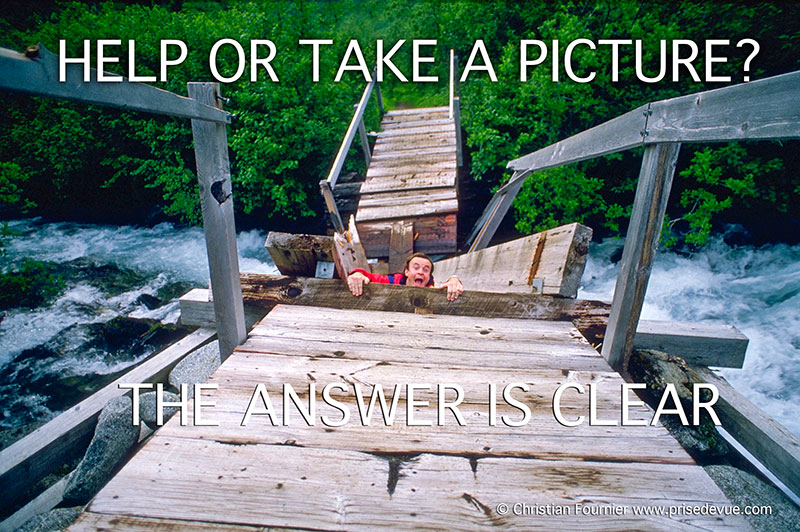 OK, you got me, this photo was a set-up. I think Jamie Harrison shot it for me. Near Juneau, Alaska, in 1986. No, I swear, that bridge had fallen before we got there.




Runaway Caves in Jamaica with Rachel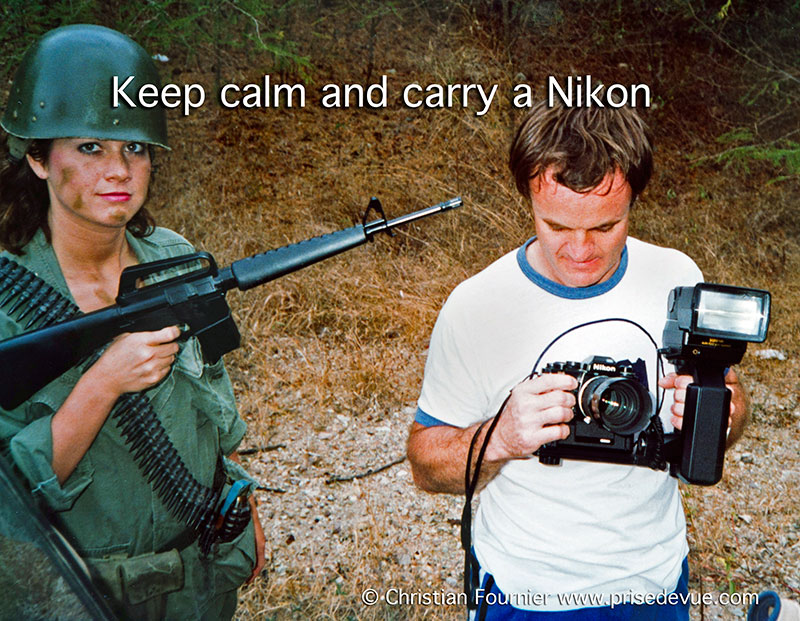 Le 20-01-2011 de Kay Masterson Coulthurst : Simply love your work! An inspiration!
Hello Christian!! How lovely to see you here and look back on some photos from the Ocean Princess days! I feel very nostalgic!
Simply love your work! An inspiration!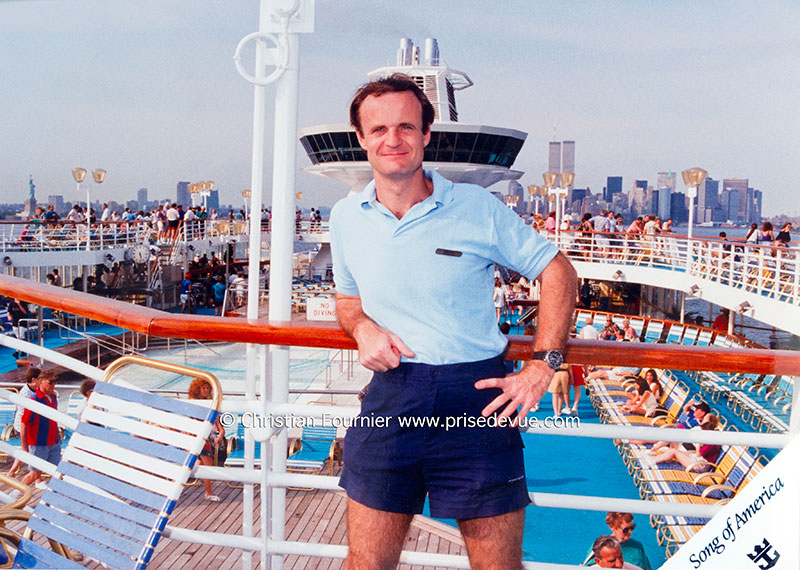 New York, New York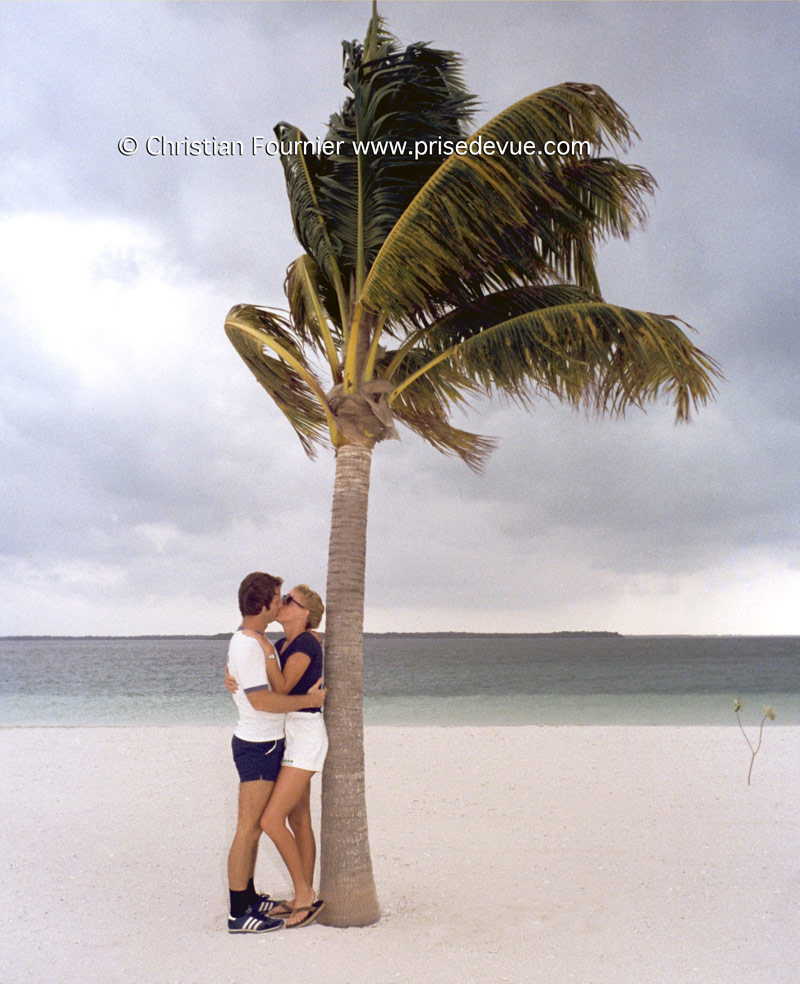 With Janet.




February 1984: Expedition beyond the polar circle.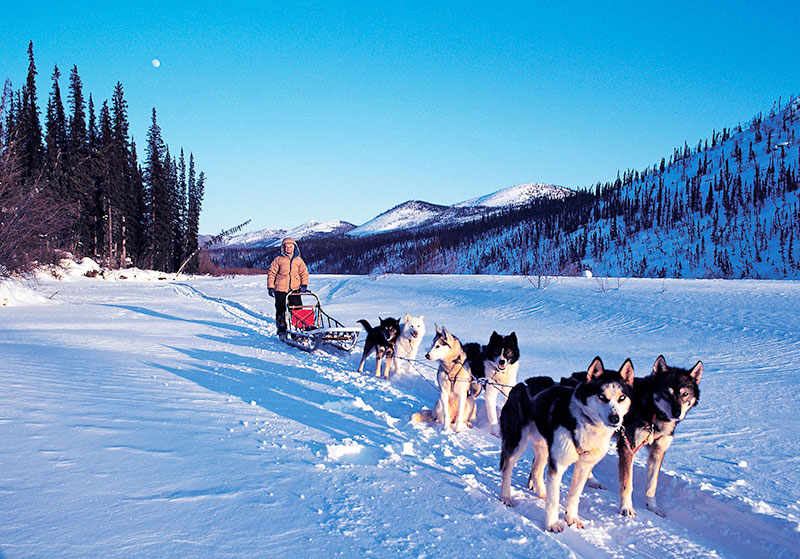 I know what you're going to say: There aren't any cruise ships at the North Pole. And you're right, I was on "vacation" from the S/S Rhapsody with Barrie Moss.

Arctic :

leaving from Bettles, Alaska, population 12, close to the North Pole, with the intrepid Barry Moss who now lives in Seffner, Florida.
It was Barry who initiated me, earlier, to glacier-climbing. We left together from Florida and we took planes which became smaller and smaller, and it became colder and colder.
Coming straight from Florida, it took me a week to start feeling well at - 40° (interestingly, this is where the Celsius and Fahrenheit scales meet up, -40° C = - 40° F)
At 40 degrees Celsius below zero, photography becomes very difficult: the films become brittle, the batteries stop working, the cold metal rips off your eyebrows, the frost created by your breath obstructs the viewfinder, you have 20 seconds max without gloves to change the film roll by pulling off your external glove (there is another, thinner polyprolene glove underneath).




Mark Anthony Chang wrote me this « I know what a pain in the ass all this work was and appreciate the effort as I am enjoying re-living some of these memories Christian. Thanks a lot! »


View his quote on the Music Cruise.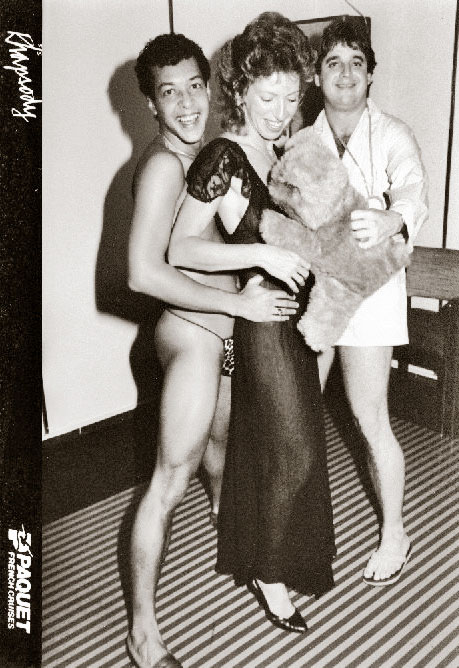 Mark Antony Chang, Laura, Many Cadavid.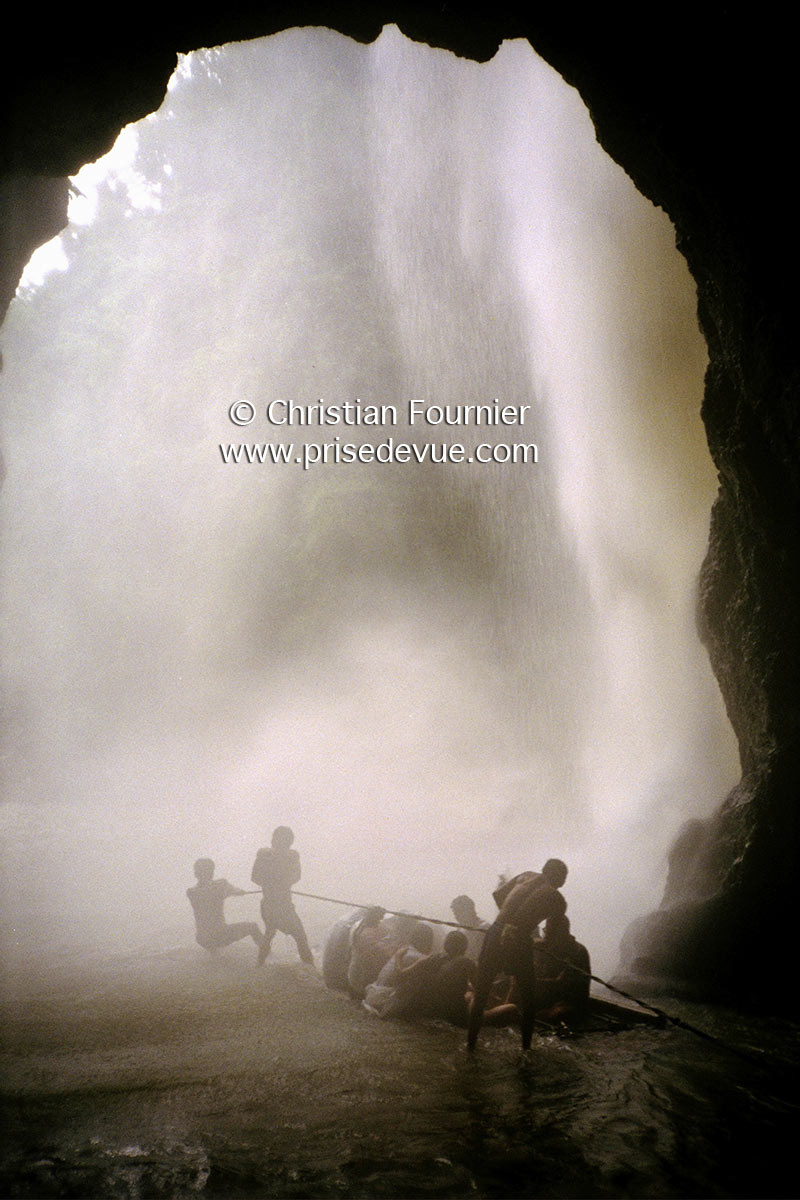 Pagsanjan Falls also known as Cavinti Falls (indigenous name: Magdapio Falls) is one of the most famous waterfalls in the Philippines. Located in the province of Laguna, the falls is one of the major tourist attractions of the region. The three-drop waterfall is reached by a river trip on dugout canoe, known locally as Shooting the rapids, originating from the municipality of Pagsanjan. The falls can also be reached from the top by a short hike from Cavinti. The boat ride has been an attraction since the Spanish Colonial Era with the oldest written account in 1894.
The town of Pagsanjan lies at the confluence of two rivers, the Balanac River and the Bumbungan River (also known as the Pagsanjan River).


Chris, Andrew Bruce and Ian Johnson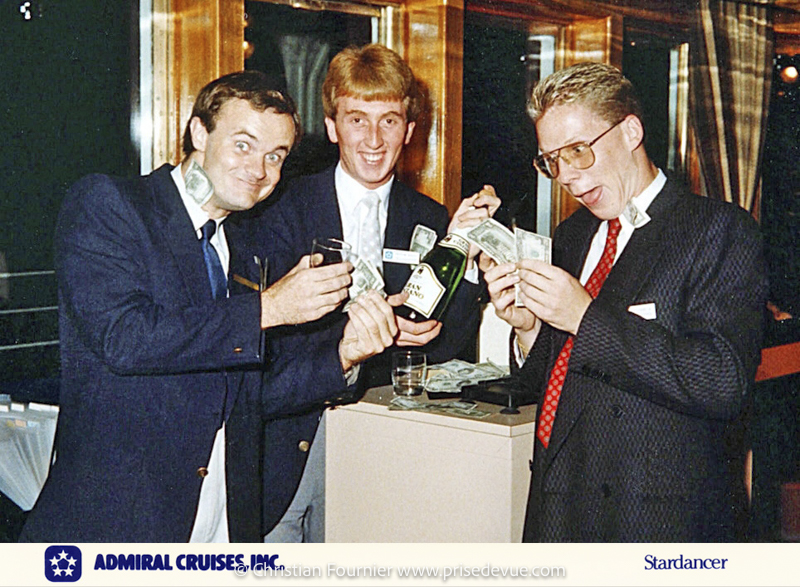 Ian Johnson wrote : « I worked with Christian Fournier for a while. He was the most brilliant and creative photographer I've ever met. His body of work is absolutely amazing. He lives and breaths photography, truly a rare talent. »



In Skagway, Alaska, with the lovely dancers Misti Mussatto and Alison.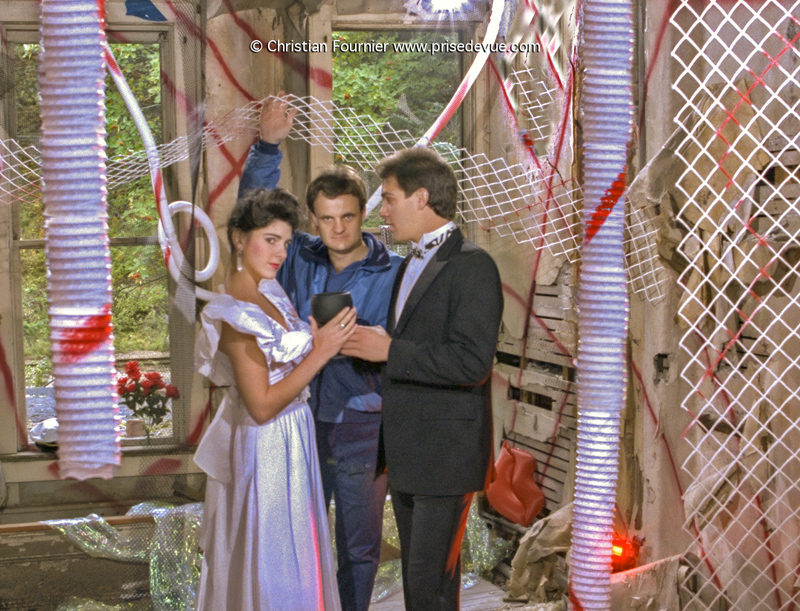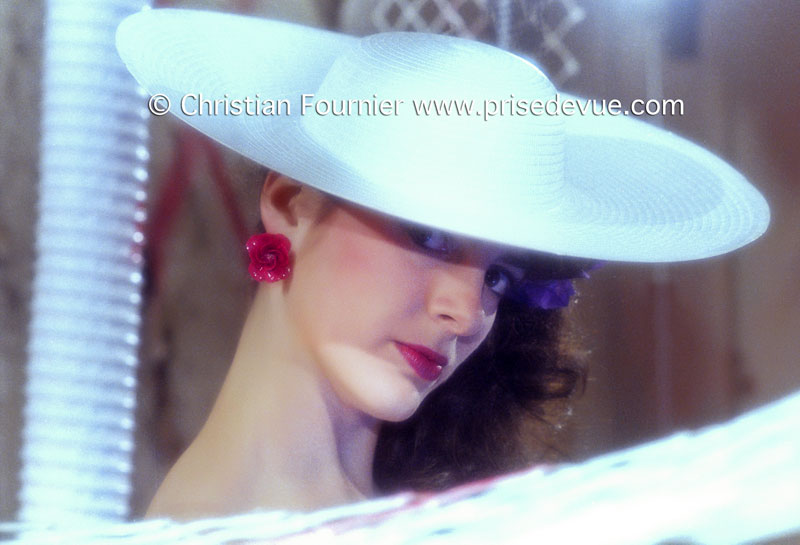 Angel Swanson goes sky diving.


Angel Swanson Vanrooyen
Hi Christian, I'm living in North Carolina just 25 miles north of Charlotte out in the country. I have a beautiful Day spa about 2 miles from home. I met a South African 15 years ago while living in Aspen, Colorado and married him a few years later when we were in Hawaii. We have two 4 legged children and a talking parrot. Life is good! I knew you could never put down the camera. I bet you have a photo collection that's out of this world! Talk to you soon, Angel.

Mark Switzer: thanks for the photos and memories. U remember me from Sov 1994. Was a great couple of weeks working with you. You are a legend in your own lifetime.




Cale sèche à Galveston, Texas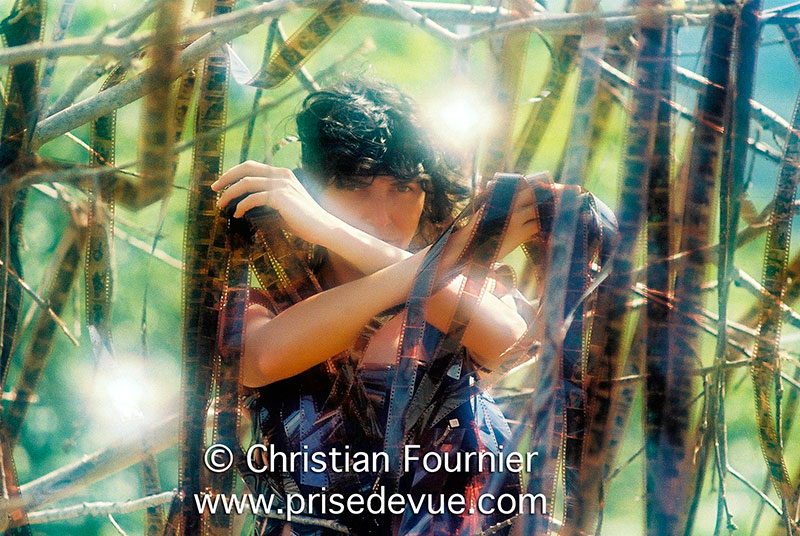 Dr Nicole Bordes is showing the old 35mm negatives and answers the proverbial question :"What do you do with the old negatives ????"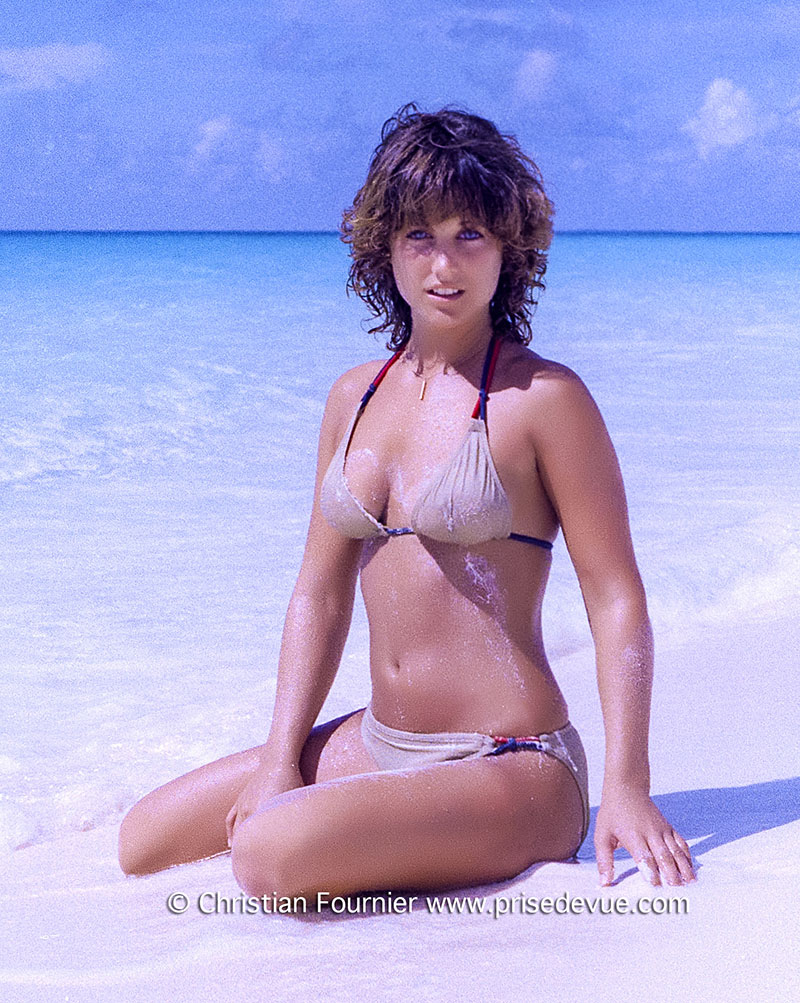 Jackie Matelich.


Pat Denton: "I have known Christian Fournier for many years and can confirm he is an excellent photographer - as anyone can see from his web-site - he does high fashion shoots for people such as L'Oreal and was actually my mentor, when I lived in Paris, and first got me into digital photography"

Christian Fournier: "Thanks Pat. You were one of my first bosses on the Cruiseships and you were great.
Your good reports have probably contributed to my fast promotion within Cruiseship Picture Co."

Pat Denton is now a very successful photographer in the South of France.

Pat in my studio, in Paris around 1996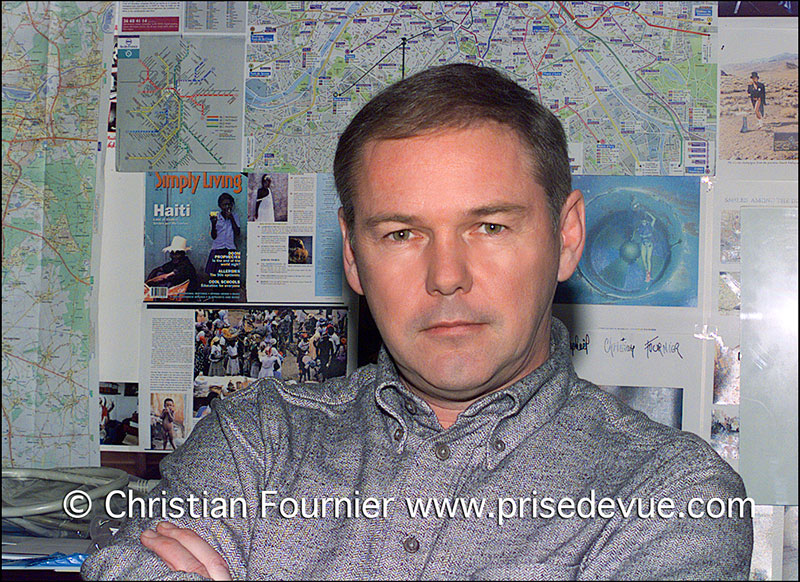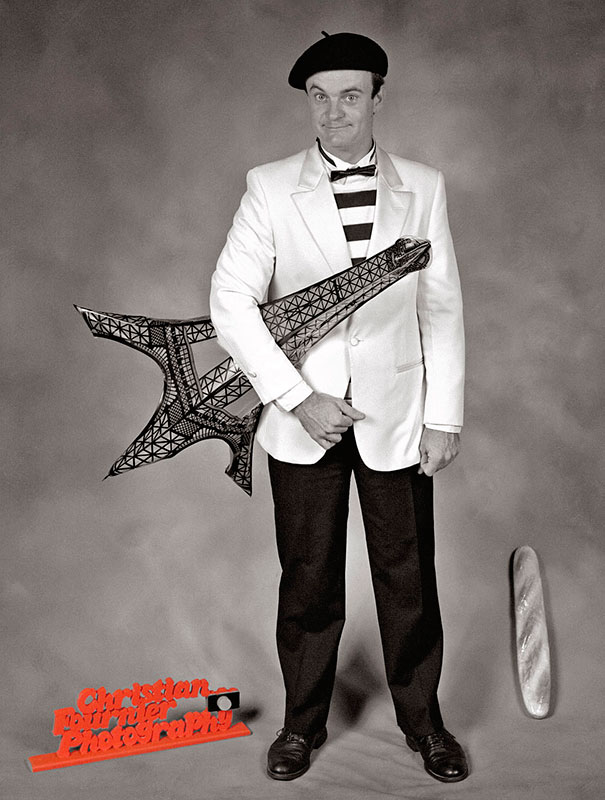 Of course I am French, why do you think I have this outrageous accent for?
This is a famous line from Monty Python and the Holy Grail.





- Is sex better than cheese to smile for a picture? - It depends on what kind of cheese.
- Vaut -il mieux dire sexe ou fromage pour sourire lors d'une photo ? - Cela dépend de quel type de fromage.

Le 20-01-2011 de Kay Masterson Coulthurst : Simply love your work! An inspiration!
Hello Christian!! How lovely to see you here and look back on some photos from the Ocean Princess days! I feel very nostalgic!
Simply love your work! An inspiration!


Raoul Monthouel

At the end of the repositioning cruise of the Club Med II, we arrived in Nouméa. It was there that I met Raoul Monthouel, the owner of the dive club, and that I joined him on these expeditions. We often discussed software and underwater photography.
Raoul Monthouel: "I downloaded your email on the boat. Tomorrow I'll log in onshore and visit your FlickR site. You really take it seriously. You're my go-to for anything having to do with photography and Macs! In your line of work, I've never met anyone as competent and as ahead of his time as you were in Nouméa. I can't wait to meet up and take part in some shared reminiscing. All the best, Raoul"
"What a pleasure to see what you're up to, to see your work (your style and humour haven't changed a bit), that you're still part of the club, and that you still get wet! Raoul"
"My family is doing well, thank you. Ever since my lynching in Nouméa 6 years ago, I have had some trouble making a comeback. The experience has convinced me of one thing: the most important in life is to be loyal in friendship and in love, the rest is only material that contributes, or not, to what is important. So I am happy to have kept your friendship. The crisis has hit everyone, except the rich, as is often the case in these kinds of circumstances.


My photo gallery, very much inspired by cruise ships!
I sold many photos, mostly blow-ups, and mostly to Japanese tourists.
Of course, my production volume was somewhat smaller in comparison to my work on cruise ships. One Nikonos = 36 photos! Per dive!


Here I photograph Petra Lindblad, famous model, in Hollywood, in 1993.
Petra has also been photographed, among others, by the well-known German photographer Peter Lindbergh for the French magazine Vogue.
I would meet Peter Lindbergh later, in his house on rue de Savoie in Paris, in 1997, to initiate him to using computers, and much later on, in September 2016, at his signing session for the publisher Taschen.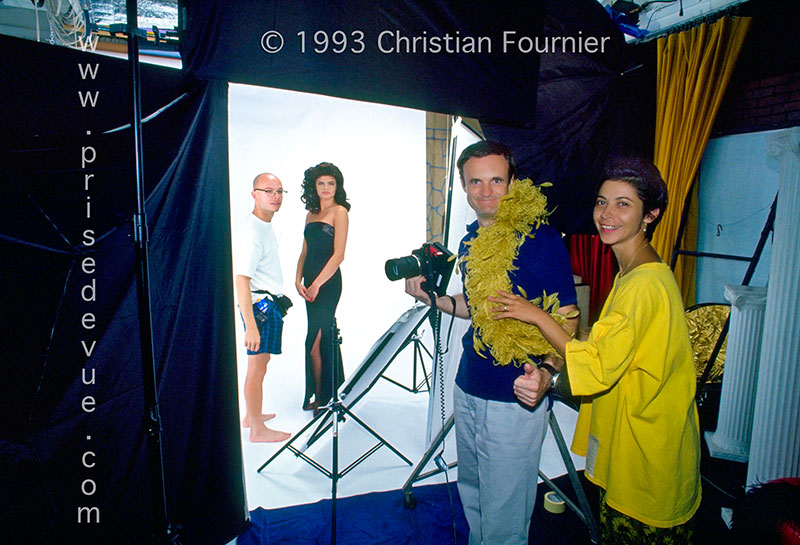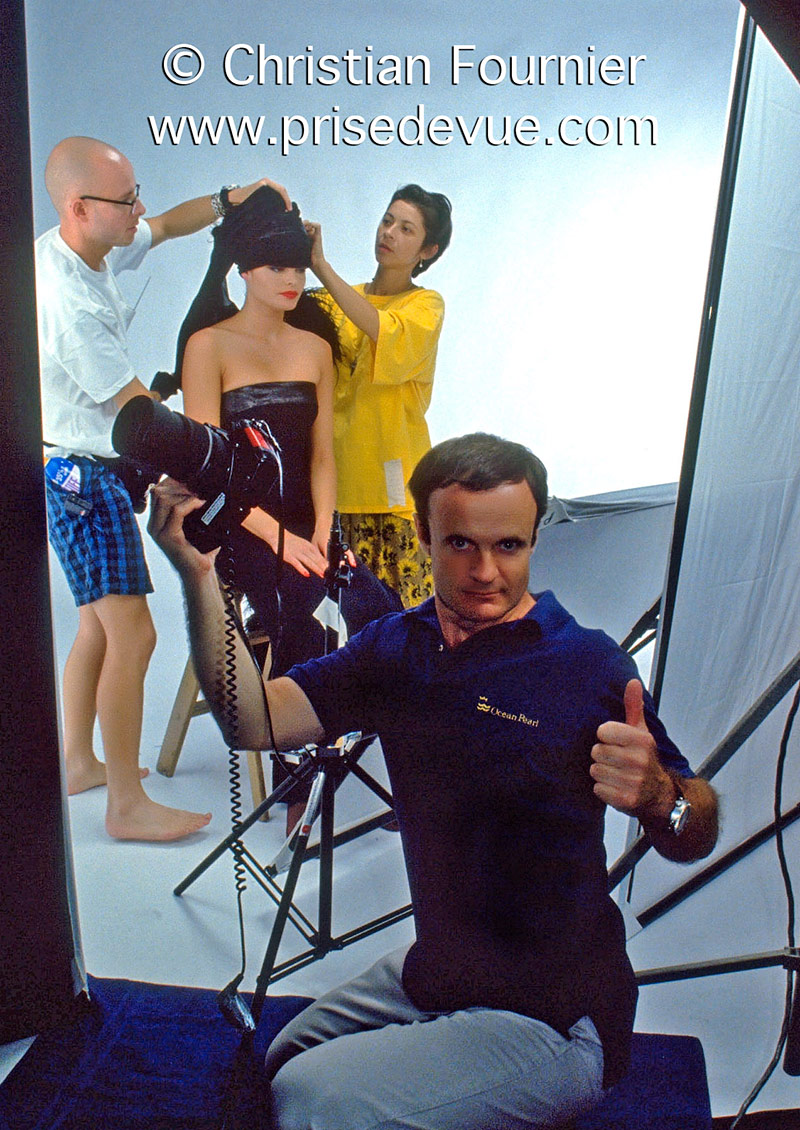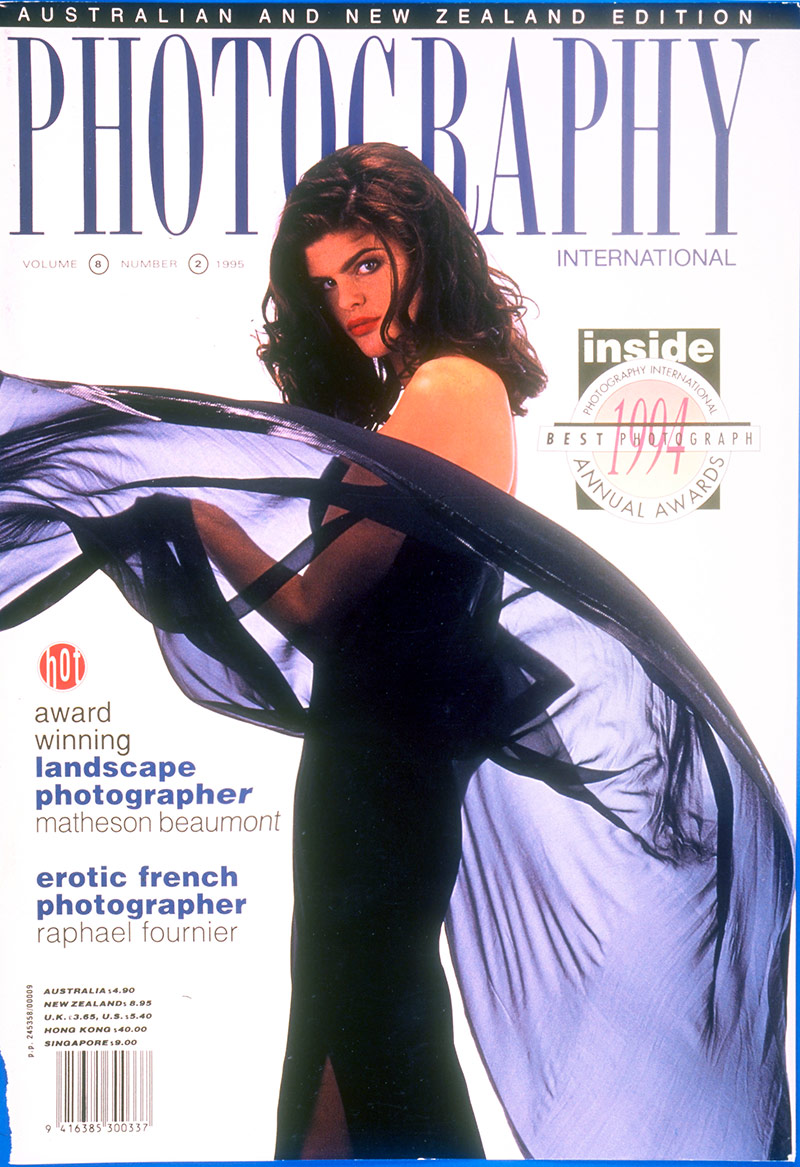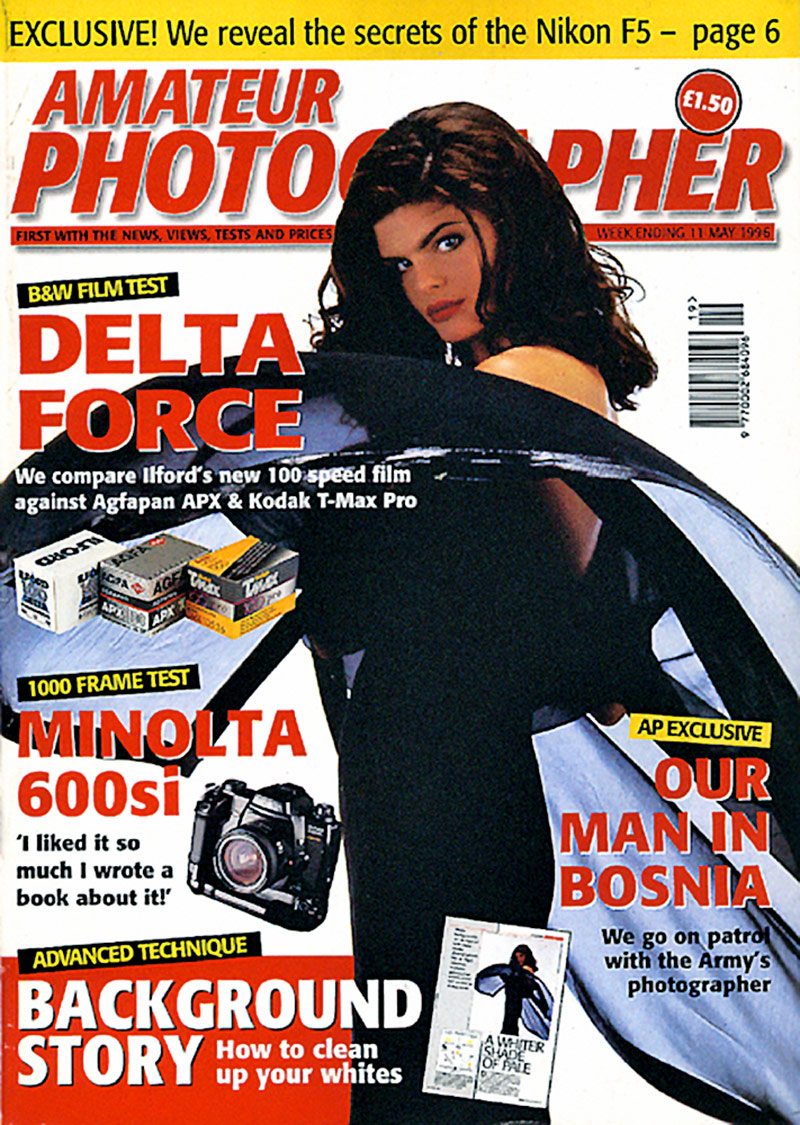 J'ai revu Peter Lindbergh le 29 septembre 2016 lors d'une séances de dédicaces chez Taschen.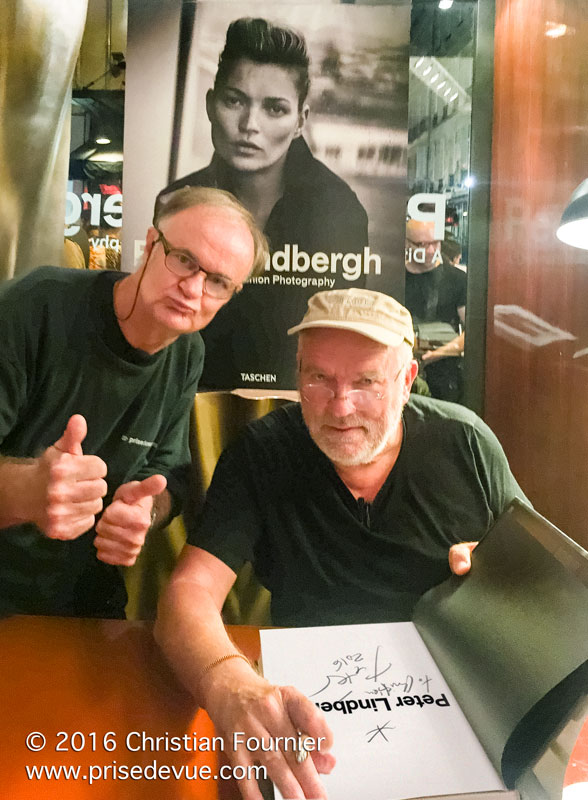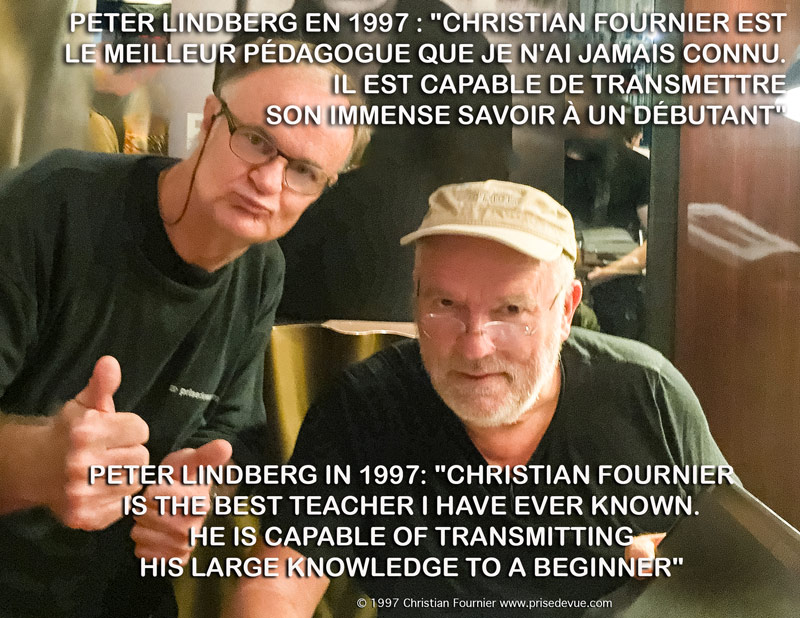 Tim Venn : "Thank you chris - I love looking at your pictures Chris.
You have an amazing collection of photos throughout the years that are very interesting and entertaining.
You are the real photo maestro/ creative genius I had some great adventures on the Ocean Princess with in the Amazon and Caribbean"


Tim Venn on Tobago Island.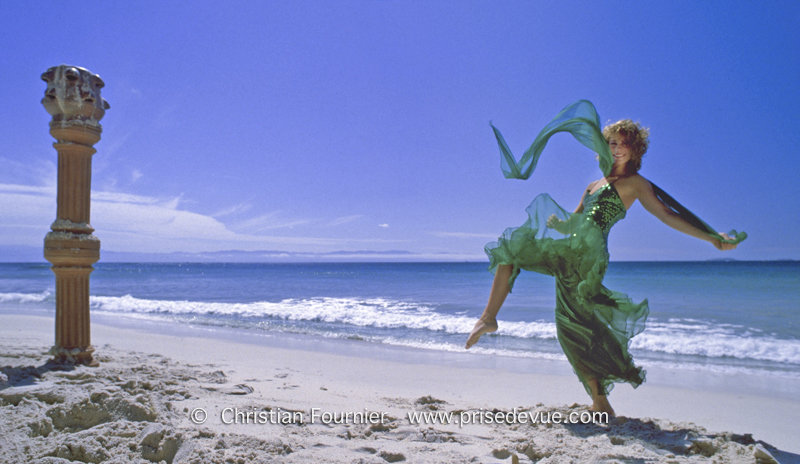 Ben Decker: One of the great pleasures of my cruise ship days was coming onboard and getting a peak at your book of new 8X10 prints. I also can't count the number of times I've recanted the tale of you in Skagway and the bears, the helicopter and the second helicopter that taped the whole thing. I'm assuming you still have the tape :-) A few years after the fact, I was back in Skagway and dropped in at the helicopter company's office and got such a kick out of seeing the picture of the bear with the helicopter in the background still up on the wall. The guys working there at the time had no idea of the history, so I had the pleasure of recanting the tale for them. See the entire thing about this bear encounter page 26, in the middle.



Alana, a fantastic woman.

"Chris,you have been a truly wonderful person to me. Thank you for caring and sharing your love. I love you. I do hope your day has been filled with love and memories. Love always. Alana."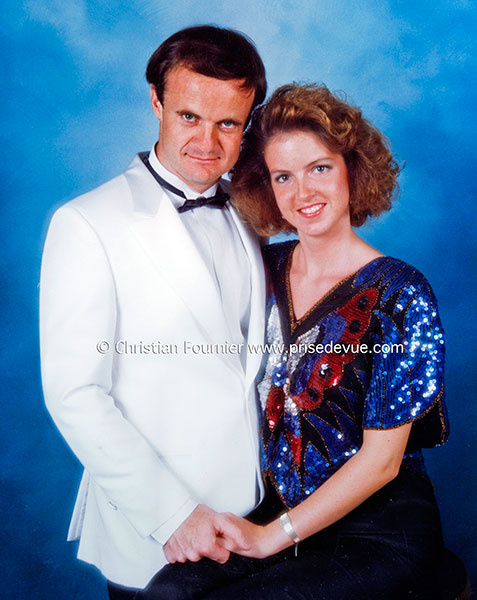 The beginning of my historical reenactments, see the specific page.
Message from Alana: "Hello Chris,
I was poking around on Facebook and found some people from the M.V. Stardancer days.
Got to thinking about you and came across your website. WOW! Very impressive. But, I already knew that from when I knew you back in 1987-1988. SO many years ago.
I can see that life has treated you well and you are very successful.
I'm glad I had the opportunity to know you back then. Take care.
Hugs, Alana."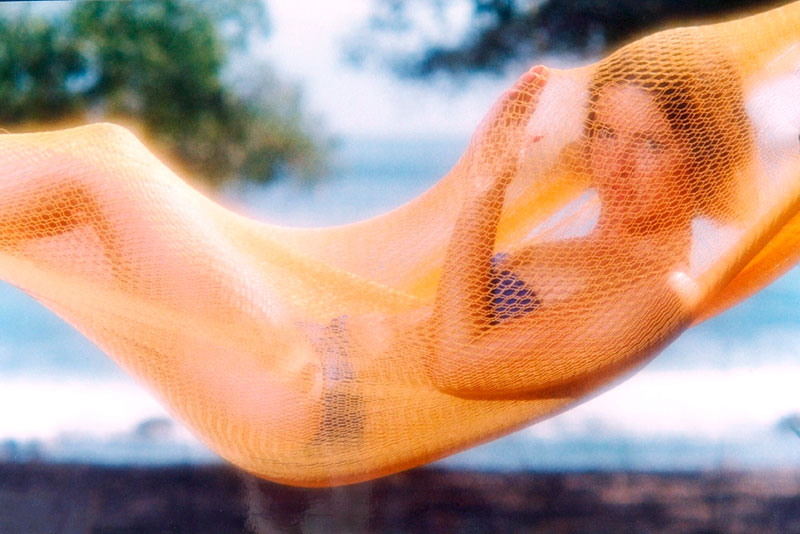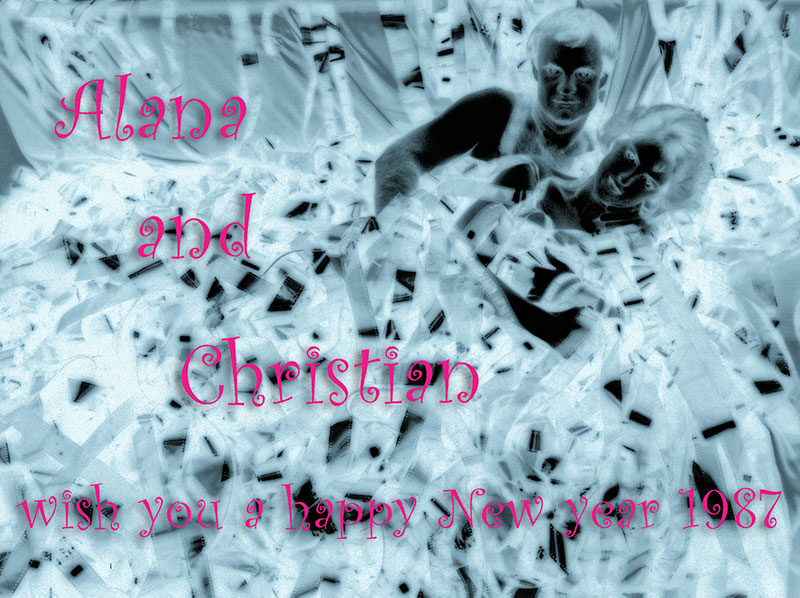 Thank you, Chris. Wonderful to get a birthday greeting from around the world. You introduced me to a greater love of photography that has now been passed on to my younger daughter. So cool. I'm glad I got to be a part of your life so many years ago. Merci, Alana.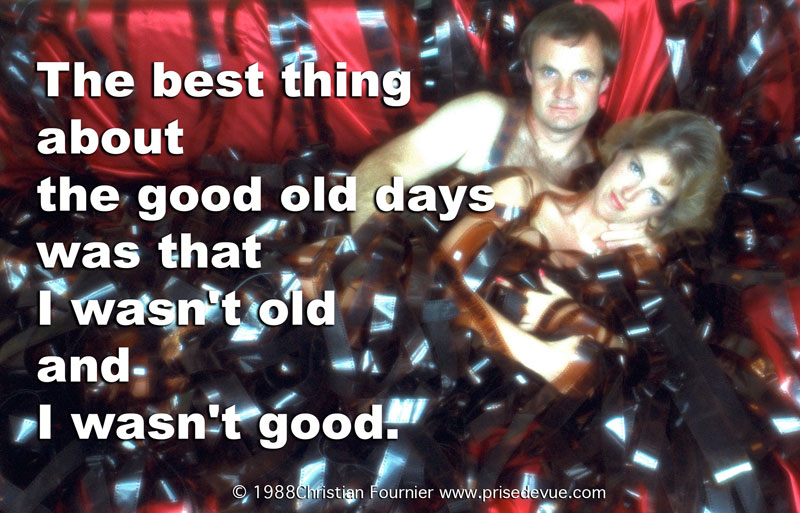 A party from S/S Rhapsody in Skagway Alaska. The Hawian cowboy and his wife, George Gaillard and his wife Wes et Eperly Epae Marie-claude Chauveau-gaillard, Eric Fauque de Jonquières, Jody, me, Laurie, etc...




Marie-Claude Chauveau-Gaillard 2010
Après avoir vécu 12 ans à Miami (entre couMarie-Claude Chauveau-Faillard 2010
After living 12 years in Miami (punctuated by small trips to France) we landed in Châlons-en-Champagne, a small provincial town where the rent is cheap but where you bore yourself to death, in stark contrast to the quality of life we left behind in Miami. That's great for your photos, we're looking forward to seeing them.
Marie-Claud Chauveau-Faillard 2015 Please accept my friend request, in honour of the good old times aboard Rhapsody. As you know, we're nomads, we love life, by which I mean the good life, so we've now lived in Porto (Portugal) for 17 months. I love your photos, you've become an admirable artist, bravo! Have a good day.

The Amazing and crazy raft trip from Mendenhall lake to the sea, with Barrie Moss and Doug Plews.
The shark is plastic.


The raft in my cabin.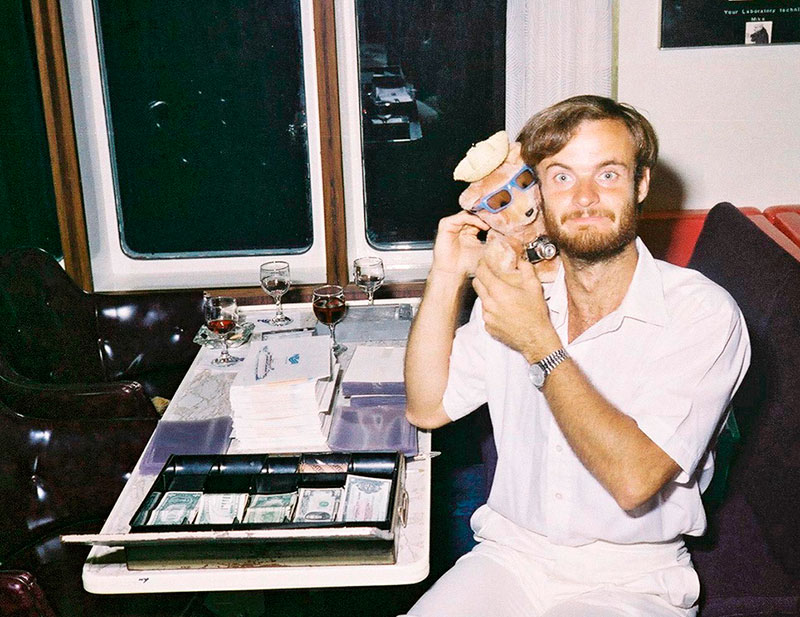 My very first photo in 1980 onboard M/S Skywards. Photo by Michael Gould. I managed to buy the same tiny camera in 1995 and still photograph it in 2021 as my symbol.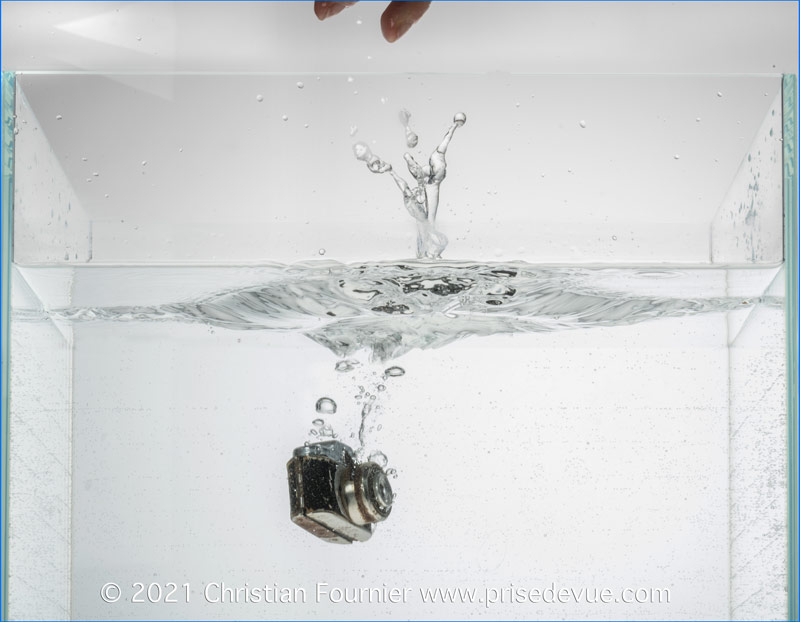 On ne s'amuse plus. Ce petit appareil photo est en train de couler !



Mike Gould : "Christian has an iron hand in a velvet glove"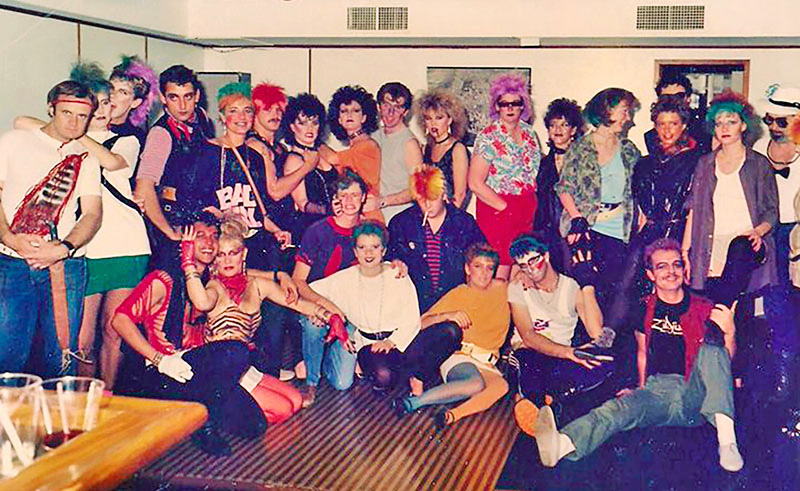 Halloween party on S/S Rhapsody. I am on extreme left, with rib cage and guts showing.
Caire-Lise Ashton-Damond, Tony, Nathalie Monvoisin, Terri, Catherine Fouin, George Gaillard, Gilles Bennati.



Before kayaking on Mendenhall Glacier, Alaska, with Barrie Moss, Andy Nov
is, Doud Plews, me, Nancy Fernandez, etc.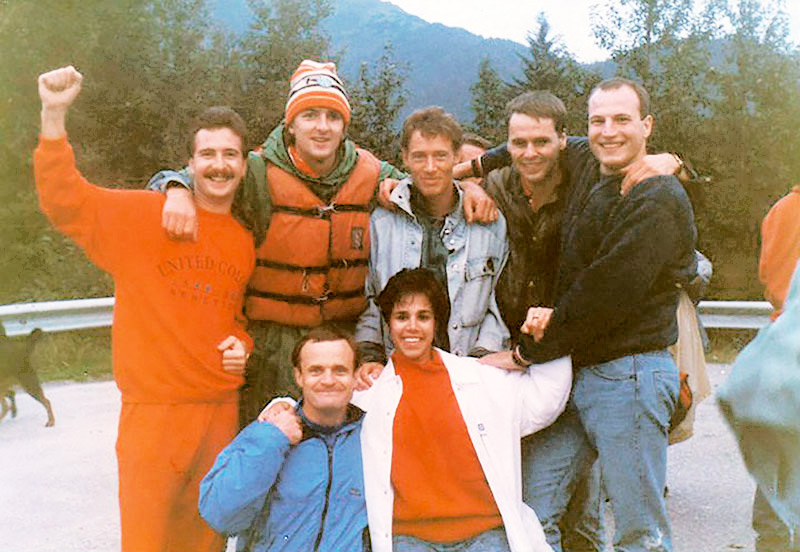 Le 22-12-2010 de Andy Novis : my hero
Christian, you are exposing the boring lives of people who think they are successful, the combination of technical brilliance, art, & pure fun is fantastic, you were my hero then & even more now, i think you stoked my interest in photography many years ago, happy to be in your shadow.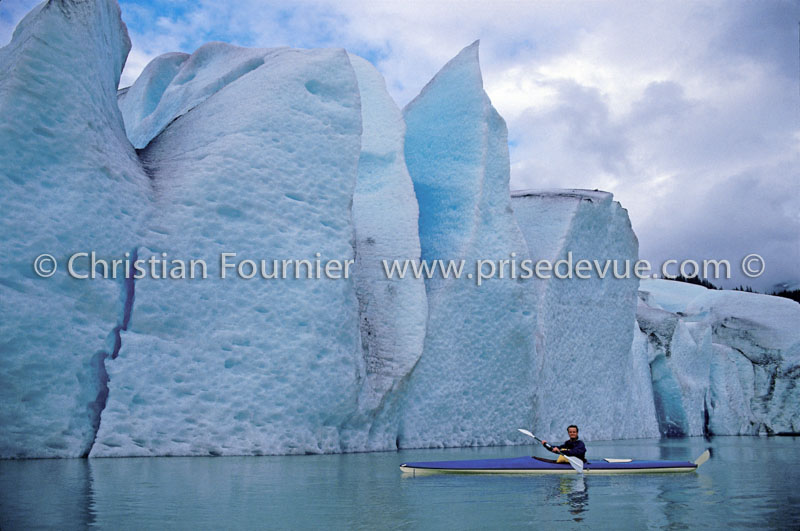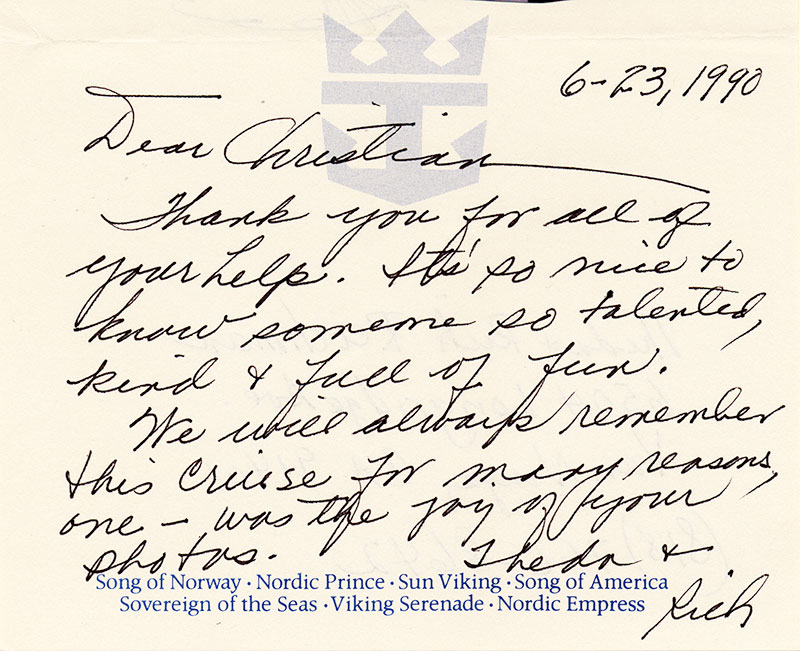 6-23, 1990
Dear Christian, Thank you for all your help. It's so nice to know someone so talented, kind and full of fun.
We will always remember this cruise for many reasons, one- was the joy of your photos.
Theda and Rich.

My life on cruiseships.
TEXT
ET PHOTOS : CHRISTIAN FOURNIER

I criss-cross the seas of the world on gigantic cruise liners, taking photos, taking photo, and … taking photos.
My personal record is 4,000 photos in a single week (which, out of context, is quite stupid; allow me to explain). To understand, you should know, for example, that on the S/S Norway (a former French liner), which had seven photographers for two thousand four hundred passengers a week, the production comes out to twelve thousand photos every week (I've done the math for you, that's ten photos per couple, per cruise). Yeah, that is a large production. A large business, even, which requires a certain organization. Production, marketing, phone calls, aspirin.
I have the status of independent photographer, or Freelancer for those in the know, and I sell my services to an English agency which has Photography contracts on about (depending on the season) thirty-five cruise ships from a great diversity of maritime companies (English, French, Greek, Italian, Norwegian, American, and so forth, for example: Norwegian Caribbean Line, Paquet, Bahamas Cruise Line, etc.)
This status grants me the unheard-of luxury of working for several months on a ship (fifteen hours per day, seven days a week, all expenses paid, and no taxes to pay, thank you very much), in an often exotic corner of our beautiful planet, and then to spend the next several months on my time "off", by which obviously I mean I did more freelancing (now you're in the know).
On cruise ships, we work hard and play hard. There was always the pressure of meeting your sales performance (three thousand dollars give or take, depending on the boat), to outdo the previous chief photographers, seniority oblige, week after week, in spite of diplomatic issues with the maritime company, delivery delays, technical problems in the onboard colour lab that you had to repair yourself, assistants to train, finances to manage, the moods of the big cheese in London, etc, ..
In a way, this type of photography is a job for mercenaries. The best training is "door to door" sales, if you see what I mean. When the ship leaves the port after boarding, all the passengers are on deck watching firm land shrinking into the distance. Naturally all the photographers are on deck too, each one staking his territory, taking a perfect, professional, but rather unoriginal photograph (with flash in the middle of the day, to chase those shadows away!) of each couple leaning upon the railing. The best photographer is the one who comes away with the most (properly) exposed rolls of film. So "smooth-talking" is an essential skill.
-"Smile! There's no obligation to purchase", "Come on, it doesn't hurt, I promise", "It isn't every day you embark on a cruise ship" "I'm the best photographer for 20 km around"
In my former life, I had been a maths teacher, in the private sector, I was very timid and I didn't speak much English. Look at me now: the best photographer in a 20 km radius, I photograph groups of thousands of passengers while dreaming of my next dive, and even my assistants, all of them British, think that I come from England. Anything is possible when you're paid on commission. You need to have motivation in life!
To summarize, I am given:
- Passengers closed off from the world
- Photography equipment (both shooting and development)
- Assistants
- A photo gallery to display the photos
My job is to somehow transmute all of this into $$$$$$. I oversee the whole production from beginning to end (an old cherished dream: artisanship!)


With training and mileage, the photographers can read the negatives easily.

The job is very varied: you've got to be both versatile and well-versed in other languages:
- Storekeeper: keeping track of the stock (long live software!). A shame we can't always maintain proper storing temperatures.
- Photographer: Oh yes, sometimes you even have to know a bit about photography. We are all skilled photographers, armed with our "Leica"s and big flashes. We wear tuxedos at the cocktail parties and swim suits on excursions.
- Crowd Control: taking a photo here and a photo there is not enough, it's a drop in the ocean. We have to photograph everyone. We also have to take photos for the maritime company: (a broken part in the machine room, a new excursion, a medal awarding ceremony, the boat in the Panama Canal, a show on stage, at harbour, etc..)
- Colour Printing (Kodak didn't anticipate the extra chemical agitation on a rocking ship. Hey, why is the white base of the paper slightly brown?)
- Electrician and mechanic: maintenance and repair (waiting a week is not a possibility: passengers don't often purchase the photos of past passengers)
- A good Salesman: Why, yes, we do have a counter, we do accept credit and debit (on display: many thousands of prints; please don't touch them with your fingers, thanks)
- Skilled Marketing: statistical analysis to know which products are the most sought-after, fine-tune photography strategies (it's important to follow the movement of a crowd when you take a lot of photos), and sales strategies (it's important to follow the movement of a crowd when you want to sell a lot of photos). No purchase necessary, so you have to offer the best product to "win". Here, it's one's experience and flair that count.
- Team Leader: you need to know how to delegate different tasks according to everyone's abilities, to differing degrees of seasickness, and to the TV movie schedule.
- Diplomacy expert: Finding a compromise between the interests of the English Photography company, avoiding stepping on the toes of the maritime company, giving the best service possible to the passengers and assuring the well-being of the assistants. Hey wait, I forgot something: my own interest, too.
You must fulfill all these roles while maintaining the utmost courtesy, in an ironed uniform, with great discretion. These are all important. Also, it is imperative that you have an excellent sense of humour, yet keep it to yourself.
The English company now has around thirty-five boats in its fleet. The vacations I am allowed get longer and longer, that is to say photo reports, and other slices of life:
Near the North Pole, with scientists and sled-dogs. With vases and flowers in a studio. In the Amazon with a tribe cut off from civilization (where I managed to catch malaria and it lasted for three months). In a small sailboat in the British Virgin Islands. With charming Fashion Models in Paris and in Los Angeles. Surrounded by glaciers in Alaska. With small bottles of paint on the Ektachromes. Piloting a plane above Missouri. Scuba-diving in Florida, Ohio, the Caribbean, in Mexico, in Canada, in Bermuda, Honduras, Venezuela, Hawaii, California, on Sipadan in Malaysia, Kota Kinabalu in Borneo, Bali in Indonesia. With my own personal creations (check out my accompanying portfolio).
I am drawn to diversity. Always photographing the same types of subjects, in the same style, that is the key to success : but what an insult to the open mind and true creativity!
The hardest part is to develop and keep one's contacts in the magazines of the world. Thankfully in the USA there are a few excellent Post Office Box services (privately owned, of course), thanks to whom I can stay in touch (in staggered time, but reliable). This allowed me to have my work published in Europe, North America, and Asia.
Thanks to cruise ships. Let's get back to the cruise ships. Your schedule is always very full, as a photographer, just like any of the crew members, really. Today is more laid-back, we are docked for the day: the passengers are out on an excursion. This leaves only a few things to get done:
- Chemicals to mix up
- Yesterday's prints to cut out (they are on a long roll as they come out of the drier)
- The cash register's balance to show to the purser
- Explaining to the new guy, Nigel, how to photograph the Waterfall Excursion
- Updating the photo gallery = removing the older photos taken at the beginning of the cruise and replace with the new ones
- Sending a fax to England about the circuit board for the temperature controller that still hasn't arrived but which we desperately need
- A meeting with the second commander about photos on the docks: he would like us to photograph the passengers once on the dock rather than on the gangway
- A meeting with the Excursion Director who is accusing us of slowing down the boarding of the buses, we are getting in his way by taking photos on the dock so he would rather we do them on the gangway
- A reprimanding fax to read from England: we should take more photos as passengers are disembarking
- The "Hotel Manager" would like to move the photo counter to an invisible location
- The electricity was suddenly cut without warning in the photo lab: even though I've already asked the chief electrician to warn us, because we could lose film, but he always forgets
- A phone call from the Miami branch asking us if we happened to have an extra circuit board for the temperature controller, since another boat was in desperate need of one
- A passenger contacts us at the lab: he complains because there is no photographer coming along on the six-person helicopter excursion. For us, it isn't economically viable to send a photograph on a six-person excursion when at the same time there are three other excursions of four hundred people each. Yet you must be polite to the passenger: it is not his fault: he doesn't know how the system works: I explain it to him, reverential and suave, and he explains to me, that I would sell at least six photos if not more, that he would buy at least one, for sure, except if his wife forces him to wear that terrible jacket she got him last year for their trip to Switzerland, which isn't practical at all since nothing fits in the pockets, so he'd have to carry his camera around his neck, which makes you look too much like a tourist ; at last I am saved by the weekly abandon-ship drill. In the USA, safety is sacred.
The abandon-ship drill: I do absolutely nothing, as usual, and just like the other three hundred and eighty crew members, I watch the twenty crew members who are actually putting the lifeboats into the water.
After the abandon-ship drill, I dash back to the dark room, electricity is back on, I print yesterday's "Cocktail Parties", the second test is perfect, I print everything in one block: one thousand two hundred prints, same density, same filter, three hours. Life is good: my assistants John, Barrie, and Nigel have taken my unending slew of recommendations to heart: same emulsions, same diaphragm, same brightness manual flash, same distance from the subject. Out of forty rolls, only one bad photograph, they're real pros.
I load the long roll of paper, in total darkness, in the corresponding developer, then in the ten minutes before I hang up the developed and dry paper, I try to repair the Leica from two days ago. Ah yes, there's your problem, the shutter, made of cloth, hadn't unrolled properly, so I unscrew it, screw it back on, all is well, business as usual.
The processor's alarm sounds: the developer solution's temperature has gone down more than a degree, I know, the circuit board has failed again. I ordered a new one three weeks ago, because I gave my extra replacement to another boat on the edge of catastrophe. It is a complex circuit board, with more than fifty parts, impossible to repair, not onboard, and not anywhere in Mexico: the hundred litres of developer solution are going to cool down much too quickly and the last hundred photos are going to be too ruined to put up. Time to bring out the big guns: the 500-Watt electric heating element, directly hooked up to the sector. I take out the big roll of paper from the developer, knowing some photos will be lost, but I have no choice, I have to open the lid of the developer solution and throw the heating element into it, and I have to take out the photos in there else they will be fogged. I'll have to heat the bath every fifteen minutes, after having, of course, taken out the roll, losing several photos every time, but this way the temperature should stay in the acceptable range, not in the range recommended by Kodak, maybe (please forgive me, Mr. Kodak), but the one I set myself. Keeping the heating element in the middle of the bath is the hardest, for if it touched the sides, made of PVC, they wouldn't take it too well. Tonight I'll put together a metal frame to hold the element for me. Look, it's already almost dark outside: it is a long process, manual heating.
Aha, John, Barrie, and Nigel have just come back from their respective excursions, so they can come help me find the missing prints and reprint them. Oops, I haven't had the time to eat lunch yet. A phone call for me from reception: an emissary from my company has just arrived and is waiting for me, so I go to meet him, he is wearing a nice suit and tie and a cellphone which doesn't work in Mexico, obviously. He is repulsed by my perfume of developing chemicals. He has come as quickly as possible from Los Angeles, to give me my replacement circuit-board #686138157 8060 PCB. Here, it's the one that controls the temperature, the one that I had ordered and still not received but which today I very much needed. He is a little disappointed: according to my reputation I always had the replacement parts because I always ordered them on time. I asked him why he didn't call me from Los Angeles before coming, he says he was too busy, as we both stare at the mobile phone in his hand. He takes advantage of this moment to let me know that he'd just run into the purser who had complained that I didn't photograph the six-person helicopter excursion, because everyone wanted it. Well, anyway, he's got a plane to catch and I've got a shower to take, and a bear costume to put on (disguised, obscured, very soft to touch, very photogenic, waiting for passengers at the restaurant exit, and tadah, miraculously, the photographer is there to take a photo).
In the stairwell I'm stopped by the security officer who asks me why I didn't participate in the abandon-ship drill today, when I had already excused three assistants for going on an excursion. I go by the gallery where John, Barrie, and Nigel had opened on time after all and everything is okay, except for some missing photos, which have been exposed but not developed. I would do them between two bear sessions.
A lady passenger calls me over to say, "The photos are too expensive, I'm sure you would sell twice as many if you sold them at half the price". I think, well then we wouldn't earn a cent, but I say instead, "A very good idea, Madam, I will definitely bring it up with my superiors". It's my turn to do the bear, an assistant takes the photos, another manages the gallery, and the other takes his chance to get a bite to eat. I hurry to the lab to develop the missing photographs. I eat and I go to help my assistant at the gallery, full of people.
There are already two thousand photos on the walls by the third day of the cruise. One passenger says, facing the counter, "Where is the photo gallery?". Another, showing us his photo on his identity card, "Can you find me my photo with the Captain, here's what I look like." "Well of course we can, Madam, but we can see what you look like quite clearly on your face." A very dignified gentleman: "Do you have a photo lab on board?" "Of course not, we have a helicopter service." Anyways, they're all nice and good, they are on vacation, they're on a cruise ship, they're here to relax, not to think.
Sometimes we get to relax, too. Here are some silly photos that I made onboard. Sometimes, we get to take very interesting photos: the boat in the middle of the ice for the Alaska brochure, an underwater photo of a broken propeller, a burial at sea, a celebrity on board (Henri Salvador, Jimmy Carter), the evacuation of passengers after the engine room caught on fire. The technical and commercial aspects of the business are equally fascinating and we have to evolve as the industry changes: American tourists all have their own camera (even autofocus!) and a video camera, and many of them have been on cruises before, they want something new. The recession hit us hard: the souvenir photo is superfluous and digital photography is about to turn the system upside-down : everything will be instantaneous or near enough, no need for dark rooms, just television screens and laser colour printers.
Thanks to my inquisitive scientific mind, I've invented a good number of techniques and developed a good number of markets. Back when I started, the English photography company hadn't but a dozen boats.
I organized photoshoots with mascots (creatures in soft, photogenic, asexual disguises).
I invented studio photo shoots during formal evenings, my famous "Formal Portraits": with Hasselblad, studio flashes and umbrellas. I had to spend a cruise on each boat in the fleet, one by one, as a consultant, to install and relay this novelty. (See details on page 35)
I came up with a new faster system to assign numbers to prints. I redrew the mask for the new machines so they could print our logo at the bottom of every print, and Mr. Durst sent me a patent. Thanks, Mr.Durst.
I also developed, as is normal for a photographer, an anti-theft system for the photo gallery.
With the help of a friend, Nicole Bordes, a doctor of Physics, I was able to digitize the entire onboard photography system so that we were able to see the immediate effects of prices, format, season, assistants, etc., on revenues.
Revenues (and quality) went up on every boat where I worked.
I trained many assistants, who went on to become very good managers themselves.
Hey, this page would look good on my resumé.
The human aspects are just as fascinating: the crew is made up of forty-six different nationalities. When the captain gives his welcome speech to the passengers, he claims that we are doing a better job than the UN when it comes to fighting racism and the mix of peoples.

That's good and all, but the feudal system remains:
- The Serfs (Haitians, Mauritians, Jamaicans, Filipinos, Mexicans, Chinese, in short the poor nations) are six to a cabin, earn a thousand francs a month, can only go between their cabins and their workplace, and when one is fired on the spot for some small slip, two hundred are ready to take their place immediately, because when they come home after a year or two on board, they are rich heroes to those at home.
- The Lords: the Captain, the Cruise Director and the Hotel Manager are the Lords: one does not discuss with them: they are always right, even when they're wrong. They can even bend the laws of logic and physics if they will it.
Well, someone needs to lead, otherwise it would all go to shambles. The workers strikes brought the cruise liner France to bankruptcy, now the Norwegians do a fine job of running it. Alright.
At the homeport, on land, the Captain is shouted at by the Company President. The Company President is also shouted at by the Parking Officer because he ruffled his parking ticket and now the machine won't accept it.
- The Court: The Knights, the Bards, the go-betweens. We joke, we fight, we are intrigued, we hope, we are disappointed, we are content, we see the world, okay well mostly the ports, well anyway more than we'd have seen if we'd stayed home, and we don't pay for electricity and we are like one big family, a small village floating on the water. We've got a hairdresser, a baker, a casino, a pool (reserved for passengers, of course, since there's not enough space, obviously.)

Hey wait, you're right, we've left out the passengers. Without them, there would be no us. Without them, there would be no…
Excursions: Jamaica's waterfalls, big game fishing in Bermuda, Jungle tours in Indonesia, snorkelling in the Caribbean, boats on the Great Canal in China and the inescapable shopping, swallowed hook, line, and sinker.
At the time of great discoveries, you know, Christopher Columbus and all that, the rich countries of the time traded with the indigenous peoples, trinkets and glass-work (produced in bulk by the rich countries' industries) in exchange for spices and precious rare woods. Nowadays, the rich come to today's poor countries (still the same ones, pretty much) via cruise ships to buy trinkets (eg. tiny onyx Incan ruins, made in Japan) in great quantity from the indigenous peoples. That way the indigenous people can afford electric hair-dryers (often made in Japan, or by Phillips).
Without blessed tourists, nor would there be the inevitable shows of local folklore that I photograph along the excursions, many times a day: in the jungle, on break between two warrior dances after the tourists have left, the handsome Black man bedecked in paint and feathers lights up a cigarette and discusses the John Wayne movie he saw on TV the night before.
And of course: the cruise has fun. THE LOVE BOAT. Thanks to many lovely and enchanting passengers, I have had a taste of many incredible slices of life, shared and understood their equally varied and passionate lives. I learned of the social classes, religions, customs, national education, fashion, politics, professional life, morals, conjugal relationships, the undersides, the underwear, etc. of the great US of A.
On board, tourists possess a great and revered weapon: the comment card they fill out at the end of the cruise. The Maritime Company judges and manages everything according to these comment cards, because to be the best they need to give people what they want. Too many photos, not enough photos, bigger coffee cups, funnier shows, the cabin smelled fishy, the photographer interrupted our intimate conversation at the cocktail party, the bear scared an old lady half to death because she thought it was just a big stuffed animal, the dancers are too scantily clothed, there was too much to eat, the cruise was alright, but we were jolted awake every morning by the photographer's helicopter, the cruise ship should go inland more, the photographer made me look fat in all of his photos.
The comment cards, once submitted, bring on an avalanche of memos and bigger coffee cups. Now it is mandatory to photograph the six-person helicopter ride. Now it is mandatory that at least one photographer attend the abandon-ship drill. There needs to be more communication between different departments.
The cruise does have fun. You can't deny it's better than the Golf War and the hole in the ozone layer.
TEXT
and
PHOTOS : CHRISTIAN FOURNIER.






Here in Nias with Dr Nicole Bordes circa 1992.


You have to remember that these cards where mainly intended to tease our British friends back home in the Christmas rain and snow.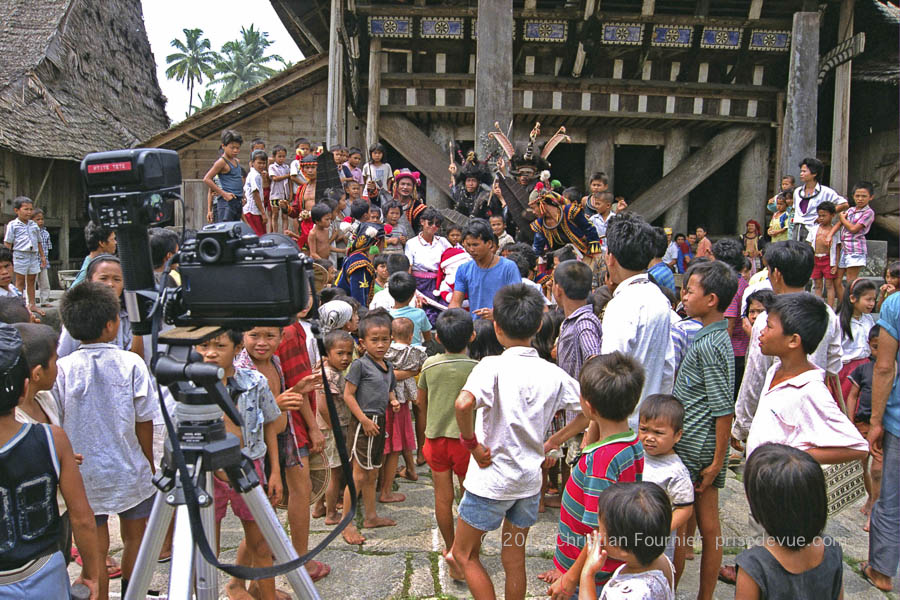 Tribute to Shannon Templeton
I met Shannon around 1989 on board the cruiseship M/V Stardancer.
I took her glacier climbing on Mendenhall Glacier in Alaska. I brought along an inflatable palm tree and a stuffed red iguana.
Shannon Templeton; "And thank you for taking me on my first glacier experience! Those are memories I will never forget".



Shannon Templeton: "That's one of the things I've always loved about you, Christian, your sense of humor.
Who else would take an inflatable palm tree and a stuffed red iguana out onto a glacier in Alaska?!
In a few hundred years someone will be wondering how those got there ..."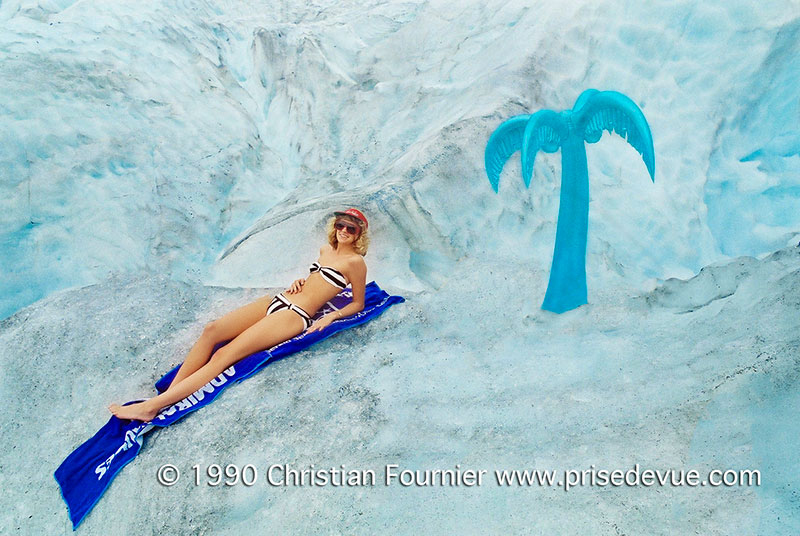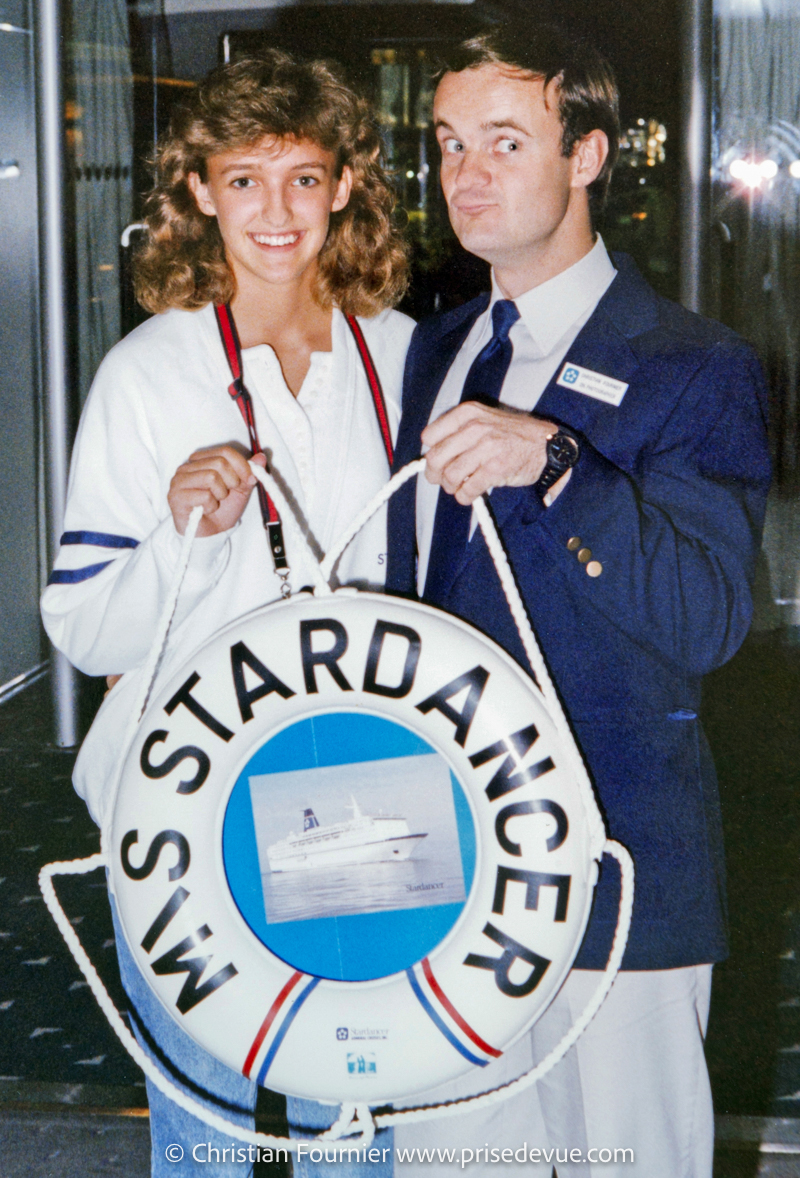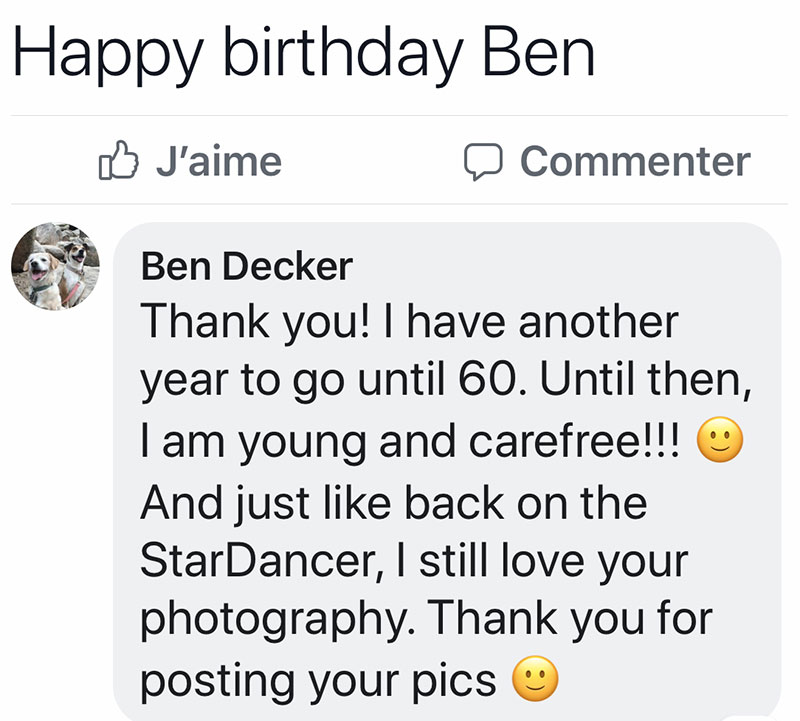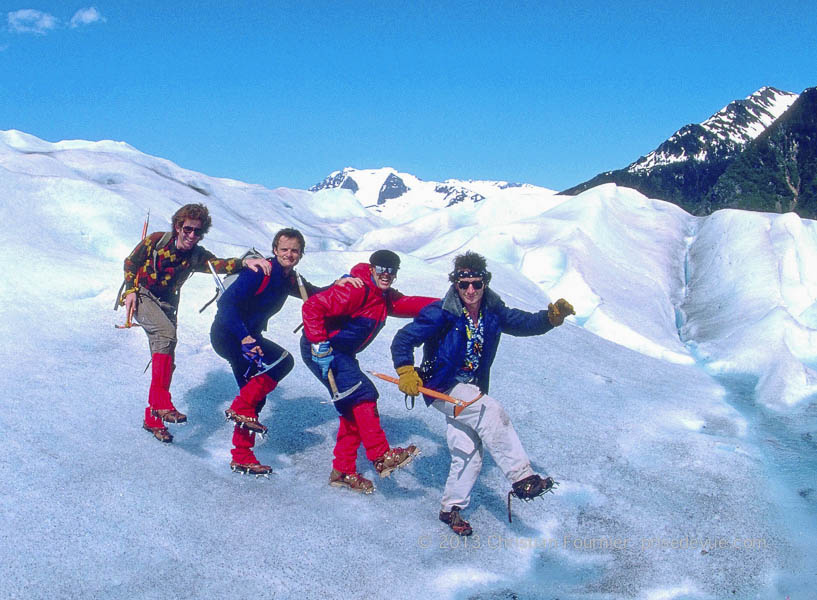 Tony from the gift shop, me, Allen Jolley and photographer (can't remember his name just now, sorry). Photo taken by Barrie Moss.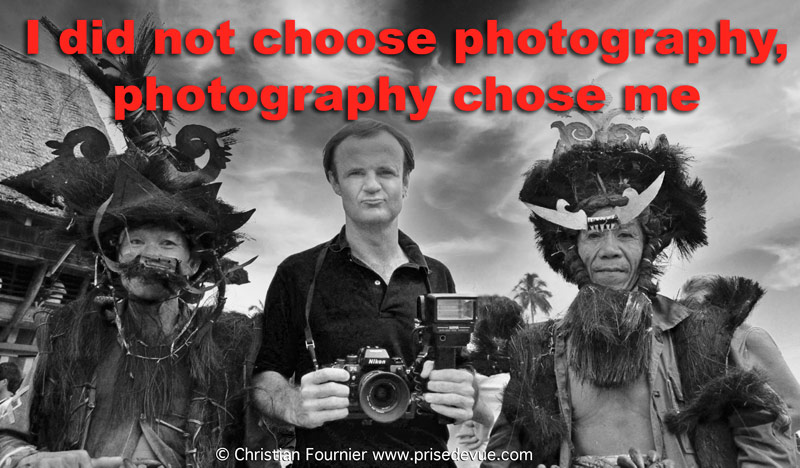 Nias circa 1992.


1992 :

Vanuatu

, Mélanésie, dans le Sud-Ouest de l'océan Pacifique.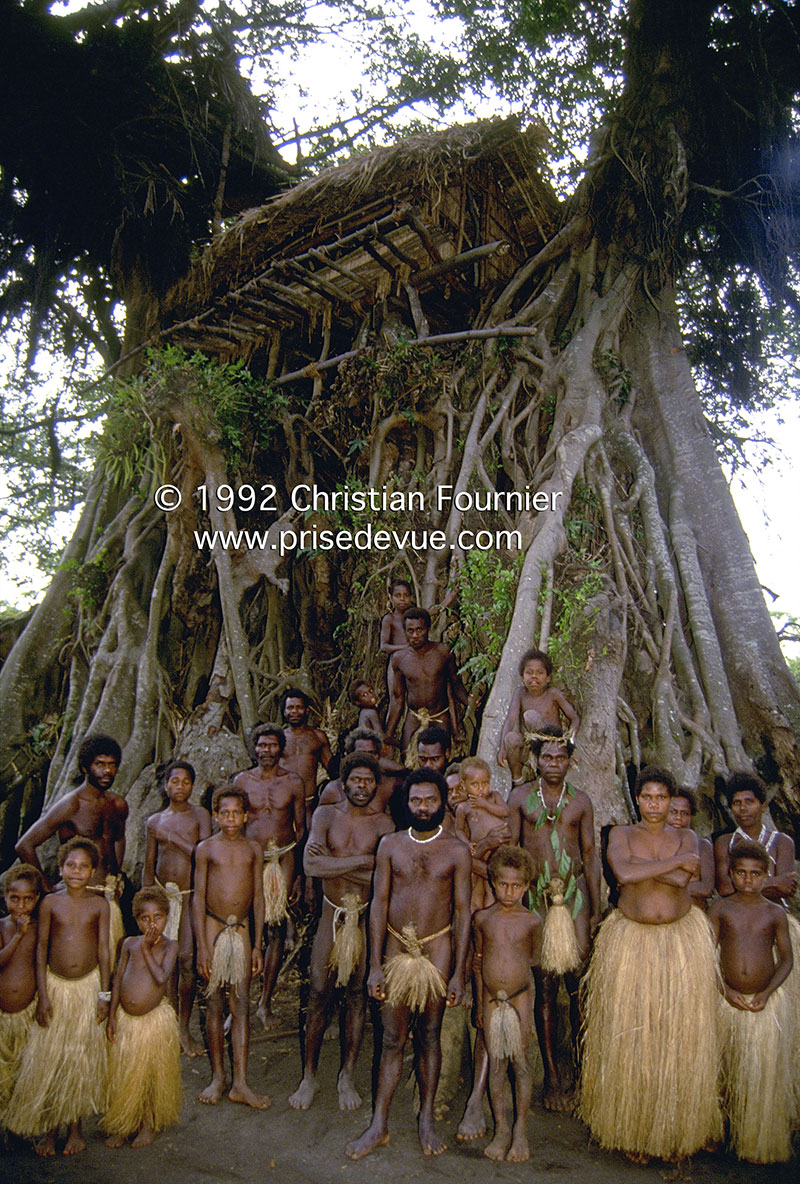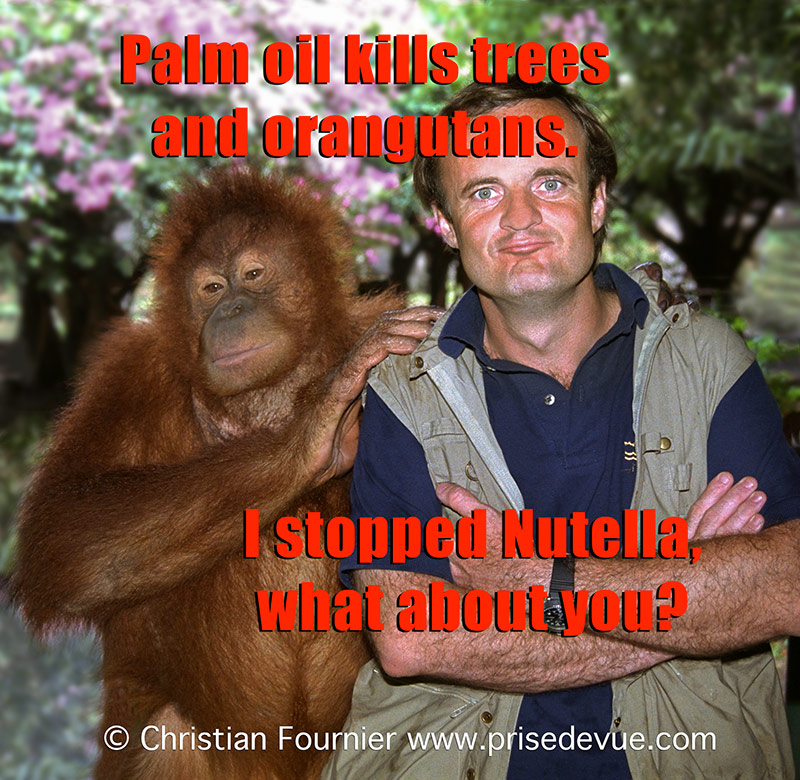 FIRE ONBOARD THE CRUISESHIP OCEAN PEARL in 1992
with thoughts about the French so called liberty of press.
See page 33 for the full report.


The French luxury cruise liner "Ocean Pearl" (Croisières Paquet) enchanted Asia. A 13-day cruise from Singapore to Bangkok with a stop in the mysterious and exotic Bali.
A party-like mood hangs in the air: tonight is the night of the Welcome Cocktail Party.

That's not all that's in the air. The machine room is on fire, the crew tries to put it out by dumping water down the chimney.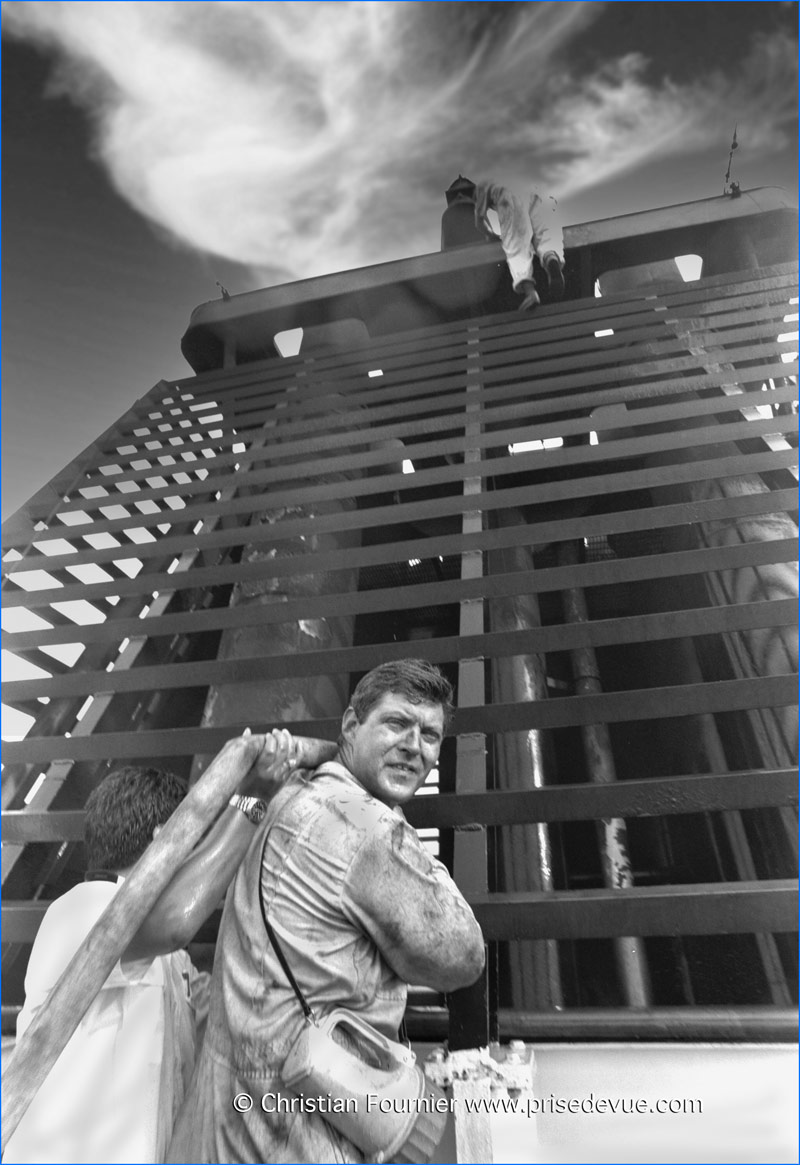 Text and Photos : Christian Fournier; View the photos on section "reportage"
This reportage (text and photos) was bought immediately by the Press Agency Sipa Press in Paris, after faxing them text and photos from Jakarta. Original photos were sent by DHL two hours later. The deal was all done. Sipa returned them 5 days later as unsaleable. This is an indecent procedure in the press world, since the news was then too "cold " to resale. They offered no explanation, no compensation. Two years later, I learned from someone on the French political scene that my reportage showed up on the French prime minister's desk and was vetoed "NO" because Paquet, the cruise line, was "persuasive enough......." So much for the French freedom of press......
Everyone going on a cruise has to go through a boat drill. These are international maritime regulations and this exercise is compulsory for all passengers. Even if you manage to skip it, you can be sure that the safety officer on board will have a meeting with you to explain you the emergency procedures. But what about it? The crew is trained with at least one crew drill per week, the ship herself go through a complete inspection every three months by the U.S. coast guards or their equivalent in foreign countries. Why should each passenger at the beginning of the cruise, put on his bright orange life jacket and assemble on the deck areas? What is to be feared? Accidents at sea are rare, but can happen.
The following is a true story:
12th February 1992, 3:30 P.M.: the luxury passenger liner Ocean Pearl from Ocean Cruise Line / Croisières Paquet is sailing the Java Sea. The weather is beautiful and the sea is calm. For the 370 passengers on board, this is the first day of a dream vacation: a 13 day cruise from Singapore to Bangkok. The first activity of the morning was the passenger drill and the excitement is building up for the welcome gala party this evening.
Suddenly, the voice of the British Staff Captain Jeremy Kingston breaks a leisurely started afternoon; The sound of his out of breath and highly stressed voice will be imprinted in many minds:
"This announcement is for the crew only. Crew alert, crew alert. A-team to engine room, A-team to engine room."
The alarm bells start ringing all over the ship. A black smoke has already invaded the lower stairs and corridors. Some passengers are hurrying out to the outside decks. There is no panic but they look distressed. The well trained crew and staff run to their assigned muster station in less than five minutes. Shortly afterwards, the passengers are asked to go to the decks with their life jackets. Inside the ship, the smoke is getting thicker. All power is off except for the small emergency lights. Inside this dark and smoky labyrinth, the slow passengers are shown their way out to the open air. Once the passengers are safe on the decks and counted, the remainder of the crew is ordered to go to their lifeboat stations. There is no panic, just some worried faces staring at the black smoke pouring out of amidships.
Life jackets from the deck containers are distributed to those who could not get to their cabin. All lifeboats are lowered and prepared to abandon ship. Everyone waits anxiously. A lady still wears her hair curlers, having just run out of the beauty salon. A beautician still holds a comb in her hand.
Below decks, engineers and firemen are fighting in the darkness, against the fire, the heat and the smoke. They all know that fire is the greatest hazard facing any ship at sea: especially, if it starts below the water line or propagate through the air conditioning vents or reach the fuel reserves.
The pursers have carried all the passports and documents in bags to the deck, the casino manager carries all the casino funds in her shorts and looks pregnant. Two ships (small cargos) are converging towards the Ocean Pearl: the distress signals have worked. The Titanic times are long past !
The smoke escaping from upper deck is impressive. The lifeboats are ready for embarkation. Everyone fears to hear the "abandon ship" signal. Nobody knows exactly what is happening inside. The Cruise Director Joe Raad, walking on upper decks, megaphone in hand, explains that the P.A. is out of order and that the "abandon ship" preparations are just a precautionary measure. Later, the Captain himself Pierre Delery go around the decks, megaphone in hand, and announces that the fire is under control; Meanwhile, everyone must stay calmly outside.
Engineers and fire fighters, covered with black soot, soon appear on decks with hoses and start pouring water in and around the funnel in order to cool down the engines below. The two rescue ships sail away after their reassuring silent watch: the situation is under control.
The telephones and P.A. system are turned back on. More announcements are made: the fire is out but everyone must stay out on the decks. The smoke needs time to dissipate from the bowels of the ship since the ventilation is out of order. Everyone now relaxes on decks: the worse is passed. Drinks and towels are being distributed around, many crew go back to their regular duties: there is food to prepare, decisions to make, a lot of cleaning to do and most of all, power, A/C and water to restore.
There are no casualties (just one gentleman fainted: anxiety and/or heat ?). Nothing on board in the passenger and crew areas has been damaged: the fire has been confined to the engine room where it started. By 7:00 P.M., people are allowed back inside. The smoke is gone but the smell of burning remains. Only electricity has been restored: there is still no water and no air circulation but the engineers are working hard on it.
A cold buffet is served in the Orchid dining room and the orchestra plays in the Marco Polo lounge. A hot night awaits everyone on board: the A/C is not operational. Most of the passengers will spend the night outside on the decks. Their fate is being decided over the phone: the ship can not move any more on her own. Finally, the verdict arrives in the middle of the night: all passengers and their luggage, as well as five crew escorts will be evacuated at 5:00 A.M. on board the Sea Princess, another cruiseship luckily sailing a similar route.
The passengers are being woken up at 4:00 A.M. and asked to pack. A very early bird breakfast is served. It is still early in the morning but already hot everywhere in the ship. Unfortunately, the meeting with the Sea Princess is postponed to 10:00 A.M. because of delicate navigation at night for the rescuers. A long wait starts. The shock is over, questions now arise: what is left of the vacation? Pearl Cruises is paying for the flight home, refunding the entire cost of the cruise/tour vacation and offering any future Pearl cruise at half price.
Evacuation starts at 10:30 A.M., using the Sea Princess tenders from one ship to the other. It will take two hours to transfer everybody. The Ocean Pearl will be towed by a tugboat back to Singapore where she will be repaired.
There has been no panic at any time. The passengers who had done the drill the same morning, knew how to get to their lifeboat station, saving precious time. The highly trained crew were there to help the passengers and make sure that the evacuation to the deck was going smoothly. Throughout this incident, all ship's personnel performed extremely well. But most of all, everybody is grateful to the crew, engineers and to those who helped to fight the fire, to have been able to avoid a catastrophe: the intense heat in the engine room could have melted the walls of the fuel reserves.


From Aline Bariola Pianegonda, 2001: "Dear Christian,
Thank you for replying to my message.
I was on the Pearl from the August of 91 to the February of 92 when the boat caught fire.
I was part of the excursion team, and at the time I was going out with Captain's Kemp's son!!
You even took photos of us together and I remember being quite embarrassed because I went by your photo boutique to buy them and Richard had already taken them… without paying!!!!
In fact I do have a couple photos of yours (2 or 3) but they're either on slides or negatives and I'll be scanning them little by little (I'm handing them over to a local photographer).
After leaving the Pearl I ended up on the Mermoz, which I didn't like at all (the ambiance was way too French……!!)
I lived aboard boats for 8 years (on the Costa and notably as Cruise Director on the Ponant).
Now I'm a stewardess for Air France.
Do you remember Birgit Martensen, that blonde blue-eyed woman of German descent who took care of the German pax? She had been a stewardess for Air Liberté and when she joined the Pearl she worked in availabilities.
She's also been working for Air France, for 10 years now.
It would be great fun to get together and compare photos one of these days!!
As for me, I'm living in Paris, well in the banlieue in Viry Châtillon in Essonne.
If you're interested, we should meet up for a coffee sometime or grab a bite to eat and talk about our time on the Pearl?
Now what's new with you? Married? Kids?
I saw your photos on your website and really enjoyed them. Talk to you soon. Aline."
Jeremy Kingston 2008 Email : jdkingston@hotmail.com
Message : "I read your article about the fire on-board Ocean Pearl in 1992. I was the Staff Captain on board at the time, and reading about it and seeing the pictures brought back a few memories. To be honest, I think that it was well written, and can understand your disappointment when the story was suppressed. Unsurprisingly, the Cruise Line conducted their own witch hunt and cover up, which was by no means objective.
I am somewhat surprised by some of the photographs, which were taken in areas which I would have thought you wouldn't have been able to access. My wife is somewhat bemused to see a couple of pictures of myself, suitably covered in smoke and grime.
I was wondering if it might be possible to obtain copies of the article & pictures you have from the Ocean Pearl, as the incident was a notable milestone in my career.
I am still working at sea, and have been in command of a succession of cruise ships for the last 12 years. I am currently the captain of a ship called "Explorer" which is operated by the Institute for Shipboard Education as a floating university. When not at sea, I reside in La Baule (44).
Best regards Jeremy Kingston".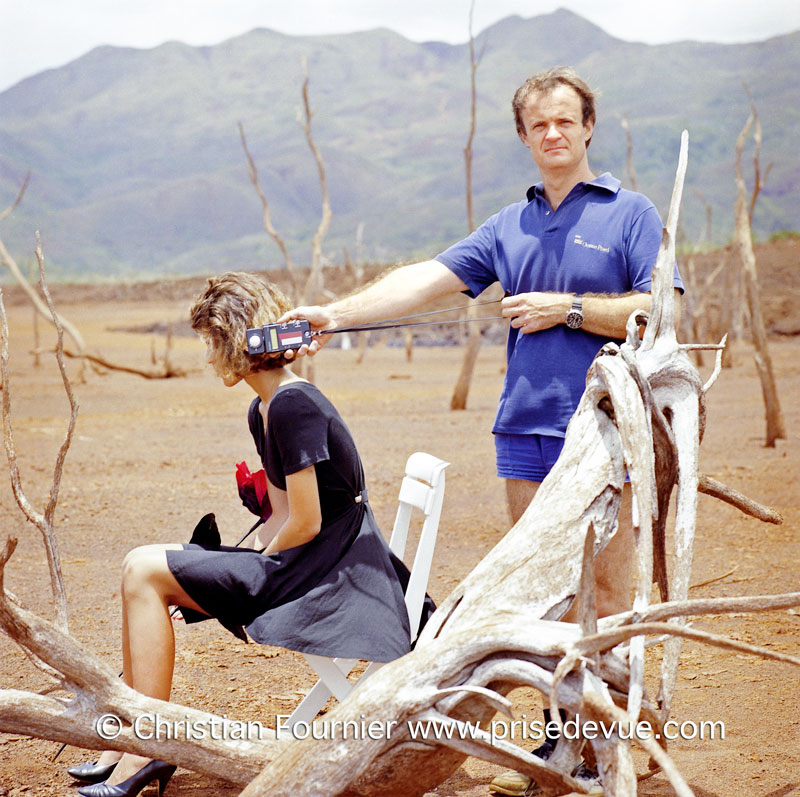 Without forgetting the indispensable flash metre.
Ici à Yaté, en Nouvelle Calédonie en 1993. On ne le voit pas, mais je mesure mon flash déporté, en lumière iHere in Yaté, in New Caledonia in 1993. You can't see it here, but I am measuring my offset flash in incident light. Because the surface area of Yaté is about 1,356 km2 and completely deserted, and because I was alone with my model, I put my flash on top of my car. Then I used my camera's self-timer instead of the flash to produce this making-of. Simple, right?
In Yaté, it is 50° C in the shade, and there is no shade. Any landscape more than 300 metres from the car is not very photogenic!


Kodachrome, a myth.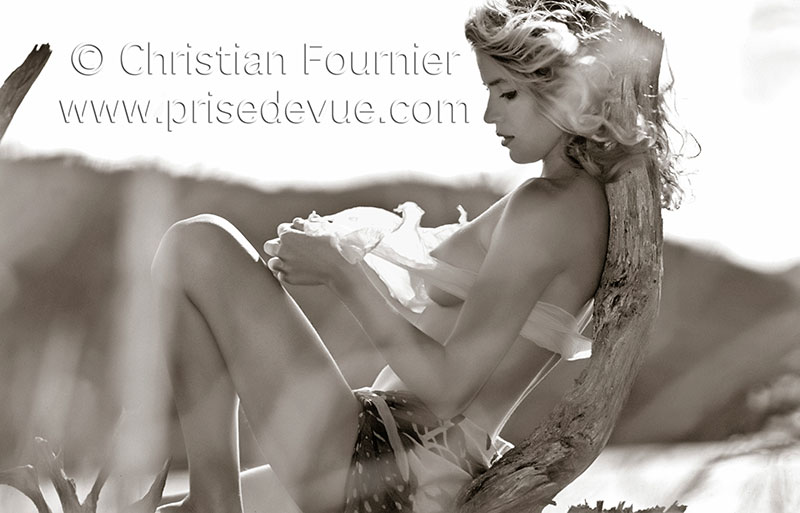 The Kodak tri X, another myth.

Tri-X 400 is usually rated at ISO 400 when processed in standard developers and remains among the fastest black-and-white films today. Push processing Tri-X to a higher "exposure index" of EI 800 in a standard developer yields very good results, while further pushing to EI 1600 requires more sophisticated processing. A popular method for pushing Tri-X film is using highly diluted developers with little or no agitation and extended development times. This method which is referred to as "stand" or "semi-stand" development, can allow the film to be pushed to speeds up to EI 3200 or 6400.




With a little help from my friends.



Haiti in 1984 for the magazines "Simply Living" and "New Men".
Haiti is one of the poorest countries in the world. Haitians' kindness and sincerity leave a profound impression on you. There might be a lesson to learn in there somewhere for the rest of us in our wealth and arrogance.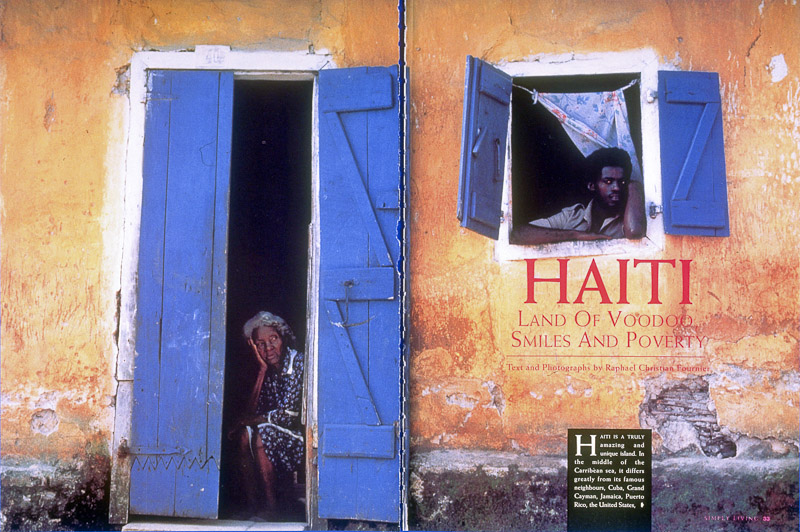 See the complete report.
In 1992 I did photography technique internship with Dean Collins, the great master of new photography in the United States (San Francisco 1992)
and a fashion internship with Jean Paglioso (Santa Fe, 1992). Always on the lookout for novelties, I never miss a chance to improve my performance.

With a combination of wit and the ability to reduce complicated concepts to workable solutions, Dean Collins was the Dean of photographic instruction.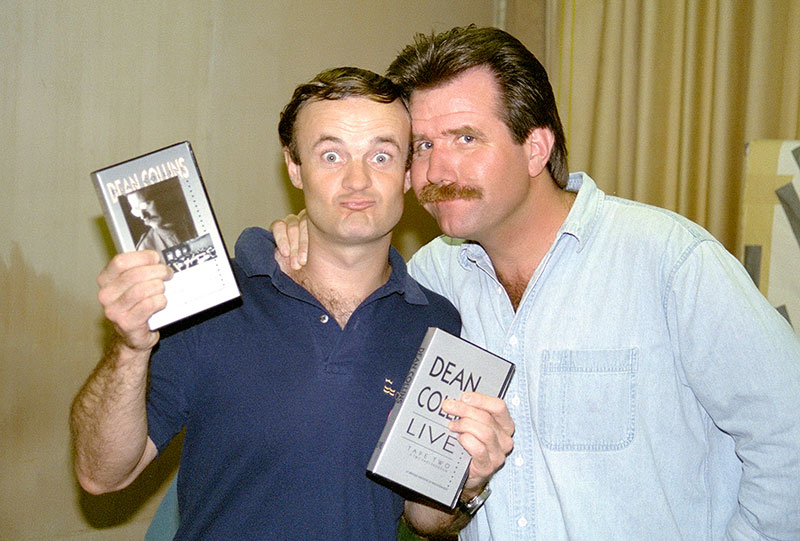 Photo Sessions: Helen, Michèle West, Karen, Petra Lindblad (top model also photographed by Peter Linbberg), Barbara. I would meet Peter Lindbergh later, in his house on rue de Savoie in Paris, in 1997, to initiate him to using computers.
Jean Pagliuso a commencé sa carrière en photographie en 1969, une étoile montante dans le domaine de la photographie de mode. Sa carrière de 30 ans comme photographe de la mode s'élargissait pour inclure des collaborations avec le réalisateur Robert Altman, ainsi que Paramount Pictures, Universal Studios, Warner Brothers, 20th Century Fox, et Disney. Au milieu des années 90, elle a quitté son travail en publicité et en mode pour expérimenter des processus d'impression différents y compris la photogravure.




In case you've forgotten, my name is Raphaël Christian Fournier, but administrative errors are common the world over.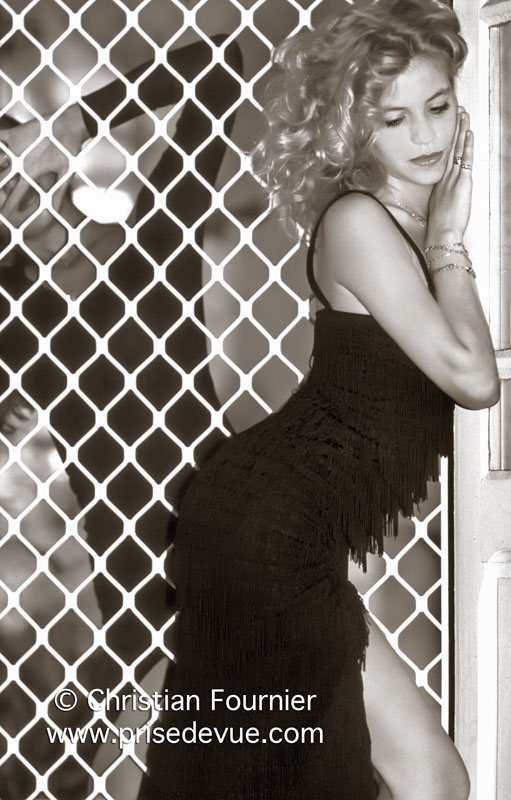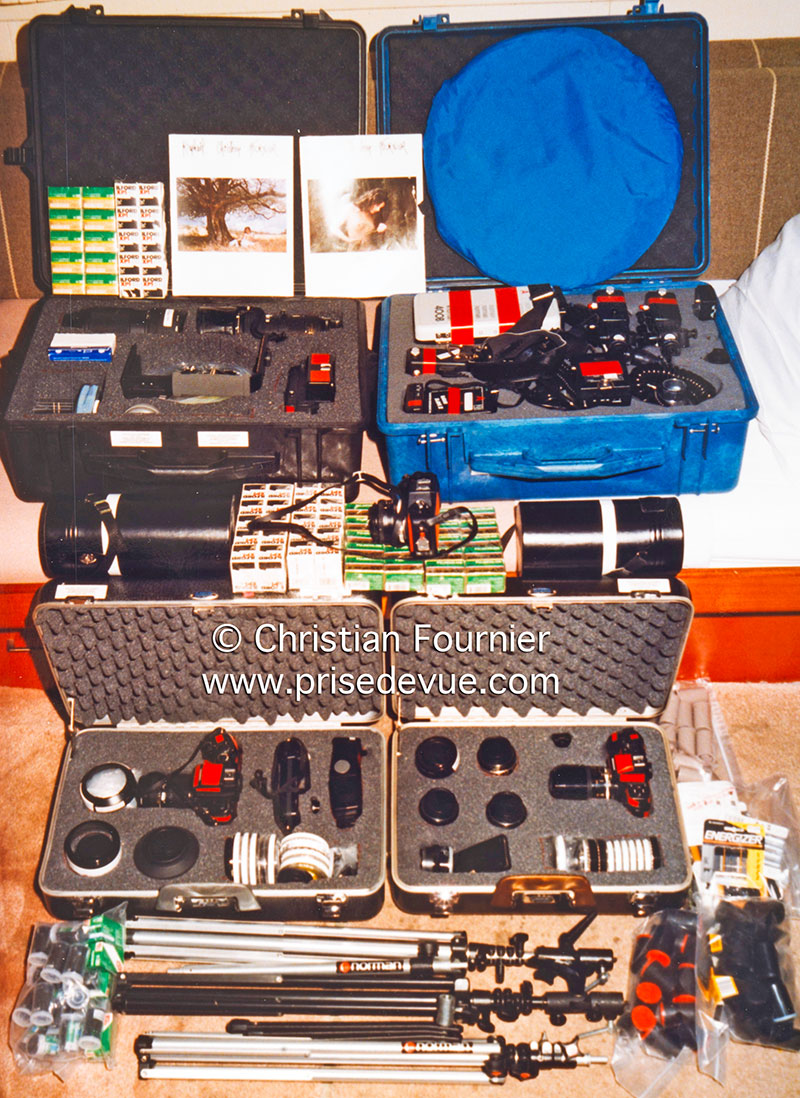 My personal land photo equipment at the time, around 1986.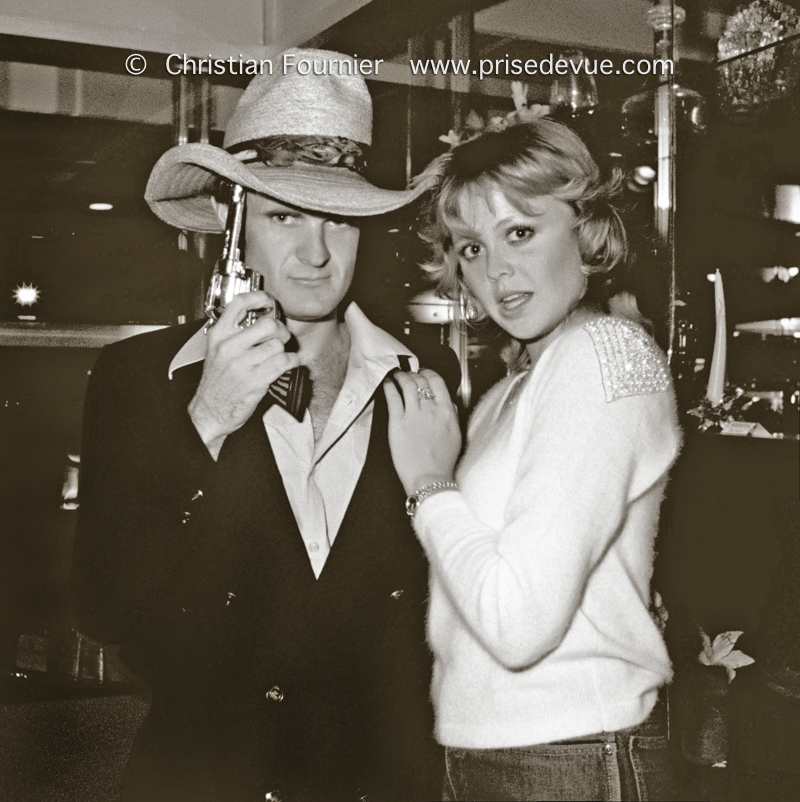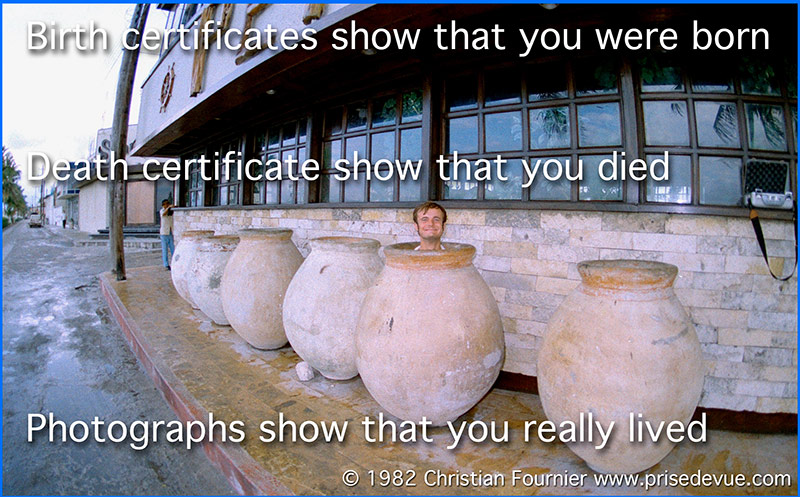 The words are so true ....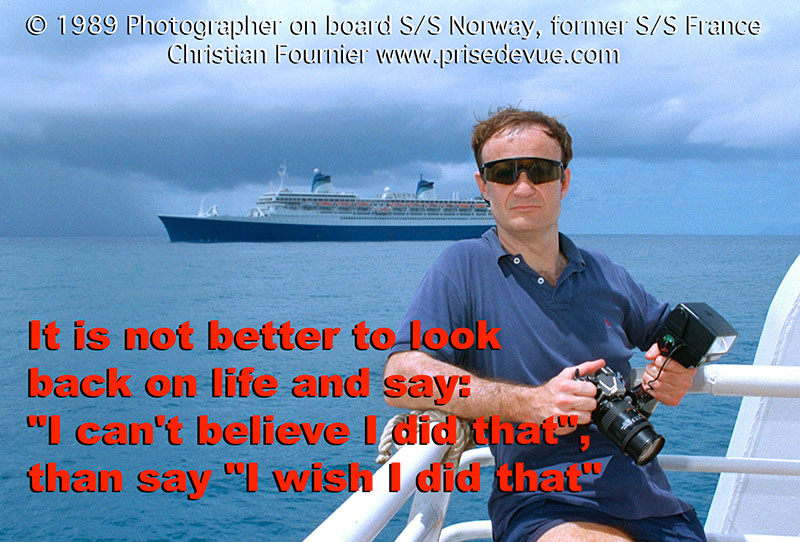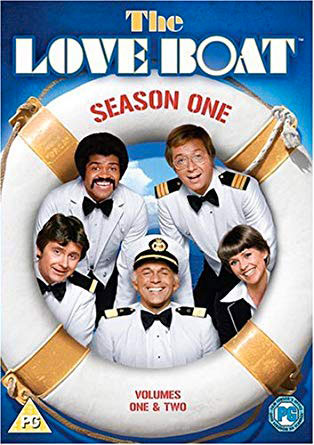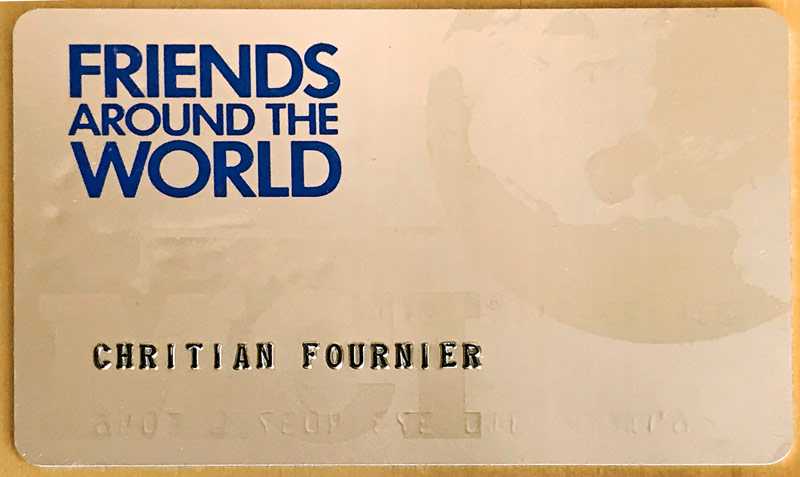 La compagnie de photographie qui nous employait nous fournissait une assurance accident MCI valable dans le monde entier, 24h sur 24.



John Puczkowski "Hi Christian. Thanks for the connect. You were a legend on Cruiseships! We all looked up to you as photographers!"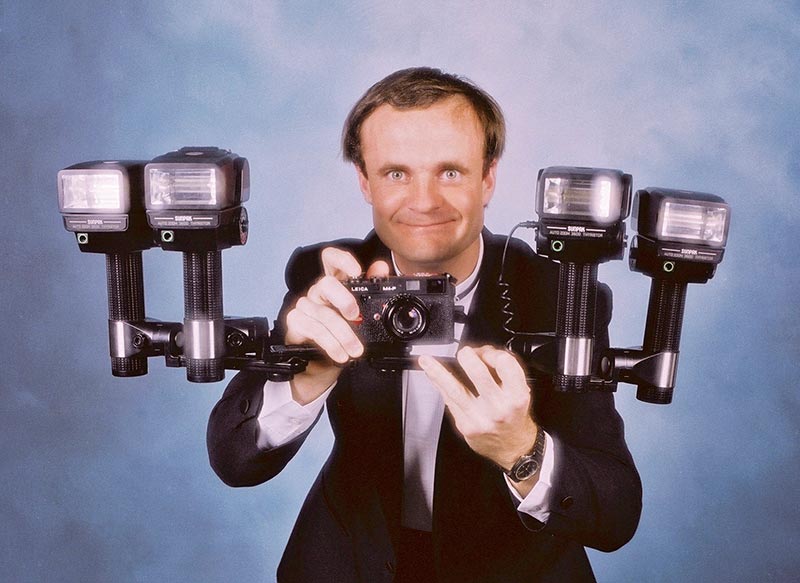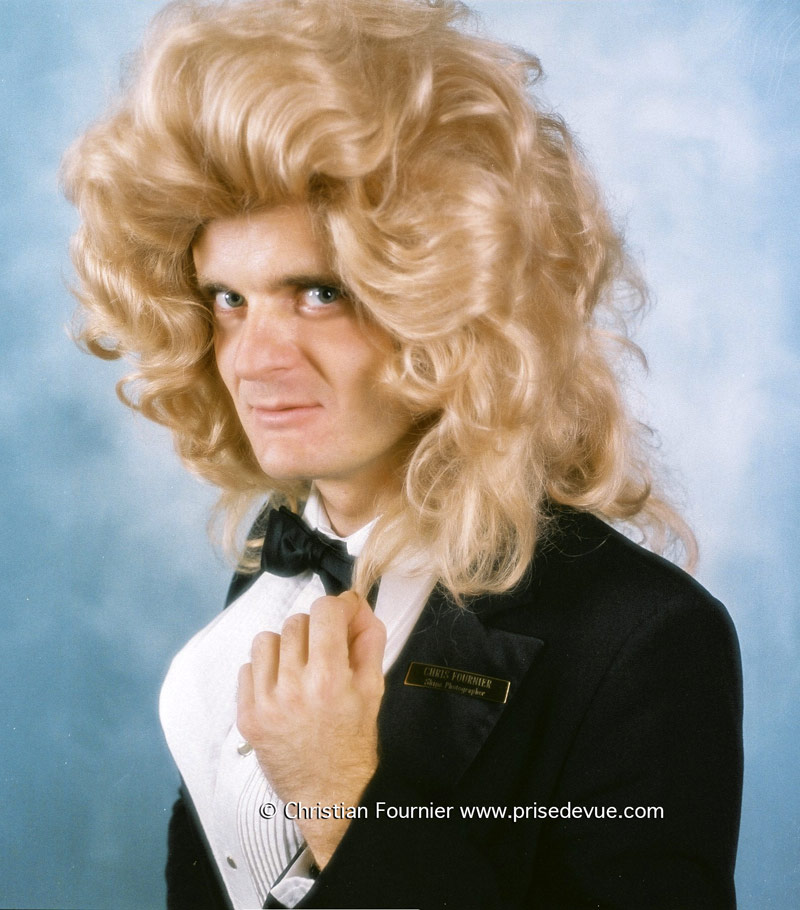 No worries, I am very secure about my manhood (see page 28).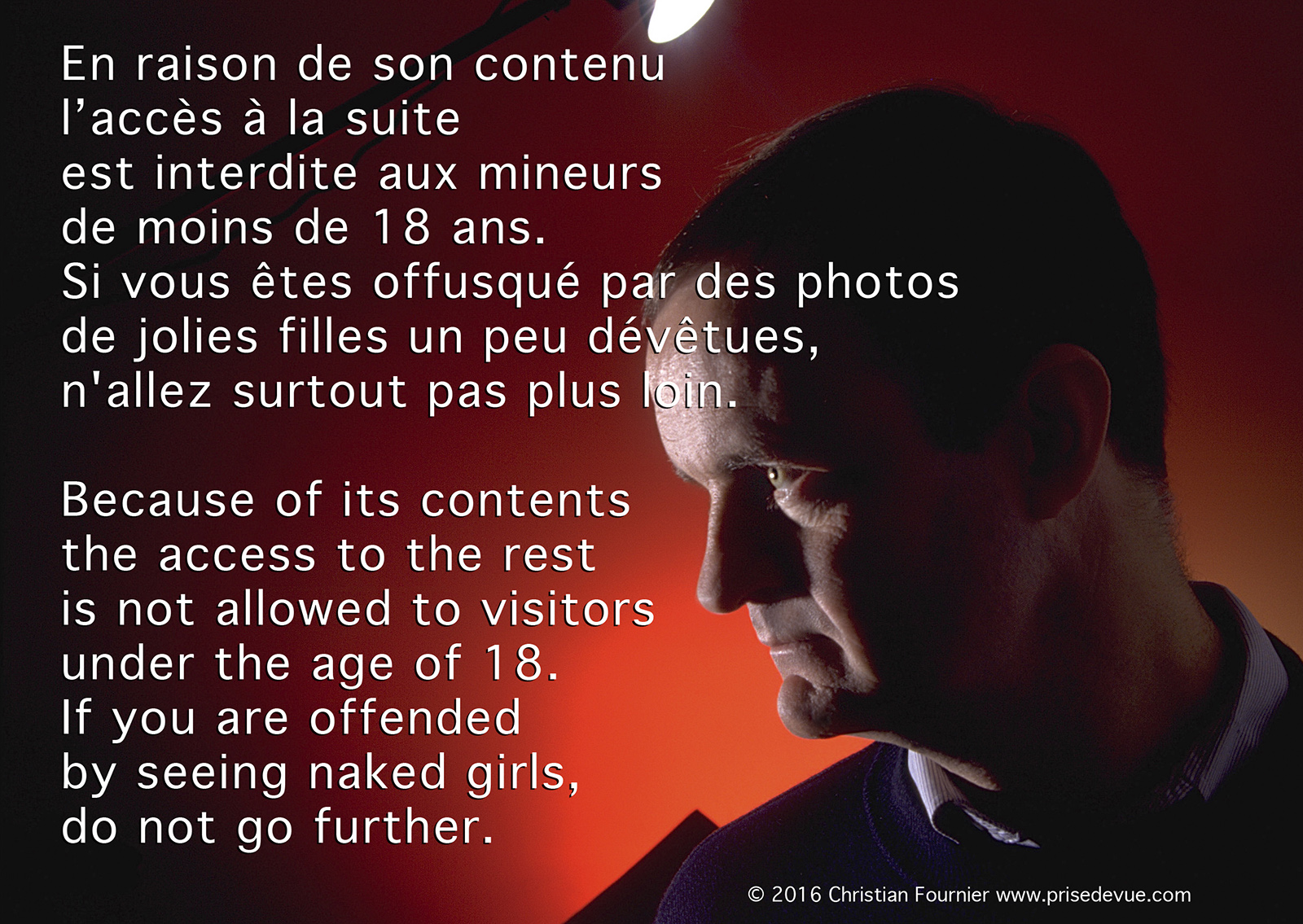 Yes sir, the gift shop girl was impressed.



Photographers: the only people who don't get arrested for flashing and exposing in public.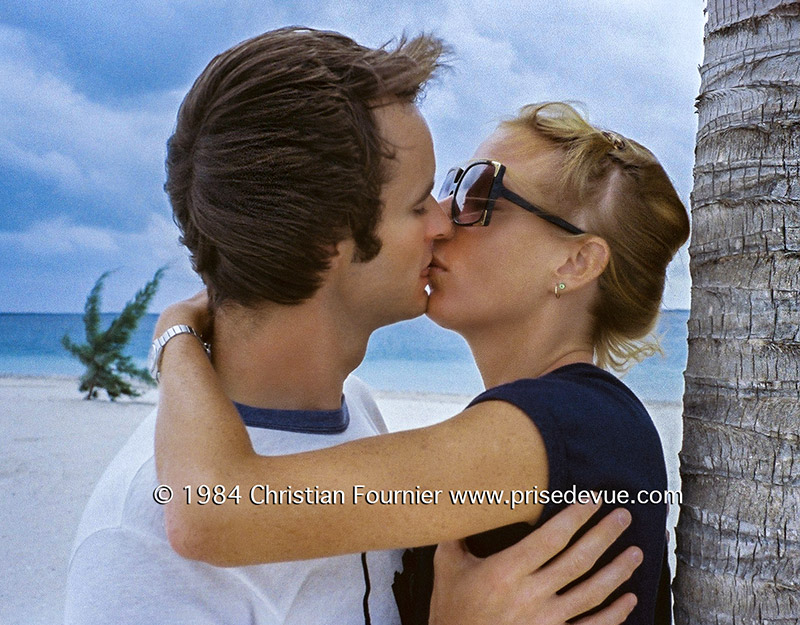 ***********************************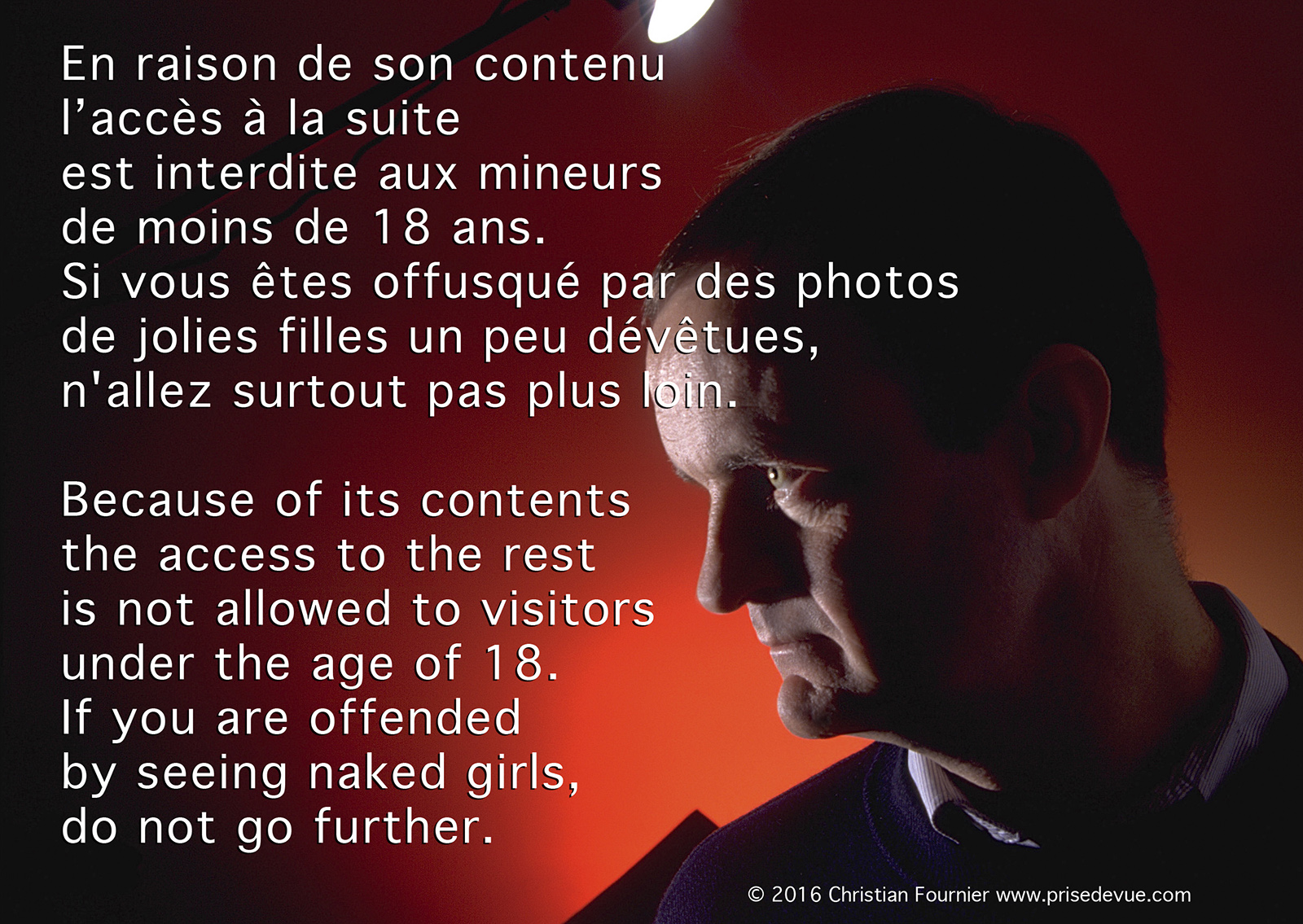 ***********************************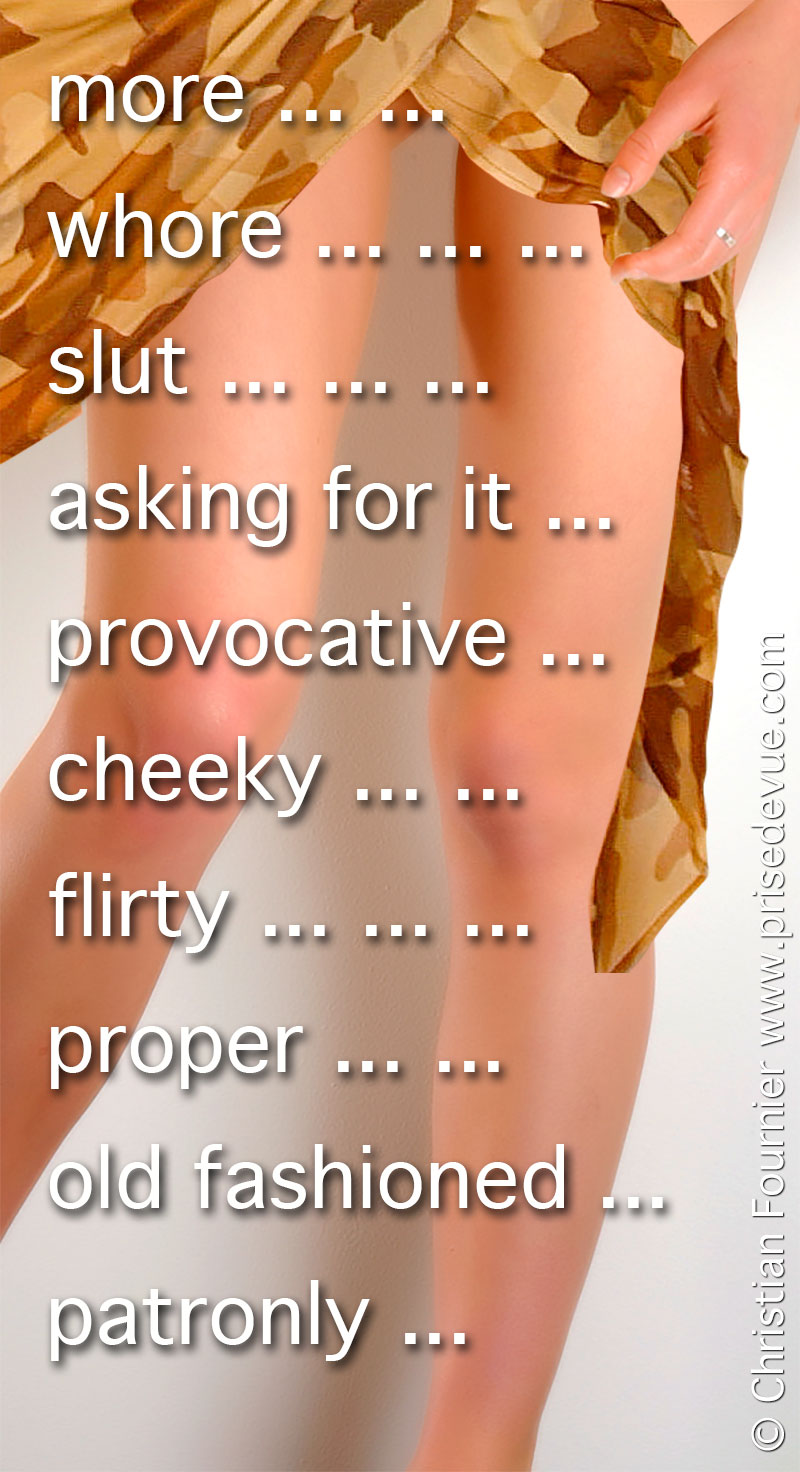 Patronly, prudish, old fashioned, proper, flirty, cheeky, provocative, asking for it, slut, whore. More ...

...More... in the darkroom..



The darkroom. A very great place indeed.
We have a beautiful view on the printer and on the left the developing system for 35mm, called the "dip and dunk": up to 36 films are loaded up, in absolute darkness, on metallic spools which are encased in a wire frame. We dip the frame into the different C41 tanks, maintained at a constant temperature thanks to a water circulation system.





From April 30 to May 7, "adventuresome couples" would embark from Miami on the Paquet French Cruises 25,000-ton S/S. Rhapsody for ports in Jamaica, Grand Cayman and Mexico. The Brochure promises "monokini sunbathing in an area set aside just for us" (the swingers expect to fill 20 cabins -- assuming double occupancy, that would be limited to about 40 passengers on a vessel with a full capacity of 850).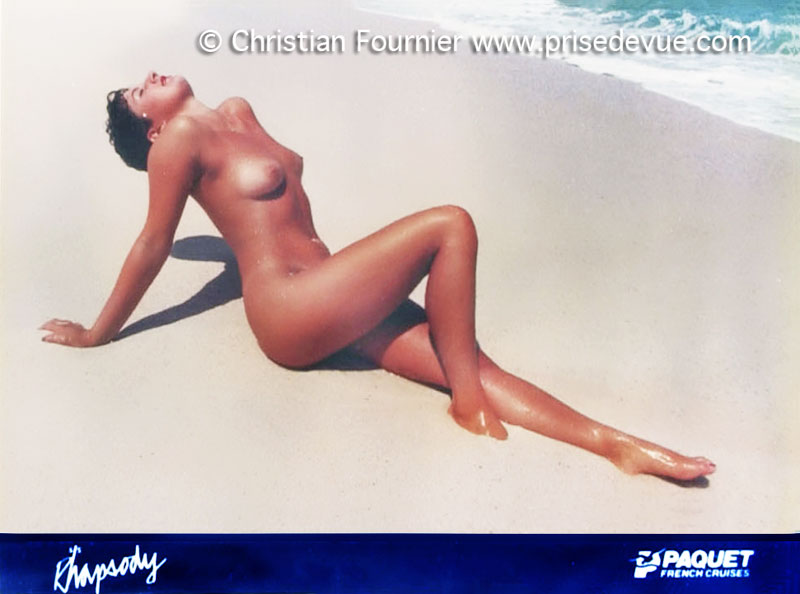 We had a porno cruise, a gay cruise, and the Playboy shoot for the Playmate August 1984.




Pam in Malibu in 1987.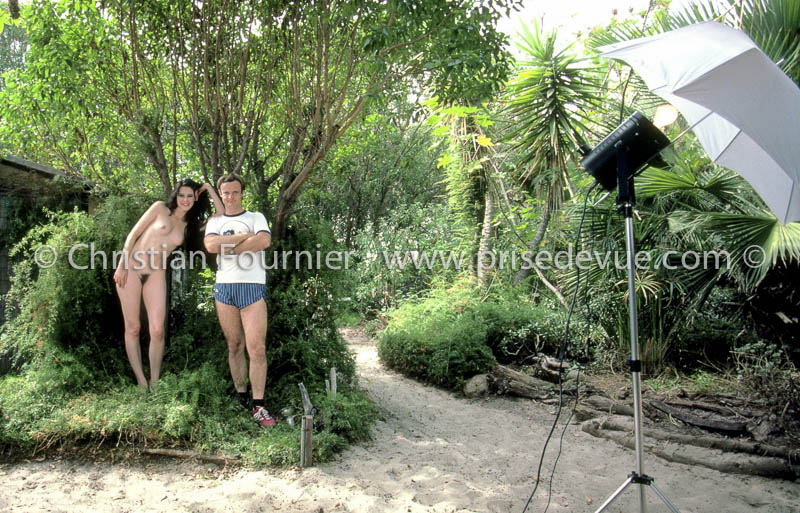 Many thanks to David Macey for letting me participate in this Playboy photo shoot. Thank you to Playmate Susan Schott.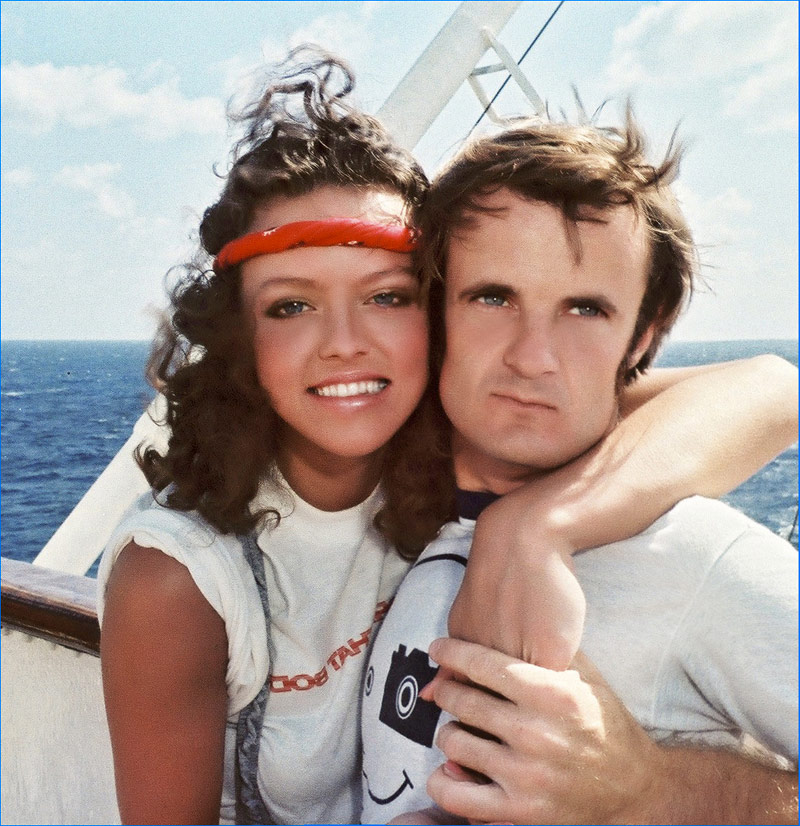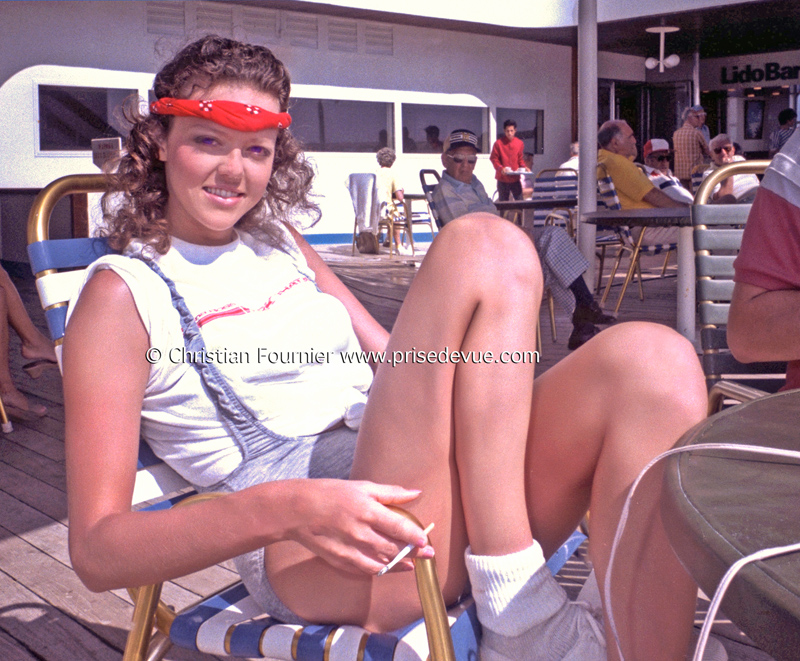 She wanted to marry me but I hate cigarets.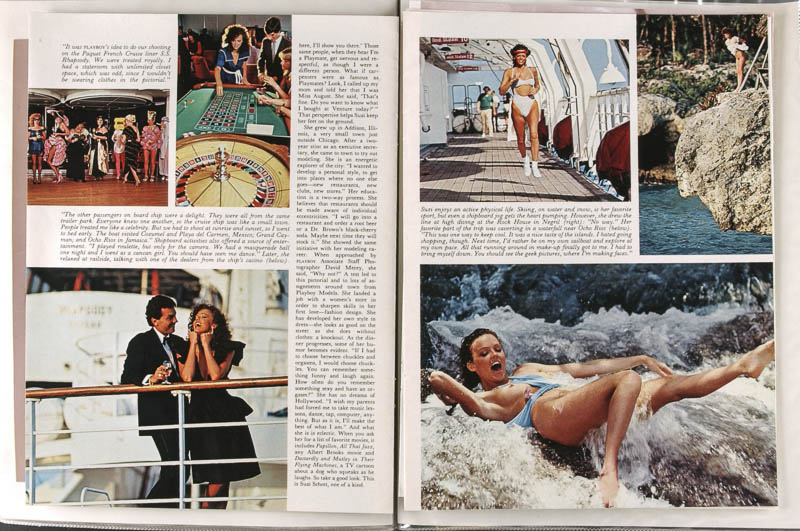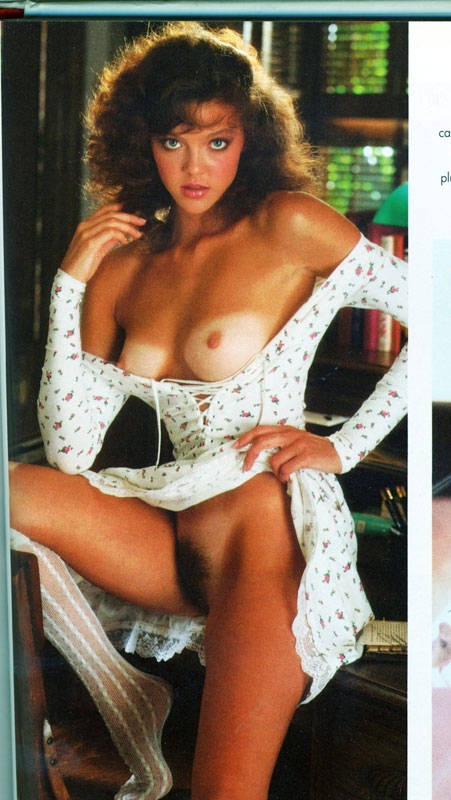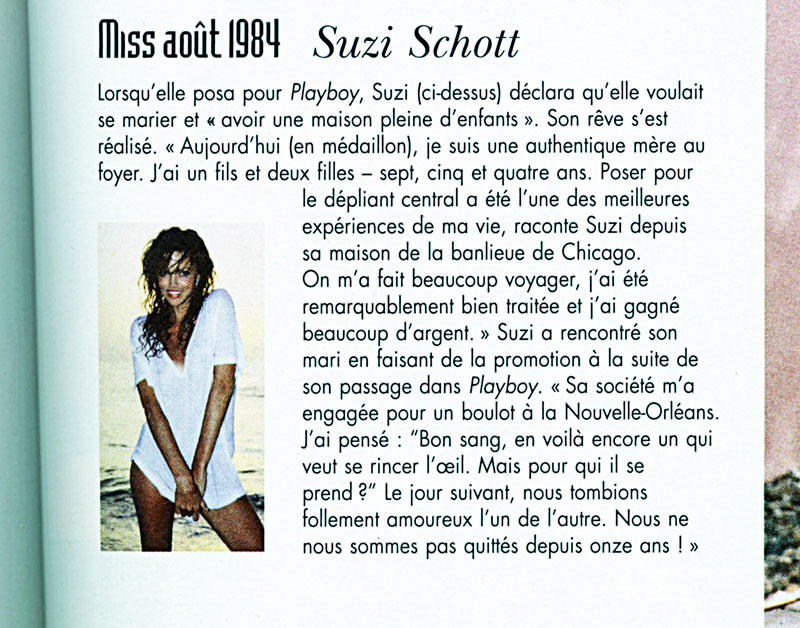 More about cruiseships on page 31


I invent the les "Formal Portraits" sea page 35.